Get Your Print-on-Demand Business Up & Running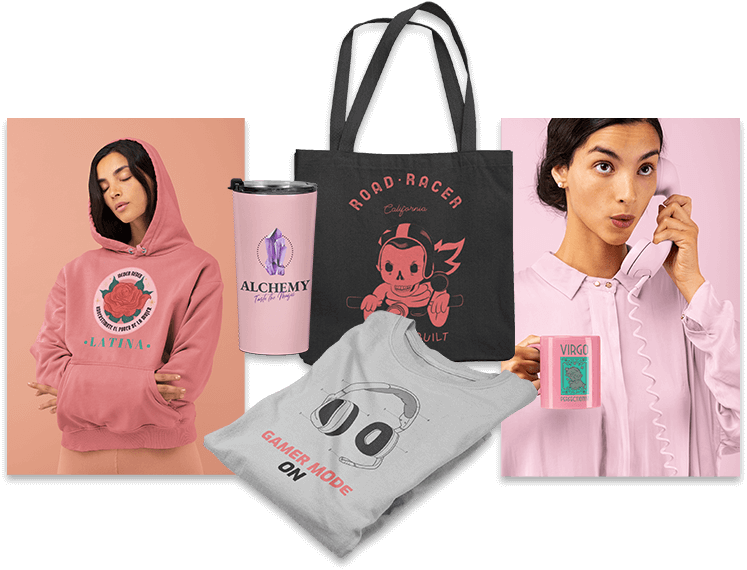 We have gathered every piece of information you need on how to start a print on demand business. Every section of this guide is linked to important posts about the specifics of research, product, building your shop, promoting, and much more!
What You'll Find:
It's no secret that print-on-demand businesses are thriving, and are one of the smartest ways to start a profitable business with little setup costs, so it's only logical that you've wanted to start your own.
Don't rush it, though. Take your time to do some research, explore and dive into these resources to help you to set your POD business the right way. Once you've read this guide and know which way you're going to go, it'll be time to start making a living by selling print-on-demand products!
1. First, Do Your Research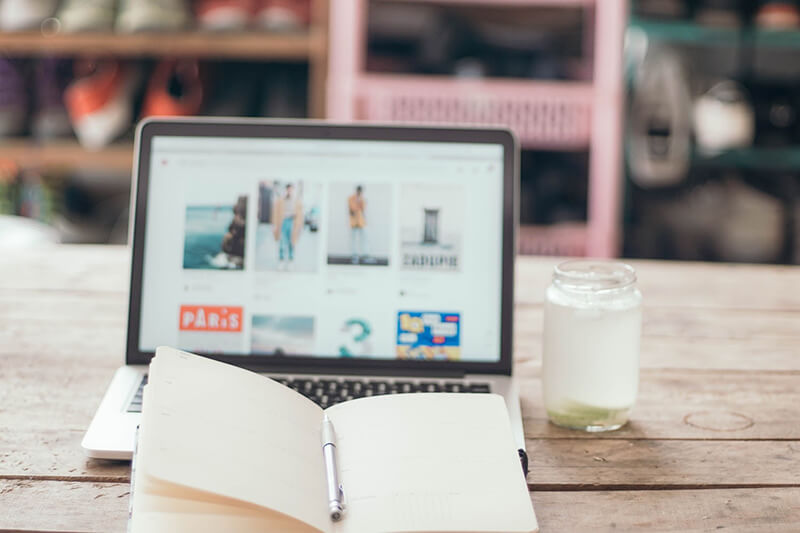 Getting started on any print-on-demand platform is often exciting, but a lot of people quickly get overwhelmed when they realize that getting sales is not that easy. This is why conducting merch research is essential in the beginning! 
How do you know if your ideas are worth turning into designs? Do you know if there is an audience willing to buy your designs? How do you figure out what keywords to use to get your designs at the top of searches? You guessed it: research.
Get Familiar with the Principles of Selling on Print on Demand Marketplaces
Print-on-demand (POD) refers to a printing process that allows creators to print one-offs or small runs of their goods at the time that it is ordered, thereby eliminating issues with storage, handling, and waste. Using print-on-demand marketplaces gives you a ton of time and cost-saving conveniences like: No Up-Front Costs, No Storage, Quick Iteration, a variety of SKUs, and more. 
Learn more on print-on-demand clauses to look at, prices, products you can offer, their communities, and more here.
Trademark Research
Avoid copyright infringement to protect your t-shirt business. Learning what you can and can't put on a t-shirt is a tricky subject, especially because we can think we just came up with a totally original idea just to find out it was already registered by someone else. Check out everything you need to know to avoid having your shop shut down!
Copyright for T-Shirt Designs
Knowing everything you need to know about your business's legal side can help protect your artwork from copyright infringements. You need to understand different concepts like Trademark, copyright, and intellectual property. You also need to know how your design right works on different marketplaces. Learn everything about it here. 
---
2. The Most Popular Print On Demand Products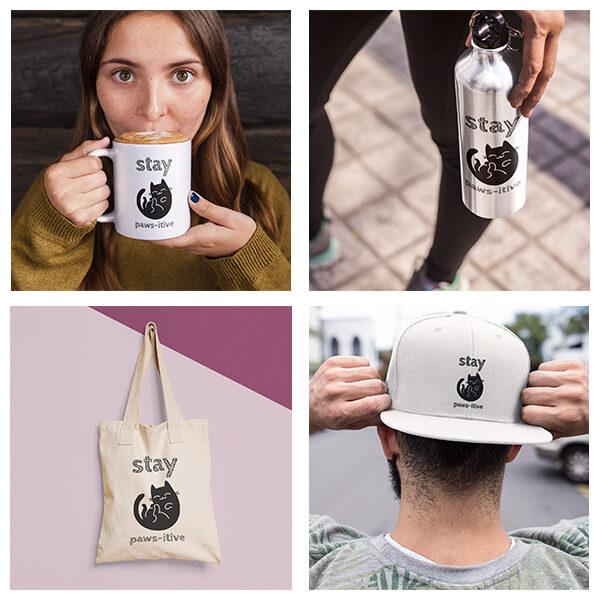 First, you need to learn about the most popular POD products to decide on which ones you'll be focusing on. This will allow you to focus your energies on already successful products.
Let's start with the most popular of them all while we go through a brief history lesson. As a fashion statement piece, the t-shirt has been around since the 1950s, and it hasn't evolved that much because it is a really simple, basic way to deliver a message through clothing. Moreover, it is quite effective for that.
Trends have come and gone throughout the years, and the fashion industry hasn't been alone in keeping the t-shirt alive and well. People with no design skills or a fashion degree are taking over the creation, print, and distribution of this popular item.
Start with Print on Demand T-Shirts
Exploring a wide range of products to offer can be an overwhelming task, but that's the first call you'll have to make. Our advice is to focus your first efforts on t-shirts and apparel. Why? Not only because this is an easy, proven way to work for launching your POD business. It'll let you learn the basics of running it while you discover all the possibilities with a whole new range of products for the future.
👕  Check out the best t-shirt brands & styles to sell and learn how to add your designs to your shop, no matter what POD you use!
First, let's talk about the benefits of setting up your business for a specific niche. There are a couple of ways you can set up a niche to sell your products.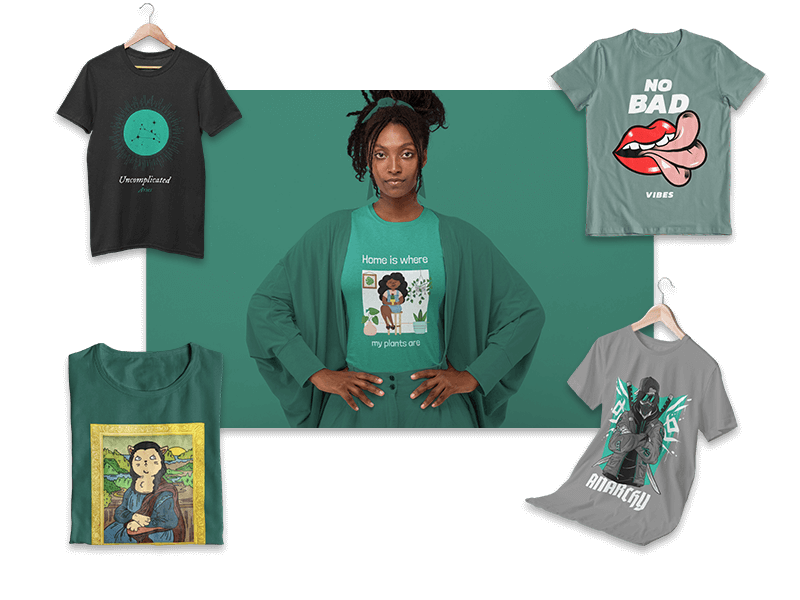 You can always check out our t-shirt design calendar to get inspired and make stunning products! Find every important day from January to December! If you need something else to get inspired, try a different t-shirt idea post.
🔥​ Check everything you need to start a sustainable POD brand 
T-Shirt Label Design
Labeling is an essential part of your products. You should consider material, type, size, color, fold, design, texture, fold, and position when choosing your t-shirt label design.
Also, make sure it complies with labeling requirements; learn more on how to design your t-shirt labels here.
How great is it that you can use Placeit's free t-shirt designer to get your own designs for free! Every now and then, we like to give our users free templates to try on their brands! You can find all kinds of templates for your designs, mockups, promotional posts, and videos. Tyr them all as soon as you catch them because they won't be free forever!
3. Plan Your Budget Wisely
When adventuring into a new business, chances are money is a bit tight. Thankfully, technology has made our lives easier when it comes to printing and shipping items throughout the world.
Currently, there are plenty of print-on-demand options that not only let you sell your designs in their marketplace but they let you create shops for free using their platform. Besides, you'll only need to pay for a Placeit subscription to create your own designs and mockups and generate pretty much all the graphic content you'll need to promote your business.
If you want to dive into the details to learn how to use your budget in the best way possible, there are many resources within the platforms where you can explore different options to invest your money.
4. The Best Print on Demand Sites
While it's almost certain that it's all been done before, you can still improve business models, be creative, and have a fresh take on what running a POD online store means. Being that said, let's go briefly on a few useful things to learn from other business owners and take a few notes on how to run a print-on-demand site.
First, identify where is your target market and start from there. Look for a marketplace that ships to where your niche is located. Then, pay attention to the kind of designs they promote; there are marketplaces that focus on edgy designs, while others don't really mind about a style in particular.
Make sure to consciously evaluate your alternatives, and if you have any questions regarding their operation, requirements, fees, or handling, go ahead and ask!
🔥 To help you with this task, we highly recommend doing the test on Which is the  Best Print on Demand Site for You. Read all you need to know about popular POD sites like Printify, Printful, Redbulbble, Spreadshirt, and much more!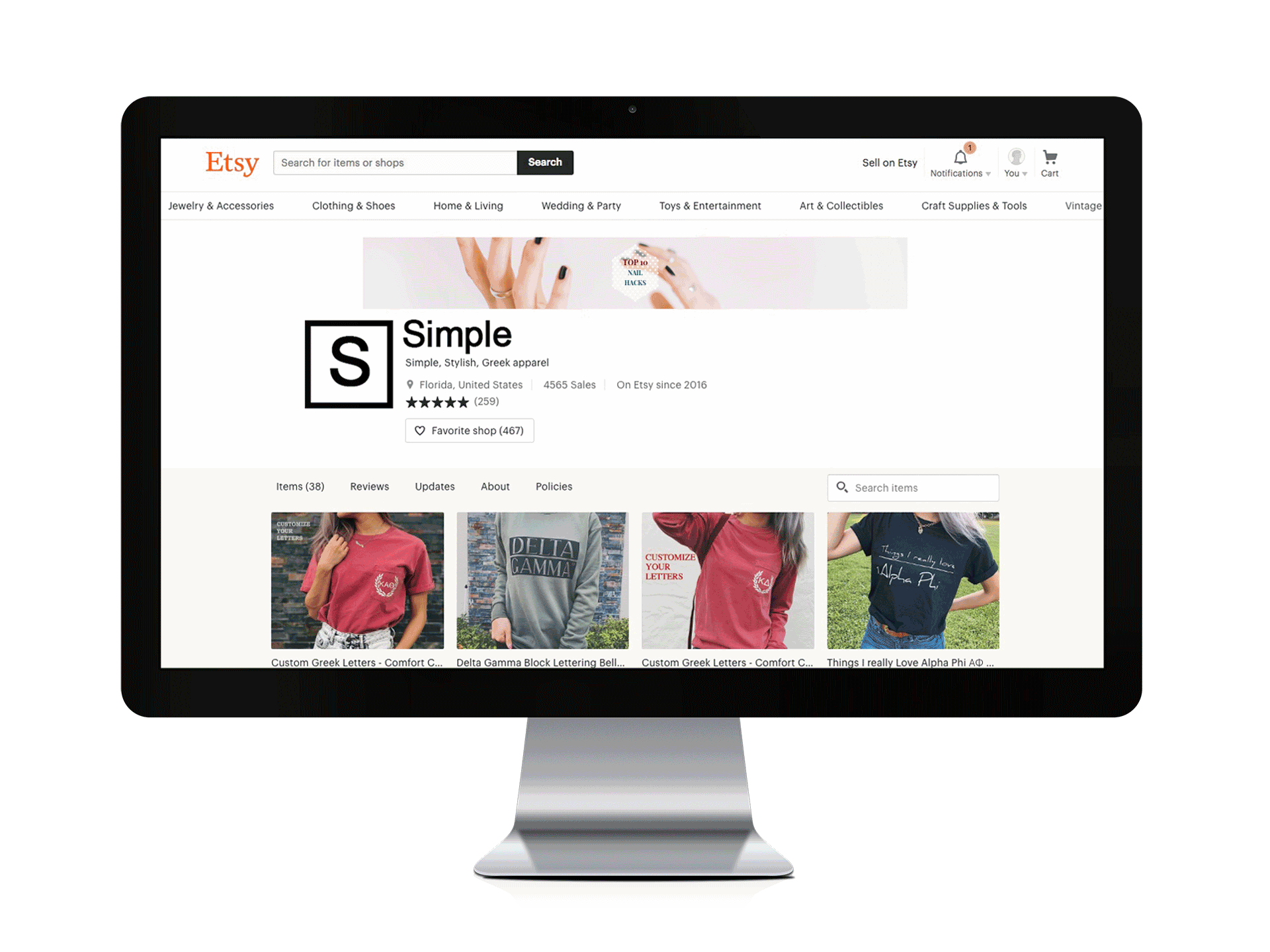 An Etsy shop can be a great place to promote your products and sell them! Take a closer look at how to establish an Etsy shop for your POD business here.
Becoming a POD seller for the first time can be overwhelming when you don't know your way through your POD sites. So we have prepared this descriptive guide to help you on your way to succeeding on Merch by Amazon. Find everything you need to know to run circles around other t-shirt sellers.
Dropshipping is also a great business on Amazon. Check out which is more suitable for you: dropshipping or print-on-demand.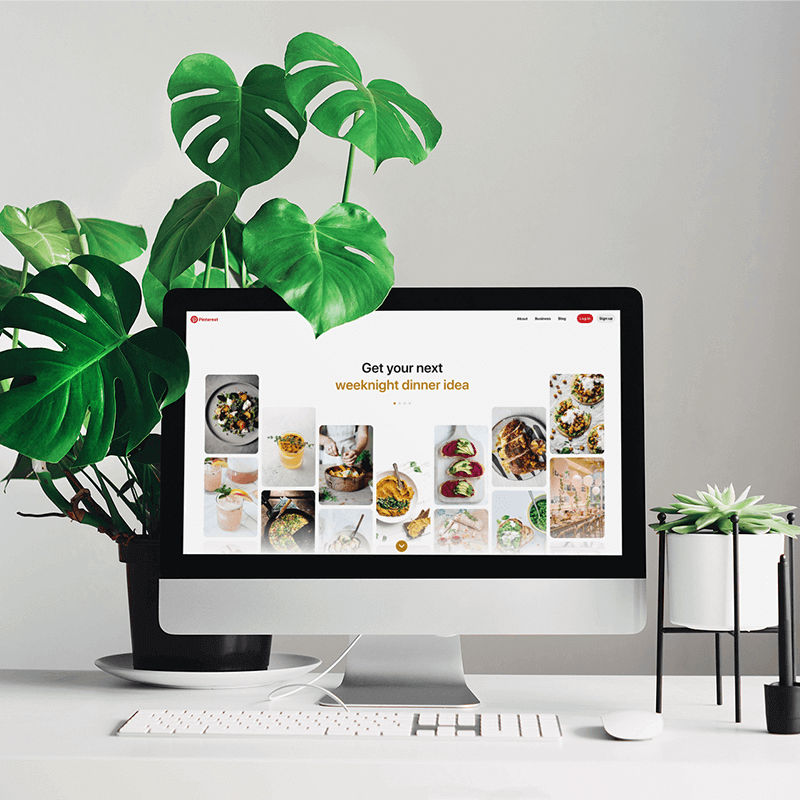 Social media platforms as we've mentioned before, are a great place to promote a brand. In fact, they are a MUST for any POD business person. But Pinterest has the special quality of being the perfect social media to sell products!
So many people looking to advertise clothing quickly jump to Facebook or Instagram. However, Pinterest has proven to work, sometimes even better!  It is extremely overlooked as an advertising opportunity. Think about it! Your target audience is people that buy clothes, right? The demographic of Pinterest is perfect for that. Learn more about it here.
So again, social media, since Instagram allowed its users to add a build-it shop on their profiles, setting your POD brand in it just feels like good sense.
Find out every tips and trick to build your brand on Instagram here!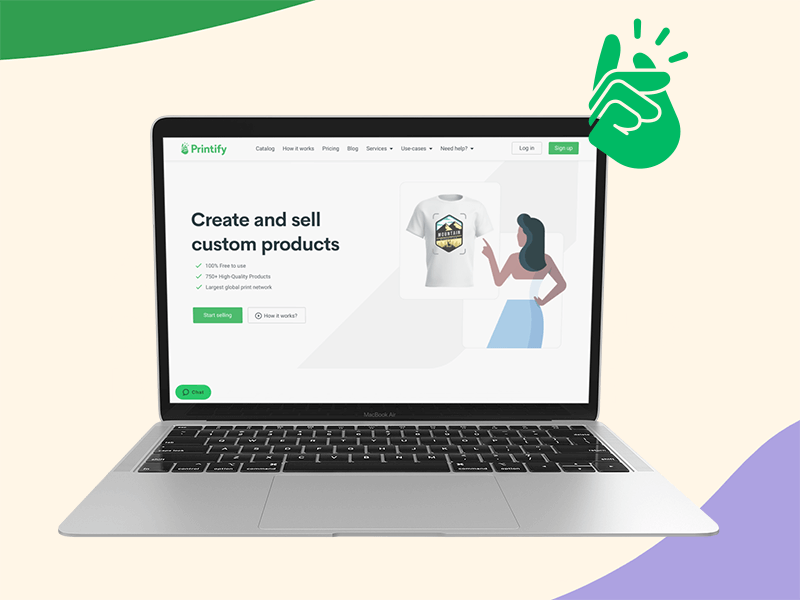 When it comes to POD business, you can definitely use popular marketplaces like the ones mentioned previously, but you can also use POD-specialized websites like Printify.
Printify allows you to connect your account with some of the biggest and most popular eCommerce platforms and marketplaces around the world, making it easier to expand your customer base and sales while still having all the accessibilities of a print-on-demand website!
5. The Key to Make It Profitable
Sure, it all sounds too sweet, but what about the profit? We're here because we love what we do, but we also want to make it our way of living, right?
When you choose a POD site, you'll need clarity on how much you expect to get for every t-shirt or garment you sell and how many you'll need to sell to keep your business going strong. You know what? There is actually a way to calculate your profit margin! Just make sure you keep your numbers well-organized, too, if you ever need to adjust them.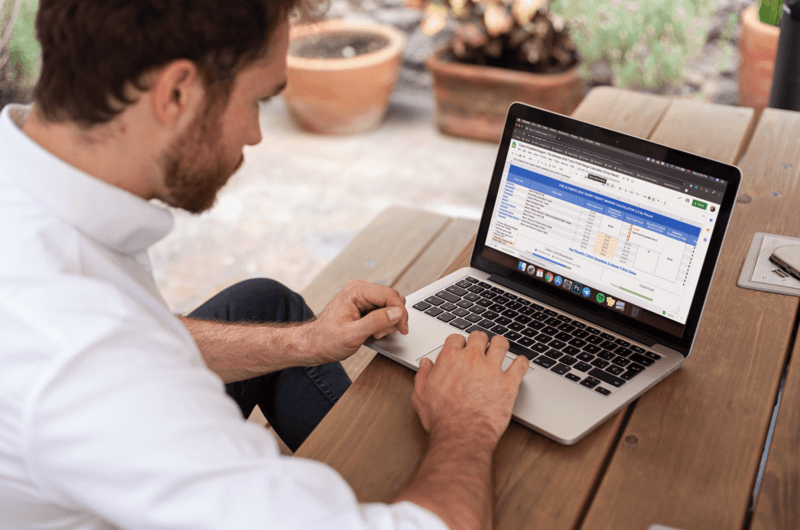 Taking the time to set a profit beforehand will save you unnecessary adjustments in the future. Just be sure you're keeping it real. Yes, POD businesses are profitable, but that doesn't mean a large fortune is waiting on the other side of the shopping cart. Be patient and be smart with your choices.
💡​Read this How to set up your t-shirt pricing guide to learn more on how to price your products.
6. Shine with These Marketing Best Practices
Setting up your business is just one piece of the puzzle, and let's say it, marketing plays a big part in the game.
When you're new at setting a marketing strategy, all the terms can seem overwhelming when you're not too familiar with them, but it all comes down to making decisions based on good numbers and a little bit of seller instinct.
So, in order to make it work and actually make money from it, you must know the essential marketing tips for your business.
Getting yourself into the POD world will depend mostly on branding and a visual identity that communicates well. Choosing the right name and designing a unique logo with an eye-catching color palette is a major first step when telling the world that your business is right there, ready to fulfill their wants and needs.
T-Shirt Promotion Ideas
🔥 How to Sell More Merch in 2023 with 6 Tips
Best Branding Tips
There are many branding tips to get your brand way ahead of the competition. You can design a logo and keep your brand consistent all over your shop and social media to make it easier for customers to remember.
Promote using the same vibes and style you are using thorough your branding material. Using the right brand really gives your business a trustworthy edge. If you want to learn more, head to our best branding tips post!
7. Learn the Magic of Placeit Mockups
One of the sweetest deals of having you here reading this guide is that you can get first-hand information about our mockups, which are pretty much like magic.
Mockups allow you to place any PNG file into a real-life situation, whether it's a still picture or a video. Of course, we would love if you see it for yourself, but here's a rough list of the kind of mockups you can download to give life to printed materials:
So much more!
🔥 10 Best Free Mockups for Your POD Site
Getting the perfect photo to display your set of designs can cost hundreds of dollars if you consider a professional photographer's fee, editing software, models, props, set rentals… And the list can go on and on. Anyway, the magic of this mockup generator is that you only invest a few dollars, and you can stretch that money any way you want. The possibilities are pretty much endless since Placeit keeps updating its design templates constantly.
On another note, your products will get the great quality visuals they deserve since the professional team working on mockups is extremely talented and detail-oriented.
Using mockups for your printing business is the best way to save time and money while you get top professional results to display your products.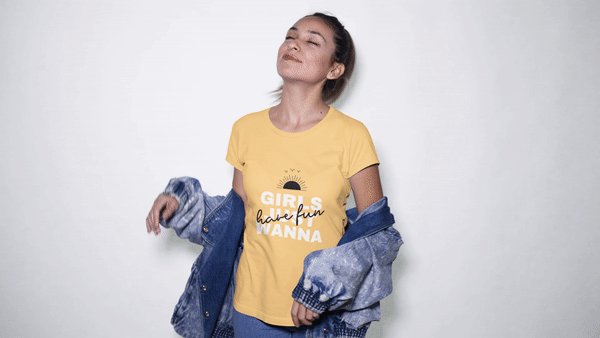 8. How to Set Up an Online Store
Once you've decided which path to take with your POD business and your creative engines are almost ready to start producing, it's time to learn to set up an eCommerce store.
This is perhaps the trickiest part of the process, but we're here to guide you through this. An important issue to address is that you learn the basics of setting up your own store, including policies, taxes, and the actual organization, and plan accordingly.
You will be required to choose your preferred business structure such as a sol proprietorship, partnership, or an LLC. In case you opt for an LLC business structure, the best state to form an LLC would be the state you live in. If you form your LLC in any other state, you would be liable to pay state and filing taxes in both states. For example, the state you live and the state you registered your LLC business.
Of course, selling online has a lot of perks compared to selling in an actual store, but there are also hundreds, if not thousands, of competitors from all around the globe. So, if you're planning to ship globally within this first chapter of your business, take some time to learn about what this means for your profit, shipping fees, and currency conversion.
On a side note, it is also important that you consider some issues like cultural differences among countries to which you plan on shipping or to promote certain designs that could mean a sensitive matter to a religious group, for example.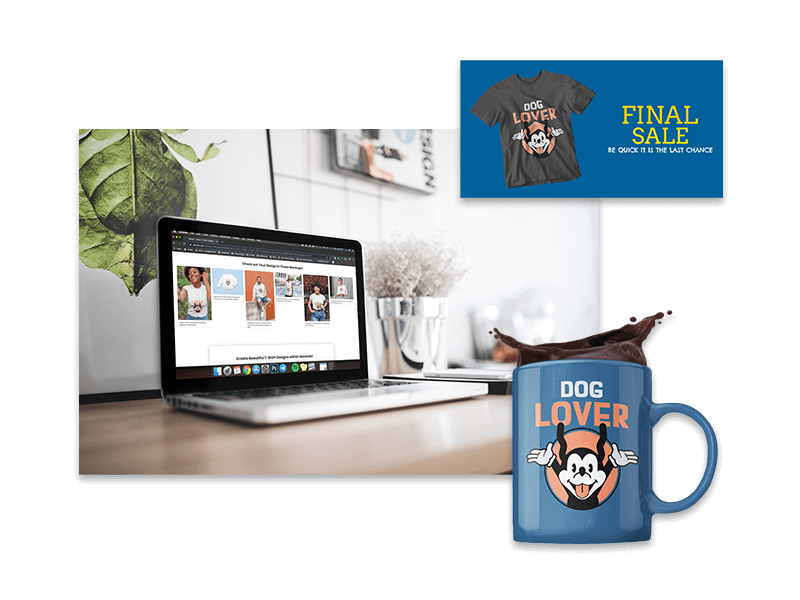 Best SEO Tips on Keywords for a T-Shirt Brand
It's time to take a close look at your SEO strategy. If you have no idea what we're talking about, then you're in desperate need of this post. Using these SEO tips is the best way to get customers to your shop and increase your sales.
Search Engine Optimization or SEO can really help you build your shop or website while ranking high in Google or any other platform you are selling t-shirts on. In order to sell more, your need to use keyword-rich descriptions and relevant tags.
🔥  Check out the best SEO practices for your Shopify store!
9. Is Print On Demand Still Profitable?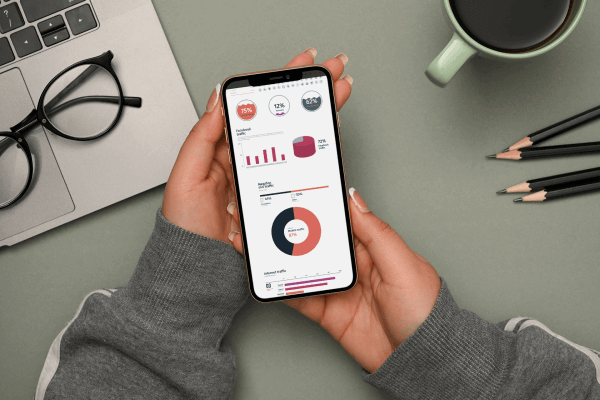 Print-on-demand is a business model that can be easily scalable. A huge amount of internet users use the internet to buy goods every single day. So it is safe to say there is a huge market for POD sellers! 
Its low starting costs, product diversity, and no inventory needs make it a super popular business for everyone! This is why you really have to step up your game if you want to stand out. Find out more about this in this post.
💡 What's the future of print-on-demand businesses? Find it out here!
One Last Piece of Advice
Before you jump into your new endeavor, take your time and be patient, POD businesses are blooming all over the world, and yours will too, if you make the right call. When in doubt, you can always come back to our blog to find new content and updated best practices to make your business thrive.
Hopefully, this guide cleared some of your questions to start your adventure. Want some additional content on print-on-demand business? Please feel free to get in touch to let us know what you'd like to see in this blog.
FAQ
---
Find the Best Resources to Start Your Print on Demand Business
From budget to choosing products for a niche to mockups, learn the most useful tips on how to set up your print on demand business.
Start Your POD Business with Mockups
---