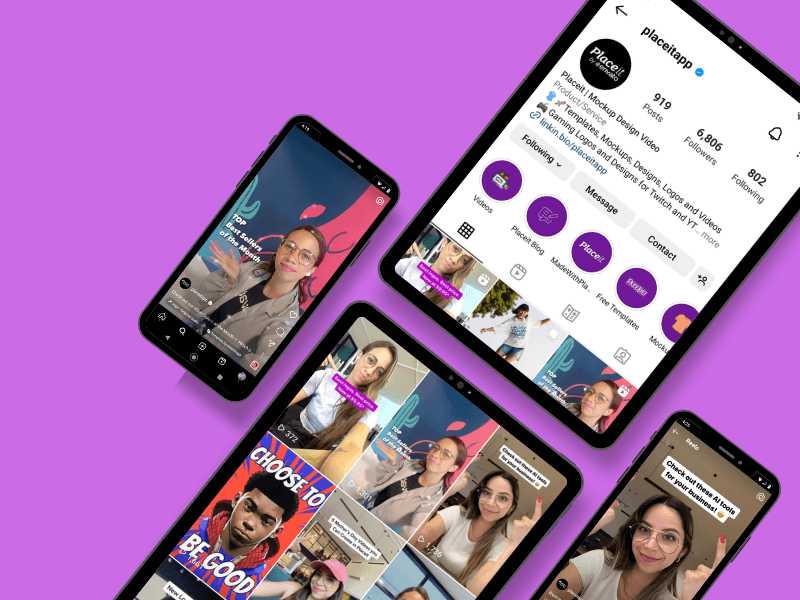 Nowadays, videos are one of the favorite types of content online for tons of users worldwide. If you own a business or are a content creator, you can't leave videos out of your marketing strategy, including Instagram Reels. With over 140 billion daily views of Reels on Instagram and Facebook, you need a guide on how to make Instagram Reels that work for real and set you apart from your competitors!
This cheat sheet will guide you through the basics and best practices of making Instagram Reels, including effective hacks to help your Reels go viral whether you're a one-person team or an experienced marketing guru. So let's turn up the music!
Let's Make Your Reels Shine:
What Are Instagram Reels?
Instagram Reels are an entertaining and short type of content in the shape of videos. They're ideal for reaching wider audiences and increasing your followers, engagement rate, and brand awareness.
Instagram Reels are presented in a full-screen vertical way and can be single or multi-clip videos of up to 90 seconds. You can add texts, stickers, music, transitions, and effects and adjust speed to create a shareable and engaging video.
The first time we saw this Instagram feature was in August 2020 when Instagram Reels were launched for the first time after the big TikTok success. Since then, our feeds have been full of Reels because they've become a favorite type of content.
Fun fact: from July 2022, every video turned into a Reel. This means every uploaded video is now a Reel!
Here are a few technical details to keep in mind: 
Aspect ratio: 9:16
Dimensions and ideal resolution: 1080 x 1920 px.
Duration: up to 90 seconds
Minimum resolution: 740px
Cover picture size: 420 x 654 px.
🕺You might like: YouTube Shorts vs. Tik Tok vs. Reels: Which Is best?
How to Make Instagram Reels
Before jumping directly into the process of how to make Instagram Reels, it's great to learn the basics, get familiar with the tools and resources -and even your own camera-, and explore the Reels section. So let's start!
Instagram Reels Tools
Our first stop is the inside the Reels editor. On the left side of your screen are various white icons that will help you enhance the process of making Reels. Let's swiftly review them!
🔊Audio
Want to know more about Instagram Reels music? This is the section you were looking for! Start by searching for your favorite tracks on "Search music."
If you have no idea what track will be best for your video, let Instagram suggest what's currently trendy. Swipe right to discover the "Featured" songs and click on each to listen to the music. There you can play the music and click on the blue button "Use Audio," and automatically, Instagram will insert that song into your video, specifically the trendiest part of the song. Another cool feature is Instagram has full songs, so you can choose exactly which part of the song you want as the theme for your video.
Not feeling like making a Reel right now? No worries, click on the "Save" icon that's located in the top right corner, and that's it! You can find it later in the audio section below "Search music."
Looking for other options regarding how to use and save an audio on Instagram? Go to the Reels section on your phone and start watching videos. Once you find an audio you like, tap on the song's name or the circle at the end of the screen, and you can either save the audio or use it right away. When you're ready to create a Reel with that audio, tap on the camera, and click on the musical note.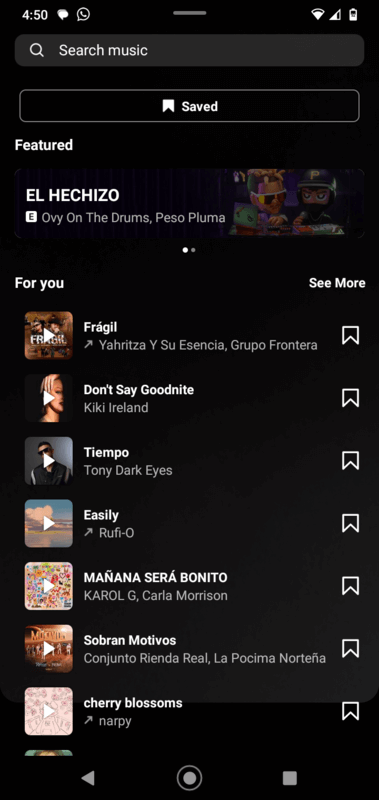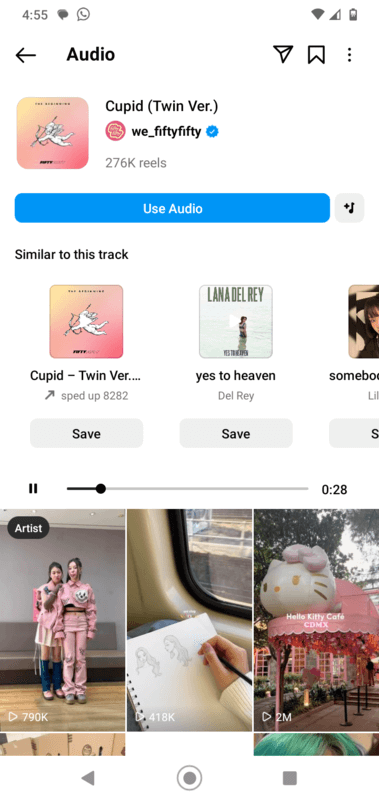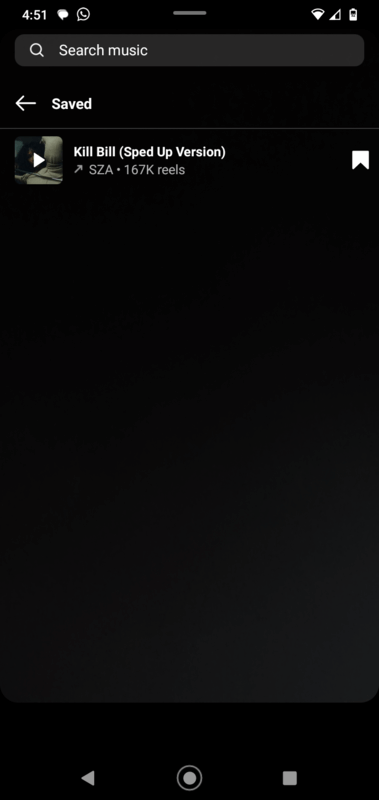 ⚡ Need similar tracks? Here's a tip: Click on the musical note icon next to the blue button to learn more about this music style.
🎭 Effects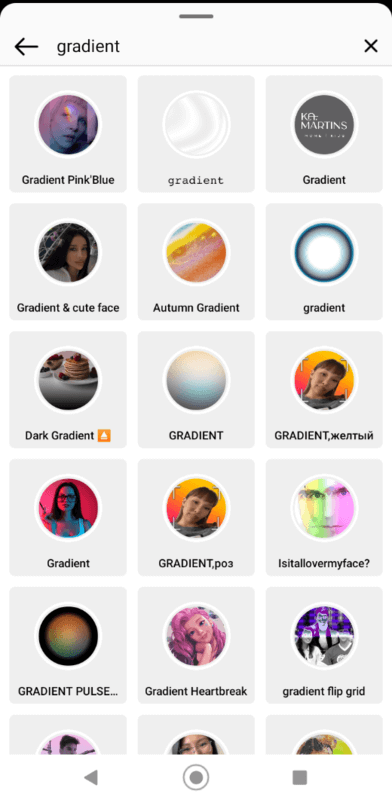 These are divided into three categories: "Trending," "Reels" and "Appearance". All of these effects and filters were specifically created for Instagram and its user community, allowing you to experiment with different styles and looks for your face or entire video. Once you find an effect you love, click on the circle to start filming.
📍 Not to mention in that same section, it's possible to save effects or browse by keywords to get narrowed results.
🟢 Green Screen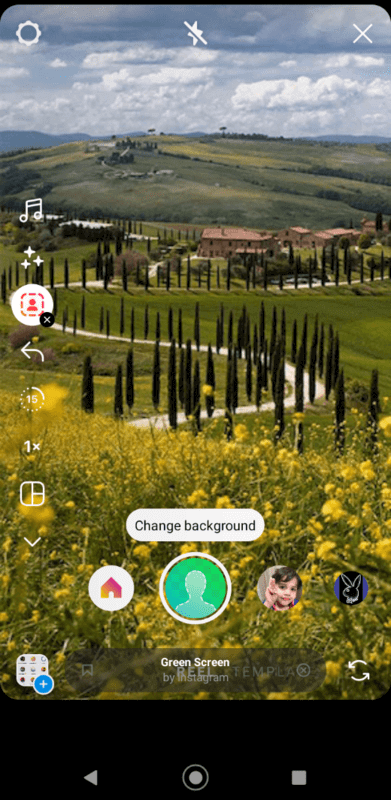 This new Instagram feature is available only for Instagram for business accounts. Here you can have any picture behind you, whether it's a landscape, a photo, or a screenshot.
To change it, tap "Change background" and select a default scene or upload one directly from your camera roll -it can even be a video, but the sound will be off.
✨ Keep reading: Instagram Creator vs Business Account
🔥 Add yours
This section contains preset sticker cards perfect for interacting with your community through photos.
📐 Length
Here, you can set the duration of your Instagram Reel. Opt for 15, 30, 60, or 90 seconds.
⚡ Speed
The average speed for Instagram Reels videos is the preset one which is 1x. However, depending on what you're showing/explaining in your video, you can modify the speed to .3x, .5x, 2x, and 3x—going from slower to faster.
🟪 Layout
This optional Instagram feature will automatically split your screen vertically in two. When you click on the circle in the middle, you'll start recording the first part and after the second one. So it's like having two different videos in one. However, by tapping again on the layout icon, you can discover two more variants: your screen is divided into two but horizontally and vertically in 3.
⌛ Timer
A timer will be your ally if you're working alone or need to stop your video at a specific moment. With this function, you can start a countdown available from 3 to 10 seconds to begin filming. In this way, depending on the setting you establish, Instagram will record and stop your video automatically.
Before Recording a Reel
1. Establish a Goal for Your Video
Defining a clear purpose and type of content to succeed on Instagram is crucial. Whether you want to teach something, promote your latest product, or share a fun time, clarity is essential.
2. Define What Kind of Content You'll Make
Once you have your goal, you can brainstorm and write down your ideas for achieving the desired look, but always keeping your audience preferences and interests in mind. Remember, the algorithm prioritizes videos the audience will likely engage with.
⚡Pro Tip: Keep an eye on trends, popular songs, effects, and styles for inspiration. You can always adapt a trending sound/video to your brand.
🪩 Take a look at the Instagram Trends for this year!
3. Have a Clear Structure in Mind for Your Videos
This means all your Instagram Reel videos should have a beginning, middle, and end to tell a story. In the last part, don't forget to include a clear call to action that encourages your audience to perform a specific action.
4. Be Prepared With the Necessary Materials and Set up a Suitable Scenario for Filming Your Reels
Ensure you have good lighting, preferably natural light, and a clean background to make your content stand out. Lastly, remember to have all your materials for the filming process, whether they're clothes, brand products, or instruments.
Alright, all set to learn how to make Instagram Reels on your mobile device. 👇🏼
How to Make Instagram Reels on The App
Great, we've understood the basics so far! Now it's time to move on to the juicy part: the recording, editing, and sharing process. Here's the step-by-step process: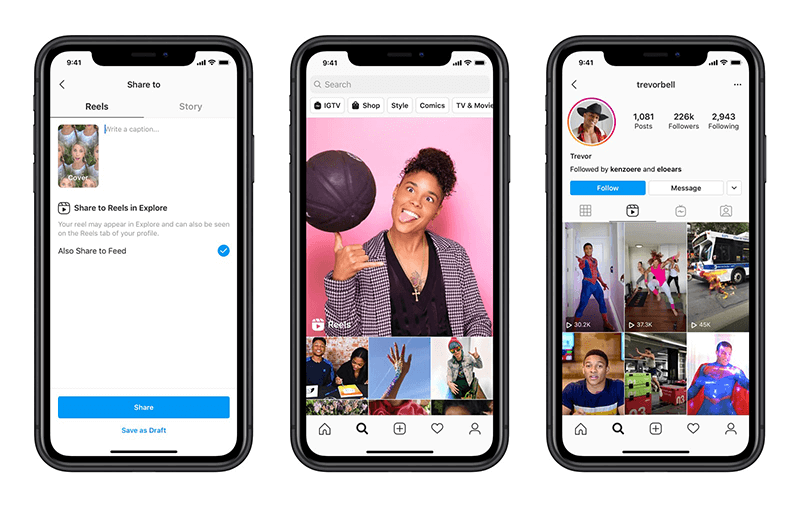 1. Open the Instagram App
You'll have four options to get access to the Reels section.
Immediately upon opening the app, select the "+" icon, and swipe right to tap "Reels".
On your profile, in the top right corner, select the "+" icon "Create" and tap "Reel".
Or, on your home (feed), just below the Instagram logo, tap the blue "+" icon. You'll notice that by default, Instagram positions you on "Story". Simply swipe right and select "Reels" to start recording or creating one.
Finally, when watching Reels, tap on the camera icon. This will lead you to the Reels editor to start creating one.
2. Record or Upload a Video
You're already familiarized with the tools, so it's time to use them in your favor. Whether you want to record a video from the start (directly from the app) or upload a pre-recorded video (made with Instagram Reels templates or Placeit templates). In both cases, it's most likely you want to add a little bit of spice and edit your video, so follow these steps:
3. Edit Your Instagram Reels
Wondering how to edit Instagram Reels? Here's how to do it:
Once you record or upload a video, you'll see a blue button called "Next" -this will take you to the Make a Cover and Share section-. But before moving to that part, editing your video is essential.
Simply tap on the "Edit video" black button. Here, you'll be able to insert more clips, whether recorded directly from your camera or uploaded from your gallery, then you can reorganize the order of each clip. But also, add text, stickers, and other elements to your video and even add audio in case you forgot about it.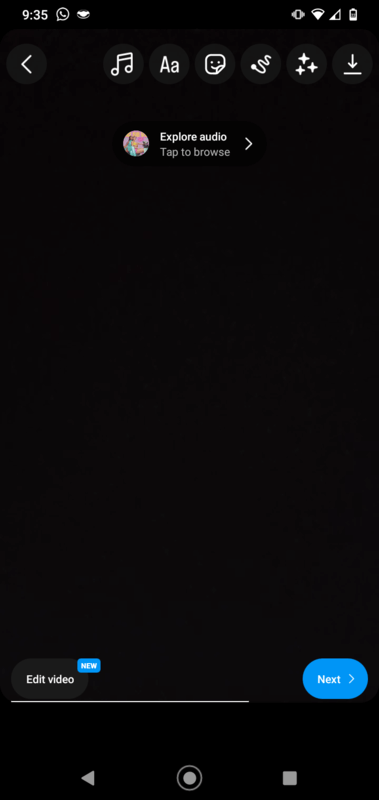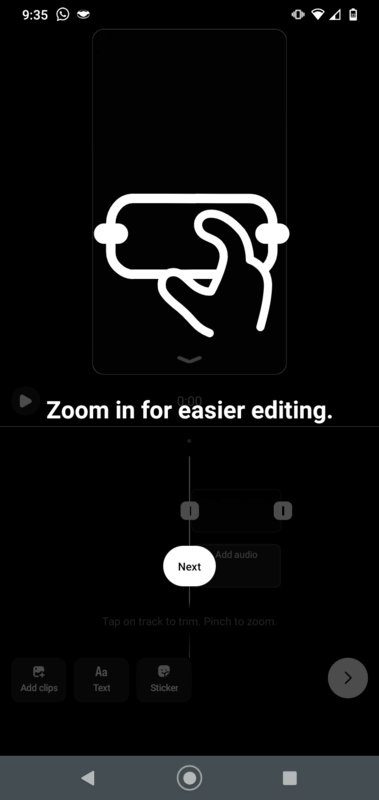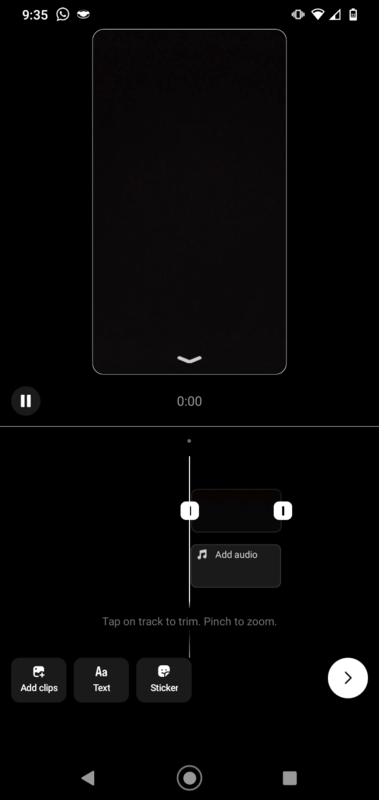 ⚡Pro Tip: To trim a video clip on the editor, select it, and you'll see a yellow outline. Then, drag it to the right (beginning of the video) or left (end), depending on the part you want to trim. The audio works the same way; you can drag to the right and left to adjust the part of the song you want to hear on your Reel or even change the theme.
When you've made all the edits and changes to your video, select "Next" to make a cover photo and publish your video.
4. Make a Cover Photo
You can make a cover photo on Instagram Reels by taking an image from the video you've just created. However, to have a stunning and professional result, we recommend taking a few minutes to design an eye-catching image that will attract tons of viewers and also aligns with your feed style. In that case, you can use our Placeit by Envato Instagram stories.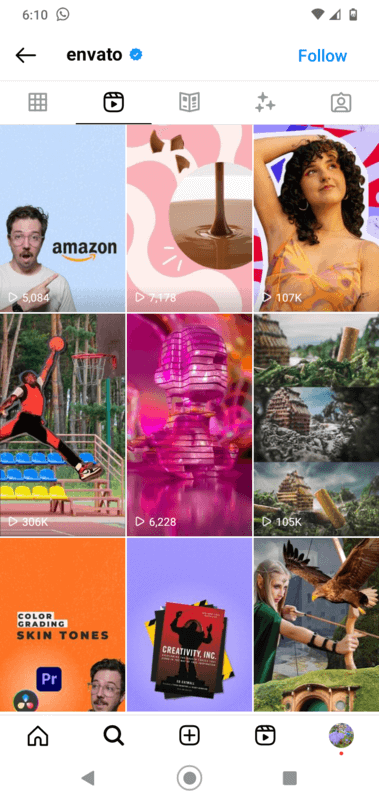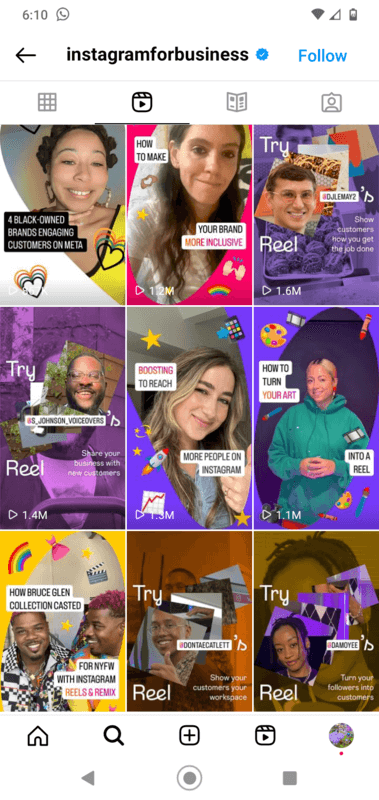 How to Make an Instagram Reels Cover With Placeit
Head over to our Instagram Story Templates.
Filter by tags on the left side of your screen, check the drop-down menu in the middle, or type keywords on the search bar to narrow your search results according to what you intend to convey.
Browse all of our styles and select the one you like the most.
Edit your template by changing texts, fonts, colors, graphic elements, and background colors.
Once you're happy with the result, hit the download button to receive your next Instagram cover.
😊✨🌈 We highly recommend heading over to our new Colors by Placeit tool, where you can find everything about colors and get inspired by curated color palettes for your design needs.
5. Publish and Share!
This is our final step, so now that you have your cover, click on "Edit Cover" to select a frame from your video or "Add from your device" and click "Done".
Afterward, you can write a caption for your Reel and optimize your video for search by adding relevant and effective keywords and hashtags. To succeed on Instagram, the key is to include 3 to 5 relevant hashtags that help your target audience find your content.
Then verify the blue button is activated to also share to your feed. Here is when establishing a cover photo for your video becomes important. By doing this, you'll be able to present your Reel consistently on all your feeds without losing style.
You can also tag people, and add a message button, like "Send message." Be sure to add up to three topics to help match your Reel with the right audience. Pick from fashion and beauty, animals, transportation, food and drink, visual arts, travel, sports, science and tech, relationships, performing arts, games, tv and films, home and garden, and business and education.
Moreover, it's possible to add location and reminders. A reminder is amazing for when you have an upcoming event; this Instagram feature will help you name an event and set a start time, so people can be aware of it and get reminders before it starts.
Recommend on Facebook. Make sure the button is turned on if you want your Instagram Reel to be displayed on Facebook. Remember that your Instagram username will be shown to the Facebook community. Also, to share on Facebook, you don't even need a Facebook account. Finally, consider anyone on these two platforms can create Reels with your original audio and remix it.
Advance settings. This section allows you to let others use your Reel as a template, hide like count on your Reel, show auto-generated captions, and upload at the highest quality.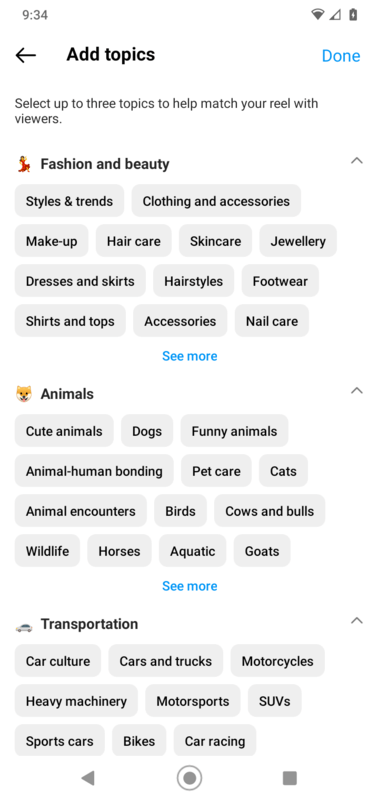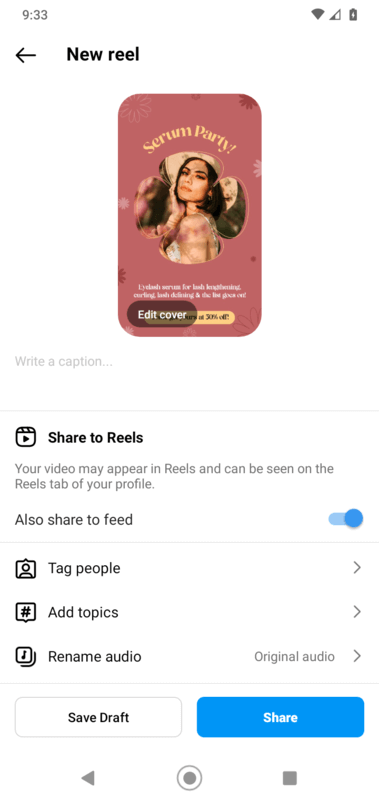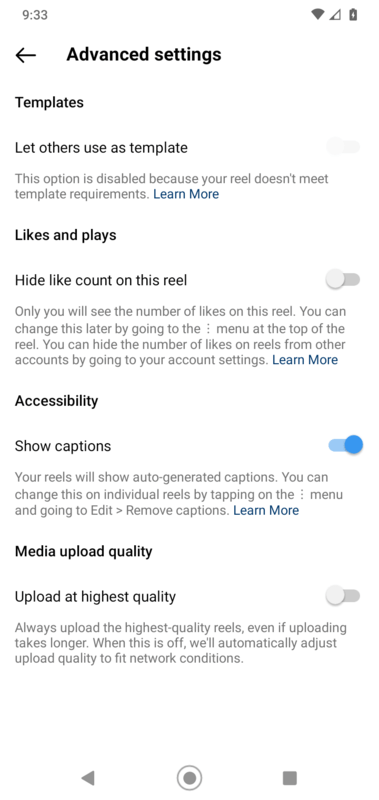 Once you're all set, click Share to make your Instagram Reels go viral! ✨
🔥 You might like reading: How to Post a Video on Instagram with Your Newest Designs
How to Make Instagram Reels With Templates
Good news for all creators and business accounts! To avoid all the hard work of editing a video, Instagram launched a templates section for Reels that will save you a lot of time and effort. Therefore, you won't have to figure out how to use complicated or tedious online editors.
So, where to find the Instagram Reels Templates?
Open the Reels section directly from your profile, click the Create icon "+", and select  "Reel". Once it's open, you'll see "Reel" and, on the right side, "Templates".
Swipe right to view all the available templates. The majority come with a wide selection of popular sounds and transitions.
As you stop on each template, the Instagram Reel template will automatically play for you to preview it. So watch all the available templates and pick your favorite.
When you pick a template, all you need to do is insert your media into each predetermined clip and customize it to your liking. Once you're happy with the result, you can edit the video to add texts, stickers, and whatever you forgot and then move to the publishing part.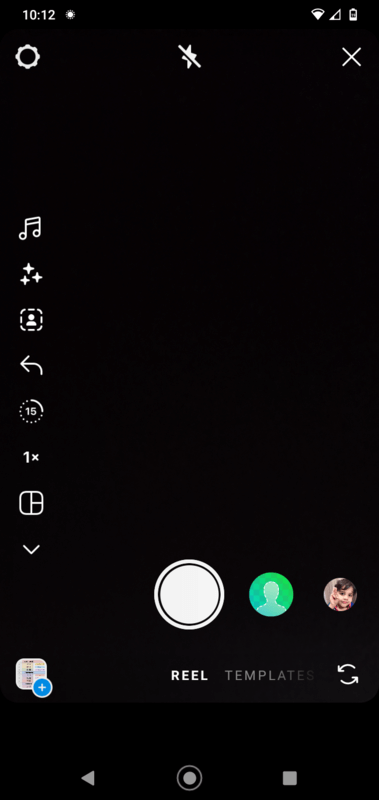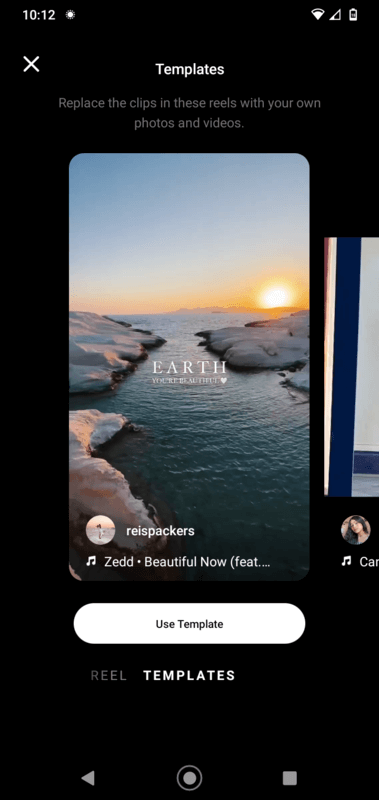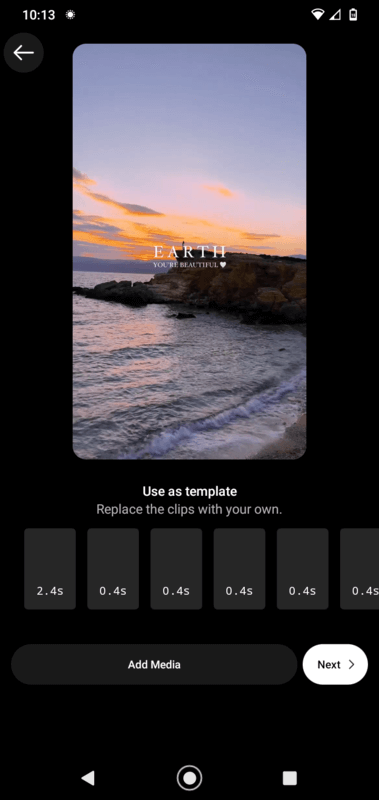 How to Make Instagram Reels With Placeit Templates
We've got you covered if you're looking for a vast array of sophisticated, aesthetic, professional Instagram Reels templates! Our library contains many video styles to achieve your desired look.
Here's how to make Instagram Reels with Placeit:
Visit our Instagram Story Videos collection.
On the left column, check all the available tags to get templates with the theme you're looking for.
Then filter by Newest or Best Selling. We're uploading new templates every day! ⚡
Pick the template you like the most and get ready to customize it.
Change fonts, copy, colors, graphic elements, photos, backgrounds, speed, and even add a new song.
When you're ready to visualize your changes, click "Play all slides" to save your progress and make your video suitable for downloading.
Finally, hit the download button to receive a top-notch file for your Instagram Reel. And that easy is to create a stunning and suitable video for Instagram in a breeze!
Instagram Reels Ideas
We already know how to make Instagram Reels step by step, but you might need a bunch of inspiration for your next video. Here are some ideas!
💡 Click on each icon and Instagram Reel idea to watch real-life examples of how brands and businesses are implementing these ideas on Instagram.
Here you can show your audience the process of reaching a specific result.
Think of some daily situations and twist them into something humorous.
Creating a short and entertaining story is the best way to keep your viewers engaged.
Transitions are a great way to keep your audience hooked, so use this Kit Kat example to create a cool Reel.
Get to know your customers' preferences about your brand's products/services by making them choose between two options.
Take a video and record it as if one of your viewers is doing all the actions you're showing.
Show in a few seconds how to turn something simple into something extraordinary.
As a referent in your industry, you can collect some tips that would be helpful for your audience.
Here you can make a tutorial explaining how to solve a specific issue.
You can make a Q&A round or even allow your viewers to suggest specific things for you to design or showcase.
Time to react to some video about your brand or even share your thoughts about the other person's video.
What better way to introduce your new product or feature than with a video?
Here you can present different takes from a location, spot, food, or whatever you have in mind.
Create a quick video to showcase your top products of the month to persuade your viewers to try them out for themselves.
Just like Printful, you can make a guided tour for all your followers to know more about your work center or shop.
Instagram Reels Best Practices
If you want to beat the Instagram Reels algorithm, there are some things you need to keep in mind. While some of the following points might seem obvious, it's great not to underestimate them. We assure you that by following all these hacks and tips, you'll have all the elements to make Instagram happy and therefore, make your Instagram Reels go viral. So let's take a look!
1. Leave Safe Zones
Sometimes, when designing, a common mistake is to cover the entire screen/layout without respecting the space for the user's account, name, and description of your Reel. So ensure your video elements and the video itself have space for breathing and keeping a clean space.
2. Make It Dynamic
Instagram's algorithm loves variety, as do we as humans, who are always looking for something new and exciting. So the same applies to your videos! You can twist them by changing angles, adding transitions, incorporating Instagram creative tools (texts, stickers, music), sharing compelling stories, joining fun trends, and creating a wide range of content.
3. Shorter Videos Work Best
A study revealed that brands and businesses only count on 8 seconds to grab viewers' attention. This means the first seconds count a lot! In a fast-paced environment, consumers will determine whether your content is worth watching or not. So, if you don't want them to scroll down, we recommend opening with a catchy visual or a text that's focused on providing a solution or talking about a topic that is relevant to your target audience. Finally, if you need to develop a longer message, opt for other valuable resources like full YouTube videos or even a blog.
4. Don't Oversaturate
While Instagram is happy when you use the resources they created to enhance your Reels, please avoid oversaturating, especially regarding the text. Instagram users prefer aesthetics over saturation, so add text only if necessary. Use the description or give an external link to provide additional information or steps if needed.
5. Listen to Your Community
Your community is the best source to understand what you're doing great and what needs to be enhanced when making Reels. So, ask them what they want to see and take advantage of features like polls, quizzes, and reaction bars for a better and deeper understanding.
6. Have a Clear Vision and Strategy
To succeed in making Instagram Reels, it's essential to have a clear vision and strategy. While jumping on trends is fantastic and fun, remember that, in the end, every video you create should have a meaningful purpose that contributes to your brand's growth. So take your brand seriously and align all your sales and marketing efforts toward your primary business goal. By doing this, you can facilitate your content creation process in a cohesive and effective way.
7. Add Clear Calls-To-Action
Always add a call to action to the end of your Reel; this will make a big difference in terms of your numbers and interactions. All you need to do is tell your viewers what you want them to do. For example, "Like this post", "Save it for later", "Share it with a friend", "Follow for more content," or "Link in my bio". This last statement is powerful to drive traffic to your profile and, of course, your website.
8. Spread Your Video Content
Now that you've posted a Reel, you can still post it on your feed and stories. This step will help ensure your community is aware of your new content. Plus, sharing your Reel on your Instagram Stories is a perfect way to increase your reach and engagement.
9. Small Actions Count a Lot
Add captions to make your video content accessible for all your viewers; this ensures anyone can enjoy the content even if the sound is off. Plus, ensure you're meeting the technical requirements, such as only vertical videos in high-res, only using music from the platform -or creating your audio. Finally, at all costs, please avoid watermarks from other competitors, like TikTok.
And that's a wrap! If you liked this post, we recommend reading a complete hot Instagram Guide that will be your best ally when it comes to creating content on Instagram. See ya there!
FAQ – How to Make Instagram Reels
---
---