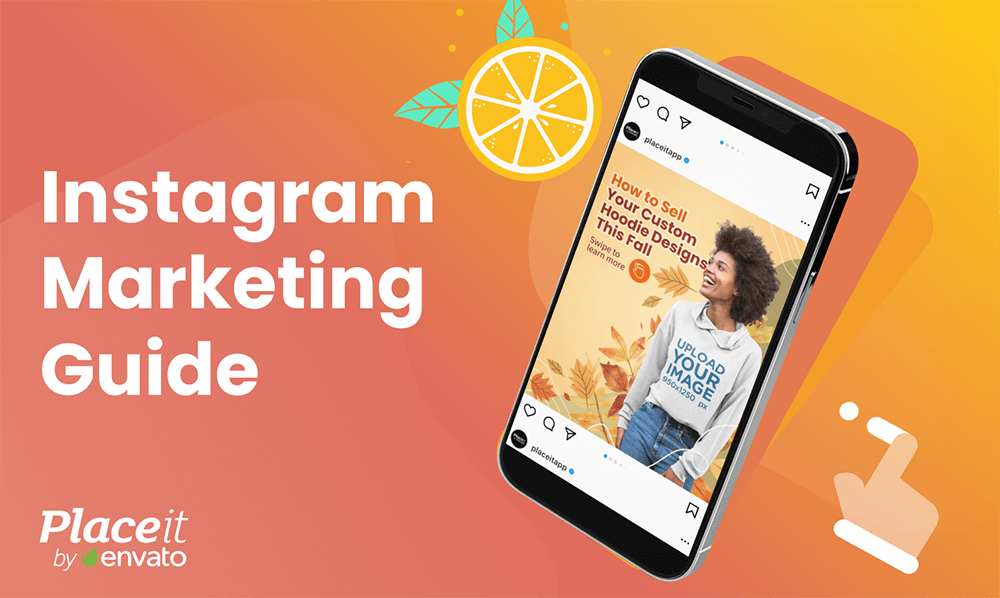 With over 1.35 billion monthly active users, Instagram is a trendsetter in marketing practices for all brands! Instagram is a pioneer in social commerce and a platform with a massive number of influencers to partner with. This is definitely the social media you need to grow your business. 
All you need is the perfect plan, and why else would we be here if not to help you figure it out! To succeed, there is a number of factors you need, including the right content! Let's dive right into it and get started with this Instagram marketing guide!
What You'll Find:
Creating a Brand Identity on Instagram
Instagram gives you the perfect space and tools to create a brand identity easily. Follow these 5 tips to get started on a strong brand on Instagram. 
1. Write the Perfect Instagram Bio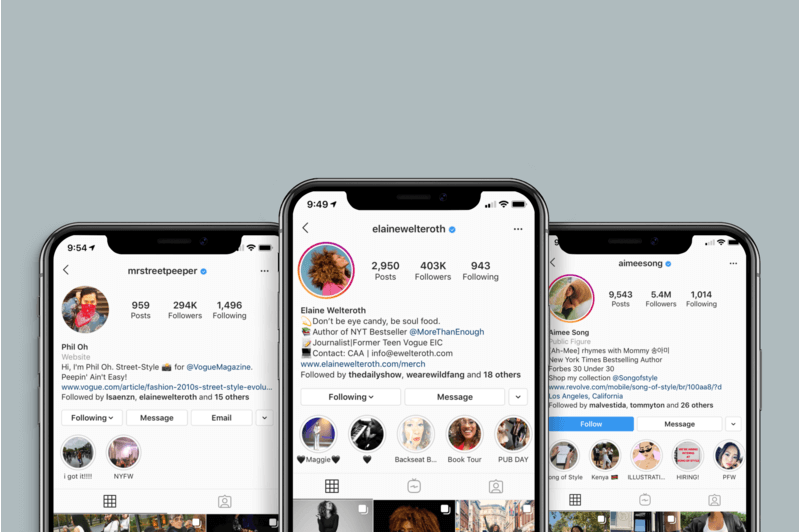 Make your profile memorable and easy to share with others by keeping your username simple and to the point. Focus on telling people who you are and what you do. Identify keywords that are descriptive of your personal brand and that don't fall flat. 
If you sell products, consider including a link that takes your followers to your products, or if you prefer to get traffic to your blog, link to that. 
When building a personal brand, don't be afraid to get creative with your bio and include your personality in it, be it with your favorite quote, emojis, hashtags, or anything else that is relevant to your brand.
Optimize Your Profile:
Profile Picture:

Choose a photo (or your

brand logo

) that makes it easy for your brand to be identified.

Well-Crafted Bio:

Your bio has a clear definition of your business that speaks to your audience. It tells them exactly what you have to offer. So post constant, relevant

Instagram content

that your audience will love.

A link to Your Online Shop:

This URL in your bio is the only clickable link on your profile, so make sure that you are using it. It is an excellent place to drive traffic to your site.
💡  Read more details on these in this post.
2. Create Shareable Content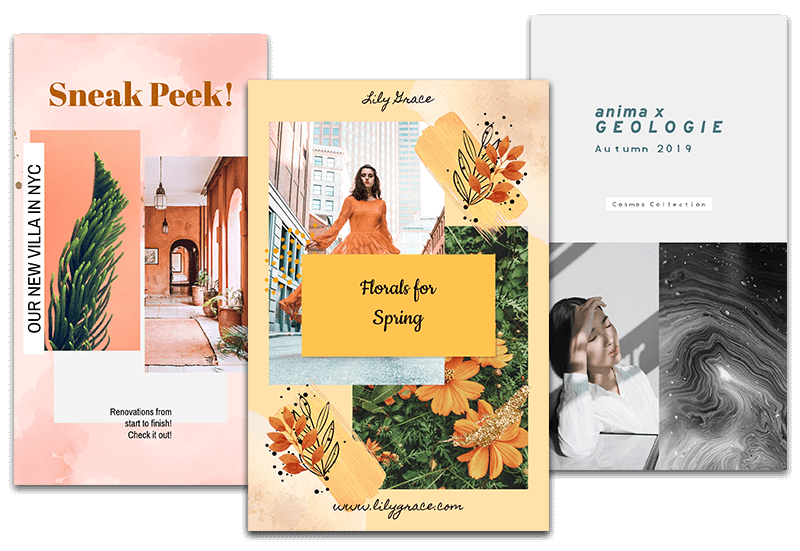 Whether you're an illustrator or a stylist, Instagram is all about creating content that will impress your followers. Beyond impressing them, you'll also want to have a visually appealing profile full of posts that your followers will want to share with their own crowd.
You'll want to be a storyteller, and having eye-catching visual content to accompany it is key. Impressive images to go along with your stories will make your content much more captivating. 
You can use Instagram post templates to help you create beautiful images in no time. There are tons of beautiful Instagram templates to choose from, including collage styles that can inject your personality into your grid. 
3. Make a Great First Impression
There are tons of tools available that you can use to create aesthetic Instagram pictures, including those designed to help you curate a cohesive Instagram grid and plenty more that you can use to plan your feed. You can basically arrange the images and videos you want to post and shift them around on a simulated grid until you find the perfect arrangement.
Doing this may sound like a lot, but it'll help you arrange things in a way that makes sense for your brand. This type of work can make all the difference and take your personal brand to the next level.
4. Take Advantage of Instagram Stories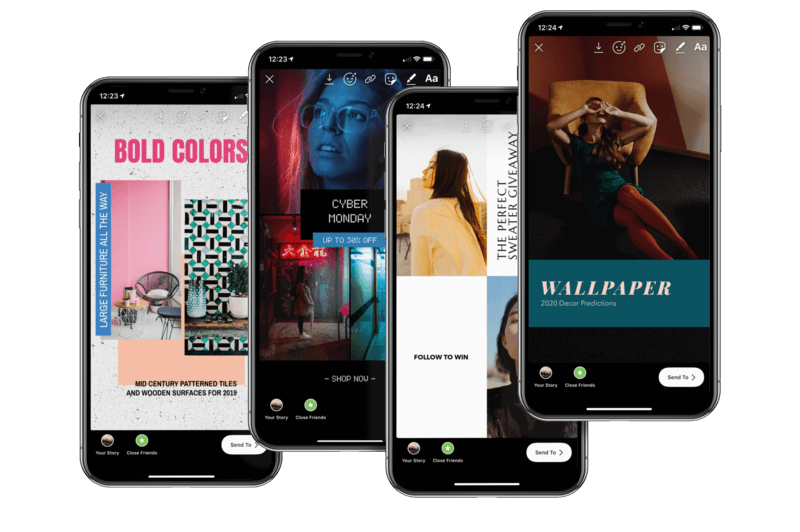 Creating Stories that are relatable and raw works well with audiences because they feel like they're seeing a more human side that is less manicured, less edited, and more at the moment. You can do a lot with your stories, such as capturing live moments in short videos, sharing a post from your grid, sharing a post from another user, giving a behind-the-scenes look at something you're working on, telling a story, sending a call to action, asking your followers a question, and so much more.
Your aim should be to promote your brand using the same brand voice but in a less traditional way that is more honest and real. Just like with your posts, you can also find tons of great Instagram story templates to make creating bold and eye-catching stories easy. Check out these templates to create a beautiful Instagram Story collage that is sure to impress your followers. 
🔥 Review more details on how to set up your brand successfully on Instagram. 
---
Instagram SEO Guidelines
Knowing how to optimize your Instagram SEO is essential for businesses and content creators to get a better reach and discoverability. Below is a guide on Instagram SEO practices that you can use to improve engagement and visibility on the platform.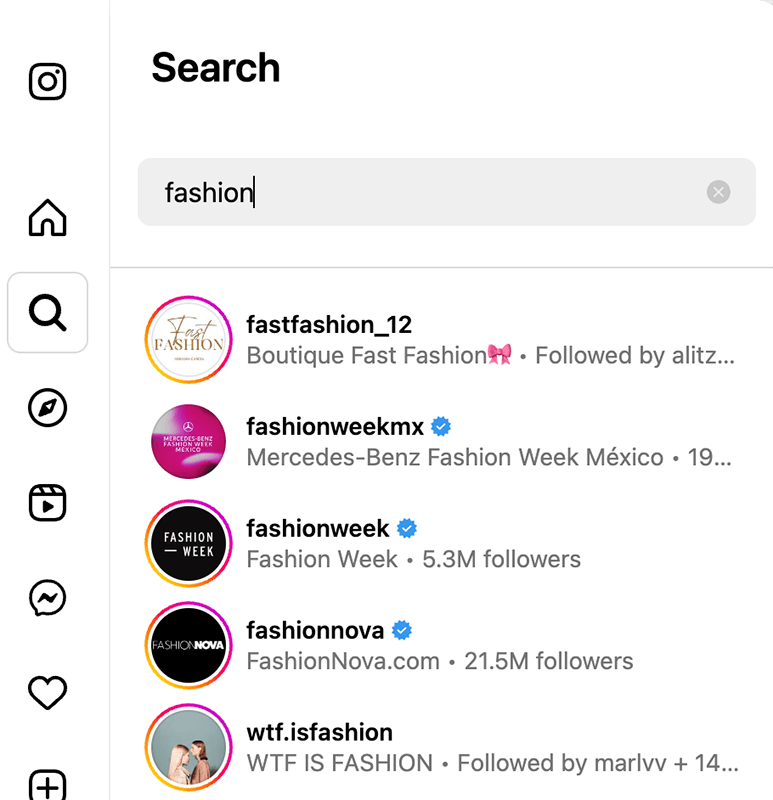 Keep in mind user activity will affect search results. When making a search, any account or hashtag your user has interacted with before will appear on top places. Mutual connections will rank higher as well.
Instagram's explore page algorithm shows accounts that are similar to each other. It identifies relevant words in the text, and this is why it's so important to optimize! Ensure a proper SEO on your account with the following steps:
Use Relevant Keywords & SEO-Driven Hashtags
Optimize Your Bio Description
Post Quality Content & Use Alt Text
Use Instagram Insights to Measure Success
Collaborate with Other Instagram Accounts
Encourage User Engagement
Use Tags to Increase Your Discoverability
🔥  If you want to know more details on each of these tactics to ensure a great Instagram SEO on your account, follow this link to our full guide.
---
Create Instagram Graphics to Promote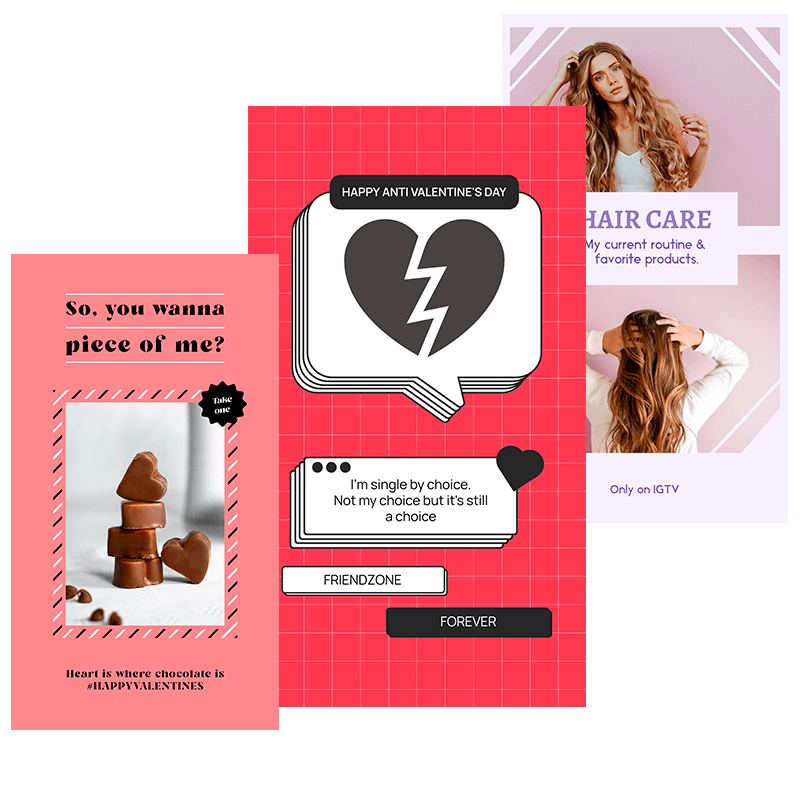 Sharing beautiful visuals is a must! Luckily, Placeit by Envato has a bunch of templates; you don't even have to worry about figuring out the correct size for your Instagram images because all Placeit templates come ready with the dimensions specified by Instagram. 
These templates allow you to create images on your smartphone or desktop by simply choosing a graphic, background, font, and colors to put together a striking image your followers will love. 
Placeit has different templates you can use to design your own images for Instagram; we'll show you how to make the most of these. You can use our assets or even upload your custom images. 
Insta Story Templates for Your Brand
An Insta Story allows you to connect with your audience in a temporary way. You can display specific content that will only last 24 hours. Insta Story Templates are a must-have for every modern-day brand.
Post stories about:
Tips

Fan Photos

Live Announcements

Behind the Scenes

New Products / Services

Events / Breaking News

Discounts, Giveaways

Call to Actions

Quotes

This or That Stories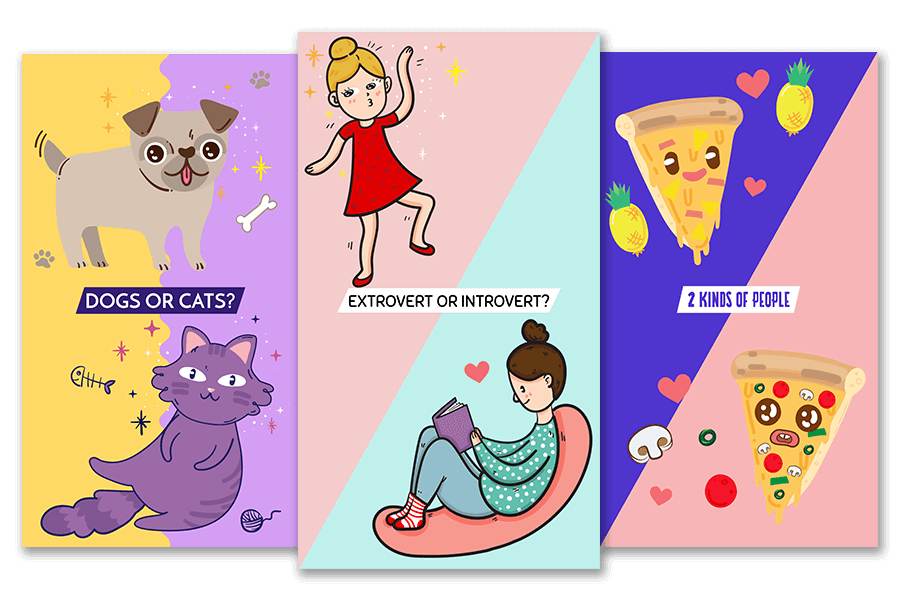 With this or that stories, you can engage your audience by causing controversy with a question or a difficult pick! 
Instagram Story Polls, Challenges, Tags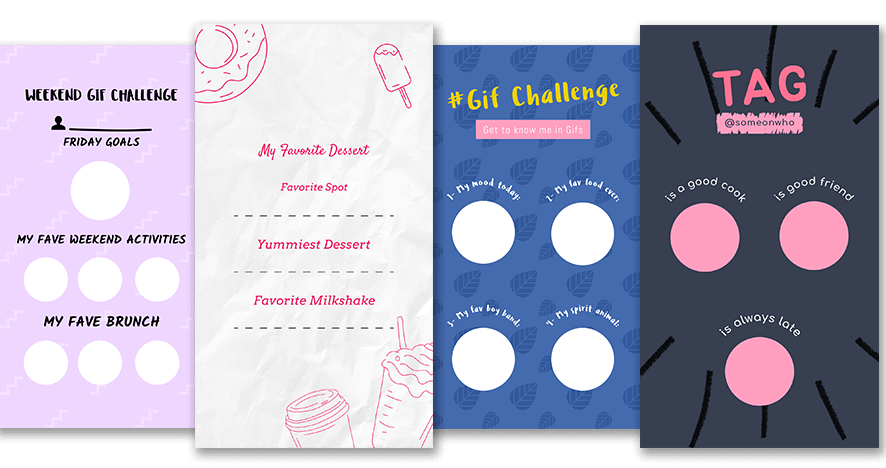 Polls are a great tool, as are challenges that you can design with your images. You can also ask your followers questions or directly request answers. This can completely change the way you think about giveaways, promotions, clues for contests, and much more! 
🔥 Check out more great Instagram story ideas here!
Instagram Questions
Instagram Questions is a powerful tool you can use to make brand awareness efforts in order to engage with your audience. Use this appliance to understand what your customer is about and get closer to them!
This is How Instagram Questions Work
Select the Instagram Questions sticker from your Instagram Stories menu when posting a photo or video.

The default question is Ask me a question on Instagram, but you can modify it to anything.

To see your follower's answers, open your story and click the images of the profiles on the bottom left (the ones who've seen your story).

Customers can reply as many times as they want.

You can click on "share response" to show your followers that reply. You can see who responds to your questions, but when you share answers, their username and profile won't be visible.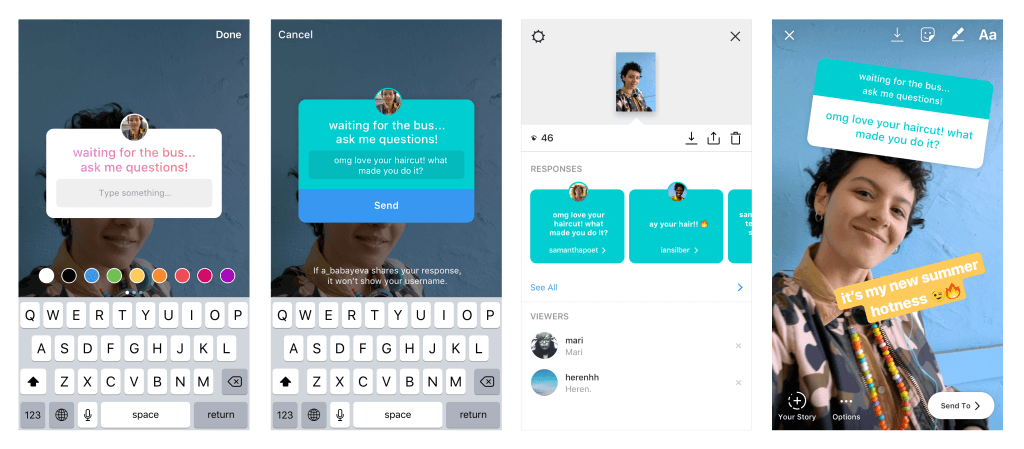 Instagram Question Ideas
Show your Brand's Values 

Conduct a Pop Quiz 

New Product or Service Feedback 

Partner with Other Brands Use Your Questions as a Lead Generation Strategy 

Ask for Recommendations 

Announce New Releases
✨  Take a close look at each of these ideas here. 
Customers won't want to answer your questions daily, so use this sticker sparingly.
For this or that questions, you can use an Instagram Pole, so save your Instagram Questions for more complex doubts. Remember you are looking for feedback, comments, in general, any emotion towards your brand.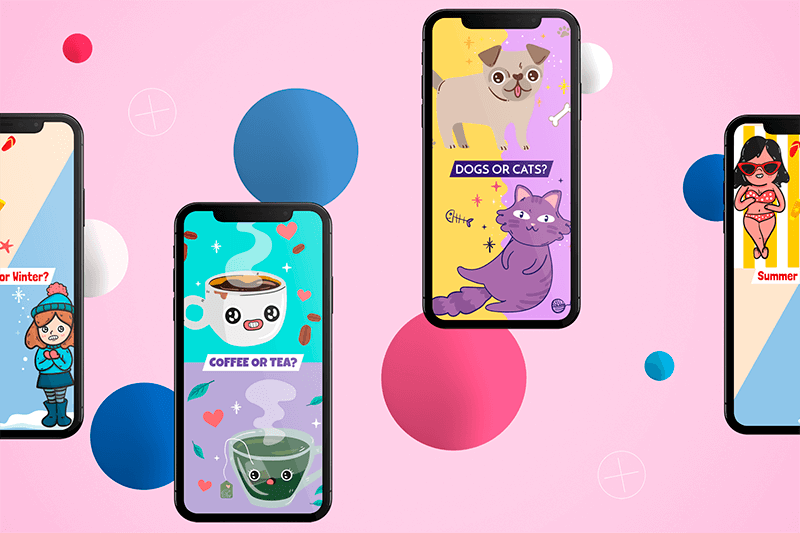 Create Instagram Reels in a Few Clicks
Instagram Reels are an entertaining and short type of content in the shape of videos. They're ideal for reaching wider audiences and increasing your followers, engagement rate, and brand awareness.
Instagram Reels are presented in a full-screen vertical way and can be single or multi-clip videos of up to 90 seconds. You can add texts, stickers, music, transitions, and effects and adjust speed to create a shareable and engaging video.
Here are a few technical details to keep in mind: 
Aspect ratio: 9:16
Dimensions and ideal resolution: 1080 x 1920 px.
Duration: up to 90 seconds
Minimum resolution: 740px
Cover picture size: 420 x 654 px.
So, while uploading a video without editing is fine, why not give it a more aesthetic touch with Placeit? 
How to Make Instagram Reels With Placeit Templates
If you're looking for a vast array of sophisticated, aesthetic, professional Instagram Reels templates, we've got you covered! Our library contains many video styles to achieve your desired look.  Here's how to make Instagram Reels with Placeit:
Visit our Instagram Story Videos collection.
On the left column, check all the available tags to get templates with the theme you're looking for.
Then filter by Newest or Best Selling. We're uploading new templates every day! 
Pick the template you like the most and get ready to customize it.
Change fonts, copy, colors, graphic elements, photos, backgrounds, speed, and even add a new song.
When you're ready to visualize your changes, click "Play all slides" to save your progress and make your video suitable for downloading.
Finally, hit the download button to receive a top-notch file for your Instagram Reel. And that easy is to create a stunning and suitable video for Instagram in a breeze!
🔥 To learn more about Instagram Reels, you can't stop reading our full guide: How to Make Instagram Reels That Reel-Ly Go Viral
The Perfect Instagram Video Length
Instagram is a super visual platform. Image and video-based platforms give you the freedom to share videos with your followers in a number of ways, but each video option has its own requirements and limitations. Because of this, Instagram video length can get confusing. 
Instagram Feed Video Length

– These can be anywhere between 3 seconds long and 60 seconds long. 

Reels

–

These videos can last anywhere from 15 seconds to 10 minutes.

Instagram Live videos

– up to 4 hours.
Once your live video has ended, you can even post it to your stories, where it will stay for 24 hours. Live videos are perfect for businesses that want to promote a product, hype up a live event, give a behind-the-scenes look, or host a Q&A.
Instagram Stories

– up to 15 seconds.
Stories are hugely popular on Instagram because they allow you to quickly and easily share short videos that disappear after 24 hours. Instagram Stories also come with a lot of embellishment options so that you can make them interactive and engage your audience. You can add gifs to give your story video more personality or add a poll, quiz, or question to encourage your audience to interact with you.
✨ Learn more about Instagram video lengths in this post.
Want to Design Carrousels?Try Out Our Bundle Feature
Carousels are one of the visual formats that the Instagram community likes the most because they have very useful and easy-to-read information spread across different posts. 
Our creative team has designed "bundles" that fulfill the same function. So all you have to do is distribute your content, adjust the colors and fonts to your brand, and that's it! You'll have a beautiful, aesthetic, and professional result in a few minutes. And without spending a fortune. 
What Is an Instagram Carousel?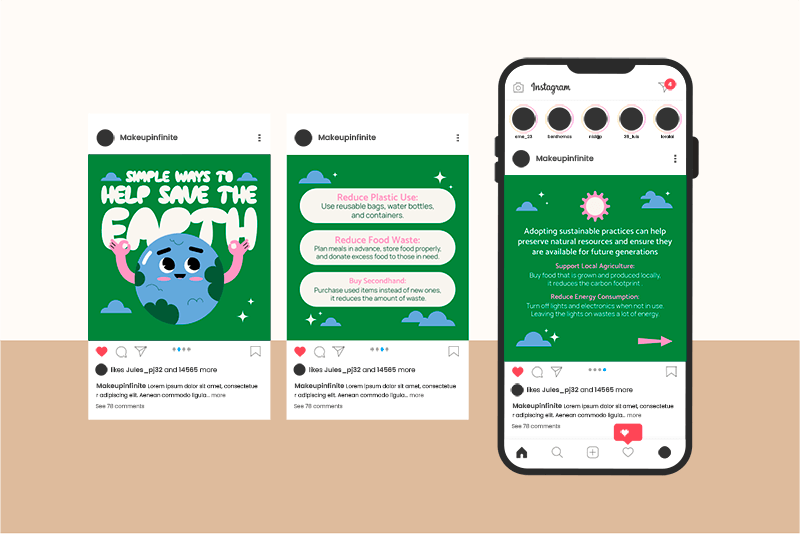 Instagram carousels are perfect for showcasing the different product options you have available. If you're launching a new product or service or simply sharing consecutive posts that are part of your branding experience. The best way to use a carousel is by creating a series of images that tell a story. 
Carousels are to share content like:
Storytelling

Brand Updates

Product Reveal, different angles or closeups of a product,

Tutorials, step-by-step guides, educational content, data

Before and after reveals

Photo dumps

User-generated content

Event highlights

Behind-the-scenes event information
Size Requirements for Instagram Carousels
Instagram carousels can be published in square, landscape, and portrait formats.
Although you don't have to worry about this since we have already optimized every template for Instagram size, you might also want to know that the ideal sizes for carousel images are:
Landscape: 1080 x 566 pixels

Portrait: 1080 x 1350 pixels

Square: 1080 x 1080 pixels (which we already give you )
Placeit's Bundles
Placeit's social media bundles are ideal for carousels! These are made up of multiple images, all in the same style, so you can create the perfect story in your next post.
Placeit Bundles to Inspire You:
Tell a Story

Product Highlights

How-Tos

Secret Hacks

User Generated Content
How to Create a Carousel Post on Instagram
Step 1: Choose a Bundle
The first thing you'll want to do is choose a bundle. Placeit by Envato has many different options for you, but we recommend social media bundles. They are simple and super easy to use; they have everything you need for this project!
Step 2: Time to Customize
Once you've chosen a template, as with any other template, you can add custom text to type your own message, select from different fonts and colors, add images, backgrounds, add graphics, use our huge library of assets, or upload your own. To create your carousel, you'll need to select the images you want to include in it.
Step 3: How to Post a Carousel on Instagram
Click on the "+" button from the navigation bar at the top of your screen and select the option to create a new "Post."
Step 4: Click on the Option "Select Multiple"
Choose the images you just downloaded from Placeit on your device. You can select up to 10 photos or videos for your carousel. Then click "Next."
You can edit your photos and videos by applying filters, and once you're done, click on the "Next" button.
✨  Learn more on how to upload your carousel here! 
User-Generated Content Motivates the Audience to Be Featured
Use your customers' images to share them on Instagram and get more attention from potential customers.
Ad Banners for Giveaways & Promos
Banners are perfect for sharing promos or giveaways with your audiences. Placeit's banners and ad templates are super easy to customize, and you can use these graphics to promote your brand. We have a recommended number of words, so try to keep it simple and be really clear with the message you want to share so it can have a greater impact.
🔥 Check out more graphics you can create for your Instagram account here! 
How to Post YouTube Videos on Instagram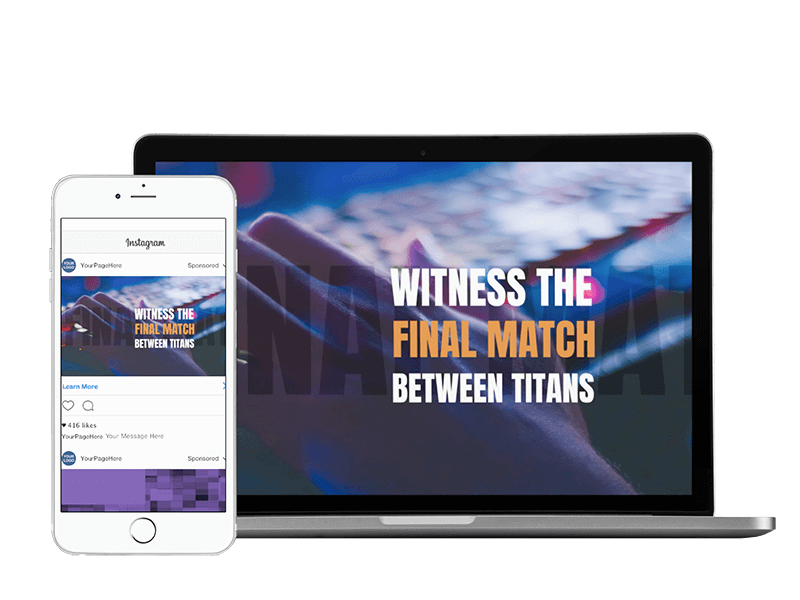 You would want to share your videos on YouTube on Instagram too: 
Cross-Promote

Repurpose Content Across Platforms

Share Teasers of Your YouTube Videos

Share a Mash-Up of Videos to Promote Your Channel
How to Share a YouTube Video on Instagram in Steps
Download Your YouTube Video on Your Computer
Use your preferred website to download and convert your video. You can type "YouTube downloader" and try different options they usually all work pretty well. Keep in mind you will need an MP4 file format, so make sure this is the file you will be getting.
An alternative to downloading your video is to use your original file. Normally these are way heavier, but if you can find it, it's a way to go too. You will have to resize it in order to send it to your mobile device.
Downloading on Mobile Devices
iOS: Go to the App Store and search for a special app like Documents by Readdle to download your YouTube video. There are different apps that work too, so try a few. Copy your video link or click on it on YouTube to get the link (this depends on the app you chose).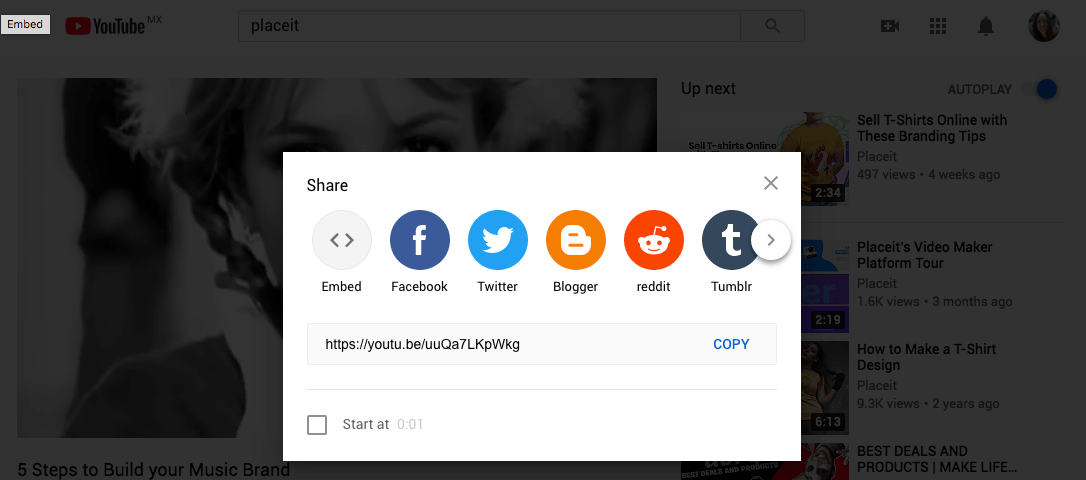 Paste the video link on your app to start downloading your video. You can choose the size of your video. After this, move your downloaded file into your camera roll folder.
Android: Go to Google Play store and search for an app to download YouTube videos. Again there are many options for this, so try a few to find out which works better for you. This is a much simpler process than in iOS software. The process will be more or less the same as in iPhones. 
Edit & Convert to Meet Instagram's Requirements
There is a max limit of time for videos on Instagram's feed (between 3 seconds and one minute) which means you will be posting only parts of your YouTube video. So trim using any video cropper. 
Upload a YouTube video to Instagram.
Select the add media option on your feed and choose your newly converted video. Click next, and don't forget to add a description and relevant tags to reach your audience! You can even link your whole video on YouTube to send them to other platforms. 
It's super important to remember that you can only post YOUR OWN videos from YouTube, don't try sharing someone else's content due to copyright issues. 
Create a Unique Video for Instagram
Using Placeit and your YouTube video file, you can create a teaser video, a quick recap, a mash-up, or any other kind of video made especially for your Instagram or your Instagram stories. No need to worry about size or quality; we take care of this for you. 
What Placeit allows you to do is basically add pieces of your video and arrange them in slides. You can add images, animations, license-free music, and more.
▶️  Find out more on how to post your videos from YouTube here.
---
Instagram Trends 2023
Keeping up with the most popular trends will really help your content be more popular and get the message through! Every year we research what is popular on the market for Instagram brands, and this is what you want to know this year:
Taking Action to Support What Matters. Gen Z will be willing to invest in the social causes they really care about.

Beauty Is Self-Expression and Consciousness. expressive and experimental makeup that makes Gen Z feel comfortable and pretty in their skin.

AI and Avatars Are Sources of Inspiration and Expression
4. Cuisine Is a Good Way to Learn About Another Culture. Highlighting the flavors of different cuisines and cultures. In this way, Instagram is a fantastic ally for finding various content creators showcasing the nicest and most authentic flavors.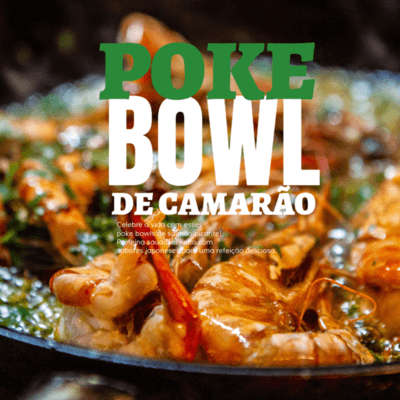 5. Face-To-Face Meetings With Influencers Gen Z Admire
6. Recommendations to Nail This Year. 
Prioritize reels

Post user-generated content

Get inspo from popular creator's posts

Join forces with affiliates and brands

Use memes now that they're back

Boost your sales with Live Shopping

Show an authentic side of your brand and content

Offer exclusive content through subscriptions
✨  Get the full list of Instagram trends this year on this list.
---
How to Make Money Off Instagram
There are a few ways you can earn money from Instagram like:
Brand promotion,  this is the main source of income for most Instagrammers. 

Building a personal brand and

generating leads for your business

. 

Joining affiliate programs

Selling courses or subscription services 
1. Collaborate with Brands or Get Sponsored
Influencer marketing is a win-win situation where brands get to combine efforts with influencers' audiences. Many brands partner up with influencers to get the word out about their brand to new audiences.
A great way to make money from Instagram is to become an Instagram influencer. 
2. Become an Affiliate
Another great way to make money on Instagram is by joining an affiliate program. Affiliates are more invested in making sales since they earn a commission for every sale made with their partner brand trackable link or code! 
You would have to reach out to brands offering affiliate programs like ClickBank, LTK, Amazon Associates, Placeit, etc.
3. Open Your Instagram Shop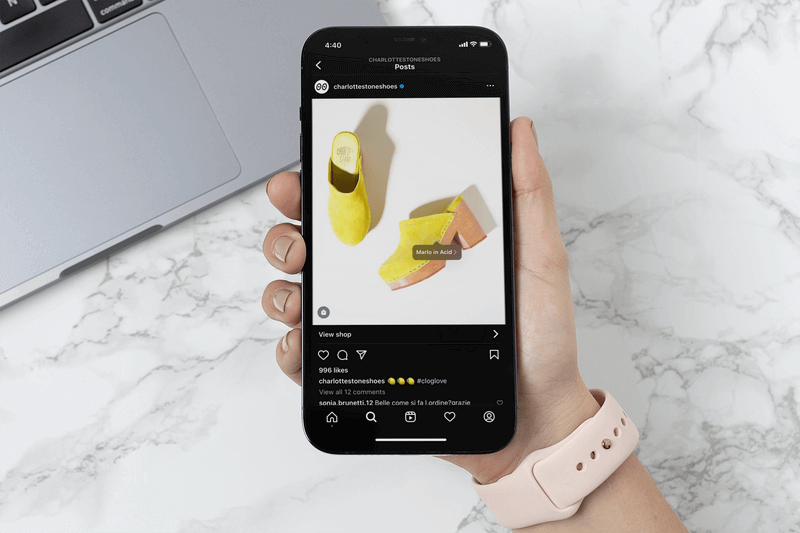 To achieve a successful Instagram eCommerce, it is essential that you only use high-quality images of your products, as well as the right tags, hashtags, and so on. You can use a print-on-demand service or use Instagram's shoppable posts.
You can offer all kinds of products and services besides merch, like images, old stuff, courses, etc. 
4. Creating Instagram Shoppable Posts
Instagram isn't just a social network. It's now considered one of the preferred ways for consumers – especially young people – to shop online. 
What Is Instagram Shopping?
You can sell your products directly from your Business Profile and get your target audience to complete a purchase in just a few clicks. You can choose between 3 checkout methods:
On Facebook and Instagram

On your website

With messaging
💡  Learn every detail on each of these here. 
Features on Instagram Shopping: 
A Virtual Shop

Collections

Shopping Tags

Shop in Explore

Product Detail Page

Ads With Product Tags
Set Up Instagram Shopping
Who's Eligible for Using Instagram Shopping?
Have a Business Manager Account on Facebook.

Have a Business or Creator profile on Instagram. You'll need this to connect it to the Facebook Page. 

Your business has a website domain that allows people to make direct purchases from it. 

Have your account in a

supported market

country.

Sell physical products. Not services nor digital assets*.

 
Create Your Instagram Shop in a Few Steps
1. Go to Create Your Shop in the Commerce Manager. There, you can synchronize your Shopify or any other partner platform. 
2. Select your checkout method.
3. If your account is new and you don't have a Facebook page, the platform will make you create one.
4. Submit your account for review -directly from the Instagram app-. Go to Settings, click on Business, and then "Instagram Shopping." 
Create a Catalog for Instagram Shoppable Posts
1. Use Facebook Business Manager to create your Catalog. In this link, you can see the Catalogs you have made. Just click on "Add Catalog" if you don't have any yet. The recommendation is that you only have one per account/business. 
2. Select "Ecommerce" and click "Next." 
 3. Choose who will be the owner of the Catalog. In this case, your company, if you have none, choose "Personal." Also, give a name to your Catalog to easily recognize it. 
 4. That's it! You've created your Catalog. Click on View Catalog. Now you can add items to it.
Thanks to Instagram's Shopping functionality, Shoppable Posts are usually photos or videos designed exclusively to sell. At first glance, it may seem like a standard post. However, it can make a difference, thanks to the shopping bag icon and tags that allow you to label your products.
How to Create Instagram Shoppable Posts?
For Posts in the Feed 
Upload your post as usual. But before you publish, you'll see three captions below your photo/video description: "Tag people," "Tag products," and "Add location." Click on "Tag products".
This is where the linking of the Catalog to your Instagram account is. It won't have anything to link if you don't have it. 
Once you have clicked on the desired area, a Product Catalog bar will appear to search for the ID of the product you want to link. Search for the ID or the product name. 

Once selected, you will see a little white ball appear over the product. You can click on it, and you will see the product details and the shopping bag icon at the bottom left of the photo/video. Publish!
Shoppable Instagram Stories:
Go to "Add story" after, and from your gallery, and select the photo or video (where your product appears).

Next, select the third icon on the top bar, a smiley face shape known as Stickers. 

There, a new function called "Product" will appear. Click on it, and you'll see the same catalog search bar. Add the product ID or product name. Select it.
Shoppable Ads
When using shoppable ads, you can find new audiences that still don't follow you. You can find new shoppers that have the same interest as your existing shoppers. They can help you re-engage shopping customers by driving them back to your products.
Live Shopping
Sell products directly from your Livestream, interacting in real-time with your buyers. Live videos are also a great immersive experience in which you give your products a new world of possibilities for your audience to connect. 
5. How to Monetize Instagram with Video Ads
Brands can promote themselves in the videos you produce. How much you earn depends on the number of views your video gets. You'll get 55% of ad revenue generated from each view, paid monthly to your bank account, according to Instagram for Business.
To Turn On In-stream Video Ads:
Go to Account Settings. Tap Creator, then In-Stream Video Ads.

Tap Get Started. Read and agree to the terms and conditions. 

Toggle Allow Monetization on your existing Instagram videos, then tap Continue to finish. 
Live Badges
Live badges are basic tips you can get from your audience during a live stream like on Twitch or Tiktok. Your followers can buy badges from $0.99 to $4.99 and show their support. 
To activate this: 
Go to your profile, "Professional Dashboard," and enable monetization. 

When you get approved, you'll see a button called "Set Up Badges." 
🔥 Get access to the full guide to start making money on Instagram!
---
Instagram for Business: 8 Selling Strategies You Should Know About
1. Make Your Instagram Feed "Shoppable"
This feature lets brands tag products that are available in your shops,  allowing users to buy them directly through the app, making Instagram a perfect solution for most online businesses.
Usually, when users click on the photo, the tags would show up, taking them to a product page that has the description of the product and CTA (call to action) like "buy now." 
2. Offer Instagram-Only Promotions
You can have an exclusive coupon code that is published only on the platform. 
You can share the coupon code in your Stories and see how many times it is going to be redeemed on your site. This will give your followers plenty of incentives, encouraging them to follow you on Instagram and pay more attention to your content strategy.
3. Include Product Links On Your Instagram Stories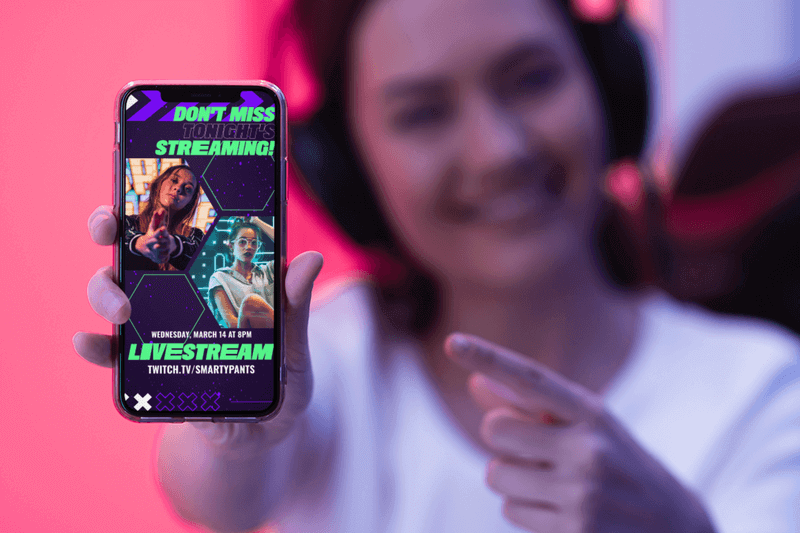 Users that have 10,000 followers or more can add links to their Instagram Stories, which can be a plus for retailers and publishers.
When adding links to your IG Stories, you will see a small arrow, and a "See More" text will show up beneath your image. 
Adding product links to your Instagram Stories helps boost your email list, sell more products, drive traffic to your site, and so much more. 
4. Instagram Advertising
Instagram's lead generation ads require an Instagram business profile and a Facebook page, Facebook Ads Manager. You'll select the option for Lead Generation and then start identifying both your marketing objectives and target audience.
Instagram ads are PPC ads. That means pay-per-click. The beauty of the PPC system is that you're only paying for actual interactions. So, if someone doesn't click on your ad, you're not paying for it.
The platform has various targeting options, allowing you to pick the ones that best describe your target audience. After setting up a business profile, it is up to you to decide how much you want to spend, how you want your ads to be seen, and how long you want them to run.
💡  Pro Tip: Initially, you can start with a small budget to test things out. Make constant tweaks and changes until you get the results that you want.
5. Run Campaigns & Contests
Contests and giveaways let you reach and engage with your audience as you highlight your latest products. Most e-commerce businesses run from simple giveaways to more complex contests that require participants, use brand-specific hashtags, and even share user-generated content.
Everyone loves a good hashtag campaign. Create a hashtag that people care about and want to share, and they might share it. 

Everyone wants to win something, and contests can be a great way to bring new eyes to your product. 
6. Use Professional Videos & Photos
Photos are great, but through video, users are able to get a lot more information and retain that information more easily.
The most popular Instagram video content is how-to tutorial-style videos. Some other popular options include interviews, behind-the-scenes posts, and news coverage.
7. Engage Your Audience
Social media gives your potential customers easy access to you. The ability to send messages directly to brands through platforms like Instagram has been a game-changer for the business world.
This means, of course, your audience will be expecting some kind of response. It's important to be on top of responding to messages, and interacting with comments on your posts, likes, shares, and anything else that you can think of that will show your audience that you care.
8. Instagram Branded Content: The Future of Brand-Influencer Partnerships
Social media has become so much more than a form of microblogging: We use it to communicate, keep in touch with friends and family, stay informed, and we use it to discover and even purchase new products.
Instagram continues to develop new tools with which brands can effectively reach their target audiences.
What is Branded Content on Instagram?
A creator's or publisher's content that features or is influenced by a business partner for an exchange of value.
The term "value" refers to compensation, which is often, but not exclusively, monetary compensation that the content creator receives from the brand or business partner. 
Instagram ensures transparency by requiring the brand partner to be tagged on the post, which signals to the audience that they're looking at branded content.
How Does Instagram Branded Content Work?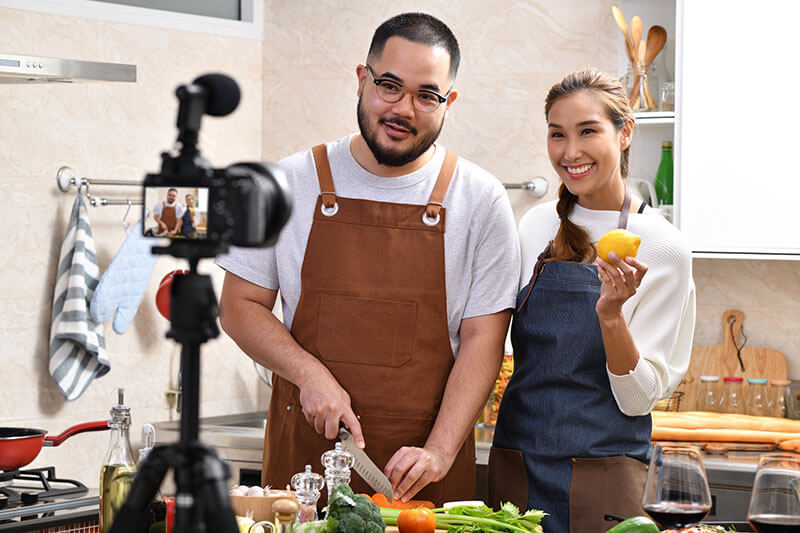 The brand "influences" the content, which means the brand guides the content creator or influencer in the creation of branded content. Because even though brand partners often want the creator to showcase his or her own unique style, they must also remain aware of being on-brand.
Using Instagram branded content, brands can tap into an influencer's audience, which, due to the frequent overlap of demographics and interests, is often a more qualified audience than you see with standard Instagram advertisements. Building off the trust that the audience has for the influencer or creator, the brand often gains many new and happy customers.
How to Create Branded Content on Instagram
Create a new post as usual.

On the final screen, locate Advanced near the bottom of the screen. Then tap Tag Business Partner.

Search for the brand or company you wish to tag on the post.




Note: If you are creating content for multiple brands, make sure you're selecting the correct brand.

Select whether or not to allow the brand partner to promote the post as a paid advertisement.
Learn more on how to tag a brand partner in an existing Instagram post or story, how to set up Instagram branded content approval, and partnering up with an influencer here. 💡
Branded content isn't just beneficial for brands. For content creators, there's validation in brand-influencer partnerships. Additionally, creators often benefit from the exposure that comes with being associated with a major brand or company. 
🔥  Want to look into these tips for lead generation more in-depth? Head to this post!
Consumers trust personal recommendations more than brand advertisements. The easier it is for your customers to picture themselves using the product, the easier it will be to sell it to them. Consider working with micro-influencers. These are internet-famous people that have anywhere between 1,000 – 100,000 followers. 
---
Instagram Creator Marketplace: Find Your Perfect Partnership
Instagram Creator Marketplace is one of the latest features on Instagram that you may have missed in 2022. 
Content creators can not only be discovered by brands they align with but also make their passion and content creation journey profitable. Meanwhile, brands can find the perfect creator to promote and boost their campaigns. As you see, it's a win-win situation for both parties. 
What Is Instagram Creator Marketplace?
As we mentioned at the beginning, this Instagram Creator Marketplace is an online spot where creators and brands converge for commercial purposes. 
Content creators can update their profiles, showcase their work and set up portfolios, making it easier for brands to find them and make money thanks to their favorite brands. They can:
Include and Mark Your Favorite Brands You Want to Work With.

Make It Easier for Brands to Discover You.

Keep Track of Your Branded Content Opportunities in a Partnership Messages Folder.

Describe Your Interest in Branded Content.

Upload a Portfolio That Talks About Your Job.

Create a Branded Content Ad With Existing Organic Posts.

View and Accept Projects From Brands.
Businesses can browse through a curated selection of talented creators based on filters such as gender, age, interests, location, and more to create a campaign or launch a project. As a brand, you can:
Discover Creators.

Find Recommendations.

Get To Know Who Wants to Work With You.

Check Out Who Has Tagged You on Some Posts.

Create a Structured Project.
Who Are Eligible to Use It?
Have a Business or Creator account. Personal accounts aren't valid. 

Ensure you're aware of and follow

Instagram brand

and

partner monetization policies

. 

Comply with the

Community Guidelines

and

Content Monetization policies

.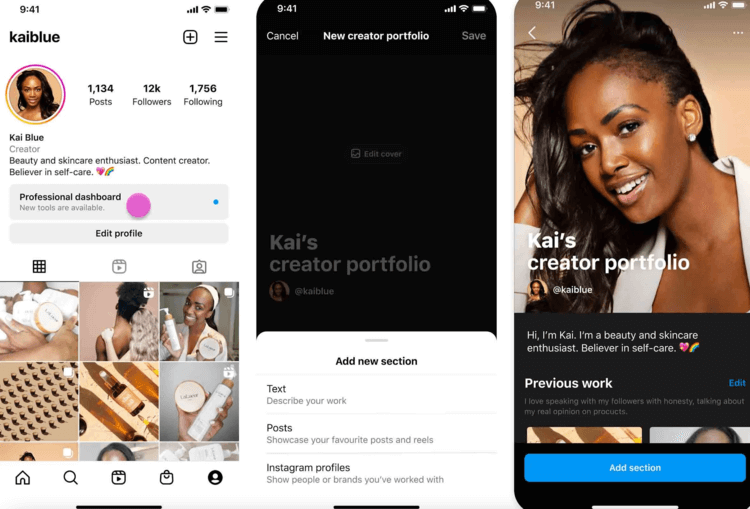 How to Access Instagram Creator Marketplace as a Creator?
Go to your Instagram profile. Tap "Professional dashboard" > "Your tools" > "Branded content" > "Status." If it says "Ineligible," it means you can't join the Marketplace. 
But if you're "Eligible," then a "Join the creator marketplace" button will appear to join the Marketplace. The first steps are simple. You must read some terms and conditions and review your personal information. 
💡  Want to know more about Instagram Creator? For more tips like payment options and how to access as a content creator or as a brand, simply head to our guide!
---
How to Market Your eCommerce Store on Instagram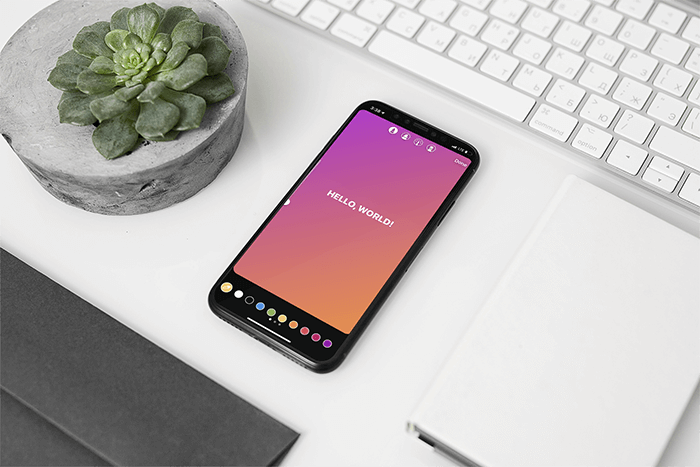 Post a Variety of Content
Your content is the heart of your Instagram marketing strategy. This is what people will see when they scroll through the Instagram feed of your brand. Content is what you have to get them interested in you!  
Post photos of your products.

Create videos of the behind-the-scenes process of your company. This will give a personal touch to your products, and people will be able to connect emotionally with your brand. 

Show teasers for future collections.

Show user-generated content using your hashtag. It is a great way to get people involved. 
Communicate with Followers
When you listen to your customers, it opens a plethora of opportunities for a brand to understand the customer. 
Having a direct connection with a customer makes it easier to build a positive relationship with the brand. 
Negative feedback goes a long way. The only way to treat negative feedback is to handle it upfront. When you interact with the customer, it gives you a chance to make things right. 
Tell Stories with Images
Your followers will be looking for more than just a product. With every post, there is a story to tell, so think about your captions. Remember stories evoke emotions, and these can give your brand a whole new meaning for your consumers. 
🔥 Get more tips to market your eCommerce on Instagram here.
---
How to Sell T-Shirts on Instagram
There is no question that Instagram plays a significant role in the discovery of new products, and this is why promoting t-shirts on Instagram just makes sense. 
To enable the e-commerce feature on Instagram, you need to be selling on Shopify or Bigcommerce. You don't have your own website yet? Here's a getting started selling t-shirts with a Shopify guide you might want to read first. Be sure to also follow this Shopify SEO guide to help your shop rank.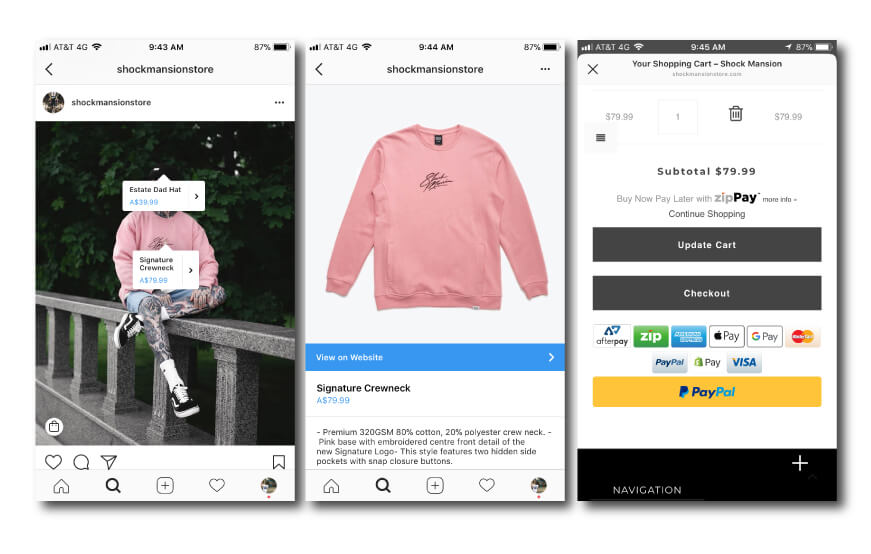 Now that the shopping feature on your Instagram account is activated, it's time to get followers, likes, reshares, views, and visits to your shop.
1. Instagram Insights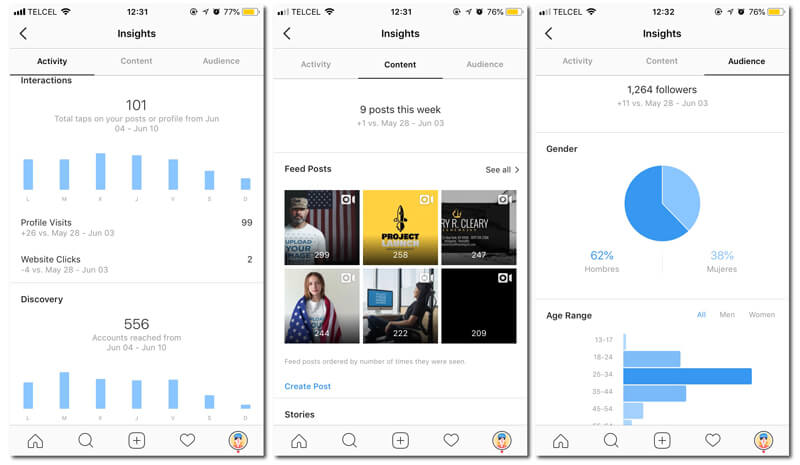 Instagram Insights is the tool with which you will be able to constantly check the health of your Instagram Business account. It will allow you to see how many users visit your Profile, how many see your posts, the gender and age range of your followers, etc. You will find the Insights button at the top right corner of your Instagram business account.
2. Hashtags & User-Generated Content
Make sure you follow your hashtag so that you get a notification every time someone uses it and thank them for it.

Your clients will not only use hashtags, but they might even tag you in their posts. When they do, why not reshare this post! 
3. Instagram Influencer Marketing
Influencers are a shortcut to the audience/demographic you are interested in selling t-shirts to.
4. Get More Likes On Instagram
Share high-quality and professional images or videos that cause a reaction in your audience. 
5. Sell T-Shirts Using Instagram Stories
Also, pin your best Instagram Stories to appear on your profile as highlights. Use this free advertising space to promote your t-shirt brand, share your best stories, share fun stuff or informational content, share exclusive promos, etc.
6. Learn YOUR Optimal Posting Times
Post with frequency, at least once a day. Let your customers (and Instagram's algorithms) know your business is active. With the help of Insights, learn at what time your followers prefer to interact with your brand. 
7. Organize a T-Shirt Giveaway
Who doesn't love free stuff!
Organize your t-shirt giveaway in a way that participants need to not only like your post but also tag friends and/or reshare your post. This will allow you to reach a lot of users at the cost of a t-shirt or two.
Make sure you thoroughly explain the t-shirt giveaway details and explicitly state:
✓ That your promotion complies with Instagram promotion guidelines.
✓ In what countries your t-shirt giveaway applies.
✓ The time period your contests will run.
✓ Define what is needed to be eligible to participate.
✓ How the winner is going to be picked.
✓ The prize.
8. Advertise T-Shirts on Instagram (Paid)
This is the most basic option for promoting your t-shirt business. On your Instagram profile, you will see a white button with the Promote label. By tapping on it, you will be able to create a quick promotion featuring one of your recently published posts; you aren't able to create a new post from here.
Share Professional Images (A.K.A. Mockups!)
In minutes, you'll find all sorts of different models, locations, and scenarios to make your brand look professional online. All you need to do is browse through Placeit Apparel and select the proper mockup for your clothing brand.
Instagram Ads Outcomes Tab
Choose the More Profile Visits if you want to send people who interact with your ads to your Instagram account so that they are able to see the different available t-shirt designs on your Instagram profile and start following your account.
But suppose you are investing in Instagram ads to sell the last few last pieces of a t-shirt design. You will then want to use an image or a video showing that t-shirt design and send the interesting ones to your website. To do this, select the More Website Traffic option and copy and paste the t-shirt's model URL, where the visitor will be just a few clicks away from actually purchasing your t-shirt, our main objective.
Instagram Ads Audience Tab
When you select the Automatic Target Audience option, you let Facebook's algorithm choose who to show your promoted post to. Fear not; trust the robots! While you might feel like losing control, Instagram Ads automation can work pretty well. 
It wouldn't then be too crazy an idea to choose the Local Target Audience option and target male Instagram users within a 5-mile radius. Follow this same logic to promote your t-shirts to an audience in a specific geographic location.

Finally, if you choose the Manual Target Audience, you can personalize your ad delivery to the maximum. You can choose to target users in certain or several geographic locations and with one or several different (or not so different) interests. 
Instagram Budget & Duration Tab
On this final tab, you get to decide how much money you would like to invest in your business and for how long you want your ads to run. Don't allocate all your advertising budget to just one ad. Do the total opposite.
Advertising is all about mixing different variables and analyzing the results. You will want to run several different ads where you get able to test different images or media, different interests, or different targeted locations on your ads. You may have targeted the right audience, but the imagery you used may not resonate with your audience, or it could perfectly be the other way around.

Thankfully, Placeit can help you with that. With thousands of t-shirt mockups featuring models of different demographics, you can very easily create beautiful to use on ads and inexpensively give your t-shirt brand that pro look.
Creating a T-Shirt Instagram Ad Campaign From Desktop
The different available Instagram Ad Types are photo ads, video ads, carousel ads, and story ads. Again, test and try which of these types of ads gives you the best results for your t-shirt business and double down once you hit gold (low cost, great returns).
Placeit's Tools to Upgrade Your T-Shirt Business
💡 Find out more on how to market your t-shirt business on Instagram here.
---
Get Instagram Followers FOR FREE
Organic growth is always the best option; buying fake followers will only hurt your brand's real engagement since fake accounts don't interact, they don't buy, and they will not be loyal. 
Feed Consistency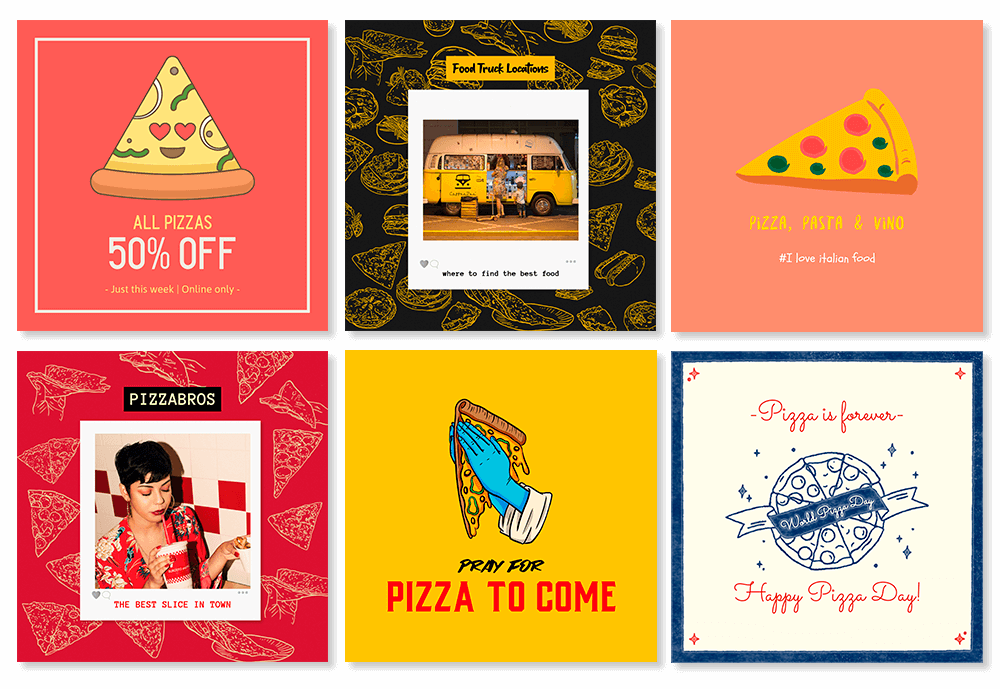 Your feed's consistency has a lot to do with choosing a theme, at least seasonally,  a color palette, or even an aesthetic to go with. This basically means keeping in sync with your brand's style; in fact, most brands choose to make a style guide in order to keep the same design line over all your feeds or even other social media to keep it consistent everywhere.
Engaging Instagram Stories!
Instagram stories' interaction with your current followers is exactly what you need to create a community and reach more followers. Use images, poles, questions, boomerangs, and videos. 
Use Hashtags
Images with the proper hashtags are simply good SEO for your posts.  Images with great hashtags always perform better than those without them. 
Hashtags are an essential part of Instagram they serve as general categories in which you can find related posts tagged into that "category." When you take advantage of hashtags, your posts can have a higher opportunity of engagement, and therefore your eCommerce store brand presence can increase too.  
Use is Video
No way around video content; it's a fact that video content engages way more than images. No worries, there are also great tools like video-makers to help you do this. Whether you decide to make long videos for tutorials, testimonials, and more, or if you choose to upload short clips showing off your products or services, they both will be super beneficial in your journey to increase your follower count.
More Tips:
Make sure you are showing your followers a

professional logo

for your brand.

Chances are you had other Social Media accounts before Instagram and had some followers there already. If so, you need to let them know that you are now on Instagram. 

Every now and then, post funny/entertaining content that will make your followers tag other IG accounts, and hopefully then, you will earn a genuine following.

Spend a few minutes every day on Instagram and actually interact with your follower's posts on your feed. Remember, this platform is meant to socialize, not just sell sell sell!
💡 Check out more on how to get organic followers to your profile! 
---
FAQ
---
---