New Ways to Connect with Your Followers Using Instagram Questions
Instagram has become a very powerful tool for all businesses. No matter how big or small your business is, using social media as part of your marketing strategy is a must. Even if it's for personal branding or an influencer, learning to take advantage of your account can give you a great headstart over your competition.
Instagram Questions is a powerful tool you can use to make brand awareness efforts in order to engage with your audience. Use this appliance to understand what your customer is about and get closer to them!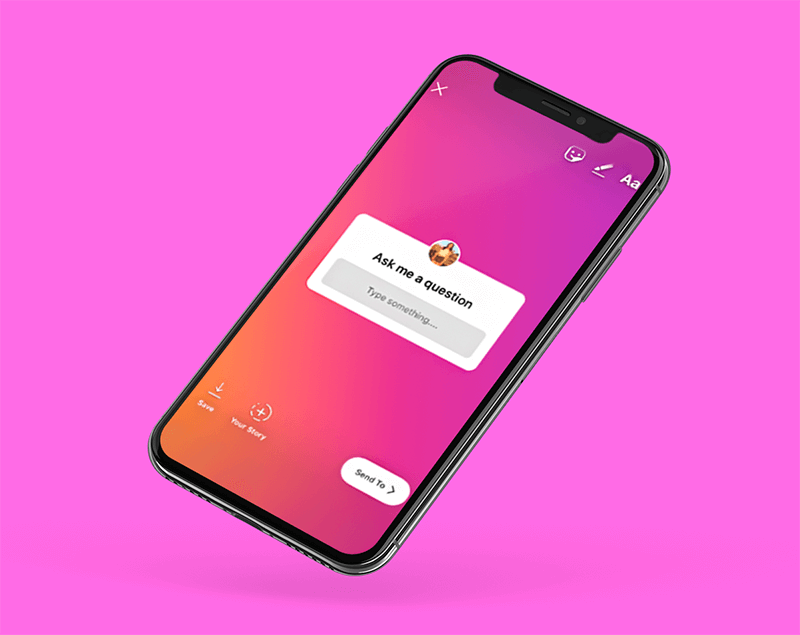 What You'll Find:
This is How Instagram Questions Work
Select the Instagram Questions sticker from your Instagram Stories menu when posting a photo or video.
The default question is Ask me a question on Instagram, but you can modify it to anything.
To see your follower's answers, open your story and click the images of the profiles on the bottom left (the ones who've seen your story).
Customers can reply as many times as they want.
You can click on "share response" to show your followers that reply. You can see who responds to your questions, but when you share answers, their username and profile won't be visible.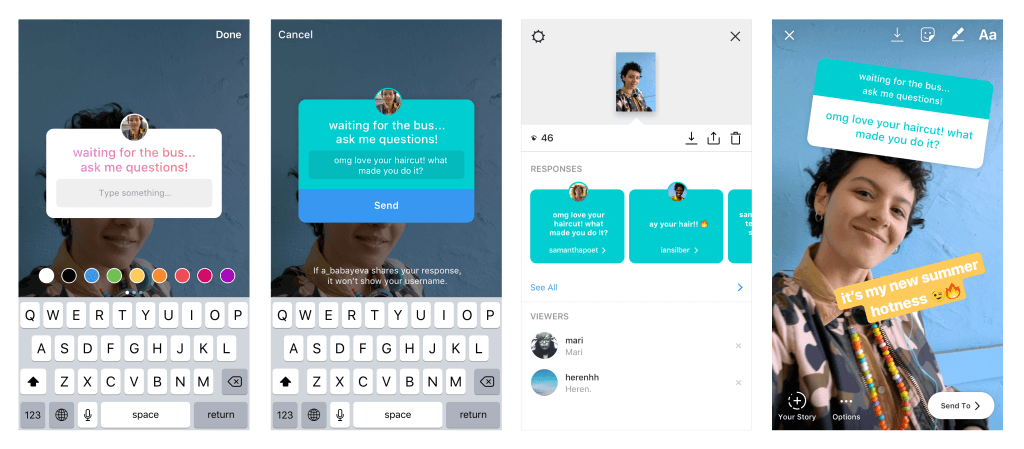 7 Instagram Question Ideas to Get Closer to Your Followers
1. Show your Brand's Values
Use Instagram Questions to show your brand support for causes and engage emotionally with your followers.
2. Conduct a Pop Quiz
You can use "fill in the blank" questions to test your users and see how much they know about you.
3. New Product or Service Feedback
Ask your followers for their thoughts on a new product or service launch. "Let us know your thoughts on…"
4. Partner with Other Brands
Partner up with another brand (relevant to your audience) to share answers that are relevant to your audience's questions. For example, let's say you own an eco-friendly brand, and you partner up with a celebrity that is known for working on saving the forest. So they make a question on their feed about tips and tricks to save the forest, and then you can share on your own account.
5. Use Your Questions as a Lead Generation Strategy
Send your followers to your blog or website by sharing links when posting answers.
6. Ask for Recommendations
Have fun with your followers, and ask for some recommendations like songs, places, food whatever. This shows your brand's personality, and it lets you get to know your followers better.
7. Announce New Releases
Build suspense! "Guess what?"

🔥 Want to get the best of Instagram? Then read how to create beautiful Instagram graphics to promote your business!
A Few Other Tips to Have in Mind for Your Instagram Questions
Customers won't want to answer your questions daily, so use this sticker sparingly. Yes, Instagram Questions is a great tool to use to your advantage but don't overuse it! Make it special.
For this or that questions, you can use an Instagram Pole, so save your Instagram Questions for more complex doubts. Think about which questions to ask on Instagram that will help you get to know your followers better. Remember you are looking for feedback, comments, in general, any emotion towards your brand.
Before Asking Questions, Tell Your Brand Story
Instagram Slideshow Video Maker with Animated Transitions
Before ever thinking about which questions you are going to ask, remember that you have to post content and then talk about it. So, first of all, you need an ad, an image, or a video. Tell your brand's story using interactive elements! You can take advantage of all of Instagram's stickers, but also, you can upload special assets made by yourself. You can use a slideshow maker, an Instagram stories video maker, make an Instagram poll question design, and more! Simply post interactive stories that allow you to get closer to your audience.
"Slideshows are super helpful for posting brand stories! I definitely recommend using Placeit's, Slideshow Maker!"
Moesha Calderon 5/5
---
Make Good Instagram Questions & Engage!
Promote your brand like a pro on social media! Especially learn how to use Instagram interactive story options to get to know your audience a little better and make the best decisions!
Make Awesome Videos for Your Brand!
---