If you're looking for a way to add some visual flair to your Instagram feed, why not try creating a carousel? A carousel is a series of images that loop automatically on Instagram, allowing for a wider story to be told in a single post. Let's review how to make a carousel on Instagram so you can create the perfect story in your next post using Placeit's bundles!
What You'll Find:
What Is an Instagram Carousel?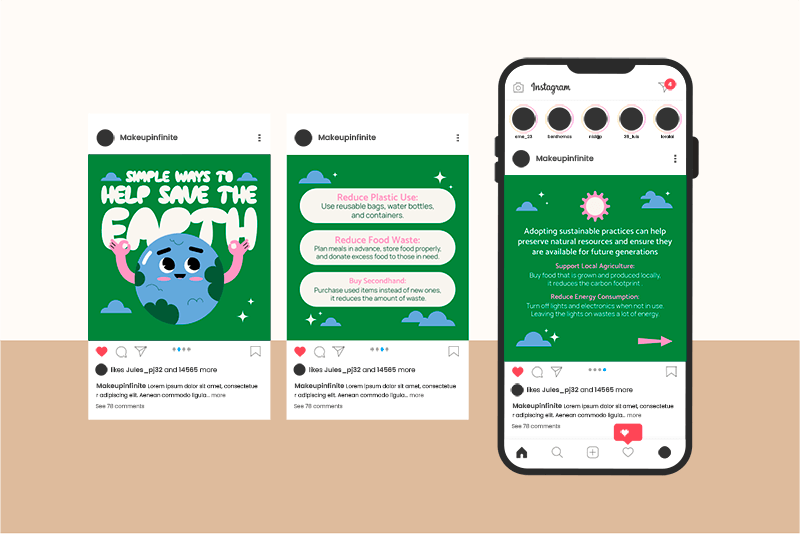 Instagram carousels are perfect for showcasing the different product options you have available. If you're launching a new product or service or simply sharing consecutive posts that are part of your branding experience.
The best way to use a carousel is by creating a series of images that tell a story. This will help your audience follow along with your message and can be used on all social media channels.
A carousel can be used as an effective marketing tool, and it's super easy to create one using Placeit's bundles!
Pro Tip: Make the first slide super enticing so that your followers will want to scroll through your carousel. Want to level up your design? Try out our brand-new Image Background Remover!
When to Use Instagram Carousels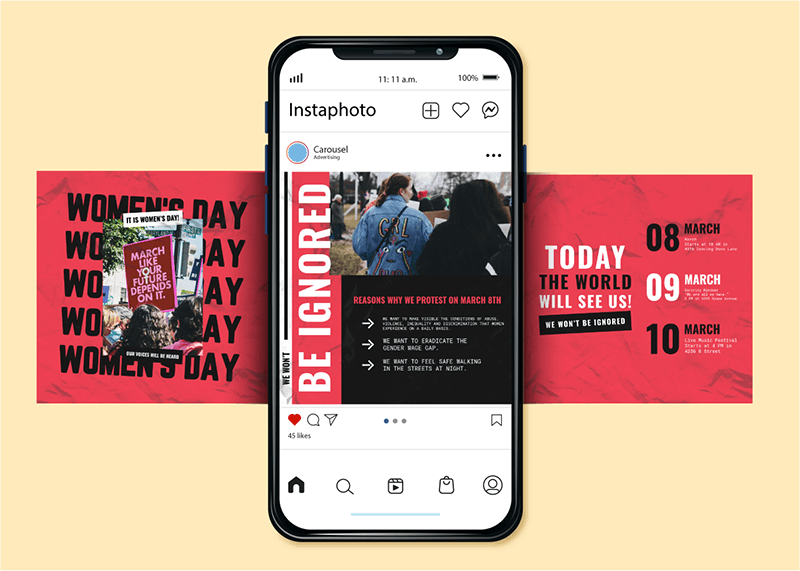 Carousels are to share content like:
Storytelling – Use carousels to show off your brand's story. This is also especially helpful if there's something specific about one particular item that makes your brand stand out from others within its category.
Brand Updates – Share important announcements with customers using carousels. Use carousel posts when promoting new products/services available through your business

and other important information about your business.

Whether you are launching something new on the market or simply offering new payment options, you can do so seamlessly through social media channels like Instagram without having to spend money on advertising costs.

Product Reveal – This is an excellent opportunity to showcase your products/services in a way that doesn't come across as salesy or pushy. By using Instagram's carousel feature, you can highlight different aspects of what makes your product unique and why people should buy from you instead of someone else.
You should also take advantage of Instagram carousels for sharing content like: tutorials, step-by-step guides, educational content, data, before and after reveals, photo dumps, product reveals, different angles or closeups of a product, user-generated content, event highlights, behind-the-scenes event information, and so much more!
🔥  You definitely want to check out the latest Instagram trends to create something popular!
Carousels are the most engaging Instagram posts: 1.92% average engagement per post. Also, 4.9% of carousels have messages that encourage users to swipe left, and they perform better, bringing the average engagement rate from 1.83% to 2%.
Because carousels are interactive, users spend more time scrolling through them than they do looking at traditional posts.
🔥  Check out how to make money on Instagram!
Size Requirements for Instagram Carousels
Instagram carousels can be published in square, landscape, and portrait formats.
Although you don't have to worry about this since we have already optimized every template for Instagram size, you might also want to know that the ideal sizes for carousel images are:
Landscape: 1080 x 566 pixels
Portrait: 1080 x 1350 pixels
Square: 1080 x 1080 pixels

(which we already give you 😬)
Placeit's Bundles
Placeit's social media bundles are ideal for carousels! These are made up of multiple images, all in the same style, so you can create the perfect story in your next post.
You can use Placeit's carousel bundles to create Instagram posts that are visually engaging and thoughtfully designed. With a variety of different options available, you can find the perfect layout for your next post.
Using Placeit's Bundles, you can create Instagram Carousels that are visually engaging and thoughtfully designed.
✨☕ You might make a splash into our coffee-themed bundles for your coffee brand, check out there all the details!
Free Instagram Carousel Images
You can find free templates to create your Instagram carousels from time to time. Whenever you find a free template that you like, we advise you to use it as soon as possible because you never know for how long it will be free! Check out our free templates!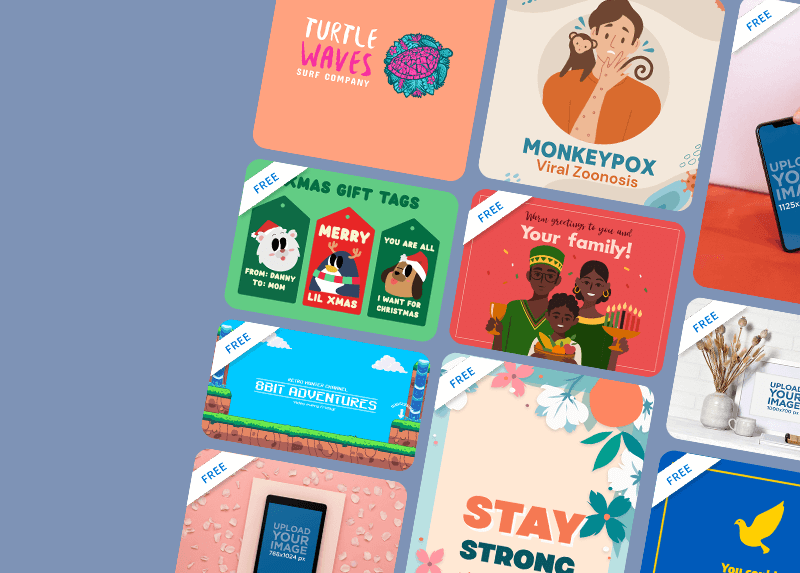 How to Create a Carousel Post on Instagram
Step 1: Choose a Bundle
When creating an Instagram carousel, you need to start with a concept. Figure out why you are making a multi-image post and what's your angle. Once you have an overview of what you want to share, you can figure out how many images you will need for this.

The first thing you'll want to do is choose a bundle. Placeit by Envato has many different options for you, but we recommend the social media bundles. They are simple and super easy to use; they have everything you need for this project!
Step 2: Time to Customize
Once you've chosen a template, as with any other template, you can add custom text to type your own message, select from different fonts and colors, add images, backgrounds, add graphics, use our huge library of assets, or upload your own.
😊✨🌈 We highly recommend heading over to our new Colors by Placeit tool, where you can find everything about colors and get inspired by curated color palettes for your design needs. 
To create your carousel, you'll need to select the images you want to include in it.
Pro Tip: You can find the whole series if you scroll down the template screen.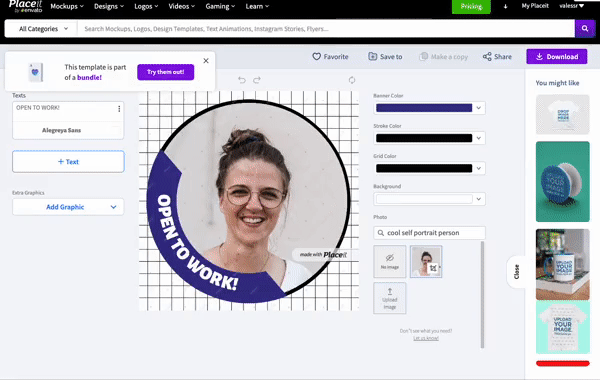 If you use the drop-down menu to filter by social media channel or use the tags on your left screen, just remember to select the tag called "bundle" so you keep looking at bundle templates! 
Once finished with all these steps, tap 'Download' to start sharing your images! You can also save your images or add them to a folder on your "My Placeit" space for future changes. Haven't heard about this yet? Check out My Placeit guide.
Step 3: How to Post a Carousel on Instagram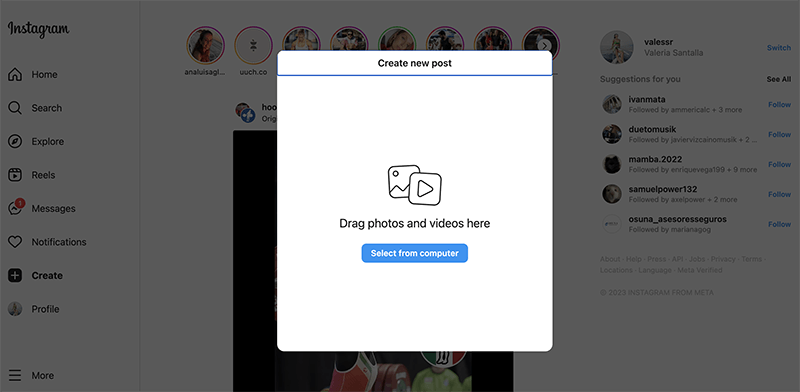 In the third step, you'll create a carousel on Instagram. Once you have the perfect images or videos lined up, you can start creating an Instagram carousel post.
Click on the "+" button from the navigation bar at the top of your screen and select the option to create a new "Post."
Step 4: Click on the Option "Select Multiple"
Choose the images you just downloaded from Placeit on your device. You can select up to 10 photos or videos for your carousel. Then click "Next."
You can edit your photos and videos by applying filters, and once you're done, click on the "Next" button.
Step 5: Add Details to Your Post
Time to write a witty caption. Not everything is up to your images! Include popular and relevant Instagram hashtags to improve your post visibility. 
🔥  Check out more Instagram marketing tips here
Step 6: Time to Share!
Once you have mastered your carousel post, click on the "Share" button, and that's it! You've created and shared your Instagram carousel post using Placeit's bundles.
Bonus Feature: Placeit's Image Cropper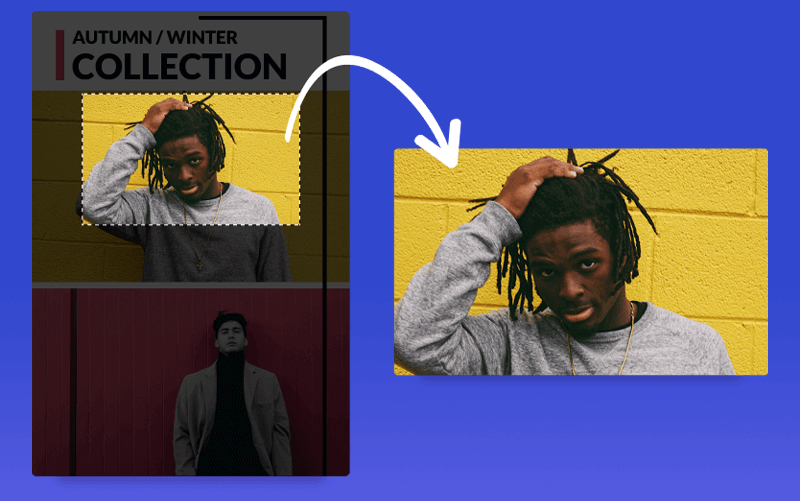 Still need to resize or crop your images? No need to leave Placeit! All you have to do is choose your size from our drop-down menu or custom pixel size, and that's it!
Crop your posts to highlight exactly what you want. Then resize them to fit your preferred platform, and be sure to get your message across. And the best part is your image doesn't lose any quality when cropping.
The Don'ts for a Great Instagram Carousel
Do not use too many images.

Do not use different styles for your images.

Do not use too many elements; it may take the attention off your message.

Do not use too much text, especially if it's more than one line of text (keep it short!).
Placeit Bundles to Inspire You
Need some inspiration for creative ways to use carousel posts? Here are some Instagram carousel examples to inspire you.
Tell a Story
Tell a story with your carousel. You can use Instagram carousels to tell the story of an event, product launch, or anything else that's important to your business. At each stage in this process, there should be some sort of text overlay explaining what's happening at that point (e.g., "We're baking our famous cupcakes"). This kind of post will help build trust with customers because they get insight into how things work behind the scenes at your company; this kind of transparency builds trust among consumers who may not otherwise know much about how businesses operate internally.
🔥  Looking for more? Check out this guide on how to market your eCommerce on Instagram
Product Highlights
Show off your brand by featuring multiple photos/videos within one post. This is a great way to get people interested in what else you have to offer besides whatever product/service is being featured in the carousel. You can also use this strategy for events or other marketing campaigns–the more content you share, the better it will be received by your audience.
How-Tos
Secret Hacks
User Generated Content
How to Create Instagram Carousel Ads
If you're adding a text overlay to your carousel ads, be sure that it doesn't exceed 20% of the total height of the image. If you don't follow this guideline, your ad won't show up on Instagram.
💡 Check out this guide on how to make Instagram ads the quick & easy way!
Last Words
We hope this blog post has helped you learn more about Instagram carousels and how to create them. Using Placeit bundles can really make your life much easier when creating these. If you have any questions, drop us a line below!
💡 Looking for more great tools for Instagram? Head here! 
FAQ
---
---