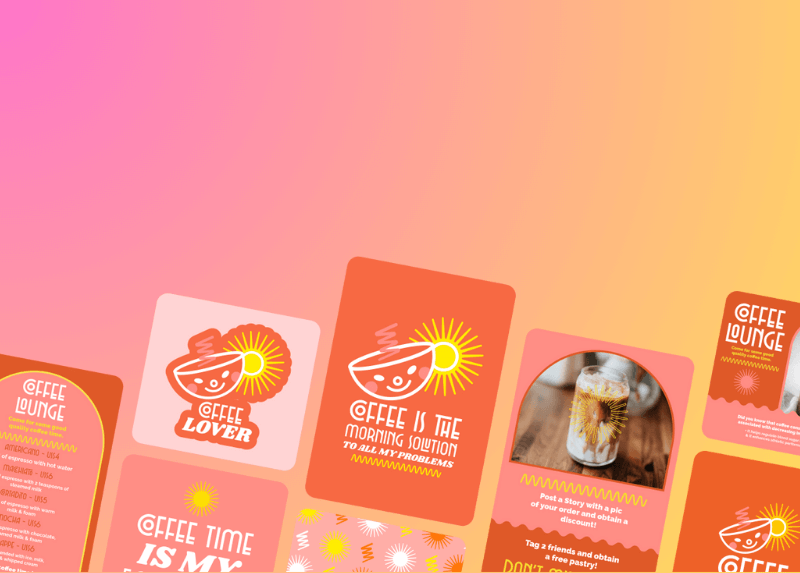 Are you daydreaming about owning and launching your coffee brand? You've come to the best place to learn how to turn your passion into a profitable business.
In this guide, you'll learn how to espresso yourself through coffee and create a unique and successful brand. Let's take a sip and begin this journey together!
☕︎ Let's Dive In:
Is It Profitable to Start a Coffee Brand in 2023?
In 2023, it's still profitable to create a coffee brand. Of course, like every other business, it can be daunting due to high competition, but nothing is impossible. That's why we've come with some up-to-date numbers, extracted from Statista, to encourage you to take the first step and launch your dream coffee brand this year:
🌈 Check out Placeit's sticker templates!
First, coffee is one of the most popular and favorite beverages for millions of consumers globally. Data shows that, on average, a person consumes around 42.6 liters of this energizing beverage per year, overcoming tea.
The earnings of the coffee industry this year will amount to US$495.50 bn, and an increase of 4.47% is expected annually until 2025.
The United States takes the most significant slice of this enormous pie, topping the list of countries that obtain the highest income from coffee.
Finally, by 2025, 84% of spending and 21% of coffee consumption is expected to come from the out-of-home sector. That is, from places such as coffee shops, restaurants, and bars.
As you can see, this coffee market has good indicators of continuing to grow as time goes by.  Just keep in mind that successful coffee brands require time, perseverance, effort, and passion. But don't worry; in this guide, we'll give you the guidelines you need to follow to build your brand in the best way possible.
8 Steps for Creating Your Coffee Brand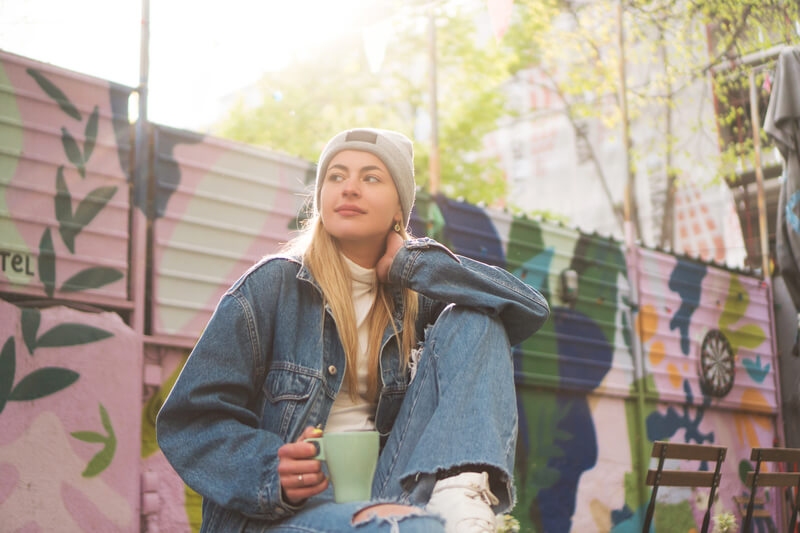 1. Define the Type of Coffee Brand You Want to Create
Do you know what kind of coffee brand you want to create? If you already have an idea, that's a great starting point! If not, it's essential to come up with one to guide your efforts in the right direction.
Coffee brands can cover a wide range of aspects when we talk about them. For example, you could create a coffee brand that focuses on opening a coffee shop or cafeteria, selling specialty coffee beans, coffee-based food products, or coffee-inspired accessories. You can also go in another direction an open a coffee farm, provide a coffee tourism service, and much more. Therefore, your first task is deciding which area you want to focus your coffee brand on.
Ask yourself these questions to get more clarity and a better understanding:
Do I want to sell a coffee-based product or provide a service?
What kind of products/services would I like to sell?
Is there a demand for the type of coffee brand I have in mind?  Google Trends, for instance, is a good tool for finding out statistics about people's searches for the coffee product you have in mind.
What do I intend to create for my coffee brand? What's my main goal?
Can I start the coffee brand on my own?
Do I have all the necessary resources to start right away?
2. Identify Your Target Audience
Understanding who will be interested in buying your coffee products and services is crucial, as your customers are an integral part of your brand. Diving more into their needs and offering them the solutions they seek is essential.
So, who exactly is your target audience? It might be helpful to build a buyer persona – think of someone interested in your products or services. Consider their lifestyle, interests, personality, values, motivations, habits, and needs. What problems or challenges can your coffee brand solve for them? How can you reach out to them in the most effective way?
You should also think about their spending habits when it comes to coffee products. Are they loyal to a particular coffee brand, or do they like to try out different ones? How do they usually purchase their coffee products? Do they prefer going to a physical store or ordering online?
We encourage you to consider all these factors to better understand what your target audience is looking for in a coffee brand and, therefore, communicate with them effectively. Remember, in a brand creation process, presenting your products and services to your potential customers will be easier if you know your target audience.
3. Do Your Research to Cover All the Relevant and Initial Aspects of Your Coffee Brand
Now that you have a clear idea of the type of coffee brand you want to launch and your target audience, it's time to figure out more about what you want to sell. This step involves figuring out what products you want to offer, what materials you'll need, your suppliers, type of store, and shipment methods.
To begin, create a list of products/services you'd like to sell based on your coffee brand's niche. Then, search for suppliers on various platforms, such as Google, apps, or Facebook groups, and ask questions that fit your criteria, such as quality, price, designs, and shipments, to build your supplier's catalog.
💡 Pro Tip: delimitate a budget and buy only a few articles. As time goes by, you'll notice what's best to keep acquiring, in order to boost your coffee sales.
Finally, decide whether you'll own an online or physical store to sell your coffee brand. If you opt for a physical store, look for a strategic location that fits your target audience. In contrast, for an online coffee shop, explore different marketplaces and e-commerce stores to expand your reach. Plus, if you choose an online store, it's mandatory to check company shipments to deliver your products.
💻 You might like: Where to Start an Online Store: Marketplace vs eCommerce
By researching all these aspects, you'll be well-prepared and one step closer to successfully launching your coffee brand.
4. Become Familiar With the Market and Your Competitors
To launch a successful coffee brand, it's essential to understand your market, including your niche and competitors. A deep research and analysis of your competitors is something you can't leave out of your business strategy.
Look for competitors offering similar products or services and browse all the information about them, whether it's on their website, digital channels, or physical stores. We recommend creating a chart (with 2 or 3 competitors) to visualize in the best way the information and easily identify their strengths and weaknesses.
In your competitor's chart, evaluate the following aspects:
Products
Price
Quality
Variety
Brand's reputation
Location
Appearance
Sales and marketing efforts
All this information is valuable for understanding the market, your direct competitors and how to compete with them. Furthermore, analyzing your competition can help you identify any gaps in the market that you can fill to reach a broader audience and, of course, satisfy their needs better than anyone else.
5. Create Your Coffee Brand Identity
This is probably one of the most essential steps that will help to:
Define your brand's vision, mission, core values, and visual identity.
Develop a unique differentiator that sets you apart from your competitors.
Elevate the customer experience through your coffee brand.
Strengthen customer relationships and boost confidence in your products or services.
Generate a lasting impression through a well-defined brand identity.
In a nutshell, your brand identity is your brand's essence and what makes it attractive, different, and relevant. So now that we understand why developing a brand identity is fundamental, let's start with the things you need to focus on:
Statements
Here you need to define your mission, vision, and core values. By doing this, you'll have a clear idea on paper about what your coffee brand offers, what you expect to achieve in the long run, and what values define your business, respectively.
We also recommend diving more into why you want to sell those coffee products/services, what's unique about them, whether they are really solving a need, what are the alternatives in the market, if there is something similar, or what makes you different from the established coffee brands? These questions might take some time but are indisputable when creating a brand.
😉 Pro Tip: when choosing your products/services, ensure they compile these three features:
They're hard to find somewhere else.
They have a great price quality for customers.
Lastly, they really solve a problem/need.
Personality
In the same way humans have personalities, brands also have them, and this section will guide you to define your coffee brand's personality. To make this task easier, think of your coffee brand as a person. What characteristics/adjectives would you like to represent? What is the tone and voice of your brand? How does your coffee brand address and convey its thoughts?
Voice. It represents your brand's perspectives and values. Therefore, it never changes; it's always the same as it comes from what you think and do.
Tone. In contrast, the tone is how you communicate yourself, through ways and attitudes, with your target audience. Certain words, communication styles, and emotional tones will set you apart from your competitors. This means your tone can change according to the situation or context.
Your Brand's Name
Now that you're clear and have more information about your brand is time to move on to the name. Ensure your name is short, not complicated, and easy to remember. Think of some words, adjectives, and verbs you'd like to include, brainstorm, and then narrow down your options.
💡 Pro Tip: ensure your brand's name isn't already taken. Quickly research social media or domain sites to find it out. Then after checking availability, don't forget to trademark your brand and important assets to keep doing what you love in a safe, legal, and productive environment.
✨ Keep reading: How to Trademark a Logo and Protect Your Business
Your Brand's Visual Identity
This is probably one of the most fun parts, as you'll design everything related to your coffee brand's graphic style. Building your brand's identity is all about colors, typefaces, and visual style regarding your logo and other basic branding elements. Using the right combination will make your brand stand out in a functional, unique, and attractive way.
But first, if you have no clue where to start, we've prepared a quick quiz to help you establish a design style for your coffee brand.
Color Schemes
The colors of your logo are something you can't take lightly, as colors convey messages, emotions, behaviors, and perceptions. That's why it's so important to choose the right tones.
So how do you find the best colors for your coffee brand?
First, identify your brand's personality and understand the meaning of colors to find the best match for what you intend to transmit and, of course, that fits your core values.
Once you have certainty about all colors, it's time to pick your main shade; this will be the color that differentiates you from other brands.
Finally, select one or two more colors to complement your primary color. Check out our logo color scheme guide to find beautiful color combinations and examples to create the right palette for your asset.
😊✨🌈 Try our newest color palette tool and start your branding today! 
Typefaces
Fonts significantly impact your branding process, so don't underestimate them! Here are some quick tips for finding the ideal font for your coffee brand:
The best font is legible, readable, and clear in all sizes, whether it's a billboard, a mupi or a sticker.
As with colors, look for some possible font and then analyze its meaning to ensure it matches your personality and style.
Pick up to 1 or 2 complementary fonts. Your designs should be clean and professional, so avoid using too many fonts.
Pick timeless fonts to ensure they're still functional as time passes.
✨ To get some inspo, don't miss our post, in which we dive into How to Choose the Best Fonts Logos for Your Design
💡 Pro Tip: Not sure which font combinations for your coffee brand are best? Make a splash into our coffee designs to check out the preset combinations created by professional designers.
Logo
This is the first image your customers see and what would make your brand recognizable. Therefore, it's crucial to make a great first impression, and to achieve that, here are our design tips for a great coffee logo design:
⭐ Learn How to Make a Coffee Shop Logo On Your Own!
Decide whether you want a name- or image-based logo. If you're unsure about the existing types of logos, no worries! Luckily, we also have a quick quiz that will tell you, based on your preferences, what logo style will suit you best.
Ensure your logo is versatile and adaptable for any format. As with fonts, your logo should be legible on different materials as it's your primary business image.
Build it with the colors and fonts you already set.
Ensure it's simple but eye-catching, unique and memorable.
After creating an outstanding logo, what's next? Your branding isn't only about your logo; it's much more than that. So, let's check what other assets are indispensable for your brand. Plot twist: we'll accomplish this task by using our new feature. 👇🏼
For non-designers, design can be a daunting task, especially when you need to create various branding assets (like menus, tote bags, business cards, mug designs, paper cups and more) and combine colors and fonts harmoniously. But the good news is that Placeit by Envato has done this job for you! So, get ready to enjoy our incredible and new coffee-themed bundles that make designing a piece of cake!
All you have to do is substitute the pre-established colors and fonts with your brand's style and add your best lines of text to achieve a professional, brew-ti-ful, consistent result.
Take a look at our favorite styles that are sure to suit your coffee brand. Click on each asset to visualize it better:
🔥 Have all your branding assets together on Placeit and customize these Placeit Coffee Bundles in a breeze. Check out our Placeit's brand kit post right away!
🏳‍🌈✨ Take your design journey one step ahead and get ready to learn how to keep unleashing your creativity with our new feature: Blank Canvas, to create anything you want from scratch but with the best Placeit assets! Let the magic begin.
Need to check how your designs will look in real life? We've got you covered too! Browse a curated collection of Photorealistic Cup Mockups & Mug Mockups or look for more inspo at our coffee mockup gallery:
6. Choose the Best Place to Sell Your Products
First, you need to analyze whether it's better to sell in a physical store or put your store online. This decision will be influenced mainly by the type of coffee brand you have, so take that as a starting point. Your brand may even be suitable for both sales channels. So consider the following:
For digital stores: research some of the most popular e-commerce and marketplaces in the market, and check the pros, cons, and cost to know if it sticks to what you are looking for and your budget. If it seems like an unnecessary investment, remember that 2023 is a year in which many businesses start selling through social networks like Facebook, Instagram, and, recently, TikTok, so take advantage of this new way to start selling.
On the other hand, if a physical store is more convenient for you, the first thing to do is to locate a strategic point of sale that is convenient for you and your future customers, and that clearly fits your stock, furniture, and budget.
Whatever sales channel you choose, ensure to meet the formal requirements to start selling, as we're closer to finishing this coffee brand guide.
7. Boost Your Coffee Brand With Marketing Efforts
Congratulations on setting up your coffee brand! Now it's time to let the world know about it. Marketing efforts are vital to boosting your brand's visibility and attracting more customers. Here are some effective ways to spread the word regarding your new coffee brand.
Leverage different media channels: Print flyers, announce your business on social media, create an Instagram shop, and optimize your website for search engines. In this way, you'll increase reach and attract more potential customers to your brand.
Ask for reviews and testimonials: This is a powerful and low-cost way to keep attracting new customers. A good idea is to start a referral program to engage existing customers in spreading the word about your company.
Launch special promotions: Offer giveaways or run a contest to generate buzz around your coffee brand's opening. This will attract customers and give them a chance to taste your coffee business.
Create useful and attractive content: Providing valuable content to your customers is a great way to attract and engage potential customers. Consider starting a blog or creating social media content that showcases your brand's unique offerings.
Use stunning visuals: Visuals play a crucial role in marketing, so ensure you use only high-quality designs to support all your marketing efforts. Luckily, Placeit can help you to create the best graphics to catch all eyes on your brand.
Participate in local events: Introduce your brand to the community by participating in local events such as local markets, food festivals, or charity events.
Ask for customer feedback: Regularly ask your customers for feedback on your brand, including design, marketing, costs, efficiency factors, and menu offerings. This will help you continually improve and tailor your brand to meet your customers' needs.
Finally, remember to examine what your competitors are doing and get inspired by their successes.
8. Keep Track of Your Performance
Lastly, once your coffee shop is up and running, analyze your business' performance and identify areas for improvement to ensure your brand continues to thrive. Even at the beginning, it's important to regularly monitor your progress and learn more about your customers' preferences and your brand's health.
To effectively monitor your business, we recommend creating a list of key performance indicators (KPIs) on paper or in a spreadsheet. This could include metrics such as daily sales, number of customer reviews, growth in social media followers, and website traffic. By tracking these indicators over time, you'll gain insights into what's working well and where there's room for improvement so you can adjust your business strategy to be successful in the long run.
Last Words
Starting your own coffee brand can be challenging, but with the proper guidance, it can also be rewarding. Following the steps outlined in this guide can lay a solid foundation for your brand and increase your chances of success.
It's important to remember that building a successful business takes time, effort, and dedication. But here are our final tips and reminders to consider during this process:
Always strive to improve and enhance different aspects of your brand and stay up-to-date with industry trends and changes.
Building a strong connection with your customers is crucial for your brand's success. They're the ones who will ultimately determine the success of your brand, so it's great to stay connected with them and listen to their feedback.
One of the critical aspects of building a successful coffee brand is having a clear vision of where you want to take your brand. This will help you make strategic decisions and develop meaningful relationships with your customers.
It's also important to keep track of all your expenses and incomes, no matter how small, to maintain a healthy financial situation.
So take a deep breath and remember your coffee is strong, and so are you! Now you've got the basics to start a brew-ti-ful coffee brand, especially when Placeit is on your side. Click here for more coffee inspiration; we promise you'll love it as much as your coffee.
FAQ – Coffee Brand
---
---