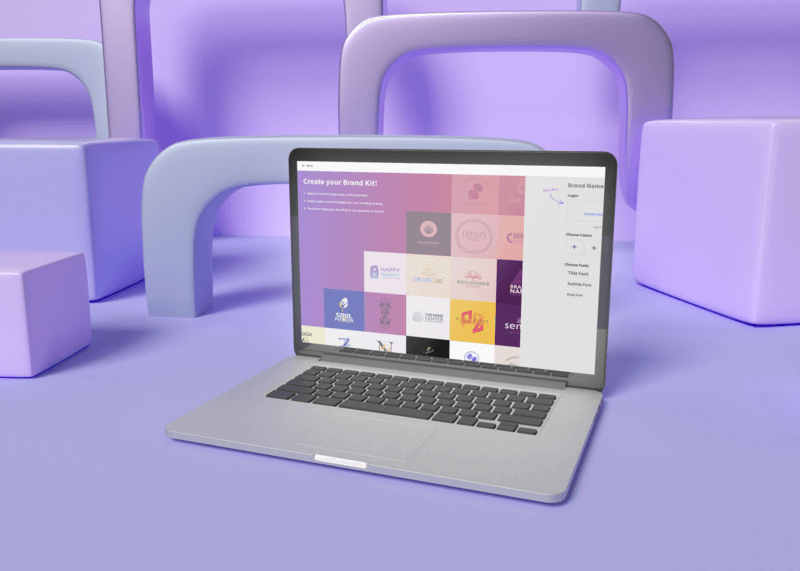 Over the last few months, Placeit by Envato has been working hard and passionately to bring you the best user experience. First, we proudly presented the "My Placeit" feature, and today, we're beyond excited to introduce you to the launch of our magical Brand Kit to have your dream brand inside Placeit. With this tool, it's easier and faster than ever to customize and tailor any design, mockup, or video available at Placeit with your brand look and feel! So let's unveil this new feature together! 
✨ Sparkle Your Brand With Placeit:
What Is a Brand Kit?
As its name suggests, a brand kit is a pack of various branding assets that provides all the brand guidelines to apply to any design. Usually, big brands always have a brand kit to keep consistency, coherency, and professionalism in all the materials, whether print or digital.
Introducing Placeit's Brand Kit Feature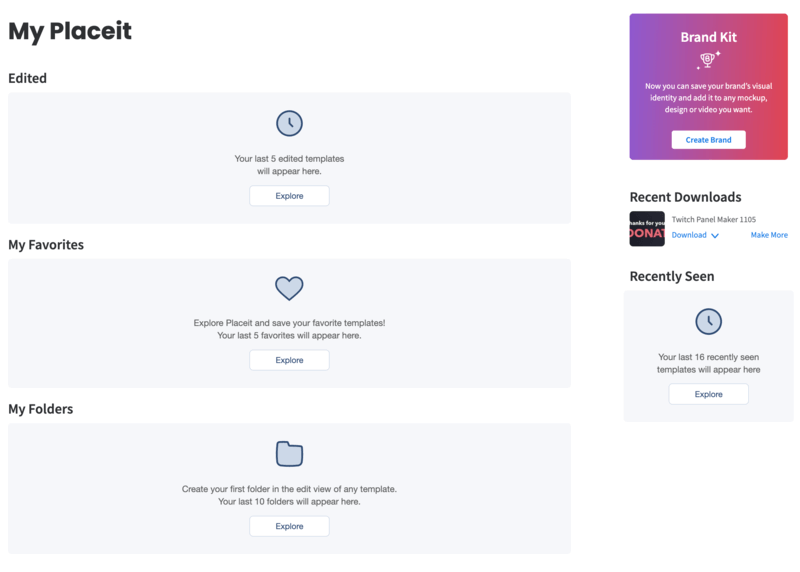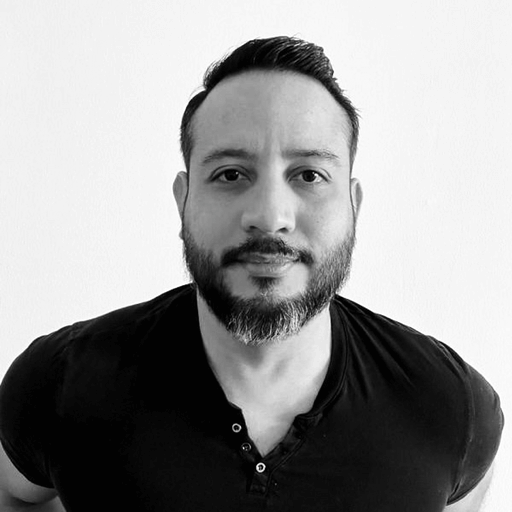 When working with online design editors like Placeit, it's a relief to count on a brand kit. With this new tool, you have the power to upload your logos, typefaces, and colors, to facilitate the customization process regarding any template. To better understand this, we chatted with one of our Product Managers, Agus, to tell us more about this new Placeit feature. 
"To all POD owners, small business owners, freelancers, creators, or any person with a brand, a brand kit is the ideal tool to access their brand style easily. Quickly and easily, anyone can customize all our Placeit templates according to their preferences and brand graphic style".
Why Did the Idea of Creating a Brand Kit Come Up?
"To simplify the user's life! We want to facilitate their experience and interaction with the templates quickly and effortlessly. Providing them with specific colors, saving their preferences, and typography choices, making their logos easily accessible, and enabling customization with minimal effort".
How Does This Feature Help/Benefit Users?
"This new Placeit brand kit helps our users maintain brand consistency and thus optimize content creation using Placeit". 
In other words, a brand kit empowers you to prioritize the critical tasks for your business or content creation brand while Placeit handles the design process for you. With a simple click, customize tons of design templates effortlessly while ensuring you're maintaining your brand's colors, typefaces, and imagery. 
🏳‍🌈✨ Take your design journey one step ahead and get ready to learn how to keep unleashing your creativity with our new feature: Blank Canvas, to create anything you want from scratch but with the best Placeit assets! Let the magic begin. 
What Does Your Brand Kit Include?
All Placeit users can now use this new amazing feature. You just need to sign up or log in; there's no need to acquire a subscription to enjoy this benefit. However, our subscribers have a premium feature to create up to 3 different brand kits to effectively manage multiple product lines and sub-brands or create content for other third parties. 
So with that being said, here's what you can expect when creating your brand kit for the first time ever. 
Brand's name.

The brand name you choose can have up to 50 characters, and the exciting part is that you can even add emojis to make it more personal and expressive. 

Logos

. It's possible to upload up to 7 logos. Only consider the accepted formats are JPG and PNG.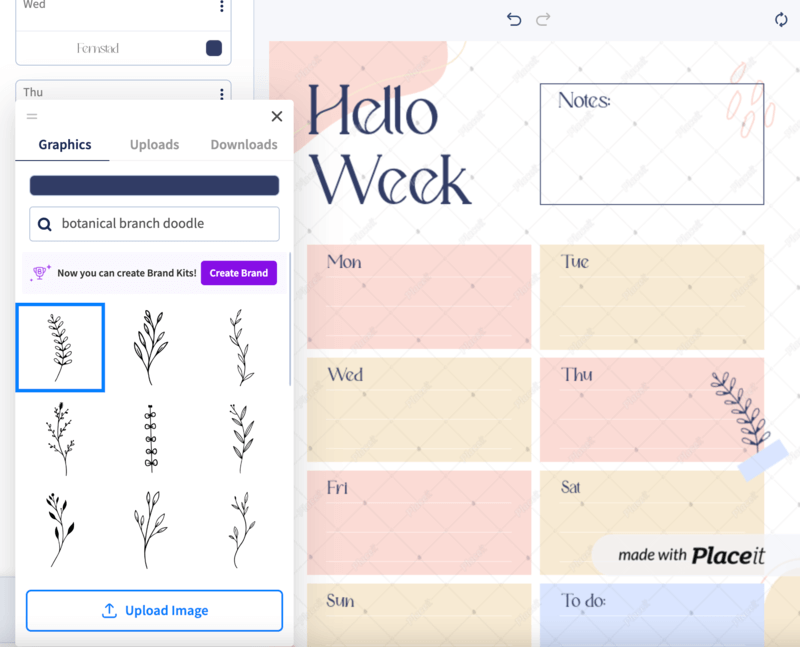 Colors

. Here you're able to select up to 5 different shades to transform any design with your brand color palette.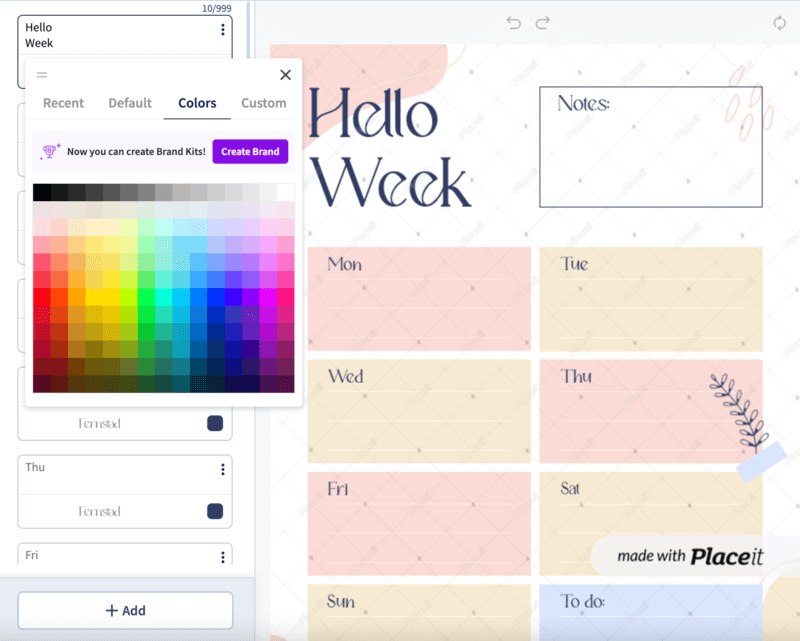 😊✨🌈 We highly recommend heading over to our new Colors by Placeit tool, where you can find everything about colors and get inspired by curated color palettes for your design needs. 
Fonts

. With over 14,180 font options in our gallery, you surely find your brand's exact font.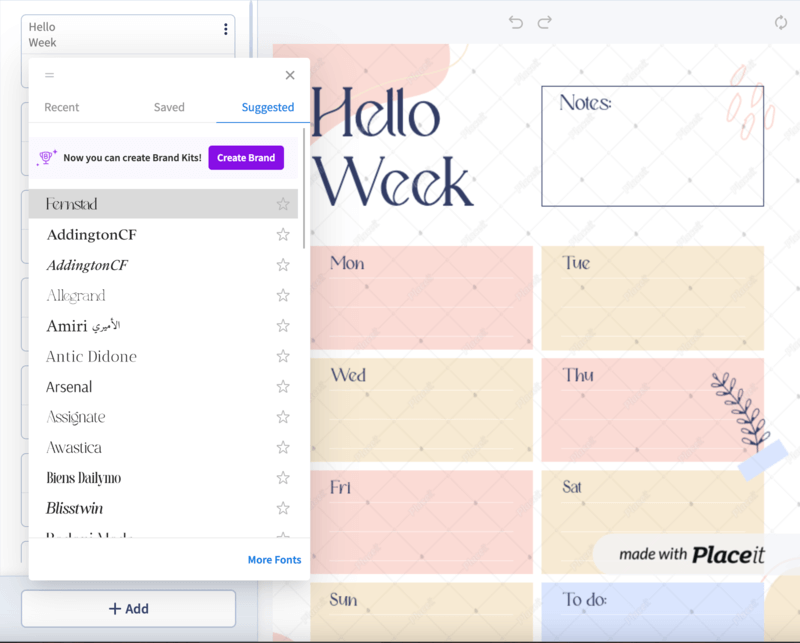 💡 Pro Tip: we recommend clicking on "Save your brand", every time you make a significant change. Otherwise, you can't recover those changes if your internet connection is unstable or there's a power outrange. 
How to Make Your Brand Kit With Placeit
Let us guide you through the process of creating your first brand kit to give all our templates the look and feel of your brand. Let's make magic together!
First, head over to

Placeit

and click on "Log In". This step is necessary to create and save your brand guidelines. 

Then, on the menu, select "

My Placeit

". On the right side of your screen, you'll see a gradient square called "

Brand Kit

", click on the purple button to start adding and saving your brand elements.

Once there, click on the pencil icon to rename your brand. 

Now, let's move on to the logos. Upload yours or create one with our beautiful and recently renovated logo maker. 

Then it's time to pick your brand's colors! We recommend having ready your HEX codes for entering into the "Custom" color section. If you're creating your brand from scratch, simply tap on your favorite colors to incorporate them into your kit. 

Finally, it's time to pick your brand's typefaces. Select one for your title, subtitle, and body. You can take them from our "Suggested Fonts" section or click "More fonts" to browse our extensive selection. 
And that's it! With every change you make, you'll automatically see how your changes are reflected on the left side of your screen. Remember to click on "Save Brand" to preserve your brand kit for future use with new templates.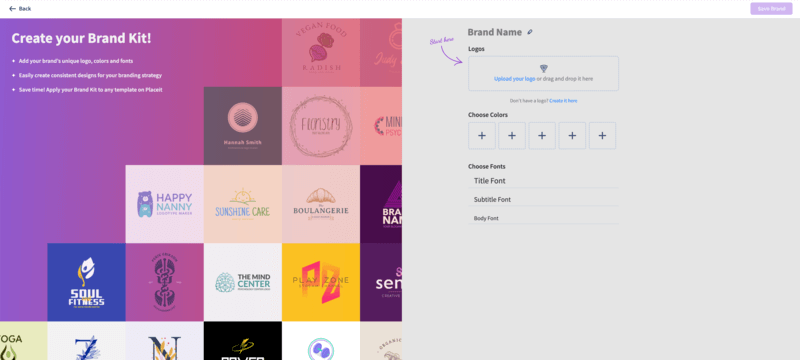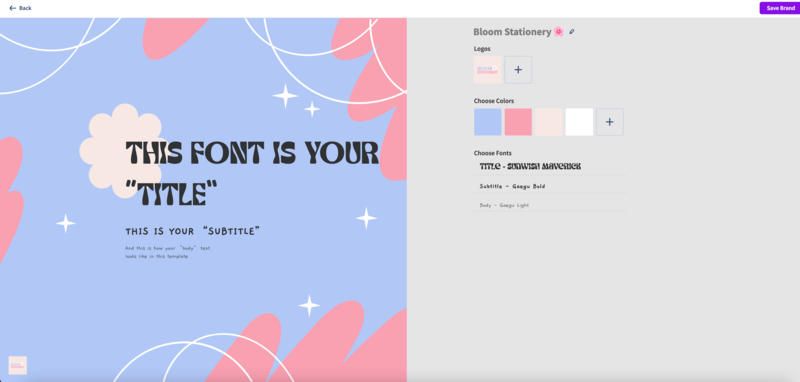 ⭐ Quick note: you can start your brand from scratch at any time! When browsing our designs collection, on any template, and when checking fonts and colors, there will be a heads-up indicating you can create a brand kit. When you click on it, this will take you to the "My Placeit" section to start filling out every field of your brand. All you have to do is follow the steps above! 😉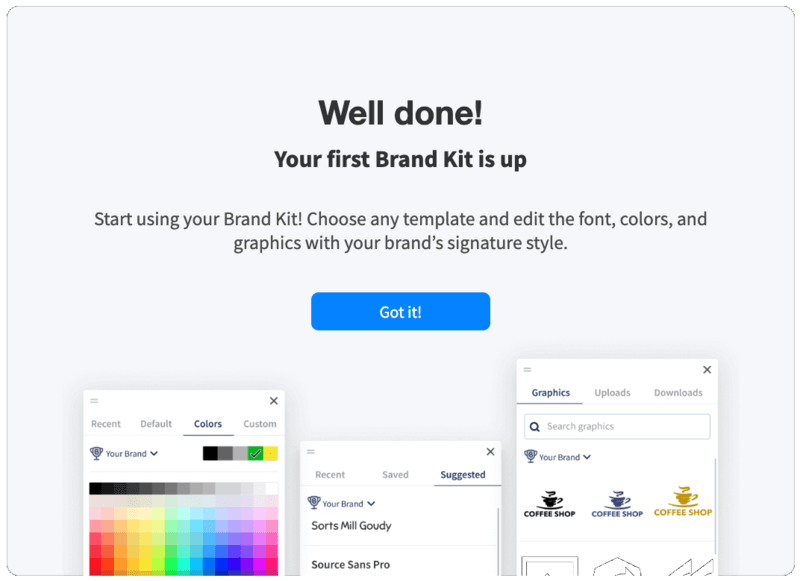 How to Customize a Template With Your Brand Kit
Great, you did the first step: saving your brand kit! Now it's time to see in action how life-saving our brand kit is when customizing any Placeit template. 
Inside Placeit, look for your favorite template. Whether it's a video, mockup, design, or gaming template. 

Once you find the template you want to customize with your brand colors and typefaces, click on it to open the editor. 

All you have to do is customize as always. Replace the existing text with your desired message, and of course, feel free to experiment with the different typefaces and colors from your brand. 

When editing each template element, you'll notice you already have a section that includes your brand's name and all the relevant elements associated with the field you wish to customize.

In the "Graphics" section, you'll be thrilled to find all your business images, such as your logos, that you previously uploaded when creating the kit. To use them, click on your desired asset and placeit on any design area.

Pro Tip: To maintain coherence and harmony regarding the design you're customizing, we highly recommend substituting the pre-established colors with your own. For example, if an element is initially green, substitute it with your preferred color. In this way, you'll have a great design with your branding colors and elements.

Lastly, when you're happy with the results, hit the download button to receive a professional, eye-catching design that will accomplish your branded guidelines. 
✨ Need some inspo to transform any template into something unique? Then don't miss out on our How to Make Design Templates Not Look Like a Template post!
To Wrap Up
This was just the beginning of an incredible project that will benefit your brand and make your experience more enjoyable when designing with Placeit. We encourage you to stay tuned to all our channels to keep unveiling new functionalities and surprises that are about to come in the upcoming months. 
FAQ – Brand Kit
---
---
---