As user engagement with shoppable content on Pinterest continues to grow, Pinterest joins forces with Amazon as a partner for third-party ads. The partnership between Amazon + Pinterest offers a seamless buying experience and advertising.
"The social media platform's shares climbed 15% postmarket after its third-quarter earnings and revenue both topped estimates. Pinterest said operating expenses should grow about 35% year-over-year for 2022."
This partnership makes it even easier for customers to discover and buy products through shoppable content.
What You'll Find:
The Partnership Details
Here is how it works, whenever a Pinterest user encounters an Amazon ad, they will be directed to Amazon's website to complete their purchase. This will create a more seamless shopping experience for users. Most Amazon customers already have their payment information on the app, which will make the checkouts process faster.
📦  How to start dropshipping on Amazon.
This connects highly engaged Pinterest users to an easy way to buy those products.
"90% of Pinterest users state that they use the platform to shape their buying decisions"
​​Here are some things to keep in mind when using Pinterest to sell your products:
Images are super important; make sure they are high-quality and engaging. 

Light images have shown a better engagement than dark images. 

Use vertical images; think mobile first. The best image size is around 736×1102 pixels.

Use a descriptive copy

SEO is a thing on Pinterest too! Be mindful of the keywords in your product's title and description. This determines which pins come up on a search.
🔥  Want to start selling on Amazon? Learn all about it here!
About Pinterest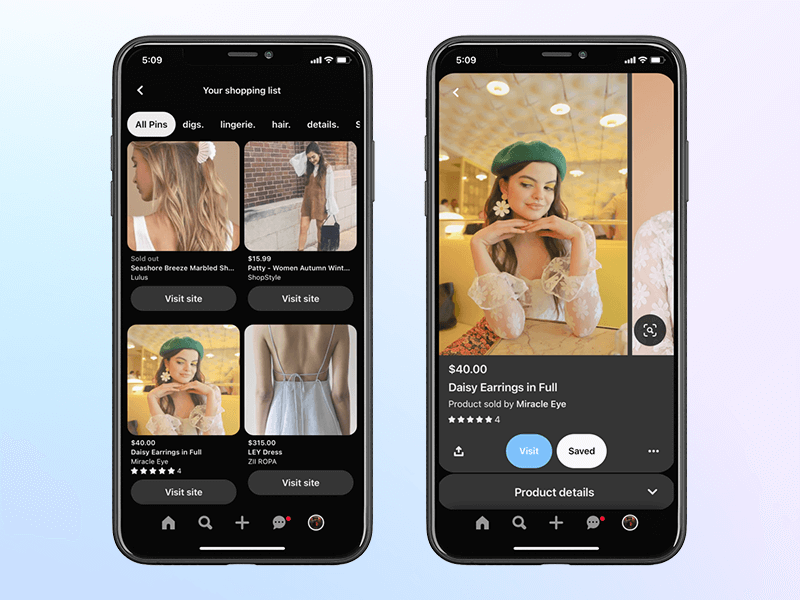 When people search for content on Pinterest, they are usually looking for things to buy. This makes marketing their brand way more interesting for Amazon sellers. You can promote using Pinterest, yes, but you can also acquire new ORGANIC followers. 
Pinterest allows users to create click-through links with each post. This means that users could also simply click on an image and go straight to your Amazon store.
✨Learn what you need about promoting your brand on Pinterest in our "Using Pinterest to Market Your Business" post.
How Do I Promote My Amazon Product on Pinterest?
For a while, Amazon sellers, and POD sellers in general, have known that cross-channel promotion is very important to increase their sales and brand awareness. Ergo, Pinterest advertising is offering new attractive opportunities for Amazon sellers to cross-promote. 
🔥  Learn how to sell merch on Pinterest and save time using mockups!
How to Make Money on Pinterest with Amazon?
Pinterest Advertising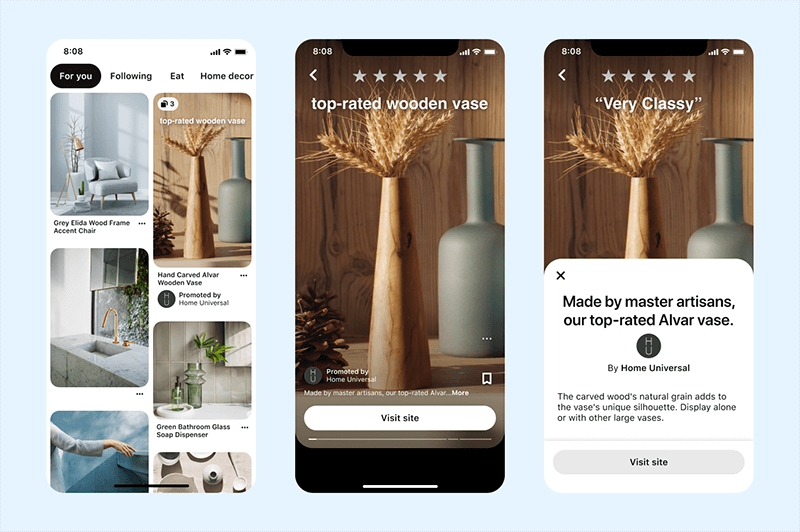 If you're going to be doing ads on Pinterest, you'll want to create a business account. You'll need this to set up ad campaigns and make use of Pinterest's analytics tools.
🔥 Check out this guide on how to master your digital products on Amazon!
There are different ways to promote your pins. You can optimize your campaign for Awareness, Consideration, and Conversions.

Promoted Pins
These appear in the home feed, relevant search results, and categories. They are labeled "promoted by." 
Rich Pins
To launch Rich Pins, advertisers need to have approval from Pinterest. You will also need to link metadata from your website. The information on Rich Pins gets automatically updated when you update anything on your website. 
Product Pins

– These display product's name, brand name, logo, picture, price, description, and availability. They display a "share" and "follow" button.  
Article Pins

– These pins display the article title, picture, description, author's name, and a "read it" button. 

Recipe Pins

– These show a dish name, picture, ingredients, cook time, description, and a "make it" button. 
Shopping Ads
These are super easy to make, basically made automatically by Pinterest, and these include product images, brand logo, and name. 
Collection Ads
These are automated as well by Pinterest; they include a video or images (3 supporting images).  Once a customer clicks on a Collection Ad, they can see up to 24 pictures of a product. These are very convenient for Amazon sellers. 
Carousel Ads
They offer from 2 to 5 images; these can work similarly to Collection Ads. Viewers can review a product from different angles. 
💡 Some Tips:
Try different relevant KWs of your products on your ads and analyze which are giving better results. You can also try different variations based on season or special events. 

Check out constantly your Pinterest analytics to better understand what is working better for your brand.
You Have 6 Targeting Options
1. Automated Targeting
Targets audiences that are automatically based on data collected by Pinterest. If you are no expert in setting ads, this might be your best option. 
2. Interests
You will pick a topic related to your brand and product. Ads will appear to users you are searching on that topic. 
3. Customer List
These types of ads target users that have been interested in your product in the past.  You can add your own customer list. 
4. Demographics
Based on collected data (language, location, gender, etc.), you can show your ads to your target audience.
5. Keyword Targeting
These ads center on keywords you choose for your products, mainly those by whom you might show up on a search. You can also create a list of negative keywords to filter even more the audience that lands on your Pins. 
6. Actalikes
These ads target seasonal keywords! These types of ads can give more information to the seller about what their audience is looking for and inspire new ideas. 
Add Pinterest Tag to Your Website
To get the most out of Pinterest Ads; you'll want to enable conversion tracking and analytics. To do that, you'll need the Pinterest Tag installed.
The Pinterest tag works like the Facebook Pixel – it's a code snippet you install on your website, which sends data back to Pinterest based on actions your site visitors take.
How Does Amazon Affiliate on Pinterest Work?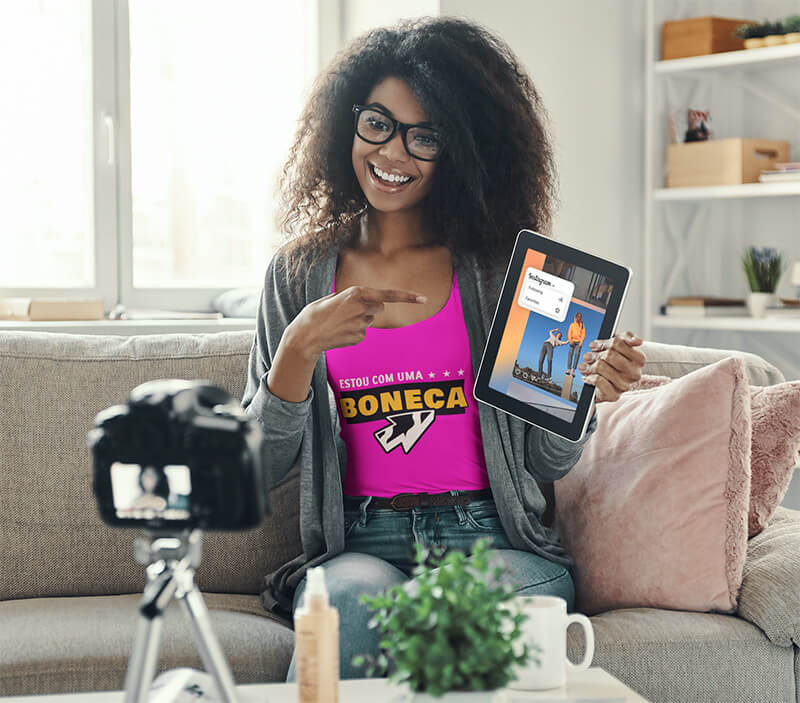 As a seller, you can provide a link for your followers so they can find your products. You will get a commission if a customer ends up buying a product. 
To pin your Amazon affiliate links on Pinterest, you can do so from your Amazon Associates account or from your Pinterest account. 
💡 Use Amazon Associates to create a text link that includes your Associate ID or Tracking ID. Copy this link, including all the parameters, into the Website field.
Amazon Associates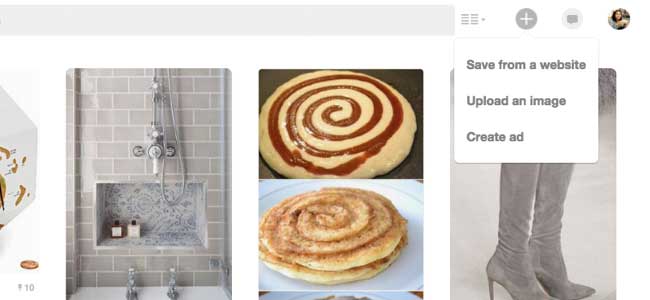 Head to your

Amazon Associates account 

Create a post and upload a photo
You can get product images at the Associates Central homepage. Browse for a product on the Quicklink or on sections. Once you have your image codes, grab them from there by clicking "Image" in the SiteStripe toolbar.
🔥  You can also use Placeit by Envato templates to create your own image design or a Pinterest Pin. Also, you can create videos (the most engaging content format) to promote your brand on Pinterest. 
3. Pin that image on Pinterest and add the affiliate link on the link box. Find it on "Edit" and add your link to the website field. 
Pinterest
On the "plus sign"  under the search bar, click on "create a pin." 

Add the product description and title. 

Add your affiliate link to the picture.
Best Practices for Amazon Affiliates on Pinterest
Promote Relevant Products for Your Preferred Niche
This will avoid you overwhelming your audience with a bunch of new products; it might even feel spammy. Always disclose affiliate relations.
Test Your Performance
Whether you are tracking your links using tracking IDs on your Amazon associate or directly on Pinterest, it's important you evaluate each link's performance. 
Make Pinterest – Friendly Links
Share content as helpful as possible. Include detailed descriptions and high-quality images. 
Be Authentic
In order to help your links grow, you need to be authentic on your Pinterest profile; not everything is about selling. 
Create Boards – very niche oriented
✨  Learn how to create beautiful pins to catch the eye of your followers!
Repin popular content

Pin your best-performing content

Join group boards
---
Last Words
As an Amazon seller, you can now take advantage of Pinterest and show your products! Pinterest is a whole new platform to explore when it comes to sales. This cross-channel promotion allows Amazon sellers to show their creative side on Pinterest!
Pinterest has steadily been adding features for stores and brands to grow. An example is "shop from boards," which can be found on the search bar and pins." This is why it makes sense for sellers to use Pinterest to their advantage. 
FAQ
---
---