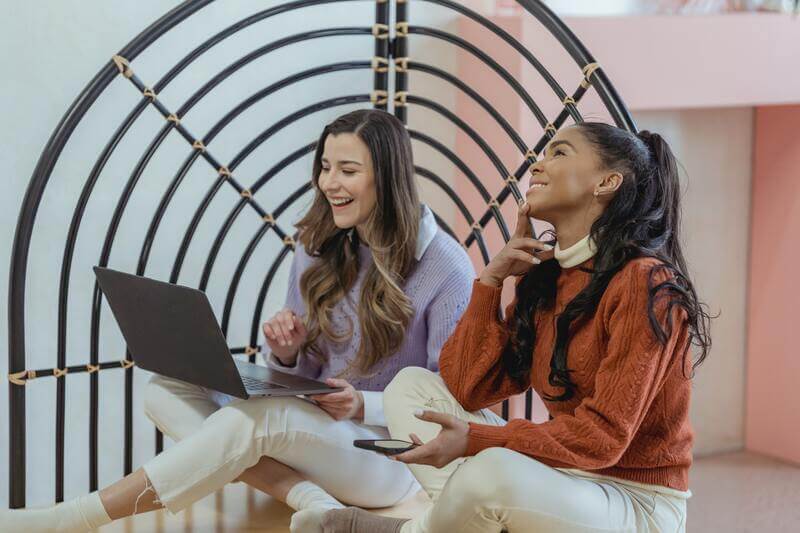 Instagram Creator Marketplace is one of the latest features on Instagram that you may have missed in 2022. But hey, we're here to share all the details you need to know to make the best out of this tool from now on. 
This new release is like a love matchmaker -but for creators and brands- except you'll find lucrative and tailored partnerships. Content creators can not only be discovered by brands they align with but also make their passion and content creation journey profitable. Meanwhile, brands can find the perfect creator to promote and boost their campaigns. As you see, it's a win-win situation for both parties. Best of all, it happens all inside the app, with no third parties. So swipe right on the new Instagram Creator Marketplace to find all the information you need, whether you're a creator or a brand.
Your Guide to This Feature Includes:
What Is Instagram Creator Marketplace?
As we mentioned at the beginning, this Instagram Creator Marketplace is an online spot where creators and brands converge for commercial purposes. 
Through this tool, released in July 2022, each side can manage their collaborations and negotiate deals effortlessly. Content creators can update their profiles, showcase their work and set up portfolios, making it easier for brands to find them and make money thanks to their favorite brands. At the same time, businesses can browse through a curated selection of talented creators based on filters such as gender, age, interests, location, and more to create a campaign or launch a project.
However, as Instagram Creator Marketplace is still in an early stage and has yet to develop to its full potential, only some can join the party. The Marketplace is only available to active businesses in the U.S. who fill out a register of interest form. After that, Instagram will reach out to welcome you to the hub. 
⭐ Looking for more cool features? Then you might like reading The Ultimate Guide to Creating Instagram Shoppable Posts

Who Are Eligible to Use It?
To join the cool kids of Instagram's Creator Marketplace, there are three requirements everyone must follow to become eligible: 
Have a Business or Creator account. Personal accounts aren't valid. 

Ensure you're aware of and follow

Instagram brand

and

partner monetization policies

. 

Comply with the

Community Guidelines

and

Content Monetization policies

. 
Note: Remember, brands (only from the U.S.) should apply for the interest of registration form to get invited to the Marketplace. At the same time, those creators who follow the above requirement will have an "Eligible" status (shown in the professional Dashboard) that will allow them to join Instagram Creator Marketplace instantly. If you don't have the option, review and ensure you comply with the guidelines above. ☝🏼
🤓 If needed, check out this article to learn how to switch your account. Or learn more about the differences between a Creator and a Business account. 
Instagram Creator Marketplace for Creators
Ver esta publicación en Instagram
As a Creator, What Can You Do on Instagram Creator Marketplace?
As soon as you join Instagram's creator marketplace, as a creator, without exiting the app, you'll be able to:
✨ Include and Mark Your Favorite Brands You Want to Work With.
In this way, when you add a brand as a favorite, they can see your interest in partnership with them, which speeds up the process or increases the opportunity to make a match. 
✨ Make It Easier for Brands to Discover You.
This action is possible thanks to a partner discovery feature which consists of filling up your profile, so brands can filter through the keywords you put in it and send you a direct message to explore partnership opportunities. 
✨ Keep Track of Your Branded Content Opportunities in a Partnership Messages Folder.
Instead of "Requests," once you receive your first direct message from a brand, Instagram will provide a special section in your DMs so that you can easily manage your messages to reach out about potential brand deals.
✨ Describe Your Interests in Branded Content.
To let brands know about the content you're focused on, it's easier than ever to include your category interest. For instance, food, beauty, or fashion. 
✨ Upload a Portfolio That Talks About Your Job.
You can include relevant information related to you and your work, provide examples of posts in different formats and styles, and share the brands you've previously worked with. Show what makes you unique and provide examples of your performance collaborating with other businesses.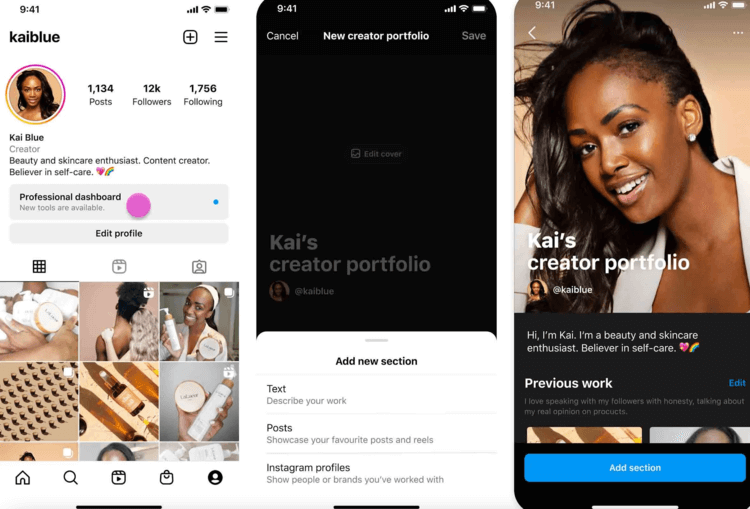 ⚡Pro Tip: To give more professionalism to your portfolio, we 100% suggest using Placeit by Envato to have the best and most outstanding graphics. Stunning templates created by professional designers are ready to edit and available in a variety of formats. Give it a try today!
🤑 Check out our Freebies templates to discover how good it is, or unlock your subscription here. 
✨ Create a Branded Content Ad With Existing Organic Posts.
Thanks to this tool, now, you can transform your content into ads, expanding your reach and influence to get the right people.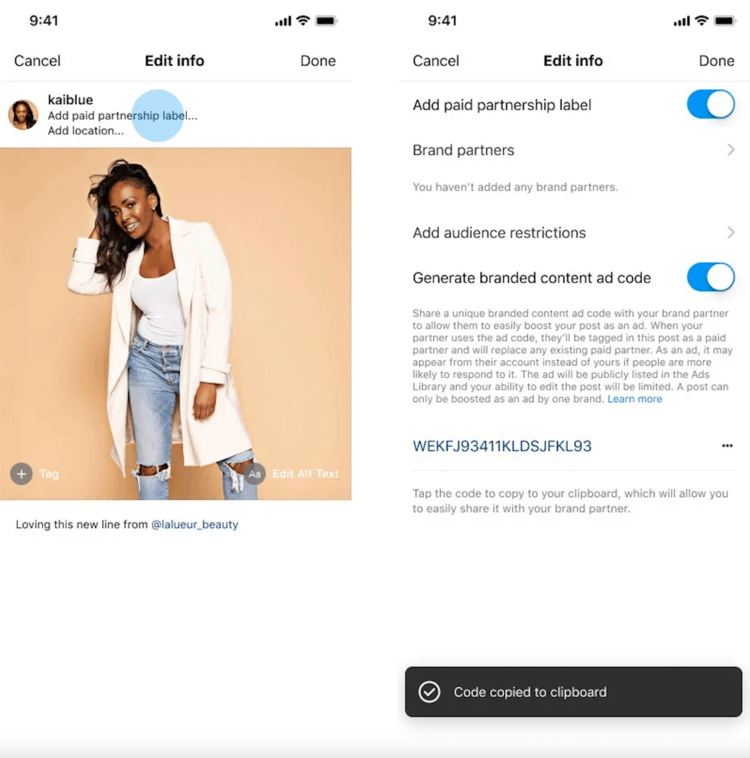 ✨  Check out how to improve your chances with good Instagram SEO
✨ View and Accept Projects From Brands.
When a brand is interested in working with you, they can send you a project that will appear in your partnership Message Folder. Here, expect to see: essential details, duration, costs, and further specifications. Also, even if you don't receive a direct project, you can still browse current and open projects from different companies. Express your interest, similar to applying for a job position and LinkedIn, to be noticed and to close deals.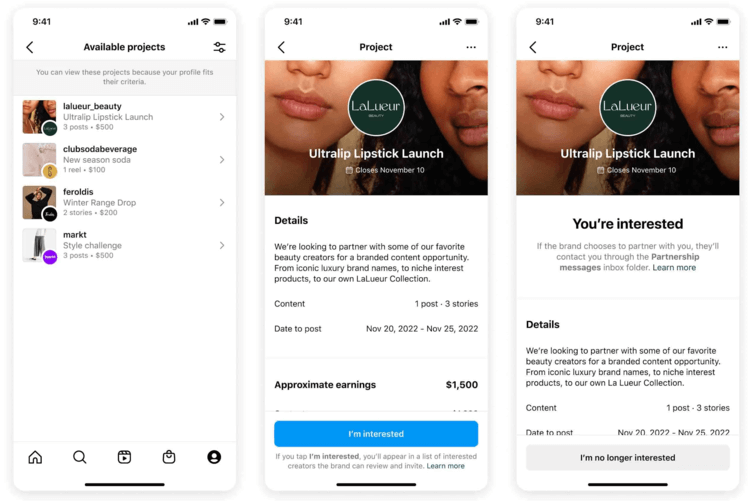 How Does Instagram Creator Marketplace for Creators Work?
Join the Marketplace.
To make use of Instagram Creator Marketplace, creators must have a Creator account on Instagram and meet specific eligibility criteria. In this way, they'll be able to start using the Marketplace. 
⭐ Pro tip: creators worldwide can access this feature. However, it's essential to understand that it's different from being able to participate actively. Therefore, to discover your account's suitability.
Fill Out Your Data.
This first step is all about including relevant information for brands to find you. Include your interests and portfolio. And also, you can add to your favorites the brands you aim to work with. 
Matching and Negotiation.
After you complete your profile, Instagram's algorithm will make magic by looking for the most suitable matches for you according to what you set up previously. For example, if you're a beauty blogger with an 18-25 predominant audience who is interested in organic products and engage greatly with your personal brand, the algorithm will find a brand that is looking for exactly what you're offering. In this way, once there's a match, you can negotiate the terms and rates with the brand directly through your Instagram app. 
Content Creation and Posting.
After agreeing on the terms and requirements, it's your turn to share your essence and collaborate to create the sponsored content considering the brand's guidelines and post it on your Instagram account. You must mention in each post, whether a regular post, a story, or a reel, that it's a Paid Partnership to avoid inconveniences with Instagram guidelines.  
Payment and Feedback.
Once the content is posted and the collaboration is completed, the brand should pay for your work. And last but not least, a recommended practice is giving feedback on both sides and a detailed report with metrics that indicate the campaign's performance. By doing this, you can get more positive points, win experience and keep bringing future collaborations. 
💡 Keep reading: How to Create a Social Media Report That Shows Your Growth
How to Access Instagram Creator Marketplace as a Creator?
Go to your Instagram profile. Tap "Professional dashboard" > "Your tools" > "Branded content" > "Status". If it says "Ineligible," it means you can't join the Marketplace. But if you're "Eligible," then a "Join the creator marketplace" button will appear to join the Marketplace. The first steps are simple. You must read some terms and conditions and review your personal information. Finally, after completing this process, you'll get access to the benefits we previously mentioned, which you can:
Be visible for brands to find partnership opportunities,

Select your preferred brand partners to work with, 

Add your branded interests so brands can find you swiftly, 

Create a portfolio of your work to help brands better understand you.
Instagram Creator Marketplace for Business
"78% of consumers say that creators are influential in helping them to discover new brands" – Instagram for business.
As a Brand, What Can You Do on Instagram Creator Marketplace?
The main perk of joining Instagram Creator marketplace as a brand is that you'll effortlessly find many content creators to partner with. However, here are more detailed features: 
⚡ Discover Creators.
Ver esta publicación en Instagram
Through a filters section, you can browse and discover the best match for you by looking for keywords, the creator's username, gender, age, location, and interests.
💡Note: as a brand, by just clicking on a creator's username, you'll be able to check out relevant information regarding that person: For example:
Bio,

Followers, 

Accounts they engaged with in the past,

Engaged audience (by gender, age, range, country, and city),

Engaged accounts (the accounts that have interacted with this creator's content. Including organic and paid content. Here, brands can observe metrics: likes, saves, shares, comments, and replies). 

Accounts reached,

Recent posts,

Portfolio.
⚡ Find Recommendations.
Instagram's algorithm will provide you with creators who have had great alliances in the past based on growth rates and high-performing content. 
⚡ Get To Know Who Wants to Work With You.
As we saw previously, creators can select or add brands they'll like to work with to their favorite list. In this way, you, as a brand, can check the influencers who openly manifested their desire to join your project. 
Show in your profile relevant information. Such as your previous partnerships. But also which creators are following up with your brand. 
⚡ Check Out Who Has Tagged You on Some Posts.
In the Tags section, you can observe which creators have tagged you and, therefore, interact with them directly on the post to create a conversation or support that reinforces the collaboration. Also, it's a great way to know when the content is live and re-post immediately. 
⚡ Create a Structured Project.
Here you can get creative to put together all the goals and details you want to achieve when working with an influencer. Include the campaign overview, desirable outcome, duration, number and types of content you want to create, and payment. You can either send this directly to an influencer or make it discoverable. 
How Does Instagram Creator Marketplace for Businesses Work?
Ver esta publicación en Instagram
According to Instagram, these are some cool steps you need to follow to create a successful partnership with any content creator: 
Define Your Goals.
It all starts with defining your business objectives and desired outcomes and clarifying what you plan to achieve with the help of this tool. Remember to determine your budget and influencer tier (this goes from nano, micro, macro, and mega). 
Start Your Research.
Once you're clear about what you're looking for, it's time to find the influencer who matches your core values and who is clearly a good fit for your brand strategy and image. 
Co-create.
When looking for the right creator, provide a brief and be open to balancing the creator's POV and brand goals. Content should reflect the creator's essence but follow up your strategy. People like transparency, as it produces excellent results, so stick to it. 
💡 Pro Tip: use storytelling and the most popular and effective formats online, such as Stories, Reels, and Instream videos. 
⭐ You might like reading: How to Make Instagram Reels That Reel-Ly Go Viral
Scale Your Strategy.
To achieve this goal, Instagram suggests including a paid plan to reach a broader target audience. 
Measure.
Measuring is the best way to know if something was successful in business. Keep track of and evaluate each detail of your campaign. Some valuable metrics to consider are campaign insights, notable comments, audience sentiment, engagement rate, and the direct impact on your followers, messages, and sales. 
How to Access Instagram Creator Marketplace as a Brand?
Fill out this form to get invited by Instagram.

Once you've received your approval, head over to the

Meta Business Suite

on your desktop to start using the marketplace. 

Go to the left-hand navigation bar and click Creator marketplace.

Then, "Get Started" and follow the instructions. 
Please consider that the first time you access paid partnership features, you must agree with the terms. Immediately, hit the "Get started" button and then "Agree."
Wrapping It Up
There's no doubt Instagram is conscious of offering and bringing incredible solutions for creators and brands more than ever. This time, their Instagram Creator Marketplace came here to revolutionize how creators and brands can collaborate together in the easiest way possible while creating meaningful content that resonates with the creator's audience and brands' core, respectively.
The best part is content creators can join to showcase their talent, build their personal brand and make a living from their passion. On the other hand, while the idea is exciting for brands, the not-so-good news is that still, in 2023, only U.S. based-brands can access this feature. We hope that soon, brands worldwide can join to tap into the creativity and authenticity of top creators, reach a wider audience, and drive engagement with their products or services to browse innovative, dynamic, and fun tools like this one that can make a significant impact on their brand and profitability. 
And for the ones who have this feature available, both creators and brands, let's remember that success is attributed to strategy, hard work, and a willingness to adapt to this ever-changing social media world. So, whether you're a creator or a business owner, always be authentic, creative, and open-minded to start using a tool that constantly makes innovations.
FAQ – Instagram Creator Marketplace
---
---
---