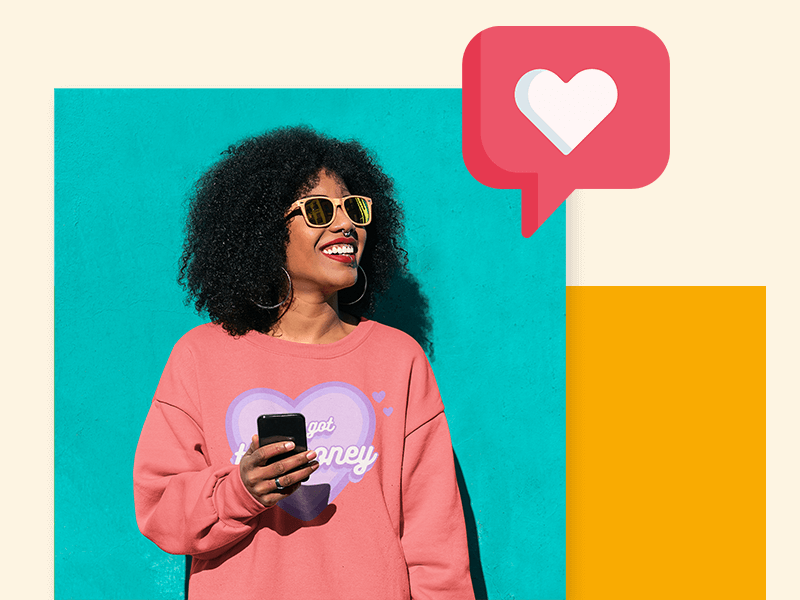 Instagram has become one of the leading, if not the dominant, social media platforms worldwide. With over one billion users, knowing how to optimize your Instagram SEO is essential for businesses and content creators to get a better reach and discoverability. Below is a guide on Instagram SEO practices that you can use to improve engagement and visibility on the platform.
What You'll Find:
What Is Instagram SEO?
Instagram SEO is how we optimize our content in order to rank better for search results on the platform. Instagram search results will include relevant content, accounts, audio, hashtags, and places.
👉  Keep in Mind: User Activity Will Affect Search Results
When making a search, any account or hashtag your user has interacted with before will appear on top places. Mutual connections will rank higher as well. 
Instagram's explore page algorithm shows accounts that are similar to each other. It identifies relevant words in the text, and this is why it's so important to optimize!
1. Use Relevant Keywords
The first step to any SEO strategy is to use relevant, descriptive keywords throughout your Instagram bio and captions. These keywords help users find your account and content when they search for specific terms on Instagram search bar. 
Remember to use industry-related keywords and hashtags that relate to your business or brand.
💡 Instagram search users by name. Adding your main keyword in your name and/or username is a great way to improve your discoverability.
Use SEO-Driven Hashtags
Hashtags work as keywords do on any search engine. They help users discover specific content. This is why it's important to learn how to tag on Instagram. For instance, if you run a fashion blog, using tags such as #styleblogger, #fashionista, and #ootd might increase your visibility on Instagram. 
Avoid keyword stuffing your captions, as this could affect your ranking negatively.
You can use tools like Ritetag or Hashme, or some Hootsuite alternatives to generate hashtags in case you are not feeling very confident or creative.
2. Optimize Your Bio

Your Instagram bio is an essential aspect of your SEO strategy. Make sure you include keywords relevant to your niche in the bio while making it clear what you do and what services you offer. Using the best description will also help your Instagram profile search.
Take advantage of your bio by telling users what makes your brand unique. Also, make sure that your profile picture is high-quality and engaging.
3. Post Quality Content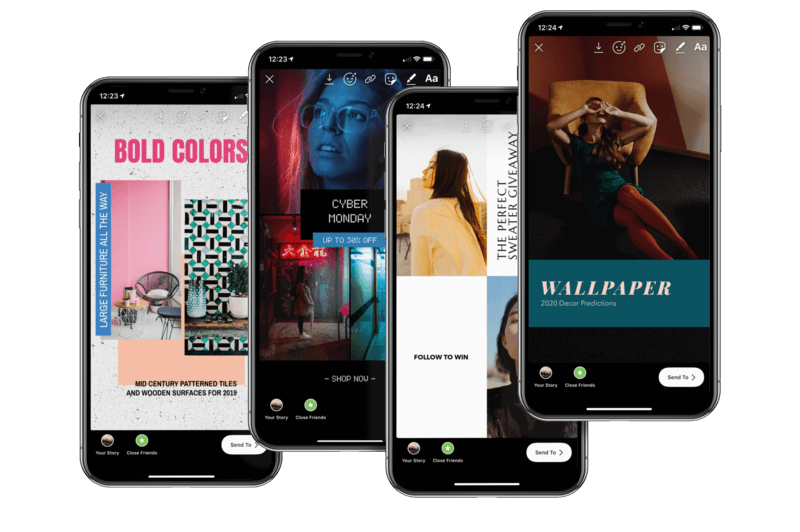 The quality of your content is critical to ranking well on Instagram – this is because Instagram's algorithm favors quality over quantity. Ensure that your posts are visually appealing, unique, and use industry-related keywords and hashtags in descriptions!
🔥 Learn how to create Instagram reels. 
Placeit by Envato offers all kinds of templates to post quality content in just a few clicks, Instagram Reels, Stories, Posts, and more. You can also use our mobile app to do it all from your phone.
Alt Text SEO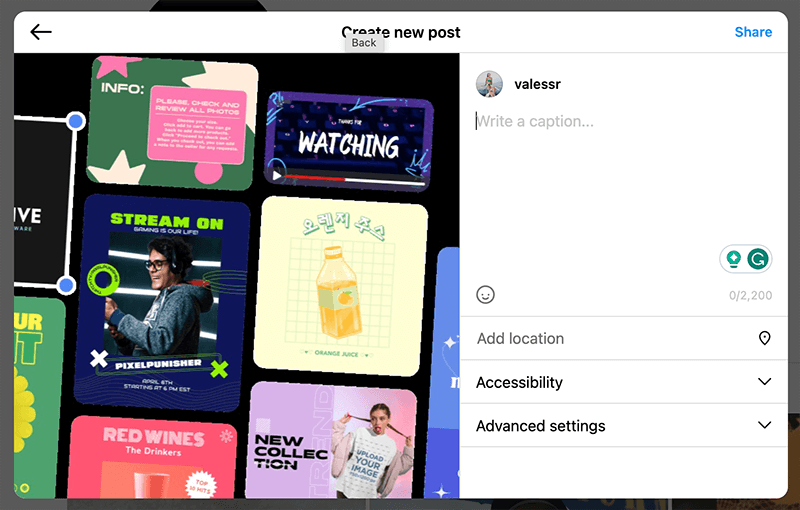 It works just as on the web; you must add a proper description and alt text for images and videos that include your main keywords or specific search queries.
✨  Check out how to post videos on Instagram!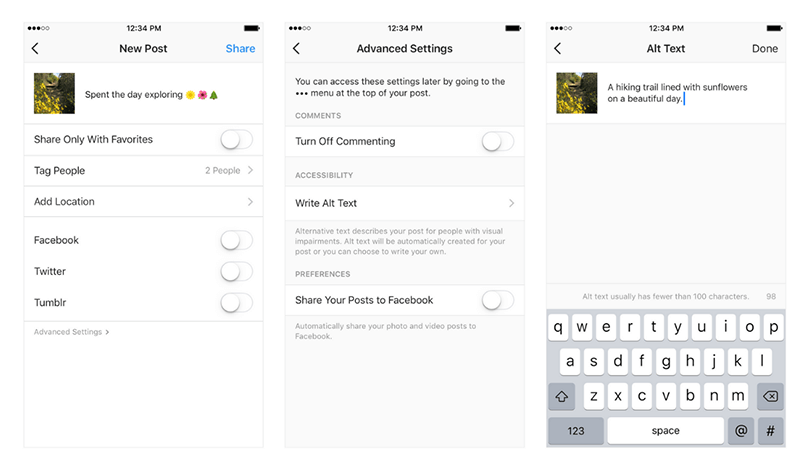 To write your own alt text, select "Advanced settings" before you finish sharing an image.
Post relevant content regularly and ensure that each post complements the earlier one's style and tone.
🔥 Learn how to make Instagram carrousels in seconds! 
💡 Keep in mind that using the best time of day to post on Instagram will also help your content become more popular. The exact time and day will vary according to your brand's industry and audience. Keep a close eye on your posts' performance to find out which time works better for you. 
4. Use Instagram Insights to Measure Success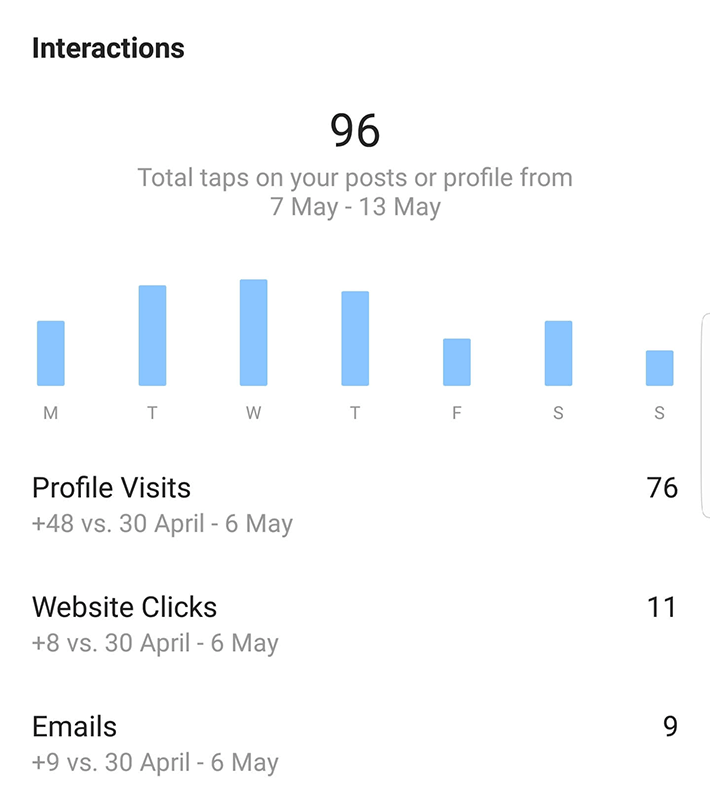 Instagram Insights helps you measure your account's performance, providing you with metrics to track your progress. Use Insights to measure your reach (how many people have seen your posts), impressions (the number of times your post has been viewed), and engagement (likes, comments, and shares), among other factors.
Pay attention to your top-performing posts and analyze why they performed so well. Use this information to improve your content strategy and identify what your audience prefers.
✨  It is always a great practice to take a look at the current Instagram Trends to gain popularity! 
5. Collaborate with Other Instagram Accounts
Linking up with other Instagram accounts in your niche could improve your visibility and ranking on the app. Working with other accounts can open up opportunities for collaborations, co-branding, and cross-promotion, among others.
6. Encourage User Engagement
Engagement is the most critical aspect of any SEO strategy, as it shows that your content is resonating with your audience. Encourage your followers to engage with your content by prompting them to leave comments or asking them to share their opinions on your content.
Replying to comments and distributing original content helps build a relationship between you and your audience. Also, ensure that you tag other Instagram users when possible, mention them in your posts, and encourage them to engage with you.
🔥 Pro Tip: The more engagement you get, the more likely your post is to show up in relevant hashtag searches.
7. Use Tags to Increase Your Discoverability
Getting tagged is another way to boost your discoverability on Instagram. Encourage your followers to tag you in their images and stories by running a promotion or giveaway. You can offer some incentives and show your appreciation. 
Last Words
Instagram SEO is all about creating quality content that resonates with your audience while keeping the app's algorithm in mind. Ensure you optimize your bio and captions with relevant keywords, post quality content regularly, leverage analytics to analyze your performance, collaborate with other Instagram accounts, encourage engagement, and stay up to date with algorithm updates.
Using these tips and tricks will help you rank higher in searches, improve your visibility, and increase your following and engagement levels. Remember, SEO is a process, and it takes time, effort, and patience to see results, but with diligence and consistency, you're on your way to becoming an Instagram SEO expert.
FAQ
---
---