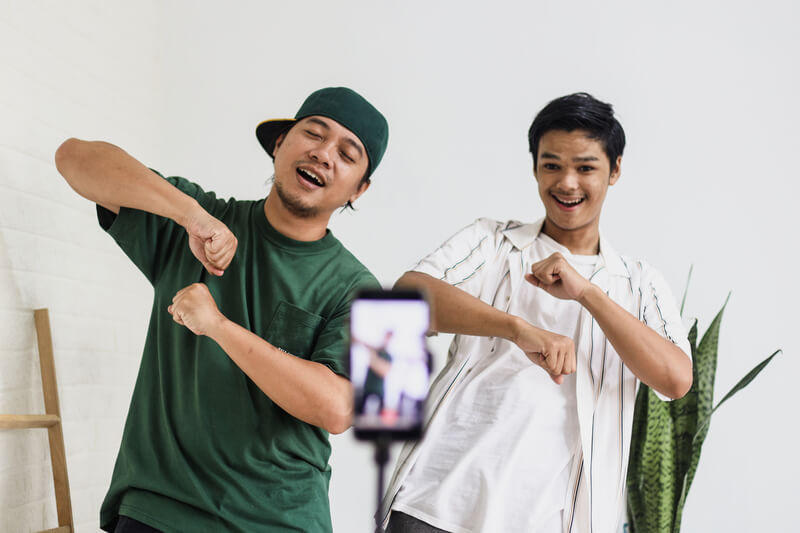 With one billion+ active global users, TikTok is a video platform you shouldn't leave out of your marketing strategy. To get the most out of it, we've prepared this complete TikTok for business guide to achieving bigger and better results. 
What Is TikTok for Business?
After the massive success that Tik Tok had in 2020 -and still has-, the video platform launched an initiative and marketing solution called "TikTok for business". Its goal is to provide brands and businesses worldwide with a helpful tool to get the most out of this video platform. From resources to creating creative and engaging content to make it easy for consumers to buy the products they love from their favorite brands, including startups and small businesses. 
✨ Create awesome TikTok Videos using Placeit
Should You Have a TikTok for Business Account?
If you're still unsure of switching to a business account, here we delve into a few more powerful reasons to take this step in pro of your brand.
1. Increase Your Business Visibility
It's no surprise that TikTok has become super popular even among brands. No matter their size or how well-known they are, posting a video on TikTok is way more effective in views and engagement than other vertical video formats such as Reels and YouTube Shorts. In fact, there are some experiments on YouTube that prove it. 
Plus, if your content is highly attractive to your viewers, you could go viral! This is an excellent opportunity to increase your followers, get more interaction and engagement, and even make sales. 
2. Contributes To Your Strategy
You know the quote, "Don't put all your eggs in one basket"? Well, this also applies to your marketing strategy. You need to have a social media action plan that includes different channels. Whether to target specific niches or to share additional content according to the tone and personality of each platform. That's why, as TikTok is being claimed by the youngest and even the older generations, you need to consider posting engaging and creative content to contribute to your social media efforts.
Don't forget videos are one of the favorite types of content because they're easy to watch and super visual! Plus, TikTok allows you to add a catchy music track. Take advantage of it!
Thanks to its functionalities, you can add a direct link to your website, Instagram, or YouTube channel. But also, it's possible to integrate your Tiktok for business account with an online store such as Shopify to advertise your products. Click here to read their FAQ.
TikTok for Business Insights
If your goal is to get to know TikTok viewers and users better, then you'll love this TikTok tool that provides data and statistics about the different generational age groups to build further a solid marketing and content strategy for this popular platform. Let's take a look at some insights! 
💡Pro Tip: Narrow down your searches by filtering country, audience, insights by advertising people, and creator. And also for industry, holidays and events, and by year.
What Can We Learn From These Insights?
⚡ Viewers are increasingly open to seeing content from brands, especially live content -which shows a more human and not-so-programmed side-. Perhaps this is because part of the success of this social network is that the content that is seen tends to be more authentic and transparent; that's why more than half of the respondents trust creators. 
⚡ On the other hand, we can see that on Tiktok, the content is very digestible, even the ads. In fact, rather than looking like ads, they look like another TikTok. Especially those that involve stories or situations with which we have all related or lived.
⚡ Thus, this set of ingredients makes users of the TikTok platform go to it to have fun, be entertained, learn new things, and hear different perspectives on a topic. Which makes viewers want to spend more time here, to the point that 80% of respondents plan to continue using TikTok in the future, and the proof that they enjoy watching videos on the platform is that content is often shared with friends. 
What's the Difference Between a Personal and a Business Account?
First, we'll talk about the general features both account share. Later, we'll address the main differences between a personal and a business account. 
For both accounts, you can:
Go live on TikTok

Get access to general analytics 

Access to the

Creator Portal

 

Add a website link to your profile*
*On a personal account is just text. It doesn't take you to a website or app. However, you can add a social icon that will take your followers to Instagram or YouTube.
If you join TikTok, you'll have one of these accounts by default. It can be helpful for viewers and creators (who like to express their originality and creativity through the platform), which means you can either be a viewer or a content creator (but without selling anything) or even both! 
Features
Full access to sounds and tracks, whether commercial or general music library.

Possibility to switch to a private account.

Chances of participating in the Creator Next Program by TikTok.

Getting the opportunity to accept gifts from your followers or viewers when going LIVE

Participating in the

TikTok Creator Fund 
TikTok for Business Account
This type of account is focused on the commercial side to help brands and businesses to make TikTok part of their business strategy by providing the right tools and features to attract consumers entertainingly and creatively. 
Features
Access to the intuitive Web Business Suite includes Analytics, Workspace, Activity, and Support. 

Full access to the Commercial Music Library with more than 1,000,000 songs for commercial use. However, this business account doesn't have access to the General Music Library. 

In-app Business Creator Hub

to check out tips and valuable information to apply to your strategy. 

Seamless linking so your audience can find relevant information. 
💡#ProTip: It isn't recommended to keep switching back and forth between a personal and a business account. So, choose wisely to avoid any further inconveniences.
This is another solution for TikTok for business. We'd say it's like a sub-category or tool that works with the Business Account. The main difference is that this ADS Manager account is purely for advertising purposes, which means you need to create this account to share ads on TikTok.
Features
Dashboard to access all your campaigns, including metrics and budgeting. 

Creative ad formats.

Advanced targeting (gender, location, age, interests, custom, and lookalike audiences). 

Holistic measurement solutions.
How to Switch From a Personal to a Business Account?
No worries, it's easy peasy! Here we guide you through the steps you need to follow to create a TikTok for business account: 
Head over to your TikTok app.

On the bottom bar, tap "Profile." 

Then, in the upper right corner, select the three horizontal lines

Choose "Settings and privacy."

After, under "ACCOUNT," tap the first option, "Manage account."

In "ACCOUNT CONTROL," only click "Switch to Business Account," and that's it! You're all set!
How to Optimize Your Profile in 5 Steps?
Your profile is the only thing you have when a user/viewer searches for your business or clicks on your username. So to ensure your profile is a 10 out of 10, we suggest you be aware of these steps. Remember that visuals are very appealing and can make the difference between a user wanting to continue watching your videos and even following you.
1. With An Easy to-Remember User Name
Take advantage of your uniqueness and include your business name without needing many numbers or letters. However, if you have several product lines or a presence in different countries, you can add extra keywords to differentiate—Disney, for instance.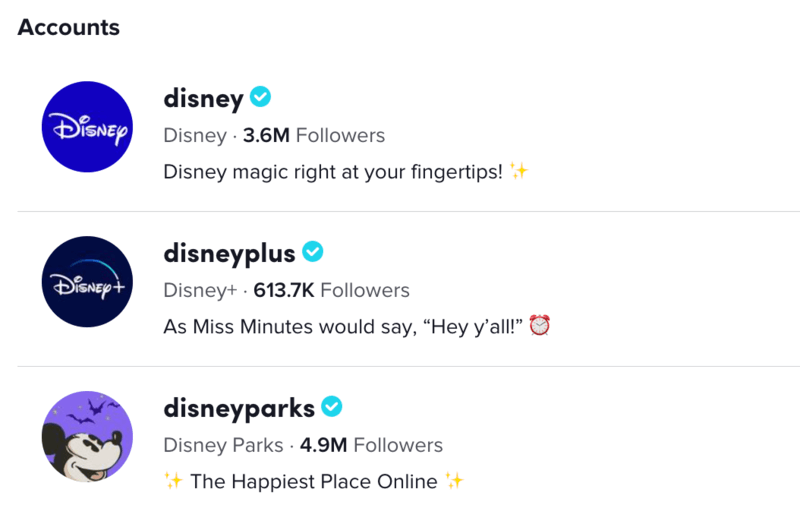 2. Ensure You Have a High-Quality Profile Picture
Many companies use their logo, and others choose to include an iconic photo that represents their product, like Vegemite. In both cases, make sure it's high-quality to convey professionalism and trustworthiness.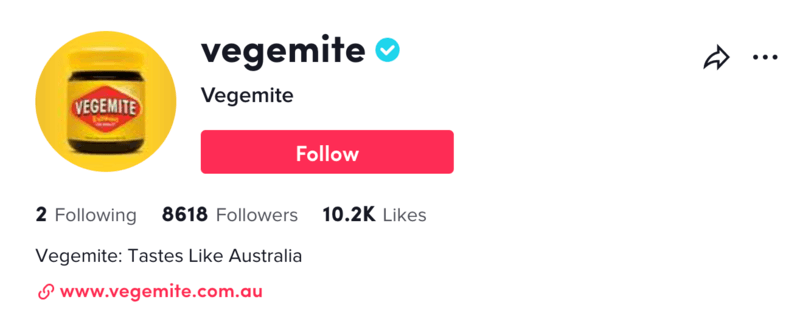 3. A Concise but Powerful Bio
In just a few characters, you should tell the world: who you are, what you do,  and what makes you different. However, if you want to step out of your comfort zone, try to include funny messages related to your business or adapt them to seasonality. Here are some examples: 
Printify

. 👇🏻Back to school is back to prepare your store👇🏻

CNN

. It's our job to #GoThere and bring you the news.

Lacoste

. Where will the Crocodile move you today? 🐊

LinkedIn

. Let's Tok about your career

Etsy

. All our videos are handmade or vintage 🫶
We suggest adding emojis to give a friendlier tone.
Allure.

The Beauty Expert 💄

Tinder.

ur current flame ❤️‍🔥 (18+)

Amazon

. We work with boxes 📦
Also, try using hashtags for people to use and tag you. 
Envato

. Bring your ideas to life with creative assets and tools 🎨🖌️📸 #MadeWithEnvato

Asana

. Enabling the world's teams to work together effortlessly🦄 #withasana

Benefit

. Show us your #BenefitOfBrows transformation for a chance to win👑💖👇
Last, get creative to include a Call to Action. Tell people what you want them to do: 
Later.

All-in-one social marketing tool ✨Learn about Later and sign up for free👇

Google

. Do more with the Google app ⬇️

Fabulous

. Follow to discover routines 💧🍳😌 or choose your own adventure in our app!👇
4. Link Your Instagram and YouTube Accounts
Nowadays, adding your social networks is a great way to give people more information about who you are and what you offer (and even gain followers). So, if you want to keep growing your social media and provide valuable content to your viewers, add your Instagram and YouTube accounts.
5. Add a Link According to Your Goals
This URL is all you have. Basically, it's like a guide to tell TikTok users where you want to take them. Think about your business objectives; what do you want them to do? For example, take them to your store if you want them to buy a product. If you're giving them diverse information, try using these popular links like Linktree or Later's link to give them more options to redirect them to your Instagram account, download a file, or send you a message via WhatsApp, etc.
⚡Extra: Have a Visual Consistency
While each video will be different, ensure that 
Thumbnails/covers

Text styles

Writing tones

Use of emojis

Captions and more
Follow the same style. By doing this, you'll achieve that people can easily identify your videos and, therefore, your brand and what you can do for them. Click here to check out how Fabulous (@thefabstory) implements these tips on its TikTok profile. 
🚀 Want to skyrocket your visibility and engagement on TikTok? Then check out our new TikTok SEO guide!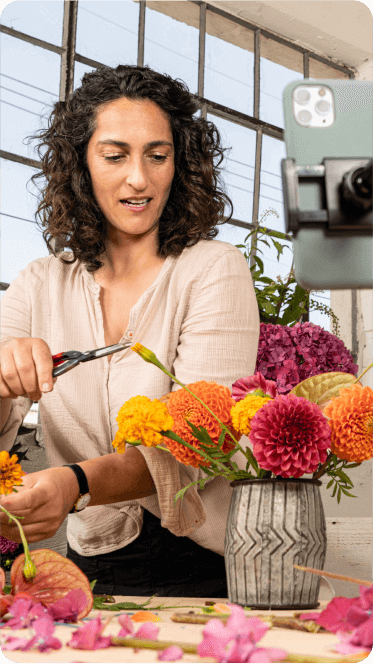 How to Upload a Video on TikTok?
Open your TikTok app.

Tap the middle white icon "+."

Record a 15s, 30s, or 3mins video or upload a video from your gallery (click on the square that says "Upload")

Choose a sound from the music library (adjust the time frame and the volume)

If needed, add text and stickers.

Once done, add your video description, don't forget to include hashtags related to the central theme so people can find your video.

Click "Publish," and that's it!
🔥 #ProTip: create your own hashtag to get more views and likes and to be relevant to your target audience. Make sure it's short and easy to remember! 
Content Ideas and Tips for Businesses
What Types of Videos Work Best Among the TikTok Community?
According to their business portal, this is what rocks nowadays: 
Funny videos.

These are the most popular videos on TikTok. Usually, they're short and include funny or everyday situations that most of us have experienced, so we relate to them. Moreover, these videos have a complete visualization. 

Informative videos.

Nowadays, especially younger generations, are looking at "How-To" videos where creators and brands explain tricks, give a demo, rate a service, etc. 

Real-life experience videos

. This kind of video makes way much sense because, remember, when we were talking about insights, users have shown that they totally prefer authentic content. That's why stories work that well! 
Moreover, If you're wondering how to find amazing content to post on your TikTok for business account, here are some steps you might want to implement. 
Look for keywords related to your brand or products.

Watch out for what your competitors are doing and get inspired. 

Discover what's new by searching the

trends

: videos, themes, filters, effects, or sounds.

Get more info on TikTok for business creative guide. 
15+ TikTok Content Ideas for Business
Metrics to Keep an Eye On
While both (personal and business accounts) have analytics, the ones designed for business have advanced and detailed insights. Here are some metrics that might be useful to know who you're targeting, optimize your posts and discover which content is working better. 
Follower growth rate

Content performance

Website views from TikTok

Leads and customers from TikTok
And although those metrics are great, don't ignore the basic ones because you can find so many insights into them. When you log into your Analytics, you'll find different sections:
💡#ProTip: filter your statistics by the last 7, 28, or 60 days or customize a timeframe. 
🟢 Overview
Engagement by video views, profile views, likes, comments, and shares.

Followers in total

# of posts published

# of live videos
🔵 Content
# of video posts published

Option to create a new post

Trending videos (your top videos with the fastest growth in view numbers)
🟣 Followers
Total of followers

New followers

Growth rate

Gender

Top territories

Follower activity by hours and days (shows when your followers are most active on TikTok)
Let Your Audience Discover and Shop Your Products With Shoppable Experiences
TikTok has a commerce solution that allows you to sell your products online effortlessly. This solution, in turn, has sub-solutions which are:
Like Instagram, TikTok has this functionality that allows you to have a mini virtual store for your customers and your target audience to buy your products directly from your TikTok profile without having to go to your website.
For your organic content (videos), you can add a link to a checkout page, such as your website, so that users can complete the purchase.
If you like to make LIVES, this is the best way to showcase and promote your products. On the screen, you can show a pop-up with the product and the cost, followed by a call to action that can be "Buy". Additionally, you can give instructions to your viewers to complete their purchases.
Note: For TikTok Shopping, the purchase and shipment of products will only be available in the country of origin. For example, if you sell in the United States, likely, people from Mexico won't be able to purchase the products.
These ads perfectly match your audience's interests based on their activity.
What would happen if you could create a product carousel in a movement video ad?
With this kind of ad, you got it! Plus, users can get to your products gallery to browse and find the ideal product for them.
This is a popular hashtag, followed and created by users worldwide, showing an honest and exciting review of their products. This hashtag has been so successful that thousands of products have sold out in stores. It's worth mentioning that the videos are organic content and can talk about any product. Still, they have become so popular thanks to their powerful reach, showing tricks, functionalities, and novelties. 
Create an Ad with TikTok Ads Manager
While TikTok is great for sharing organic content, don't forget to complement your strategy with a paid campaign. In this case, TikTok for business offers an Advertising solution for brands who want to boost:
Visibility,

Reach

And engagement. 
So, no matter your brand's size, you can achieve more significant results by creating ads for your target audience. 
💡 #FunFact: "68% of TikTok users find advertising content here unique or different from any other platform."
To share your brand story, use this kind of ad. It has sound on. 
Are you looking to appear just when a user opens the app? This is your ad! You'll have up to 60 seconds to catch TikTok viewers' attention.
Get creative and use your own videos, creator-made or the ones that mention your brand. 
💡#FunFact: Spark Ads were pretty common when Lizzo released her song "About damn time," where they used different videos made by creators or people utilizing this catchy soundtrack. 
Filters and effects are super popular, especially among the youngest generations. So, if your goal is to reach them, try to create an incredible custom effect. 
If you only want to give a boost to an organic post, you can do it by promoting a video. This works pretty similarly with Instagram and Facebook.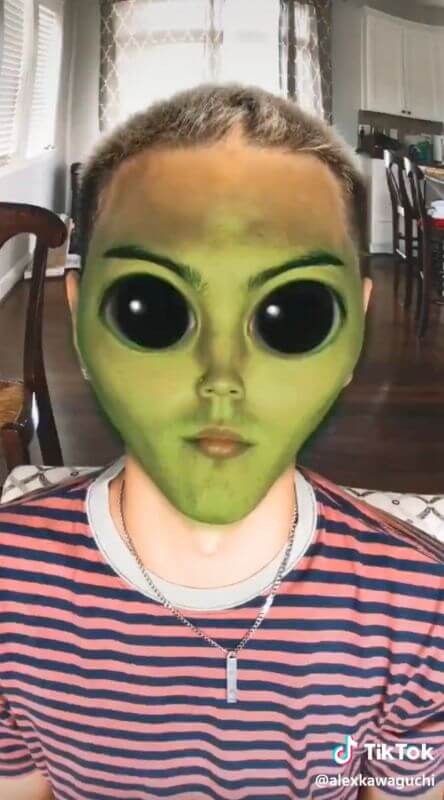 How to Set Up Your Business Account to Create an Ad?
1. Create a Business Account
To start advertising, you'll need to create a TikTok Ads Manager Account. Remember to sign up with your TikTok for business account.
2. Describe What's Your Business About
Here, TikTok will require information mainly used for contracts, taxes, and vouchers.
3. Provide Your Billing Information
To store your information, as well as to select your payment methods and make sure your ad campaigns run smoothly, you can choose to make your payment manually or automatically. Just keep in mind that you can't change it frequently. 
4. Select Your Preferred Ad Mode
Here you can choose between two experiences for campaign creation and management. Whether "simplified" (easy and less time involved) or "customized" (to control your ads at an advanced level) mode.
Start by setting a campaign goal (traffic, engagement, or leads). Then, choose your target audience and filter by age, gender, location, interests, and other criteria.
⭐ Note: You'll see that TikTok works like any other ADS platform. You have "campaign," "ad group," and "ad." 
Next, you'll be able to set your budget. It can be daily or lifetime. Finally, it's time to design the ad; include top-notch graphics to make your video stand out. Placeit by Envato has hundreds of cool graphics to add to your TikToks. Try them out now! 👇🏼
Before your ad goes into TikTok, the platform needs to peer review it to ensure it follows all the requirements that affect your landing page and the ad. The TikTok team usually takes up to 24 hours to check it. 
Find Business Opportunities on TikTok Marketplace
If you're looking for a place to connect with the creators you like the most, then TikTok Creator Marketplace is the platform you need. Here, creators can collaborate with you through different paid campaigns. 
✅ This TikTok official site aims to achieve that a brand and a creator can create high-quality solutions and partnership opportunities to offer amazing content to the TikTok community.
Moreover, as a brand, you can see your creator's profile, audience demographics, and engagement metrics to make sure this person is the ideal one to share the messages you want to convey through TikTok. 
How Can Your Business Join the TikTok Marketplace?
According to their official site, these are the steps you should follow to partner up with a content creator on TikTok:
Login or register

with your ADS Manager account

Search for your ideal creator

Invite to collaborate

View insights
You might like to know:
🟡 There are currently 500,000+ creators registered on TikTok Creator Marketplace (TTCM). 
🟢 Also, it's available in 24 countries. Check out this list to verify if your country is eligible. 
🔵 Your brand can contact a creator directly. They'll receive the invitation, and then they're free to accept or decline your offer. 
🟣 Finally, you can search for creators using criteria such as Creator country or region, audience country or region, followers, average views, engagement rate, audience gender and age, and topics (For example, animals and nature, fashion and beauty, education, entertainment, technology, lifestyle, etc.).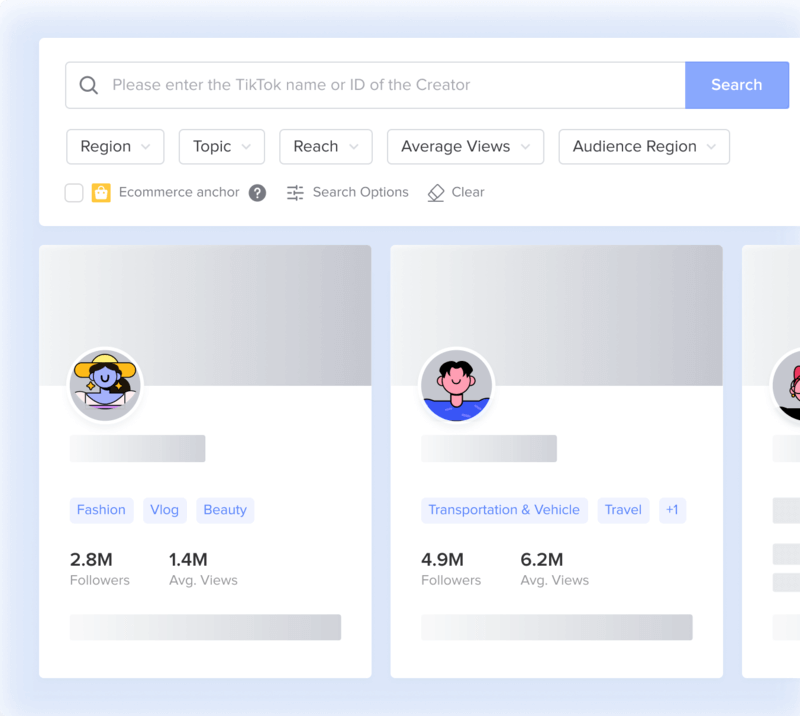 Do's for Newbies and Not So Newbies
Upload a vertical video with the correct dimensions. In this case, 1080 x 1920 px, or 9:16. However, you still can post a square or horizontal video, but this might be out of place. 
While the video's duration goes from 15 seconds to 3 minutes, TikTok for business recommends a length from 20 to 30 seconds to retain your audience's attention better. However, don't be afraid to go longer if it's a story or any content that deserves more time. 
In your descriptions, give a bit more context, provide additional information about your product or add a call to action. Sometimes in the digital world, users, unconsciously, need to know what you want them to know or do. For example: "Comment if you do it," "Like this video," or something indirect like "That's why I follow her ." as Erika Kullberg, a famous TikTok lawyer,  does.
✅ Use captions and high-quality assets in all your videos. 
✅ If you want to add some text to speech, Tik Tok has an intelligent voice, but sometimes could work better with an authentic voice. So don't be ashamed! P.S. This is perfect when you have to showcase a product (adding a voice in off) 
✅ When picking a music track for your video, you don't need to worry about whether you can use a sound or not. Sometimes, the songs of the moment aren't available for commercial purposes, so you won't see something that isn't okay. For instance, let's say you want to use Taylor Swift's latest song; if you have a business account, you won't find that song if it isn't for commercial purposes, while in a personal account, you surely will.
✅ If you add text-to-speech captions, ensure they fit in the center. Otherwise, if you put them too far down, they could be obstructed by the description of your video. 
✅ Spend time on the platform watching content to be aware of the new trends and consider how to incorporate and link them to your brand. A good advice is to create a playground account to do different experiments. Also, we suggest exploring every corner of the app to get to know the app in the best way. 
Depending on your target audience, research to find which hashtags they use and what sounds are most appealing to them so that you can use them in your videos. 
Get the most out of all the features that TikTok offers. This includes captions, text-to-speech, stickers, gifs, images and videos, filters, speed, times, and Q&A. 
Bet on uniqueness and creativity to get rewarded with great results. 
Plan a schedule and the different contents you want to create, don't let anything drift away. 
Don'ts for Newbies and Not So Newbies
Don't publish content without reviewing the community guidelines from TikTok. Sometimes you might think there's nothing wrong with a video. Still, some content isn't allowed, like sharing personal information from others, hateful behavior, violent and graphic content, and more. 
Moreover, avoid creating content just because or without a meaning/relevance behind it. 
Lastly, do more than just post videos. As with many other social media platforms, TikTok is perfect for interacting with users, viewers, and followers. So, always make time to reply to comments or leave some words in other accounts, whether brands or personal profiles. 
Without a doubt, TikTok is a super popular social media platform for sharing short-form, vertical videos. It has become a great meeting point where Generation Z, Millennials, and even Generation X converge. They're all here watching different types of content, which is already a considerable advantage for your business. Additionally, we have found that TikTok has good numbers -compared to other social networks- in terms of reach, visibility, and interaction. These two reasons make TikTok a critical element you can't leave out of your marketing strategy. In other words, you have already gathered different audiences, and you're more likely to have your brand recognized and therefore generate sales, either within the same channel (TikTok) or in addition to other digital media.
Now, it's your turn to do your part: research everything you know about this social network to use it to your advantage and create engaging content that will help you convert views into subscribers, followers, or clients. And, of course, help you differentiate yourself from your competitors.
✨ Before you go, check out this post on social shopping to learn more about other social media platforms you can use to sell your products!
Let us know what you think of this TikTok for business guide and if you'd like us to go into more detail on any particular point.
---
---