The Best T-Shirt Printing Methods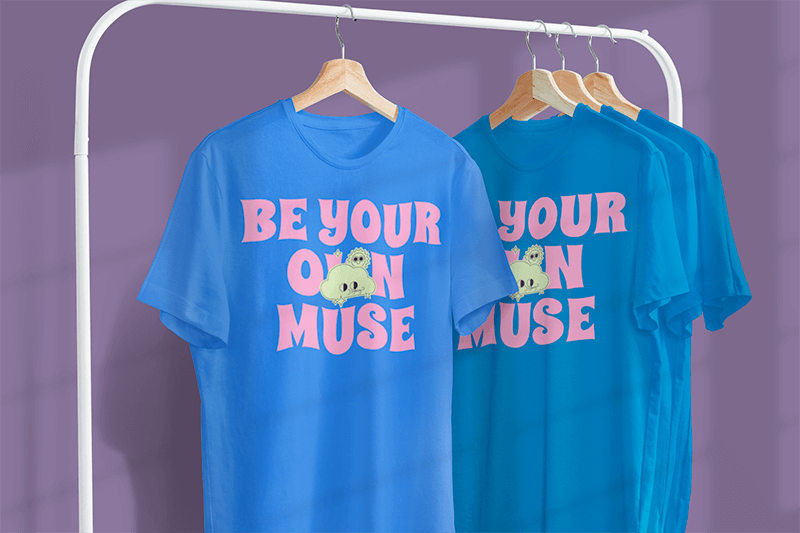 Get Set to Succeed with this Practical T-Shirt Printing Guide
Whether you are starting your own custom printing company or you just decided to start selling custom t-shirts, you need to know the difference between the different t-shirt printing methods/techniques.
Some printing techniques are best suited for specific fabrics, and at the same time, a certain printing technique might be best suited for a job depending on the job's volume. Moreover, the printing method you end up using will also be influenced by the number of colors in the design you are planning to print. With so many variables, it gets difficult to choose a printing technique!
The truth is digital technology has transformed the world of t-shirt printing options, and many new methods of printing have emerged, but traditional printing still continues to give a good fight. Printing methods like plastisol transfers that involve a combination of heat and pressure can also be a great option depending on what you or your client need.
Either way, let's put the t-shirt printing methods side by side so that you can put your designs on t-shirts and have your designs ready to sell as soon as possible:
Disclaimer: YouTube videos included in this blog post were included to paint a clearer picture of the technique and only that. Placeit isn't connected in any form with these businesses.
---
T-Shirt Printing Methods
---
Screen-Printing:

Screen-Printing is the most well-known t-shirt printing method of t-shirt printing methods. Humans have used screen printing since way before you and I were born. Nowadays, screenprinting is done both by machines and by hand. Let's decipher why screenprinting is so famous.
Part of the magic of screen printing is the screen printing inks used. Screen printing inks are thicker than the inks used in the other t-shirt printing methods allowing them to last longer and produce true-to-life vibrant colors. Make sure you or your screen printer use high-quality inks, this is so important! Low-quality inks will quickly fade away and will also feel weird.
Screenprinting is best suited for high-volume orders. Depending on how big the design is, the ink quality, how much squeegee pressure is applied, the number of strokes, and the mesh count, you can print anywhere from 200-500 t-shirts with a gallon of screen-printing ink, making it super-cost efficient. Yeah, those are all the variables to consider if you want to figure out how cost-effective screen printing is.
Pros of Screen-Printing:
✓ Screen printing ink gets absorbed very deeply giving you vivid and bright colors and maximum durability.
✓ Once set up, you can produce hundreds of t-shirts with the same design at a blazing fast speed.
✓ It is compatible with most fabrics when you use the right mix of inks and screens for the fabric you will be working on.
Cons of Screen-Printing:
✗ If you plan to do it at home, you should consider this: it gets messy when screen-printing. Keep in mind that you will be working with ink and there's going to be spillage.
✗ You need a considerable amount of space to set-up a proper screen-printing work area.
✗ The space you need should be dust-free and dark in order to help preserve screens and ink.
✗ Steep learning curve.
✗ Limited artwork placement.
---
DTG Printing:

DTG (Direct-to-Garment) printing is an inkjet technology that is able to print very high-quality, full-color, photographic prints directly onto a t-shirt. DTG Printing is best suited for designs or artwork considered too complex for other printing techniques, like screen printing, for instance, which is best suited for designs with few colors. DTG printing machines have a huge color mixing potential allowing them to print even the tiniest details.
If you are looking to print just a few (1-5) t-shirts, DTG Printing is the best option too since it is as easy as loading a blank shirt into the DTG Printing machine and printing directly onto it, whereas screen printing requires you to go through a multi-step, back-breaking process to print your t-shirt.
Pros of DTG Printing:
✓ Print as many colors as desired. No restrictions on colors, woo-hoo!
✓ Set-up times are low when compared to screen printing. You can have a t-shirt printed in less than 30 minutes.
✓ DTG printing machines aren't that big, allowing more mobility for your business.
✓ Compared to screen printing inks, ink cartridges shouldn't make a mess in your room.
✓ You won't feel the 'print' on the fabric when you touch it since DTG printing machines inject ink directly into the fabric.
Cons of DTG Printing:
✗ DTG Printers are best designed to print only on 100% cotton t-shirts (or fabrics with high amounts of cotton on them). The more cotton the t-shirt has, the more vivid the print will result.
✗ Machines can be crazy expensive.
✗ Colors tend to wash out over time.
✗ Limited artwork placement.
✗ Your DTG printing machine will require maintenance.
---
Heat Transfer Printing:
In a nutshell, Heat Transfer Printing involves laying sheets of transfer material on top of garments and then having them be heat pressed in order to permanently apply custom graphics to garments.
The desired graphic is first digitally printed on special heat transfer paper using solvent ink. This type of ink allows the design to be transferred from the paper to the t-shirt when pressed with a heat press machine.
The beauty of heat transfer printing is that it works on different materials and fabrics, creates almost no mess, and needs minimum maintenance when compared to other methods.
Different heat transfer printing techniques exist and it can get a bit confusing, but worry not, let me break them down for you:
Dye-Sublimation Printing:

Dye-Sublimation Printing is one of the most popular variations of heat transfer printing. The way it works is by digitally printing graphics and then heating them to transfer the dye onto t-shirts.
Different from the other heat transfer printing techniques, dye-sublimation printing works with dye-based ink that turns into a gas when heated. Heat, pressure, and time cause dye-based inks to go from a solid to a gas state and then back to solid again. It is quite unequaled because the gas joins the polyester, becoming part of the material and not a layer on top. Interesting, huh?
As seen in the YouTube video above, sublimation is an especially popular technique for all-over printing. Neither screenprinting nor DTG printing can create the allover print effect that dye-sublimation printing does. All-over print t-shirts allow designers to fully express themselves and create unique t-shirts.
Pros of Dye-Sublimation Printing:
✓ The ink becomes part of the t-shirt fabric making the print last for a long.
✓ It feels soft on the hand and is breathable.
✓ Prints will not fade, crack, peel, or deteriorate.
Cons of Dye-Sublimation Printing:
✗ Folds and creases, for instance, the area under the sleeves, will remain undyed.
✗ Only works with polyblend-based t-shirts. The more polyester on your t-shirts, the more vibrant colors you will get.
✗ Dye-sublimation printing is not cheap.
Printing Plastisol Transfers:

The Plastisol Transfer Printing process is very similar to screenprinting only that the artwork is first ink-jet printed on plastisol transfer paper and then you use this paper to heat press the design on the shirt.
As you may have inferred, this custom t-shirt printing method allows us t-shirtpreneurs to outsource part of our business if we so desire. There are companies you can send your designs to and have them printed on the high-quality plastisol transfer paper you need and then have them shipped to you. Once you receive them you can apply the designs on t-shirts yourself with a heat press. Amazing.
Pros of Printing Plastisol Transfers:
✓ Quality is similar to screen printing.
✓ You can fit several designs on a single transfer paper and then cut them and print them separately.
✓ Makes no mess.
✓ This technique is good for testing t-shirt designs. Once a design starts to sell it would make sense to move to screenprinting.
✓ Great for both full-color jobs and jobs with few colors.
✓ Allows for a variety of placements on the t-shirt.
Cons of Printing Plastisol Transfers:
✗ If plastisol prints aren't made right, they'll crack and wash out pretty quick.
✗ Suppliers might ask for minimums.
✗ It might take you a few runs to learn the right amount of pressure/temperature needed for this new technique, so I would suggest you ask for several prints to run some tests first. Your supplier will most likely send you instructions, otherwise, simply contact them and if they are good they should help you.
✗ Large quantity runs are expensive and time-consuming.
CAD-Cut Heat Transfer Vinyl Printing:

CAD (Computer-Aided Design)-Cut Printing is one more method of heat transferring designs onto t-shirts. This t-shirt printing technique is most commonly used for printing the numbers, names, and logos onto CAD-Cut vinyl material and then heat pressing them on sports t-shirts or jerseys.
To put it simply, this process involves using a machine to cut out designs and letters on pieces of colored vinyl. A heat press is then used to transfer each vinyl to the t-shirt.
CAD-Cut vinyl is ideal for garment printing of 1-3 colors of smaller quantities, for example, a football team's order.
Pros of CAD-Cut Heat Transfer Vinyl Printing:
✓ Decent lifespan.
✓ Great for small job orders.
✓ Vinyl can be easily applied anywhere on the t-shirt.
✓ The vinyl can be applied to all kinds of fabrics.
Cons of CAD-Cut Heat Transfer Vinyl Printing:
✗ It takes a long time to cut the vinyl and weed it.
✗ Pantone colors can't be matched with vinyl printing.
✗ It's only suited for simple graphics like text-based designs with basic shapes.
PRO TIP: Google the t-shirt technique you want to experiment on + your city, to find your next printer. 😉
---
3 Marketing Ideas for Your T-Shirt Business
Moving on. You don't need to wait until you print your designs on t-shirts to start marketing them. What savvy t-shirtpreneurs do is create t-shirt mockups, measure their audience's response, and validate their new t-shirt design ideas.
This way, if there's a positive response you can simply continue and go print your t-shirts. Otherwise, it might be a better idea to go back to the studio and optimize your t-shirt designs with a tool like this t-shirt design maker for instance.
Placeit empowers you by making it super easy to create t-shirt mockups. You just need to select a t-shirt template that features a t-shirt model that fits your brand and then upload your t-shirt design to it, that's it.
In contrast to Photoshop, you don't need to know how to "adhere" your design to the t-shirt on the screen. Placeit's advanced web engines will take care of all the graphic design drama for you so that you spend your time creating new designs rather than having a hard time learning how to properly use the complicated software available out there.
Alright, let's give you some marketing tips to boost your t-shirt business:
Tip #1: Use T-Shirt Mockups on Your Website
Have you ever landed on an apparel website and said in your head, oh what a beautiful website! Most likely, you were influenced by the attractive models wearing the clothes. Placeit can help you feature beautiful models on your website and nail that super pro look!
Placeit's t-shirt mockups are the go-to mockup tool for both advanced and beginner t-shirt sellers. Who really has the money and time to invest in a photoshoot and hiring models nowadays? T-shirt mockups allow you to market your t-shirt business in an elegant and professional way, without leaving your warm, secure, and cozy home!
It's pretty easy to customize Placeit's mockups. First, choose the template that most resembles your target audience, then pick a t-shirt color, then upload your t-shirt design, and that's it! A few examples: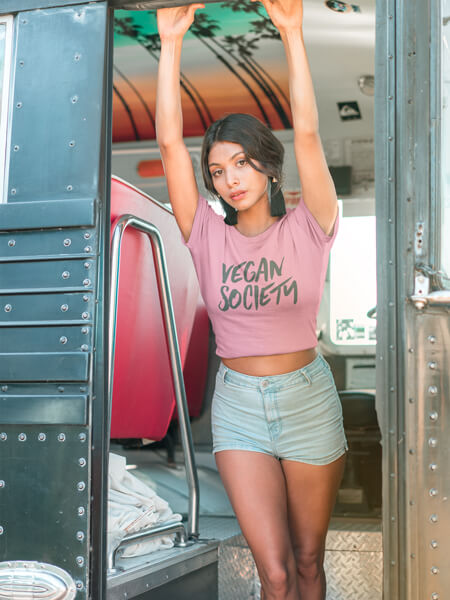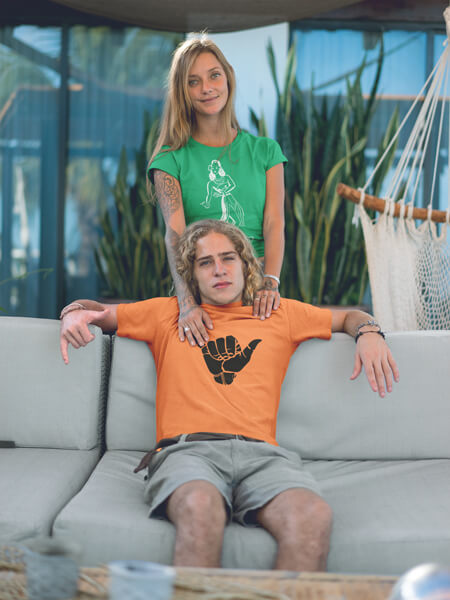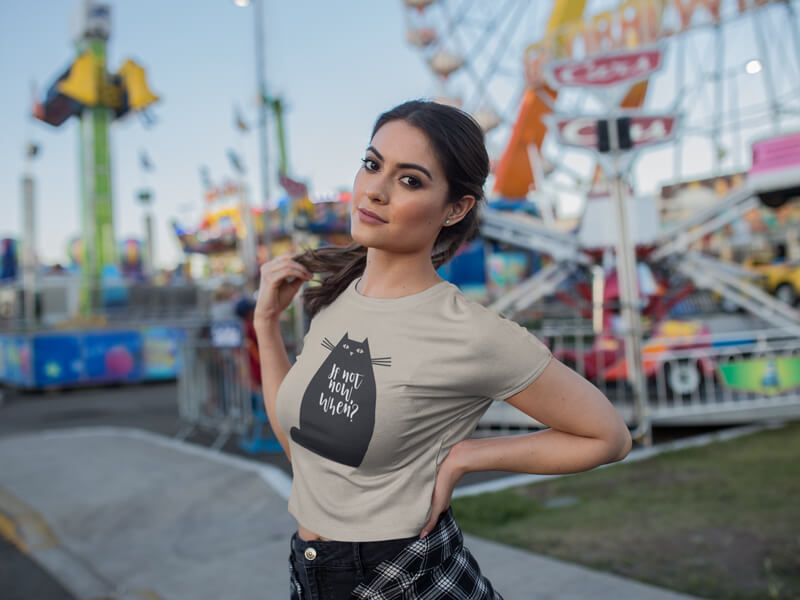 Tip #2: Advertise with T-Shirt Ad Mockups
Do you use Facebook Ads to promote your business? If not, you should! Facebook offers an excellent advertising option to capture your next client while they spend time on Facebook or Instagram.
If your research tells you that your target market is most likely using these technologies, then advertising to them through this platform makes sense. Here's a Facebook Ads Guide for Your T-Shirt Business and an Instagram Ads Guide for Your T-Shirt Business.
The t-shirt ad mockups I'm talking about are basically t-shirt mockups with text. Adding text to the image you will be using in your ads should help you entice and convince your audience to shop on your website. Customize the text to tell your audience that you've added a new seasonal discount to your shop or that new stuff will come out soon! Here's a quick image showing what you can do with Placeit's t-shirt ad mockups tool:
Tip #3: Leverage Video Marketing on a Budget
Whoever said video marketing is expensive was wrong. From home, you can create videos of models wearing your t-shirt designs thanks to Placeit's t-shirt video mockups. Same as with the previously mentioned tools, you just need to select a template to start and then add your artwork, that's it, Placeit will do all the video editing needed for you in just a few seconds.
You can then download this video and use it on your website, on social media, on ads, etc. Check out this t-shirt video made with Placeit.
---
To Recap
I learned a lot while creating this blog post, I hope it helped you too! New t-shirt printing methods continue to emerge, and staying informed about the available options is a must for all of us in the custom t-shirt business.
Also, if you've been in the market for some time, consider creating your own clothing brand, or if you are thinking ahead and want to hear more about how to sell your t-shirt designs, you can read more on our Best SEO Keyword Tips for Your T-Shirt Brand. Also, prepare your t-shirt business for any Criss that might come with our Help Your POD Business Survive a Pandemic post.
We would love to hear what you have to say about your favorite t-shirt printing method or if you mix and match. If you found this information helpful, please let us know in the comments section. Until the next one!
"Thank you for the information Placeit, now I know the best method to print my t-shirts!"
Matt Ashton 5/5
---
Boost Your T-Shirt Business With T-Shirt Mockups
T-shirt mockups allow you to promote your t-shirt business the best way possible. Hiring a model and getting the right amount of light and exposure needed to achieve that professional feeling is not easy to do. Placeit allows you to forget about all this drama and instead focus on what you do best. If there's a demographic or style you can't find on Placeit, please send us an email or contact us via social media and we will gladly help you out.
Visit Placeit
---