How is it going with your t-shirt business? Great? Just good? Do you feel like maybe you could do better? You probably can! It's time to take a close look at your SEO strategy. If you have no idea what we're talking about then you're in desperate need of this post. Using these SEO tips is the best way to get customers to your shop and increase your sales. So let's start!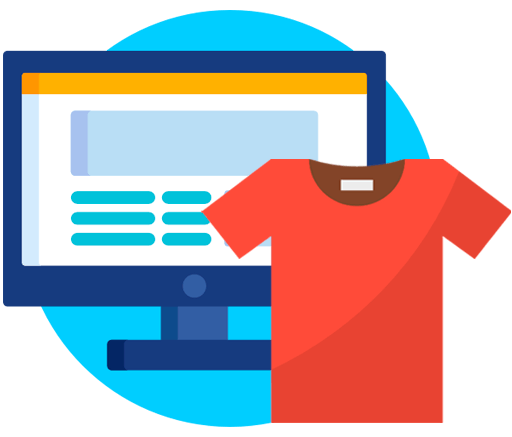 What is SEO and Why Do I Care?
Search Engine Optimization or SEO is how we built our shops, or websites in order to rank higher on search engines like Google or any platform we are selling t-shirts on. In order to sell more, we have to use keyword-rich descriptions and relevant tags. 
Becoming SEO Royalty Through These Simple Steps

Start with a Thorough Research on Google
Don't panic you probably do this every day, you just never noticed. When you start typing something Google suggests the top ranking keywords next for example:

As you keep trying, Google keeps suggesting until there is no longer a keyword. Also, consider your bottom suggestions for popular searches.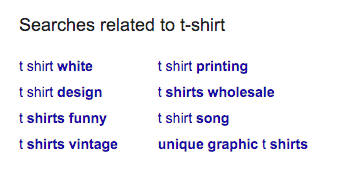 There are tons of plugins, and websites you can use to search for your keywords and check their real-time ranking according to an area or time period.

Master Your Words Variations
There is a difference between a t-shirt, t-shirts, shirt, and all of its variations, so you should always choose the keyword with a high ranking position that still describes exactly what you are selling. Try it! Look for different keywords and variations of the same product and you will most likely get different product results!
For example look at this research for the last 12 months:


Notice the difference in volume? That is what a simple "s" can change in your keywords.

Once you've done your research you should categorize each keyword in: 
So let's do an exercise, let's say this is your t-shirt design:
You would search for your keywords like this: 
Tee- 40.5k
Shirt- 165k
Top- 135k
Tshirts- 135k
t shirt- 165k
T-Shirt- 135k
Dinosaur t-shirt- 1.9k
Wholesale t-shirt- 600 
T-Shirt for men- 1,000
So according to this research you could name your product something like: "Dinosaur t shirt for men" to combine volumes. Try very specific naming and try general names too. You will definitely get different results. 

Take Advantage of Synonyms
Try using different keywords for some of your products to test for a while. If that keyword is also delivering results, well there you go! Avoid being dismissive, it's so very annoying when you are searching for a specific product and you get results that are not at all related. Like searching for a "Valentine's t-shirt" and landing on a cat pillow which is probably using this keyword to hop on for that ride. Again, very annoying.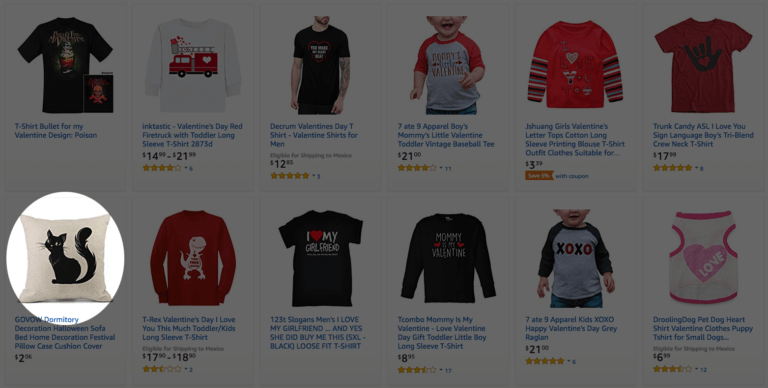 SEO tips and strategies may vary according to the website you are using to sell your t-shirts. For example, Etsy allows you to target keywords on titles and tags, while other descriptions just don't rank at all.
So the first step would be to consider the platform you are working with, they will all variate a little. Depending on the site you use, research a little on what are your SEO options for that specific page.
Remember how Google autocompletes with the most possible text that would follow? Etsy does the same.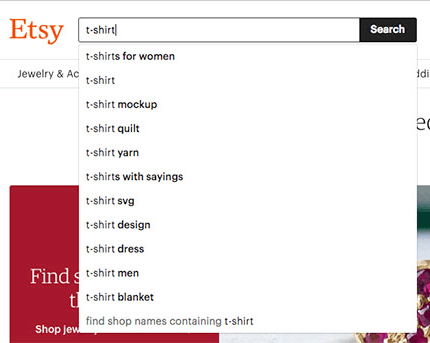 This way you also get a look at the most searched keywords on Etsy.
Organic SEO vs. Paid Campaigns
Note that almost in all listings, usually the first four sites, shop, pages, will be paid campaigns. However, you can achieve first places with a proper keyword- accurate strategy and lots of promoting your shop anywhere that matters. Sometimes SEO takes a little to kick in, so our advice is: if you are in a rush to get results then try paid advertising. You can visit our "How to Make Great Facebook T-shirt Ads and Boost Sales" to discover how to make ads for paid campaigns.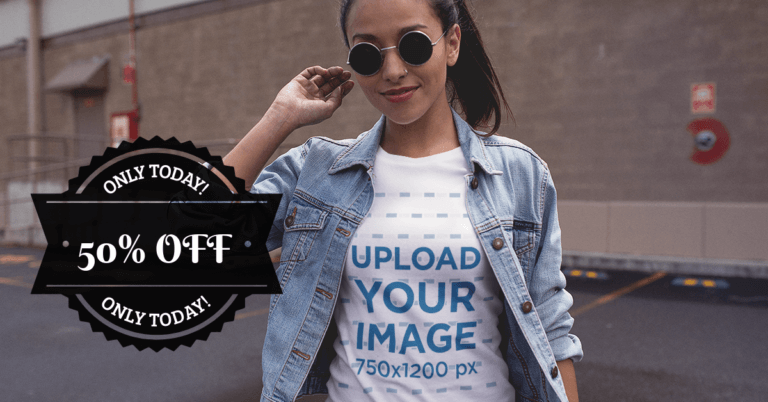 Checking Out Successful Competitors is Always a Good Idea
Get out there and see what your competitors are using and try to test that strategy on your shop too. Remember keywords are in constant change. Top keywords are a consequence of popular trends and searches, so every strategy that worked for you once, may not work anymore after a while. Test new keywords constantly in order to keep discovering new tricks.

Another great way to use your keywords is naming your image file as descriptively as you can. So no "234987fkf.jpeg" but "Halloween t-shirt for girls in purple". If you are downloading  mockups from your browser, make sure your file names are correct. Placeit by Envato's t-shirt mockups are SEO optimized for that specific image so you can keep whatever is keyword valuable and adjust to add your t-shirt keywords.
For example, let's say your keyword for a specific keyword is autumn t-shirt and you download "smiling girl in a t-shirt with flowers on the back" you can rename your image to say: "smiling girl in an autumn t-shirt with flowers on the back". 

So here it is, It's not all about making beautiful designs, or choosing the most popular POD site to promote your t-shirts. Selling t-shirts is a business in which everyone has the facility to join. So you've got to get smart! Take a close look at your SEO as a t-shirt business and jump a few steps ahead from the competition. Also, read about how using mockups can really save you time and money in this business.
If you sell t-shirts on Shopify, then be sure to check out this SEO guide to help your shop rank!
---
Hacking Keyword SEO for Your T-Shirt Brand
Learn the best practices for your t-shirt brand optimizing your efforts with these keyword SEO tips. Sell more and promote more effectively using the right words for your products. Become an SEO expert in eight simple steps!
Promote Your T-Shirt Brand like a Pro!
---