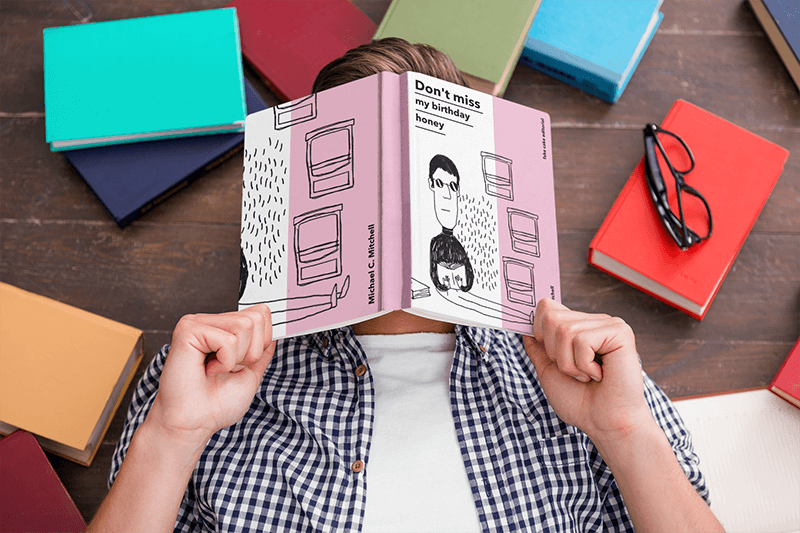 So, you've written a book! The next step is to get an awesome design to match your work. People will look at your book just for a few seconds; this is why designing a good cover matters. This is why we've gathered a few great book cover ideas for you to get inspired. 
Get inspired to start your own book design! Find book cover inspo for romance novels, sci-fi, terror, fantasy, children's book, recipe book cover ideas, coaching, and much more. The beginning of your book experience starts with its cover!
What You'll Find:
💡​ Check out the best free resources for independent book publishers! 
10 Book Cover Design Ideas
1. Typography Cover
If you are planning to design your whole cover based on typography, then you must choose something attractive enough on its own! Type fonts can give you lots of artistic looks; simply play around with your options. 
🔥Try our book title checker to make sure you have a unique title. 📖
You can even use a handwritten style to give your book a romantic and classic look. This makes handwritten typographic covers a great option for poetry book cover ideas. Handwritten has become very popular in the last few years for novels. It gives viewers a familiar sense.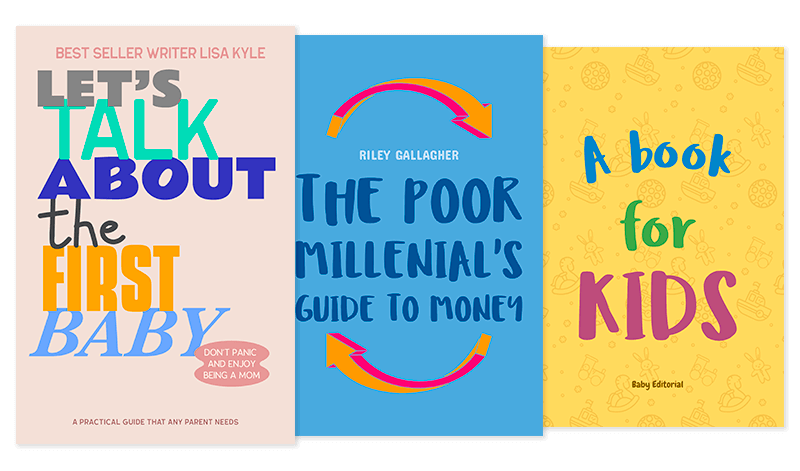 2. Color Accent Covers
Highlighting certain elements of your cover using accent colors over neutral colors can really make your cover "pop." You can also use an accent color to establish a focal point in your design.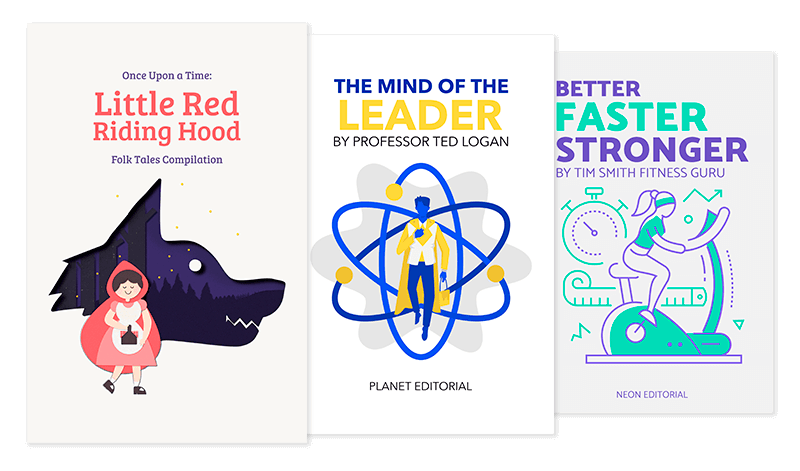 💡 Learn how to start self-publishing your book with these 9 tips.
3. High-Contrast Covers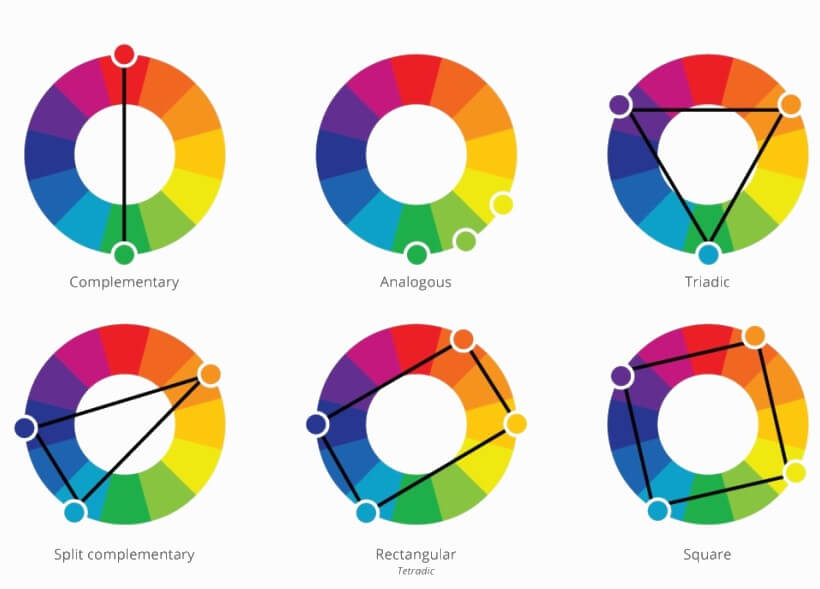 💡​ Check out our color guide to learn more about this. 
Same logic as with color accent, but this time, you will be using fully opposite or complementary colors to make your cover stand out. Of course, black and white are the highest contrast, but you can also play around with a few other options. Light colors vs. dark colors.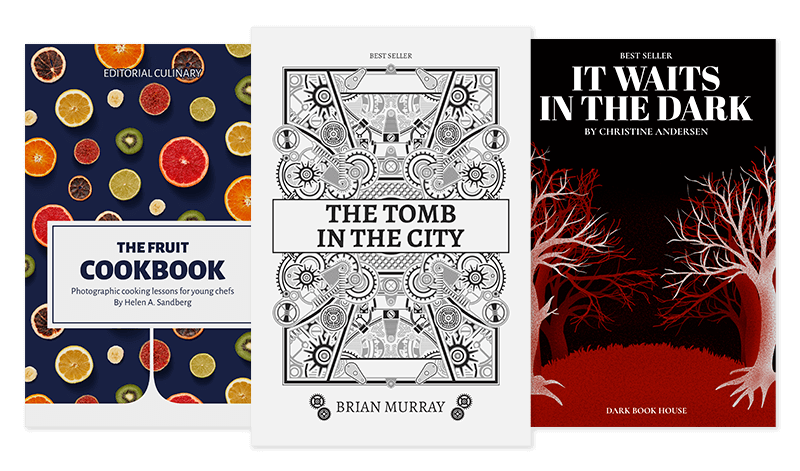 4. Minimalistic / Clean Covers
This follows the principle that less is more. A clean, simple design for your cover makes it look organized, simple, and elegant. 
If this is what you are going for, elegant with only the essentials, then you must definitely try a minimalist cover! Remember that blank spaces can also make an impression. 
It would work exactly the opposite way. If you want your reader to feel overwhelmed, then you should use tons of graphic elements for your cover, like our next cover design:
5. Collage Covers
Collages make great dynamic covers with tons of different elements to make them interesting. Even making a messy design cover can give it a very artistic look. Collages are certainly great art book cover ideas.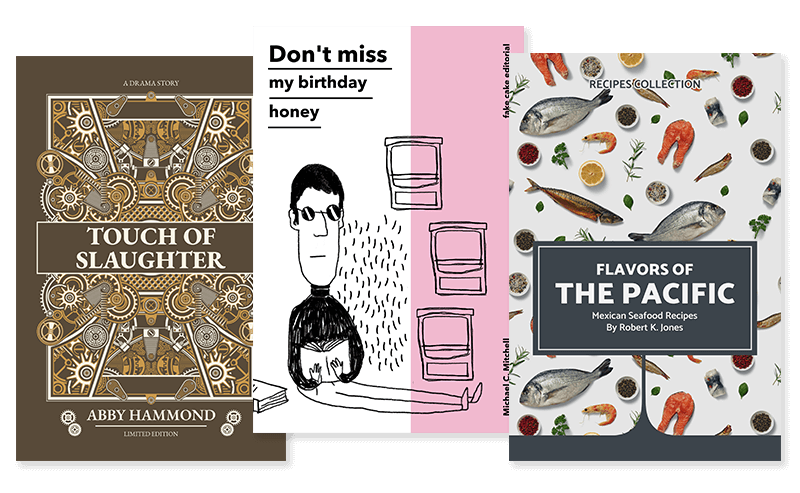 6. Focused-Object Covers
Focusing on one single object for your cover makes all the eyes turn to that object and give a very nice hierarchy to your cover.
7. Photograph Cover
Photographs are an excellent element to give emotion to your cover. I mean, we know an image is worth more than a thousand words, right? Images can effectively communicate all kinds of emotions and moods for your cover, making a huge impact.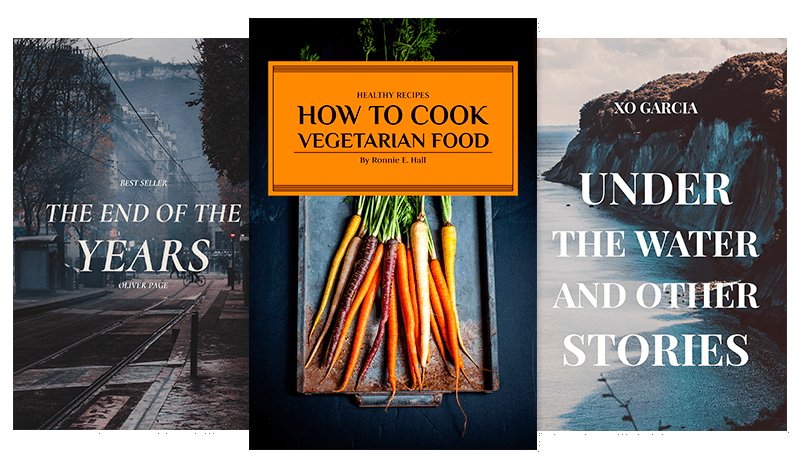 8. Illustration Covers
These are great for pretty much any book cover! Any genre too.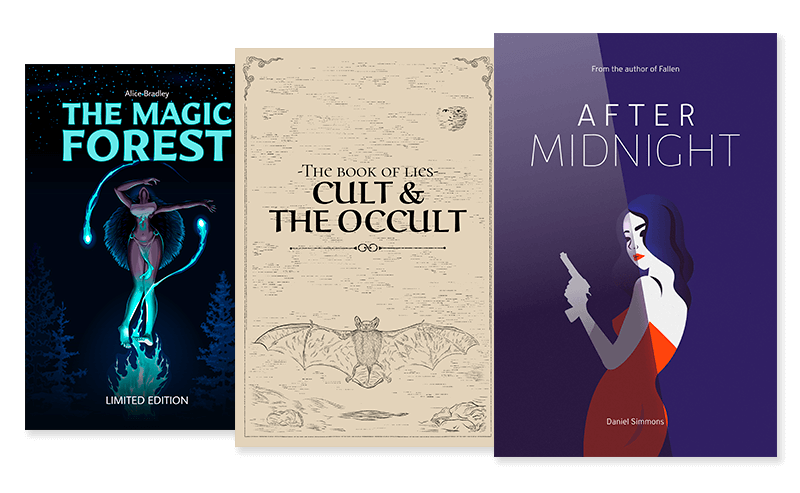 9. Main Character Covers
Is your story centered on a strong lead character? Try a face either for a fictional character or a real person. Faces have a big impact on viewers. 
Memoirs, for example, should always feature a person, as do generally biographies and self-biographies.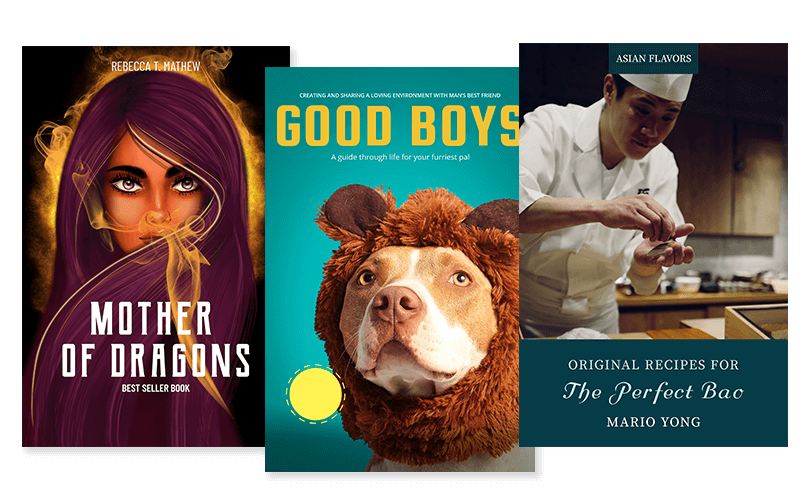 10. Texture Covers
Real-life textures can give your book cover a hint of realism.
Remember to play around with the composition of your cover; you'll be surprised how arranging elements differently can give your design a whole new look! 
How Do You Make a Good Book Title
There is no surprise in the fact that there are already uncountable book titles in the world. Making sure yours is a unique title is important for many reasons, including the author's rights! Use our book title checker tool to make sure you've thought of an original title!
What Should Be Included in a Book Cover
Your book cover should represent your book in one sight. So that's the challenge! You need to represent the mood of your book in one single cover design.
A book cover works not only to attract readers' attention but also to give away the main information of your book at first sight. 
A book cover should include, in general:
A general feeling of what the book is about

A title and it should be legible. 

The author's name

A unique style to be differentiated from others
How to Design a Book Cover with Placeit

1. Get to the book cover design templates and filter using the tags on your left side screen. You can filter by genre or style!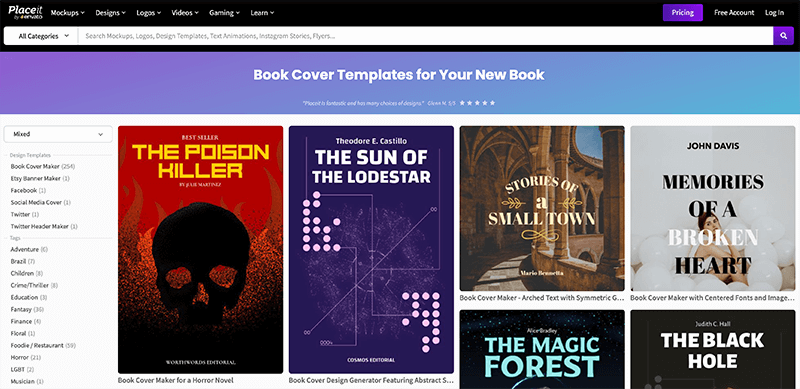 2. Once you've chosen the template that best fits your book style, you can start customizing it on the editing screen. 
3. You can customize fonts, images, graphics, and layout, or even upload your own imagery.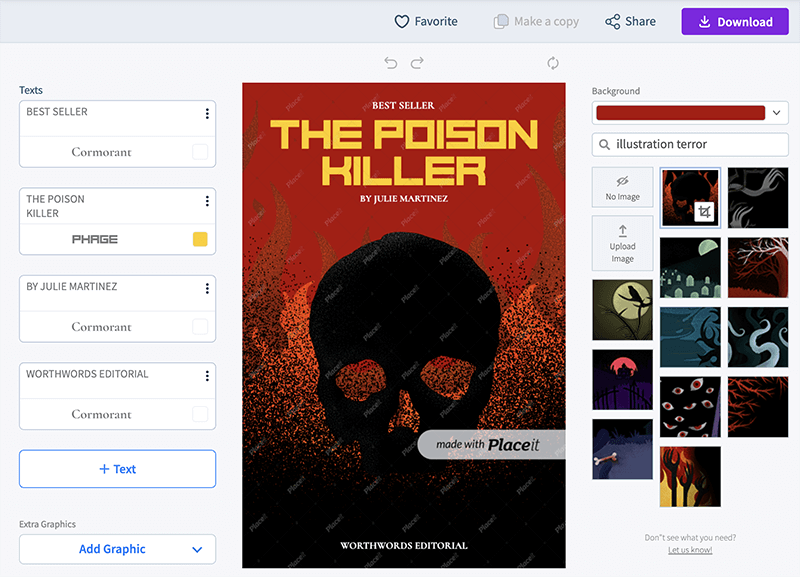 4. When you are done editing, simply click on the download button, and in no time, you will receive a high-quality book cover you can either print or share online!
Bonus: get to our book mockups section and add your design in a book mockup to get digital images of your work with the best realistic mockups. You can find all kinds of mockups for all book sizes, studio, or with models in real scenarios!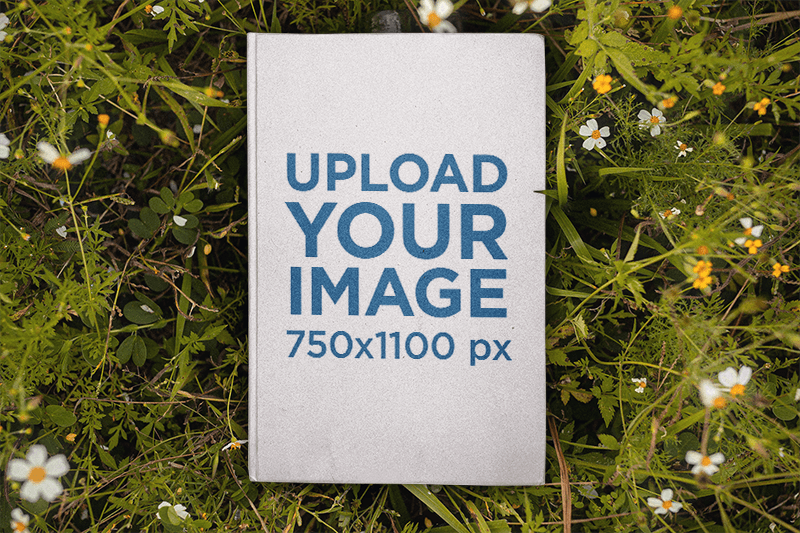 FAQ
Last Words
When you are done designing, it's important that you ask yourself: is my design enticing? Is it making me feel something? Ask for opinions from your more trusted friends and family before publishing your new cover. With Placeit by Envato, you can create your book cover, make a book mockup to promote your cover, create social media posts to create hype, and even make videos! Basically, everything you need to get your book out into the world! 
🔥​ Best book print-on-demand services
Got enough cool book cover ideas? Great! Now it's time to start your own design.
---
---