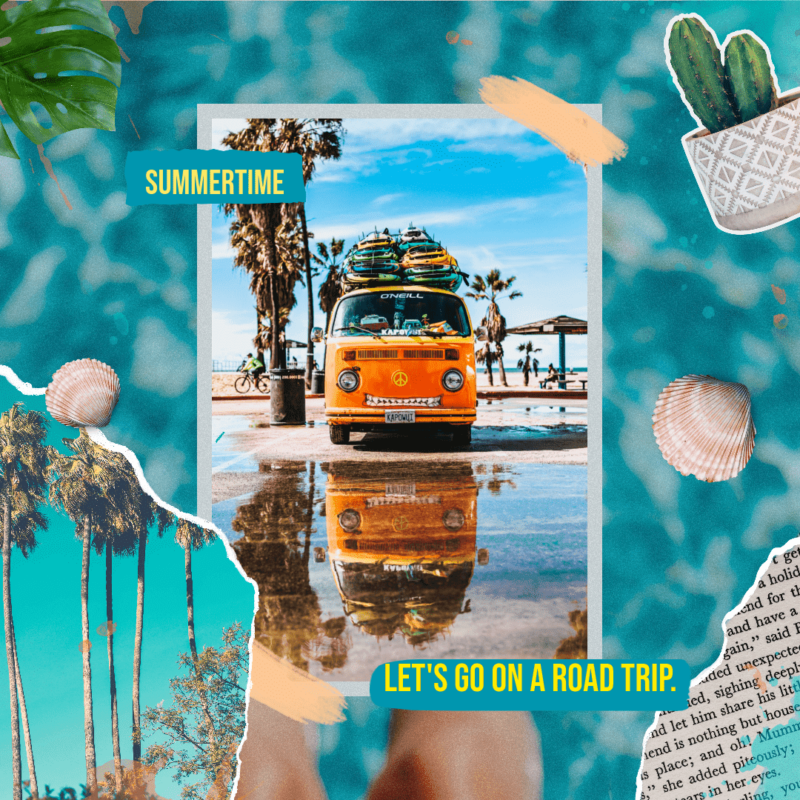 For many, summer is one of their favorite seasons of the year, but it's also a golden opportunity to give a colorful twist to what we usually design and sell. So to be in tune with the change of season, we've brought you 30 gorgeous summer color palettes inspired by different shades and elements of these months. Start giving a distinctive fresh touch to your designs!
Here's What You'll Find for This Summer:
🌞🌴 Friendly reminder: Summer is around the corner; it starts in just a few days! In the northern hemisphere, this wonderful season starts on June 21st and ends on September 22nd. Don't forget to check out our Top 10 Summer T-Shirt Design Trends 2022.
But before there are a couple of interesting facts, you should know! Let's get to them. 
What Colors Are in the Summer Palette?
Not everyone may know it, but each season brings different "sub-seasons" or types of colors. Usually, when we think of summer, we imagine everything around is cheerful, vibrant, and in warm tones. However, according to colorimetry, summer is, in reality, cool. Also, it includes a couple of sub-seasons: true summer, light summer, soft summer, and dark summer. All of them have different colors and shades. 
It's worth mentioning that these colors focus more on people's clothes or physical appearance. But either way, it's a great thing to include in your POD product lines. 
Now it's time to see these palettes in action! 😎
P.S. All designs have HEX codes, so you can copy and incorporate all these summer colors into your art 🙂
Quick Beginner's Guide: How to Use Hex Codes?
First things first, the HEX code is an alphanumeric code, usually composed of 6 elements and a # at the beginning. This code helps us to find an exact color.
While there are the colors we all know, they, in turn, have different shades and intensities that create new colors. For example, if we think of green, there are light green, dark green, olive, military, lemon, and more varieties.
It may seem complex now, but when it comes to design, the more colors we have, the better. Remember that each color means and represents specific attributes, which will help us differentiate ourselves from others and convey particular messages.
The best part of using these types of codes is that they're universal. This means that no matter if you're using a beginner or advanced software or design program, you'll surely have this option to customize your designs easily.

🥥 Don't miss out: Color Psychology Marketing: a Guide for Designers
How to Add Hex Codes to Your Designs on Placeit?
If you're a newbie and don't know how to incorporate a specific color into your next summer design, here are some quick steps to do it with our tool!
Log in to Placeit and then, browse our Summer Templates.

Select what you want to design or edit in the filter. In this case, we'll choose a t-shirt design. 

Choose the template most appealing to you because we're about to customize it. 

Select the color element you want to modify. For example, the background, main graphic, accent, or any other feature.

Once you select the object you want to modify, go to the last tab that says "Custom." There, you'll see that the current HEX code appears.

To modify it, just copy (from the color palette you liked the most,  the HEX code) and replace the current one by pasting it, and voila. You'll have the color you liked in your template. 
And that's it. It's that easy to give a new look to your designs with a new color!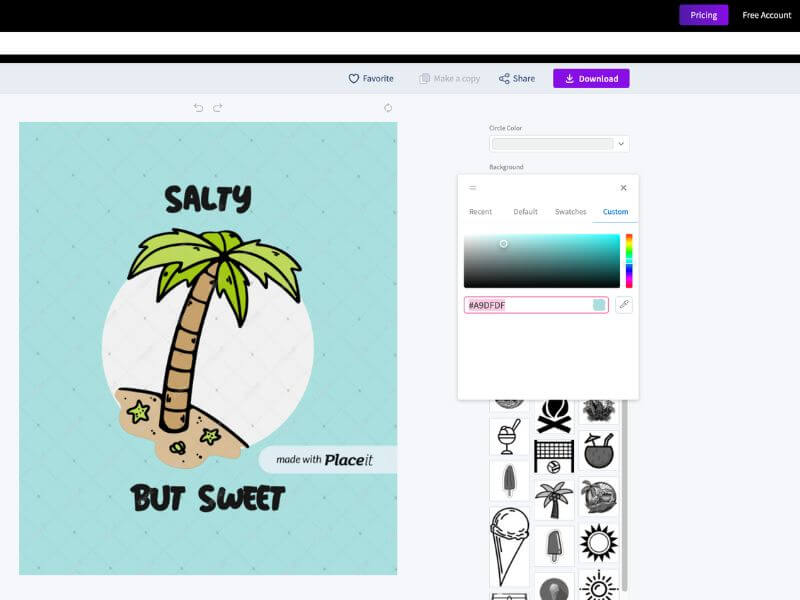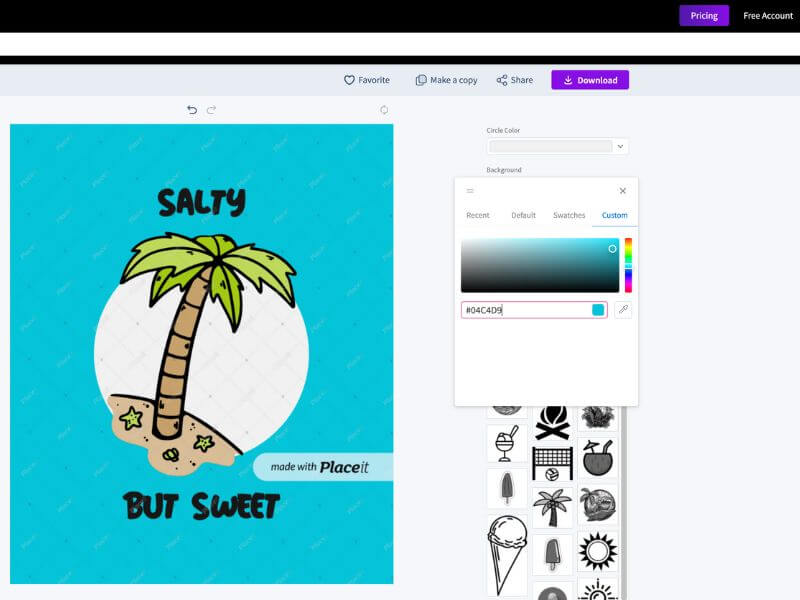 30 Summer Color Palettes to Shine This Season
The color palettes you will see below aren't only inspired by the classic summer landscapes and colorful elements -that seem to be taken from Animal Crossing. But also by different seasonal events and types of summer sub-seasons. 
So get ready to have fun and create a masterpiece with different summer color palettes. Then, you can sell your designs through various products like hats, t-shirts, tank and crop tops, dresses, skirts, shorts, and swimsuits. 
Summer Color Palettes Inspired by the Season
Here are some examples that best represent summer to get in the mood. You'll find a collection of items related to food, travel, and sunny days.
#D9B504  |  #F2D680  |  #F2D49B  |  #F2E9D8  |  #F2784B
#F20544  |  #F2055C  |  #F20574  |  #F2CCB6  |  #F23005
#6AA6A6  |  #F2AE2E  |  #F2994B  |  #F28157  |  #BF6550
#BF0426  |  #F2B705  |  #F29F05  |  #F2913D  |  #BF4904
#C1D4D9  |  #83A603  |  #F29F05  |  #F28705  |  #F24B4B
#C1D4D9  |  #99BFBB  |  #F2B84B  |  #F2D091  |  #A63F03
#D7D7D9  |  #7799A6  |  #04ADBF  |  #2E3E40  |  #04BFBF
Of course, we couldn't leave out the beautiful and joyful wedding season, which peaks between June and September, right in the summer months. Let's take a look at some stunning colors that you can use for your big day! 
⭐ You might like: Say I Do to Beautiful Wedding Templates
#3D4025  |  #D9CDA9  |  #A69485  |  #F2EAE4  |  #8C5230
#F2E9EC |  #BF7B54  |  #D9C4B8  |  #734434  |  #D94E4E
#364C59  |  #3C4022  |  #A69C68  |  #D99D8F  |  #D9D0D0
#DFE7F2  |  #F2AE72  |  #A69485  |  #D98555  |  #733620
#E9ECF2  |  #C7CFD9  |  #F2B84B  |  #A68A7B  |  #8C594D
#3F688C  |  #728EA6  |  #AAB7BF  |  #025159  |  #F2C6A0
This summer color palette is the classic/original scheme of the season. It's usually characterized by light, soft, calm, and cool colors. However, it's the one with the coolest and most fresh tones. Therefore, blue, pink, purple, and green colors are the colors to stand out. 
#027373  |  #B0D9D5  |  #F28705  |  #F2A594  |  #F26B6B
#8FD1D9  |  #C5D7D9  |  #03A6A6  |  #04BFAD  |  #F2C9C9
#BF3459  |  #F263B2  |  #F2DCB3  |  #F2C8C4  |  #F2A7A7
#F299A0  |  #467302  |  #D2D904  |  #BFBD99  |  #F2C1B6
This may be the one that most resembles what comes to mind when we think of summer. It consists of delicate and colorful colors as it combines spring with summer. Therefore, this season is all about lightness, freshness, sweetness, brightness, and warmth. The colors that fall into this category are of medium saturation; this means colors aren't too light nor too dark. 
#F280D4  |  #DBC4F2  |  #9ABF80  |  #9ABF11  |  #BF9B8E
#9ACDD9  |  #04C4D9  |  #05F2F2  |  #D9583B  |  #F2ECEB
#D9A3C6  |  #D2D8D9  |  #D9D0B4  |  #D98E04  |  #A67C49
#91C4D9  |  #BFB304  |  #BF9004  |  #F2D5C4  |  #D97855
#049DD9  |  #04B2D9  |  #05DBF2  |  #734002  |  #F2EADF
This color palette tends to have soft, calm colors, and integrates subdued tones. Sometimes it can look washed out and go against the general idea of vibrant colors. But that's because this summer color palette is a mix between summer and fall, where muted but cool colors prevail. Some examples of this palette are blue-gray tones, lavenders, and dark pinks and blues. 
#BF99BF  |  #03658C  |  #E4F1F2  |  #D9D15F  |  #F2C791
#D9A7C7  |  #E9C9F2  |  #C7B3F2  |  #6958A6  |  #9F8FD9
#C5CCD9  |  #7F8C4F  |  #D9D2C5  |  #733C1D  |  #A6785D
#F2A7B5  |  #BDB0D9  | #8FA1D9  |  #026873  |  #01403A
#037F8C  |  #A0D3D9  |  #03A6A6  |  #BFA89B  |  #A6583C
#D5C7D9  |  #C7D9D2  |  #9DBF7A  |  #A6BF8E  |  #A66038
#BF0436  |  #C7CDD9  |  #89ABD9  |  #169EF2  |  #013A40
After having seen different elements that allude to summer color palettes, we'd like to emphasize that there aren't written rules when it comes to design. There are various methods, theories, points of view, and even sources of inspiration, but at the end of the day, they're just suggestions for you to apply as you think is convenient. These palettes were made for people looking for inspiration and even for those who want to base their decisions on more advanced science. 
So, it's time to get creative! Take a look at all the colors and choose your favorite ones to be used in a piece of art, in your next collection to sell online, or even to create a summer-inspired logo. Best of all, for almost anything you need, in terms of designs, videos and mockups, you have Placeit by Envato on your side to make this task even easier! 
Tell us in the comments which were your favorite summer color palettes.  🏖✨
---
---