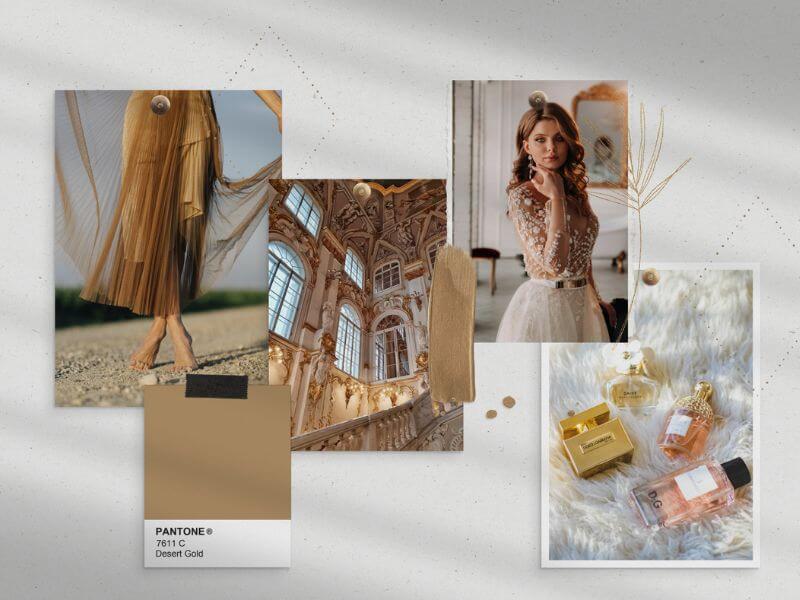 In recent years, moodboards have become very popular for any project. No matter if it's professional or personal, anyone can make good use of them. So if you want to know all the details on how to make a moodboard, keep reading to master this design topic. 
What Will You Learn Today?
---
Moodboard 101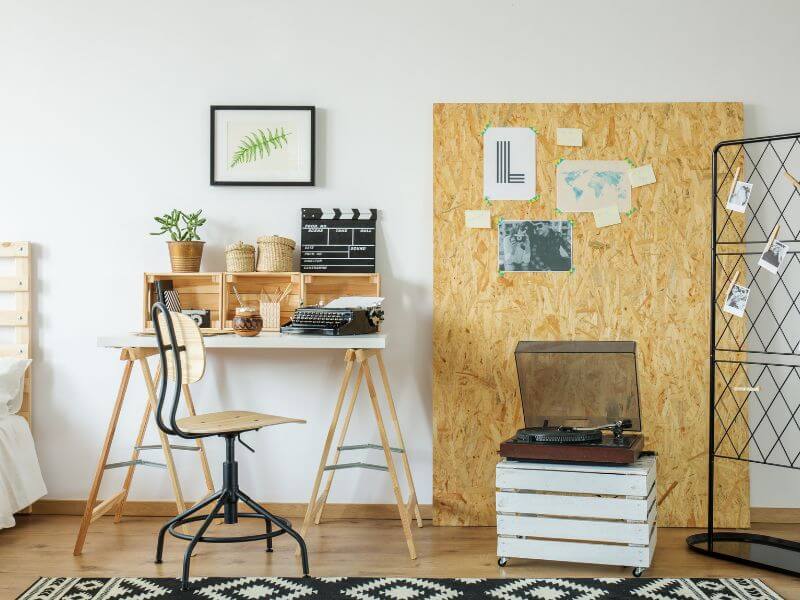 What Is a Moodboard?
At first glance, it may look like a collage, but it's certainly more than that. A moodboard isn't only gathered elements that look good together. In fact, each piece has a reason for being there: because each of them contributes to reaching the final result. Therefore, we could say that a moodboard is a visual representation and reference that contains different elements to communicate -as a whole- an idea, concept, style, essence, a mood, or even a reality or a project.
🔥 #Facts There are two types: physical and digital. Nowadays, it's easier to create an online one. However, you can always go back to the oldies to connect more deeply with your creativity. 
How Do Moodboards Help?
A moodboard helps and serves as an inspiration to develop a project or an idea, but with visual elements that will work like a guide. Consequently, the person in charge of developing this project can have a broader vision and the essence of what they intend to create. 
In other words, a moodboard is like a first draft, a wish list of what something could look like, a visual representation of what is about to come. It offers an idea of what is expected to be obtained due to the messages representing the visual part. Thus, a moodboard isn't about random images but rather communicates and provides guidelines to define a visual style that is solid and clear. 
Why Should You Make One?
To establish a visual guide and ground our ideas.

To involve the people we will work with from an early stage.

Or even to have a better vision of what we want to communicate.

And finally, to let our most creative side come out. 
Additionally, when working with more people, especially in the creative sector, making a moodboard is certainly a highly recommended practice to give clarity and direction as to what you intend to create. Sometimes, some professionals leave everything in the hands of the creatives without even providing a guide, which can lead to misunderstandings and redoing work. So, if you're reading this post for a professional reason, we recommend reading all the information. 
Who Is It Ideal For?
Pretty much for everyone, from graphic designers, marketers, business owners, illustrators, photographers, and creatives to people who want to develop a personal project. Here are some ideas for which you can make a moodboard. For instance, for a/an:
Interior design,

Fashion,

Vacation,

Strategy,

Back-to-school

campaign,

New product line,

Color inspired,

TV show,

Competitors analysis,

Ecological proposal,

Or whatever topic you're into!
What Are the Elements of a Moodboard?
Certainly, a moodboard can contain different elements. It'll depend on the creator what he/she decides to include or not to include. However, here we list all the "ingredients" it may contain.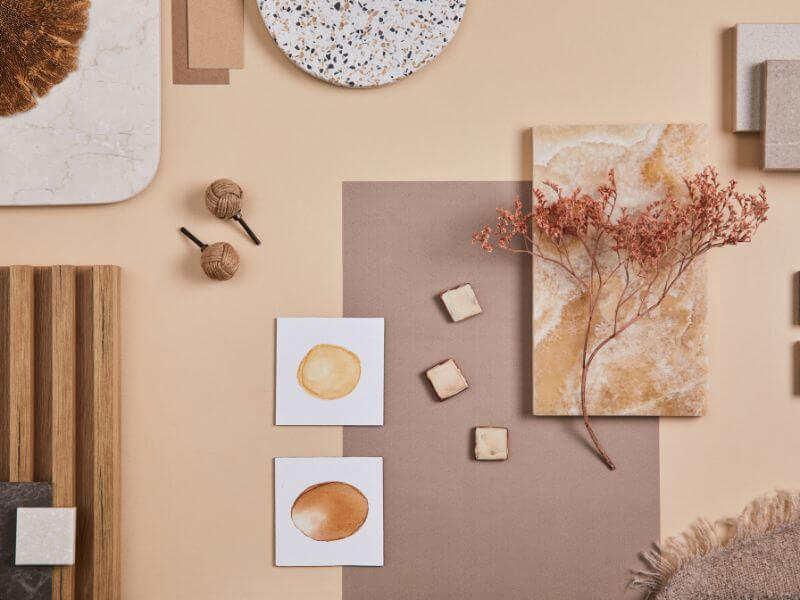 Images
Photos
A good photograph can make all the difference in reflecting the essence you want to convey. So let's take them to a more professional level by using image banks. Some excellent free alternatives are Unsplash, Pexels, and RawPixel. Although if you prefer a more premium version, try Envato Elements. 
💡 #ProTip: Try Giphy to illustrate your ideas quickly, whether you want a real picture or an illustration. 
Illustrations
Looking for top-quality graphics? Try Placeit by Envato! Not to brag, but our library is simply gorgeous and huge! There are thousands of templates of every theme you can imagine, ready to use and customize as you wish. We're sure they'll add a unique touch to your moodboard. 
🤩🙌  Also, from one single place, you can make any kind of design template, from t-shirts, mugs, and tote bag designs, ads, and social media posts to business cards, stickers, emotes, book covers, flyers, posters, labels, banners, headers, album covers, planner templates, and much more! 
Icons
If you're looking for specific icons and stickers, we recommend using Flaticon, a library that hosts thousands of graphics made by designers. 
Logos
When developing a moodboard with a more professional or brand-focused style, the ideal is to use logos to give more presence and strength to your canvas. And if you don't have yours yet, try creating one with Placeit's Logo Maker! It's super easy to use, and you can have a carefully crafted logo made by world-class designers in just a few minutes! 
🔥 Don't miss out: The Ultimate Guide to Logo Design
---
Colors
In previous posts, we highlighted that colors are essential to evoke certain emotions, moods, and feelings. That's why it's so important to choose the right ones for our moodboard. 
If you're a newbie, check out this quick video to learn more about: 
---
Videos & Audio
Indeed, this only applies to digital moodboards. If you're looking for short videos, we've got you covered (again). Check out Placeit's Video Maker for the best-themed and customized videos. On the other hand, if you prefer landscape or object quick videos, we suggest Pexels and Pixabay. 
---
Texture
The texture is undoubtedly one of the most representative elements of moodboards. For example, regarding physical boards, it's great to collect objects from nature or everyday life, like pieces of magazines, airplane tickets, pieces of wood or fabric, burnt paper, plants, or flowers, for instance. Although if you'd instead take the online path, many photographs and illustrations currently represent paint brush strokes, a textured wall, or even more advanced graphics that give the impression of wood, dust, and even broken glass. 
---
Texts
Of course, texts will also be vital to nurturing our moodboard. They help us to explain a concept or idea that might be ambiguous, but also texts tend to emphasize or highlight the central theme of what we're showing that perhaps can't be described only with pictures. So, try to include titles, keywords, quotes, definitions, and even Pantone colors and pieces of poetry to make your point clear. 
⭐ #ProTip: When making your moodboard, incorporate different typographies that go better with your idea and concept. Some free resources are Google Fonts and DaFont. However, if you're designing online, it's very likely that the editor already contains a vast gallery of fonts, like Placeit.
---
How to Make a Moodboard

Now that we've learned the basics of a moodboard and have reviewed its elements. It's time to learn how to create a moodboard, step by step and from scratch. 
1. Start With Brainstorming
First, you should choose the central theme of your moodboard. Choose to write down the ideas or keywords that come to your mind when you think of this topic.
To go from the general to the specific, we recommend you think about: the concept, feelings, and style you want to convey, as well as who it's aimed at. For example, a summer for adults who wish to spend their vacations peacefully isn't the same as a summer for young people looking for adventure. Or for example, an aesthetic lifestyle may include natural or bohemian elements. That's why it's so necessary to do this brainstorming session to detail your project and have more clarity about the objects to include in your moodboard. 
2. Define What Kind of Moodboard You'll Make
This is critical since your materials will depend on this choice. For example, if you decide to go with an old-school moodboard, you might need a canvas such as a piece of cardboard, a frame, or build it directly on the wall but in a clean spot. On the other hand, when it comes to digital, you might want to check out different tools. Will you make it on Paint, Photoshop, or in an online program? 
3. Get Inspired!
You can find inspiration everywhere, like in nature, at home, while driving, or even reading or watching different content. But if you prefer to see finished moodboards, we recommend visiting sites like Behance, Pinterest, and Dribble. 
💥 Spoiler alert: To make your search a little easier, below, we've left some beautiful examples of what a moodboard looks like. 
4. Gather All Your Materials
Once you've defined what you want to do, start searching for your elements such as images -and even videos and real objects-it doesn't matter if they are many because later, you will be able to filter and choose the best ones that fit your idea/concept. The more specific you are, the better elements you will get. 
✨ P.S. If you're going digital, make sure to look for sites that offer top-notch content, so your project will look amazing.
5. Start Testing What Works
Undoubtedly, your moodboard won't be ready on the first try. Sometimes you need to reorganize the elements. So, we recommend playing, filtering, and combining different components until you get the look you want and, indeed, that aligns with your purpose. Be patient and enjoy the journey.
Finally, don't forget to double-check before presenting.  
⭐ #ProTip: The majority of the moodboards contain from 8 to 12 different elements. 
6. Ready to Share It?
If your moodboard is physical, you can take a picture to share it. On the other hand, when it's online, it's easier to send the direct link to the people involved. Always ask for feedback to keep leveling up your projects. 
---
Where to Create It Online?
We already discussed the steps on how to make a moodboard, so if you have chosen to develop your moldboard digitally, here we bring you some valuable and practical tools and platforms we found to create yours.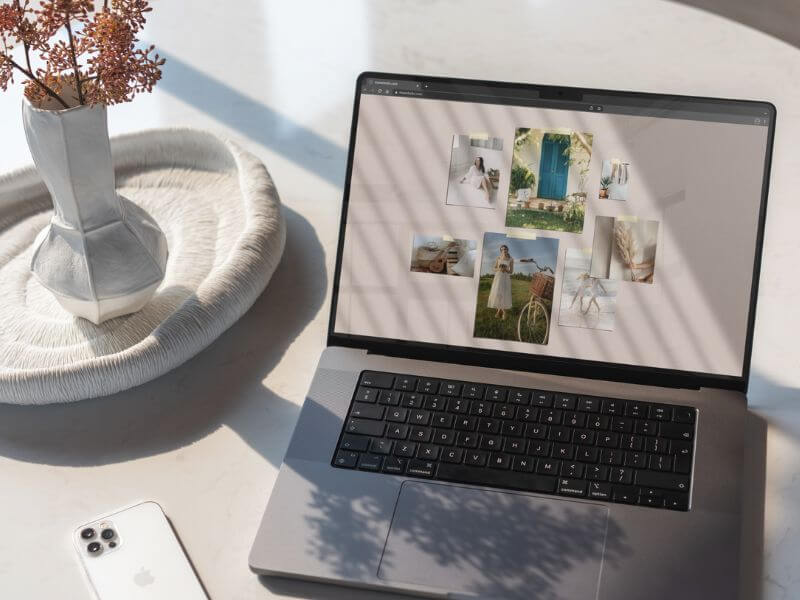 Figma
Figma is an online vector graphics editor that allows you to create more advanced designs. It's often used by web, graphic, and UX/UI designers, but its interface is simple and easy to learn. It also has excellent resources to put everything you need on your moodboard. 
🤑 Pricing. There are two plans: one is focused on design and prototyping, and the other is for whiteboarding. Both include a free version. 
---
Invision
Invision is a complete platform for teams and task development in a beautiful way. However, that doesn't prevent it from being used in a personal way. So, thanks to its interface and variety of tools, it's effortless to create a moodboard. 
🤑 Pricing. Invision has three plans, including the "Free" one. Additionally, it offers the "Pro" plan ($4/month) and the "Enterprise" plan, which offers customized prices. 
---
Justinmind
Justinmind is a complete platform focusing mainly on UX/UI design. Therefore, you can expect a top-notch platform with more advanced features. In fact, many of its messages are based on motion and interactive graphics, so if you want to raise the quality of your mooaboards, this may be the tool for you. 
🤑 Pricing. This tool has four plans: Free, Standard ($9/month), Professional ($19/month), and Enterprise. 
---
Milanote
Milanote is a tool that specializes in creating visual dashboards. According to its website, professionals and creatives from large companies use this tool to organize and build their projects. For that reason, it's a widely used resource in the world of moodboards, as it has all the tools to facilitate their creation. 
🤑 Pricing. Milanote offers three different plans: Free, "Pay per person" ($9.99/month), and "Upgrade your team" ($49/month).
---
Mural
Mural is a digital whiteboard tool that facilitates collaboration between teams. It's highly visually appealing and has more than 300 templates to drive innovation. Therefore, Mural is perfect if you need to collaborate on a more professional level. 
🤑 Pricing. Its four plans are Free, Team+ ($9.99/month), Business ($17.99/month), and Enterprise. 
---
Sampleboard
Sampleboard is purely focused on mood boarding. In fact, their communication emphasizes that you can create a professional moodboard in up to 60 seconds! This website is functional for both personal and corporate projects. Additionally, their platform is highly intuitive and easy to use. 
🤑 Pricing. Unfortunately, Sampleboard doesn't offer a Free plan, but they do have a 14-day free trial. Their plans are: Prototype ($12/month), Freelancer ($24/month), Professional ($49/month), and Agency ($79/month).
🏳‍🌈✨  Pro tip: You can now create any design you have in mind from scratch with our new Blank Canvas tool. Click here to learn how to use it and to get the most out of it to unleash your creativity like never before!
---
How to Make a Moodboard on Pinterest

Pinterest boards are often well-liked because they're highly visual, inspirational, and motivational. Therefore, these boards are perfect for visualizing and grouping our favorite topics and interests. So, with that in mind, we clearly can confirm that this visual platform is ideal for scrapbooking, vision boards, and, of course, moodboards.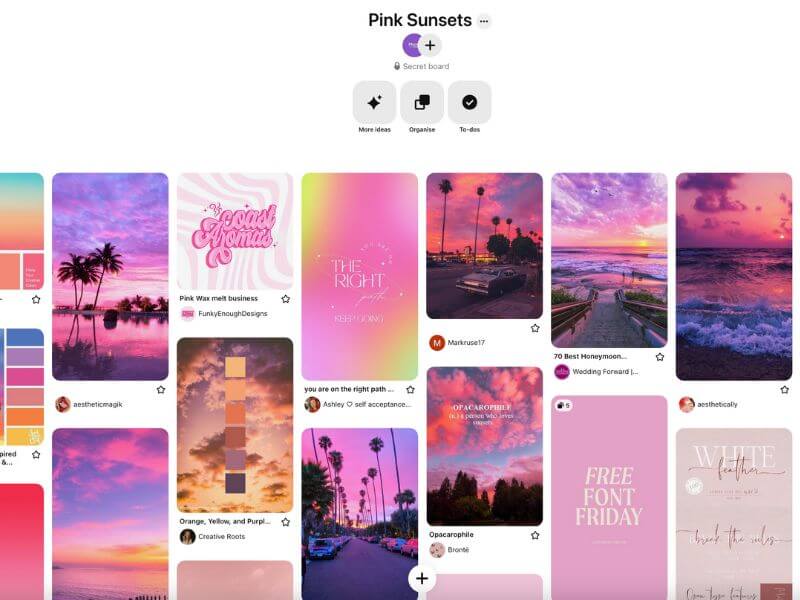 Let's see how to make one: 
Go to Pinterest and log in.

Once inside your account, click on your profile picture to create your board. 

Next, on the right side, you'll see a "+" symbol, click on it and select "Board."

Add a name to identify your board -this will be your moodboard.

Then, Pinterest will suggest some related images to you. Click on "Save" to pin the ones you like. Afterward, you'll see how those saved pictures appear on your board. 

Also, in the search bar, you can enter specific keywords to continue collecting images and adding them to your board. Just click on the drop-down arrow of each image, which says "Profile," and immediately select the name of your board so that the image will be saved precisely there.

P.S. If you've saved an image by mistake or it doesn't fit your moodboard aesthetics, just click on the pencil icon (of each graphic) and click "Delete."

Finally, arrange each graphic by dragging and dropping when you have all the elements you want. Move them up and down or side to side until you're happy with the results.
⭐ #ProTip: If you want to share your new Pinterest moodboard, go to the top and below your name's board, click on the "+" symbol to copy the link or type an email address. 
Conclusion?
Without a doubt, Pinterest boards are beautiful because you can quickly create your own with beautiful images and videos of all kinds. However, for more technical and personalized aspects, it may not be the ideal tool since it doesn't allow you to change the size, shape, or color of the images or enter text. 
---
Moodboard Visual Inspo
Now, one of the most awaited sections: the visual inspiration part. We all love it, not only because it can be handy when building our first moodboard but also to fill us with creativity and inspiration. So let's take a look at different styles for different purposes: 
Templates and Mockups
If you're looking for some sites with templates to create your moodboard. You can do it here:
*Some have individual costs, while others require you to pay a monthly/yearly subscription, although you can always find free resources. 😊
---
Awesome Moodboard Ideas
On the other hand, if you want to find beautiful and graphic examples to help inspire you to build your moldboard, take a look at these moodboards we have collected from different talented artists from the online world. These are great examples whether you're looking for aesthetic moodboards for travel, skincare or interior design, and more.
---
Time to Create Yours!
The process might take some time, but it's worth it! Also, please don't see it as a tedious task. Instead, give yourself the chance to explore the wildest and most creative side of your upcoming project. Try to play with your ideas, styles, colors, and themes, and be open to any idea because it might end up quite different from what you initially thought. But as long as you're happy with the results, that's all it matters. 
Tell us, do you prefer to create a digital or physical moodboard? 💜
---
FAQ How to Make a Moodboard
---
---
---