Planning a wedding can be exciting, but let's be honest, it's also super stressful. The number of things that have to get done can get overwhelming and expensive, so why not take care of some of it yourself? There are plenty of wedding templates you can use to create all of your wedding stationery and even bachelorette party goodies.
Before you say your I-do's, check these items off your to-do list.
What You'll Find:
6 Steps to Create the Perfect Wedding Experience
1. Spread the News With a Save the Date Announcement
Give your guests a head's up about your upcoming nuptials with a save-the-date announcement. This should go out to your guests at least six months before the big day.
This isn't an invitation and should only contain basic information about your wedding, such as the date and the city it will be held in. If you already have your wedding website up and running, include the URL so that your guests know where to look for more information as it comes out.
You can send your save the date through the mail for a more personal touch or send it through email or SMS to avoid the stress of printing and mailing. It's also a great idea to post it on your social media feeds or stories.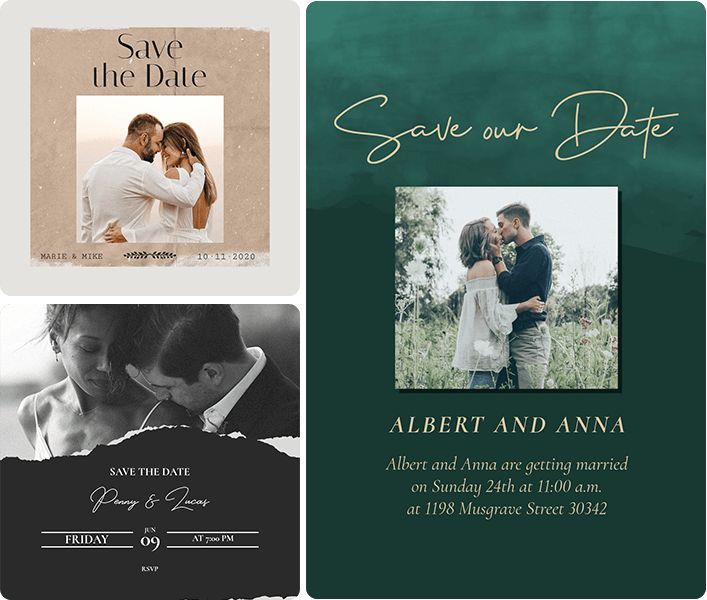 🥂 If you're looking for a save-the-date template you can use on social media, check out Placeit's social media templates for weddings! Customize them with your engagement photos and personalized text.
2. Create Custom Bachelorette Party Shirts and More
Planning a wedding is stressful, so why not let loose a bit with a bachelor or bachelorette party?
After inviting your close friends and family members, prepare some goodie bags for them to thank them for joining in on the celebration. It's common practice to offer them some themed goodies that will make them feel special throughout the party.
To create a custom design you can use to personalize tote bags, bachelorette t-shirts or bachelor t-shirts, water bottles, and even flip flops for your attendees, check out Placeit's bachelorette party design templates.
You can also make custom bridal party shirts that your bride squad will be proud to wear.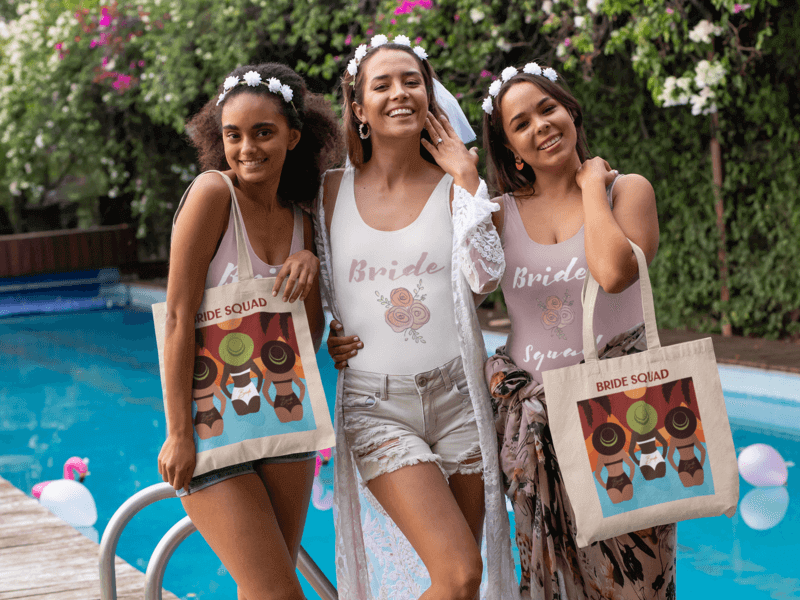 3. Create Your Wedding Website With a Wedding Logo Design
Your wedding website will be a hub of information for all your guests. This may sound overwhelming if you don't consider yourself tech-savvy, but there are a number of wedding website builders that make the job super easy.
You can choose from a number of templates to get the wedding website design you want without a struggle. Once you have your template, you can start customizing it with your wedding logo, photos, and all the information your guests will need.
🍾 If you don't have a wedding logo yet, use a wedding monogram maker to create your own beautiful monogram that matches your wedding theme.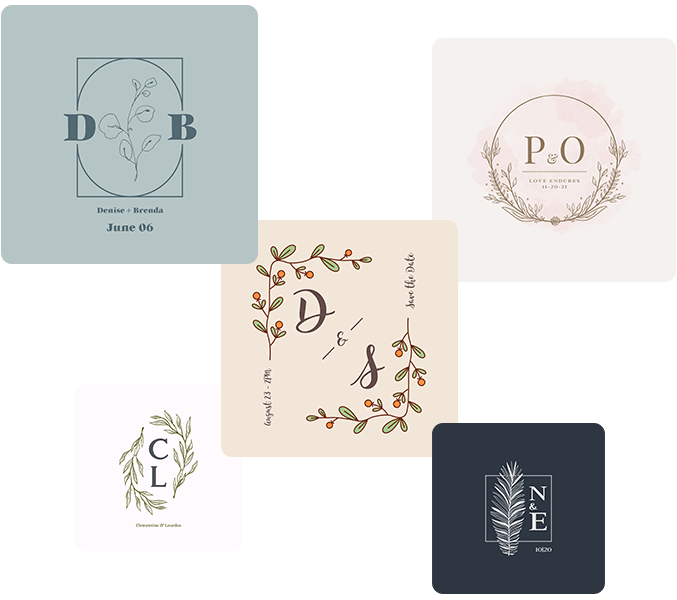 Be sure your wedding website includes the following information:
The date of your wedding
The location of your reception (the name of the venue and the address)
A map with directions to the venue
Suggestions for accommodations (especially if you have out-of-town guests)
Links to your gift registry
RSVP form
The program
4. Prepare Your Invitations for Every Event Leading up to Your Nuptials
In the lead-up to your wedding day, you can opt to host a number of events to celebrate your upcoming union. You'll need to send out invitations for each one of these events, which can sound overwhelming. Luckily, you can create all of these with an invitation card maker.
Some of the events you may choose to host include:
Engagement party
Bachelor/Bachelorette party
Bridal shower
Rehearsal dinner
You'll need a different invitation card design for each of these events since they all have a different tone. For example, you can use a less formal invitation for a bachelor or bachelorette and a more classic and formal wedding invitation design.
Before you get stressed out thinking about how many invitations you'll need to have printed and mailed, keep in mind that electronic invitations are a popular option. These can be as formal or fun as you want them. You can even create your own using a wedding invitation card design. Simply type in your information, and choose the color palette, fonts, and graphics. Download your design, and it's ready to be shared!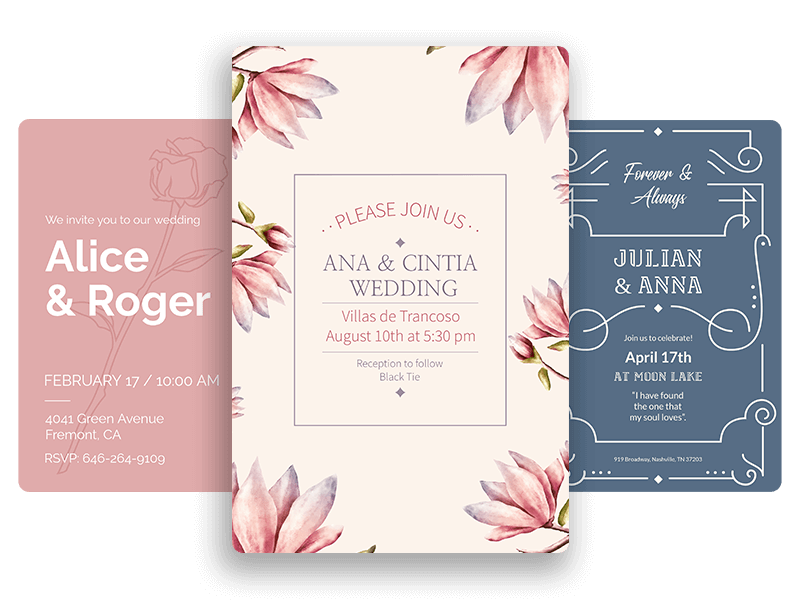 5. Wedding Stationery You'll Need for Your Big Day
Your wedding day can be hectic, and many of your guests will have questions ranging from what time food will be served to where they should sit. To make things easier for everyone, it's best to have some printed items that will answer your guests' questions.
Consider getting the following items printed to help everyone have a fun and memorable day:
Ceremony Program
If you plan on having a longer celebration with a number of activities, a program can help people know what to expect and when. Your program can include a schedule that includes how long the cocktail hour is and when dinner will be served. You can make individual programs that will be handed out to guests upon arrival or have them printed on a board they can consult.
💡 Not sure what size to print certain items? Check out this handy guide for print sizes to ensure you get it right.
Escort Cards, Table Numbers, and Place Cards
Having all three of these items will make it easier for guests to know where they should be seated during the reception.
Create an escort card that guests can consult to figure out what table they should be seated at. Your tables should then have a visible table number to make them easier to find. Finally, guests can make sure they're in the right spot thanks to a place card that has their name printed on it at their seat. Place cards also help servers ensure the correct meal is given to those who requested a special meal when they RSVP'd.
Menu Cards and Bar Signs
If you're serving a sit-down meal at your wedding, place a menu card at each table setting. This can have the entree, main course, and dessert listed on it as well as the serving time.
If you're having a buffet-style meal, you can simply create menu boards you can place with food items. This will ensure there is no confusion as guests serve themselves.
Having an open bar is a popular option for weddings, but if the bar is limited to only a few cocktail options, be sure to place signage at the bar that specifies this. If you have signature cocktails created for the day, make signage that lets guests know what's in each cocktail.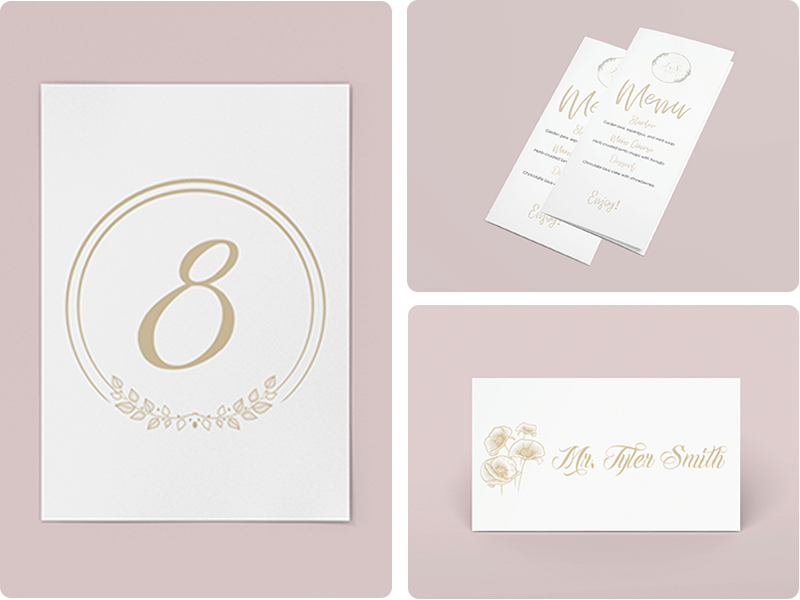 💐 Design everything from your bar signs to your place cards using Placeit's blank canvas! Choose the dimension of the canvas, type in your text, choose your fonts and color palette and add in your own graphics or choose from the list of graphics provided.
6. Say Thank You to All Your Guests
After the big day, be sure to let your guests know how much you appreciate them being a part of it. Create personalized thank you cards for each one of your guests that made the time to be part of such a special day. Your thank you cards should be personalized with the guest's name, the gift they got you, and a nice message. You can also include photos from your wedding day.
Send these through the mail or through email or SMS to save time and money. You can also post a general thank you on your social media profiles letting your guests know you had a great time and appreciate them being a part of it.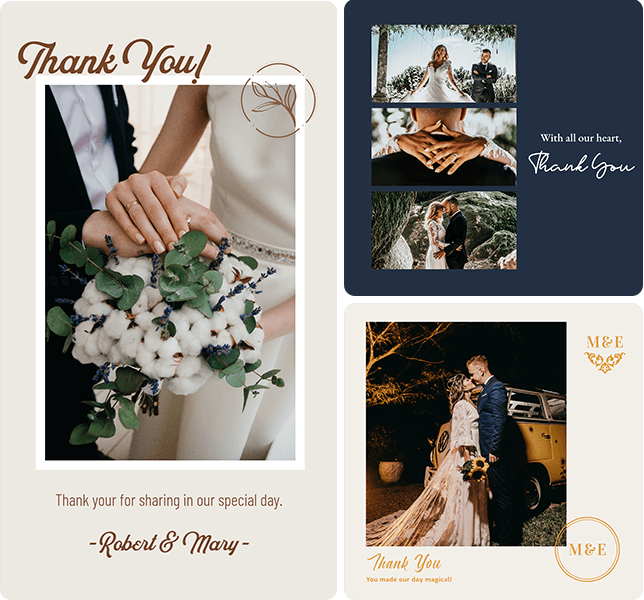 💍 Placeit's social media wedding templates make it easy to create a general thank you message you can share with all your followers.
Final Thoughts
There's no doubt that weddings can be stressful and expensive, but by taking care of some of the basics yourself you can get rid of some of that stress. Wedding templates are a great option for creating all sorts of things, from wedding invitations to bachelorette party goodies that your guests will love.
Before you go, let us know what you think in the comments below ⤵️
---
---