The Best Print On Demand Websites to Sell Online this 2023
A List With the Top Marketplaces to Sell T-Shirts

The on-demand production revolution is here to stay, this is why is super important you know which are the best print-on-demand websites. Artists who are not yet part of this movement are missing out on a great opportunity to monetize by exhibiting their art online.
Technology has now enabled creatives to make one-of-a-kind products that can be personalized, printed, or manufactured, and be delivered to your doorstep in just a few days. Selling art online gains momentum as artists from every corner of the world go online, upload their designs, and make them available for everybody with no geographic limitations whatsoever.
The best print on demand websites empower savvy and not-so-savvy artists to make extra money and on the other hand, allow consumers to acquire unique designs and fully express themselves through them.
These print-on-demand sites provide a low-cost entry to markets that used to be difficult to access. The best print on demand websites ask for no up-front payments, provide secure financial transaction channels between artists and customers, and guidance for the artist to succeed in making a living out of their work.
Artists and creatives need just a few minutes to set up their designs, upload them and make them available for sale, printed on a coffee mug, a t-shirt, a hoodie, or even on a duvet cover. Day by day more and more users are opting to buy online over traditional shopping.
Consumers are growing tired of making super-rich companies richer, instead, choosing to acquire t-shirts, sweatshirts, iPhone cases, etc, from less industrialized providers, ideally independent artists. Add to this the ever-growing need to express the self by owning original products that few or almost no one else has, and it's no wonder why several companies have leveraged a profitable business model that is definitely here to stay.
Print-on-demand platforms allow consumers to browse through virtual art galleries that feature original designs created by the most talented artists around the globe. These web-based artist communities foster artist to artist support which has been the propeller of top-of-the-line art creations.
Creatives can stop worrying about finding material suppliers, distribution partners, and shipping companies; leaving this burden aside allows them to focus on what they do best: creating jaw-dropping art. With no apparent risks and no up-front payments to get in the game, these POD marketplaces are the place to be. Selling your graphic designs, your art, and making it available on all sorts of physical products has never been easier.
Choosing the right store to sell your art can be tough thanks to the wide variety of shops and marketplaces. If you are looking to shop around before committing to a specific site, you might want to check out this post that goes over where to sell t-shirts online. It includes a POD Directory you can use to determine which are the best print-on-demand websites for your business.
Overall, you can go to Placeit and use all the tools you may need to get your art business going! Without further ado, I will now guide you through a curated selection of the best print on demand websites that stand out from the rest due to their long and respectful trajectory, a key differentiator, social media following, web traffic, or superb print quality.
Best Print On Demand Websites Guide
Unlock the Top 10 Do's and Don'ts of the Print-On-Demand World and level up your business game! 🚀👕📈
What are the Best Print On Demand Websites?

1. About Printify
Printify is a print-on-demand service that offers high-quality printing and for businesses of all sizes. Printify allows POD sellers to create basic designs, add to professional mockups, and sell while they take care of the shipping, billing, and order fulfillment of every order in your store! 
Printify was founded in 2015 by Latvia-based entrepreneurs James Berdigans and Artis Kehris. It was originally launched as a Shopify app and has grown since then to one of the most popular POD services. 
Printify offers a wide variety of items including sneakers, sandals, fleeces, boots, tank tops, skirts, leggings, swimsuits, handbags, totes, backpacks, phone cases, mugs, cookies, blankets, and much much more.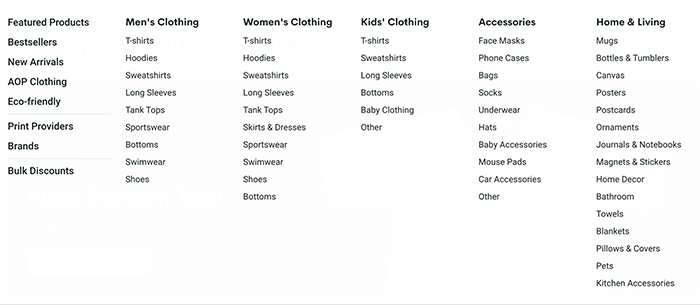 Artists/Sellers Here's What to Expect from Printify:
The platform is super easy to use and the design tools are user-friendly too.
Printify outsources all of its manufacturing to its partners. You can choose which partner handles your store. 
Brand Customization
Printify offers custom labeling and branding services. If you sign up for custom branding, the Printify brand won't appear on your packaging and you can design your own label. 
Printing Options
You get direct to garment, sublimation, cut and sew, embroidery, and more, depending on the print provider and product.
Integrations
You can also list your items on online markets such as Etsy, WooCommerce, Shopify, eBay, PrestaShop, BigCommerce, WIX, and Squarespace with a Printify integration. When using an integration, keep in mind that Printify will deduct its cost from what you're paid for on another platform.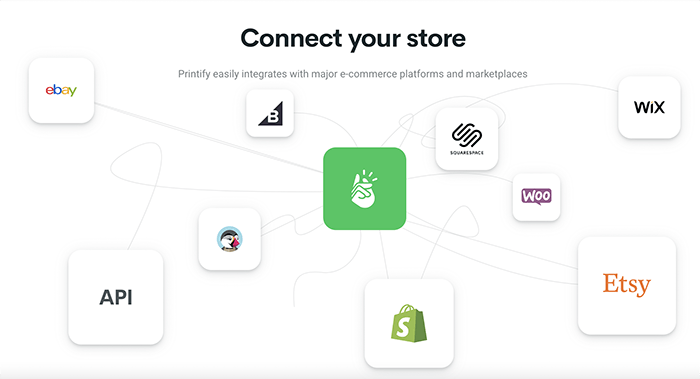 Shipping
Printify outsources to independent print shops around the world, which means you can choose the best supplier based on your needs. This allows you to select a supplier near your business shipping to offer faster and more cost-effective shipping options to your costumers. 
Printify has suppliers in the US including California, Georgia, Colorado, Florida, Wisconsin, Massachusetts, Michigan, and North Carolina. They also have foreign suppliers in UK, China, Australia, Canada, Czech Republic, Germany, Latvia, and Poland. 
Printify provides express shipping (3 days) only in the United States. Regular shipping takes up to 10 days and is the only option for international orders.
Pricing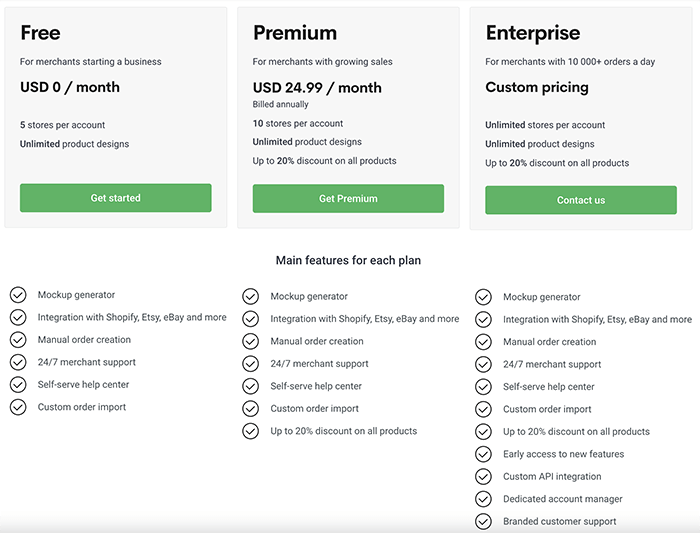 Printify offers three pricing tiers.
Printify Profit Margin Explained
You need to consider Printify's catalog prices (production) and shipping charges to have your total cost for a product. Your profit is what's left from your retail price. 
For example, let's say you want to sell a Men's shirt whose production and print price is $12, you add the cost of shipping locally which is $4.80, then you set your retail price at $25. This means your profit will be $8.2. which is a 30% profit. Printify recommends a minimum profit of 40% but that is completely up to you. 
Consider these:
🔥​Check out our how to set up a pricing strategy post for POD sellers to learn more! 
What is the average price for similar products on the market?

Will you be offering free shipping in your store?

Will you use various sales strategies to drive sales, like frequent discounts?
How Do You Get Paid?
When a customer submits an order in your store, your receive the payment of your product retail price and the shipping fee. Then the order is automatically imported into Printify and sent to production according to your order approval settings. Then Printify will charge your linked credit card or your Printify balance with the production price and shipping fee.
Does Printify Require an Initial Investment?
There is no initial investment in setting your store on Printify. 
Design Ownership on Printify 
The design ownership of Printify works pretty much any other POD, as long as you be conscious of the intellectual properties of others, you are pretty much free to print anything you designed.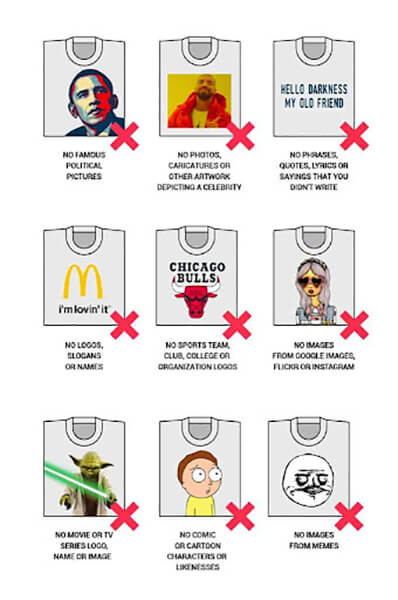 Check out more information on Printify's intellectual policies.
How Does Printify Rank?
To give you a better idea of how users feel about Printify and their experiences with the company, check out their score on Trustpilot:

2. About Bonfire
Bonfire didn't start off like the rest of the print-on-demand sites. In the beginning, Bonfire was dedicated to helping people raise funds for different types of campaigns. Currently, it's a design and technology company where you can create custom apparel and sell your designs.
Their platform is 100% free and makes it super easy to reach your goals, whether these are fundraising or simply selling custom apparel. In their current setup, sellers can design and sell apparel for profit, like with most print-on-demand services.
However, Bonfire also allows sellers to raise money for a cause whether a personal one, a political campaign, or an NGO. Each of these options allows you to set up a verified campaign that will give buyers the confidence to buy and donate to your cause. In the end, you also get a CSV with the information your donors left so that you can continue to contact them about your efforts. The ability to fundraise for a cause is one of their most unique features.
Bonfire is based in Richmond, Virginia, but offers worldwide shipping, so just about anyone can get their hands on your merch.
Artists/Sellers Here's What to Expect from Bonfire's Marketplace:
Selling your designs on Bonfire is easy. You can either upload custom artwork or create your t-shirt designs using their free graphics in their powerful design tool. Once you've created your apparel you can launch your campaign, which can run anywhere from 7 to 21 days.
Once a campaign is launched, you set a selling goal, which you will need to meet by your deadline. To do this, you will have to promote and sell your products to your community. To make this easier, you can create your own store that is customized to fit your campaign or brand.
By enabling fundraising or tipping options, buyers can leave an optional donation or tip on top of their purchase. If there's ever a problem, Bonfire will make it right no matter what, so you know your supporters are always in good hands.
When your campaign ends, Bonfire prints and ships the products, and sends you an easy payout of the profits. And because Bonfire passes on the bulk-printing savings to you, the more you've sold, the higher your profit margins will be. Once your campaign has ended, you can relaunch your campaign automatically or with a press of a button so you never miss a sale.
Bonfire Profit Margin Explained
When your campaign is successful, all of the profits go directly to you. You get to decide how to price your products so that you make the profits that will help you reach your goals. While it's typically recommended that you keep the default prices, you know your community best and should price your products with them in mind.

For a more visual explanation, check out this video:
If you want to keep your base cost low, keep in mind that there are three factors that will affect the base price of an item:
Product Style – Each product style has a different cost to manufacture and source. For example, a t-shirt costs less than a long-sleeve shirt which costs less than a hoodie.
Number of Ink Colors – Each ink color added to your design will raise your base cost. It's recommended that you stick to 1-3 colors to keep costs down, although you can add up to 8.
Printing on Both Sides – For apparel, you have the option to print a design on one or both sides of a shirt. Placing your artwork on only one side of the shirt will keep your base cost low.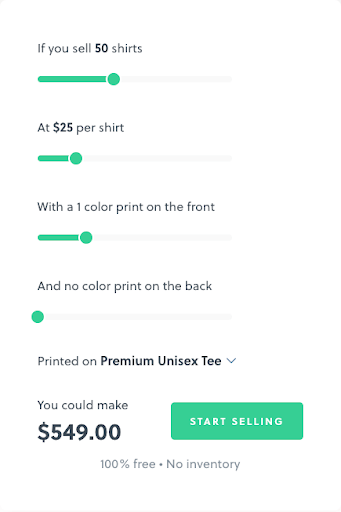 As we mentioned earlier, as the number of items you sell goes up, the base cost of your product goes down. Bonfire passes these manufacturing savings on to you. If you seek to make the highest profits possible, try to keep your base cost low. You can do this by printing on one side of the item and using 1-3 ink colors maximum in your design.
How Do You Get Paid on Bonfire?
Bonfire will send you a payout of 100% of your product's profits via PayPal. If you've enabled the fundraising or tip options, that will also be included in your payout but these will have an 8% processing fee. You can check your available balance and request a payout by visiting your account dashboard.
After requesting your payout, you will receive this in 1-2 business days. You won't have to worry about additional fees that come with your products because Bonfire will take care of these. In the end, the payout amount you see in your dashboard will be the amount that gets deposited into your PayPal account.
Does Bonfire Require an Initial Investment?
There is no initial investment for selling your designs on Bonfire. It's 100% free to use and all of the profits go to you or your campaign.
Design Ownership on Bonfire
Bonfire owns or controls all of the content on the site except "uploaded original designs or other uploaded works of authorship, which are property of their respective owners." Of course, when uploading a design to Bonfire, it should be original or you should have the rights to its commercial uses. You're also required to agree to allow Bonfire to "represent the design or work of authorship in blog posts, remarketing advertisements, or any other marketing materials." You can learn more about this in their terms and conditions.
How Does Bonfire Rank?
To give you a better idea of how users feel about Bonfire and their experiences with the company, check out their score on Trustpilot:


3. About Spring
Spring is a print-on-demand platform that allows you to either create and sell products by uploading your original designs or get custom apparel for yourself or your company. Their easy-to-use platform makes it easy for everyone from creators to artists to make money selling their designs on loads of products.
They will handle everything for you, from printing your products and shipping them when an order is placed to customer service if there is ever an issue with an order. Whether you're just starting to create your designs, are trying to raise funds for a charity, or you already have a well-known brand and want to offer merch to your fans the easiest way possible, then Spring is a great option.
Artists/Sellers Here's What to Expect from Spring's Marketplace:
When selling in Spring, you have to choose a campaign length for your products, which can be anywhere from 3 (the default setting) to 21 days. This means that if you choose the default setting when items are ordered, they'll be printed every 3 days.
Spring makes you set a sales goal (sell 50 t-shirts for example) but that doesn't mean that you have to sell all 50 of them to get your product printed. Spring will print your products from a campaign as long as you sell enough to make a profit. This is a great feature for the mere reason that setting goals in life always helps.
With Spring, you aren't limited to selling t-shirts because they have over 50 products available for sellers to put their designs on. These range from apparel to art prints and home decor. You can choose as many products as you like, just make sure your design is uploaded at a high enough quality to look good when printed.
When an order is placed, Spring will take care of manufacturing, along with shipping and customer service. It's worth mentioning that they offer global shipping to 180 countries. US-bound orders take from 2-5 business days to arrive when selecting rush shipping and 10-13 business days for standard shipping.
International shipping can take 10-16 business days once production begins if you are in the US, Canada, or anywhere in Europe. Rush shipping is also available. Get the full info on shipping times and shipping costs for the USA.
Like with many other POD's, you can create a custom storefront that matches your brand. You can then use this to promote your designs and products more successfully, leading to higher sales.
One of the advantages that Spring offers is its Boosted Network. This is basically an integration between Spring and some of the most important eCommerce marketplaces. You can add your products to this network and reach higher sales.
There are no additional fees to join and Spring will handle everything from optimizing your listings to fulfillment and customer service. They even have an extension that allows you to sell your merch on Twitch!
Spring's Profit Margin Explained
When you create a Spring campaign, you can set the selling price of your products; when a product is sold, the profit you get to keep is the difference between the selling price and the base cost of the item you are selling.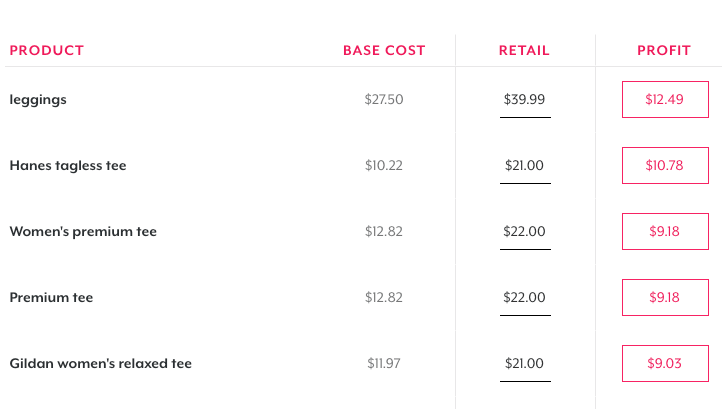 So if the base cost of a long-sleeved tee is $10 and you sell it for $24, when a long-sleeved tee from your campaign is sold you will earn $14. The price of a product won't change based on the colors used or the number of items you sell from a specific listing, but they will depend on whether your design is single or double-sided and how many items you sold the previous month.
The more items you sell from a campaign, the cheaper the base cost will be, so aim high to earn more! You can get a more detailed explanation of these discounts in their pricing guide.
How Do You Get Paid in Spring?
Spring has two options when it comes time to request your payment. They offer payment through:
Payoneer: You should receive your payment, once processed, in 24 – 48 hours.
Paypal: Before requesting your payout using Paypal, your account should be fully set up. Keep in mind that Paypal has a receiving limit, so if your payment is being delayed, check this with Paypal. Like with Payoneer, you should receive your payment in 24 – 48 hours.
You also have the option to optimize your payment. To achieve this, it helps to get consistent product sales each month and reach pricing discounts. Once you have numerous sales and processed payouts, getting paid will be faster. On the contrary, if you're new to Spring and are requesting your first payment, be patient as it can take longer because your accounts will have to be verified for security reasons.
Does Spring Require an Initial Investment?
Spring is completely free to use. You set your selling prices and keep all of the profit that comes from your sales. Service fees associated with Spring are all included in the base price of the products you're selling, so there are no additional fees to worry about.
Design Ownership on Spring
When you upload a design to Spring, you own the design. Spring trusts that you are the owner of the design or own the trademark rights to it. Spring won't claim ownership rights, so your work is safe. They also provide tons of information on what you can do if you think someone has stolen your designs or copied them.
Take your designs and your Spring store to the next level with Placeit! Create everything you need for your Spring shop in no time!
How Does Spring Rank?
To give you a better idea of how users feel about Spring and their experiences with the company, check out their score on Trustpilot:

4. About Sellfy
Sell merchandise or digital products — all from one place. Sellfy allows all kinds of creators to open their storefronts and sell their goods online! They can offer ebooks, comics, designs, music, video, and any type of digital file to sell their goods.
They handle everything from product hosting and payment processing to automatically sending download emails and delivering the products. Over 100,000 writers, designers, filmmakers, and other indie creators, use Sellfy to sell digital downloads online.
Artists/Sellers Here's What to Expect from Sellfy Storefront:
You can create a beautiful storefront in minutes, effortlessly and that stands out your brand in a unique way.
Sell Digital Products of all Types
Sell ebooks, videos, audio & music, or any other files like PSD, AI, and many more.
Print on Demand
Sell t-shirts, hoodies, mugs & hats using our built-in print on demand. We will automatically print incoming orders and send them to your customers.
Subscriptions
Create digital subscription products and charge your customers on a weekly, monthly, or yearly basis.
Video Streaming
Offer your videos on demand, reduce the risk of piracy & eliminate download issues with video streaming.
Customization
Add your logo, change colors and create the layout you want to match your brand. Link your existing domain to your Sellfy store to strengthen your brand.
Shopping Cart
Earn more by letting your customers purchase multiple items at once with an online shopping cart.
Store Language
Give your customers an automatically translated version of your store's interface based on their location.
Optimized for Mobile Devices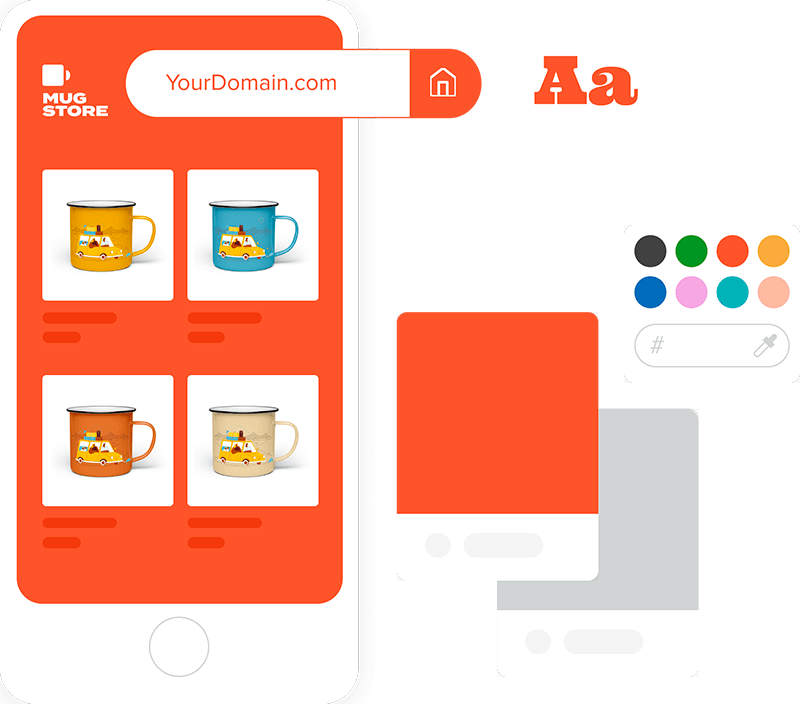 Create a mobile-optimized store and a flawless checkout experience for both desktop and mobile.
Other Great Features!
Built-in marketing features
Discount codes
Email marketing
Send product updates to existing customers and collect newsletter subscribers on your store.
Add Facebook and Twitter ad pixels to create ads for your store and track their performance.
Sell from your website on social media with embed options and product links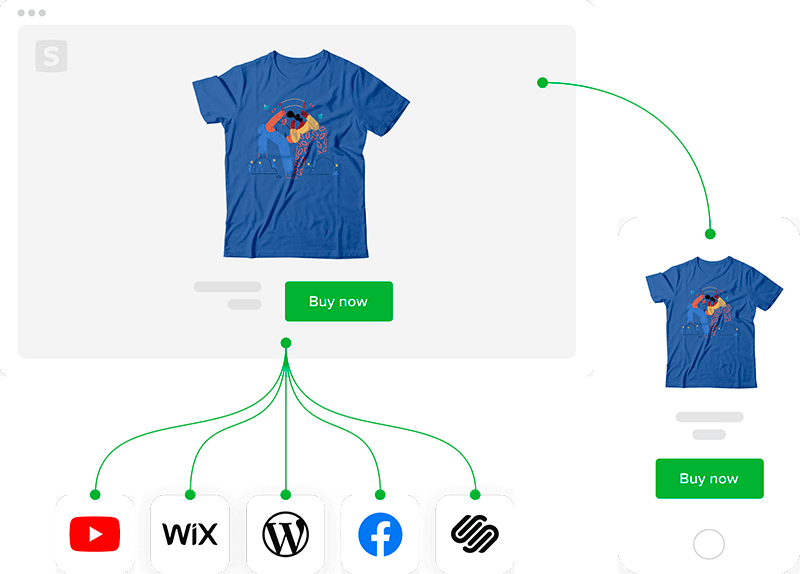 YouTube end screens & cards
Use Sellfy on cards and end screens within YouTube videos to increase traffic to your store.
Reliable payments and world-class security
Accept payments worldwide, keep your store and your customers safe: PayPal, Stripe. Sellfy is PCI-DSS-ready. Buyers' payment information is handled by trusted payment processors.
Automatically add buyers' email addresses to every page of your PDF product file so that each customer gets a uniquely marked file.
Prevent buyers from sharing your product files online by issuing unique download links with limited download attempts.

Discover your true income potential as YouTuber. Get to know your estimated revenue from ads or selling your own products.
YouTube Ads
Your Adsense revenue differs based on how much your advertiser pays for 1000 views. This number can be anywhere from $0.10 to $10. This is what Sellfy uses as a default range for YouTube AdSense revenue calculations. The bottom line is they are willing to pay to advertise on your videos, the higher your earnings from ads.
We split our users into 6 even groups based on channel views. (Someone with 1 million views would be in a different batch than someone with only 5,000 views) Based on this we came up with conversion coefficients for each batch because it is different for each group.
In general, we saw such a trend – the more views you get, the lower the conversion rate. So when you enter your channel and daily view count, you'll fall into one of 6 buckets and your income estimates will be calculated based on YouTubers similar to you.
From there on we take the average product price across all our stores and using our previously calculated purchase likelihood, we calculate the range of potential income.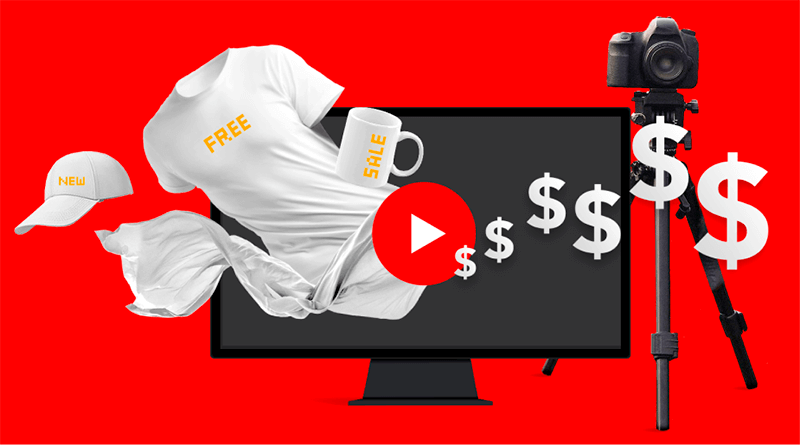 Get more ideas on how to earn some extra cash from your YouTube channel.
What Products Can You Sell?
You're not limited to merchandise like t-shirts, caps, or physical products in general. There are 100+ great digital products you can sell on YouTube.
How soon can I make money from YouTube?
To be accepted in YouTube's partner program all you need are 4,000 watch hours in the past 12 months and 1000 subscribers. But you can start selling your own products and generate income when you have a much smaller audience.
How do You Get Paid on Sellfy?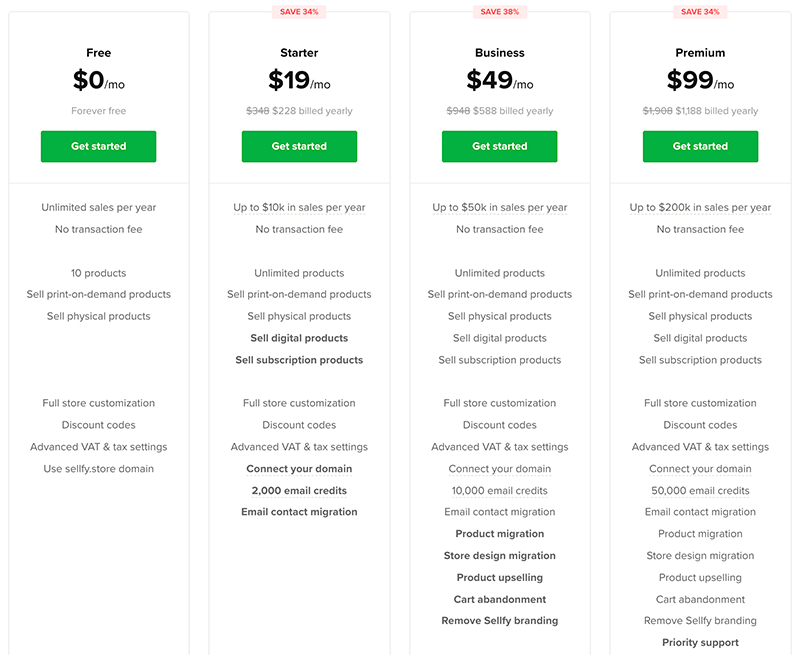 You will receive money instantly after a purchase is made. Payments will be sent directly to your PayPal or Stripe account depending on which gateway you choose for payment processing.
Sellfy does not charge a transaction fee. When you choose a plan that works for you depending on your yearly transaction volume, no additional fees will be charged.
Other Expenses
‍On top of your monthly payment for Sellfy, you will need to cover payment processing fees of PayPal or Stripe (typically 2.9% + 30¢) depending on which payment gateway you choose.
If you do exceed the limit for your current subscription plan, you will be expected to upgrade to the next subscription plan. But, if the account has not upgraded, we may start to charge a 2% overage fee for the amount of revenue that has gone over the subscription plan limits.
Email Credits
Email credits are the number of emails that can be sent using our built-in email marketing feature. You will get a set number of credits to use each month with either the Business or Premium plan.  If you exceed this limit, you can purchase more credits from the merchant dashboard.
What is The Limit for Digital Products?
The total number of digital products is unlimited. One digital product can contain up to 50 files, with an overall maximum size of 10 GB each.
How Does Sellfy Rank?
To give you a better idea of how users feel about Sellfy and their experiences with the company, check out their score on Trustpilot: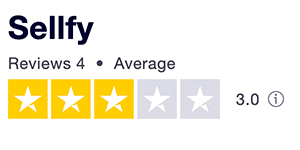 5. About Redbubble
Redbubble is an Australian print-on-demand platform that focuses on giving independent artists a great way to sell their art. Their marketplace has tons of print-on-demand products that feature the work of tons of artists from around the world. This is one of the main players in the print-on-demand game. Redbubble's domain receives quite heavy traffic according to Alexa's Traffic Rank, the heaviest traffic from the print-on-demand marketplaces listed in this article.
Sellers/Artists Here's What to Expect from Redbubble's Marketplace:
Redbubble is a great option for designers of all styles because there is an audience for just about everything on their site. Creativity and originality are celebrated and encouraged, which makes for a great community. They offer over 60 products on which you can sell your designs, including t-shirts, hoodies, scarves, postcards, notebooks, stickers, smartphone cases, duvet covers, and much more!
Redbubble is available in multiple languages, such as German, French, and Spanish and currency can be set to match your country of origin's currency. It's easy to set and change your language settings, shipping country, and currency in your profile. On top of this, Redbubble offers worldwide shipping with the options of standard shipping or express delivery, so just about everyone can order your goods.
To sell on Redbubble, you first open an artist shop that you can personalize to fit your brand. Once this is set, go ahead and start uploading your designs and choose the products you want to sell these on. Promote your designs, products, and shop to attract attention and get those sales rolling.
Once an order is placed, it's important to know that due to the print-on-demand nature of Redbubble, orders are printed and shipped within 24-48 hours, not too bad right?
You can use this simple guide to learn how to add your designs to Redbubble and start making money. There are different recommended dimensions depending on the products you want to sell your designs on, so check out this guide to get the best quality for your prints.
TIP: To boost sales, use t-shirt mockups to promote your business online.
Redbubble Profit Margin Explained
The retail price of Redbubble's items is a combination of the base price of the item with the artist margin added in. It's basically the price you see when browsing the products for sale in their marketplace.
Each artist has the liberty to decide their own artist margin, so you have better control over how much you make on each item sold. Their graphics make it easier to picture how this all works. The most basic formula is the following:

The base price includes service fees and the cost of manufacturing or production. These can vary based on the delivery address, discounts, or bundle orders. When an item is purchased, they deduct Redbubble's service fee, shipping costs, and manufacturing fees. What's left is what is paid to the artist.
So for example: if you are in Canada's POD business and want to sell a graphic t-shirt in Canadian dollars the base price is $30 CAD and you set a 20% ($6 CAD) markup. Then the $30 base price plus your $6 markup make for a $36 retail price.
If you want more information on pricing and profits, there is plenty more to read on how artist margins, bundle orders, and discounts can affect your earnings.
How Do You Get Paid on Redbubble?
Redbubble offers a couple of different options when it comes time to get paid:
Paypal: You can get your earnings deposited into a verified Paypal account but keep in mind that there are some restrictions that can apply to some countries.
Bank Account: Another option is to get a direct deposit into your bank account, but this isn't available to everyone. This is currently only available for Australian, US, and UK bank accounts.
It's important to keep in mind that you can't change your currency once it's set, so choose the right one when you register.
To know just how much you're getting paid, head over to your sales history and look for orders that say 'To Be Paid' or 'Paid.' You will be paid on the 15th of every month as long as you reach the payment threshold of $20. Items that have been sold but not shipped by the 15th or if you haven't reached the $20 threshold, then these payments will carry over to the next month.
Another thing to keep in mind is that it can take a few extra business days to process your payment, so be patient. If you have more questions about payments, Redbubble has more information that can help.
Does Redbubble Require an Initial Investment?
Redbubble allows you to open an artist shop and sell your designs for free! There are no startup fees or fees along the way.
Design Ownership on Redbubble
Redbubble is a big supporter of artists and their creativity. Because of this, whenever you upload something to their marketplace, you own it. You just need to be sure your artwork isn't copyrighted and that it belongs to you.
How Does Redbubble Rank?
To give you a better idea of how users feel about Redbubble and their experiences with the company, check out their score on Trustpilot: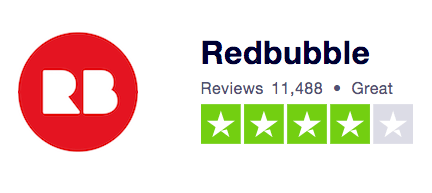 6. About Society 6:
Society6 allows artists from anywhere in the world to upload and sell their original works on 30+ premium consumer goods. It's a very active community and marketplace where talent and quality can definitely be found.
Art prints are where they perform the best, and these are one of the main reasons Society6 is so unique. Another cool Society 6 feature is that artists can become curators and get a commission for recommending and helping fellow artists sell more. Learn about becoming a Society6 art curator.
Artists/Sellers Here's What to Expect from Society6's Marketplace:
Among this marketplace's many benefits are hassle-free shopping and that once your order is placed, you can expect your products within 4-14 days if you are in the US or Australia, and within 2-4 weeks if you live anywhere else.
Society6 has a strong focus on art and is a huge supporter of the community of artists that use their marketplace to earn an income. While art prints are a huge focus for this POD, they also sell other products from apparel to stationery and even home goods.
You simply have to upload your artwork with the right dimensions, select the products you want to sell your art on, and promote your work so buyers know where to find your items. When you sign up to sell, you get an artist shop that you can customize with an avatar, artist bio, and a cover image.
Selling on Society6 is super easy because no matter where in the world you are located, they will print and ship your items as orders come. They even handle customer service so that you can focus on what you do best- art. Because Society6 is dedicated to its artists, it has become a place where art-focused customers know they can find what they want.
As an artist, you can join one of their many communities where you will find support from other artists, stay up on trends, and get feedback from your peers.
Society6 Profit Margin Explained
When it comes to pricing items, Society6's formula is a bit more simple. The retail price of your items covers the cost of manufacturing, fulfillment, and what you will earn per sale. Unlike with other PODs, Society6 doesn't allow you to markup prices on all of its items. This means that when you sell a product, you will get 10% of the retail price.
The exceptions are art prints, framed prints, and canvas prints, which you can markup beyond the default 10%.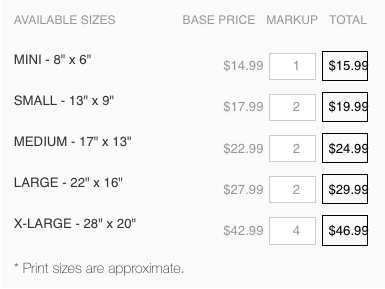 How Do You Get Paid on Society6?
Society6 will pay you your earnings through Paypal on the first business day of each month. When you sign up on Society6, you will need to have a Paypal account in order to finish registering.
When an order is placed and it gets shipped, you will see it as a pending transaction in your account. It's important to remember that there is a 30-day clearance period from when an item is shipped to when you will receive the payment for the sale. The following example can help make this a bit more clear:
You sell an Art Print and it ships on January 15th. The 30-day grace period ends on February 15th. You will be paid for that sale between March 1st-3rd.
Does Society6 Require an Initial Investment?
There are no upfront costs or initial investments required to become a seller on Society6's marketplace. All you need is your art, a Paypal account, and a computer to get started.
Design Ownership on Society6
When you upload your artwork to Society6, you maintain all rights to your content. Society6 will have the right to distribute your content, but this can be a great thing for you. Since they are eager to help you succeed, they will look for more opportunities to get your work noticed.
How Does Society6 Rank?
To give you a better idea of how users feel about Society6 and their experiences with the company, check out their score on Trustpilot: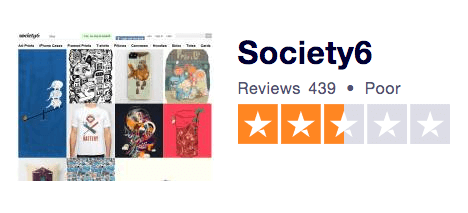 7. About Spreadshirt:
Spreadshirt was founded in 2002 in Germany and has continually grown and expanded over the years. They have branch offices in Germany as well as the United States and multiple production sites in Germany, the United States, Poland, and the Czech Republic. Their platform is available in 12 languages and in 18 markets.
Sellers can choose from over 200 unique products to customize and sell on Spreadshirt's marketplace or in their own Spreadshirt shop. These products are super easy to customize with your designs, so you can have a full range of products in no time. Spreadshirt claims to have sold over 20 million items already. Pretty amazing, isn't it?
Something worth noting is that Spreadshirt abides by responsible and eco-friendly production practices while also putting an emphasis on fair employment practices, transparent manufacturing methods, and sound working conditions at all of its sites worldwide.
Artists/Sellers Here's What to Expect from Spreadshirt's Marketplace
Spreadshirt allows you to sell your designs through two sales channels: the Spreadshirt marketplace or your own t-shirt store.
If you decide to sell on Spreadshirt's marketplace, your products can be viewed by those browsing Spreadshirt's huge marketplace. With over 100,000 visitors a day, this can lead to tons of views and sales. The best part is that in order to get access to this huge stream of visitors, you simply have to register and start putting your favorite designs on Spreadshirt's many products. You can also gain more exposure thanks to their different campaigns that celebrate their designers.
The other option is to open up your own t-shirt store through Spreadshirt. This option gives you access to the highest commission possibilities because you become a shop partner and are eligible to earn Affiliate Commissions, which amount to 20% of the revenue.
These artist shops are not featured on the Spreadshirt homepage, their shops are hosted on Spreadshirt.com, and artists/sellers are responsible for sharing their shop URL with their possible customers to further promote their e-commerce enabled websites. Since your shop is exclusively for your products, you can customize this to match your brand perfectly. You can also choose what products you want each of your designs to be sold on, giving you total control over your products.
Delivery times will depend on where your products are being shipped to, but you can learn all about this on their website.
As a reward for reading this far, have a look at this checklist to make a living out of selling t-shirts online and you can also download this Spreadshirt's success guide for shop owners with more tips and insight to succeed selling on Spreadshirt.
Spreadshirt's Profit Margin Explained
Whether you're selling in Spreadshirt's marketplace or your own shop, the amount you make is easy to figure out. In the end, you decide what you earn. Whenever you get an order, you earn the amount you set above the base price of the items. The final sale price will include the base price as well as the commission you set.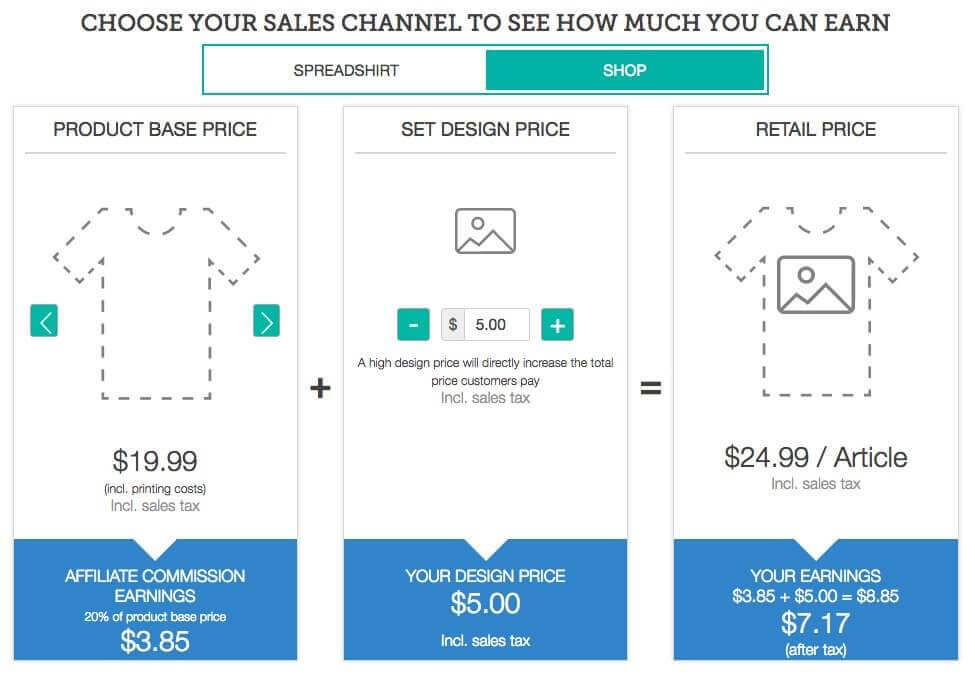 How Do You Get Paid on Spreadshirt?
When your account has reached the minimum balance, this will be settled by Spreadshirt once a month (the 15th of the following month). The minimum balance will vary and is based on the currency you have chosen. Keep in mind that it can take up to 15 business days for your money to show up in your bank account.
When it's time to get paid, you can receive your money one of two ways:
Direct Deposit: This is only available to US bank accounts.
Paypal: Paypal is a better option for sellers outside of the United States because it's compatible with multiple currencies.
Does Spreadshirt Require an Initial Investment?
Spreadshirt is completely free to use, whether you decide to sell on their marketplace or open up your own t-shirt store. They will take care of printing, fulfillment, shipping, and customer service.
Design Ownership on Spreadshirt
When you upload a design to Spreadshirt, whether it's on their marketplace or your t-shirt store, you maintain full ownership.
How Does Spreadshirt Rank?
To give you a better idea of how users feel about Spreadshirt and their experiences with the company, check out their score on Trustpilot: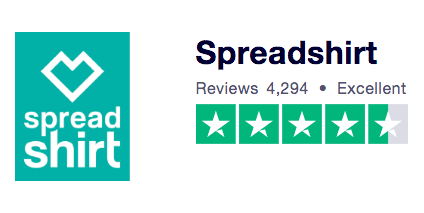 As a reward for reading this far, have a look at this checklist to make a living out of selling t-shirts online and you can also download this Spreadshirt's success guide for shop owners with more tips and insight to succeed selling on Spreadshirt.

8. About TeePublic:
TeePublic is a print-on-demand platform that lets you upload your artwork and sell it to the world as apparel and many other products. You can also become an affiliate seller, which means you don't have to come up with your own designs to make a profit. You can join the Teepublic Partner Program and curate content from the entire TeePublic design catalog and build your own branded storefront with existing designs.
Their headquarters are located in the United States and their items ship from either fulfillment centers in the United States, the United Kingdom, or the Netherlands. Specific items only ship from one location, for example, wall art will be shipped from Wisconsin.
Artists/Sellers Here's What to Expect from TeePublic's Marketplace:
TeePublic offers a wide variety of items on which you can print your designs like adult & kids t-shirts, infant onesies, tank tops, hoodies, crewnecks, art prints, posters, canvas prints, phone cases, mugs, notebooks, laptop sleeves, and stickers. They have over 75 unique items available, many of which offer different styles.
TeePublic prides itself on its sustainable production. They source their products from ethical suppliers, use recyclable shipping materials, and use inks that are biodegradable. These are also vegan-friendly. They also support local arts programs and charities, in order to make the world a better place by encouraging creativity.
TeePublic also gives customers the option to hire a designer. This means that if someone is browsing TeePublic and they like your design style, they can contact you and work directly with you, giving you another way to create and sell your art.
Read more about how TeePublic works its magic to produce beautiful garments and products in their Design Guide.
TeePublic's Profit Margin Explained
TeePublic likes to keep things standardized. All products will have two different prices, a sale price (when it's discounted during the first 72 hours, a site-wide sale, or when you're featured!) and a regular price that will remain during all other times. Below is a sample of how much you can make from the sale of different items: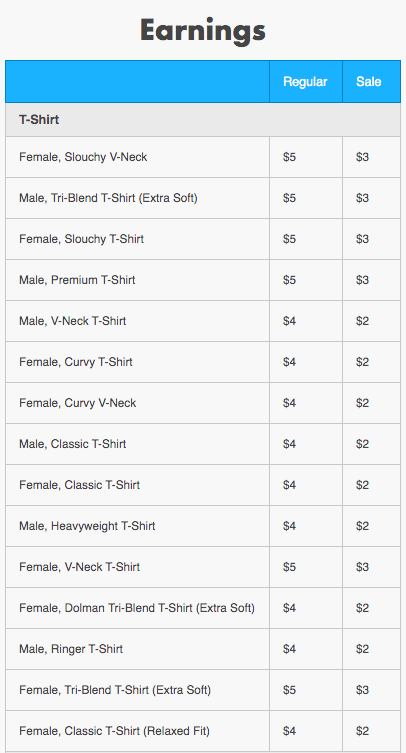 For their affiliate program, TeePublic offers a 31% commission to their partners for sales of their own merch. For example: for a $20 t-shirt you would earn $6.20 back. Earn 11% commission on sales you refer for existing TeePublic designs.
How Do You Get Paid on TeePublic?
Designers are paid every month through one of two methods:
You will be paid on the 15th of every month for the sales you made during the previous calendar month. This means that if you made sales in January, you will get paid for these on February 15th. Generally, these should reach you the next day.
You can change your payment information, including your payment email address and your payment method in your account.
Does TeePublic Require an Initial Investment?
TeePublic is free to use and requires no initial investment. You are free to upload your designs and sell them without any initial payment.
Design Ownership on TeePublic
When you upload an original design to TeePublic, you have nothing to worry about in terms of ownership. You keep the copyright but you also agree to give TeePublic certain rights to "use and archive the content."
How Does TeePublic Rank?
To give you a better idea of how users feel about TeePublic and their experiences with the company, check out their score on Trustpilot: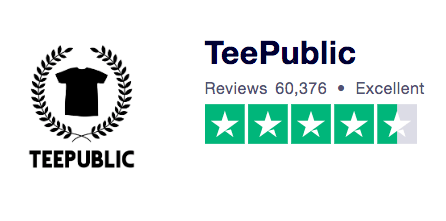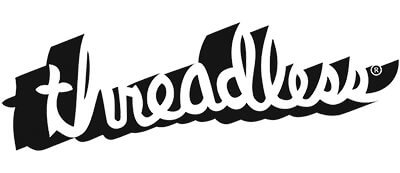 9. About Threadless:
As a designer, Threadless provides you with the opportunity to sell t-shirts as well as to compete in their ongoing design competitions and keep your creativity growing.
For the competitions, everyone can submit designs. Once an artist uploads their design, they come up for voting. Want to vote? Vote here!
Threadless is located in Chicago, but that doesn't mean you have to be based in the United States to sell on their marketplace or to purchase an item. Orders can be placed from just about anywhere in the world since Threadless ships worldwide using different mailing services.
Artists/Sellers Here's What to Expect from Threadless' Marketplace:
To sell your art on Threadless, you simply have to open an artist shop and start uploading your designs. Really original designs are displayed on the marketplace and exquisite talent can be appreciated while browsing around Threadless' marketplace. Artist shops are customizable, if enough time and effort are put into the website design it can end up looking super professional both on desktop and mobile. Your shop can be customized with your logo, color palette, fonts, and you can choose your layout.
If you're wondering what products Threadless has available, you won't be surprised by their huge catalog of items. They have over 100 products that you can put your designs on and start selling.
Once you make a sale, Threadless will take care of everything for you. They will take care of the payment, manufacturing, packing, shipping, and customer support so you can focus on your creative design work.
Threadless' Profit Margin Explained:
As you upload designs and choose what products to sell them on, you can also customize the price of each item or let Threadless choose this for you. Your profit will be the retail price minus the base cost of each sold item.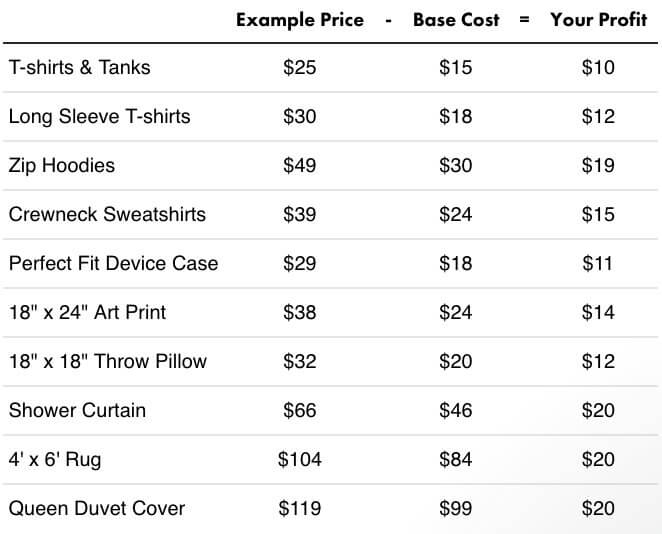 How Do You Get Paid on Threadless?
All artists receive their earning payments via PayPal. It doesn't matter where you are located as long as you have a Paypal account. Cleared earnings generated in the month of January will be paid in the first week of February and so forth.
In Threadless' search for customer's happiness, a 30-day return policy is effective once a customer receives their t-shirt, so artists have to wait for 30 days to pass by in order to receive their well-earned money. Want to read more about Threadless? Good news, we created this 5 step guide for promoting your Threadless Artist Shop.
Does Threadless Require an Initial Investment?
Opening an artist shop on Threadless is 100% free and you don't have to worry about hidden fees.
Design Ownership on Threadless
When you upload your designs to your artist shop, you keep all ownership rights to it, so there's nothing to worry about.
How Does Threadless Rank?
To give you a better idea of how users feel about Threadless and their experiences with the company, check out their score on Trustpilot:


10. About Zazzle:
Zazzle was born in California and is an online marketplace that offers tons of customizable products. Designers, makers, and associates can all participate in this print-on-demand community and make money doing what they love.
Zazzle's customization capacity is incredible and unique. At Zazzle, you have the option to create over 1300 items and then further customize them to make a final product as unique as possible. In their marketplace, you can find designers that sell their art, makers that can customize products for you, and templates for you to start from scratch and create a really unique item without sacrificing quality. They allegedly received over 30 million visitors each month, pretty big, huh?
Since they have such a large and diverse marketplace, it only makes sense that they offer plenty of shipping options. They ship internationally, so you don't have to worry about your market not having access to your products.
Artists/Sellers Here's What to Expect from Zazzle's Marketplace
If you are wondering how many products are available at Zazzle, there's no easy answer for that. They have tons and tons of products available in their marketplace, but that's not the end of it. You, as a designer, can add your designs to these products, but Zazzle also gives shoppers the ability to customize items further.
If you choose to allow buyers to customize things further, like changing a font or making the text smaller, this can make your designs even more appealing because it empowers everyone to reflect their personal tastes.
When you create an account on Zazzle, you will also have to create your online store. Set up is easy and having your own store can help your marketing efforts in the future, especially as you build up your client base. Check out some of Zazzle's products and start experimenting with their templates to see if this is the right fit for you.
Zazzle's Profit Margin Explained
You can set your royalty from 5% to 99% on top of Zazzle's base prices. If a buyer does further customization to one of your designs and ends up paying more for it, then you also earn more. Learn more about Zazzle royalties. Becoming an associate lets you earn 15% per sale plus a volume bonus by promoting Zazzle products in your spare time.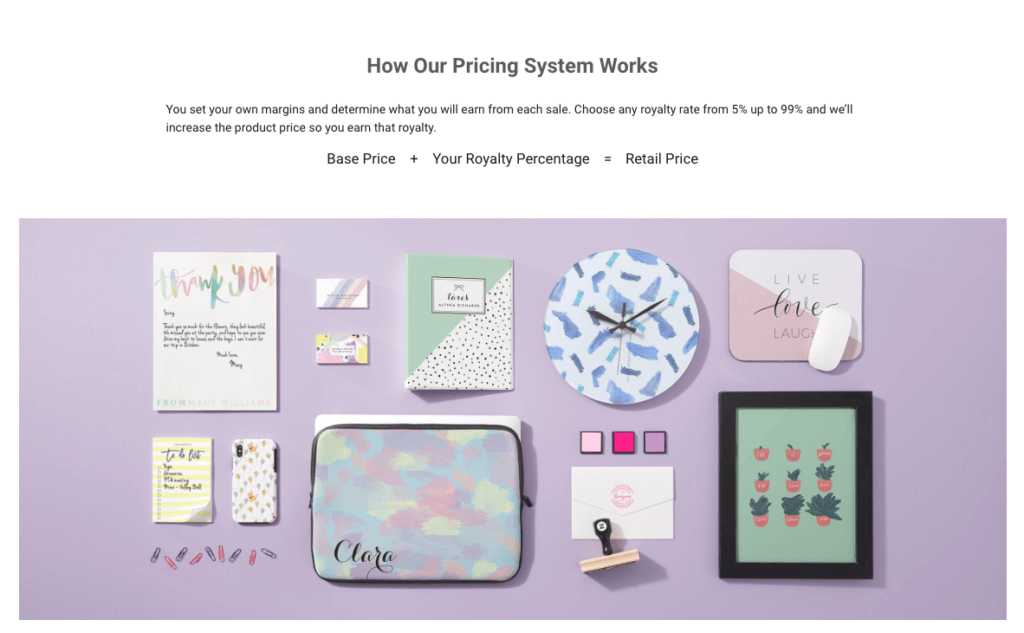 Some other cool benefits of Zazzle's marketplace are the ability to interact with buyers and fans of your designs through a Store Comment Wall which works like a product review section which we all know the benefits of. Also, if a customer decides to sign up to your shop through Zazzle Fan Clubs then they will be notified when you upload a new design to your shop, this should definitely help increase sales.
Do you have what it takes to be the next successful Zazzle maker?
How Do You Get Paid on Zazzle?
Getting paid on Zazzle is easy. Their earnings cycles last a month and are followed by a 30 days clearance period. This means that if you made some sales in January, they will clear in February, and your payment will be issued in March.
There is a threshold set by Zazzle, the default and lowest threshold is $50.00 for PayPal deposits and $100.00 for payment by check. If you want to, UPI can increase the threshold or you can also choose to put your payments on hold.
Does Zazzle Require an Initial Investment?
Opening an account on Zazzle is free. Once you open your account and create your store, you can start selling your products. Zazzle will take care of manufacturing, shipping, and customer services.
Design Ownership on Zazzle
When you post your designs on Zazzle, you retain all ownership rights to whatever you submit and you can continue to use them anywhere you, please.
How Does Zazzle Rank?
To give you a better idea of how users feel about Zazzle and their experiences with the company, check out their score on Trustpilot: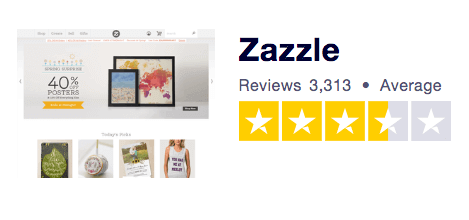 11. About Teefury:
Teefury is the creation of a bunch of artists who love limited edition t-shirts. This is why they're all about high-quality pop culture t-shirts, Hoodies, and posters. Teefury opted to keep it simple and provide customers with just apparel items that really resonate with them.
They provide the most affordable t-Shirts in the market without sacrificing quality. This is the reason why we all love Teefury.
Teefury is made up of a community of creatives and their followers. This focus on creativity, ingenuity, and community is what helps TeeFurians reach success.
Artists/Sellers Here's What to Expect from TeeFury's Marketplace
On TeeFury, only the best designs are posted. These are available for 24 hours at just $11 USD! Constricting the availability of their t-shirts to just 24 hours at such an affordable price is the reason why users keep coming back, and it is also the reason why artists get to sell a lot since customers know that they have to get the t-shirt NOW before it's too late.
Nevertheless, once 24 hours have gone by, it will be moved to the gallery. However, a tee can be voted to be brought back to life, but it will be under a $20 USD price.
For some strange reason, TeeFury is super strong on Google+ with an outstanding follower base of almost 2 million subscribers. They also have a very decent Facebook following, other print-on-demand platforms should learn from them and work hard on creative social media communities just like theirs.
There are two ways to start selling your designs on TeeFury. Someone may see your work online and reach out to you, inviting you to participate in their marketplace. The other is to submit a design on their page. When you submit a design, you'll be notified if your design was chosen.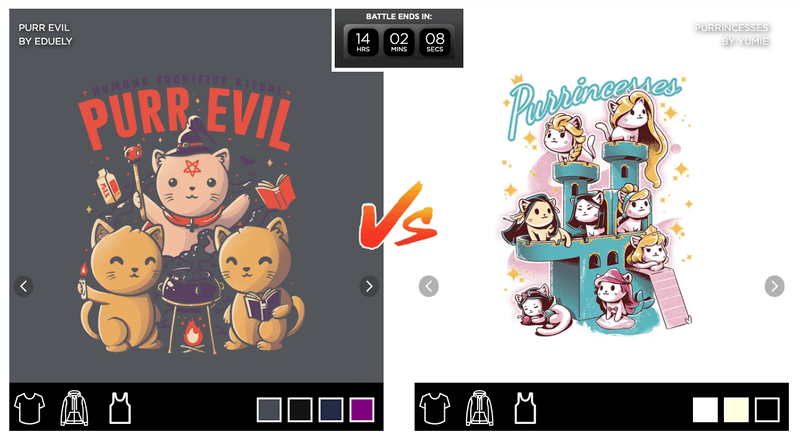 TeeFury's Profit Margin Explained
Teefury pays artists $1 USD per t-shirt sold in the first 24 hours and $2 USD per t-shirt sold from the gallery. This is a very low profit compared to other PODs, but you also have to remember that TeeFury has a loyal, high-intent audience that keeps coming back to browse and purchase. Since their marketplace isn't as stuffed as others, if your design gets featured, you'll be much easier to find.
How Do You Get Paid on TeeFury?
TeeFury will pay you through Paypal and it usually takes 15 days after a t-shirt is sold to get the money into your account. You can learn more about this in their artist agreement.
Does TeeFury Require an Initial Investment?
TeeFury is free to use, but keep in mind that your design submissions may not always get chosen.
Design Ownership on TeeFury
In basic terms, you keep the copyright, but you can learn more about that on their site.
How Does TeeFury Rank?
To give you a better idea of how users feel about TeeFury and their experiences with the company, check out their score on Trustpilot: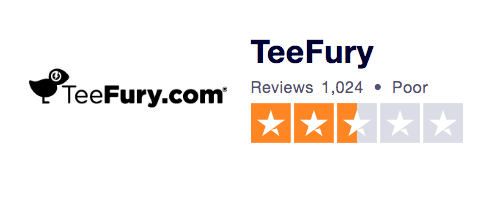 12. About Design By Humans:
Design by Humans (DBH) is a community of artists, gamers, designers, and YouTubers. DBH is the marketplace to find all-over and oversized prints. Design by Humans is home to some of the greatest pieces of art on the web, their web interface is easy to navigate and they are constantly offering special deals throughout their website.
👕 Check out how these t-shirt size chart templates for your shop!
They offer shipping to 108 different countries with tons of different shipping options so that your customers can get their orders in a timely manner.
Artists/Sellers Here's What to Expect from Design by Humans' Marketplace
When you sign up for a store, you have to send an application that shows your artwork. When your application gets approved, you can start selling on their marketplace. Your designs also have to be approved before they are posted, but this takes at most 24 hours.
After that, you won't have to worry about much else because they take care of manufacturing, fulfillment, and shipping. You can customize your store with customs banners so that it matches your brand.
They also run fun contests that give you a chance to make even more sales. These can be anything from swimsuit designs to ugly Christmas sweater designs, so stay up to date on these for the chance to make even more money.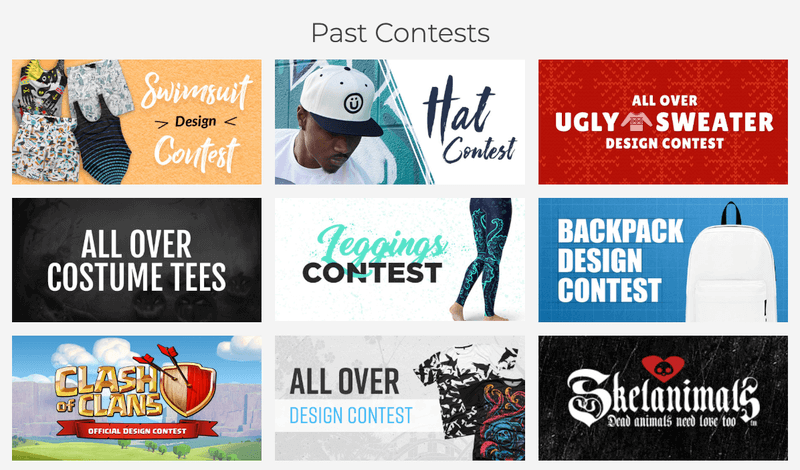 Their strongest social media account is Twitter where they constantly re-share user-generated content, feature a design of the day, and keep followers up to date about special deals going on on the website.
These platforms have made it easy for individuals and companies to materialize their ideas and join a creative ecosystem that strives to be better than the other. For these platforms, the goal is to attract as many artists as they can, they must work harder on their differentiators and focus on providing specifics rather than generalities, and so far, they've succeeded.
Design by Humans' Profit Margin Explained
Design by Humans sets the royalties you will make for each product you sell. For example, for each t-shirt sold from your shop, you'll make $3. They have a complete list that lets you know how much you will make for each product you sell.
How Do You Get Paid on Design by Humans?
When you start making sales, Design by Humans will pay you via PayPal on the first business day of the month for the sales that cleared from your store two months prior. Check at the end of the day because it shouldn't take longer than that to process.
Does Design by Human Require an Initial Investment?
Selling your designs in their marketplace is completely free. Like we mentioned above, you do have to get approved first, but from there on out it's all free.
Design Ownership on Design by Humans
When you submit you upload your designs to Design by Humans, you retain all rights to your artwork and you can continue to sell it on other marketplaces as you please.
How Does Design by Humans Rank?
To give you a better idea of how users feel about Design by Humans and their experiences with the company, check out their score on Trustpilot: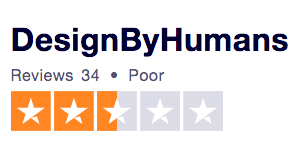 13. About SunFrog:
With more than 4 million items available in SunFrog's marketplace, it's definitely worth checking out. On top of that, they have one of the best Alexa Traffic Rank scores among the sites on this list. At SunFrog, you can design and/or sell t-shirts, mugs, hats, tanks, long sleeves, v-necks, sweatshirts, hoodies, leggings, canvas, and posters online. T-shirts are printed in the USA and shipped internationally if desired.
To find items for purchase or to sell, you can choose from the different available categories or simply type one or two words in the search bar to find what you are looking for.
Artists/Sellers Here's What to Expect from SunFrog's Marketplace
There's good money waiting for you at SunFrog, whether you're an artist or not. Just like you can customize products with your designs, you can also choose any of the many available designs on the site and promote them yourself and get a good commission.
Once you've started an account with SunFrog the first thing you will notice is your seller ID at the top right area of your screen. In order to receive your seller commission from SunFrog you need to add your seller ID code at the very end of the URL you shared, otherwise, their system will not recognize that you were the one responsible for sending customers to SunFrog.
Once you upload a design, SunFrog allows you to create promo images for free so that you can better promote your designs online. In order to track your performance on SunFrog, you are able to add campaign tracking codes that will allow you to count visits, conversions, and allow you to create retargeting campaigns as well.
And last but definitely not least, SunFrog's Academy is the absolute best and it's 100% free. Learn from top instructors at your own pace about:
Facebook Marketing
Google Analytics
Pinterest Marketing
SunFrog Manager
SunFrog's Profit Margin Explained
SunFrog pays affiliates a staggering 15% sales commission. Artists get a 10% commission for each item sold. Of course, an artist can be the seller as well, so if the artist sells their own designs the artist then gets a 25% total payout over the sale.
Shirt prices are set by the artist who published a design. A guys' tee, for example, can be sold at not less than $19 USD and at no more than $29 USD. You can see how commissions add up in this gif:

How Do You Get Paid on SunFrog?
SunFrog is great for people looking for another way of getting paid. They currently offer payments through:
Paypal
Payoneer
Direct Deposit to Bank
Wire Transfer
Does SunFrog Require an Initial Investment?
SunFrog is completely free, so there are no startup costs to worry about.
Design Ownership on SunFrog
When you upload designs to SunFrog's platform, you retain ownership rights. You also grant SunFrog some rights, but you can learn more about that in their terms of use.
How Does SunFrog Rank?
To give you a better idea of how users feel about SunFrog and their experiences with the company, check out their score on Trustpilot:

14. About Printful
Printful is the t-shirt dropshipping leader. With so many years in the business, Printful now provides top-of-the-line drop shipping services for everyone. Having locations in the USA, Mexico, and Latvia allows Printful to offer a fast and reliable service to most countries in the world. One of the beauties of using Printful is that you can integrate Printful to other e-commerce platforms like Shopify, WooCommerce, Storenvy, BigCommerce, Gumroad, Tictail, Big Cartel, Ecwid, Amazon, Etsy, and Magento.
Artists/Sellers Here's What to Expect from Printful's Marketplace
Printful is much more than a POD because of all the integrations it offers and additional services. You can connect your online store with Printful, and when you get an order, the order is sent to Printful automatically. They then fulfill the order and ship it to your happy customer.
You first have to configure your shop and set up your website to get ready to sell. The following graphics show just how easy it is to sell with Printful: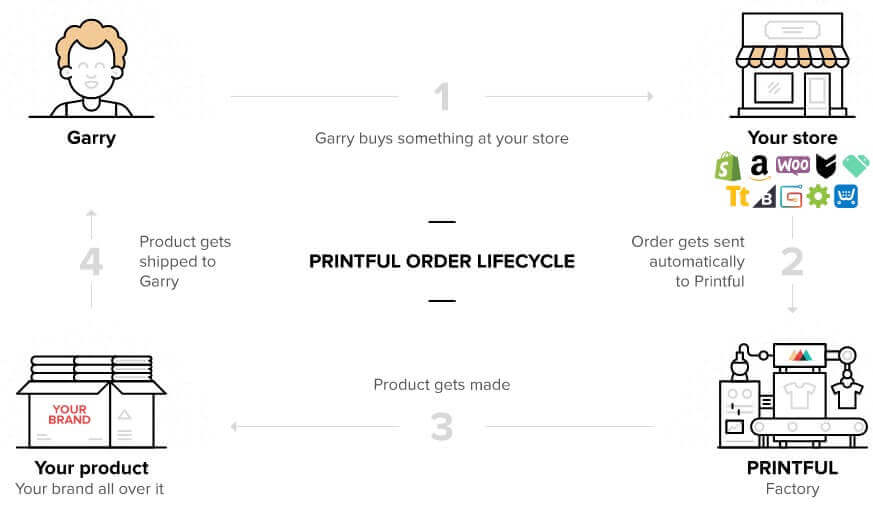 You set up your store and upload your unique designs.
A customer purchases on your site.
Printful automatically receives the order, processes it, and ships it.
Your client receives your item.
Considering printing and shipping times, customers can expect their t-shirts to be on their doorstep in about a week. Domestic deliveries are always sent with tracking codes! For all orders being shipped outside of California and North Carolina, you're not required to pay tax, which is awesome.
What Else Does Printful Offer?
Printful has done an excellent job on the tutorials side as well. Make sure to check their YouTube channel. Also, don't forget to read their guides and FAQ section, this will help you prepare your art files before submitting them to Printful and have them ready for sale.
Printful Install Guides
Now, going over some of the main factors that you should look for in a reliable print partner to ensure that your online store quality take at Printful's 11 things to look for in every Print-On-Demand Company
Printful's Profit Margin Explained
With Printful, you get to choose how much profit you want to make from your orders. Their profit calculator allows you to see how much you could potentially be earning per successful purchase. A minimum profit margin of 30% is recommended. Here's a spreadsheet with Printful's items and shipping costs which I'm sure you will find useful.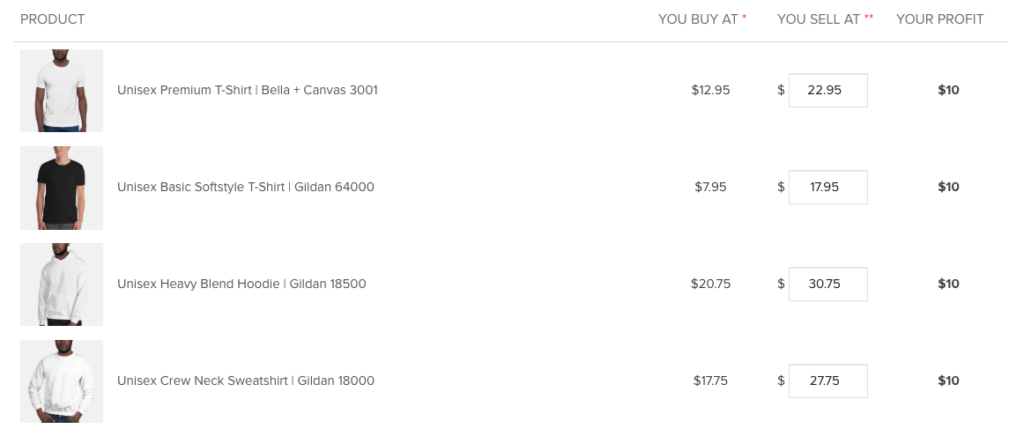 Whatever is left over after Printful charges you is your profit! Take a look at Printful's product catalog for our prices (it includes fulfillment, but shipping is extra).
How Do You Get Paid on Printful?
There are two transactions for every order:
You charge your customer the retail price you set
Printful charges you for the product and fulfillment
Does Printful Require an Initial Investment?
Printful

Pricing
Printful offers 3 different plan options to start using their platform:
Free Plan
This plan offers all the key tools your need to have your products printed, packed, and shipped. This plan allows you to connect your store and choose from more than 300 products to customize. You will be able to use the design maker tool, text tool, cliparts, and pattern tool.
You will get instant access to other design and marketing features to create special visuals for your store as well as social media posts and ads to promote.
You also get the tool for Custom Mockups, the Background Removal, and the Promo Maker. Printful Plus Plan starts for $9/month. You can try Printful Plus for free: there's a 14-day free trial, for you to give all the premium design tools a proper test ride.
This is the most exclusive subscription that gives you access to all built-in marketing tools. You gen all the free and plus tools and also Etsy Keyword Scout, Premium Images, exclusive clipart, and free embroidery digitization.
You will get partnered up with industry-leading carriers like USPS, FedEx, DPD, and DHL. With the Free and Plus plans, Printful automatically chooses the most suitable carrier for each order based on our internal database. Printful Pro users have the option to pick their preferred carriers from our list of partners.
You can subscribe to Printful Pro for $49/month or the yearly plan for $593/year (there's additional sales tax if you have a US billing address). Know that you can cancel anytime by going back to your account settings. You can also try their 14-day free trial now to get the full Pro experience!
Design Ownership on Printful
Whatever you post on Printful will remain yours. You can learn more about ownership and permissions in their policies.
How Does Printful Rank?
To give you a better idea of how users feel about Printful and their experiences with the company, check out their score on Trustpilot: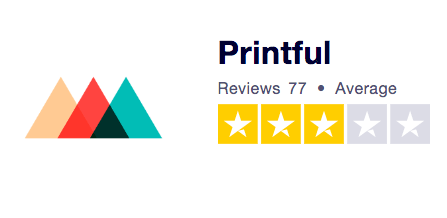 15. About T-Pop
The biggest collection of eco-responsible products for your print on demand! T-Pop is a platform that allows you to manage only your sales while they do the rest. Branded, eco-friendly packaging for all your shipping. All of their products are eco-friendly, 0% plastic delivery, all vegan ink printing, and more!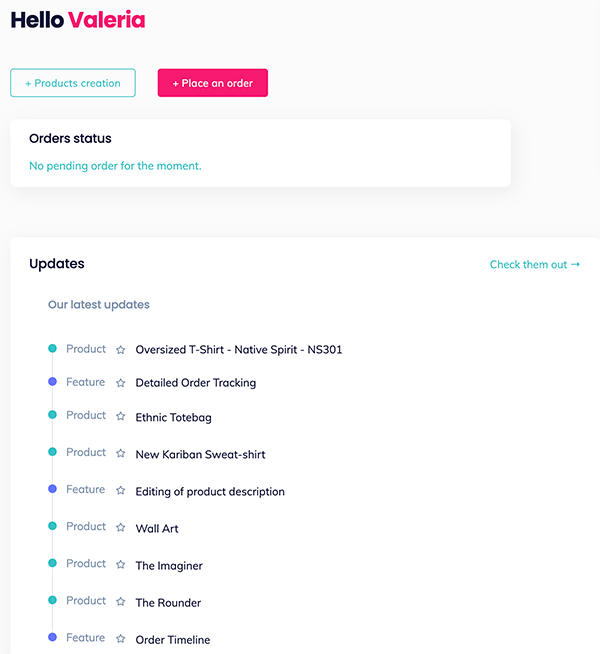 What to Expect from T-Pop's Integrations
Connect your existing shops to create your products automatically and have T-Pop process your orders. You can automatically connect to Shopify, Etsy, and WooCommerce.
Branding Options
T-Pop has tons of amazing branding features for your shipping. You get to add your own logo on the package completely for free, as well as on the packing slip. Also, add your social media for free on your slips! You can add a custom thank you note for your customers.
T-Pop sends translated slips for all foreign shipping. Finally, if you want to add some sort of flyer, coupon, or any other specialized art print, you can simply send it to them and they will add those to your shipping packages!
What Else to Know About T-Pop
They produce all their products in-house, as well as manage their own shipping.
T-Pop Profit Margin Explained
When an order is placed on T-Pop, you will be charged 12,20€ for production plus 3,44 for delivery: 15,64 €. You can calculate your profit margin by setting your price minus15.64€ on any sale.
Take a look at T-Pop's product catalog.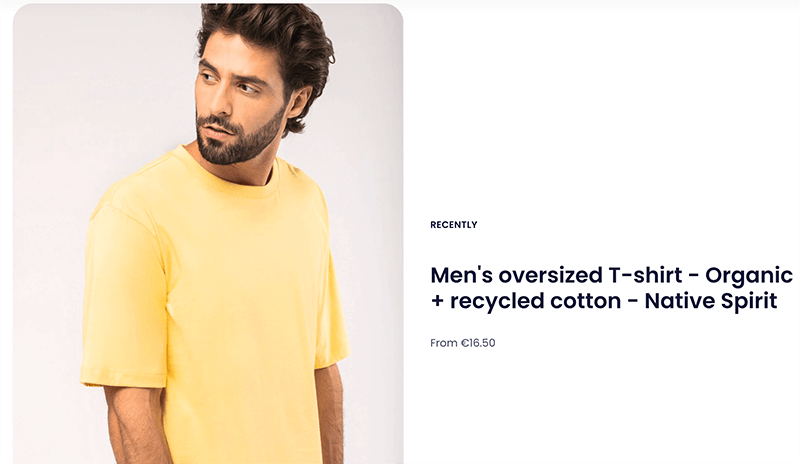 How Do You Get Paid on T-Pop?
When an order goes into production, it is automatically invoiced to you. You will receive payment instantly via Paypal, Stripe, Apple Pay, etc.
Your Invoice will be in Euros regardless of the currency on your site. You can change the currency of your products on your account preferences. Information on VAT.
Delivery Fees
Delivery costs depend on the number of products and the delivery address of the customer, they are never included in the displayed prices.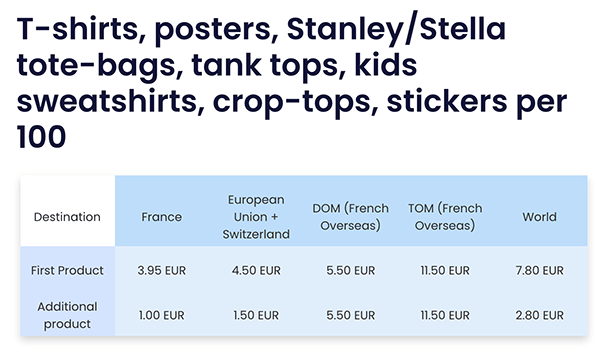 Does T-Pop Require an Initial Investment?
No! Create an account for free! Just add your designs, choose a product to sell, set your price, and voilá.

---
Now Let's Focus on T-Shirt Marketing
Even now that you know more about the best print on demand websites than the average artist does, you still need one more tool to make it big. If an artist's designs are not being successful it's most likely not because of the selling platform, but because artists are not using marketing techniques to their full potential; luckily, Placeit is here to help.
Placeit is the marketing tool to use if you are a designer or artist looking forward to selling your work online. The average artist wrongly assumes that customers will visit and browse through the mentioned best Print on Demand Websites' galleries and miraculously decide to purchase one of their t-shirt designs, WRONG!
When selling products online, visual marketing is a key element that convinces potential clients to make up their minds and complete a purchase. Here's a quick example of a realistic purchase funnel that makes sense based on real user actions.
Any given day, your customer is scrolling through social media when they stumble upon an ad featuring a design (maybe yours?) being worn by a gorgeous model.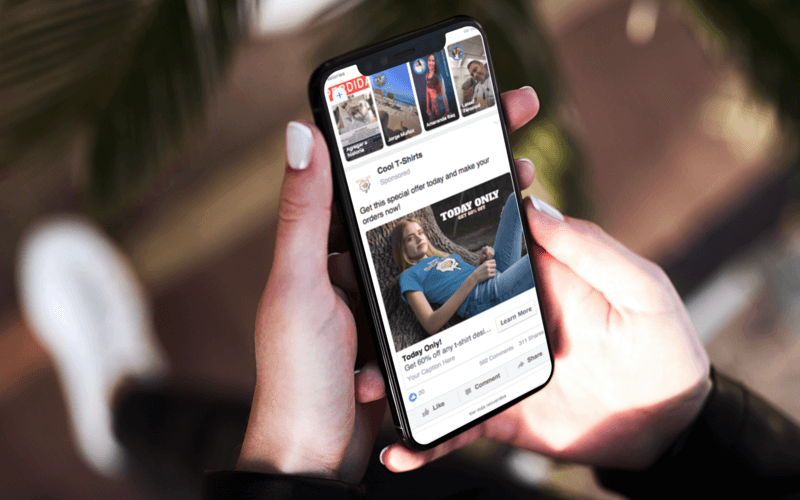 Let's take a closer look: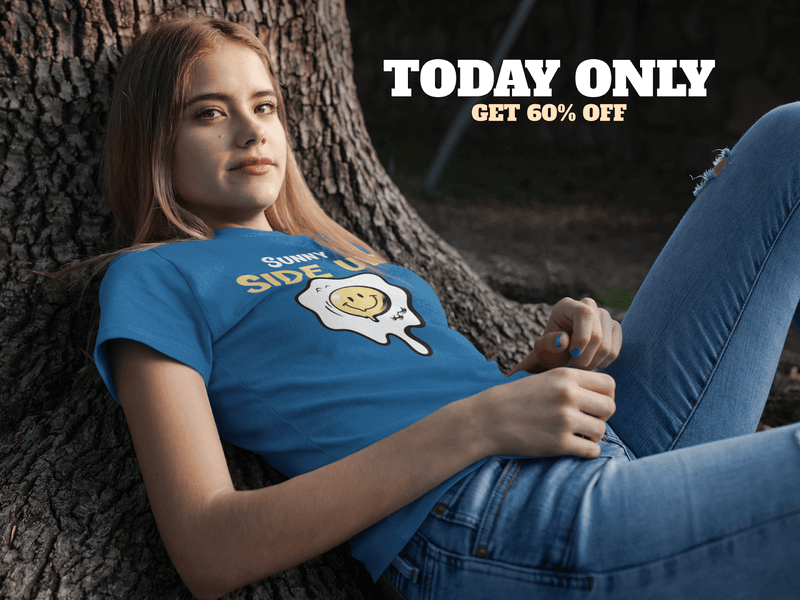 Seconds later, this person who was only going through his/her feed to get her daily dose of news content and updates from her friends, got to see your Facebook t-shirt ad and decided to take that t-shirt home. KA-CHING!
So now you might be wondering, how can I have beautiful people wearing my t-shirt designs? It's so easy it hurts. There's no need at all to arrange a photoshoot, hire a model, or spend endless hours searching for the right photo on graphic design forums, it can all be done with Placeit. After getting your design for your digital strategy, you can print it and have it physically with teemill.com
Here's a Quick Guide on How to Create Your Own T-Shirt Mockup Online to Promote Your T-Shirt Design
Note – Placeit also has a subscription that gives you unlimited access to all their mockups, so be sure to take advantage of that when you start making mockups to promote your designs!
Step 1: Find the image file of your design in your messy hard drive or on the cloud. Don't have a design yet? No problem, you can jump-start your creative process by customizing one of these t-shirt design templates or using these t-shirt design makers. Found it!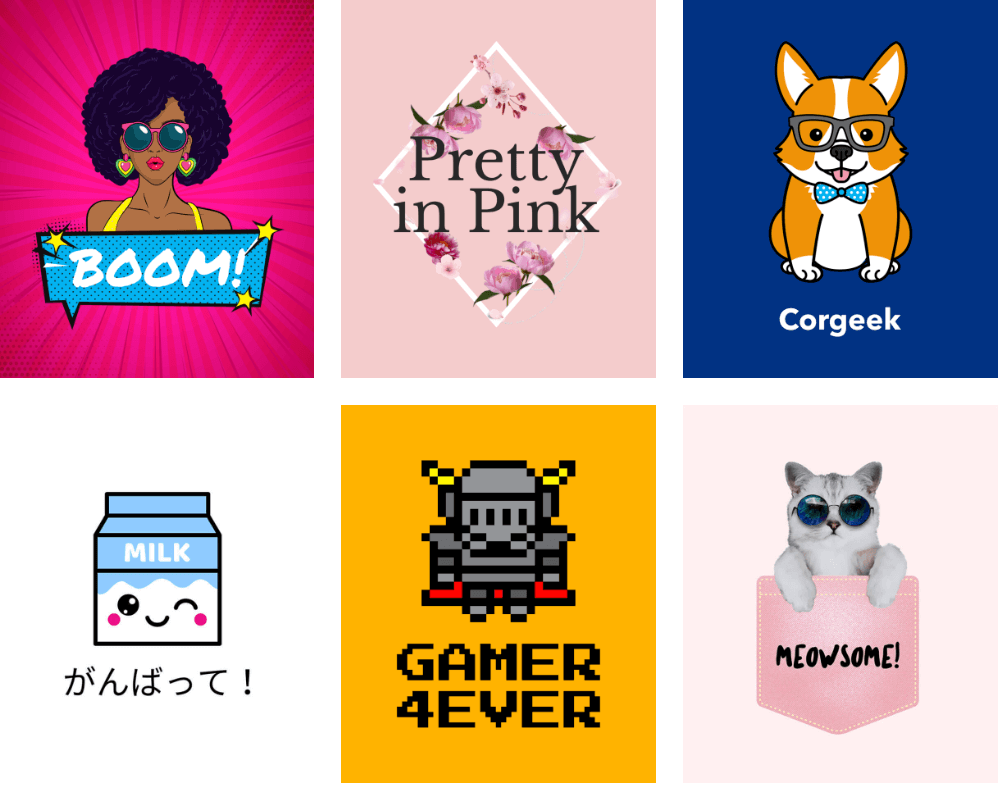 Step 2: Head to Placeit's t-shirt mockup section and find a t-shirt template that your customer will feel identified with. Use the search bar if necessary: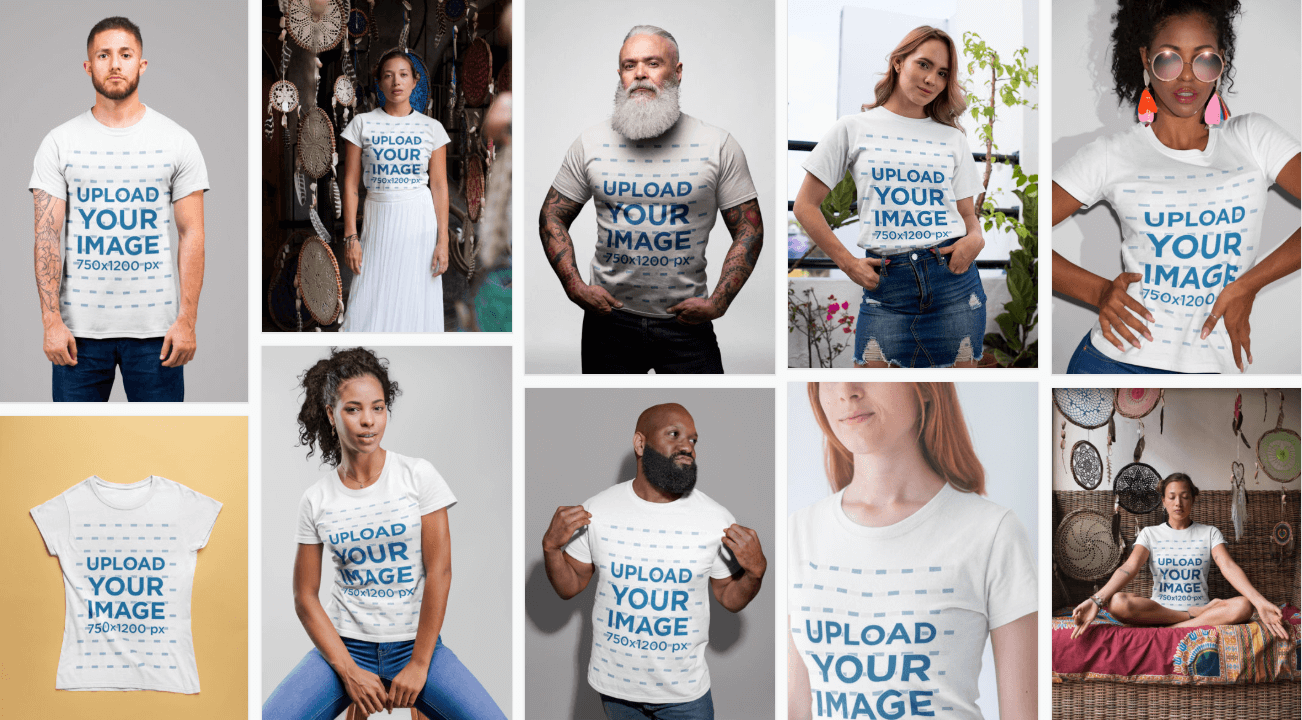 Step 3: Now upload your t-shirt design image file and edit the t-shirt's color as desired.
Step 4: Hit the download button, you're done!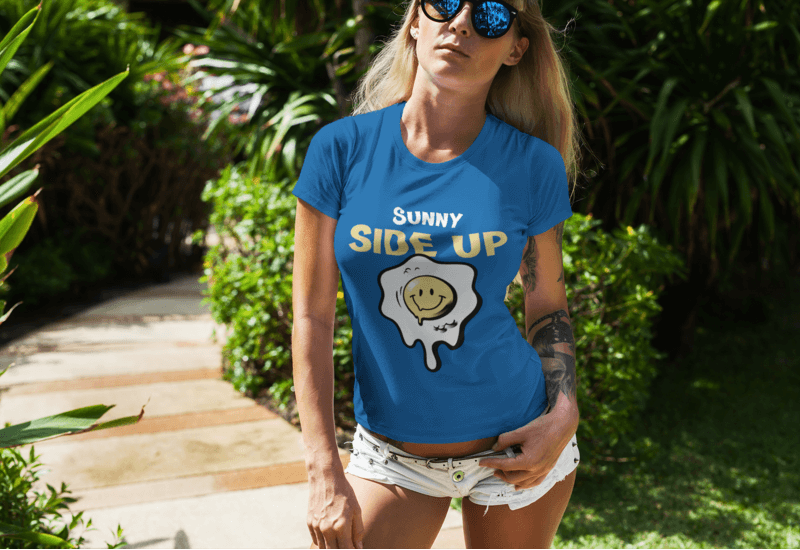 Chances are you sell more than just t-shirts, which why wouldn't you? Since these PODs offer more than just tees, it makes sense to offer other types of apparel and even art prints featuring your designs. Placeit also has art print mockups, pillow mockups, tote bag mockups, and so much more. What's even better is that if you don't find the product you want, you can request it and we'll get to work on making it come to life.
🔥 Now that you have everything you need to start selling, learn how to add your designs to your POD shop!
Need More Tips on T-Shirt Marketing?
Sharing high-quality images is a must in marketing. Attractive images make users stop scrolling down and stop to find more about something that their eyes found interesting at first glance. This is the reason why we in Placeit decided to create Facebook Ad Image Templates that you can customize with your design and persuasive copy! Best of all, it's all done from your browser, simply type in some sexy text, upload your design, hit download, and start using these images to promote your t-shirt business with Facebook Ads.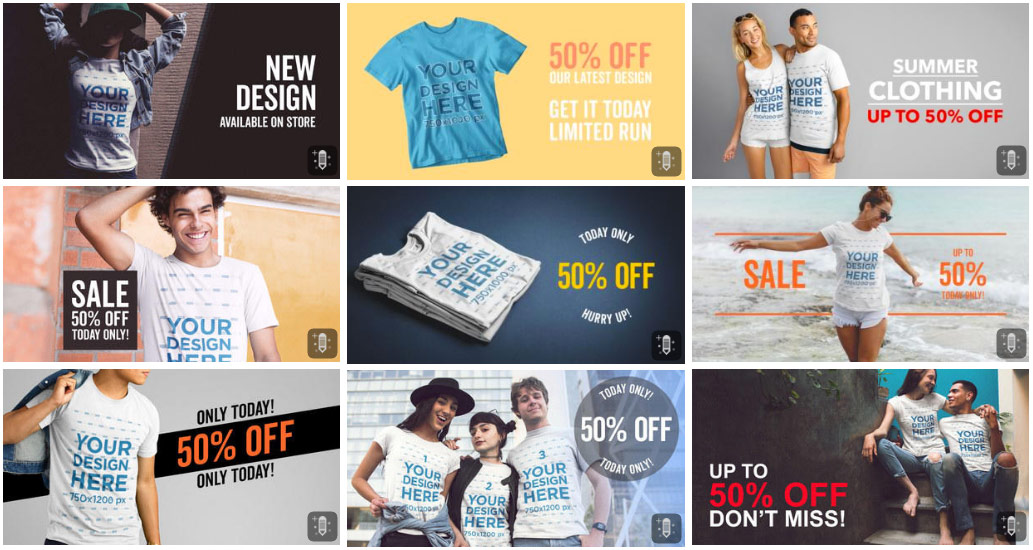 How to Create T-Shirt Video Mockups to Promote Designs
Yes, you read that right, t-shirt video mockups are a thing! Same as t-shirt mockups, t-shirt video mockups are used by savvy designers/sellers that don't have the tons of hours needed to learn how to use Adobe After Effects to create a high-definition video featuring a person wearing your design.
It's close to magic but it isn't, it's just Placeit love. Use your downloaded video on Social Media, on your website, upload it to Youtube, upload it to Instagram, your call! Go ahead and put your t-shirt design on a model walking or even jumping by clicking on the button below and see how customer engagement increases and t-shirt sales skyrocket!
Top Digital Marketing Tips to Make the Most Out of Your Designs
What is known to work best is to create designs for a specific niche. Why is this effective? Because then it's easier to target potential customers when the time to promote your designs comes. On the other side, my thoughts are that the art creation process is unexpected and even if an artist has a design in mind it can morph into something totally different, original, and way cooler like a mug, check out how to promote mugs with Placeit's Mug Mockups!
Starting a blog and doing keyword research and SEO for it is very important. The best way to drive organic traffic to a site is by writing content aimed to attract users from your target niche and eventually take them to your print-on-demand marketplace to purchase.
Social media is probably the place where your audience spends most of their time. A combination of Placeit's mockups and Social Media ads is the ultimate one-two punch combination that will make you win in this game. Learn how to make great Facebook Ads to sell more t-shirts and become an expert in Facebook Advertising to do so.
Don't forget to target your ads only to the users that you want to show your Facebook ads to and use images that move on your ads in order to spend just the money that needs to be invested. Also, don't forget about Pinterest and Instagram. These two platforms have been growing like crazy lately and time spent on these platforms has increased as well.
The best way to communicate effectively with your customers is to have a real conversation, a two-way dialogue. Commenting and sharing User-Generated-Content (UGC) is one of the best ways to create a loyal following and a community of people that truly appreciate what you do, make sure you listen to what they have to say.
After a purchase, ask your customers to rate your designs and share a picture of them wearing their brand new t-shirt, and then share it on your Social Media account! Placeit also has Social Media Image Makers that can help you boost your accounts and make communication clearer. There you go, that's the easiest way of never running out of content to publish AND at the same time show the quality of your work.
Take advantage of holidays to create special deals and promotions your existing customers will love and that will help bring in new customers. For example, Black Friday is one of the biggest shopping days of the year, so it makes sense to have a sale then. To help you make your Black Friday promotions a success, check out this Black Friday Guide for POD sellers.
I hope you've found this guide useful and that you succeed in selling your art online, be it printed on t-shirts, hoodies, kids' apparel, all sorts of merch, or art prints. I will continuously update this guide to keep it relevant and will gladly add more tips and tricks for you as I continue with my research.
If you would rather sell t-shirts offline and keep all the profit for yourself, check this article to discover where to buy blank wholesale t-shirts and this other one to figure out everything about the different t-shirt printing methods. Do you have your own website or you are planning to get one? Then you might prefer to dropship t-shirts or start your online t-shirt shop with Shopify!
Update #1: Want to learn about our experience creating and ordering t-shirts from Redbubble, Teespring, Threadless, Spreadshirt, and Society 6? Read about it here.
Update #2: Learn how t-shirts from Redbubble, Teespring, Threadless, Spreadshirt, and Society 6 fit and feel!
Best Print on Demand Websites: Last Words
So there it is! We hope you find this guide on the best print-on-demand websites useful to choose the appropriate marketplace for your business. Remember Placeit is a super useful tool to help you design and promote your print-on-demand products. If there is anything left you would like to know about any particular website, feel free to contact us!
Keep in mind that you can also sell your t-shirt designs through one of the top marketplaces around or even in your own eCommerce shop. Get to know more about these options to decide where to start your online store.
⚡️ Before you go, check out these monthly free templates from Placeit! Grab them before they're gone!
What are your thoughts? Any insight you'd like to share on what has and hasn't worked for you in the past? Leave a comment and let's start a conversation!
*In other news, take a look at this post on preparing your POD business for any contingency that may come.  Keep selling t-shirts no matter what!*
---
Find the Best Print On Demand Websites for Your Shirt Designs with Our Definitive Guide
In this blog post, we've done the legwork for you and laid out the best print on demand websites for t-shirts. Find out exactly what makes each POD site unique and how to choose which one would be best for your art. You don't need to browse around and spend hours researching, we've done that for you. Simply follow our guide to find the perfect POD service for you and your designs!
Make a T-Shirt Mockup Now!
---