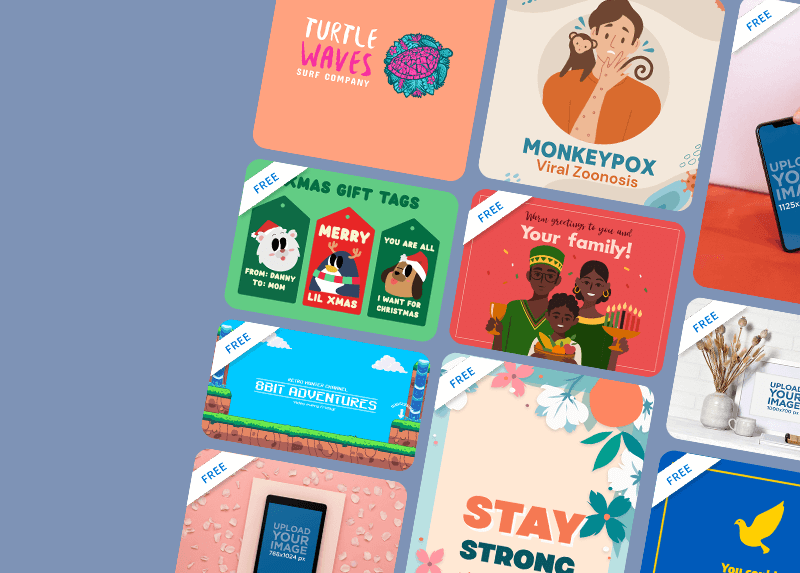 Starting a new business, no matter what it is, can really take a toll on your finances. No matter what type of business you're starting, you'll need everything from a unique logo to promotional assets to get your brand noticed. Before you know it, you've already gone over budget. Let us step in and help you get your brand off the ground with some Placeit free templates!
Palceit offers monthly free templates that range from free apparel mockups to free gaming templates and everything in between. These can help you stay on budget and experiment with your brand design until you get it just right.
To see what's free this month, keep reading!
Explore Our Free Templates By Category
Placeit by Envato's extensive collection of mockups has something for everyone. You can find templates that already match your brand or transform the templates you see with your own designs.
We have tons of apparel mockups, which are perfect for apparel retailers, whether you have your own storefront or sell through a POD platform. Find everything from t-shirt mockups to hoodie mockups and mug mockups perfect for the season.
If you're looking for print mockups to showcase your artwork, we've got you covered! Check out our collection of free art print mockups to make selling your artwork a breeze.
We also have up to date device mockups, which are perfect for showing off your design work in your portfolio or on your website. Whether you're looking for an iPad mockup, an iPhone mockup, or a MacBook mockup, we can help you get the results you want.
Check out some of our favorite free mockups of the month below:
Looking to save some money on some much needed design work? We've got your back!
This month, we've got some beautiful t-shirt designs you can use to create your next best seller.
We also have social media templates you can use to spread a positive message, share important information, or promote your brand.
Check out some of our favorite free design templates below out and let your creativity run wild:
🔥 Hey, if you're looking for some design inspo, then don't miss out on our best templates of the year collection!
If you've been wanting to start a gaming channel, this is your sign to do it! With Placeit's gaming freebies, you can save big while creating a customized channel that radiates your personality.
We've got some cool free Twitch templates, including Twitch banners, starting soon screens, and overlays you can customize straight from your browser!
You can also find some free YouTube templates to elevate your gaming channel!
Check out some of our favorite free gaming templates below:
For those of us who aren't video pros, the idea of making a video can be daunting. Luckily, Placeit's video templates make it easier than ever to create all sorts of videos straight from your browser, no additional software needed.
Why stop there? You can now make video content for social media, your website, or for anything else using our free video templates! Just add in your logo and graphics or use the ones provided, type in your text, and choose some music. Download your free video without spending a dime!
Check out some of our favorite free video templates below and start customizing them:
Still feeling intimidated by videos? Learn how to make a video with Placeit using this simple guide.
Every brand needs an eye-catching logo to set it apart from the rest. You might think you need to hire a professional designer to create your logo for you, but this can be quite pricey and you might not even get what you wanted.
Instead, create your own logo using Placeit's logo templates! We have free options you can use to design a logo all on your own. No design experience or special software is needed. Just download your design when it's ready and use it for everything!
Check out some of our favorite free logo templates of the month to get inspired:
Get These Free Placeit Templates Before the End of the Month
As you can see, we have quite a selection of freebies you can use to level up your brand, no matter what your brand's focus is. Since you can get all of these free of charge, it's worth it to give them a try, play with them a bit, and see what results you can get from them.
Feel free to use as many as you want, but don't forget that you can also get unlimited access to our entire collection of mockups, design templates, videos, and logos for one low price.
Before you go, keep in mind that these freebies change every month. If you see something you like, download it before your time runs out!
You can also bookmark this page and come back next month to see what's new in our freebies collection.
Let us know what you would like to see next month in the comments below ⤵️
FAQ - Placeit Free Templates: Grab These Freebies Before They Expire!
---
---