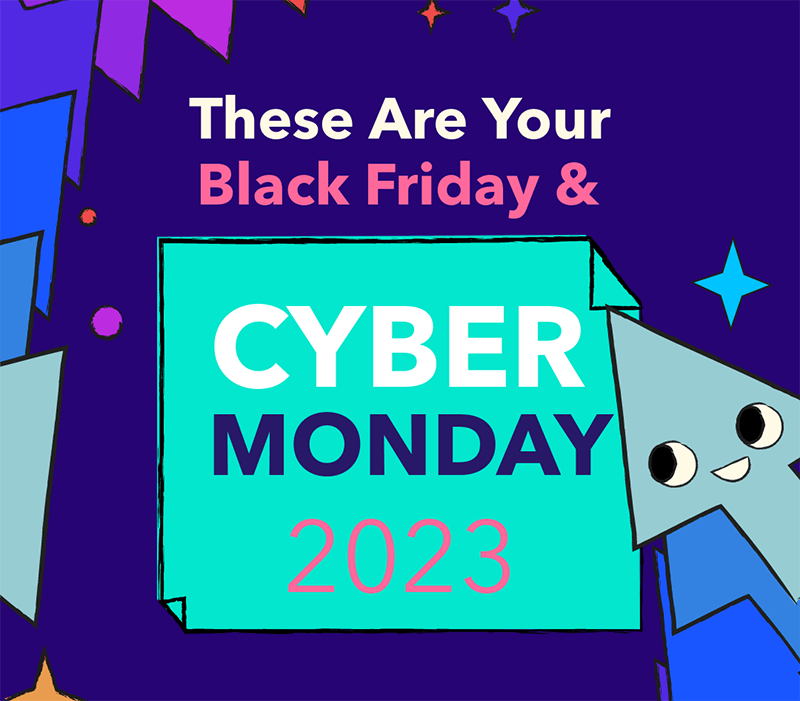 It's that time of the year once again! And we are ready again to share with you the best Black Friday and Cyber Monday Deals to get your hands on! The greatest deals on online tools, software, and more to get your business to a whole new level.
Cyber Monday breaks spending records every year and is definitely a huge day in retail calendars. Cyber Monday is a great opportunity to boost your overall brand awareness.
Let's See What You Can Do for Cyber Monday This Year:
Write a Catchy Copy. First, ensure you are giving the right message and that your words are clear enough. After you've mastered this, you add a little color to your copy by using something attractive, engaging, and clickbait! Something like "the most epic week ever, don't miss out".
You can also write a copy that creates a sense of urgency among your users. Something like "don't miss out", "this deal is about to expire", "time's running out", or using a clock counter.
You can write something that talks directly to your audience segment; for example, let's say you sell products for infants and share a message appealing only to future mothers: "The best deals for the future mommy".
Write Personal Emails. Sending personal emails has the power of a personal touch, which is always way more engaging than emails in bulk. Remember to always lead with a catchy title. Emails should also portray your campaign designs.
Add as many products to click on as you need to make it easier for the buyer. You can even offer a different coupon only for your email users.
Offer a Pre-Sale. You can make the most out of your Cyber Monday deals by offering pre-sale or early deals.
Creative Engaging Visuals. There are many ways you might go with your visuals. You can try something that is simplistic, bold, or elegant. You may use unconventional layouts or classic promo styles that have proven to work every time. No matter what you choose to style your campaign with, keep consistency among all your assets.
Run Ads. Prepare some eye-catching ads to promote your campaign.
Make a Landing Page for Your Sale. You can update all your relevant information on this page every year. You can even promote your pre-sale here. Highlight when the deal expires to create that sense of urgency.
🔥​ Make sure your hosting provider keeps your website fast loading even with high loads of users and mobile too. Prepare your shop for the increase in traffic these days! 
Create Custom Gift Cards. This is a great opportunity to offer some stunning designed gift cards to invite your customers to use their discounts.
Make a Social Media Campaign. We can't ignore the power of social media! it is a great tool to promote your campaigns. Social media allows brands to show their human side with casual videos, livestreams, and more.
🤑✨ Need more tips on how to make your campaigns? Dive into our Tips by Placeit Experts: Black Friday and Cyber Monday
Best Black Friday & Cyber Monday Deals!
1. Placeit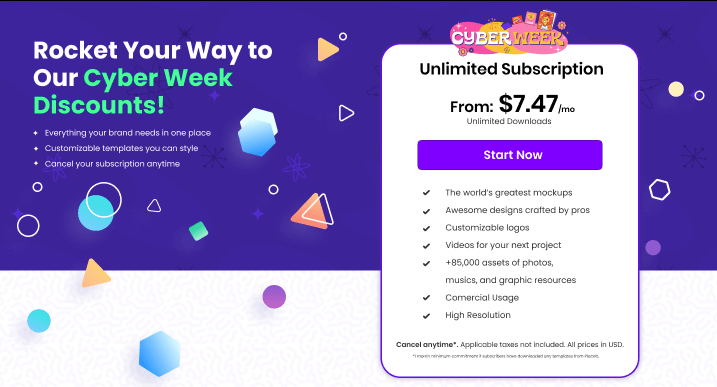 This year Placeit is offering deals for the whole cyber week!
50% off to active annual subscribers – Annual subscription renewals.

November 20th – 27th 
25% off to new users/visitors and monthly subscribers – Annual subscription. November 24th – 27th
You can also promote your own Cyber Monday deals using Placeit's Cyber Monday templates for Cyber Monday flyers, Cyber Monday images, Cyber Monday banners, Coupons, and much more!
2. Chanty

Chanty is an all-in-one team collaboration platform for remote and onsite business teams of all sizes. Chanty offers unlimited searchable messaging, audio, and video calls with screen sharing, task management with the Kanban board, and voice messaging to communicate on the go.
Chanty offers the following deals for Black Friday 2023:
Deal Details:
40% off the annual plan

20% off the monthly plan
🗓️ Offer Validity:  November 6 – December 3
3. Woorise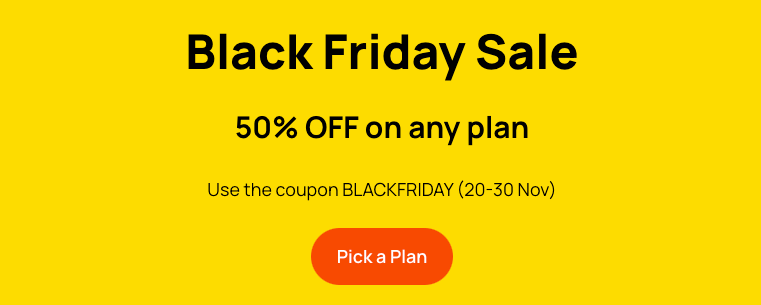 Woorise is an all-in-one lead generation and marketing platform that allows you to create a wide range of interactive campaigns, such as landing pages, forms, surveys, quizzes, viral giveaways & contests, accept payments, and more. Thus, you can reach your goals from a single platform.
Deal Details:
50% OFF on all plans using the coupon BLACKFRIDAY
🗓️ Offer Validity: available from November 20 – 30.
4. Enthu.AI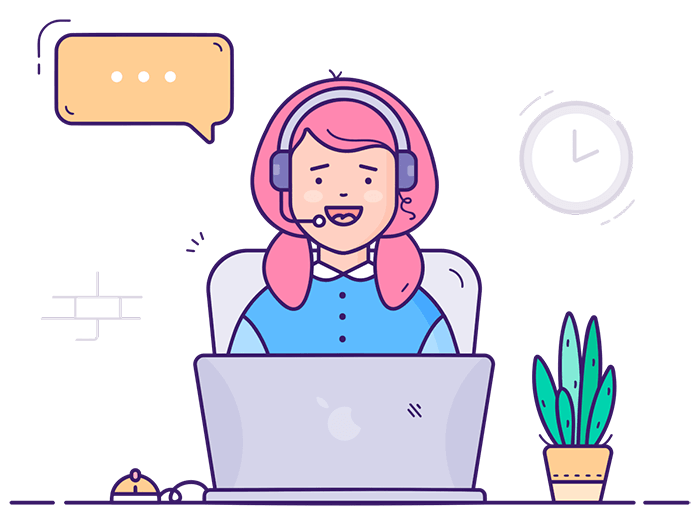 Enthu.AI helps customer-facing teams improve the quality of their customer experience delivery through faster and better agent monitoring, evaluation and coaching by leveraging Speech AI. Enthu.AI automatically surfaces opportunity areas personalized for each agent so that supervisors can focus on delivering coaching rather than listening to calls minute by minute.
5. BreadnBeyond

Breadnbeyond is an award-winning explainer video company specializing in producing animated explainer videos. We create engaging animated explainer videos that help you introduce your brand, product, or service to the world – all from scratch, with no template.
Don't worry about premium price tags. We have the best value for money in the explainer video industry. Hundreds of startups and large corporations from 26 countries that speak 14 different languages have trusted us for a total of more than 3,000 animated explainer videos.
6. Internxt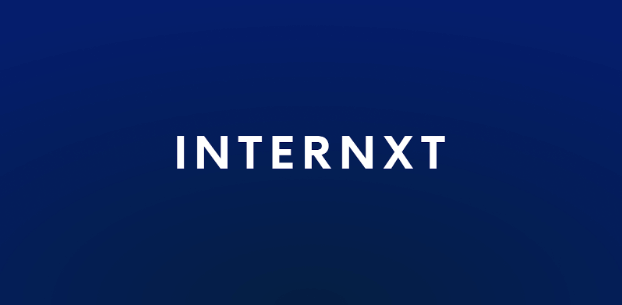 Internxt is an open-source cloud storage provider designed to put users first and protect clients' data privacy and safety.
Internxt users get access to Internxt Drive, Photos, and Send. All three services work together to empower users to store, share, and back up large files and photos securely. On top of their primary services, Internxt also offers free privacy tools: Temporary email, Password Generator, Virus Scanner, Password Checker, and Byte Converter.
Deal Details:
91% off the annual plans
🗓️ Offer Validity: November 13 – November 30, 2023
7. MySignature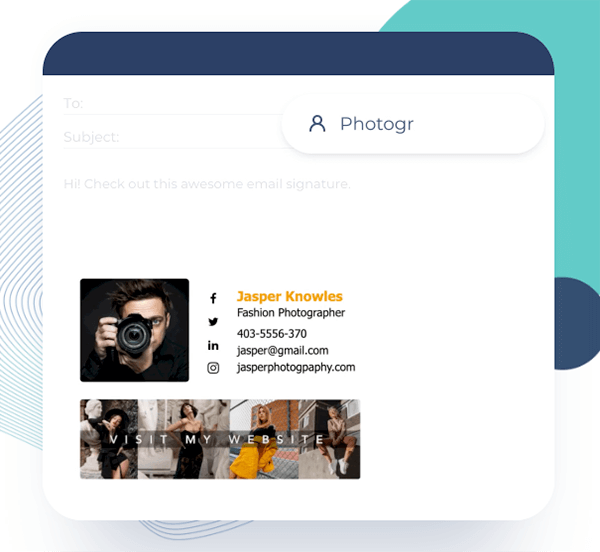 MySignature is an all-in-one email signature and email tracking platform. It allows you to easily create professional email signatures and make your business emails stand out from the crowd. 
With MySignature, you can build brand recognition by turning yourself and your team into brand ambassadors. Embedding a unique email signature will help you advertise the products or services in a more efficient way.
Increase brand awareness, create trust, and boost credibility by creating personalized email signatures with your logo/photo, banner, contact information, links to social profiles, and calls-to-action. 
With MySignature you can:
Easily generate your email signature

that meets branding requirements

Use professionally designed email signature templates and customize them

Add a logo, photo, or banner to make customers trust your brand

Add social media icons or CTA buttons to drive traffic to your page

Manage all email signatures in your Dashboard

Track your email opens and link clicks with no limit
8. Newoldstamp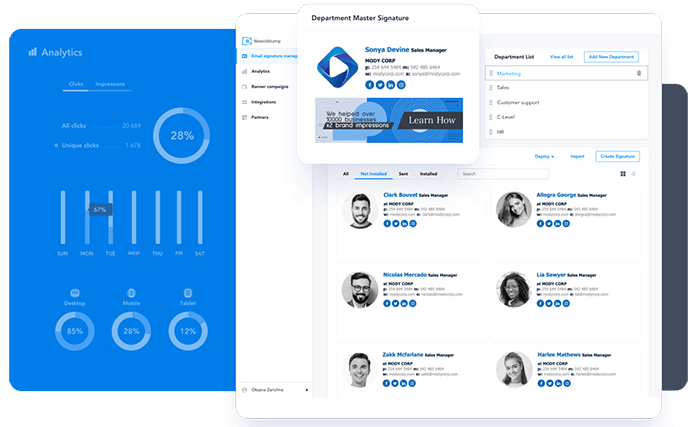 Newoldstamp is the leading email signature management platform that enables businesses to create, customize, and deploy brand-consistent signatures across the entire company. 
A well-crafted standardized email signature can help you promote your products or services to the right audience and create thousands of sales opportunities daily.
Newoldstamp turns emails into a powerful marketing tool. It allows you to drive traffic to your website, generate leads, upsell products, and announce online and offline events by adding clickable links, beautiful banners with CTAs, and interactive buttons to your email signature. 
This email signature software offers seamless integrations with Google Workspace, Exchange, and Microsoft 365. Use Newoldstamp to create an online email signature that will look awesome on most email clients (like Gmail, Outlook, Apple Mail, iOS, and Thunderbird, to name a few) and all devices. 
9. Typedream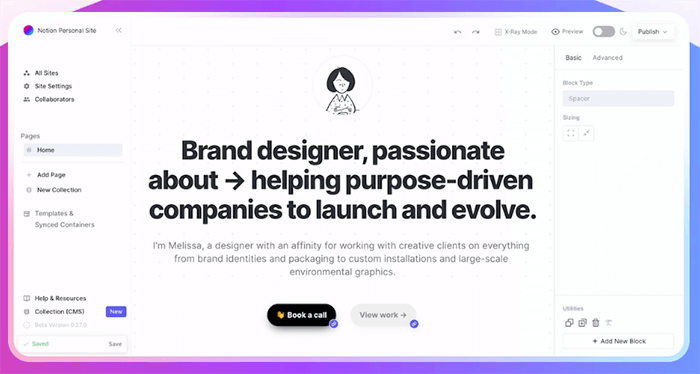 Typedream is a no-code website builder with a Notion-like interface. We allow people with no coding skills to build websites in under 10 minutes with our friendly user interface (similar to Google Docs or Microsoft Word), beautiful design defaults (cards, gradients, and more), and a vast selection of templates. Typedream is built by Silicon Valley founders who are a part of Y Combinator and Forbes 30 Under 30. 
10. Salesflare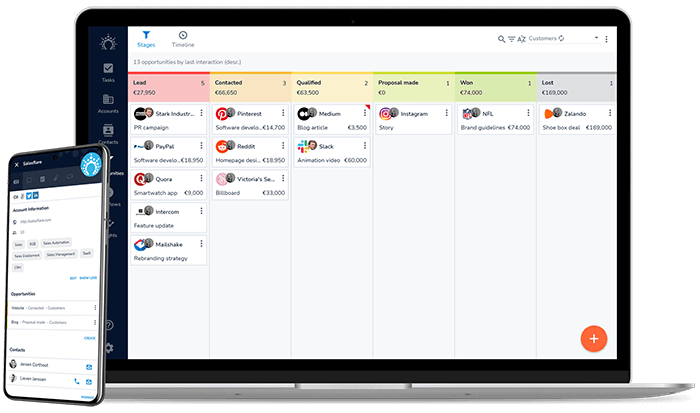 Salesflare is an intelligent sales CRM for small and medium-sized businesses selling B2B. It's super easy to use, plus it automatically tracks all about your customers through its deep integrations with Gmail, Outlook, and LinkedIn, … and automatically enriches your customer data with email signatures and publicly available information. On the Pro plan, Salesflare additionally allows you to send email sequences, find 500 email addresses per month (including from its LinkedIn sidebar), build custom dashboards, and set team permissions.
11. Bulk.ly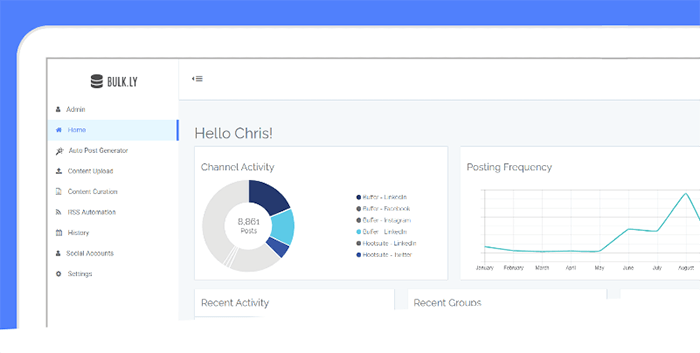 Bulky will eliminate the process of spending hours each week copying and pasting your evergreen updates to social media. Set them up once, and have your posts rotated automatically for you with Bulkly.
There are various ways to add content to Bulkly. Among them are CSV uploads, importing from Buffer, using RSS feeds, and more.
Perhaps the biggest time-saving offered is the ability to automatically create multiple social media updates from a single blog post URL. Simply paste in your blog link, and Bulkly will recommend dozens of updates for you to use.
Features of Bulkly
Schedule & recycle social media updates in bulk

Create dozens of status updates from a single URL – automatically

Works with Buffer, Hootsuite, Facebook, Instagram, LinkedIn & Twitter

Randomize the order updates are sent

Avoid sending the same post too soon

Schedule your updates to drip to your social media accounts multiple times per hour, day, or week.

Create schedules that start and stop on certain dates

Organize your updates into groups with unique schedules and settings
Deal Details:
12. Salesblink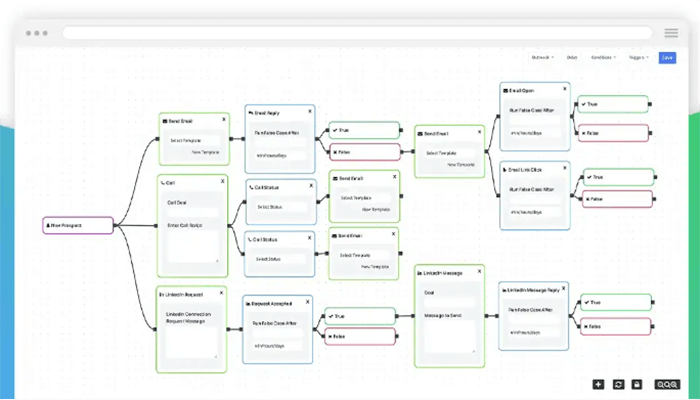 SalesBlink is a sales outreach automation suite using which you can search for prospects, put your cold outreach sequences on autopilot, and maintain and manage pipelines and prospects.
It is a full-stack cold outreach platform that can take you through prospecting to outreach to closing on full throttle. It is a fully loaded package for multi-channel cold outreach clubbed automation with generating and managing leads.
Deal Details:
13. Groupboss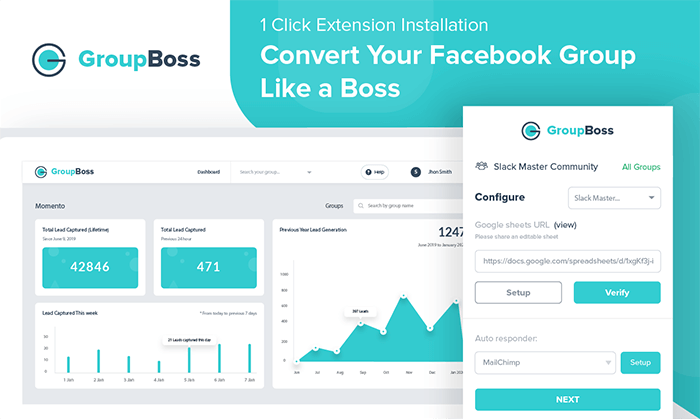 Groupboss is a Facebook group automation software that helps group owners generate unlimited leads. Using this tool, any group owner will be able to collect the answers to the Facebook group questions asked to the new members with a single click. It has direct integrations with popular email marketing autoresponders like Mailchimp, Lemlist,Snov.io, GetResponse Activecampaign, Convertkit, SendFox, Moosend, Mailerlite, Sendgrid, Sendinblue, Klaviyo, Hyros, GoHighLevel, Drip, and many more integrations will be added.
15. Email List Validation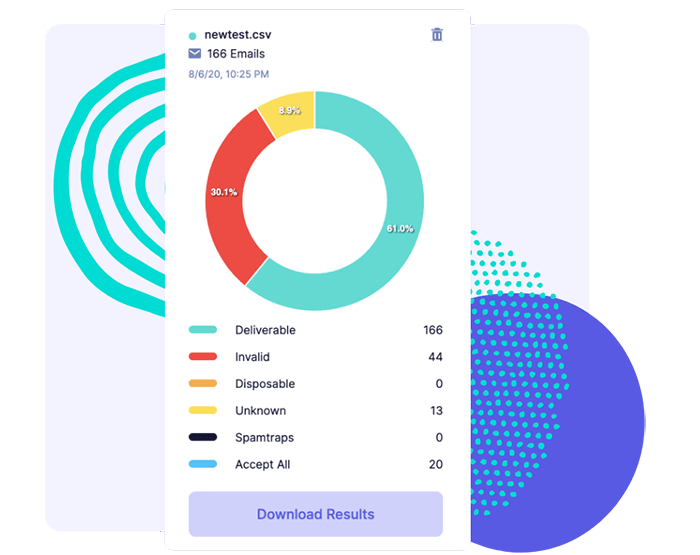 A reliable, 99% accurate, and affordable email validation to ensure your emails get delivered to the right inbox. Protect your email campaigns from toxic emails, verify emails in real-time, clean your list automatically, and sync with Mailchimp, Hubspot, ActiveCampaign, Mailerlite, and more.
16. EasySendy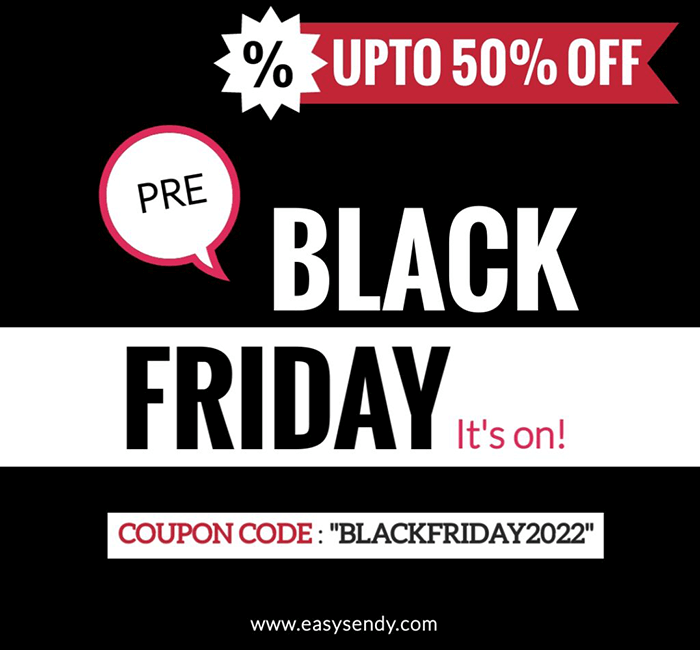 EasySendy is an internet marketing platform designed for small businesses. With EasySendy, you can launch various campaigns to engage with your subscribers, like emails, SMS, Facebook messenger, and social campaigns for all major social media platforms, including automated drip email campaigns.
By availing of this offer on the Annual EasySendy plan, you get to explore these features:
Multiple Email Verification API integrations

Automatic Email Warm-up for Email Delivery API Platforms

Add Team-mates inside EasySendy Pro sub-accounts

Role and Permission of EasySendy Pro sub-accounts

Brand New Email Template Builder for Email Design

Design and Launch Drip Email Campaigns

View the history of the public campaign for a list

Activate Dark and Light Mode for the EasySendy Pro account

A/B Testing for Email Autoresponder

DMARC record suggestion for sending domains

New Tags [SUBSCRIBE_URL] and [SUBSCRIBE_LINK]

Default SMTP integration available for direct email delivery

EasySendy Drip is part of EasySendy Pro 2.0
Deal Details:
17. Woosuite

Woosuite Wholesale enables you to generate WooCommerce wholesale registration and login pages that can be automated with approval or rejection emails. It allows tax exemptions, as well as dynamic shipping rules to cater to each user group. 
With WooCommerce Wholesale Suite, you can easily control and manage stock levels, set minimum, maximum, quantity breaks, and quantity increments by product, wholesale level, and more. In addition to this, store owners have the ability to enable or disable payment methods depending on who is going through the checkout, and you can also create a customized Wholesale registration form to collect extra information, such as a business incorporation certificate and tax number. 
Deal Details:
18. Narrato
Narrato is not your average AI content creation tool. It goes above and beyond, offering a complete workspace equipped with a wide range of AI and automation tools. With Narrato, crafting exceptional content effortlessly and collaboratively has never been easier.
By leveraging Narrato's AI and automation capabilities, you can seamlessly generate ideas, create captivating content, collaborate with others, and publish your work all within a single platform. The best part? Narrato accelerates content production by up to 5-10 times, saving valuable time and resources.
Features:
Here's what you can expect when using Narrato:
1) A diverse collection of over 100 AI tools and templates designed to assist you with content creation, planning, optimization, SEO, and repurposing. Additionally, you have the option to tailor your own custom AI templates, empowering you to create content that truly resonates with your audience.
2) Meet Narrato's AI Content Genie – the ultimate content marketing assistant. By simply providing your desired themes (and optionally, your website URL), the AI Autopilot will automatically generate weekly social posts and blogs, taking your content marketing to new heights.
3) Enjoy a complete content creation, collaboration, and management workspace. From effortlessly managing freelance creators and agencies to coordinating with other stakeholders, Narrato has you covered every step of the way.
4) Elevate your content with AI-generated images and gain access to a vast library of royalty-free images and gifs. It's never been easier to find and incorporate visuals that perfectly complement your message.
5) Seamlessly publish and schedule your content on popular platforms such as WordPress, Webflow, LinkedIn, Facebook, and Instagram. Should you need to integrate with other platforms, Narrato offers Zapier and API support for a truly smooth experience.
6) Tailor your content workflows, templates, and automation features to suit your specific needs. Narrato ensures utmost flexibility, allowing you to create a personalized and efficient content creation process.
Deal Details:
30% off for your first year on Narrato Workspace
🗓️ Offer Validity: Nov19th – Dec 3rd
🎟️ Coupon/Promo Code: BFCM23NRT
19. Sender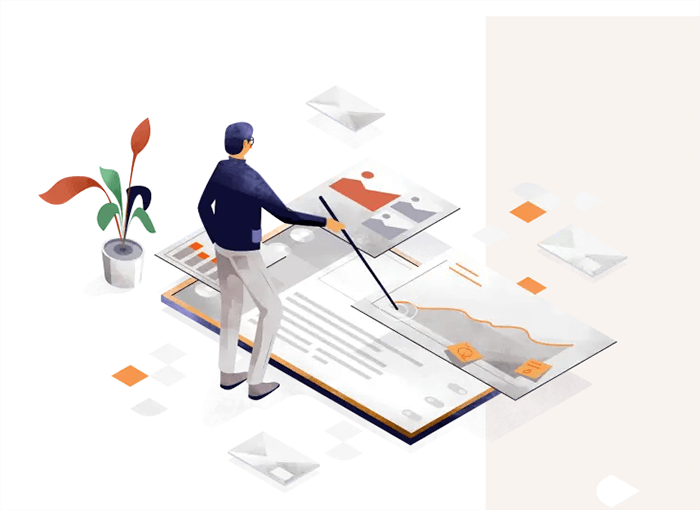 Sender is a great email & SMS tool if you're looking to skyrocket your sales without breaking the bank. The super affordable yet powerful software has everything you need: marketing automation for easier and more effective processes, popups & forms for lead generation, drag-and-drop email builder with tons of pre-made templates so you won't need a designer and much more!
Deal Details:
20. Whatagraph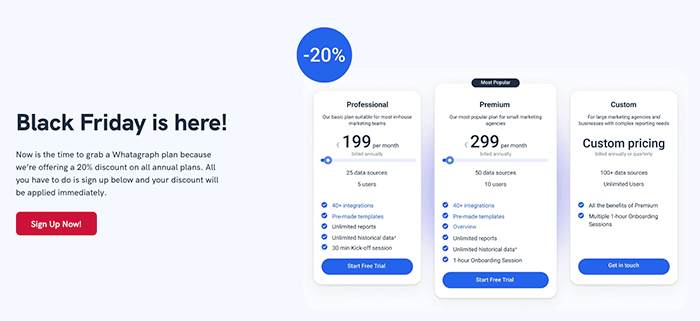 Whatagraph is a marketing data platform that marketers use to connect scattered marketing sources, easily turn siloed data into insightful marketing reports, and automate how they are shared.
Connect any marketing source with 45+ native integrations, Custom API, or spreadsheets. Create stunning marketing reports in minutes using drag-and-drop builder. And it's fully customizable with cross-channel widgets, filtering, and custom calculations. Anything you create can be saved as a template, reused, and edited at once + easy-to-set-up data transfers to Google BigQuery available.
You're a click away from faster and more efficient marketing data processes!
Deal Details:
Offering 20% off all first-year plans, 20% off on add-ons, and 20% on existing plan scale-ups.
🗓️ Offer Validity: November 14 – November 30
🎟️ Coupon/Promo Code: BF2023
21. Brand24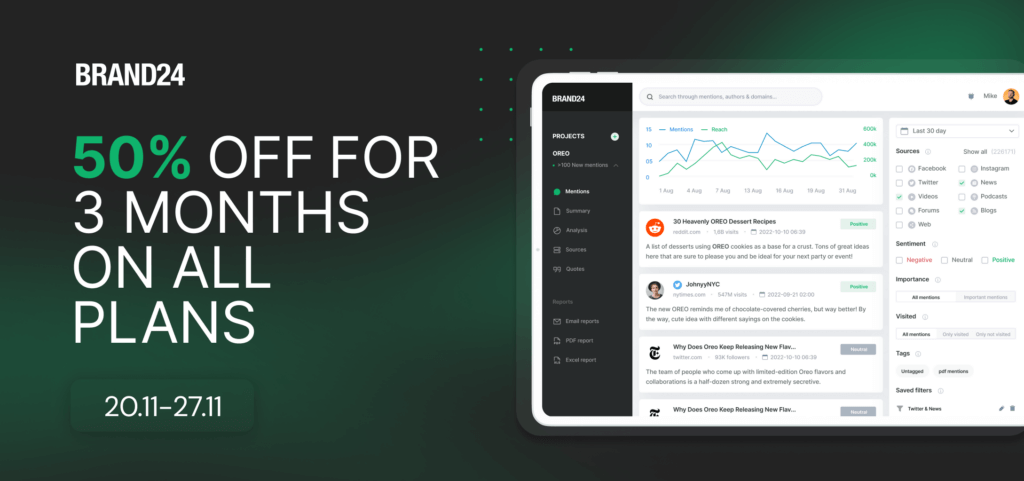 Brand24 is an AI-powered social media monitoring tool that helps businesses of all sizes stay updated on online conversations about their brands, products, and competitors. With Brand24, users can gain customer insights, engage with communities, find sales leads, improve customer service, connect with influencers, and monitor competition. This affordable tool is perfect for managing online reputation and tracking marketing campaigns.
Deal Details:
50% off any plan for 3 months
🗓️ Offer Validity: November 20-27
Coupon/Promo Code: No promo code is needed. The discount will be applied automatically.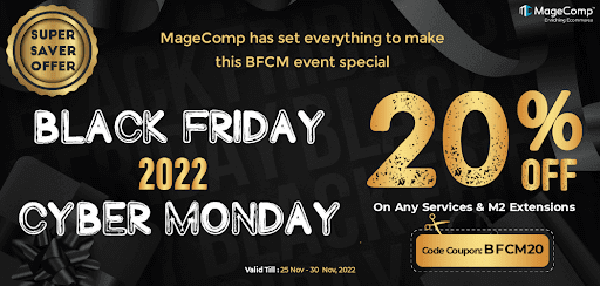 MageComp's Magento 2 Mobile App Builder has the capacity to transform your eCommerce store into a working mobile app in no time! It's a robust solution for merchants to launch eCommerce mobile apps on Android & Apple mobile devices. The Magento 2 Mobile App Builder has plenty of features, such as a brand slider, push notifications, payment gateway methods, shipping methods, social login, coupon codes & all Magento product types supported.
Don't overlook this chance to grow your business with this amazing mobile app that grows golden apples for you!
Deal Details:
Get up to 20% off on any Magento 2 extensions & on Magento services. Valid from 25 Nov to 30 Nov 2022.
23. Document360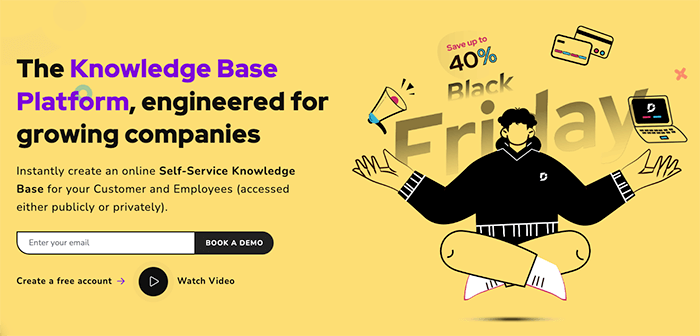 Document360 is SaaS knowledge base software that helps you to create an internal knowledge base for your employees and a self-service knowledge base for your customers (available publicly or privately) with powerful AI-based search. It comes with a Rich Editor (Markdown & WYSIWYG editor), Category Manager, Version control, Private Hosting, SSO, Backup & restore, etc. 
Easy-to-configure capabilities allow you to create User guides, Internal Wikis, FAQs, Standard Operating Procedures, User manuals, etc. It offers a variety of integrations such as Intercom, Microsoft Teams, Slack, Freshdesk, Zendesk, Zapier, and many more. 
24. Formidable Forms
Formidable Forms is the most advanced form builder for WordPress! And, for a short time, you can get up to 65% off!
25. NetHunt CRM
NetHunt CRM is a sales automation tool for sales and marketing teams. It's natively integrated with Gmail and LinkedIn. Organize the customer base, build a pipeline to see where the deals are stuck, automate processes, and create forecasts you can trust.  
26.
Heights Platform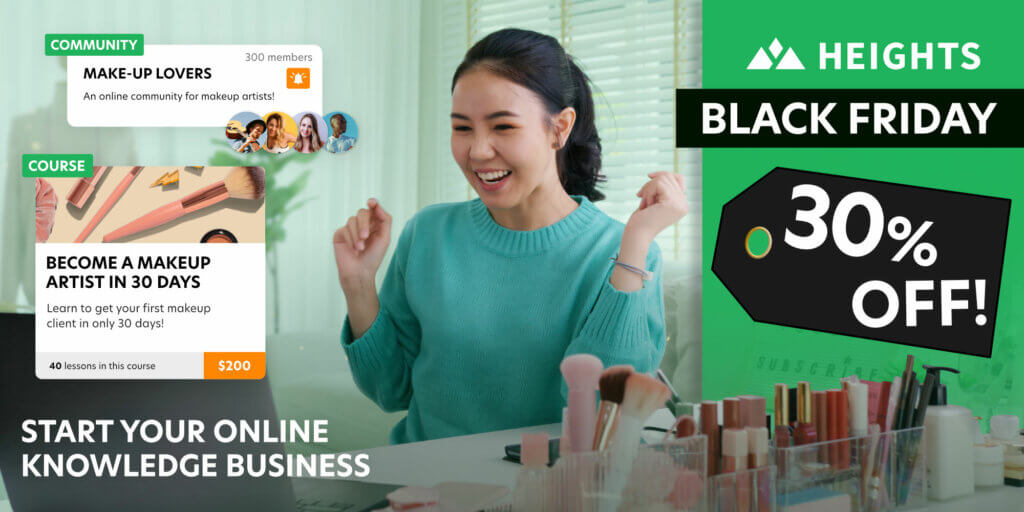 Heights Platform is a customizable, all-in-one online course platform that helps you create, manage, and sell your courses online.
Deal Details:
27. Poptin: Exit Intent, Pop-Ups, and Contact Forms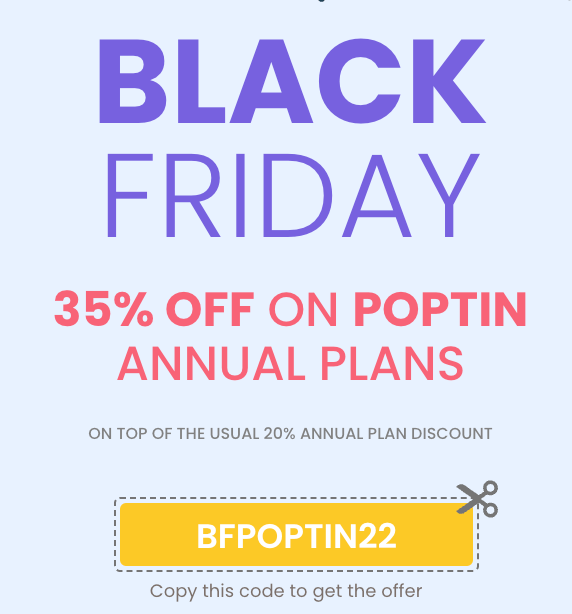 A short, unique description of your product and offer: Create engaging smart pop-ups and email contact forms with Poptin, now 35% OFF on annual plans. Enjoy tons of conversion optimization features and tools, such as exit intent technology, responsive templates, triggers, targeting rules, analytics, and more. Boost your sales, reduce cart abandonment, and drive more subscribers and leads with Poptin.
Deal Details:
28. Premio WordPress Plugins
Boost your Black Friday sales and leads with light and intuitive Premio WordPress plugins. You're sure to get the best of your website conversions with these plugins that are up for grabs – for 40% OFF! This includes Chaty, My Sticky Elements, Folders, My Sticky Menu, Coupon X, Stars Testimonials, and Subscribe Forms. All these plugins by Premio are made to help you boost website conversion, increase sales, drive email signups, improve customer support, and more.
29. Getresponse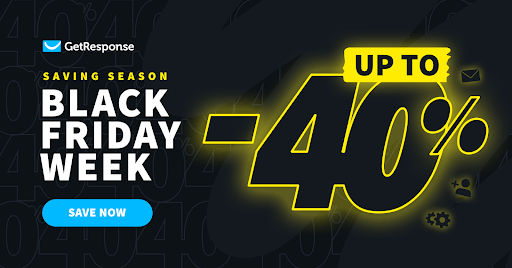 GetResponse is scalable email marketing software at its core. Plus, proven online marketing tools and seamless eCommerce integrations are designed for growing businesses to communicate better online, all synchronized through marketing automation.
30. Wisepops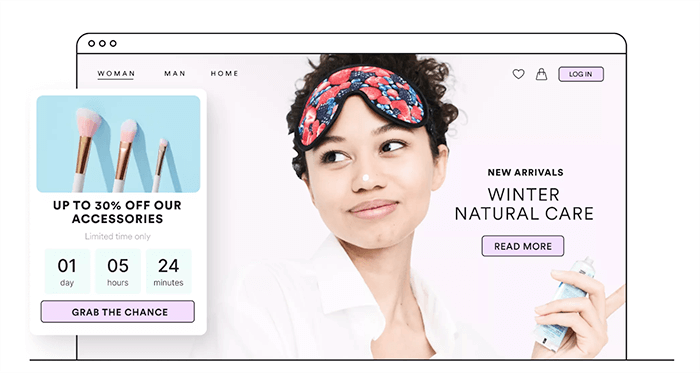 Wisepops is the first onsite marketing platform to engage, convert, and retain people who matter most: your website visitors. Your website visitors. 
Wisepops offers an end-to-end platform to help all types of online brands deliver a personalized experience to their visitors through multiple formats: popups, bars, embeds, and notifications feeds. 
Wisepops powers 2,000 brands in 53 countries which deliver 2Bn personalized onsite messages each year. Brands like Asphalte, Unilever, Decathlon, Heineken, and Jaguar use Wisepops to build a brand connection and convert their connections into loyal customers.
Deal Details:
31. Social Champ
Social Champ is a social media management tool that supports all major platforms and provides automation solutions for enterprises of all sizes! You can create, edit, design, schedule, track, and monitor all social media posts with multiple amazing features within the tool.
32. Snov.io

Known as a multifunctional platform for email outreach, Snov.io boasts of a remarkable email drip campaigns tool, which allows you to set up an SMTP account in minutes and send highly personalized email sequences in bulk. Recently, the service has added a new feature, Email Warmup, to help you prepare your account for sending targeted emails and keeping your email deliverability high. 
Black Friday is upon us, and Snov.io once again spoils us with their best offer of the year – an unbelievable 50% off all annual plans! Grab yours while it's still available.
Wondering what Snov.io can do for your business? Only optimize all your sales processes to boost both your revenue and productivity! Snov.io does it all: finds high-quality leads, automates outreach and follow-ups, warms up your email, and manages sales in a simple CRM, all within one platform. With raving reviews from G2 and over 5,000 five-star reviews on their Chrome extensions, Snov.io is a must-have in any sales pro's arsenal.
Deal details:
50% off on the annual plan
🗓️ Offer Validity: November 20th – December 1st
Coupon/Promo Code: BLACKFRIDAY23
33. Ntask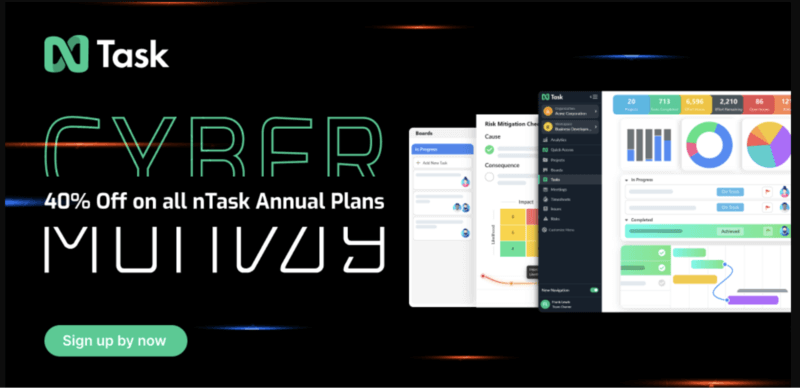 nTask is an all-in-one task and project management tool that helps individuals and teams get work done with productivity.
The app has all the features to help users manage, organize, collaborate, and set project deadlines. nTask gives features such as Gantt charts, task management, to-do list, project management, meeting management, issue tracking, and risk management.
Deal details:
Last Words
Cyber Monday is one of the biggest retail events for online shops. So should you promote on this day too? Definitely! Remember that what you add to your campaign, messaging, designs, and more are just as important as the deal you offer.
Hopefully, you find these deals useful! Share these deals with your friends and help them out, too.
Want to learn how to promote your own business for Black Friday? You might want to check out our Ultimate Black Friday Guide for POD Sellers or check out our It's Not Too Late to Advertise for Black Friday! 
Got any comments? Drop a line for us!
FAQ
What Is Black Friday?
The American Philatelist magazine introduced this term in print for the first time in 1966, and in the next 10 years, it spread across the nation, referred to as a festive sales boost. Retailers apply Black Friday ads and flyers and trigger their marketing campaigns to offer their deals.
When Is Black Friday?
Black Friday falls on the day after Thanksgiving weekend and launches the Christmas shopping season. Black Friday ads commonly start coming out 2 weeks before the event.
What Is Cyber Monday?
The term Cyber Monday was introduced by the US National Retail Federation and Shop.org. It is the biggest online sales event. One of the most popular sources for Cyber Monday sales is CyberModay.com, which provides over 800 online retailers.
When Is Cyber Monday?
Cyber Monday's date changes every year, but every time it falls on the Monday after Black Friday. You can expect this year's Cyber Monday on November 28.
---
---