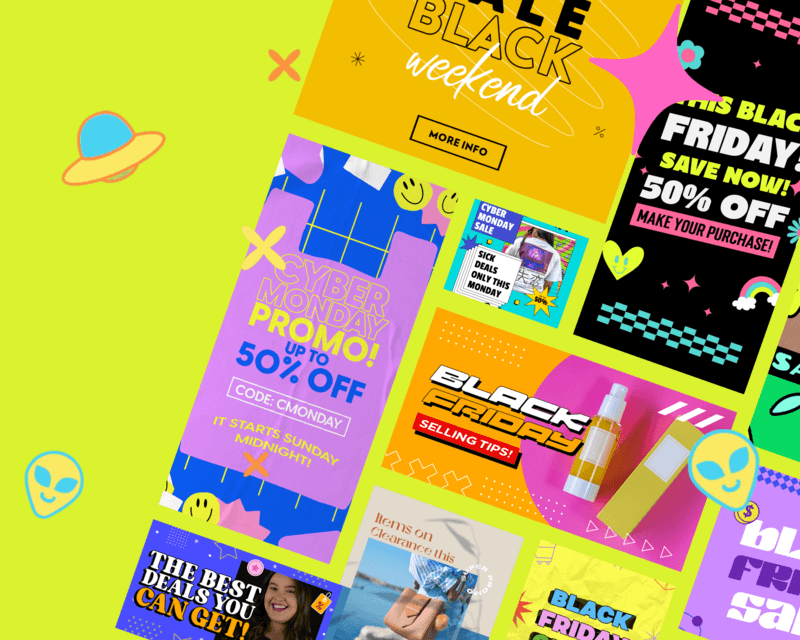 We're still a few weeks away from the major e-commerce events. These occur in November, which becomes an exciting month for consumers eagerly anticipating irresistible discounts during Black Friday and Cyber Monday. This season offers businesses worldwide a golden opportunity to significantly enhance their website traffic and sales.
In this guide, we'll fully explore Black Friday and Cyber Monday and provide expert tips from our talented and experienced marketing team to help you maximize your sales this year. Whether you're a beginner or a seasoned ecommerce business, our strategies for Black Friday and Cyber Monday will equip you to craft effective e-commerce campaigns. So, let's start!
⚡Jump Ahead to What You Need to Know:
Black Friday vs. Cyber Monday: 101
Before we dive into powerful and invincible strategies, it's important to have some context to fully understand these two major events that mark the beginning of the holiday shopping season. Let's clarify that these are not competing events; they can complement each other quite effectively. So, without further ado, let's start with the basics.
Black Friday
What Is Black Friday?
This day officially marks the beginning of the holiday season. Black Friday is a day known worldwide for its incredible discounts and deals on a wide range of products. 
On this day, numerous businesses can expect an increase in traffic as everyone eagerly anticipates this event and is ready to spend generously on holiday gifts due to the irresistible deals. Consequently, commercial establishments often break sales records, and even some websites may experience crashes.
It's important to clarify that Black Friday was originally associated with physical stores, but in recent times, it has become a significant event for both physical and digital retailers.
😉⭐ Don't miss out this Ultimate Black Friday Guide for POD Sellers
When Is Black Friday and How Long Does It Last?
It takes place on the last Friday of November, falling on November 24th, 2023, and it only lasts 24 hours. Nevertheless, it often extends through the weekend and even to Monday, earning the "Cyber Monday" designation.
Black Friday History
It all started in the United States, but currently, it's a key date worldwide to boost the economy and consumption.
To trace back to its origins there are a couple of theories about the beginning of this event. However, the most popular one suggests that in 1950 a football match was scheduled between the Army and the Marines on the Saturday after Thanksgiving Day. However, on the Friday before the game, Philadelphia City experienced a collapse due to the high peaks of traffic and people who came to buy their holiday presents and attend the event the following day.
Faced with this chaos, no police officer was allowed to take the day off on the eve of the game, and officers had to work long 12-hour shifts to control the crowds that inundated the city. This is why the day came to be known as "Black Friday." 
🤑 A Golden Opportunity Arose
Certainly, this initiative presented a golden opportunity for Philadelphia retailers, and they began using this term for this profitable season.
It's worth noting that this term didn't immediately spread. It wasn't until 1975 when The New York Times used the expression, but it referred to the chaotic traffic resulting from the massive discounts rather than focusing on the sales essence of the day. Since then, with businesses observing its success on an international scale, many countries have adopted and adapted this commerce initiative over the years. For example, since the arrival of COVID-19 in 2020, the concept of Black Friday evolved, allowing online shopping. That's why today we see physical and online discounts on this popular Friday. So, if you want to experience some of this, your business needs to be in! Later, we'll reveal all our general and marketing tips. 😉
Cyber Monday
What Is Cyber Monday?
It's an online event that originated in the United States and follows Black Friday, extending the period for promotions. Its main goal is to increase online traffic and sales for retailers. Particularly for those who own digital businesses, such as online stores.
On this Monday, online stores offer promotions and discounts for the holiday season, with a particular focus on tech and electronics. However, you can adapt this day to your business and provide irresistible discounts.
ectronics. However, you can adapt this day to your business and provide irresistible discounts.
When Is Cyber Monday and How Long Does It Last?
It occurs on the Monday following Thanksgiving Day and just three days after Black Friday. For 2023, it will be on Monday, November 27th, so mark this date on your calendar. 
🚨 Also, save our Cyber Week dates (from 24th to 27th November) on your calendar! Placeit will have great surprises for you. So stay tuned to our home and digital channels. 😉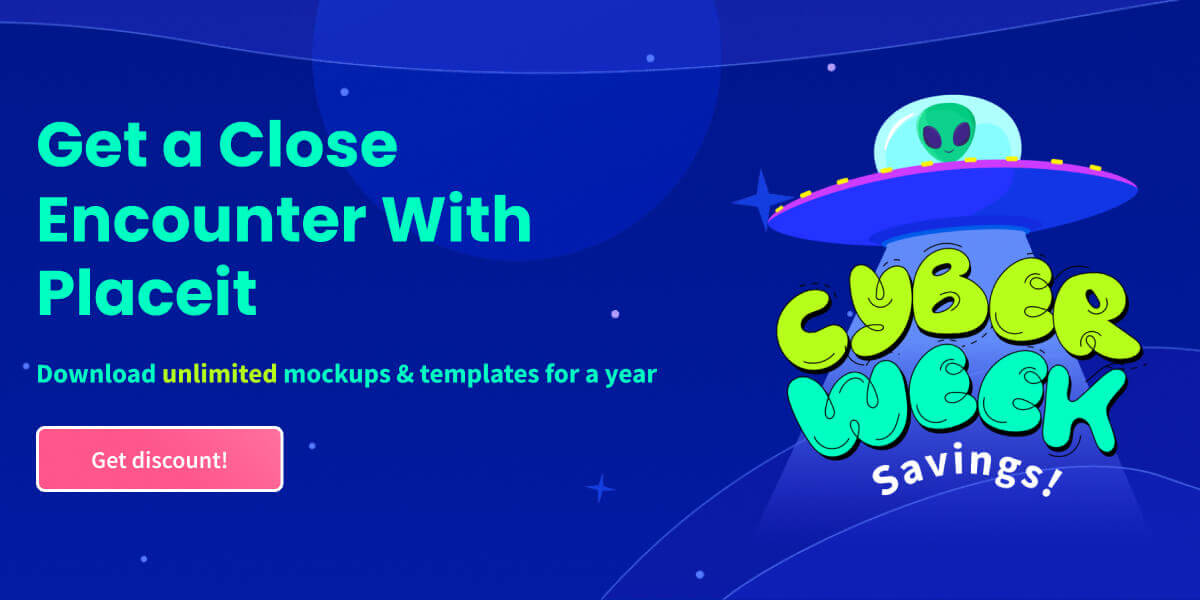 😃 Fun fact: Nowadays, Cyber Monday has surpassed Black Friday, making it the most eagerly anticipated shopping day of the year.
One of the reasons why Cyber Monday has become more popular is that users no longer have to endure long hours in queues, deal with traffic, and contend with crowds. Now, they can easily make multiple purchases from the comfort of their homes. Additionally, with ecommerce being an absolute necessity, many online stores, retailers, and large companies have incorporated more payment methods, streamlining shipping times and reducing costs.
Cyber Monday History
It is a relatively new event compared to Black Friday. Cyber Monday's first year was 2005, and it aimed to formalize the ecommerce business. At that time, it wasn't a hype like it is now. It initially started in the United States, but now it's a key date in the ecommerce world, even reaching international markets. That's why more and more businesses are incorporating this strategy into their marketing and sales plans.
To get into more details: The very first time this ecommerce term was used was on 28th November 2005. On that day, Ellen Davis, the Vice President of the National Retail Federation (NRF), introduced this concept through shop.org, proposing the idea of dedicating an exclusive day to promote online sales. The choice of Monday for this event was based on years of an exhaustive analysis of sales insights by shop.org. They identified that the day with the highest peak in sales and traffic consistently occurred on Monday, three days after Black Friday. This consecutive sales period, focused on the holiday season, is known as the 'Black Weekend.'
Why Create a Black Friday and Cyber Monday Marketing Campaign?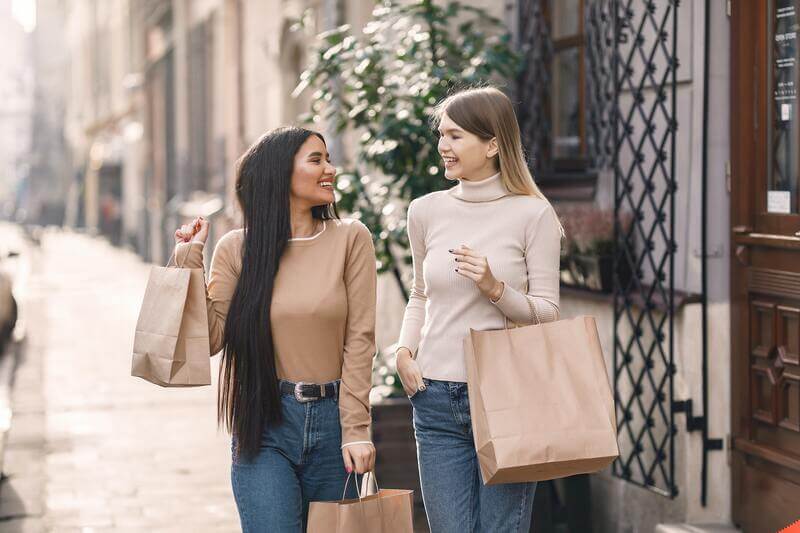 If you're already excited and want to know more, check out these incredible reasons to create a campaign this year.
🤩 High Sales Expectations. Black Friday and Cyber Monday are the most anticipated e-commerce days of the year, with people eager to spend and seek discounts.
⚡ Visibility. Increase visibility and brand awareness within your target audience by offering them the products/services they're looking for. 
🤑Traffic and Sales Boost. Cyber Monday and Black Friday can significantly multiply website traffic and sales for your business, so don't miss it. 
💡Relevancy. Participating in these events helps keep your business up-to-date and relevant, creating an engaging buzz around your brand.
🕟 Old Stock. It's an opportunity to clear out old stock and start the year on the right foot with more products. 
🍂Product Launches. Or you could use these dates to launch seasonal or limited edition products and offer something new and exciting.
🔥Year-End Preparation. These events help your business prepare for a strong year-end finish before entering January, which is known as a low sales period. 
💜Customer Retention. These campaigns can attract and captivate your customers, helping retain them and ensure they keep returning to your shop and clearly increase customer satisfaction. 
✅ Valuable Customer Insights. These events can provide valuable information and insights about your current customers and potential ones. This knowledge will better prepare you for the next year. 
Must-Steps to Boost Sales on Black Friday and Cyber Monday This Year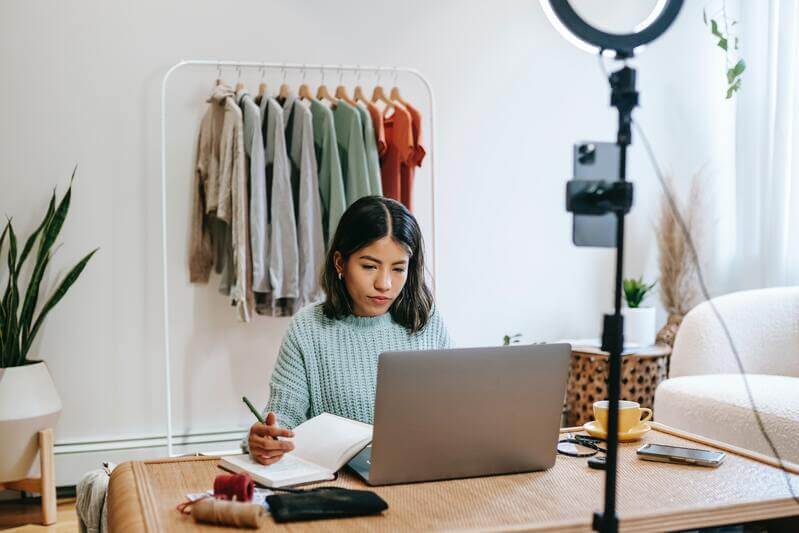 Here are some quick steps you need to take to ensure that your store and stock are organized and ready for this major sales period. Feel free to adapt these points to suit your business, efforts, and goals.
1. 🔍 Verify Your Stock
Before diving into Black Friday and Cyber Monday events, take a moment to assess your current stock. Consider whether you need to order or produce additional items. A helpful practice is to keep track of your products to identify your best-selling and those most popular among your clients so you can prioritize them. Additionally, by reviewing your inventory, you can identify products that have been in stock for months and create amazing promos to clear them out. 
Keeping your stock well-organized and up-to-date reduces stress and ensures customer satisfaction.
The key is always having enough products to sell without overstocking, which can also help you save on storage costs.
💡 Pro tip: During these busy events, keeping track of the items coming in and out of stock and updating your website to inform customers of remaining stock is a great practice. By closely monitoring, you'll have a clearer picture of the quantities available for continued offerings on your website. Plus, it minimizes misunderstandings with your customers and potential buyers and creates a sense of urgency.
2. 🤑 Set Up Real Discounts
Another great practice is to offer genuine discounts on some of your products or services rather than just pretending to do so. The key to maintaining profitability is to set attractive discounts and prices that won't significantly impact your business. Additionally, consider it as a wise investment. With minimal effort and the Black Friday and Cyber Monday euphoria, more people may visit and purchase your products, even those that have been in stock for weeks.
Many brands offer discounts of up to 40% or 50%, which remains profitable for them. However, you can always adjust your strategy to suit your needs in a mutually beneficial way. Also, remember that you are the boss in your business, so you can decide whether to discount your entire store or just certain products, whether it's a best seller or a low-sales item. 
Here are some useful discount tips you might want to check out before setting your special prices for BFCM. 
💰 2×1, 3×2, 4×3
This promo is ideal for products with excess stock and slower sales. When implementing this strategy with three products of varying prices, the one with the lowest value will be offered for free.
✨ Coupon Codes
Everybody loves discounts, and they're indeed a great ally for boosting your product sales. Simply create a code like 'CMONDAY50,' specify minimum and maximum purchase amounts, and set expiration dates.
🚚 Free Shipping
It's a highly attractive benefit for internet users because they are often willing to purchase an extra item to qualify for it. This means they can invest their money towards additional products instead of spending it on shipping costs. The key is to set a minimum purchase quantity to unlock this benefit.
🤩 Freebies
It can be small products from a wide range in your inventory or items with lower values. Alternatively, they can also be in the form of rewards or gift cards.
To sum up, the discounts offered during these dates must be genuine, and that's why they have such a short duration. They represent a fantastic promotion that should be caught quickly by your potential buyers. So, don't think of it as lowering your product prices but rather as an investment.
3. 🚚 Organize Your Shipping Process
During BFCM, it's very likely that you'll experience a high peak in traffic and orders, so it's crucial to prepare your shipping process well in advance. Selling during these days is a different ballgame than regular sales, so we recommend temporarily partnering with a dedicated shipping company for this event. This ensures that your packages are delivered promptly and efficiently.
However, since many other companies will have the same idea, making these arrangements with anticipation is essential. Additionally, remember to include a disclaimer on your website or social media channels, acknowledging the possibility of shipping delays due to the high demand during this period.
4. 💡 Ensure You Have the Right Platform and Plan
Regarding ecommerce events like these, high traffic volumes are almost guaranteed, especially if you've been selling for some time and your brand has gained popularity. To ensure that your hosting or website provider can handle this surge in traffic, it's essential to contact their customer service and ask any relevant questions you may have. Sometimes, upgrading your plan to ensure everything is well-prepared may be necessary. With Black Friday and Cyber Monday just a few weeks away, don't hesitate to take action. The sooner, the better.
To ensure your website is optimized and has good velocity for Black Friday and Cyber Monday, there are some free tools available on the internet that explain how to check it. Alternatively, if you prefer a straightforward approach, you can visit this Google link and insert your website.
💡Note: You can also use online load-testing tools to simulate increased traffic and observe how your website responds to it.
5. ⏰ Establish and Set Timings
This step might seem obvious, but it can sometimes go unnoticed among all the hustle and bustle. Therefore, setting specific times and preparing a proper schedule is essential for keeping yourself organized and ready to offer the best experience for your clients. It creates a sense of anticipation and lets them know when to start taking advantage of your promotions. 
6. ⚡ Prepare a FAQ Section
Given that these events can be busier than usual, especially if you offer a wide range of products or services, it's a valuable practice to create a dedicated FAQ section. This ensures that all questions related to your business, products, and shipping processes are crystal clear for everyone.
To achieve this, update your website with the latest information to prepare for upcoming events. Additionally, consider your social media followers; create a series of Instagram Stories that address the most common questions and save them as highlights on your profile. This way, visitors can easily access the answers to frequently asked questions.
⭐ Pro tip: Craft a user-friendly return and exchange policy. This guarantees that your clients can navigate the process with complete understanding and clarity if they need to change their orders for any reason.
7. 🍂 Create a Seasonal Line
This step is completely up to your business. But undoubtedly, the Black Friday and Cyber Monday events are the perfect timing to incorporate a seasonal line ready to sell like pancakes for the holiday season. At Placeit by Envato, you can find a wide array of professional and stunning resources to do it, especially in our design gallery, which is constantly updated with seasonal content and trends. 
Plus, it's a great bonus for your brand if you opt for creating something seasonal and limited edition. As it provides a sense of urgency to get it and exclusivity, it's a powerful action to implement on these special dates and make your brand perceived as fresh and up-to-date.
8. 🤝 Make Alliances With Other Brands
This is an optional but exciting strategy to elevate your business and give a plus to your buyers. To do so, you need to associate with another brand that, preferably, complements your product. In this way, each brand offers a product that is a much more convenient price than doing it separately. The key to nailing it is that both companies should target a similar audience and have shared values and aesthetics. However, please note that this requires much organization regarding stock on both sides, so it must be planned with enough time.
9. 🚀 Take Action Post-Sale
To ensure both your existing and new customers are satisfied and eager to shop with you again. For example:
If you operate exclusively online, email them that their package will soon arrive and provide instructions on tracking it.

Consider including a small gift with every purchase, whether you have an online or physical presence.

Create a rewards program where customers can accumulate points or badges with each purchase. Once they reach a certain threshold, they can redeem it for a discount or an item from your shop.

For those who made a purchase, offer exclusive or early access deals. Additionally, keep them informed about new product lines and upcoming seasonal sales.

Encourage customers to leave feedback or write a testimonial or review on your social media channels or website. Consider offering a small incentive for this action.

Send a brief email asking about their overall experience and what they loved about it, as well as any suggestions for improvement in future Black Friday and Cyber Monday events.
These small but effective actions help enhance the customer experience, build loyalty, and encourage repeated purchases.
10. 📊 Track and Analyze
After the hustle and bustle has decreased, take a few days to analyze the results of your Black Friday and Cyber Monday campaigns. This analysis will provide valuable insights to create effective strategies and identify areas that need further improvement. To simplify this task, consider categorizing your efforts and asking yourself questions based on the available data:
Products: Reflect on your top-selling items, whether your anticipated best-sellers matched the actual sales, the status of your inventory, and if any unexpected product gems emerged during this BFCM season. 
Service: Evaluate customer feedback regarding your process and service. Were there unanswered questions? Did the FAQ and other resources prove helpful? Is there any specific follow-up required?
By conducting this analysis, you'll be better equipped to fine-tune your strategies for the next year.
Hottest Marketing Tips for Nailing These Black Friday and Cyber Monday Days!
After reviewing the basics, you can jump into the Black Friday and Cyber Monday marketing strategies provided by our experts in each field.  This will help you decide what you want to implement in your business in the upcoming weeks. It serves as a valuable reference to understand what has been proven to work by experts and how you can adapt it to your business.
🌈 Design
We have the honor of introducing you to our talented designers, who can turn any idea into a visually stunning asset. Here, Sara and Jorge share their best tips for you to apply to your Placeit templates or if you dare to use our fantastic blank canvas.
🤔 Does Design Truly Matter in a Black Friday and Cyber Monday Campaign?
Absolutely! Some people underestimate the power of design, but it can significantly impact and make a difference. It can be as decisive as determining whether people buy your product or not, simply because of the visual elements that evoke various feelings and perceptions. Therefore, as a small business owner, it's crucial to have clarity about what you want to communicate and keep it simple.
Some of the most popular colors for these commerce events are black and red/yellow for Black Friday and neon and vibrant tones for Cyber Monday. However, as we always say, and our graphic designers confirm, no written rules exist. You can opt for the classic colors so people recognize it as a Black Friday or Cyber Monday post. Or, dare yourself to break patterns and incorporate different shades that complement your brand identity if you have one. In both cases, you can emphasize that it's a Black Friday or Cyber Monday promotion in your images and texts. 
Additionally, if you already have a brand kit with your colors, use them to adapt and customize any Placeit templates. If not, pick a color and choose similar templates to maintain consistency across your channels.
Lastly, ensure visual legibility and accessibility when choosing your colors. For instance, using a very soft pastel background with white fonts or yellow might not be ideal, as it may not be easily perceived. However, there's always a way to test your color choices. For example, try sites like Coolors (and its contrast checker) to see if your selected shades make a good contrast. 
Need help with maintaining consistency? No worries, explore our bundles tailored for Cyber Monday and Black Friday. 👇😉
📣 CTAs 
Another vital element that should always be included in your posts, especially for social media channels (excluding YouTube thumbnails), is a call to action (CTA). 

CTAs are concise words or phrases that guide the user or reader on what action to take—it's like giving them a subtle directive. 

There are popular CTAs you can include in your graphics for Black Friday and Cyber Monday events. For example, 'Shop Now,' 'Use Code: CMONDAY50,' 'Make Your Purchase,' and 'Explore Now,' among others.
📝 Texts
If you take a look at our Cyber Monday templates on Placeit, you'll notice that most of them focus on the essentials: a title, a brief text, some images, and your CTA. Our designers recommend keeping the text concise, meaning your text should ideally fit within two lines.

Plus, Sara and Jorge recommend adding more emphasis on the benefits rather than the title or other aspects. This way, you'll ensure that people can quickly grasp what you have to offer. So keep it concise and clear. As the saying goes, 'less is more.'
🖼️ Images
You can utilize our free stock library for announcements like Black Friday or Cyber Monday teasers. However, when promoting your products, ensure they are well-lit, placed on a clean surface, and aesthetically pleasing. Aim to capture at least 10 images from different angles, as they may vary when applied to templates. If you have an established brand color, subtly incorporate it into your photographs. You can find tutorials on platforms like TikTok if you're not a professional photographer. 😉

If you create your

t-shirt designs

with Placeit, you can showcase them on our

mockups

, eliminating the need for professional models.

Additionally, pay attention to your text and complement it with the right images. For instance, add illustrations of discounts or shopping carts if you're talking about promos across your shop. To align with the BFCM theme, incorporate popular graphics and stickers that signal your content is related to these events. 

When creating paid advertisements, use 'Black Friday' and 'Cyber Monday' images in your banners, and don't forget about your logo. These banners may appear on external websites, so your logo will help people identify your brand.
Lastly, always consider your brand core values and target audience's demographics and interests when customizing our Placeit templates. For example, a younger audience may prefer less text, while an older audience might require more giant letters for readability.
Before posting or scheduling your content, seek feedback from a team member, a close associate, or even a client who uses your products. This allows you to make necessary adjustments before publishing online.
💻 Email
Meet our strategic and brilliant email team, who send you the best emails you've ever seen in your inbox. So, let's check what they've got in store for us by sharing their expertise and knowledge for you to apply to your emails.
✉️ Is Email Relevant When It Comes to Black Friday and Cyber Monday Campaigns?
Absolutely. It's actually one of the most important channels for generating leads, closing sales, and increasing revenue when done right—here, we'll unveil our top tips 😉
Emails are highly effective because you send your content, including all these Black Friday and Cyber Monday deals and promos, to people who want to receive them, as they have agreed to receive emails from your business. – Sergio, Senior Email Marketer.
1) ❎ Stay Out of Spam
It's true that with all the hype and anticipation surrounding Black Friday and Cyber Monday events, many emails will be entering your customers' or potential customers' inboxes. Therefore, the first step is to ensure your emails avoid the spam folder. Here's how you can do it:
According to our email team, your email's fate is closely linked to its IP reputation, which depends on the email address you use for sending. Ideally, you should start sending emails now to prepare well in advance for these events and establish a strong IP reputation. This proactive approach ensures that email providers like Gmail, Apple, and Hotmail recognize your emails. In other words, you'll have a history of sending emails rather than appearing out of the blue.
Finally, consider using free tools that can indicate how spammy your emails are. By doing so, you can ensure your emails don't contain any forbidden words and increase the chance that they will reach most subscribers. 
Additionally, email marketing is an intentional way of directly communicating with your users, unlike other marketing channels with a broader reach. As you are targeting specific users, you can be confident that these emails will arrive in their inboxes.
2) 🕵 Verify Your Segmentation
A key consideration during Black Friday and Cyber Monday events is the opportunity to be more flexible with your email segmentation and reach a broader audience. However, it's crucial to remember that you shouldn't send the exact same email to a loyal customer as you would to someone who has only engaged with your emails a few times. In such cases, it's advisable to create different content.
Furthermore, you can prioritize sending emails to users who have shown more interaction and engagement with your previous emails, reserving the less active users for later targeting.
On the big day, sending an official announcement is a good strategy, followed by a reminder a few days later before the sale ends. Therefore, regarding segmentation, remember that sending emails to people who have genuinely interacted with your emails is more effective. There's no need to spam; instead, focus your time and resources on sending reminders to those who have demonstrated an interest in making a purchase. How can you determine this? In email marketing, you can estimate interest by tracking email opens and clicks.
3) 📅 Prepare in Advance for the Big Days
An excellent recommendation is to conduct testing, especially with these two big events. Our email team suggests running tests during other seasonal and significant sales events like fall and Halloween. This allows you to determine what resonates best with your contacts database and gain insights into your strengths and weaknesses. Therefore, you'll be well-prepared with a well-defined and proven strategy by Black Friday and Cyber Monday's arrival.
Another effective practice is sending teaser emails in the weeks leading up to these events, building user anticipation. Distributing emails throughout November and intensifying your efforts one week before the big days is advisable. However, be mindful of targeting different users and segments on your email list. This approach ensures you don't overwhelm your readers with numerous emails and helps strike a balance.
Last Check Before the Day
Before sending your Black Friday and Cyber Monday emails to your database, running a series of checks is essential. Start with a thorough review of the email content to ensure there are no typos or errors. Test how the email appears on various devices to ensure it looks good. Finally and most importantly, verify that all links work correctly. This step is especially crucial during Black Friday and Cyber Monday events when you cannot afford broken or non-functional links.
4) ✅ Ensure Clarity Regarding Your Sale Dates
If you're considering running both Black Friday and Cyber Monday sales, planning carefully to avoid overlap is essential. Here are some strategies to consider:
Black Friday Sale: The Black Friday sale traditionally starts on the same day. However, you can kick it off one day earlier or extend it through the weekend, possibly until Sunday. 
Cyber Monday Sale: Cyber Monday occurs the following Monday after Black Friday, and you can extend it to the well-known "Cyber Monday Week." 
Keep in mind that Black Friday and Cyber Monday typically each last for 24 hours, but the duration can align with your business strategy.
Email Marketing Strategy: When sending out emails for these sales, consider a structured approach:
Announcement:

Start by announcing the upcoming sale a few days in advance to build anticipation among your audience.

Reminder:

Send a reminder (like 'last hours') on the day of the sale to ensure your subscribers don't miss out on the deals.

Extended Sale:

Wait approximately two days after Cyber Monday and consider extending a sale. This can help capture any stragglers and maximize your sales during these e-commerce events.
5) 📈 Analyze Your Competitors
A good piece of advice to follow is to register yourself on your competitors' newsletters, whether big or small. By doing this, you can see what they're doing right and what they can improve, and certainly take this knowledge for polishing your email campaigns. You can learn a lot from design, subject lines, and content. 
Please note that this is a friendly action just to get inspired. 
6) 💣 Create Attractive Content for BFCM
✨ Know Your Buyer Persona
Before sending emails, you have to have covered this step. It includes research to understand your buyer persona thoroughly. This will enable you to choose the right voice and tone for your emails, use language that resonates naturally with your audience, and deliver content that genuinely interests and assists them in making informed purchasing decisions. This understanding will make it easier to convert leads into customers and provide helpful information. 
✨ Create Urgency
Generate a sense of urgency to boost sales. Indicate limited stock or a countdown in your emails through integration with your platform. Or by creating an animated GIF to enhance your email marketing experience.
✨ Subject Lines
Ensure they are catchy, short, and concise without using clickbait. Your subject line should attract the reader's curiosity and emphasize the benefits or solutions you offer.
✨ Preheader
A common mistake is leaving the preheader section empty. To maximize its impact, provide relevant information that complements the subject line. For instance, if your subject line mentions a 20% discount, the preheader can specify that the discount applies only to mugs and hats. This ensures your email appears complete on all devices and eliminates blank or awkward spaces in the email's structure. 
✨ Keep It Concise and Clear
In Black Friday and Cyber Monday email campaigns, it's best to get straight to the point. Highlight your promotions and keep your text concise. Accompany your message with high-quality images, which you can find on Placeit. Make sure your links direct users to the specific page on your site where you want them to land. Avoid redirecting them to the homepage when the discounts apply only to specific products, such as t-shirts. 
7) 😉 Be the First in Your Subscriber's Inbox
On these significant shopping days, it's almost certain that countless brands, both large and small, will flood customers' inboxes with emails. To guarantee visibility and encourage action from your customers, consider sending your emails in advance.
Sale Timing: You can even start your sale a day early, taking an unconventional approach by sending emails at 7 or 8 AM. This ensures that your email is among the first in your customers' inboxes, allowing you to announce that the sale has already begun and set the duration of it. For your highly engaged audience or loyal customers, create an early bird sale to grant them exclusive access ahead of everyone else. This strategy is particularly effective when selling physical items that may quickly run out of stock.
🔥 Pro Tip: Consider sending these early access emails to loyal customers or clients who purchased from your store during Black Friday and Cyber Monday events last year.
8) ⚡ Measure and Track Always
The choice of email metrics to track can vary depending on the size of your business and your email service provider. However, if you're just starting in the world of email marketing, here are some easy-to-understand metrics that can provide you with valuable information:
Open Rate:

This metric indicates how many recipients opened your email. Remember that it may not always be entirely reliable due to privacy policies and email tracking limitations.

Click-Through Rate (CTR):

This is a measure of how many recipients opened your email and clicked on the link. 

It provides a more direct measure of engagement.

Bounce Rate:

It measures the proportion of emails that didn't reach an inbox due to an invalid email address or delivery problems.

It helps assess the quality of your email list and delivery practices.
UTM Links:

Create unique UTM (Urchin Tracking Module) links for different email campaigns. UTM links include specific tracking codes, allowing you to identify the most effective emails. Cross-referencing this data with your sales lets you determine which emails resulted in conversions.
💡Onsite
Placeit is an expert in seasonal campaigns. Therefore, we brought our creative team, who are in charge of coordination, planning, and executing all the brilliant ideas you see on our website as the season changes.
🛒 Is Creating BFCM Campaigns on My Site Relevant and Effective for My Business?
Of course, Black Friday and Cyber Monday are two of the most important sales dates of the year, so your business can't afford to be left out. Whether you're in the United States, where these events originated, or in any part of Europe, America, or even Oceania, these two events are globally popular nowadays. 
🤔 What's Best: To Create Individual Campaigns or Combine Both Black Friday and Cyber Monday?
This will depend on your goals and what suits your business best.
For example, our expert team combines the two events and designates it as 'Cyber Week.' On the other hand, some companies prefer to run separate campaigns, as both are widely recognized and searched for online.
Additionally, it's worth noting that there are some slight differences between the two. For instance, Black Friday primarily focuses on in-store discounts, while Cyber Monday focuses entirely on online sales, serving as a last chance to snag incredible promotions.
📋 A Quick Website Checklist for Black Friday and Cyber Monday
1) ⏰ Don't Wait Until the Last Minute
Planning ahead is crucial for these significant campaigns. While the timeline may vary, the general recommendation is to start planning now. If you have time, consider beginning preparations two months in advance. This allows you to plan your copies, designs, products, shipping, and more thoroughly.
2) 🚀 Foster Innovation and Thematic Concepts for BFCM 
At Placeit, one of our successful strategies is introducing innovation each year and establishing a unique theme for these events. Eri and Eileen recommend keeping a keen eye on current and future trends. We must also review our past efforts to avoid repeating themes, ideas, designs, or styles.
Furthermore, you must deeply understand your audience to craft the perfect concept for your Black Friday and Cyber Monday campaigns. Know which types of content resonate with them, how they like to engage, and what promotions appeal most to them. This knowledge is vital to creating campaigns that truly connect with your target audience. And, of course, make your website or online shop look eye-catching for those who visit it. 
3) 😎 Craft Catchy and Clear Texts
Our team suggests that when crafting these campaigns and aiming to stand out from competitors, it's essential to incorporate keywords related to Black Friday and Cyber Monday events. Plus, consider including the words "sale", "discounts" and highlighting the discounts you're offering or mention the total price. 
Additionally, at Placeit, we employ a creative strategy of using puns or wordplay to capture users' attention. You can adopt a similar approach to give your brand a fresh and friendly appeal. Alternatively, staying loyal to your brand's voice, tone, and style is equally effective in maintaining consistency and connecting with your audience.
4) ✅ Ensure Every Image and Description Is Optimized and Up to Date
Remember, love at first sight is crucial during these competitive events, where every second counts. Therefore, make sure your images are up-to-date, clean, and look good. Additionally, provide clear descriptions, sizes, and other relevant information. It's also a good practice to highlight the benefits and address frequently asked questions in the product descriptions. By having everything in order and transparency, users will find it easier to add items to their cart and purchase.
5) 🤩 Make Your Promotions Clear and Personalize the Entire Store
Always include and emphasize the price or main discounts to ensure that users understand the focus of this Black Friday and Cyber Monday edition. Additionally, since this is the first message, try to view it from an external perspective or ask someone else to assess whether your promotions are clear enough.
Moreover, while having the main discounts on the home page is essential, it's also advisable to include promotional items on the whole site. This is because many users can arrive by referrals, email, social media, ads, and other channels that don't necessarily direct them to your home page. 
Additionally, you can enable pop-ups, depending on what you want to promote on your online store. You might want to capture people's attention these days, but make sure it's not invasive—keep it subtle. Another good practice is displaying the pop-up only once; if the user closes it, ensure it won't reappear.
But you can certainly take advantage of various graphic resources, such as banners, notifications, special images, and landing pages, to capture your users' attention and inform them that these special prices are part of Black Friday and Cyber Monday.
6) 💡 When to Officially Launch Your Promotions on Your Store?
For Black Friday and Cyber Monday, which are highly competitive events, it's best to get a head start and begin promotions early, ideally one to three days before the big day. This approach increases your visibility and caters to eager users to see what you have to offer.
Pro Tip: Be sure to inform your customers before your sales and promotions start. Undoubtedly, your website is the primary channel. However, you can anticipate and create content to promote your upcoming discount days on social media and email. Also, consider keeping some mystery and not revealing all your discounts until the big day.
7) ⭐ Check the Last Details
Is Your Website Mobile-Friendly?
During Black Friday and Cyber Monday campaigns, prioritize mobile optimization. Nowadays, a significant percentage of users access e-commerce sites through mobile devices. Ensure that you create adaptable designs and avoid oversaturating with text to ensure a good user experience on all devices.
Is Your Payment Process Safe and Reliable?
When it comes to online shopping, especially on Cyber Monday, it's essential to ensure that your customers know that purchasing on your site is secure and easy. Also, verify with your website supplier the integration of payment methods. Regarding social media, it's still viable; you can accept bank transfers and provide a clear and transparent process to reassure customers that their products will arrive and that they have made a good purchase from you.
💡 You might like: Social Shopping: Is It the Right Move for Your Brand?
8) 💣 Analyze Your Numbers When These Events Are Over
First off, before analyzing your data, it's essential to have clarity about what constitutes a conversion for your business. Is it a completed purchase or a new registered user? These metrics might vary depending on the type of business, so identify the most relevant ones for yours. Of course, if you want to analyze in broader terms, consider metrics such as the number of clicks, cart abandonment rate, and actual sales.
🧑‍💻SEO
Meet our talented and sharp SEO team. They're experts in improving the visibility and positioning of Placeit in the organic search results of your favorite search engines. They optimize our site to make it relevant and appealing.
🚦 How Helpful Is SEO for Cyber Monday and Black Friday Events?
Undoubtedly, SEO is incredibly valuable for businesses during Black Friday and Cyber Monday events. In these days, we see competition reaching a fever pitch, and a great way to stand out from the crowd is with SEO (Search Engine Optimization).
Search Engine Optimization is a resource to attract organic traffic ("free traffic") to your website and increase brand awareness. By optimizing your website for relevant keywords and creating content tailored to these events, you can attract organic traffic from search engines. This can significantly enhance your online visibility during the competitive shopping season.
🚀 Want to skyrocket your visibility and engagement on TikTok? Then check out our new TikTok SEO guide!
📅  Should Your Business Anticipate the Strategy for Cyber Monday and Black Friday?
 Absolutely, it's crucial to plan your SEO and marketing strategy well in advance for Cyber Monday and Black Friday. Anticipating the strategy allows you to set clear goals, conduct comprehensive keyword research, optimize your website, and create content aligned with these high-demand shopping events.
📈 Understanding SEO Concepts for the Busy E-commerce Days
To ensure that people visit your website online, they must find and see it, right? This process is facilitated by search engines such as Google, Bing, or Yahoo, where individuals search online for a product like yours. These search engines utilize specific criteria to determine the order in which pages are presented, emphasizing the need for your site to stand out. To achieve this goal, here are our top tips from our brilliant SEO team. 
1) 🔑 Use the Right Keywords
Keywords are the holy grail – the starting point for it all. These keywords represent users' search terms or queries to find what they're searching for. Your task is to understand your target audience and know how they search. Subsequently, you should incorporate these terms into your website and other digital channels to align the user's intent with your business offerings.
The significance of selecting the right keywords is that when our service or product aligns effectively with the chosen keywords, search engines will rank us among the top results on their pages.
Over 25% of people click on the first pages of Google search results. Doing this increases your chances of gaining organic visibility, establishing authority, and strengthening your brand.
🕵 How Can You Find the Right Keywords for Black Friday and Cyber Monday?
To identify relevant Cyber Monday and Black Friday keywords, follow these quick tips:
Identify Your Niche.

Understand your audience's needs and determine their interests and the questions your product or service can address. What product are you selling? Which market are you targeting? Write down all your ideas and brainstorm.

Use the Right Tools.

Keyword research can be conducted using tools like

Google Keyword Planner

,

Keyword Generator

,

Google Trends

, and

Answer The Public

. Alternatively, you can consider paid options such as SEMrush or Ahrefs. Here, you should look for previously established keywords related to your products or promotions. For example, "Cyber Monday deals" or "Black Friday discounts."

Are Your Keywords Relevant?

While you may have some potential keywords, not all of them have enough search volume. Search volume is crucial and can be measured using the abovementioned tools to determine if people are actually searching for those terms. Additionally, these tools can provide suggestions and identify low-competition keywords.
2) 🤓 I Have My Keywords… What's Next?
Once you have identified your terms or keywords, the next step is determining if you are prepared to rank on search engines like Google. First and foremost, you must have a website—a destination where your users will arrive and find more information about your offerings, particularly during Black Friday and Cyber Monday.
3) 🌐 How to Optimize My Website? 
Google employs web crawlers that examine and index web pages. Each page is evaluated based on Google's assessment of its authority and value to the user. To determine this, Google provides guidelines to ensure your content and website are relevant to the user. 
🔥 Pro Tip: Consider creating multiple landing pages dedicated to specific Cyber Monday and Black Friday promotions or product categories for Black Friday and Cyber Monday. This approach allows you to provide focused information, tailor your messaging, and track the performance of individual campaigns more effectively.
Here are some key ways Google determines relevance:
⚡ Keywords and Phrases
Google examines the keywords and phrases used in both the search query and the content of web pages. Pages that contain the exact or closely related keywords are considered more relevant. At this point, you should have your terms and keywords ready for Black Friday or Cyber Monday. 😉
🔥 Content Quality 
Google evaluates the quality and depth of the content on a webpage. High-quality, informative, and well-written content is typically ranked higher because it is more likely to satisfy the user's query.
💡 Pro Tip: Create valuable, informative, and unique content for Black Friday and Cyber Monday to make your website relevant. Don't forget to incorporate relevant keywords naturally throughout your content to avoid keyword stuffing. 
💻 Organize Your Content Logically
To do this, help yourself by using and arranging headings, subheadings, and bullet points.
H1: One per website – This title should contain the most important keywords or terms you are trying to rank for. For example: Amazon Black Friday Deals 

H2: One per website – Include relevant keywords.
Additionally, it is a good idea to break up long paragraphs into shorter ones and use an easy-to-read font style and size. Finally, avoid duplicate content and plagiarism at all costs. By following these tips, you'll ensure and improve readability, not only for your users but also for search engines.
🤩 User Engagement
CTR, bounce rates, and time spent on a website are metrics Google uses to assess user engagement. 
Pages with higher user engagement are deemed more relevant because they likely provide valuable information to users.
✅ Pro Tip: Regularly review these metrics to identify areas for improvement. Before and during Black Friday and Cyber Monday, it's essential to make your website and content mobile-friendly (check it out here). 
🤝 Backlinks
A webpage's number and the quality of backlinks (links from other websites) are taken into account. Pages with authoritative and relevant backlinks tend to rank higher because they are seen as more trustworthy and valuable.
Plus, acquiring high-quality backlinks from reputable websites can improve the search engine rankings of your landing pages. Making them more accessible to potential shoppers. This can result in increased visibility and conversions during these key shopping events.
 Link building is essential for businesses during Cyber Monday and Black Friday as it enhances online presence and authority. High-quality backlinks can drive targeted traffic, boost brand visibility, and improve search engine rankings. These benefits translate into increased sales and revenue during the peak shopping season.
⭐ Pro Tip: Link building can be highly effective for Cyber Monday and Black Friday promotions by driving relevant traffic to your dedicated landing pages or product listings. Consider that spammy URLs will not benefit your efforts of a good backlink strategy.
🌱 Freshness
For certain queries, Google prefers fresh content. News articles, blog posts, and time-sensitive information may rank higher if they are up-to-date. 
💣 Relevance of Multimedia Content
Google analyzes multimedia elements like images and videos to determine their relevance to the content. Alt text, captions, and context play a role in this assessment.
Remember that you can use Placeit for these Black Friday and Cyber Monday events. So, when uploading these graphics to your website, provide a clear and comprehensive description in the alt text section. If possible, include relevant keywords to enhance accessibility and SEO.
🕵 Structured Data
Websites that use structured data markup (schema.org) to provide clear information about their content may receive higher rankings because Google can better understand and display that information in search results.
✨ Website Performance & User Experience
Factors like mobile-friendliness, page load speed, internal linking, and ease of navigation contribute to a positive user experience. Google favors web pages that provide an enjoyable experience for users.
Review orphaned pages and work on a strategic internal link plan. 

Review your

page load speed

.  

Review on

GSC

your mobile performance and fix any errors.
4) 🔧 Last Tips on SEO Technical Requirements 
Even if you're a small business, it's a good practice to ensure that your website incorporates the most basic features and the simplest SEO implementations to enhance your brand's visibility and traffic during Black Friday and Cyber Monday.
Clean and Friendly URLs:

Ensure your website's URLs are simple, descriptive, and user-friendly. Avoid long strings of numbers or symbols. For example https://placeit.net/cyber-week-templates/  

Ensure HTTPS Implementation:

Secure your website by using HTTPS, which encrypts data between your site and users, enhancing security and trust.

Check for Duplicate Versions of Your Site:

Ensure there are no duplicate versions of your website, as this can confuse search engines and affect rankings.

Identify and Fix Broken Links:

Regularly scan your site for broken links (404 errors) and fix or redirect them to improve user experience and SEO.

Add Meta Descriptions:

Craft concise and engaging meta descriptions (a maximum of 150 characters) for each page to provide a brief summary in search results.

Meta Titles:

Optimize your titles with relevant keywords to give search engines and users a clear idea of your page's content, fix duplicate or missing meta descriptions, improve existing meta descriptions, and improve CTR to attract more traffic to your site.  

Declare a Canonical on Your Page

: When multiple versions of a page exist, use canonical tags to specify the preferred version (e.g., for printer-friendly versions).

Find and Fix Orphaned Pages:

Ensure all pages are linked from somewhere on your site; orphaned pages have no internal links and can be hard to find. 

Review Your Site's Loading Speed:

Improve your website's loading speed to enhance user experience and SEO rankings.

Check Google Search Console (GSC) for Crawl Errors: Regularly check GSC for crawl errors and address them to ensure Google can index your site properly.
🤳 Social Media
Meet Karen and Maria, our wonderful social media gurus who keep Placeit relevant and incredible with new tips, brand features, and inspo for your business.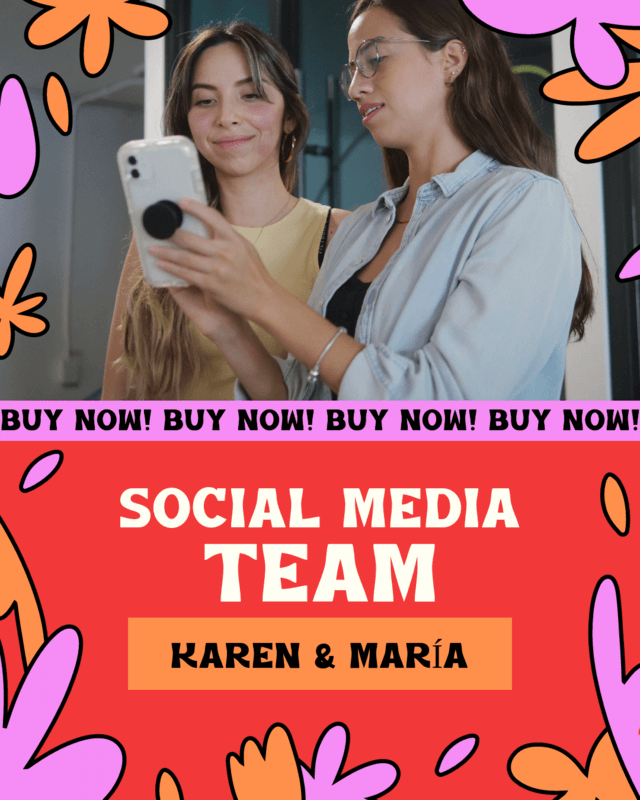 📱 Is It Important to Participate Actively During the Black Friday and Cyber Monday Events on Social Media?
The fact that your business participates in these initiatives is quite helpful. It's important in terms of visibility so that people can see you. Furthermore, it's something relatively easy that most can do and is within the reach of many budgets and types of companies. Also, social media is a digital resource where most audiences are found, and accessing them organically is easier, especially through TikTok and Instagram Reels.
Pro tip: While TikTok and Instagram are currently global successes, it's important to know your buyer persona and identify where they prefer to be in order to focus your efforts on those platforms. 
1) 😉 Understand Your Brand and the Timing
A good starting point before starting to create content for your Black Friday and Cyber Monday social media campaigns is to fully understand and have clarity about your values, content pillars, and, of course, plan ahead.
When it comes to planning your social media efforts, you need to anticipate the dates of BFCM in order to organize your content schedule fully. Additionally, you should communicate the dates to your target audience and let them know how long you will continue posting Black Friday or Cyber Monday content.
2) 🔥 Create Exciting Content and Generate Expectation and Urgency
In this section, you can revisit your brand pillars and brainstorm ideas you want to convey online. Whether it's a how-to make a purchase post, a video highlighting the benefits or discounts, or creating a funny carousel related to these events. Our social media teams suggest always keeping an eye on what's trending or new online and adapting your brand and ideas to those trends that are highly attractive to users.
Pro tip: Even though people assume that many brands will offer discounts for Black Friday and Cyber Monday, creating anticipation or mysterious posts to ignite imagination and excitement is still a good idea. For example, on Instagram, you can create a countdown and include a reminder for your followers to be notified when the official sale starts.
For every Black Friday or Cyber Monday post, ensure:
👉 An outstanding #madewithPlaceit graphic with vivid colors and stunning photographs highlighting your benefits or discounts and including a call to action. 
✨ In your copy, explain what this post is about and provide additional information to complement your visual asset. 
💡 Include strategic hashtags, such as #CyberMonday2023, #BlackFriday2023, #BlackFridaySale, #BlackFridayDeals, #BlackWeek, #CyberWeek, #CyberMondaySale, and more that you can research online.
3) ⭐ Make Your BFCM Graphics Shine
While you can learn more about this in our design section, here's a brief recap for you to implement when designing and posting graphics on any social media channel. 
The key is to find creative and eye-catching ways to communicate your ideas. So play with the different formats that exist and get help from Placeit by Envato. Your design templates ally with our curated and 100% Cyber Monday and Black Friday templates to achieve the look you want. Simply modify the preset text, adjust the colors, and replace the pictures, and voila, you're done. Best of all, our graphics come in a wide array of formats for social media, so you don't have to worry about cropping or resizing them to fit each platform. 🤩
4) 💡 Prepare for All the Upcoming Questions
Unavoidably, your users and customers will have questions about these exclusive Black Friday and Cyber Monday deals and promotions. A smart strategy is creating Instagram Stories that answer the most common ones. Then, save these stories in an exclusive highlight and give it a name like "Black Friday FAQ," for instance. This way, people can refer to them at any time.
Moreover, since your inbox may get crowded, consider implementing quick responses to address general inquiries
5) 💣 Increase Visibility While Giving Back to Your Audience
A great way to boost your discoverability and visibility during these competitive events is to create a giveaway. Giveaways work incredibly well on social media because they typically involve free products, and the steps to participate are something almost every user can do, such as following your account, leaving a comment, and tagging someone.
However, please consider that before hosting a giveaway, you need to clarify your main goal. Are you looking to attract more followers, increase sales, or achieve both? Once you've determined your objective, choose the prize and the participation process, promote your giveaway, and select a final winner.
🔥 Need more ideas for Black Friday? Then keep reading: It's Not Too Late to Advertise for Black Friday!
Cyber Monday vs Black Friday
Not sure whether you need to implement both or just one? Here's a quick chart that will provide all the information you need to make up your mind.
| | | |
| --- | --- | --- |
| | BLACK FRIDAY | CYBER MONDAY  |
| DATES | The first Friday after Thanksgiving (4th Thursday of November). | The first Monday after Black Friday. |
| DURATION | 24 hours but can be extended to the whole weekend: 'Black Weekend'. | 24 hours but can be extended to 'Cyber Week'. |
| TYPES OF DISCOUNTS | Massive discounts, extended store hours, and flash sales. These discounts are made in so many categories.  | Exclusive online discounts. It can be applied to all store or just specific items. |
| MOST COMMERCIAL PRODUCTS | Physical products like apparel, toys, electronics, tech, and groceries. | Digital assets, and mainly technology, and electronics. |
| SALES CHANNELS | In-store + online, primarily available at brick-and-mortar retail stores, with some businesses offering online deals. | Exclusively online, available on e-commerce sites, marketplaces, POD shops, and online stores. |
| SHOPPING EXPERIENCE | Involves queues, traffic, and crowds but allows customers to see and feel the products as they are. | All from home, with buyers waiting a few days for their products to arrive. However, they don't have certainty about how the product looks in real life. |
Wrapping It Up
Whether you choose one or both ecommerce events, it's essential to understand that both share similarities. However, aligning all your marketing and operational efforts is necessary in each one to ensure a successful Black Friday or Cyber Monday.
Additionally, remember to track, reflect, and analyze all your results and implemented actions after these events while the insights and knowledge gained during this time are still fresh. We recommend creating online notes and saving them securely for ongoing review and continuous improvement of your strategy for the coming years.
Lastly, consider that these significant ecommerce events are not only about increasing sales. But also about generating brand awareness and creating a lasting positive impression that will transform them into loyal customers in the long run. These factors will make a difference between gaining and retaining existing and new customers or losing them. Therefore, a holistic approach is the ultimate goal; rest assured, this guide is here to empower you to achieve it.
Is there anything we missed or anything else you'd like to know more about? Feel free to leave your comments below. We'll see you in the next sales episode to boost your business! ✨
---
---