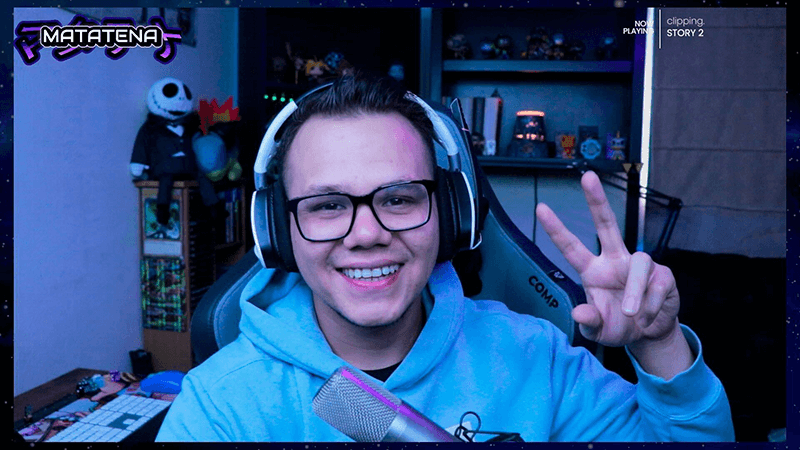 In the last few years, Twitch has become the go-to platform for live streaming to connect with a global community of gamers, artists, and eager learners. In this guide, we'll walk you through the basics of how to start streaming on Twitch channel with the help of an expert streamer from the Placeit by Envato community, Diego Mata @Matatenagg.
Twitch is an online platform that offers a unique opportunity for everyone to share their talents with the online world. Diego is a Customer Success Specialist at Placeit and found his hobby in streaming video games and teaching beginners how to stream on Twitch. His streaming journey started in 2015 when he opened his channel on Just in TV.
Understanding Twitch Streaming Basics
Streaming on Twitch involves broadcasting your content live to viewers. Before you start streaming, you'll need a few essential components:
Broadcasting Software: Choose a broadcasting software like OBS (Open Broadcaster Software) or Streamlabs OBS, which lets you capture your screen, webcam, and audio and broadcast it on Twitch.

Hardware Setup: Ensure your computer meets the minimum requirements for streaming, and if possible, invest in a good quality microphone, webcam, and stable internet connection.
Choosing Your Streaming Focus
Twitch is home to a wide variety of content creators streamings various categories, including music, cooking, teaching, and especially gaming. 
Here are a few tips that Diego shares to find your streaming niche:
Analyze what you have to offer. What do you excel at? Everyone has a talent or hobby to be proud of, so what if you share it with the world instead of doing it for yourself?
🔥  Check out all you need to know to stream on mobile devices.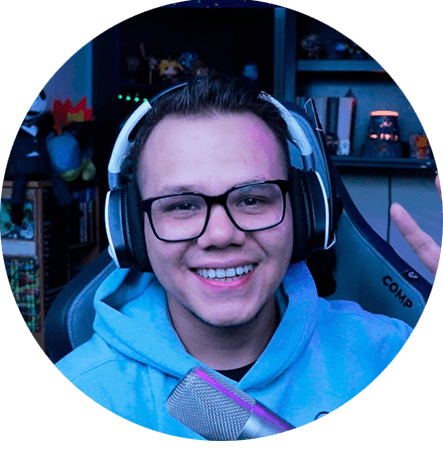 Once you know your superpower, it's time to share it in a way that makes you stand out. Diego found out that being authentic is the best way to attract viewers.
On Twitch, you need your branding identity as well as any online platform. A defined identity lets you stand out from the crowd and helps viewers instantly recognize your content. Consistent branding elements such as logos, overlays, and graphics create a memorable visual identity that viewers can associate with your channel. 
Diego isn't a professional designer, so creating his branding from scratch took a little effort, so he decided to develop his branding identity with Placeit's Twitch templates. 
First, you will need a logo that makes your brand stand out. Diego created his first Twitch logo using Placeit's AI Logo Maker tool. 
Now that you've got your logo, it's time to move on with other branding elements for your channel, including emotes, panels, overlays, alerts, and other visual elements that viewers can identify with. Diego shared two of his favorite graphics to create on Placeit.net
                                                                                                ✨ Showcase your style with your own avatar!
An OBS overlay is a graphical element created with Open Broadcaster Software (OBS) superimposed on a live stream. Diego shared with us that he first tried to develop his overlays directly on the OBS platform. Still, it was too complicated, so he decided to try Placeit's overlays because these are pre-made templates that you can customize with your brand's color, and that's exactly what Diego did! First, he started with Twitch Banner and then a Offline banner. After selecting his favorite ones, he customized them with his gaming brand's colors and downloaded them to use directly on Twitch. 
If you are new to Twitch and need help figuring out where to start with OBS, check out our guide to making a stream Overlay. 
💡 Fun fact: Most Twitch templates are available in bundles, ensuring a remarkable visual coherence throughout your entire Twitch channel.
Panels are typically a rectangular graphic element that you add to your Twitch profile, and they contain links and information about the streamer or the channel. Diego created his different panels using Placeit's Twitch Panel Maker. 
With over 1.2K followers on Twitch, Diego is an active streamer who has passed the beginners barrier and wants to share his success with other Twitch enthusiasts.
To gain more viewers and subscribers, it's important to keep in mind a few things:
Be open-minded. As a content creator, you can connect with thousands of people from all over the world; this is why you need to be open-minded to different opinions and backgrounds. 

Use other platforms to chat and befriend your followers. Platforms like Discord and Twitter are great ways to connect more with your audience and make them feel like you really care about them. To understand more about this topic, read 8 Incredible Social Media Tips for Twitch Streamers.

Don't do it just for the money. Many people start streaming to have extra income, which is completely valid; however, when streamers start demanding donations during a live stream and pressuring with ending the stream, their audience drops because they know that the connection is not real. 

Be consistent. At first, you might be disappointed in not getting too many views, but as with everything in this life, you need to be consistent to grow your audience. Create a schedule to let your audience know when you'll be online, and don't give up! Check out a few tips to

Grow your stream channel

.
If you are wondering how streamers find the words to talk through an entire hour or more, here are a few tips that Diego shared with us:
First, you need to create a script. When you are new to streams, it's really difficult to find the words to do a monologue for an hour or more, especially if you are not used to it. That's why you should take some time before the stream to create a script, do it as if you were to tell a story, start with the index and then continue with the content.

Be prepared with a series of questions. When streaming on Just Chatting, you should be prepared with a series of questions and answers that you think the viewers might ask.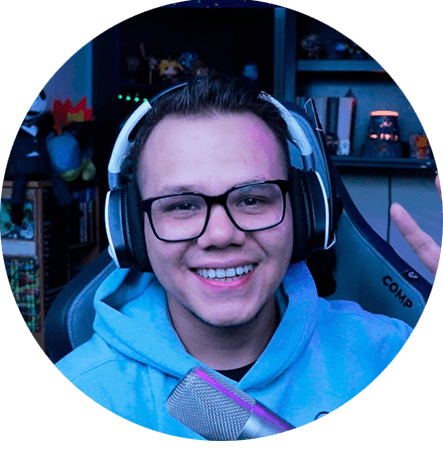 Dealing with trolls. Because Twitch is an open platform where anyone can create an account and join any channel, it's really easy to get people to try to distract you or provoke you with jokes or even insults. Diego's recommendation for handling this is never to take anything personally. His way of dealing with the trolls is to laugh or make sarcastic comments in return. 
Live streaming can be overwhelming at first, but by following these basic steps for beginners, you can confidently embark on your Twitch journey. Follow @Matatenagg on Twitch to learn more about streaming his Saturday lessons for beginners. 
✨ If you need more info. on streaming on Twitch we strongly recommend our How to Stream on Twitch Complete Guide.
Erika is a Product Marketer on Placeit's team! She launches on-site campaigns & sales,  and optimizes the site's promotional items. On her free time, she likes writing and sharing juicy info for our blog followers!
Streaming on Twitch involves broadcasting your content live to viewers. Before you start streaming, you'll need a few essential components: Broadcasting Software and Hardware Setup.
For PC, you will need to download and install third-party streaming software to produce content and livestream it to Twitch. The most popular broadcasting tools include OBS (Open Broadcasting Software) and Streamlabs OBS.
There is no actual fee to start streaming on Twitch. On the other hand, to watch your favorite streamer without having to pay you have to create an account and subscribe to a channel, or make a donation.
---
---