One thing that is undeniable is that people love sharing their experiences. Back in the day, you could only update your status and upload daily pictures on social media, now you can literally share any experience in real-time via live videos. Of course, this wouldn't be possible if live streaming didn't allow brands and individuals to make money off of it. Read to learn how to establish a brand through the magic of live streaming. 
Nowadays, live streaming has opened new incredible possibilities to promote and sell your product, but what's even more important, to establish and develop your brand! Moreover, live streaming has become even more popular due to the world's current situation.  It increased by 73% of its consumption rate just one month after the quarantine measures took place. Let's waste no more time and learn how to build your brand via live streaming.
Why Live Streaming Can Boost Your Brand Awareness
First off, for those who haven't yet fully bought into the idea of the almighty live streaming, here are some numbers to prove the point. Did you know that more than 60% of people aged 18-34 watch live videos on a daily basis? And this number is only going to increase in time. 
If you are planning to sell products online, it may be useful to know that nearly 75% of millennials believe live videos are helpful when comparing products. Live sales, product reviews, and Q&As can help you build up your brand's reputation and get an army of loyal consumers in no time! 
And if it's not good enough for you yet, as much as 80% of consumers prefer watching live videos to reading a blog regardless of whether they are brand's fans or not. With that being said, we can confidently state that the live streaming market is booming and blooming.
Why Is Live Streaming so Popular?
Mainly, it is due to the fact that most people have smartphones and the internet. Such accessibility allows content creators to imperceptibly attract more and more viewers. Another reason has already been mentioned above — the current world situation in which more and more people are online all the time. Due to the lockdowns and other quarantine measures, people are forced to communicate more online, which inevitably leads to a growth of live streaming consumption.
Last but not least, it's all about real-time engagement and interactions with the audience! Thanks to the nature of live streaming, viewers can communicate directly with the streamer or with each other in a live chat. This gives a strong sense of socialization. And what else do we need in these rough times?
How to Use Live Streaming for Brand Establishment
There are many ways to live streaming and different tactics brands can use to grow. Generally speaking, the choice of a specific way to live stream depends on your brand's needs. Let's look at the most popular strategies you can use to establish your brand via live videos.
Influencer Collaborations
Probably the most effective live streaming strategy for new brands is influencer collaborations. How does it work? Well, you basically pay famous streamers to advertise your product in one way or the other. This way you can attract new audiences and increase your brand exposure. It is important, however, to choose influencers whose audience can be potentially interested in your product. 
Live Interviews and Talk Shows 
Another amazing live streaming format is a live interview. People absolutely love watching live interviews with interesting guests, especially considering the ability to interact with them in chat! Make sure you don't have any unnecessary pauses during the interview — a consistent and entertaining flow increases the chances your viewers will stay on your stream. Using one of the best livestreaming software like BeLive can make it easy to set up and invite multiple guests to your live show.
Live Q&A Sessions
This next live streaming does wonders for companies that have already established locally. Q&As give you a chance to turn your small audience into loyal brand ambassadors. Prepare beforehand a list of possible questions you may be asked, especially the slippery ones, and think through the answers thoroughly. Remember, engagement and emotions are key to your viewers' hearts. Use this opportunity to tell the world about your brand!
Behind-the-Scenes Tours
Behind-the-scene live streams can build closer relationships with your audience and really boost your brand's reputation. People tend to trust you more when they know something personal about you. This principle applies to marketing via live streaming. Show your viewers what's going on behind the curtains (from workflow and product launch to team-building and personal videos), and they may as well fall in love with your brand. Just look at this entertaining GPU live launch from Nvidia.
Product Creation Streams
Whether you are a solo artist or an enterprise, you can share with people the process of creating your product. You may not believe it, but people genuinely enjoy watching how other people create art or how some highly technological stuff is being produced. Live streaming product creation can surely captivate your viewers and make them appreciate your work even more!
Giveaways
We love free stuff, don't we? This simple human weakness can actually be incredibly effective when it comes to establishing your brand via live streaming. Organizing giveaways is a great way of attracting audiences for starting businesses. They say people come for free things but stay for high-quality content. 
Tips on How to Make a Good Live Stream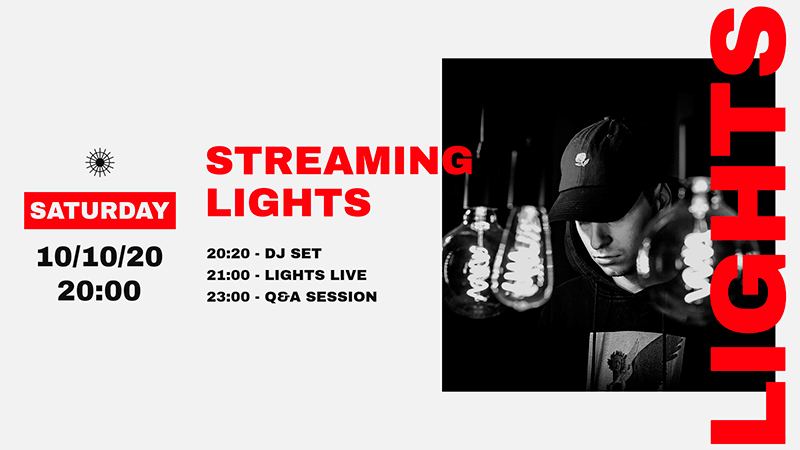 Live streaming is not that complex as it used to be. Nowadays, you can start streaming in just a few clicks. But let's not forget that the quality of your live streams determines your success. Therefore, we've got some helpful recommendations for you to keep in mind before going live.
1. Set Up Your Streaming Gear
Live streaming is not that complex as it used to be. To go live, you only need a few things: a desktop or smartphone, a stable internet connection, a webcam, and a microphone. In some cases, you might need a streaming software, like OBS Studio, for more control over the quality of your stream. And if you want to get the absolute maximum of live streaming, you may want to invest in lighting and other professional gear like a green screen. Remember, a properly set for your streaming is a halfway house to success!
2. Choosing a Platform
Different live streaming platforms allow you to reach different audiences. That's why the choice of a platform pretty much depends solely on what type of product you have. For instance, if you are a gamer or visual artist, Twitch or YouTube are your go-to platforms. If you want to sell clothes, you should really consider streaming on Facebook or Amazon. Musicians often live stream on Mixcloud, Periscope, or Twitch. 
However, you can skip this step and multistream to all streaming platforms at the same time. With Restream Studio you can truly maximize your audience reach in the easiest straightforward fashion! It allows you to host live interviews, Q&As, product launches directly from your browser tab.
3. Know Why You are Streaming
While live streams may seem fun and improvised, it is important to understand that behind every good live video, there's a clear plan. You need to know for sure what you will be doing on each stream. Going live without any preparations simply won't work! If you are doing a live interview, make sure to have your questions and topics prepared. In case of behind-the-scenes streams, it is recommended to come up with a pathway and stick to it throughout the translation. And so on. 
4. Test Everything Before Going Live
The most common issue with live streams is that something might go wrong at the very start of the broadcast. Either your stream won't start or your sound is off — these kinds of things should be tested beforehand. Make sure everything is set up properly and you are ready to go live before hitting that start button. 
5. Promote Your Live Streams on Social Media
Last but not least, it is incredibly important to promote your live streams basically everywhere you can regardless of the platforms you are streaming on. Make a tweet about your stream, post a cool Insta story about going live, etc. Also, make sure you promote your streams after they are concluded. Interestingly enough, most of the views come after you are done streaming.
Let's Wrap Up: How to Establish a Brand
Live streaming has already become one of the most prevailing marketing tools, and its popularity continues to increase. Many global brands have turned their heads to the live streaming camp and have already spent billions of dollars throughout the last years.
Live streaming can boost your brand awareness in no time. For that matter, there are multiple different strategies you could use depending on your brand's needs and the product you make. The most popular live-streaming strategies include:
Influencer collaborations

Live interviews

Live Q&A sessions

Behind-the-scenes streams

Product creation process stream

Giveaways
A high-quality live stream requires thorough preparation and a clear understanding of your brand's goals. With that in mind, your next step is to choose the right streaming platform. Luckily, this step is the easiest one, as you can simply use Restream Studio and multistream to all platforms at once. Finally, don't forget to promote your live streams before and after the broadcast on every social media. 
Learn how to brand your channel with our how to make a stream overlay post.
---
Author Bio
Alex Bybyk is a Content Marketing Specialist at Restream. He is passionate about creating content to make people's experiences with technology memorable.
---
How to Establish a Brand Through Live Streaming
Learn how to establish a brand with the best live stream techniques! Also, grow your brand with engaging live videos and connect with your viewers.
Video Templates
---