Twitch vs. YouTube isn't a new debate by any means, but even so, choosing what platform to stream on hasn't gotten easier through the years.
When it comes to gaming streams, Twitch has long been the streaming platform, but with many of the top streamers moving over to YouTube, many have been left wondering if they should follow suit.
We're here to walk you through the pros and cons of each platform and their key differences so that you can make an informed decision when the time comes.
Whether you're looking to make money from streaming, want to start a gaming stream for fun, or simply want to build a community, it's important to consider your options carefully. Let's jump right into it!
Jump Ahead to What You're Looking For:
What You Need to Know About Streaming on Twitch
Twitch is a streaming platform known for its gaming content. It was founded in 2011 and was later purchased by Amazon in 2014.
You can browse the platform by content type, which includes Games, IRL, Music, Esports, and Creative. Within each one of these, you'll find categories like Just Chatting, ASMR, Art, Crafting, and different games by name. You can also browse by channels that are currently live.
▶️  Check out Placeit's teaser videos and lower-thirds YouTube templates! 
On the home screen, you'll see recommendations for live channels you might like, categories that might interest you, and streams that are trending. Current live streams take up the majority of the home screen. This means that when you aren't live streaming, your channel isn't being recommended to anyone.
Although this platform is known for its gaming content and world-famous gaming streamers, the most-watched category is Just Chatting.
There has been a slight decline in growth after hitting a high in 2021. This is not unusual, and many other companies have seen this pandemic-related growth come to a halt or decline.
For those who choose to stream on Twitch, setting up your channel is easy. You have plenty of customization options when it comes to your profile and settings. Upload custom graphics to give your stream a unique look, create a streaming schedule so your followers know when you'll go live, and use your profile to promote affiliate links, merch, your other profiles, and anything else you deem relevant.
💡 Create custom Twitch assets for your channel using Placeit's Twitch sets!
Twitch Pros 👍
Build a community
Interact with and engage your viewers
Easy-to-use extensions for gaming streams
Reach Partner and Affiliate levels easily
Many options for making money
A go-to streaming platform for gaming
Twitch Cons 👎
Your channel can get banned with little warning
It's harder for new streamers to get noticed
Not the most passive way to make money (you have to be actively streaming to get views)
⚡️ Check out Placeit's Twitch logo templates to create a professional brand!
What You Need to Know About Streaming on YouTube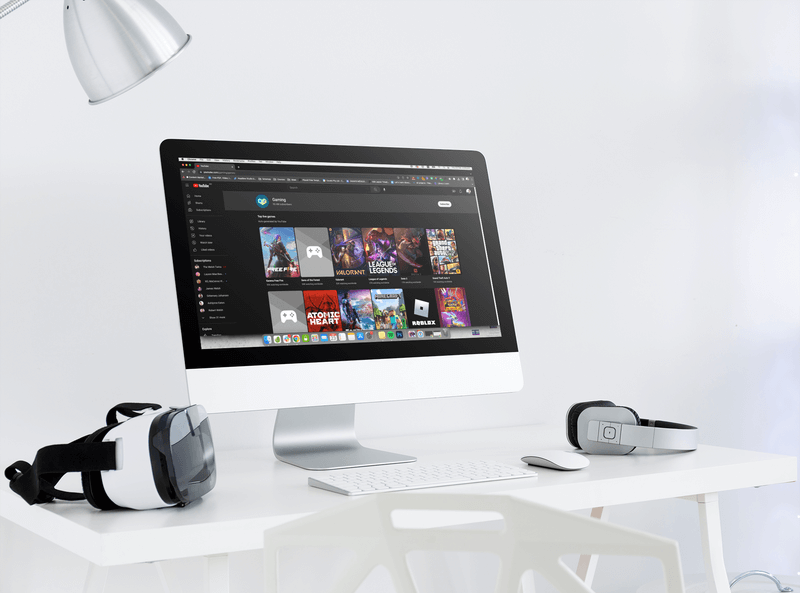 YouTube is a video-sharing and social networking platform that sees over 122 million visitors every day. It was created in 2005 by three PayPal employees but is now owned by Alphabet Inc. (Google) since 2006.
Because YouTube is owned by Google, anyone who has a Google account essentially has a YouTube account. This makes it super easy to jump onto YouTube and become a regular viewer or creator.
YouTube is known for its pre-recorded content, but live streams are also part of its offering. Creators can post regular long-form videos, Shorts, and they can go live. Posting a combination of these three can help you out in the long run because you don't have to be live for your videos to be recommended to users browsing the platform.
Pre-recorded videos that have been uploaded to your channel are always available (unless you delete them or set them to private) and will show up in search results when they're relevant. Similarly, YouTube's algorithm will recommend your channel or your videos to people who watch content related to yours, making this a truly passive way to make an income. This also makes it easier to get discovered by viewers interested in the type of content you post.
Posting to YouTube is easy, whether you have a pre-recorded video or Shorts or are going live. The platform offers lots of customization options for your channel and your videos. Not only can you create a custom banner and channel design, but you can also create custom video thumbnails to make your videos stand out. You can also add links to your social media accounts and merch and create playlists for your viewers.
YouTube works like a search engine, so being specific when searching for something will get you better results. For those who post on YouTube, having some knowledge of SEO will help ensure your channel or videos show up in search results.
💡 Placeit by Envato has tons of YouTube designs you can customize for your channel!
YouTube Pros 👍
More lenient with content you can post
New and smaller channels can get promoted by the algorithm
More opportunities for growth through varied content
Passive income
More customization options (thumbnails, end cards, etc)
Popular with mobile gamers
YouTube Cons 👎
Less engagement and interaction with your community
Lots of requirements to join the YouTube Partner Program
Fewer money-making options
Not as many gaming tools
Twitch vs. YouTube: Key Differences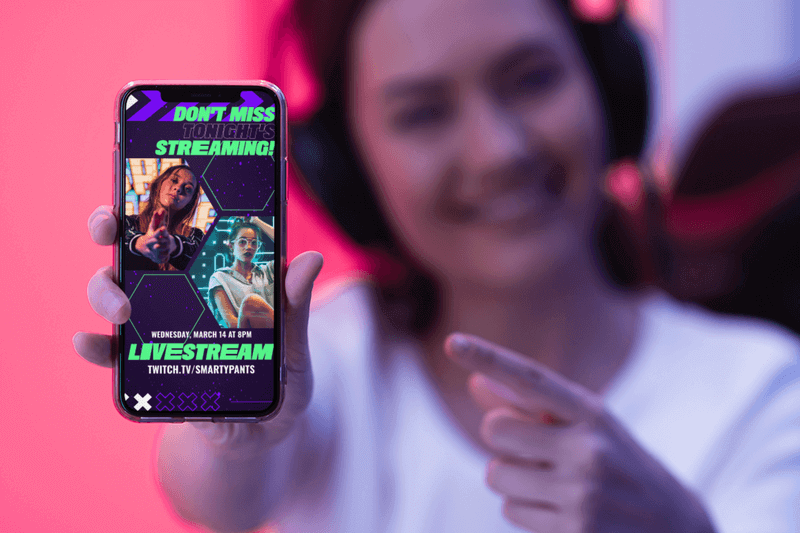 Both are great options for new streamers and established streamers who want to expand their reach. But, if you're looking for one platform that is a better option for your streaming goals, it's worth comparing and contrasting some of the platforms' key differences.
💡 Learn how to stream on YouTube and Twitch!
Let's go through how they differ in these important aspects:
1. Audience
🟣 Twitch
Twitch is known for being the largest live-streaming platform around, so it makes sense that this is what users expect to find when browsing content. In fact, it's so large the platform boasted 140 million monthly active users last year.
Twitch's audience is mainly made up of males, while roughly 20% of its audience is female. In terms of age, around 35% of users are between the ages of 18 and 24, while roughly 32% of users are between 25 to 34 years old. In 2022, there were 9.9 million active channels on the platform, with around 52,000 of those being Twitch partners.
🔴 YouTube
While YouTube does have a live-streaming option, it is mostly known for its pre-recorded content. This means that most viewers head to YouTube in search of this type of content. They may head there specifically to watch a livestream hosted by a YouTuber they follow, but this isn't usually the main draw.
When looking at the demographics of YouTube users, 56% of users are male, while females make up the remaining 44%. YouTube is most popular with adults between the ages of 25 and 34, who make up 20.7% of all YouTube users.
2. Type of Content
🟣 Twitch
Twitch is known for its live-streaming content because that's what it was built for. In fact, 71 million hours of content are viewed on Twitch every day.
Streamers, however, do have the option of saving full videos and clips from their streams in the Videos section of their profile. Subscribers may be more interested in these than a random browser, but they are an option.
Gaming content is likely what comes to mind when you think of Twitch, but other streaming categories have picked up steam in recent years. In fact, Just Chatting was the most popular category in 2022 followed by game titles like League of Legends, Grand Theft Auto V, and Valorant.
If you're wondering what to stream on Twitch, it's best to stick to what you enjoy and what resonates with you. This can be gaming content around a specific game or genre, Just Chatting streams, or anything else that you will be excited to continue. You don't have to limit yourself to one category, but make sure that what you stream makes sense for your brand and for your audience.
💡Learn more about how to create a Just Chatting Twitch stream.
🔴 YouTube
YouTube has made a huge name for itself thanks to its hours and hours of pre-recorded content for just about any niche you can think of. In fact, pre-made videos are the most popular type of content on the platform.
There isn't a single category that YouTube is known for, although it does have some large communities around many different niches, like beauty, sports, music, travel, food, gaming, DIY, and many more.
For gamers, there is a corner of this platform specifically for gaming content. YouTube for Gaming currently has 93.4 million subscribers and is where you can see curated gaming content, like current live streams, trending videos, Shorts, and videos by game title.
Within the different niches, the most popular types of videos tend to include tutorials, reviews, music videos, commentary videos, story times, and challenges.
YouTube is known for being more lenient than Twitch when it comes to video content, but that doesn't mean you can do whatever you want. What you show in your videos and what you say can lead to your videos being demonetized and videos can be blocked. For example, if you use music you don't have the right to, your video will be muted for anyone who watches it.
3. Discoverability
🟣 Twitch
New streamers will have a harder time getting their stream noticed on this platform simply because there is no algorithm to push your content or channel.
When browsing categories or general content on the platform, streams with larger audiences are shown closer to the top, making it harder for someone just starting out to appear in these search results.
🔴 YouTube
It's easier to get your streams noticed on YouTube for a few reasons.
First off, YouTube has an algorithm that promotes content to users based on their searches and the content they watch. This means that if your content is similar to what someone watched, then you have a chance at your content being suggested to them.
Another way YouTube makes discoverability easier is that you don't have to be live to be suggested to viewers. Even if you want to focus on live streaming, having pre-recorded content or videos of past live streams on your channel means you can be discovered even when you aren't live. Users can subscribe to your channel if they like your content and then come back for your lives.
Lastly, since YouTube allows you to create custom thumbnails for your videos, you can make them appear more enticing in search results. This may seem insignificant, but it can truly help you grow your audience.
4. Growth Opportunities
🟣 Twitch
As mentioned above, it can be harder to get noticed on Twitch when you're just starting out. Since the platform favors larger creators, this makes growth a challenge. It isn't impossible, but you will have to put in extra effort and stick to it to see results.
It helps to create a consistent schedule you can stick to because staying active on the platform is a must. Be sure to put in extra effort to interact with your audience to keep them coming back. This can help grow your viewer count and community, which has a huge impact on how quickly you grow. Look for streamers with a similar audience to yours and collaborate with them to get more exposure.
Definitely use outside resources to promote your stream. Promote yourself on your own social media channels and look for online communities where you can connect with other streamers. Welcome feedback because this will help you fix whatever's not working with your channel.
💡 Find more tips to grow your Twitch channel!
🔴 YouTube
Since YouTube's algorithm can help small or new creators, growth on the platform should be easier. The reality is that even with the algorithm's help, it can still be a challenge because of how saturated the platform is.
With that said, in order to grow, you have to start small and stay consistent. You have the advantage here since uploading consistently means you'll have more content for users to discover.
Your videos can work for you even while you're sleeping, so the best things you can do are to upload regularly, learn YouTube SEO strategies, and pay attention to what resonates with your audience.
Once you start building your audience, notifying them about live streams will let them know when they can expect to see you live and interact with you in real time.
We recommend that you use a combination of pre-recorded videos and lives to help spur your growth on YouTube.
5. Monetization Options
🟣 Twitch
Monetization on Twitch isn't hard; you just have to become a Twitch Affiliate or a Twitch Partner.
The first step is to become a Twitch Affiliate, which isn't too difficult. Their current requirements for this are:
You must comply with Twitch's terms of service
Gain 50 followers
Maintain an average of 3 concurrent viewers
Stream 500 minutes or more within the last 30 days
Stream over at least 7 days in the last 30 days
It usually takes streamers two to four months to reach this milestone. Once you qualify, you'll receive an invitation to join the affiliate program. If you accept the invitation, you can then start making money from ads, Twitch Bits, and channel subscriptions.
The next step is to become a Twitch Partner, which is considered one level up from a Twitch Affiliate. There is no correct way to become a Partner, but there are some general guidelines. You have to first qualify for the affiliate program and then check your Achievements Dashboard to see if you've completed the Path to Partner achievement.
Once you've done so, a button will be activated that will allow you to apply for Twitch Partner. No one can guarantee that you'll be accepted, but it doesn't hurt to try.
If you do reach the Partner level, you will have the same monetization options as an affiliate but with even more perks. You will get a verified user badge, custom chat badges for your subscribers, access to priority support, custom Cheermotes, and promotional opportunities like being featured in creator spotlights.
Twitch also allows you to create panels where you can add links to your merch and other social profiles, as well as affiliate links that you can make money from.
You can also create a panel for donations, which is a popular option for Twitch streamers. You can use any donation platform you choose, such as Patreon, PayPal, or Stripe.
💡 Learn more about how to make money on Twitch!
🔴 YouTube
YouTube also offers a partnership program you can join. There are guidelines and specific criteria you must meet to be accepted into the YouTube Partner Program (YPP).
In order to become eligible for YPP, you have to meet one of the following requirements:
Have at least 1,000 subscribers with 4,000 public watch hours within the last 12 months
Have 1,000 subscribers with 10 million public Shorts views within the last 90 days
YouTube can notify you when you qualify for the program through email. Just head over to YouTube Studio and in the Earn area select the option that says Notify me when I'm eligible.
You'll need an AdSense account, no strikes on your channel, 2-step verification on your Google account, be located in a country where the YPP is available, and stick to YouTube's monetization policies.
Once that's all set, you'll be able to make money through different options. This includes ads, channel memberships, Super Chat, Super Stickers, and Super Thanks. Each one of these has different eligibility requirements you have to meet before you can start making money from them.
Meeting the YouTube Partner Program's requirements can be a bit tricky for new streamers, but they're certainly not impossible. The trick is to stick with it, continue uploading, and keep an eye on your metrics. You can learn a lot from looking at what your audience reacts well to and what gets you more views and subscribers.
There's always the question of do you make more money on Twitch or YouTube, but I'm sorry to say there isn't a clear answer for this because it depends on a lot of personal factors.
💡 Learn more about how to make money on YouTube!
So, Is It Better to Stream on Twitch or YouTube?
If you're still wondering, "Should I stream on Twitch or YouTube?" after reading all of that, the truth is you're not alone. There is no easy answer as to which is the best streaming platform for new streamers or the best streaming platform for gamers because it all depends on what your goals are, what your approach is, and what sort of following you already have.
This isn't the best answer, but it would be misleading to say one is better than the other without a second thought. It's clear that they each offer a unique set of benefits and challenges, so the final decision should be a personal one.
It's a great idea to choose the platform that sounds the most promising for what you have planned and then get to work on creating a strategy around what you know about the platform. Experiment and stick with it to see real success.
Keep in mind that you can always change your mind, or why not stream on both?
Can You Stream on Twitch and YouTube?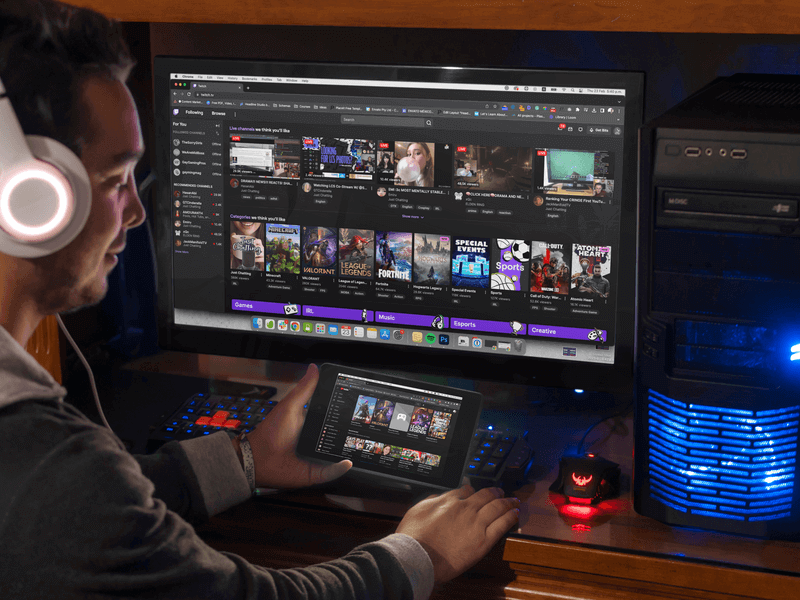 The simple answer is yes, of course, you can stream from both platforms at once. In fact, you can stream from multiple platforms at the same time with the right software.
This is a great option that allows you to engage your audience no matter where they hang out. Doing this can also help you grow your audience on your platform of choice, whether that's YouTube or Twitch. While streaming, make sure to include links to your preferred platform and anywhere else viewers might find you. This way you'll get new subscribers who will tune in to see you next time you're live.
This might seem a little overwhelming at first, but don't discard this option right away. It might be something you want to revisit in the future once you feel a bit more ready to expand your reach.
💡Wondering how to stream on Twitch and YouTube at the same time? Restream lets you stream from both and other streaming sites at the same time!
Go Forth and Conquer
It seems like a bad joke to say there's no clear winner, but that's the reality of the streaming world. What's best for you might not be the best for others, and there's nothing wrong with that.
There's a lot of information to consider when deciding where to start a stream. But that's also great! There are so many resources out there to help you make an informed decision.
With that said, don't let all the information stop you from pursuing your streaming dreams. There's no time like the present to just go for it and learn as you go. And like we said earlier, you can always change your mind (or stream on both).
If you're already streaming, we'd love to hear your experience and advice for new streamers in the comments below ⤵️
FAQ – Twitch vs. YouTube: What's the Best Streaming Platform for You?
---
---