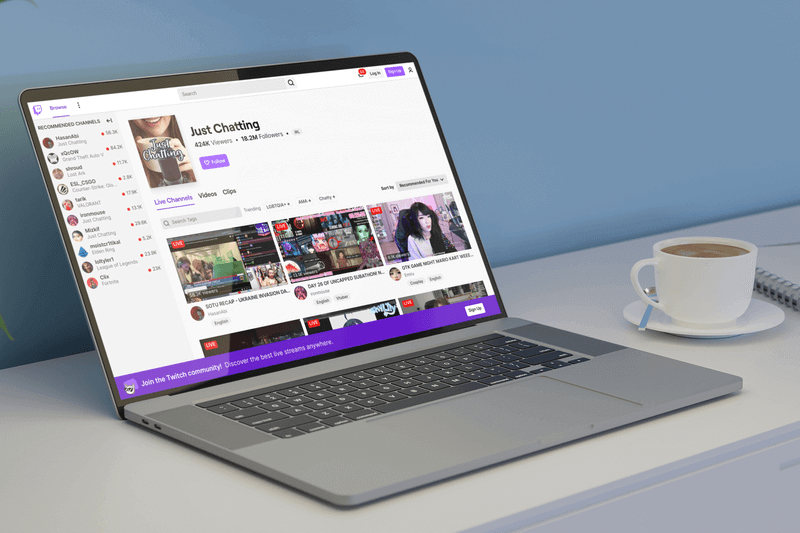 When you hear Twitch, you likely think of people streaming video games, but Twitch actually has a lot more than just video game content. In fact, Just Chatting Twitch streams have become increasingly popular with viewers and streamers.
If you're considering jumping into the Just Chatting Twitch craze as a content creator, use these tips to ensure it's a hit.
1. Customize Your Twitch Channel
Before you start streaming on Twitch, it's important to fill in the blanks in your profile. Let's be honest; a blank channel with no bio, avatar, or any information can look kind of suspicious. To ensure users don't leave your channel because it looks deserted, get to work on making it your own.
💡  Check out Placeit's Twitch panels.
Start by filling out your bio, choose a profile picture or avatar, and add some custom assets to make it look more welcoming. You should take the time to define your brand and use this to dress your channel.
Choose a color palette you can incorporate across your channel and other related profiles, along with graphics that represent your brand. You can use all of this as a guide for things like your Twitch banner, panels, and even the overlays you use while streaming. Save time and money by creating your channel's assets using Placeit's Twitch templates.
Some of the most important assets to make for your Twitch channel include:
Avatar or profile picture: This will go in your bio and give your profile a more finished look.
Twitch banner: Your banner will go in your channel home's background and will aid in creating a more cohesive and branded look.
Twitch offline banner: When you aren't live streaming, your offline banner will display in your home's header. Your banner should say you're offline and can also include info about when you'll be back.
Twitch panels: These are located in the About tab of your channel and make it easier to share general information and links with your audience. You can create Twitch panels with basic info about yourself, links to your gear with affiliate codes, links to your social media profiles, and even information about where viewers can make donations.
Twitch overlay: During a live stream, you can customize what your stream looks like by utilizing an overlay. These can look like a frame, a ticker, a bottom bar, etc.
Learn how to make a stream overlay for your streams in the video below:
2. Choose Your Twitch Categories and Tags Carefully
While Twitch may be synonymous with gaming, there are actually a number of streaming categories you can choose from. These categories are meant to help viewers find the streams they're interested in through more efficient means.
Users can browse the categories page or search for a specific category to narrow down their stream viewing options. Categories often take on the name of a specific game when they're gaming-related, but there are other non-gaming categories you can browse as well. Some examples of non-gaming categories include Music, Food & Drink, ASMR, and, of course, Just Chatting.
Along with selecting the right category for your stream, you also want to use tags that will help your stream in terms of discoverability. The tags you choose should describe your stream accurately so that viewers know what to expect. Avoid using popular tags if they aren't relevant to your stream because this is misleading and may not actually get you an audience that sticks around. You can choose up to five tags, so choose these wisely.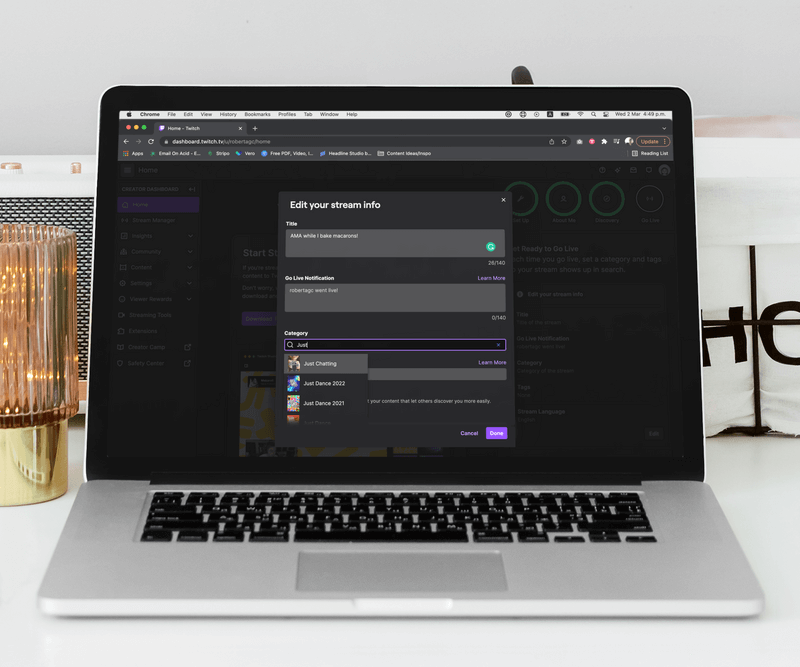 💡 Pro Tip: Using tags can help you grow your audience since Twitch uses tags to recommend streams to viewers based on their past behavior.
3. Play to Your Strengths
With Just Chatting, the possibilities are almost endless when it comes to what you can stream. This means you can try out different types of content and change things up often so that your audience doesn't get bored.
Start off by creating streams around your strengths. If you're a great storyteller, you can do storytime-type videos that draw people in because of your animated narration. You can do comedy, react to other videos, unboxings, you can even bake while talking to your audience. The idea is to show something that will capture your audience while also staying in conversation with them.
Keep in mind that you don't have to do the same type of stream every time. Change it up and take note of what your audience likes and dislikes so you can improve future streams.
If you feel like you're running out of ideas, check out what's trending on Twitch to get stream ideas. Try your hand at trendy topics but put your own twist on them.
4. Plan and Organize Your Streams
Just Chatting streams may seem like an easy venture anyone can master, but there's more to it than just hopping on Twitch and talking. These types of streams require some level of planning and preparation.
Think of your stream as if it were a TV show. You don't need a script, but planning out the structure of your stream can help keep you on track. Decide what segments you want to include, such as an introduction and closing, and the general idea of what you want to convey in these segments. Have some bullet points you want to touch on and topics you want to bring up during your stream so that you don't go off track and get stuck.
Structure will give your stream a level of professionalism and organization that your audience will appreciate. This will also make it easier for you to keep talking and move your stream forward.
It's also important to create a streaming schedule so that your audience knows when to tune in or when to expect your next stream. Use the schedule tab in your Twitch profile to keep viewers informed about your next streams and the topics you'll be covering.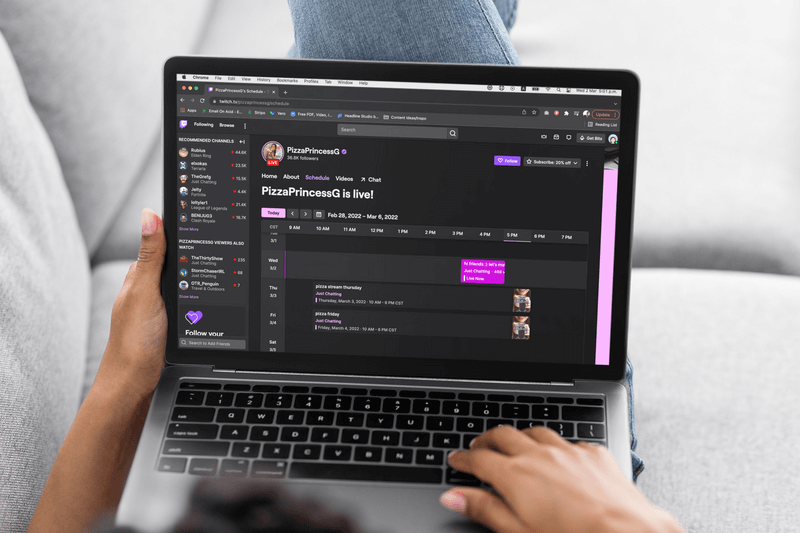 5. Twitch Streaming Tips to Keep Your Audience Engaged
Once you're ready to jump into your stream, do your best to keep things moving. Avoid quiet, awkward gaps in your stream by sticking to your plan and talking points. When you're done with a segment, know what comes next so that you can transition into it seamlessly.
Do your best to keep an eye on your chat so that you can shout out people who comment and ask questions. Try asking questions that your audience can answer or answer their questions as they come up.
Even if you're not getting as much participation as you hoped for, keep talking. This can feel uncomfortable at first, but keep at it and you'll notice improvements as you keep streaming.
Finally, have everything prepared ahead of time, not just your talking points. If you're going to need special materials for your stream, have these within reach and ready to use. Test your equipment before you start streaming so you're sure everything is working properly and that your camera angle is exactly what you want.
6. Keep Your Audience Hooked with Quality Content
You may have some great and unique ideas for your Just Chatting Twitch streams, but this won't guarantee success. Along with great ideas, you will also need to ensure your stream looks and sounds great to keep your audience hooked and coming back for more. If you have it in your budget, invest in the best streaming gear to get the quality results you want.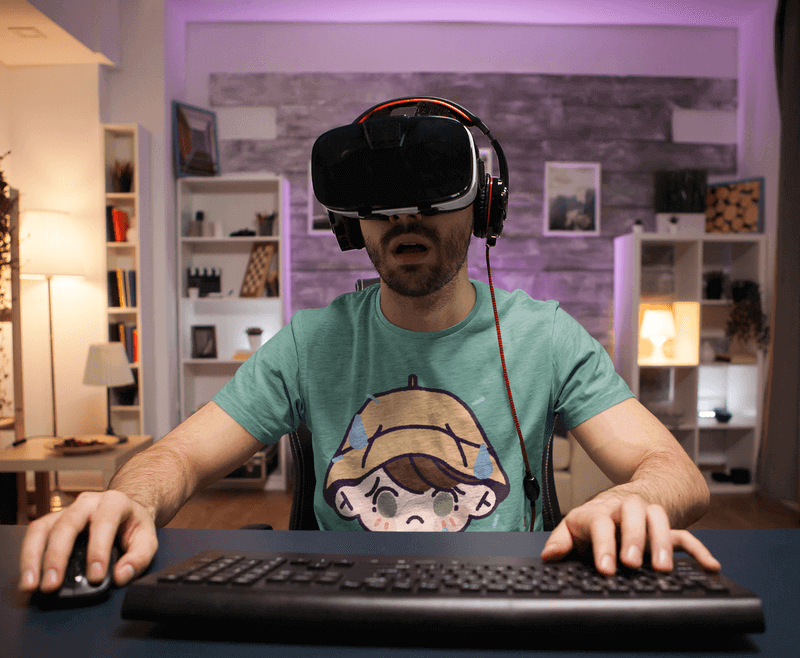 Start by creating a streaming setup that looks great. You'll need reliable WiFi and a decent camera so that your stream isn't laggy and looks sharp. Take some time to get your camera angle just right and set up your streaming space in an area with minimal background distractions. Let some light into your space so that you're illuminated and not streaming in the dark where it can be hard for people to see you.
Your sounds should also be clear, so get yourself a decent mic that will pick up your voice better than background noise. Keep your audio level so that your audience doesn't get frustrated adjusting their volume every couple of minutes.
There are tons of tools for Twitch that will help you enhance your content. From analytics tools to monetization tools, try out different Twitch tools to get the professional results you want.
Part of your stream's quality will also come from being fully prepared to stream, how informed you are on the topic at hand, and how much you've learned from your past streams, so don't just rely on your gear to make your stream inviting.
7. Stand Out From the Competition
It can be easy to blend in with all the other streamers on Twitch, even within the different categories available. Because of this, you'll have to put some effort into standing out and crafting unique content.
First, you'll want to offer something new or uniquely you. Do your research and check out other successful streamers to get ideas. Try to adapt the ideas you get from them to your own persona or style. Don't feel like you're stealing from anyone, but do credit other creators when taking inspiration from them. Remember that it can take some time to find your style, but keep at it and allow yourself to explore.
Give all of your streams a unique name and description that is accurate to what you will be streaming. This will help viewers discover your content and increase your audience, especially when it appeals to something unique about them. Avoid using misleading titles just because you want to include a trendy term in them. This will only annoy viewers when they click into your stream and see that it's not what was advertised.
Finally, build a community around your streams. Welcome new viewers, respond to questions, and have fun with your audience. Forge connections with them in your stream as well as outside of it on social media. Develop a unique look for your stream and welcome inside jokes and other things that make your audience feel a part of something.
8. Promote Your Channel and Grow Your Audience
Learning how to promote your Twitch channel isn't hard and can have a great payoff. Using a variety of promotion methods will be best, but you can refine this as you go.
One of the easiest ways to promote your streams is by posting about them on social media. You can create social media profiles for your channel so that your viewers can follow you there and grow your community on social media. You can also promote your streams on your personal profiles so that your friends and family know when to join.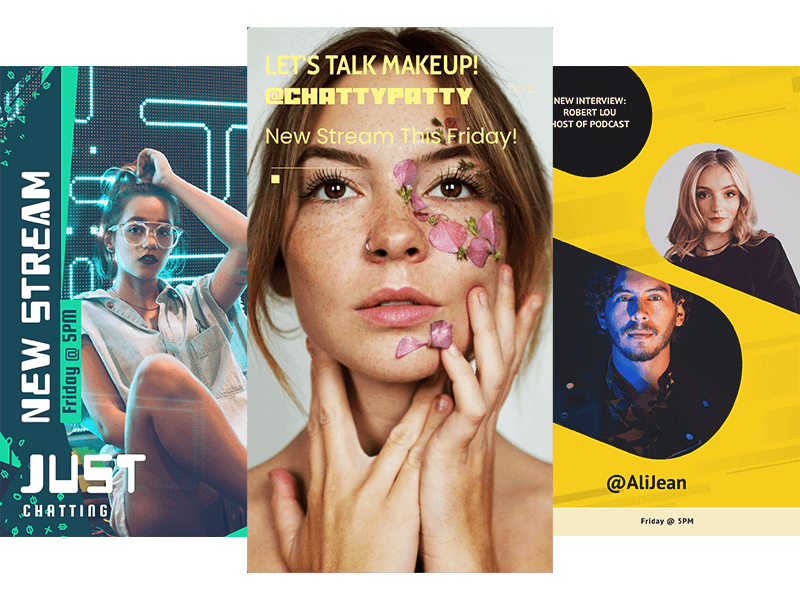 Announce upcoming streams and collaborations, and go live on Instagram or Facebook to interact with your viewers. Show them behind-the-scenes content and keep them posted on your future plans. To catch the attention of your audience on social media, create stand-out posts and stories using Placeit's Social Media Templates.
On Twitter, you can interact with your viewers, participate in threads related to your streaming content, and meet new people who might be interested in your streams. Ask them to check out your channel, but be sure to follow up and check out their content as well.
Look for collaboration opportunities with other streamers in your niche. Collaborating with another streamer can introduce new viewers to your content and help you grow your regular viewership.
💡 Should you be streaming on YouTube? Check out this post on Twitch vs YouTube to make a decision!
9. Stay on Top of What's Trending on Twitch
To grow your stream and even start making money on Twitch, you'll need to be committed to growing. For this, you'll have to stay on top of trends and changes in the industry. Make time for this sort of research and planning because they are just as important as your actual streams.
Take time to explore Twitch and the Just Chatting category to stay up to date on topics and streamers that are trending. Watch their streams and take note of what you like and can try to implement in your own streams.
Check your Twitch dashboard often so you have the most accurate information about your past streams. Make a habit of checking your stream analytics and looking for patterns that are telling. You may notice that certain streams consistently have more views than others. Ask yourself why this is and try to replicate what's working and change what isn't.
Don't be afraid to ask your audience for feedback. Be prepared for honest feedback and take it as a learning opportunity. Your audience is a great resource so take what they have to say seriously.
Final Thoughts
Just Chatting is one of the most popular categories on Twitch, so it makes sense to want a piece of the pie. If you've decided you want to try your hand at it, you have tons of stream ideas to choose from and try out as you grow your channel. Just like with gaming on Twitch, you'll have to put some work into your stream and grow your audience, but this will get easier and more rewarding over time.
If you've found success on Twitch, let us know in the comments below what valuable tips we might have missed!
---
---