Twitch panels are used to showcase your personal information as well as your channel's singularities, like the stream setup you are using or your Discord server.
Twitch panels are located in your about me section to give your viewers helpful information about yourself. They have two main functions: give your visitors a sense of your brand and link them to useful information.  
Your channel panels are a great way to reach your profile goals; in other ways, they work as a sales page. You can entice your visitors to follow you on other places like social media, to subscribe, to donate, and to come back for your next stream! 
With that said, we are about to tell you how you can create your own Twitch panel designs easily and right here in your browser!
Create Twitch Panels with Placeit
On the top bar, choose the Gaming section.

2. On the next drop-down menu, select the Twitch panels option.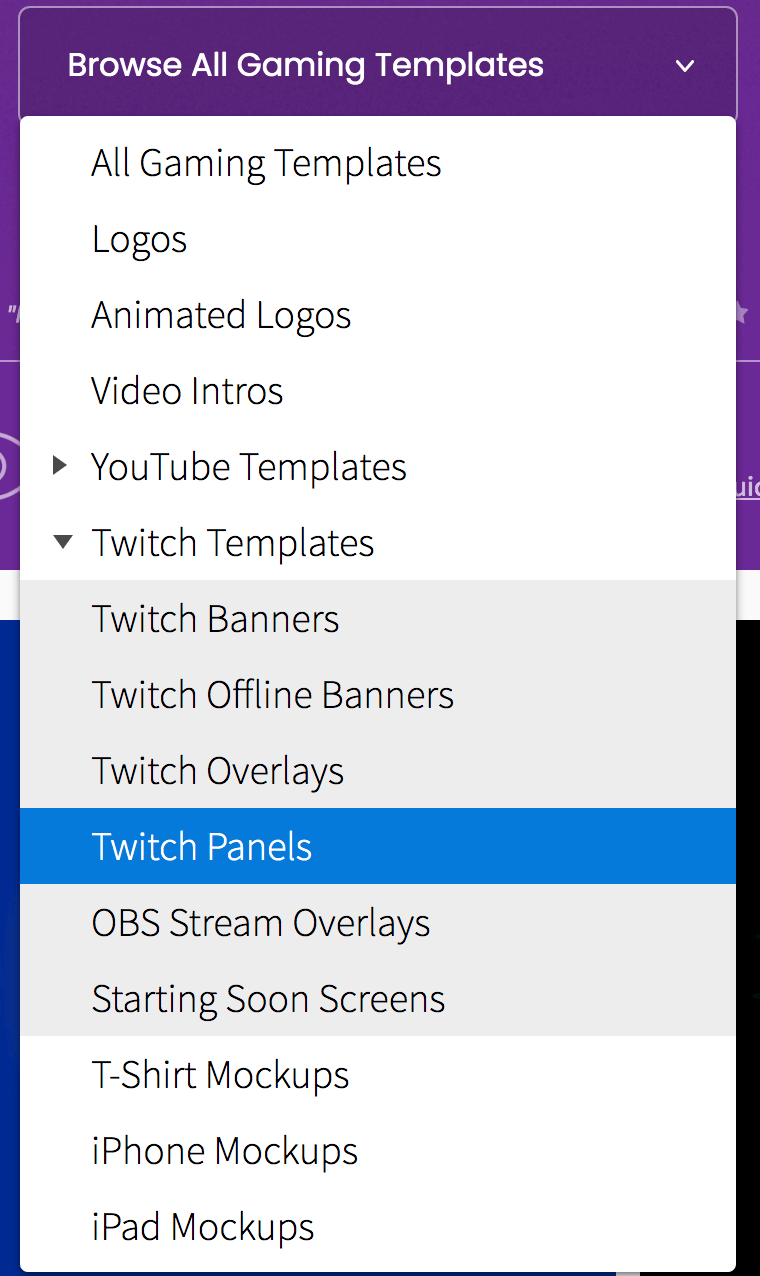 3. Choose a template that goes best with your style. 
4. Once inside an editing window for the template you choose, you can start customizing it with your own information and style.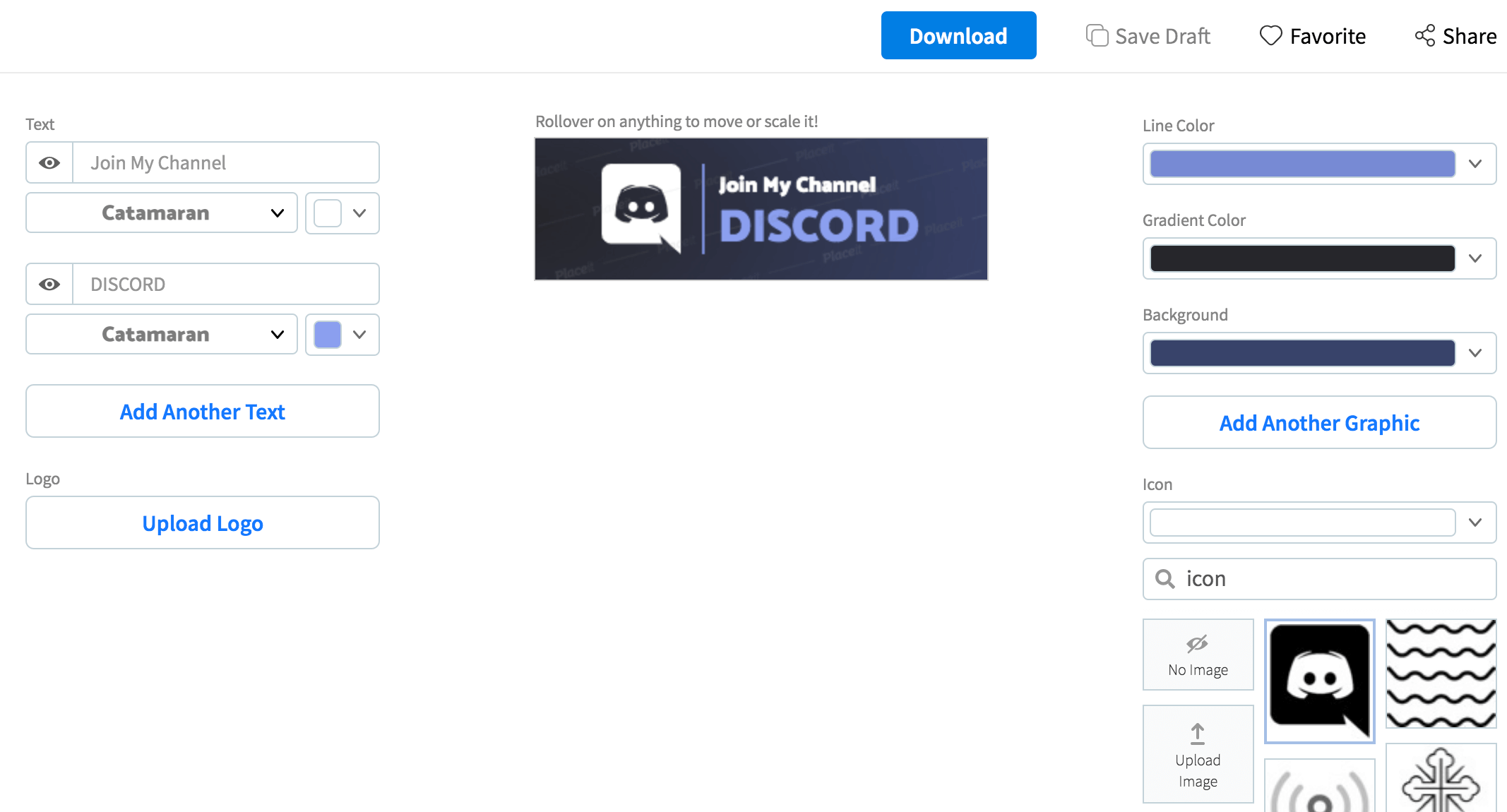 5. Type your information in the text boxes and choose your fonts and colors. You can change every color or texture on your templates and select the icon that best suits you. You can search for a specific icon or upload one of your own. 
6. You can also click on the elements of your templates and move them around manually to wherever feel right. 
7. Once you are 100% happy with your design, you can click on the download button and start enjoying it right away!
Choose a style for all your panels while still keeping them homogeneous. Avoid copying someone else's style. Get yourself inspired by tons of different design styles until you find a unique turn for your own. You can also watch the following video for more tips on Twitch designs.
⚡️ Want to create Twitch panels that match the rest of your channel design? Check out Placeit's Twitch sets to do this in no time!
Make a Custom Twitch Panel 
Make custom Twitch panel designs without the help of a specialized designer or some expensive software. 
Twitch Panel Templates
Get inspired to make your own stylish panels. Take a look at a few of the templates you will find in our library.
🦇 Don't miss these Twitch horror templates, including Twitch panel templates inspired by Halloween!
Free Twitch Panel Templates
From time to time, you will be able to find free panel templates to use for your channel! We advise that if at any time you find a free template you like, you download it right away because it only last a few days!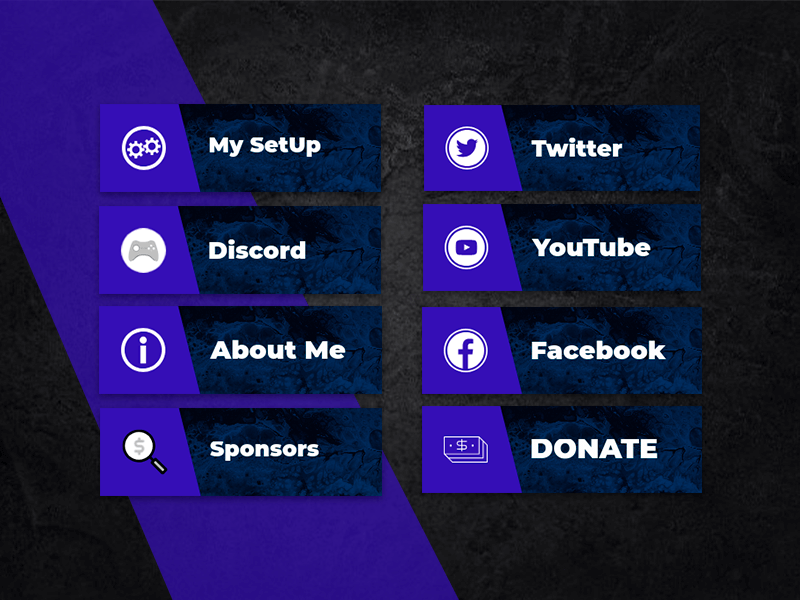 About Your Twitch Panel Size
The ideal size for your Twitch panels is from 320px wide to 600px. However, when using pre-made templates, you don't have to worry about getting the optimal size. Your downloads are already size-optimized for your profile. 
Essential Twitch Panels to Design
About Me
Also called your header panel, is a great opportunity to write basic information about yourself and your channel. Add something to differentiate you from other gamers. Give them something to connect with you in a personal way. 
Donate
When designing a donation button on Twitch, don't try to make it more flashy than your other panels. You don't want to look greedy.
💡 Don't forget that you can also use a donation panel to raise funds for causes. For example, you can use Placeit's Pride designs to create a donation panel for Pride where users can donate to an org rather than to you.
Subscribe
Make a clear and noticeable panel to lead your channel visitors to subscribe. 
Discord Server
Make a panel to link directly to your discord server. A note on Twitch community discord servers: Discord allows you to engage with other gamers on Twitch. Use your channel's brand to name your Twitch server and make it easier for future visitors to find you.
Others
You can add your schedule, meaning your gaming live hours for your followers to join whenever you're online. You can add your channel's rules so whenever an issue comes up, you can refer them back to your rules. Add other elements of your brand, like your social media and details about yourself, to motivate your visitors to support you. 
Pro Tip: Avoid saturating your Twitch panels with unnecesary information. Try to avoid tireing your viewers with tons of panels. Panels should stick to only strictly necessary information. 
How to Add Twitch Panels to Your Profile
Okay, so your designs are ready, and it's time to tell you how to add panels on Twitch.
Go to

edit panels

below your stream screen. Click on the plus sign (+) and select

add text or image panel

.

2. Customize your panel's information.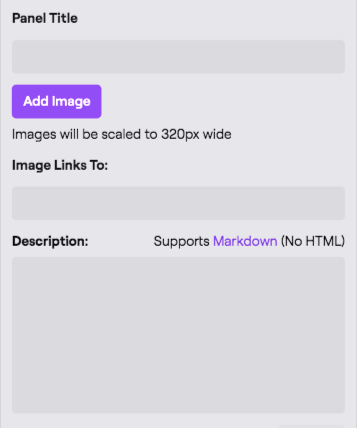 3. If your preview is all in place, then you can go ahead and click on the submit button at last. 
Find also a way to design your own Twitch panels using Photoshop in this tutorial.
Last Words
Using online design tools like Placeit, you can create fast yet stylish designs for your channel with just a few clicks. You can create visually appealing branded designs without any designing expertise due to Placeit's easy-to-use tool. 
Placeit has tons of other cool tools to complete your Twitch channel design. Find Twitch banners -and even offline banners-, overlays, OBS stream overlays, starting soon screens, offline banners, and more. You can also find all kinds of gaming templates to create your gaming logo, avatar, animated logo, video intros, and much much more. Every design template works just like your Twitch panels. Customize your designs and download! Also, you can create every single design right from your browser and in a few clicks. 
Any thoughts? Was this useful? Leave a comment for us! Tell us what you think. 
---
How to Make Twitch Panels with Placeit
Learn the best way to brand your channel with awesome designs! We tell you how to make Twitch panels using Placeit's easy online tool. You can also choose other ways to design your panels, for example, Photoshop. Read all about it in this post!
Make Twitch Panels
---