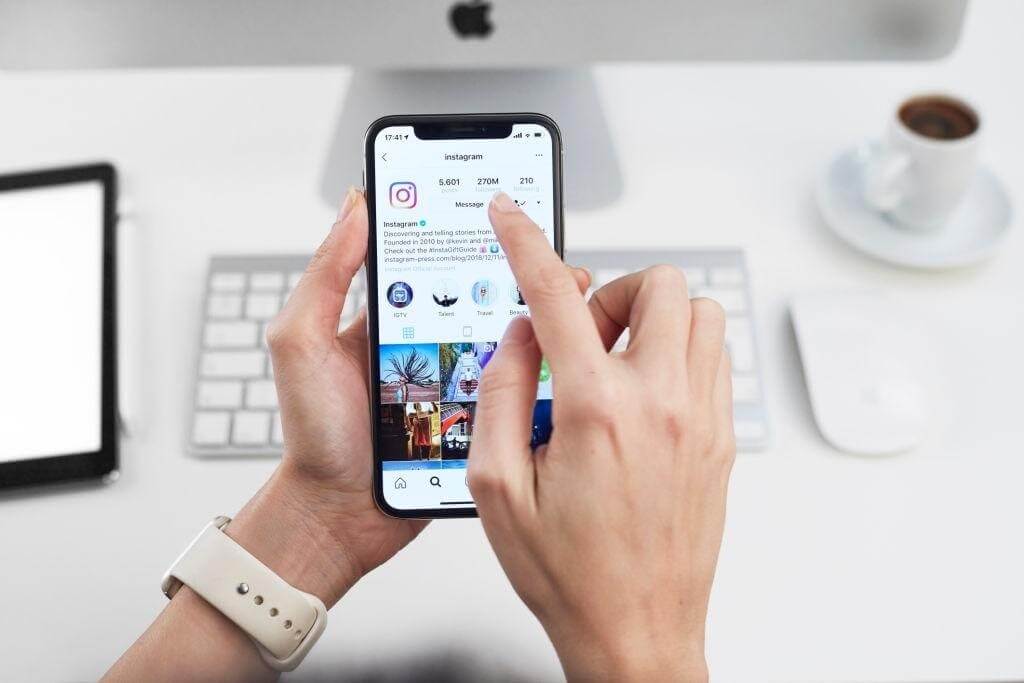 Instagram is more than just for sharing carefully curated visuals. This social media platform, with its 400 million daily users is one of the most powerful advertising platforms you can use today. In this post, we'll be talking about how to advertise on Instagram and run successful ads. Let's get started!
What You'll Find: 
Instagram Ads in a Nutshell
An Instagram ad is a form of native advertising that brands can use to promote their products or services on this social network. It's a useful tool for reaching an audience that's already highly engaged. Ultimately, this results in increased brand awareness and an expanded customer base for your brand. 
✨  Check out how to increase your chances with good Instagram SEO
They look like your average Instagram post or Story, except you can identify them easily by the "Sponsored" label underneath it. Sometimes, they also have a call-to-action button which helps with conversions and click-throughs. 
It was officially launched in 2015 and it uses Facebook's ad manager platform. Because of this, creating ads for Instagram and making money off it, is relatively easy especially if you've set up and optimized ads on Facebook before. Of course, certain features are unique to Instagram. This includes: 
Reaching the Exact Audience You Want Using Precise Targeting Options
With Instagram ads, you can target people depending on their location, demographics, interests, and behaviors. What's more, you can also target custom audiences based on your email list as well as lookalike audiences who may not already be your customers but are similar to your target audience. What's more, Instagram can even help you create an audience who might be interested in your business using the targeting options mentioned above.
Promote Posts Directly from a Mobile Device
You can easily promote your posts with just a few taps on the Instagram app. If you have a business page, your posts will have a "promote" button under the image. By tapping on it, you can easily: 
Send users to your site

Set a budget for your campaign

Add a CTA button

Indicate a destination URL

Set the promotion duration
Enhanced and Dynamic CTAs
A CTA is an important tool to get people to visit your store, sign up, or install your app, or shop for your products. With Instagram ads, you get the added benefit of these automated features:
The CTAs turn blue if a user hovers longer on a post. Furthermore, it doesn't disappear even if the user goes to the comment section

Instagram may detect additional information about your CTA automatically and will share it next to it. This includes a destination URL or the product's price.

 
Immersive Ads with Instagram Stories
Stories are a relatively new addition to Instagram. When used for advertising purposes, it can provide a more immersive experience to your users. You can run photo, video, or carousel ads that engage your customers better. Apart from using great visuals, you can also amp up your story ads using audio.
Meet Your Objectives with Instagram Ads
Instagram ads are a great tool for reaching your business goals. This includes:
Raising Awareness
Advertising on Instagram helps raise awareness about your business, product, app, or service. With the help of Instagram ads, your brand can become top-of-mind when target customers decide to push through with their purchase decision.
Increase Reach
On social media, reach refers to the number of people that come across a particular piece of content. These people may not necessarily be your existing customers but maybe converted after enough exposure to your ad campaigns.
Improve Traffic
Instagram ads are great for directing visitors to your website and for driving app engagement. It can also be used to create an offer to your audience.
App Installs
Instagram is a great way to promote mobile apps. With the right graphic and the CTA, you can drive users to the app store to download your mobile app.
Engagement
One of the key things about Instagram is that it's a great platform to engage your customers. With Instagram ads, you can boost your emotional connection with your target audience so they buy more, help promote your products and services, and express more loyalty to your brand.
Generating Leads
Generating leads on Instagram is about creating intrigue and driving your customers to a sign-up form, to an app store to download your app, or to your website.
Conversion
Of course, it's not enough to just generate leads through your Instagram ad campaigns. You need to convert them into full-fledged customers.
Three Ways to Buy Ads on Instagram
Within the App
If you have a business account on Instagram, you can easily run ads by promoting posts that you've already shared on the platform. Simply select the post you want to promote, tap on the "promote" button.
Ads Manager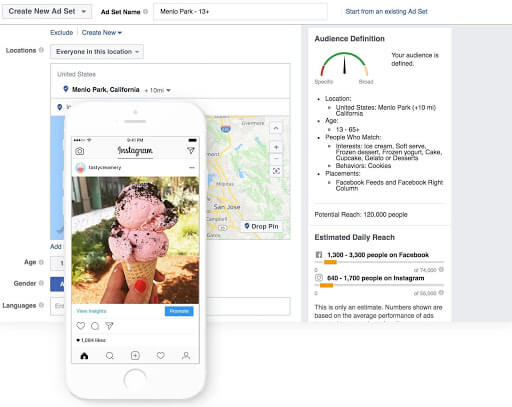 Ads Manager is a convenient way to create, edit, and see the results of your Instagram ads. You can access it both on desktop and mobile.
Instagram Partners
If you need a little more help, Instagram has a Partner Program that links business owners to an Instagram partner who can help with key areas such as setting up and running ads, managing your community, and content marketing.
🔥​ This is how it works for business accounts, however, if you will be setting ads on a Creator's account there may be a few differences to check out!
Pick the Right Type of Ad for You
Instagram ads appear in a bold, linear format at the center of visual inspiration. There are six types you can choose from depending on your goals and objectives:
Stories Ads
Instagram's Stories feature is an excellent advertisement format that lets you make the most out of your customers' mobile screens. It's a great way to incorporate media such as video and audio into your ads to make it more engaging. Unlike traditional ads that appear on your customers' feed, Stories ads let you include a link within your post that users can access by swiping up.
Photo Ads
Photo ads are Instagram ads that use a single image and appear on your customers' feed. You can use images from your Image Library, stock images, or upload new images for your ads.
It also lets you add up to 300 characters in the caption and a CTA button below the image itself. 
Video Ads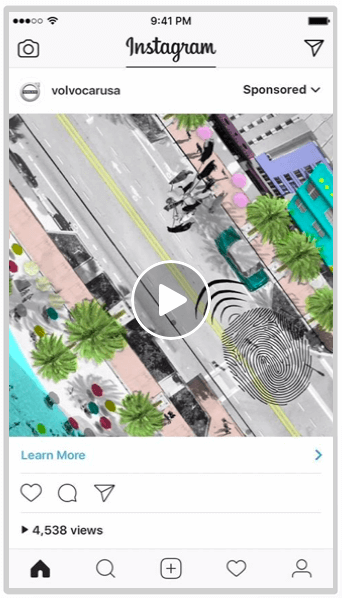 Much like single-image ads, video ads on Instagram offer an immersive experience to your target customers. What sets it apart is that it is punctuated with sound and motion which makes it more captivating. You can use videos that are up to 120 seconds long in either landscape or square format.
🔥 Want to get the best of Instagram? Then read how to create beautiful Instagram graphics to promote your business!
Carousel Ads
Carousel ads use multiple scrollable images or videos in a single ad. With this type of ad, you can highlight various products, showcase different details about one item or service, and even tell an engaging story about your brand. You have up to 10 image slots that you can fill with images and videos.
Collection Ads
Collection ads provide your target audience with an easier way to discover new products, browse your catalog, and purchase products and services in an immersive platform. These can be positioned in your customers' Feeds or your Stories. You can also use both images and videos for a more engaging advertisement.
Ads in the Explore Section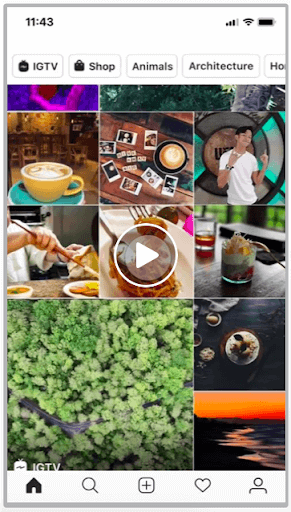 The Explore section is a great place for people to discover your brand and shop for your products and services. You can extend your in-feed ads by using automatic placements through a simple opt-in via the Ad Manager platform.
How to Set, Run, & Track Your Ads
Setting up, running, and tracking Instagram ads via the Ads Manager platform is as simple as following these four steps:
Step 1: Create a Business Page and Profile
Since Instagram ads are created on the same platform that Facebook ads are, you need to have a corresponding Facebook Page. This will allow you not only to run ads but also to create a business profile on Instagram for free.
Step 2: Set Up Your Ad
Using Ads Manager, you can then start setting up your new ad. Start by selecting Create to open the Create a Campaign window. Here, you can select the objective you want your ad to achieve, the target audience, the ad format you want, and include the related links to your ad.
Step 3: Determine Your Budget
As with Facebook ads, you can set how long your ads will run for as well as the amount you're willing to spend for your campaigns.
Step 4: Publish
Once you have all the details you need, you can publish your ad. Simply click the Publish button. You will then be notified once your ad is approved and ready to run on Instagram. 
Don't Forget to Track KPIs
As with any ad campaign, there are certain key performance indicators you need to look out for to see if you've achieved your objectives. Regularly check the Ad manager for KPIs like:
Follower growth rate

Reach

Engagement rate

Conversion rate

Referral traffic

Closed orders
Conclusion
Instagram is more than just a platform for sharing curated content with your target customers. It's also a great way to promote the products, services, or apps you're selling to an already engaged audience. By knowing how to advertise on Instagram effectively, you can create, run, and track Instagram ads, increase your conversions, increase your reach, improve brand awareness, and more.
---
Author's Bio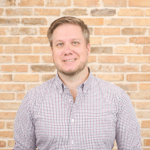 Matt Harrison is the VP of Strategy of FreeUp, the preeminent freelance marketplace for hiring high-quality, vetted talent. He has hired freelancers from around the world and built teams to service multinational brands resulting from over $100 million in web hosting company acquisitions. He currently lives in St. Petersburg, FL.
---
---