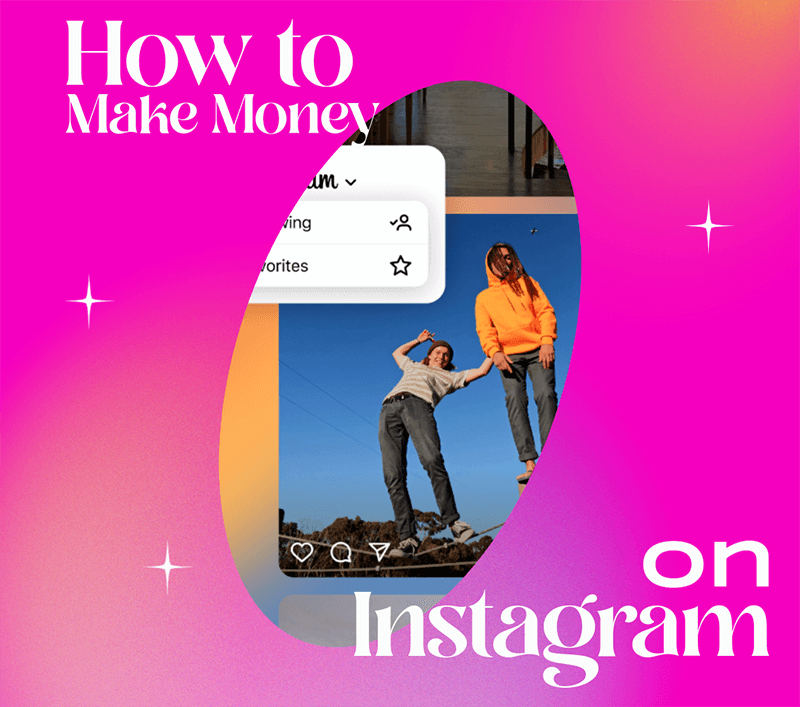 Can you make money from Instagram? Well, of course! There are many ways to make money on Instagram. Whether you are a brand or a content creator, learning how to make money off Instagram is always a great strategy! 
Actually, Instagram does want you to make money off its platform as part of the benefits of building your brand there instead of using other socials.
What You'll Find: 
How to Earn Money from Instagram
There are a few ways you can earn money from Instagram like:
Brand promotion,  this is the main source of income for most Instagrammers. 

Building a personal brand and

generating leads for your business

. 

Joining affiliate programs

Selling courses or subscription services 
Let's look over these and remember to choose, mix, and match to get the best results for your own brand.
1. Collaborate with Brands or Get Sponsored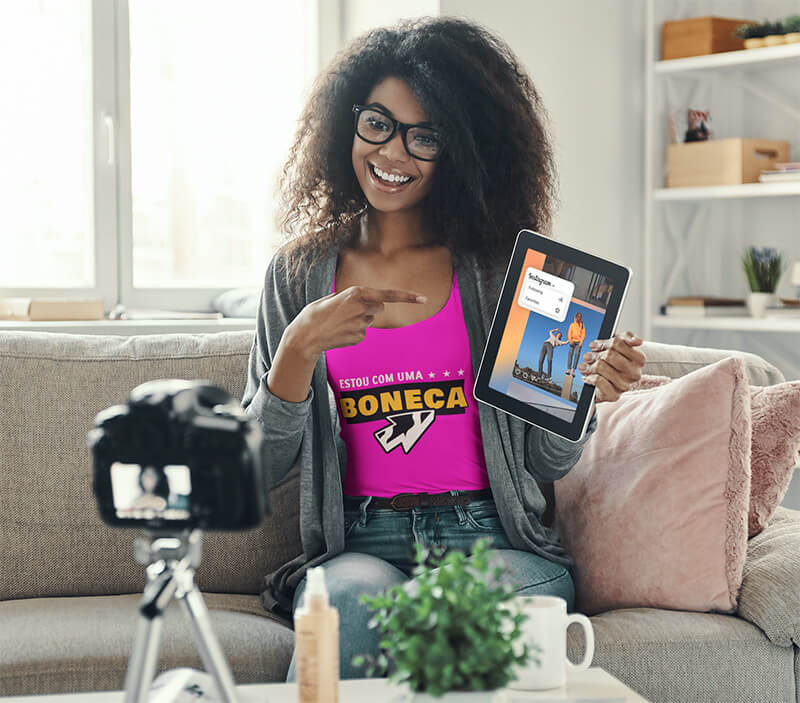 Influencer marketing is a win-win situation where brands get to combine efforts with influencers' audiences. Many brands partner up with influencers to get the word out about their brand to new audiences.
A great way to make money from Instagram is to become an Instagram influencer. An influencer is someone that builds an online reputation with its content. They are tastemakers, trendsetters, and trusted experts on certain subjects. 
🔥Take a peek at this year's Instagram best trends to post incredible content!
Partnering up with a brand can go many ways! You might get paid to post something, you might be offered free products, or experiences, in exchange for content, etc. 
If you are looking to become an influencer, be mindful to collaborate or partner up only with brands you truly believe in! Remember, your credibility is at stake!
How to Find Sponsors
Typically the work of an influencer involves posting content and ads featuring whatever brand you've partnered with. But what makes brands turn their heads to look at you? It is not necessarily your follower count that matters, but your audience engagement and content quality! Remember that by using Placeit by Envato you create stunning content for your Instagram account in a matter of a few clicks. 
🔥​Interested in becoming a wellness coach? We'll tell you how!
You can improve your odds by joining certain sites that give influencers visibility for brands that are looking: 
Instagram Creator Marketplace: your way to go to make money and grow your personal brand.
Fohr: Connect your social platforms to create an influencer profile that shows your socials and total reach. 
Crowdtap:

 Earn rewards with content creation. This is great if you've got a smaller audience. Available in the US only. 

indaHash:

Brands post campaigns you can participate in. You will need at least 700 engaged followers to be eligible.
💡​ Pro Tip: be honest about sponsored posts, products, and reviews, so you dont lose your credibility.
How Many Followers On Instagram to Get Paid

There are five tiers commonly known of influencers broken down by their follower count.
Nano-influencer: 1,000–10,000 followers ($10–$100 per post)
Micro-influencer: 10,000–50,000 followers ($100–$500 per post)
Mid-tier influencer: 50,000–500,000 followers ($500–$5,000 per post)
Macro-influencer: 500,000–1 million followers ($5,000–$10,000 per post)
Mega-influencer: 1 million+ followers ($10,000–$1 million+ per post)
How Much Does Instagram Pay for 1K Followers?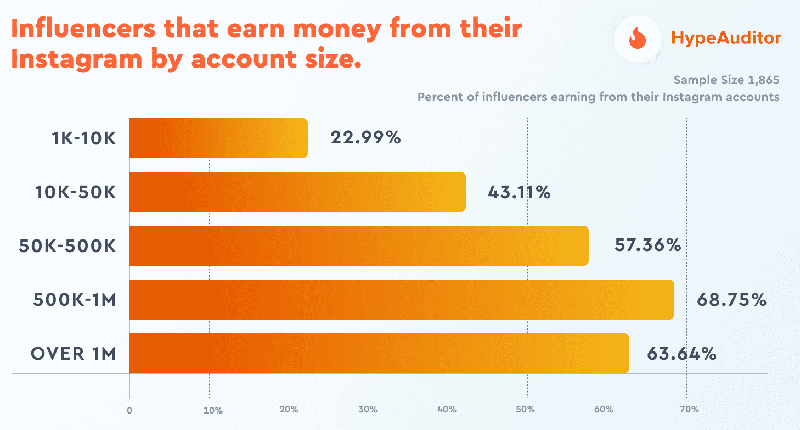 This can vary a lot depending on what is your audience's niche, fashion, food, fitness, beauty, and how engaged your followers are. 
$901 is the average an Instagram influencer with 1,000 to 10,000 followers can make per post, according to Business Insider

Micro-influencers (accounts with one thousand to ten thousand followers earn on average $1,420 per month, and mega-influencers (accounts with over one million followers) earn about $15,356 per month.
Top Instagram Influencers
These are the top Instagram influencers in 2021, according to Search Engine Journal.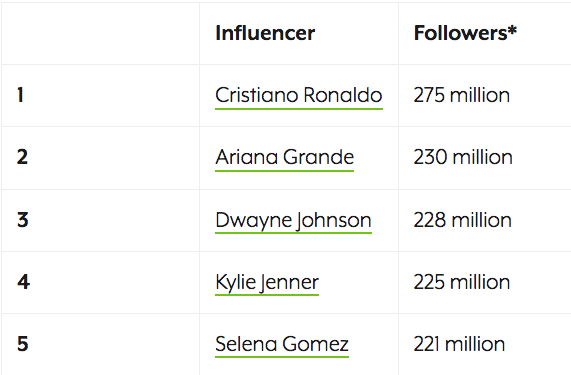 Cristiano Ronaldo reportedly makes  $1,604,000 per post.
Top Brands on Instagram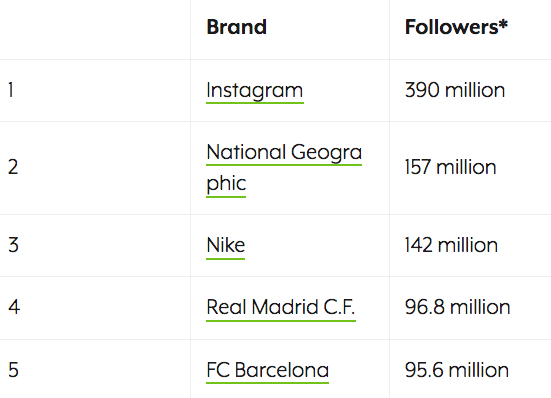 How Many Followers to Get Verified
In order to get an Instagram verified badge, you need to meet the following criteria. It is also helpful to have the following in mind: 
Private Instagram accounts are not eligible for verification

You should have a complete Instagram profile, bio, and everything! 

It's important that you stay active!

Also, keep in mind Instagram's

branded guidelines

.
There's no exact number of followers you need to have to qualify for a verification badge. To apply for Instagram's verification:
Go to the Settings menu on the top right.

Inside Settings, click on "Account" and select "Request Verification."

Complete the required fields and then hit send to start the review process.
Instagram's verification badges help accounts stand out and look legit.
2. Become an Affiliate
Another great way to make money on Instagram is by joining an affiliate program. Affiliates are more invested in making sales since they earn a commission for every sale made with their partner brand trackable link or code! 
You would have to reach out to brands offering affiliate programs like ClickBank, LTK, Amazon Associates, Placeit, etc.
3. Open Your Instagram Shop
Open a business account, and use your professional Instagram account to promote and link back to other shops. To achieve a successful Instragam eCommerce is essential that you only use high-quality images of your products, as well as the right tags, hashtags, and so on. 
There are a few ways you can sell your own goods on Instagram. You can use a print on demand services or use Instagram's shoppable posts, but more on it later.
You can offer all kinds of products and services besides merch, like images, old stuff, courses, etc. 
✨ Instagram isn't your only option for selling through social media. Check out this post on social shopping to learn more about other social media platforms you can use to sell your products!
Create an Instagram Shop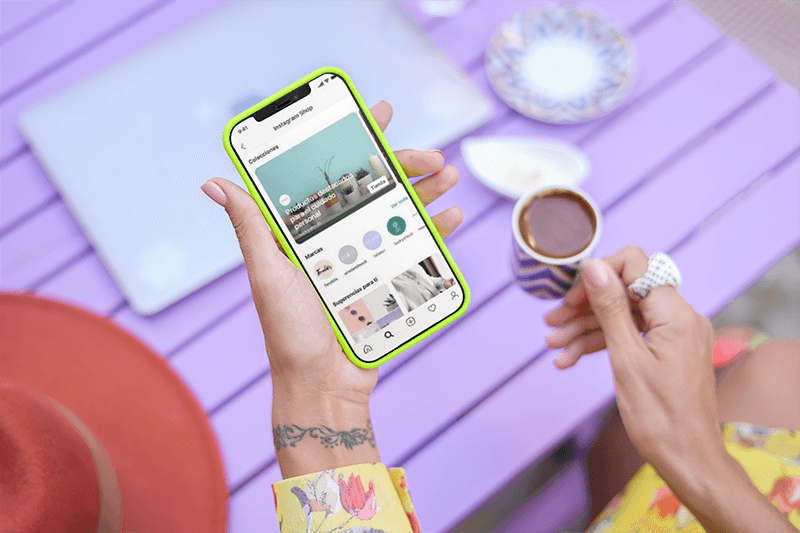 An Instagram shop is basically a super easy way to show a catalog of all your products and allow in-platform sales (this is for US brands with Instagram checkout! Your profile will have a "See Shop" button to take followers to all your product catalog.
How to Set Up Instagram Shopping
You'll have to set up your shop on Meta

commerce manager.

You must have an Instagram business account.

Choose a checkout method, and select where you want customers to complete their purchases.




Tip. Checkout on Instagram is recommended for businesses based in the US because it enables people to buy your products directly on Instagram.

To add products to your shop, select the product catalog you want to use in your shop. If you don't have any catalogs, you can create one. Learn more about how to

add products

to your catalog.
Note: A Business Manager account will automatically be created for you when you set up your shop. You'll use this account to set up your shop in Commerce Manager.
You can tag products on your feed, stories, reels, and videos.
⭐ You can't stop reading: How to Make Instagram Reels That Reel-Ly Go Viral
Instagram Shoppable Posts
Shoppable posts are also a way to treat your Instagram as an eCommerce. By visiting your images, users will be able to click on them to see that product's feature, price, and other information to lure them into a purchase! ​​
💡Remeber to use clear product imagery use clean backgrounds. Showcase a single product with minimal noise around it.
💡  Learn how to make shoppable carousels too!
Shoppable Ads
Using shoppable ads, you can find new audiences that still don't follow you. You can find new shoppers that have the same interest as your existing shoppers. They can help you re-engage shopping customers by driving them back to your products.
Live Shopping
With live shopping, you can sell products directly from your Livestream, interacting in real-time with your buyers. But why use a live video to sell? Live broadcasts give your brand a human touch; they get to see a real person behind a brand. Live videos are also a great immersive experience in which you give your products a new world of possibilities for your audience to connect. 
🔥Follow this link on how to set up your Instagram Live Shopping to get started! 
Using Instagram as a marketing tool for any business is a great strategy to sell, promote, and connect with your audience. You can also use Instagram to link back to your store, blog, youtube channel, etc.
4. How to Monetize Instagram with Video Ads
Brands can promote themselves in the videos you produce. How much you earn depends on the number of views your video gets. You'll get 55% of ad revenue generated from each view, paid monthly to your bank account, according to Instagram for Business.
To Turn On In-stream Video Ads:
Go to Account Settings. Tap Creator, then In-Stream Video Ads.

Tap Get Started. Read and agree to the terms and conditions. 

Toggle Allow Monetization on your existing Instagram videos, then tap Continue to finish. 
Your videos need to be two minutes or more to monetize. Images, polls, looping videos, slideshows, or text montages don't qualify. 
🔥​ Try this How to post videos on Instagram guide!
Live Badges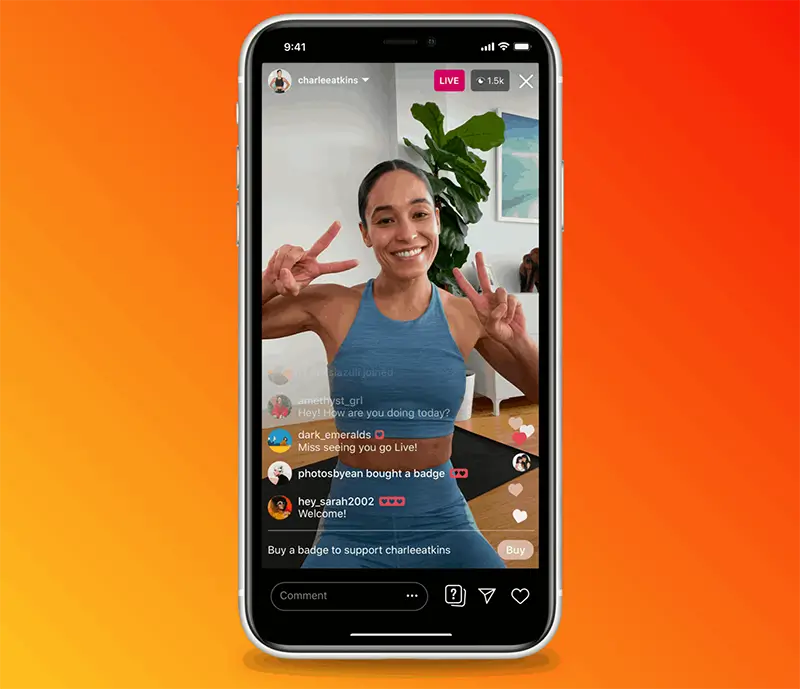 Live badges are basic tips you can get from your audience during a live stream like on Twitch or Tiktok. Your followers can buy badges from $0.99 to $4.99 and show their support. 
✨  Check out how to improve your chances with good Instagram SEO
To activate this: 
Go to your profile, "Professional Dashboard," and enable monetization. 

When you get approved, you'll see a button called "Set Up Badges." 
💡​Pro Tip: If you've enabled Live Badges, make sure to mention it on your Livestream and show gratitude whenever someone purchases a badge.
FAQ
Last Words
There are many proven ways to make money off Instagram. Read these tips on how to get money from your Instagram profile and choose the best or bests ones that apply to your brand and your goals on the platform! 
Remember that cross-platform promotion is, in the end, the best form of marketing for social media, so even though you do a great job on your Instagram, make the most out of your strategy and check how you can use your Facebook, Twitch, Tiktok, and other platforms to grow your brand as well.
⚡️ Don't stop at just Instagram; why not learn how to become a content creator in general and earn money from multiple streams?
Remember, with Placeit, you can create tons of cool posts and videos for your Instagram profile in just a few clicks.
---
---