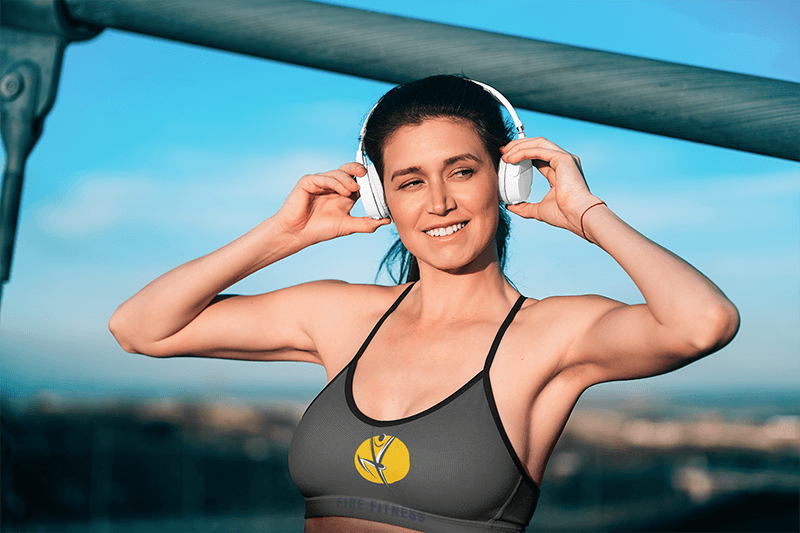 Being a wellness influencer these days is a challenging opportunity! If you are really into helping others to reach wellbeing in their daily lives, then we are here to tell you how to become a wellness coach on social media and get really popular! Social media is a great place to expand your personal brand as a wellness coach. Use your profiles to drive traffic, increase your brand awareness, and build trust. But what is the downside? The competition is fierce out there! There are thousands of wellness enthusiasts like you who wish to make it as a health coach on social media.
But we are going to help you master your profiles with this post. Read ahead! 💪
Table of Contents
✨What is a Health & Wellness Influencer?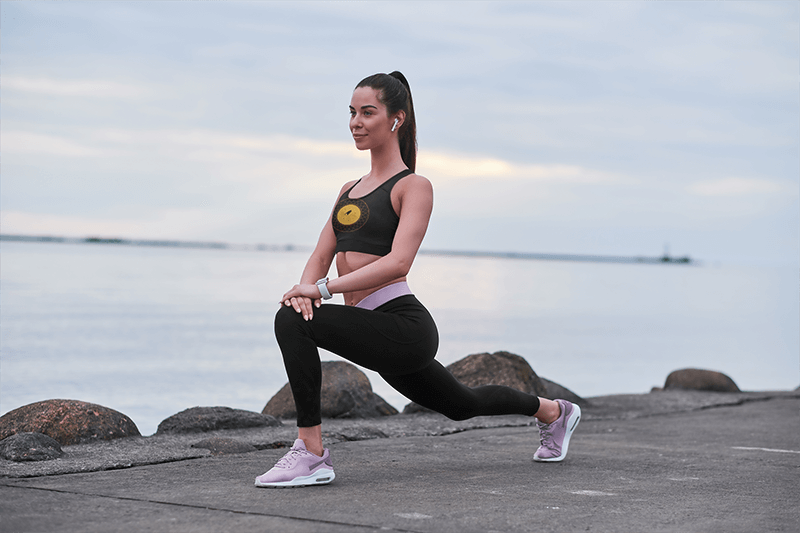 What does a health and wellness coach do? They help people change their lifestyles and behaviors to live a healthier, higher-quality life. Behavioral misconduct is one of the most challenging struggles people face in their daily lives, this is why they seek professional help, and that can be you!
A wellness coach goes beyond physical health; they teach mental health, too. This is why regular trainers or nutritionists are not mostly wellness coaches.
Awareness of the importance of self-care has been growing and growing over time! It's definitely a trending business. Various aspects of health are involved in this: working out, dieting, sleeping well, mental health, and stress management. There are many ways you can work with people through your social media: one-on-ones, workout programs, workshops, business consulting, etc. Let's go over a few excellent practices to get your wellness influencer business rocking!
⭐ A healthy lifestyle is a 180 turn from all your daily rituals, not only your workouts. Therefore, as a wellness coach, you should share valuable content to cover all related topics. 
🌱 How to Become a Health & Wellness Coach Celebrity
Social media allows you to be in many places at once. However, you should only join the platforms where your audience is. To do this, you must understand and know your target audience. Ask yourself questions like: who are they? What are their interests? What do they have in common? By having clear these answers, you'll be one step closer to becoming a successful health and wellness coach and prepare everything ahead for your social media platforms. So let's keep unveiling the top secrets: 
🤑 Invest in Social Media Ads
It's a false notion that you can relax about your social media, and it will still have a game. There are definitely some efforts to put in if you want to see results. Boosting a few of your best posts is a great form to improve your social media popularity and engagement. Try out different posts with small budgets. 
There is a lot of experimenting involved in the road to successful campaigns. Test your ad's performance to make better campaigns every time. 
Also, Promote Yourself Organically
We are not saying everything is about ads. Organic promotion is super valuable to make it as a wellness coach on social media. Use stories of how you've helped someone or yourself to make a genuine connection with your followers.
🚀 Always Post High-Quality Content
Always post stunning and high-quality (good lighting, great composition) images and videos. No one wants to follow monotonous content, so give them a unique touch to excite your followers. You can use stock images as long as you've added some awesomely branded design to it to make a point.
✨ Share Value
Always post with purpose; there is no use in displaying a dumbbell or a KB just lying there merely because it feels in tune with the rest of your feed. To share valuable content, put yourself in your follower's shoes and think, "What's in it for me?" Is your content relevant and helpful? If not, take the time to make some changes.
💚 You might like: 50+ Amazing Mental Health Graphics to Share With the World
✨ Engage with Your Followers!
Ask questions to your followers; this is the best way to start a conversation! Follow a small talk, answer direct messages, and reactions to your stories. Ask them which content they want to see on your social media, basically, the easiest way to ensure you are giving them what they need from you!
✨ Post Regularly
Do a quick research about how regularly you should post depending on each social media. 
💡Be Coherent
Follow what you preach, stay healthy, and practice wellness, only because it will keep giving you content ideas and endorse your credibility as a wellness coach. Never tell your followers something you don't do yourself; karma will find you. As a wellness coach, your focus should always be to help your followers, so keep this in mind. 
😊 Be Authentic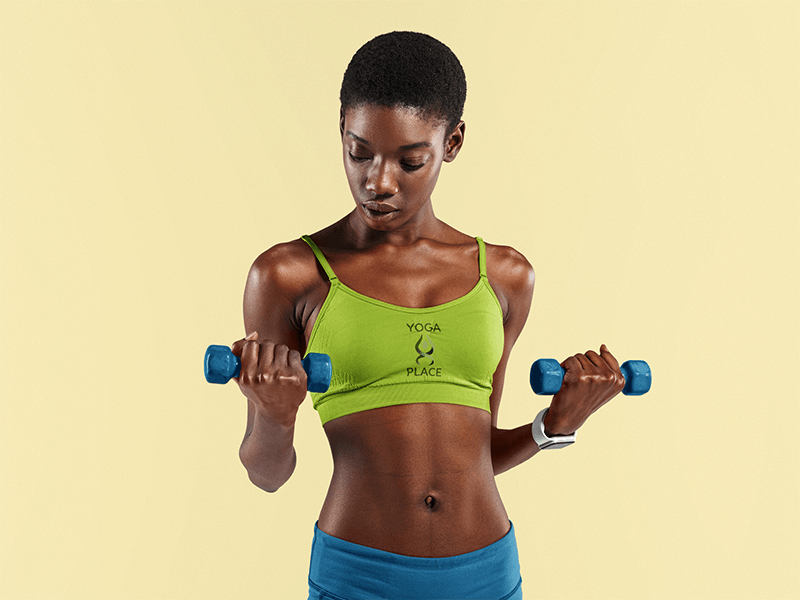 Mockup of a woman wearing a sports bra holding dumbbells
Now, this is a biggy. It's important to be yourself and open up about everything you do in the name of wellness. It might get a bit tiring to always post the same content, vary with other stuff you do. Do you like hiking? Talk about it! Or you can tell them which restaurants you like and why. Get creative! 
Selling lies can quickly make you lose followers. Don't tell them how you've lost 5 pounds over a week with a magic juice. We know people don't necessarily love the process but tell them all the benefits of following a true path to wellness. 
✨ Never Talk About Something You Don't Know for Certain
Keep growing as a professional, and never stop studying. Take constant courses and updates to stay on top of every health-related topic you can use to have a positive effect on your followers! Do not make the mistake of thinking that they won't notice the difference between someone who knows what they are talking about and a fake.
✨ Avoid Becoming a Health Brand Robot
Remember, not everything has to be about your brand and marketing efforts. Get close and personal with your followers, let them see who you are, and tell your story. Be real! And share the stories of others that have changed. Storytelling is a powerful tool to get to your follower's hearts.  
Brands will want to work with you. Be authentic. Don't ever promote brands you don't believe in.
🔥Work on a Unique Angle for Your Social Media
Think about what makes you different from other wellness coaches. Why would someone follow you instead of someone else? This is a purely creative decision, whether it's the way you post, the way you work, or what you know that others don't, make your differentiation the key to all your branding efforts. 
💣 Use Popular Hashtags
Create engaging bios, be as descriptive as you can, and remember to add your keywords. You can search for popular hashtags using different tools like Google Trends, Trendinalia, and so on. Use straightforward keywords and a few other supportive, for example, wellness coach (main) and organic meals (supportive). The combination of both these will get you great SEO (search engine optimizations, a.k.a. discoverability!).
📈 Pay Attention to Your Analytics
Every platform has its own analytics where you can track your number of followers, likes, engagement, and overall performance through a specified period. You must keep these analytics in your thoughts to be able to optimize your social media. For example, if after a live session, you notice a pick on your followers or your engagement, then you start planning more live sessions because your followers seem to really like it! It's that simple.
🤳 How to Become a Health Coach on Each Social Media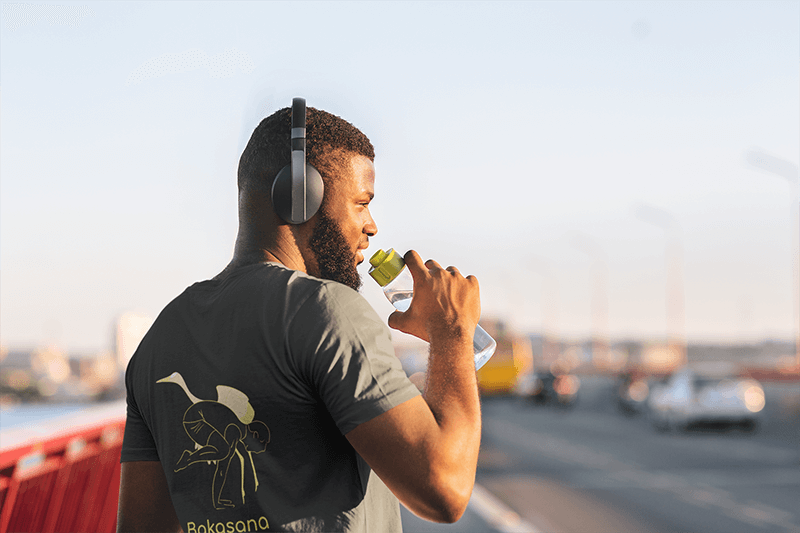 🌈 Instagram
Lots of people go to social media to inspire themselves, so be that inspiration! Instagram is the perfect place to show off your lifestyle and inspire others to follow your wellness program. 
Instagram is also a great place to get and share user-generated content. 
Make Instagram polls and questions, and use live to communicate directly with your followers. You can ask for content from them by creating a giveaway or some kind of content. 

Prioritize engagement over likes!

Take your social media as a real opportunity to connect with your audience.

Combine images with designs, don't post all images, and don't exceed with the designs. There should be an aesthetically pleasing balance.
✏ Facebook
Facebook is best used as an informational page. Tell your audience all about your lifestyle and how they can start a life with better quality. Consider making a private group in which you can share exclusive content and special offers for your group. 
About Facebook groups: 
Public – These are open to anyone.

Closed – These show on Facebook searches. New members must be approved.

Secret – These don't show on Facebook searches, and new members must be approved.
Create your fan page and groups to keep connected to your audience on Facebook. Here are a few other things to pay attention to:
Create a vanity URL,

which would be the shorter, simpler version of your URL. This makes it easier for your followers to find you. 

Add a great

cover image

! 

Earn the

very responsive

badge

Go live often
📌 Pinterest
Share useful information to make pinnable pins. Make infographics, visual representations of your speech, the kind of information people are looking for. 
Pinterest is an excellent source of backlinking. 

Pinterest works as a search engine, so use a keyword extension like Keyword Surfer

 or

keywords everywhere

to get the most out of your pins.

Use your keywords on your pins and board descriptions to make them more discoverable. Write lengthy descriptions; you can write up to 500 character descriptions and use your keywords.

Use great image designs, or better yet, use

Pinterest image templates

 so you don't ever worry about the right image ratio.

Join relevant pinboards, and use tools like Pingroupie to discover the best boards for you.
🤩 Last Words
Social media is no longer a pastime. It has become officially a great place to build your business. Give your followers the constant emotional support they need during tough times of change, and keep them motivated. Diets are temporary, and health and well-being are forever; this is why you should share posts that can really make a difference in their lives. 
And last but not least, be patient! Great social media is built over time. It's a process of doing things right over and over until, eventually, you'll find yourself followed by your target audience with engaging platforms! 
Also, don't forget that your brand designs are super important to keep your personal brand in the minds of your followers. So take your time to really create amazing health and wellness designs with the help of Placeit by Envato.
What are your thoughts? Got something to say? Leave a comment for us! 😊✨
---
---
How to Become a Wellness Coach Star on Social Media
Want to become a health and wellness coach star on social media? we tell you all about with the best tips to inspire your followers and get the job done! Learn how to become a wellness coach with a few simple tips!
Wellness Templates
---