When in doubt, it's always a good idea to turn your head to the experts. Practice makes perfect, but when the time for practice is scarce, learning directly from the experts, you will always get great pointers. We've turned to our own social media expert Maria for advice on the best social media tips and tricks only an expert knows.
What We Asked: 
Social media marketing is simply something your brand can't ignore anymore, and being adequate won't cut it. You need real social media marketing tips to get your numbers up!
Social media is a great place to gain customers, your follower's loyalty, insight into your community, and so much more. So any time spent on improving your social media is time well spent. 
🎵 Learn how to make money on TikTok here!
If you want to give your brand that social media edge, then hear advice from an expert: 
For Starters, What Is a Social Media Expert?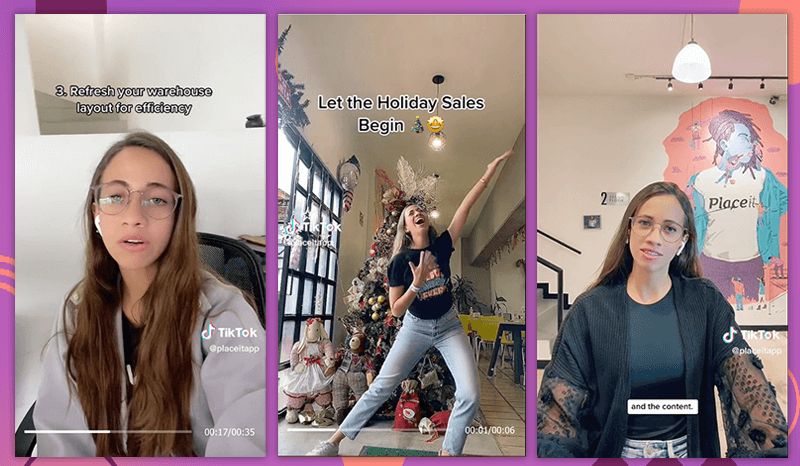 Someone with a multifaceted skill set who has the power to take your business to new heights. Spends their days planning and executing strategies, creating and publishing content on different platforms, and making sure that a relationship with the community grows!

A social media expert is someone who knows:
How to best use Social Media to connect with customers and leads.

The ins and outs of social media marketing and understanding different social media tools and analytics.

How to plan, implement and track a social media strategy to increase brand awareness and, therefore, sales!
What Do Social Media Specialists Do?
Create, develop and track a Social Media Strategy, from defining the KPIs to measuring the success of every social media campaign. While staying up to date with the latest social media best practices and technologies.

Social Media Specialists ideally collaborate with Marketing, Sales, and Product Development teams, besides working with copywriters and designers to ensure content is informative and appealing.

But in some (most) cases, a Social Media Specialist can fulfill a variety of roles: copywriting, account management, videographer, on-camera host, graphic designer, and sometimes even budget planner (in case there's no Social Ads team).
📷  Instagram Creator vs. Business
How Is Social Media Marketing Done?
Planning, posting, tracking, staying on trends, and ensuring you have a content plan. Defining a content plan is the key to success! It is what will guide you on what you create. It is where you define your goals, brand messaging and guidelines, content pillars, and KPIs.
The first goal that may come to your mind is "sell more," like most businesses, of course, but in social media, your goal can't be it since that isn't trackable nor what social media is made for.
Social media goals can lead to more sales. Eventually, the most common Social Media Goals are generating leads, driving traffic to a website or online store, or increasing engagement. 
It doesn't matter if you define your goal as growing a long-term audience *the right target audience or building recognition & credibility. What is important is that you stick to it and plan your content around that goal.
✨ Create an effective LinkedIn marketing strategy with these tips!
Brand Messaging & Guidelines
Outline the specific style choices you make for your brand on social media. From your logo and branding colors to how you use emojis and hashtags. In other words, it's your guide on how you present your brand.
It's important to work on crisis management guidelines as part of your brand guidelines for social media.
📷  Learn how to make money off Instagram here
Topics you can lean into when brainstorming your content ideas.
Use your knowledge of who your customers are and what they like.
Your TikTok videos should answer this question: How do we entertain that person? And for Instagram, besides entertaining, you have to make sure you're sharing insightful information with your real audience.
The metrics that will define if your social media strategy is effective.
The Key Performance Indicators determine performance over time, see if goals are being met, and analyze whether changes need to be made. If you're interested in learning how to prepare an effective document, then keep reading: How to Create a Social Media Report That Shows Your Growth
▶️  Learn how to edit your YouTube videos
What Elements Do You Consider When Planning Out Your Social Media Calendar?
Always having your goal present. Being aware, you lean on your content pillars. And lastly, HOLIDAYS! Celebrating social media holidays can help to improve reach and drive more engagement, especially if you mix it with relevant hashtags.
Is there a Way to Gain Followers Quickly?
Good things take time, and even though you can run ads to gain followers quickly, these may end up not being the quality of followers you want. On the organic side, it takes time, but by learning the algorithm of your platforms, having a good strategy, and consistency, you should see an increase in your followers
🤑 Creators and brands, check out and learn all about the new Instagram Creator Marketplace to boost your exposure and your pocket!
What's Your Favorite Social Media Platform? Why?
TikTok and Instagram!
🔥  YouTube Shorts, vs. TikTok, vs. Reels, which is better?
What Would Be Your Biggest Piece of Advice?
Have a plan before jumping onto the platforms.

Metrics don't lie. Even though you can think it's a super good idea, the performance of your content is what will guide you for your continuous growth.
What Resources Can You Recommend to Learn About Social Media Planning?
Meta Blueprint has an Instagram Marketing Course to teach you how to build your business presence on Instagram. Set up a business account, create engaging content, and grow your audience.

TikTok has its learning resources as well.

And you can subscribe to different newsletters, trend platforms, and podcasts.

But besides all the platforms, courses, and masterclasses out there, what's best is to put hands-on and start tracking your own performance.
Last Words
Remember to follow us on social media, Instagram, Facebook, and TikTok to look for our experts in action! Have any more questions for our expert? Ask away in the comments!
FAQ
---
---