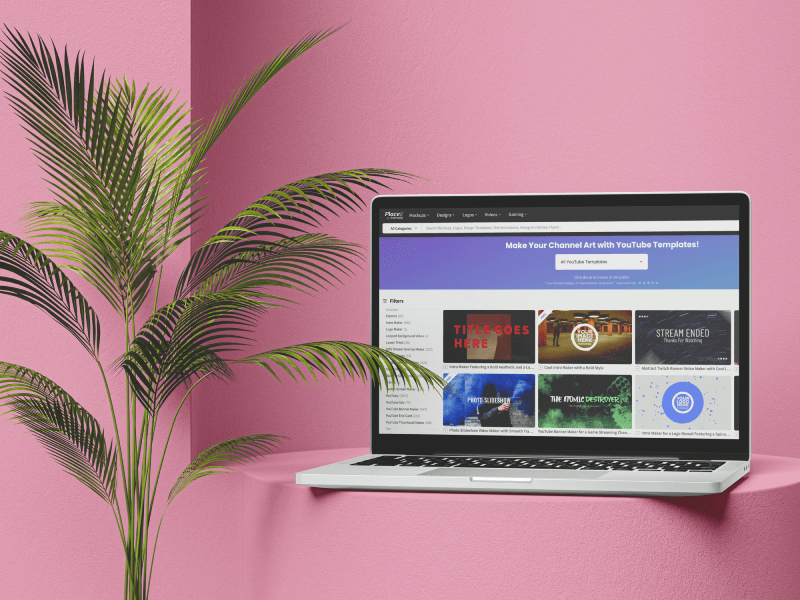 We usually think that editing a video in a professional style requires a lot of money, time, experience, and sometimes even hiring a graphic designer. However, it doesn't have to be that way. That's why we've created this blog post to teach you how to edit YouTube videos in an easy way and without paying a lot of money for it. Let's get to it!
What Will You Find Here?
---
Nowadays, the magic of editing can turn an ordinary video into something extraordinary. And doing so on Youtube is almost an essential step toward success. If you notice, there can be many videos talking about the same topic, but what makes each one different is the editing. This creative touch can make the whole difference between a viewer clicking or not on a video, staying or leaving, and even interacting or not with our content. So, to achieve this, you not only have to follow some basic guidelines but also find a video editor that works for you and contributes to your goals. 
▶️  Check out Placeit's lower-thirds YouTube templates.
Spoiler alert: you won't need to install advanced or expensive software. Instead, we share three great, free, and simple alternatives to take your final video to the next level. 
✨ If you're a newbie and want to start from scratch, we suggest:
---
What Are the Steps to Editing a YouTube Video
⭐ Once you have recorded your video and audio clips, we suggest following these tips to make the editing process easier. 
Create backup copies.

A mistake many newbies make is not having alternatives to the original clips. So the recommendation is to create at least one backup copy of the original files and save it on your computer or an external hard drive. 

Decide what you want to achieve and gather the elements.

To leave improvisation aside, it's advisable to make a plan or a sketch of the elements you'd like to incorporate into your video. For example, it can go from simple text animations with emojis and fun sound effects to something more professional like an

intro

or a

YouTube end card

. 
Once you have a clear idea of what you want to show in your video, gather all the elements in the same folder; it'll help you have everything organized and not leave anything out. 😉
😎 Explore our Free YouTube Templates for Streamers!
Time to choose an editor.

In it, you can integrate all the features you want. But before, check and test all the options we're going to give you and select the one that fits your needs better. 

Learn to rest.

Sometimes when we're tired, we can't see mistakes, so learn to take some time off and then come back to edit with a new and fresh perspective.

Before exporting the final video, double-check from the beginning to make sure that no mistakes have been made. And that's it! Now you just have to publish your video on YouTube.
🔥 You might like: How to Post YouTube Videos on Instagram
---
Below you'll see how to edit youtube videos according to different editors. Find out the most convenient for you 🙂 
How to Edit YouTube Videos With YouTube Studio?
Consider that this editor isn't for editing a video from scratch but for existing videos that need a little touch-up. On the Youtube editor, you'll find a short menu that includes the following features:
Trim,

Blur,

Audio,

End screen*,

Info cards. 
*To have this one available, you have to upload a more than 25 seconds video. 
How's the Process? 
Sign in to

YouTube Studio

.

Then, on the left bar, you'll see a section called "Content" click on it. 

There all your uploaded videos will appear. Click on the title, thumbnail, or pencil icon to start editing. 

Now, on the left menu, go to "Editor". There you'll see the different tools we mentioned above. 

Decide what you want to improve. After that, click on "Preview" to check what your video would look like. Go to "Save" 's blue button if you're happy with the results. 

And that's a wrap! Now, wait for some minutes to see the changes. 
For Trimming:
Click on the (+) 

You'll notice appearing a blue border -around the sound and video. 

Then, drag those blue lines towards the center; as you move forward, they get darker, which means that the dark area is the one that will be deleted later. In contrast, the light side will remain. 

Click on "Preview" before saving to see if you need to modify anything or if the cuts have turned out well. 

When you are happy with the results, click the blue "Save" button at the top right.  
To Add Audio:
Click on the (+), and then select a song. You can pre-listen to it by clicking on the song's name and stop it by clicking on it (a square shape will appear). If you're happy with the results, click on "add". To remove that audio, search for it again and click on "remove". Save the changes. 
Note: the youtube video editor takes a while to save the changes, so be patient and don't refresh the tab until it's ready. 
---
Edit Your Videos With a Creative Solution
Suppose you're looking for professional results but don't have the expertise, or you find video editing software too complex. In that case, we recommend Kapwing, an easy-peasy and user-friendly video editor online that works with artificial intelligence. It's available for desktop and also for mobile devices. So, if you want to start giving life to your videos, check out how to do it: 
Go to Kapwing and create an account or sign in with your Google or Facebook account. 

Click on "Create new project." 

Then on the center-right side, "Click to upload" to add all the files you will be working with.
After, the Kapwing editor will open with your files. *In case you have forgotten to insert some element, on the left side there's a wide column, click on the (+) symbol that says "Add media".

For editing each video/music clip, you have to click directly on it to moderate the volume, trim some parts, add effects, transitions, and more!

Just click on the tool (text, elements, transitions, etc) you want to insert and it'll appear in the video clip you're selecting. To edit the new element, you only have to select it or move it by dragging it.

To preview the result, drag the white line to the beginning and play the video.

Once you have finished editing, go to "Export project" > "Export as MP4" and that's it! When it's completed click on "Download file" to save it on your device. 
💥 Important: Using the free version allows you to have three free videos from watermarks. 
Tools Available to Edit Your Videos
You'll find text boxes, videos, images, elements (shapes, emojis, progress bars, backgrounds, call to action), music, a voice recorder, and sound effects. If that isn't enough, you can still add some plugins and templates for your video (this will help if you're a newbie). 
P.S. Something that surprised us is that, in the "Music" section, you can search for a song you want to insert in your video using a Youtube link. This way, when you paste the link, you can have the audio available and insert it into your video. 
---
Try an All-In-One Video Editor for Mobiles
So for those who want to edit from the palm of their hands, there's Inshot. An app designed for mobile devices that's ideal for creating a professional video in an easy, intuitive, and fun way. The advantage is that it's free (and a pro version), and has endless tools and a guide that accompanies it so that no one gets lost in the process of editing videos. This is a recommendation that many beginner-level Youtubers have made, and it doesn't surprise us. 
Go to your app store and download the app "InShot".

Once you open it, click on "Video" to create a new one. 

From your gallery, select all the clips you want to incorporate into your final video.

Then the Inshot editor will open to customizing your video. 

Once you have added and edited everything you need, click "Save" and select the desired resolution (1080p or 4K). After doing that, click again on the white button "Save". After that, your video will start converting.

Finally, your video will download automatically on your device. 

And now, you can share it directly on YouTube, Instagram, or Tik Tok. 
What Features Can You Add to Your Videos With Inshot?
Canvas.

Ideal for adjusting the size of your video. Inshot provides the shape of each social media and an icon to guide you.

Music.

Here you can explore from their gallery or even select a song that's already on your device. Also, you can record your voice.

Sticker.

Find a good one, or look for a gif. If needed, you can create your own by uploading a photo. Inshot will make the background disappear for you in seconds. 

Text.

Add some cool lines and smoothly animate them. 

Trim tool.

To trim unwanted parts, press the clip you want to modify. Then go to the scissors icon to make the necessary cuts. 

Last but not least, you'll find filters, split, delete, background, speed, crop, volume, replace, duplicate, reverse, rotate, flip and freeze tools. 
​💡 Are YouTube Shorts Worth the Time and Effort?
---
And That's a Wrap!
Editing your videos is easier than ever when you have the right tools. Our final recommendation is to test different ones until you find the perfect one for you -that aligns with your goals-. But also, don't forget about having consistent branding for your YouTube channel. At Placeit by Envato, you can find hundreds of YouTube templates to enhance every part of your channel and, of course, your videos. You'll discover unique logos, banners, end cards, intros and outros, thumbnails, video ads, teasers, and even streaming screens. Take your brand to the next level, complement it with top-notch content, and get ready to learn how to create an awesome video with Placeit Video Maker! 
Let us know which editor you'll use first. We read you! 😉
---
FAQ How to Edit YouTube Videos
---
---