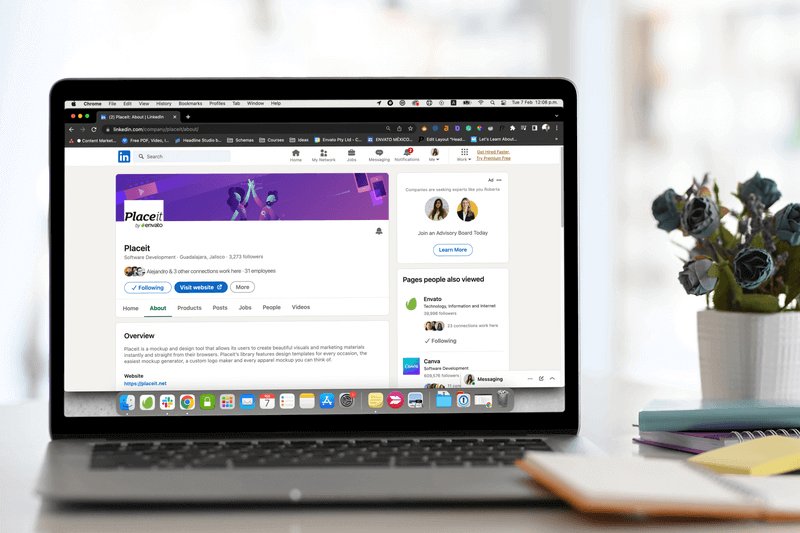 Social media is no longer an afterthought when it comes to content marketing. It is the front and center of every marketing strategy. How you use these platforms can be the difference between marketing success and failure.
For B2B marketing or marketing to professionals, no other platform gives you as much leverage as LinkedIn. 4 out of 5 LinkedIn users are decision-makers in their organizations, and, probably for reasons like these, LinkedIn has been acknowledged as the number one platform for B2B lead generation.
But how does LinkedIn marketing work? How do you market or sell a product on LinkedIn?
In this guide on LinkedIn marketing for 2023, we're sharing some highly useful tips to help you drive lead generation and convert more customers on this promising platform.
 Jump Ahead to What You Need
What Is LinkedIn Marketing?
Before we jump in, let's start with a little bit about what LinkedIn marketing is.
LinkedIn marketing refers to the strategy of using LinkedIn to connect with your target audience, build brand awareness, generate leads, drive traffic to your own website, and guide prospects down the sales funnel.
This is done by sharing content relevant to your audience and engaging them in your posts. But there are other methods too, such as LinkedIn ads or cold outreach through messages on the platform.
Though other social platforms like Facebook or Instagram are great marketing channels too, there is a major difference between them and LinkedIn.
While other social platforms are primarily used as a medium of entertainment, LinkedIn is used to network with other professionals, gain industry insights, learn about industry trends and developments, and more. This makes it a great medium for B2B content marketing, as it delivers better outcomes through these efforts. Since you can reach out to business leaders and decision-makers on LinkedIn, it significantly increases your chances of generating leads.
But the approach to LinkedIn marketing has to be different than what you use for other social media marketing efforts. So, without much ado, let's dive right into our LinkedIn marketing guide.
LinkedIn Marketing Tips for 2023
2023 is an important year for most businesses as this is the time to make a comeback from the global economic slowdown and the after-effects of the Covid-19 pandemic. Your LinkedIn marketing strategy needs to be on point if you're hoping to see some spectacular outcomes.
Here are some important LinkedIn marketing tips to follow in 2023.
1. Complete Your LinkedIn Profile
The first step in building a solid LinkedIn marketing strategy is creating a profile that appeals to your prospects. Irrespective of whether you are operating with a LinkedIn account as an individual or as a business, having a complete and impressive profile is crucial. Make sure that you include all the vital information to describe what you or your business does. Use a profile image that is professional and represents your brand. It is also best to have a relevant banner on your LinkedIn profile to make it look complete.
The most important section is, however, the About section of the profile. This is both for individual accounts and business pages. The About section should be carefully crafted to include all the key points. The most critical things like what you do, what industry you serve, etc. should come at the beginning. All other fields where you can share information about yourself or your business should also be filled in. Keep in mind that the LinkedIn algorithm usually recommends people you can connect with based on this data.
2. Build a Relevant Network
Once your LinkedIn profile is complete, the next step is to start building your network. Look for people who fit into your target buyer persona. You should ideally have a list of businesses or people you want to target, or at least criteria you can use to narrow down your prospects.
Choosing your connections smartly is critical because these are the people you are trying to turn into leads. Also, adding relevant people as connections allows you to tap into their networks and increase your reach further.
3. Diversify Your Content
After these initial steps, the next important thing to focus on is the content you're publishing on LinkedIn. Diversify your content marketing strategy and include different types of posts. It is seen that long-form, informational posts do quite well in engaging the audience. But that doesn't mean every post should be educational or excessively long. That can bore your followers quickly. Instead, alternate between written posts, images, carousel posts, videos, and more.
Giving your audience a variety of content to engage with will keep their interest alive. Despite being a professional networking platform, content like memes and occasional funny posts can do quite well too.
Here are a few tools/ platforms that can support your LinkedIn content marketing strategy, helping you create diverse content.
💡 Not sure if LinkedIn is right for your brand? Check out this guide to social media platforms you should be using!
Narrato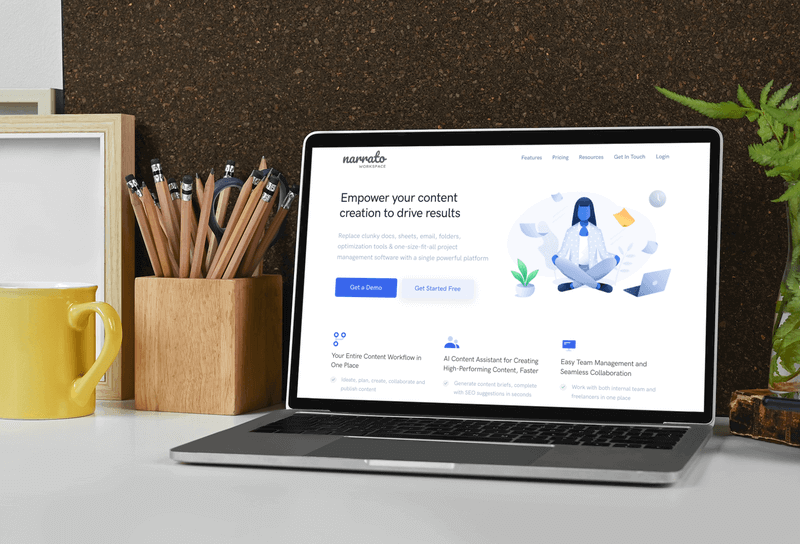 Narrato is an all-in-one AI content creation platform that lets you plan, create, optimize and publish content seamlessly. It helps with all types of content, including social media content. An interesting feature of this platform is the AI writing assistant that can generate content for various use cases. It can help you generate social posts based on your input or an outline. Besides that, it can also paraphrase existing content from your blog posts, etc. for use in your social media posts. There are several other ways you can use this AI writer to generate LinkedIn content, including creating ad copy.
Narrato also has an AI content optimization tool that offers grammar and readability improvement suggestions. You can create custom content templates to structure your posts as well. For content planning, you can use the content calendar on the platform to map out your posts well in advance. Content publishing is also a breeze as you can automate publishing on any social platform through custom integrations using Narrato's API or Zapier.
Placeit
Placeit by Envato is another highly useful tool to boost your LinkedIn content marketing strategy. This is a no-code design tool that lets you create stunning visuals for your social posts. The platform has hundreds of templates for social media banner ads, posts, headers, etc. You can customize these templates in an easy-to-use editor that allows you to play with colors, text, font, animations, transitions, and more.
You can search for relevant templates and choose between images, videos, or transparent template types. Diversifying your content will be extremely easy with a tool like this.
Piñata Farms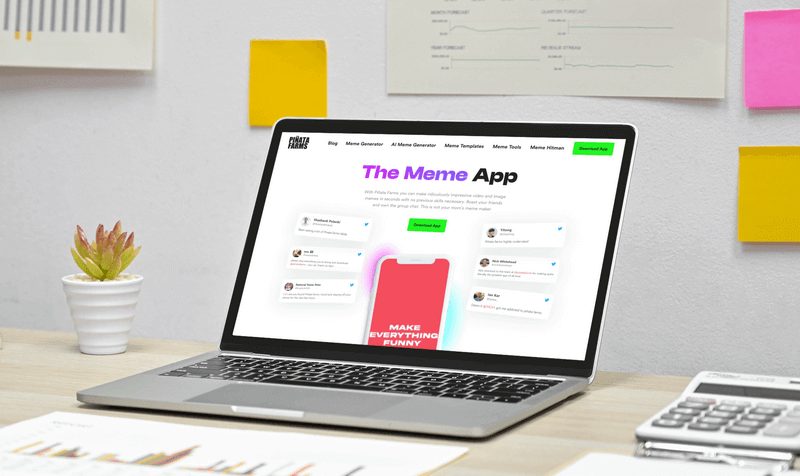 Pinata Farms is a meme-making app. Since memes are such a popular content type on social platforms, including LinkedIn, this tool is a welcome addition to any content marketer's tool stack. Pinata Farms lets you create eye-catching images and video memes with no expertise in graphic design required.
The editor on this app is also extremely user-friendly. It also has a vast database of all the trending and evergreen memes for you to choose from. You can directly share your memes to social media from the app itself.
SlideShare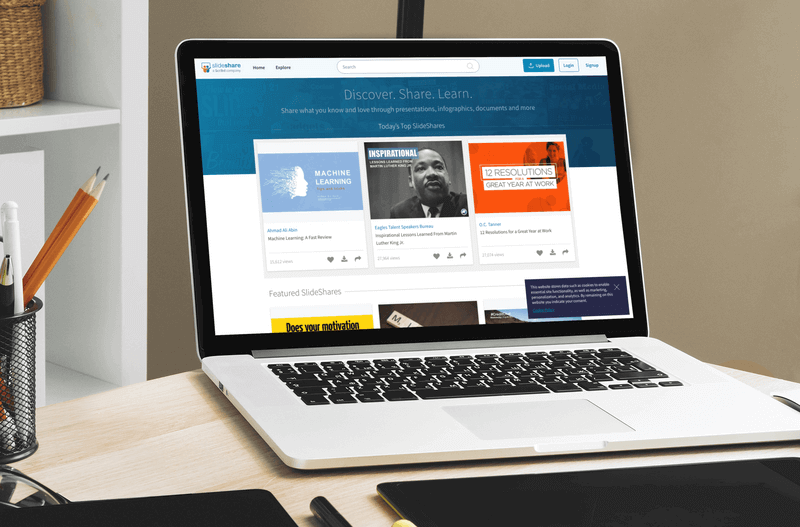 Though SlideShare is not really a content creation tool, it can support your LinkedIn content strategy nonetheless. The slideshows you publish on SlideShare can be very easily attached to your LinkedIn posts. These appear as slider presentations making it another interesting content format to diversify your strategy.
4. Use the LinkedIn Publishing Platform to Drive Engagement
The good thing about content marketing on LinkedIn is that it is not limited to just short posts or images, unlike other social platforms. You can also create and publish full-blown articles on LinkedIn. This is where the LinkedIn Publishing Platform comes in. This gives you a chance to share more valuable content with your audience, building more authority for your brand, quite similar to a blog.
You can also share articles from your blog via LinkedIn Publishing or from a third party. But third-party articles should be duly credited.
If you create marketing content on LinkedIn often, it is a good idea to switch to Creator Mode. It is a profile setting that helps give your content more visibility and increases your reach on LinkedIn. This setting promotes your content by pushing your Featured and Activity sections to the top of your profile and also presents you as a suggested content creator for people to follow.
5. Post Consistently
Your posting schedule is just as important as the content you post. On any social channel, to maintain your relevance and gain leverage, posting frequently and regularly is essential.
The best way to go about this is by having a content plan ready. Use a content calendar to list down all the posts you want to publish in the coming week or month. This will give you a roadmap to follow and ensure that you don't skip any days.
Also, try to find out what the best time for posting is. You might see better engagement on your posts when published at a certain time and lower engagement at other times. Identify which times work best for you.
6. Use The Right Hashtags
On LinkedIn, you can add hashtags to your published posts, articles, status updates, or even your profile page to enhance the reach of your brand. But it's important to note here that the kind of hashtags that work on Instagram and other social media platforms might not work on this platform. To do it right, research the audience on LinkedIn to find out what kind of hashtags they're searching for. Besides that, let the platform suggest hashtags for you as you write the LinkedIn post or article. Also, make sure to capitalize each word of the hashtag for better readability and use a combination of general and niche hashtags.
7. Join LinkedIn Groups and Actively Participate in Them
LinkedIn Groups present an excellent opportunity for networking and enhancing your brand's reach. But there is a catch to this – you can't join these LinkedIn groups with your company profile. So if you do want to share your content on these LinkedIn groups, it has to be done strategically.
Here's a mini step-by-step guide for making the most out of LinkedIn groups:
Compile all the groups you're interested in joining, and also collate the name of your content team members.
Whenever you publish a new content piece, identify which group it would be most suitable for. Get the right team members involved in the job.
When sharing your content, start the content-related discussion in the group by sharing an opinion or asking a question. Make sure to ask your team members to get involved in the discussion.
Try to stay away from marketing pitches and give valuable responses to any comments.
At the end of this exercise, if you do find any users that might be interested in your product/service, connect with them personally to ask them to test out your product.
8. Make the Best of LinkedIn Analytics
You need to re-examine your LinkedIn marketing strategy from time to time to see how well it's doing for you. The best way to go about it is by looking at LinkedIn Page Analytics, which allows you to gauge your post trends across time periods and metrics. To dive deeper into LinkedIn analytics, you can connect LinkedIn Ads to Looker Studio or other data visualization platforms using third-party integrations. This gives you a detailed analysis and the ability to create live dashboards.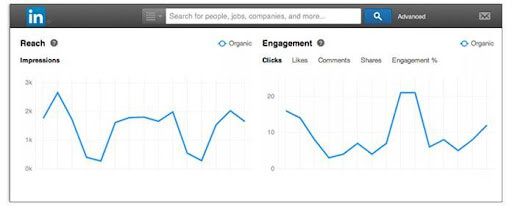 LinkedIn allows you to test your content's effectiveness, find out the sources and demographics of visitors/followers, and compare your content engagement and followers with competitors, among other things.
Wrapping Up
LinkedIn is a powerful networking platform that offers you new ways to publish and share your content with your target audience. And with the tips provided in this article, you can build a LinkedIn marketing strategy that makes an impact. A successful LinkedIn strategy requires a long-term commitment to delivering relevant and quality content that increases brand awareness and also engages the audience. So stay consistent and continuously improve on your strategy for incremental growth.
FAQ – The Ultimate LinkedIn Marketing Guide for 2023
---
Author Bio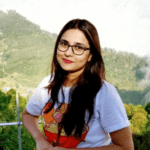 Neelam Goswami is a content creator and marketer at Narrato – a leading AI-enabled content platform. She has written for several reputed brands in the digital and content marketing space including ClickUp, Jeff Bullas, Neal Schaffer, Content Studio, and others.
---
---
---