If you're a content marketer and haven't explored Google Trends yet, it's highly recommended that you read this post and use it to your advantage. It's a terrific tool to find inspiration for a content marketing strategy and it can help you stay ahead of the competition.
Since content is king, you need to plan your content, organize it and strategize it accordingly. And what better way to do that than by using Google Trends?
So, let's dive in.
Table of Contents
What Is Google Trends?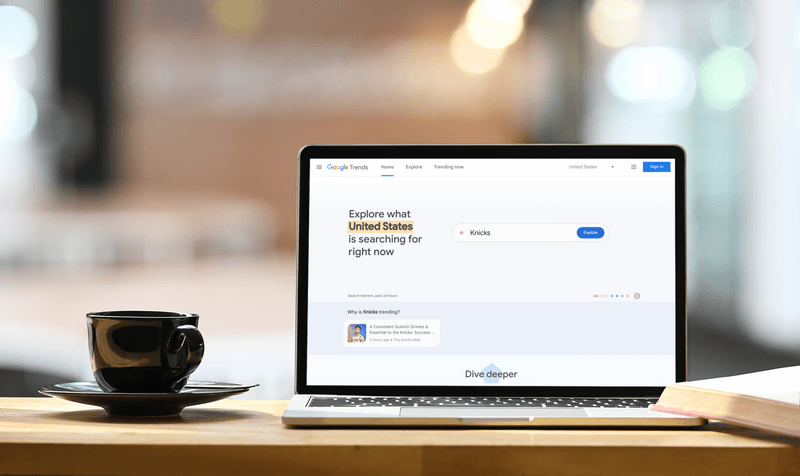 Google Trends is a free tool that showcases a visual representation of the keywords, search terms, and Google News popular on the Google search engine in real-time.
You can find real-time data about the current trends from the last seven days to even past data dating back to its inception in 2004.
Key Features
1. Discover Keyword or a Term
The primary purpose of Google Trends is to let you find and discover a term or a keyword. As an example, we'll use "leather jacket."

Now you can make it more specific by further filtering your search term based on location, timeline, categories, and the type of search. It will look something like this.
2. Comparing Search Terms
You can use Google Trends to add and compare up to five different groups of search terms at a time by clicking on "+."

The result is an analytic graph of all four terms being compared.
To learn more about the time period, you can simply hover over the graph.
3. Discover Topics By Region
Google Trends also allows you to search for specific search terms by region or sub-region.
For example, we have compared "leather jacket," "denim jacket," "bomber jacket," and "biker jacket" and found that leather is the most popular search term in all regions.
4. Leverage Compare Feature To Discover Competitor's Performance
Google Trends' compare feature also lets you discover and compare popular brands and how they are performing.
For example, RingCentral and Nextiva are two of the biggest names in virtual phone systems. Their rivalry is nothing short of legendary. We compared both major brands from 2010 to now.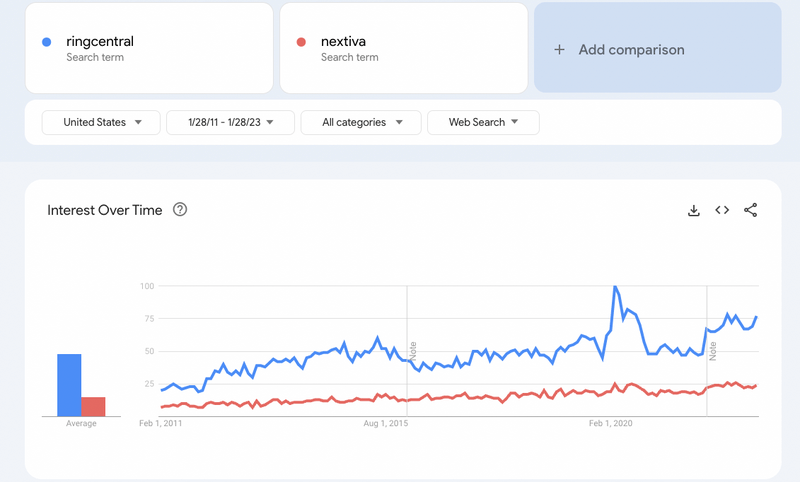 RingCentral showed consistent progress throughout the entire timeline from 2010 to Jan 2023. So, if you want to compare VoIP software, use Google Trends to find out which one is more popular and offers more benefits of virtual phone calling.
How to use Google Trends to Create a Content Calendar
1. Leverage Google Trends For Market Research
To create a content calendar, you need to conduct market research first. You can use Google Trends to assess the popularity of your term and see the results illustrated in a line graph.
Always make sure that your desired topic has a score of 50 or above. When searching for the popularity of the topics, keep in mind Google Trends gives you the results on a scale of 0 to 100. 0 is the least popular, and 100 is the most popular.
Once you understand your topic's popularity, it's time to take an in-depth approach and explore those search terms further. You need to identify when your specific term is trending during certain months of the year.
For example, if your search term is "jacket," this may be too broad of a term. You will need to get specific as there are numerous types of jackets, including leather jackets, denim jackets, and bomber jackets, to name a few.
The best way to start your research is to enter a generic topic. From there, work your way to more specific search terms as you analyze the results.
In our current example, you can compare two types of jackets and find which one is a top trending term, meaning it's a better option for creating content.

2. Conduct Keyword Research
Google Trends can give invaluable insights into the monthly search volume of your different search terms. It allows you to analyze the trending keywords in related queries and include them in your keyword list.
Also, you can check the "related queries" on Google Trends. These will give you an idea of what your target audience is searching for. And once you've gotten different keywords for your topic, you can compare up to five keywords in Google Trends.
When you're exploring different topics, make sure to use search terms. Also, use quotation marks to wrap the term in that order. You can use + or – to further refine your search to include or exclude specific keywords.
3. Identify Topic Clusters Using Google Trends
Identifying topic clusters can provide an in-depth look at the related search terms. When you search for your topic, you will find two information boxes underneath the analytics graph – Related Topics and Related Queries.
The related topics box shows the most popular topics according to your search query. The related queries box, on the other hand, shows similar terms that users searched for.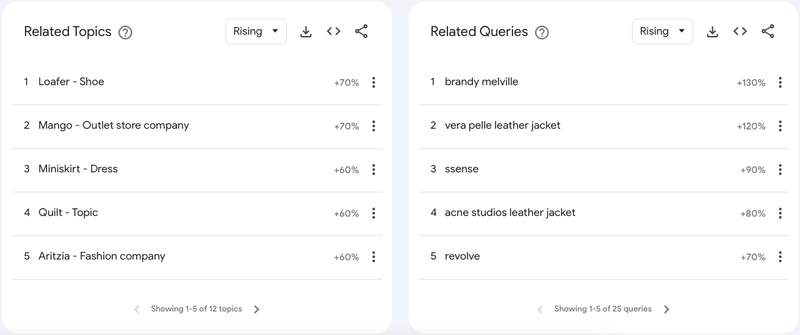 You can go beyond the topics themselves and get more specific. When you type in your search term, this time, choose a category. Since our example is "leather jacket," we'll choose "Google Shopping."
Now, you'll have both related topics and queries that will help you create a high-quality content calendar and strategy.
4. Analyze Seasonal Trends
Knowing when to publish your content in relevance to trending topics is the best way to engage your audience. You can use Google Trends to hone in on the seasonal popularity of your topic. For this, you'll need to plan your editorial calendar well in advance to target maximum search traffic.
The default view for search topics in Google Trends is always "Rising." Rising search data presents the search volume with the most significant growth in a certain period. For example, the search for "leather jacket" shows popular search keywords with significant growth.
However, thinking about a new topic for your seasonal trends is challenging. This is where the wildcard searches feature plays a part. Enter an asterisk, and Google Trends will show you the most searched topics along with keywords.
You can apply filters for location, categories, time period, etc., to refine your search results.
Use Google Trends data to get insights into the peak traffic months. Make the most of this time by creating promotions, sales, and contests to capitalize on users' commercial intent. This helps you to win over potential customers.
✨ Looking for seasonal designs? We've got everything from t-shirt design to banner ads you can use to promote your brand any season!
5. Conduct Research For Location-Based Trends
Google Trends' keyword data can be leveraged to discover the areas with the highest potential for site promotion or content personalization. Using this information offers a great opportunity to tailor your outreach strategy and optimize engagement based on regional preferences.
With Google Trends, you can get an insightful peek into what's popular in different parts of the world. Explore a heat map to see where your search term is most prevalent and hover over regions for valuable data on its popularity – including top cities and the percentage of searches that contain the term.
With Google Trends, you can use keyword popularity data and geo-specific relevance to target content to local audiences. That, in turn, will have a major impact on content creation and promotion efforts.
6. Freshen Up Old Content With Trending Keywords
Google Trends offers valuable insights to content creators on how they can optimize their older content, so it performs even better. With a few simple searches, you may discover your work from years ago would have been stronger if it had featured different keywords that are now trending up.
You can rewrite your content with the updated keywords and information that is popular with your current audience. You can also check related queries to get trending keywords.
Apart from this, you can also use Google Trends to check for low-performing articles and optimize them according to Google Trends findings. This SEO-optimized content will help increase search traffic. Instead of writing new content and waiting for it to rank, you can just revise and let your old content rank higher.
✨ Learn how to improve SEO on Shopify!
Google Trends Alternatives
Ahrefs for Keyword Research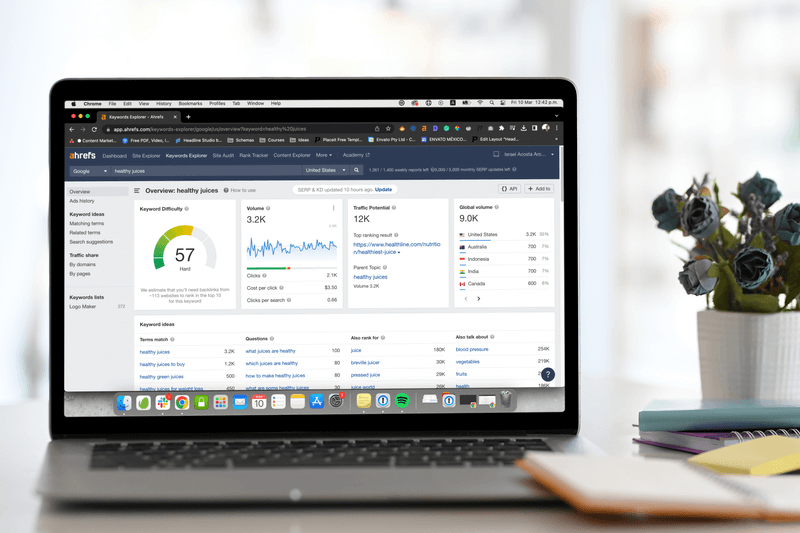 Ahrefs is a well-known tool for keyword research that provides a complete suite of SEO features for you to rank higher in search engines and get more traffic. With its Keyword Explorer feature, you get thousands of keyword suggestions along with their keyword difficulty score, click metrics, and traffic potential.
Unlike Google Trends, Ahrefs keyword research tool typically shows monthly search volume. So, it makes it quite easy to analyze the fluctuation of keyword metrics.
You can also use Ahrefs to monitor the ranking factors of your competitors so that you can create new topics based on the keywords.
With its Content Explorer, it's easier than ever to discover top-performing content for research and inspiration. Simply type a keyword in the search bar to instantly receive an overview of web pages related to that topic.
Ahrefs also provides a complete suite of useful SEO tools, such as its webmaster tool, broken link checker, PPC keywords for AdWords, and more.
Semrush for Market Research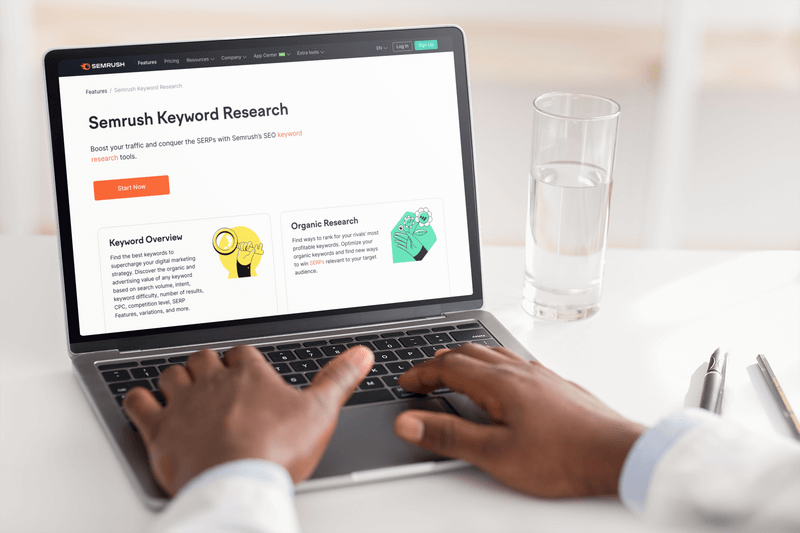 Semrush is a powerful tool for market research and content marketing. It's ideal for analyzing the latest updates and trends in marketing and SEO essential for your business's success.
Like Google Trends, Semrush has a market explorer feature to get valuable insights into the industry and get in-market audience insights. It also uses a line graph to illustrate traffic trends, the comparison between the total market and your chosen competitor.
With Semrush, you can also check the website traffic metrics of your competitors. Its Traffic Analytics feature allows you to compare the traffic volume of your competitors, give website audience insights, and determine what your competitors are ranking for.
Not only does it help with market research, but it also has features for content marketing and analytics tools for monitoring traffic.
Conclusion
When it comes to tools, there's no need to break the bank. Google Trends is a prime example of a free tool that can offer tremendous value. It offers businesses valuable features for planning editorial calendars, including insights into Google search trends and related queries.
Don't forget that Placeit by Envato also offers tons of free templates you can use to promote and grow your brand.
Start using Google Trends today and see the positive impact it can have on your content marketing efforts!
💡 If you want to keep learning more about the digital world's changes, don't miss out on our web design trends article.
---
Author Bio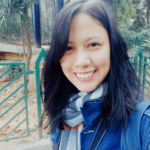 Mary Paulene Omae San Miguel is a Senior Content Editor for RingCentral, a leading provider of global enterprise cloud communications, video meetings, collaboration, and contact center solutions. She has a Bachelor's degree in Journalism and a great passion for learning foreign languages.
---
---
---