Now that spring is in full bloom, you're probably thinking ahead to this season's holidays, like Easter. If you're stuck deciding how to participate in this holiday, check out these Easter marketing ideas.
Whether you own a brand or are a freelancer, we've got you covered with everything from promotion ideas to  Easter templates you can use to get your customers excited about this holiday!
When Should You Start Planning Your Easter Campaigns?
It's a great idea to start planning your Easter campaigns early. In general, you should start planning for any holiday campaign at least 2 months in advance.
Planning early will give you enough time to brainstorm important factors like what your campaign goals are, what channels you want to use, what dates will your campaign run through, etc. Once you've decided if you're having a sale, hosting an event, promoting a new collection, or anything else, then you can get to work on the details.
Next, it's time to move on to the visuals. The graphics you will need will depend on the channels you will be using to promote your Easter campaign. The sooner you get started on these the better. You should have them ready to go well before the sale announcement is scheduled to go out because you don't want to be doing things last minute – this is when mistakes are most common.
Keep in mind that most people buy Easter items 2-3 weeks before the holiday, but they start doing Easter searches well before then. It never hurts to be early, but do try to catch shoppers when they're actively on the hunt for Easter items. It's a good idea to have a last-minute push in your marketing campaign right before the holiday since there are plenty of last-minute shoppers looking for a deal.
If your campaign includes in-person promos, be sure to advertise these with enough time for people to make plans to visit your store. Definitely use in-store ads so that your loyal customers know about your event and to entice those walking by.
Traditional Easter Marketing Ideas
Picking what sort of campaign to invest in this season can be a bit tricky, but you can start with some basics, like having a sale, releasing an Easter-themed collection, or running an email campaign.
Whether you sell Easter items or you just want to get in on the fun, having an Easter sale is a great way to drive traffic to your shop and boost your transactions.
You can offer a discount across your shop or try something different. Depending on what your goals are, some options to consider include:
-Buy one, get one free
-Free shipping
-Promo code for returning customers
-Sign-up discount
Announce your sale on your site, and, if applicable, through other channels, like social media, email, and SMS.
Make your sale fun through gamification, like having customers pick an Easter egg from an interactive basket graphic to reveal their discount. Just keep it simple so customers don't get overwhelmed and leave.
2. Plan an Easter Email Campaign
Email is a powerful tool for marketers, so don't forget to leverage it during the Easter season. Don't ignore your email list and be sure to touch base with your customers even if it's just to send a warm Easter message and stay top of mind.
No matter what your goals are for your Easter campaign, you can use email to get closer to them. Some ideas you might consider include:
– Promoting an Easter sale
– Offering a discount code to users in your email list
– Sending an Easter message
– Gamifying your email campaign with an interactive game that leads to a discount
– Sending an invite to an in-person event or sale
3. Create Easter-Themed Products
Celebrate the holiday with an Easter t-shirt collection or a whole line of themed products for the big day. No matter what you sell, you can certainly use an on-theme color palette and graphics to create an Easter collection that fits your brand.
If you have a restaurant, cafe, bakery, or any other type of food business, add some fun to your menu with seasonal Easter items, like baked goods featuring Easter staples like chocolate bunnies and Peeps.
Home decor brands can create a collection featuring themed items like tea towels, cushions, and place settings perfect for an Easter gathering.
Social Media Marketing Ideas for Easter
If your brand is on social media (which it should be), then you have even more options for reaching your target audience this Easter. Not sure what to post for this holiday? We've got some ideas for you.
4. Increase Engagement with an Easter Giveaway
Social media users love a giveaway! As a brand, you have some flexibility when it comes to how you run your own giveaway, just be sure the rules are clear and the result is transparent.
The easiest sort of giveaway involves users following your account and liking or commenting on a specific post on your feed. You can use a tool to pick a random winner and broadcast this process to your followers.
You can make things more interesting by asking users to share your giveaway on their Stories, tag friends, or comment something creative on the post, like why they want to win. These actions will all help your engagement and may even help increase your followers.
If you want to do something that requires more participation, you can ask your followers to participate in the giveaway by submitting something like a video or a photo. For example, if you sell apparel, you can ask users to submit a photo of themselves wearing their favorite item from your collection and have your audience vote on the winner.
This is a great way to not only engage your audience with a fun activity but also to round up some user-generated content.
5. Share User-Generated Content
Speaking of…
Users who are interested in your brand but haven't decided whether to purchase or not will be more enticed if they see user-generated content.
Seeing real people using your products and reading their real-life user reviews can make all the difference. Since this information is coming straight from a user and not from an ad or a marketing team, they will trust it more.
If you don't have much user-generated content to share, find ways to convince users to submit their own. This can be by offering a discount to users who send in a photo and review or through a giveaway as we mentioned earlier.
6. Share Your Favorite Easter Recipes and Crafts
Easter is a particularly crafty holiday, with the egg decorating and Easter basket making taking center stage. It's also all about the sweets thanks to all the delicious Easter candy.
Use this to your advantage by sharing your favorite recipes featuring your products, whether that's food, baking tools, or cute table settings.
Similarly, you can share some Easter crafts that parents can do with their children. Feature your products in these crafts to get your customers inspired and excited for a fun Easter activity.
7. Send a Hoppy Message with Easter Social Media Posts
Even if you're not promoting any Easter-specific items or sales, you can still get in on the holiday. There's no need to promote something in every post, so take this as an opportunity to share a warm Easter message (or a funny one) with your followers.
You can start by dressing your social media profiles for the holiday. Update your company's logo with a seasonal logo design that incorporates Easter elements, like pastel colors, eggs, and bunnies. If you have the option of adding a banner to your profile, do it! Get creative and have fun with your design and message to really stand out.
If you already have images or videos featuring your Easter products or a holiday message, you'll still need a caption and some hashtags for discoverability.
Easter captions for Instagram posts can be serious, especially if your brand is a religious one, but they can also be fun, with the goal of putting a smile on your followers' faces.
Easter Captions for Instagram Posts
Here are some cute and clever captions you can get some inspo from:
Can anybody find me some-bunny to love?
The plot chickens…
Hope you have an egg-stra special Easter.
Who else is egg-cited for Easter?
What do all the eggs want to do when the egg hunt starts? Scramble!
Don't worry, be hoppy.
Now, if you're looking for Easter hashtags that can drive more traffic to your posts, try these out:
#easter
#happyeaster
#easterbunny
#eastereggs
#easterdecor
#bunny
#eastersunday
In-Person Easter Marketing Ideas
If you're hoping to increase the foot traffic to your brick and mortar location, there are plenty of ways to achieve this during the Easter season.
8. Host an In-Store Easter Event
A fun way to increase the number of visitors to your shop is by hosting an event. Decorate your shop, prepare some fun treats, invite the Easter bunny for a photo op, and maybe even throw in some in-store discounts.
Be sure to send your invites out early and promote your event wherever your customers are. This includes sending an e-vite to your email list, promoting the event on social media, and posting it on your website.
9. Plan an Easter Egg Hunt with Discounts
Everybody loves an Easter egg hunt, so why not host one at your shop?
It doesn't even have to be for children, especially if your target audience is adults. You can make a whole event out of it or simply hide some eggs around your shop for customers to find as they shop in the days leading up to Easter.
You can put the traditional candy in the eggs or opt to fill them with vouchers for discounts, freebies, and special deals.
As always, be sure to advertise this promotion so that customers are excited to visit your shop.
Create Easter Graphics for All of Your Marketing Plans
Now that you have some Easter marketing ideas and campaign inspo, it's time to focus on creating the graphics to make them stand out. We've got a whole collection of Easter templates you can use for everything from Easter t-shirts to ads and even social media videos!
Decide on an Easter Color Palette
Before you start designing anything, you first have to decide on a color palette to stick to. It's a good idea to limit the number of colors in your designs in order to keep your designs cohesive.
Easter colors are generally pastels and those that fit under the light spring sub-season. You can look to nature for some inspiration. Think robin's egg blue, light yellows, mint greens, and pale pinks.
Now that you have a color palette nailed down, it's time to start designing!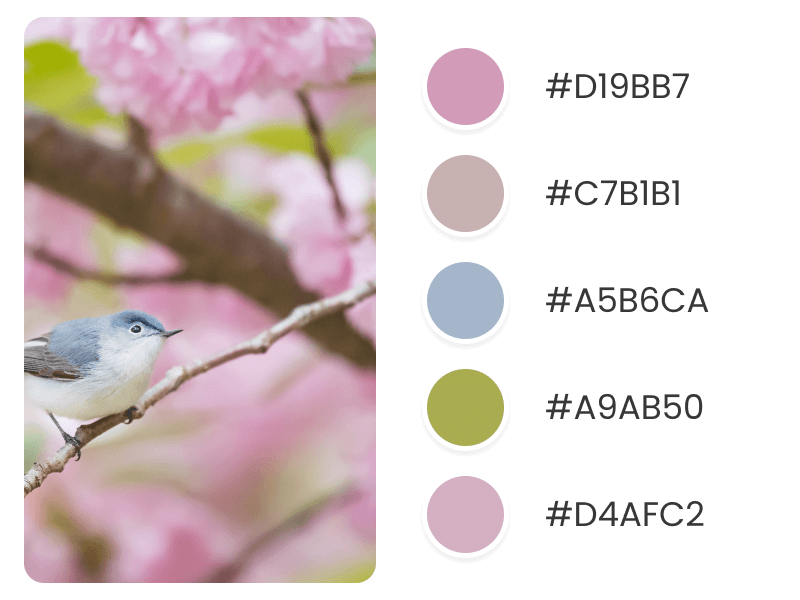 D19BB7 | C7B1B1 | A5B6CA | A9AB50 | D4AFC2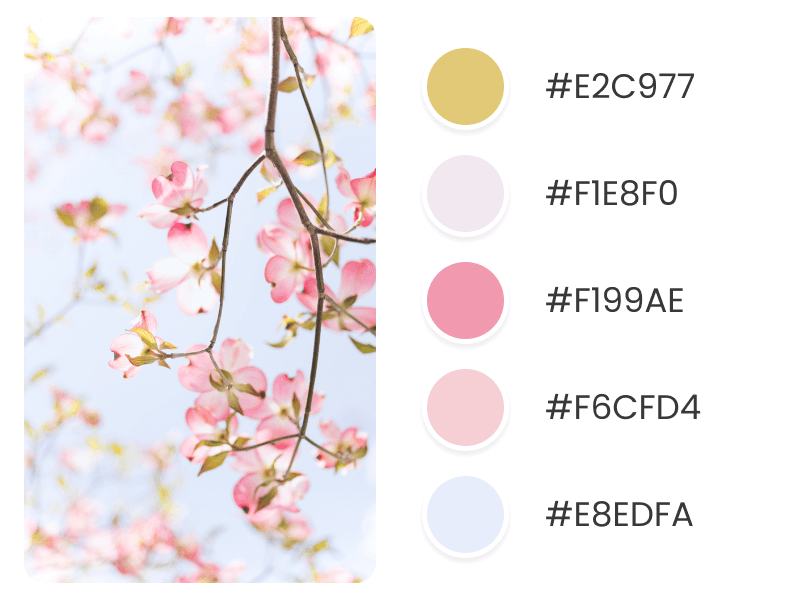 E2C977 | F1E8F0 | F199AE | F6CFD4 | E8EDFA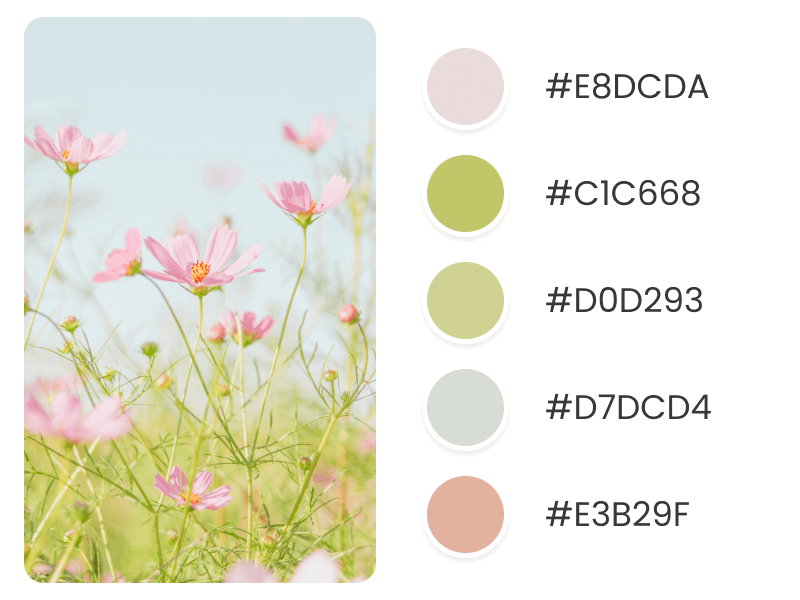 E8DCDA | C1C668 | D0D293 | D7DCD4 | E3B29F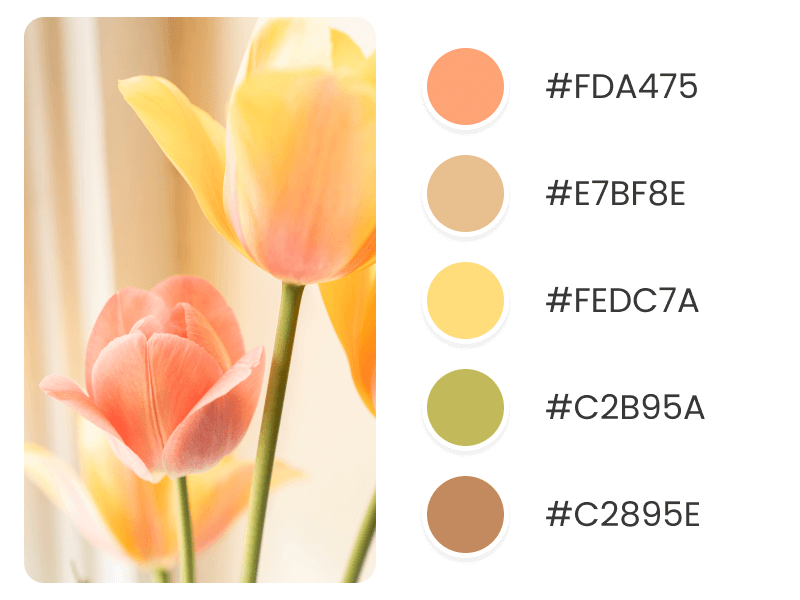 FDA475 | E7BF8E | FEDC7A | C2B95A | C2895E
Need Easter-inspired designs for your apparel brand, but don't have the budget for a designer or a photographer? You're in the right place!
We have a whole collection of Easter designs you can use to create all types of apparel, from t-shirts to tote bags. Choose from traditional Happy Easter graphics to religious Easter graphics and everything in between!
Check out some of the best-selling Easter t-shirt designs and mockups to your creativity flowing:
Create Holiday-Themed Social Media Posts
Wanting to make a splash on social media this Easter? We've got the templates you need!
Whether you're promoting a sale, sending a friendly Easter message, or showing off your latest apparel line, we've got the perfect templates for you! Check out our collection of Instagram posts and Instagram Stories templates for Easter, which include images and videos!
These templates are all so easy to customize, you'll have all your social media graphics done in one afternoon!
Check out these eggcelent Easter templates for social media:
Advertise a Sale with Promotional Banners
Get everyone excited about your Easter sale with eye-catching ads! Check out our collection of banner ad templates you can customize straight from your browser.
To customize an Easter banner:
1. Select your favorite template and click on it to start editing.
2. Customize the text. Type in your own promotional message, change the font and pick a text color.
3. Using the color palette you picked, select colors for all the elements in the banner ad, like the background, frame, and graphics.
4. Scroll down to find the different sizes available for your ad. Select the size you want.
5. Once your ad is ready, hit the download button to save your design.
6. Now that you have your design downloaded, start sharing it!
Easter is a great time to run a marketing campaign, no matter what your goals are. Get your customers excited for this fun holiday by promoting your Easter collections, sales, and promos early.
Get creative with your promotions and don't be afraid to experiment. This is a great time to try something new and see how your audience reacts. You might learn something new that can help you during the bigger sales months of the year.
Don't forget to check out all the Easter templates created by the brilliant designers at Placeit by Envato!
FAQ - 10+ Easter Marketing Ideas and Designs for a Hoppy Holiday
---
---