How User Generated Content Campaigns Can Help Your Brand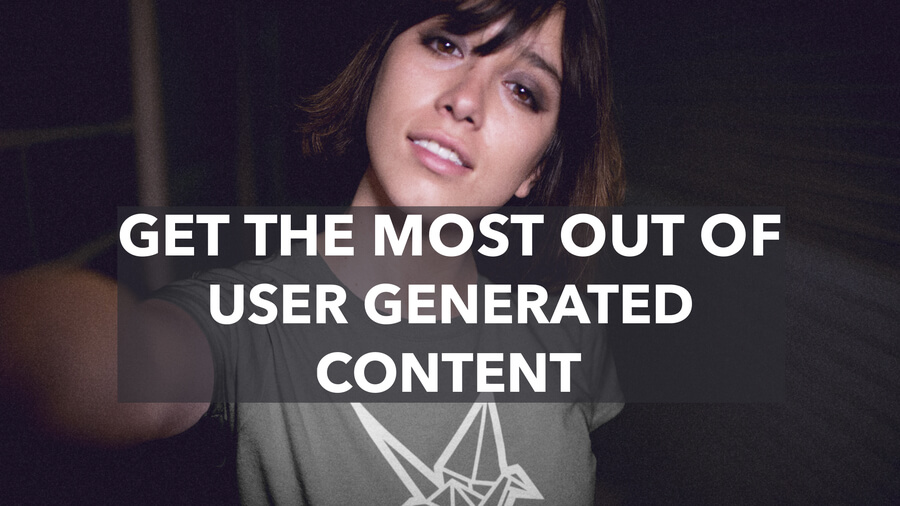 If you're struggling with your marketing campaigns or if you've simply run out of content ideas, user generated content (UGC) will be able to help you. This type of content isn't exactly new, but that doesn't mean it's on its way out, either. In fact, photos of customers sporting your apparel, customer reviews, and branded hashtags can help you step up your content game, all while drawing in new customers. If you just started your brand or don't have any user generated content yet, use Placeit's selfie mockups to encourage consumers to send in their images!
What Is User Generated Content?
To put it simply, user generated content encompasses any and all types of content that has been created by anyone who isn't getting paid by you or your brand. These may be customers, influencers, or fans simply posting something related to your brand on your social channels or even on their own. We say all type of content because UGC may come in many forms, from the simple (tweets, status updates, etc.) to the more complex (images, videos, gifs, etc.). With today's advanced technology, it has never been easier for users to create great content that is useful for the brands they follow.


Calvin Klein's #MyCalvins hashtag consistently produces great user generated content.
Some of this content may be created by customers all on their own, while on other occasions, it may be because the brand is encouraging it. Think about the posts you see on your social media reviewing a brand's services or the posts where someone is wearing a new item of clothing they want to show off and just happen to mention the brand they got it from. If they aren't getting paid for this, then this content can be considered UGC. On other occasions, brands may hold contests asking customers to submit images or videos of their experiences with the brand in order to win something. This generates tons of content that the brand can use which comes straight from their customers.
For brands that do their work well, UGC can be a huge plus. The positive feedback they receive, the number of people eager to leave reviews, and the great images of their products being used in real life can work to attract even more customers. For brands doing the minimum, UGC may not be ideal. You may get exposure and fame but for all the wrong reasons. Since you will be getting real, unfiltered feedback, not all of it will be great. Even so, it's not all bad. You can use these honest reviews to get a better idea of what isn't working and what customers want you to change.

An advertisement made by Target using customer videos submitted for a contest.
User Generated Content Marketing Is Here to Stay
Since we live in the age of social media, many think that user generated content is a fad that will die out once social media influence starts to dwindle. Since most of these types of campaigns are launched through social media and encourage tons of social interaction, this assumption makes sense. However, the social media age has changed not only the way humans interact with each other but also the way in which humans and companies interact. A new standard has been set that forces brands to be accessible, honest, and almost human. User generated content is only one aspect of this.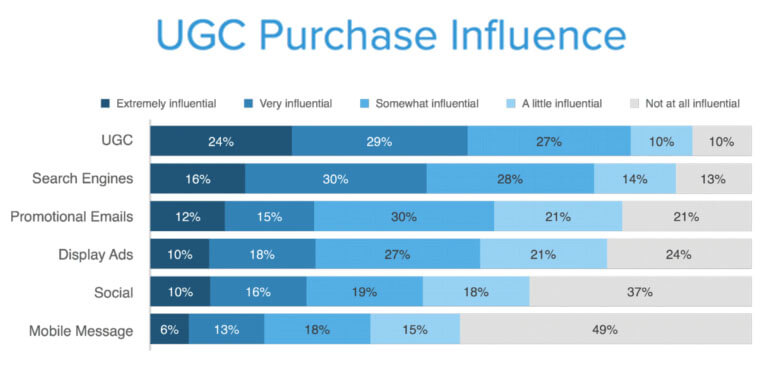 Source: Convince & Convert
Keep in mind that UGC isn't just about launching campaigns, it also encompasses customer reviews, customers' images of your products, and recommendations. The water cooler conversations and word-of-mouth recommendations are now taking place online, in front of a wider audience, and with a much heavier impact. User generated content is all about the consumer because it gives them the power, meaning brands no longer hold complete control over how they are seen or talked about. Chances are that online conversations about your products or services, as well as fields that encourage user feedback, won't disappear, but they may evolve with the times.
The Importance of User Generated Content in Today's World
Brands have been playing around with user generated content for decades, but today's technology has finally made it possible to use this content effectively. High-quality smartphone cameras, easy-to-use video editing software, and apps, highly connected online communities, and easy sharing possibilities have made user-generated content not only a great option but a must-have for all brands.
Because of how easy it is to create and share this content, consumers do it all the time. They don't live by campaign cycles, so their opinions and reviews are constant. While it may be a lot to keep up with, learning to use it to your advantage can have real benefits. UGC is impactful and influences consumers like no other type of marketing, so it makes sense that brands are investing in these strategies more than ever before. In fact, user generated content is trusted a lot more than traditional marketing efforts, making investing in it more profitable in many senses.
"92% of consumers trust peer recommendations above all forms of advertising."
Source: The Marketer's Guide to User Generated Content
The Benefits of User Generated Content
For those who use UGC well, there can be a ton of benefits to enjoy. If customers are excited to show off your products or to be associated with your brand, you're already doing something right. Use this momentum to encourage even more content your brand can use. Some of the benefits of user generated content include:
An increase in user engagement: User-generated content can open up more channels that allow you to interact with your customers by way of answering their questions and even responding to their complaints. Social spaces also allow customers to interact with each other and share their own experiences amongst themselves.
Build customer trust: Real, human interaction breeds more trust. It makes sense then that customer reviews garner more trust than marketing copy written by your team.
Produce varied content your marketing team may not think of: The creativity of the content produced by your customers may surprise you. The submissions you get may open up your marketing team's mind to a whole new realm of possibilities. Listen to what your customers are suggesting and pay attention to how they're using or photographing your products. Taking their opinion into account can only help, and they will appreciate that you take them into account.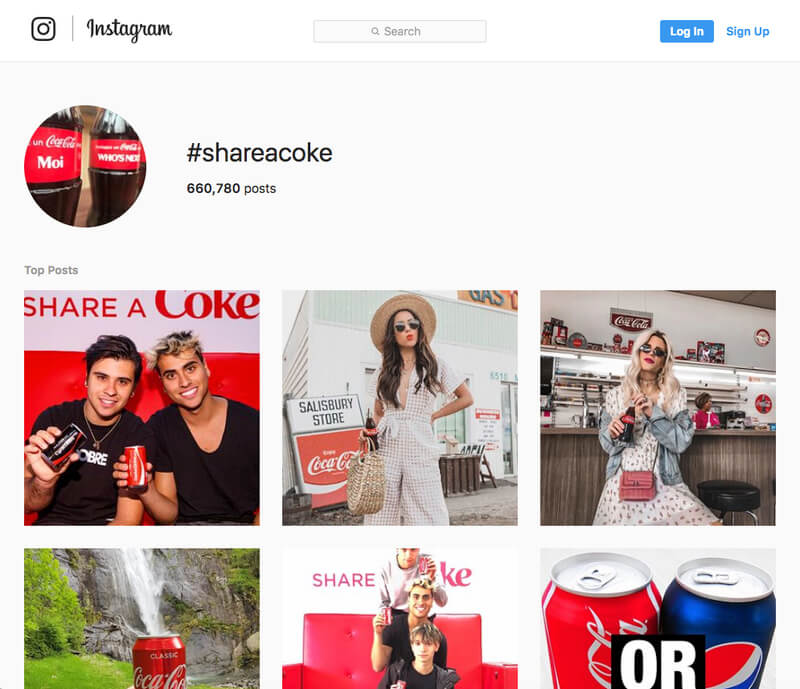 Content produced by consumers for Coca Cola's #ShareaCoke campaign.
Increased conversion rates: UGC helps people find new products, and the reviews left by other customers help prospective buyers make their final purchasing decisions. In fact, on-site customer reviews can significantly increase your conversions.
Increase your social media following: Hosting giveaways on your social media pages, friendly interaction, and sharing your customers' images can all lead to increase in trust and engagement, which can then lead to higher a social media following.
Boost the authenticity and credibility of your brand: Salesy pitches aren't appealing to the everyday online shopper. Potential customers want to hear what real people have to say about your brand. People trust a human voice more, and if that human voice happens to speak well about your brand, they're more inclined to believe it.
Influence purchases: The reviews left by your customers and even something as simple as a star ranking can influence what people buy. Higher rated items or those that are highlighted as the most popular or most sold are more likely to continue selling.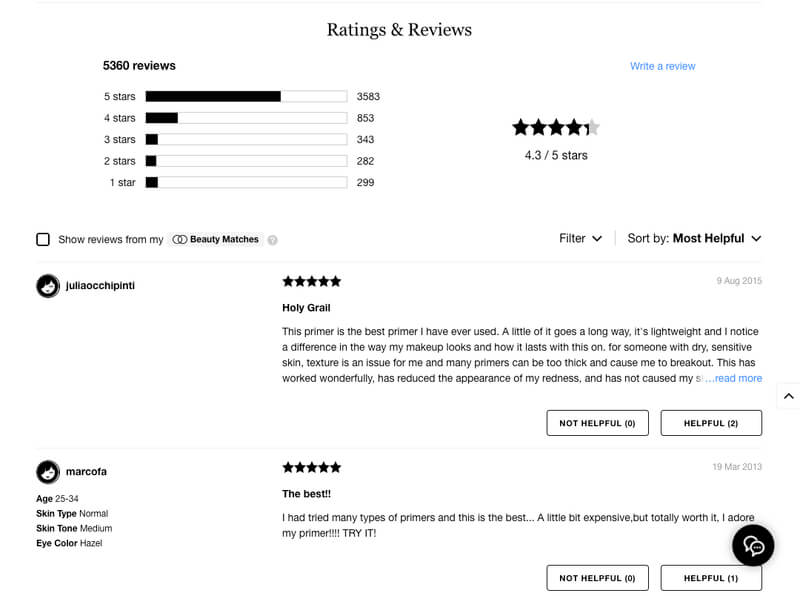 Sephora allows their customers to leave ratings and reviews on product pages.
Add SEO value to your brand: Customers are constantly searching for reviews, especially when seriously considering making a big purchase. But, did you know that about a quarter of the search results they come across are the result of user generated content? While this is great in terms of influence, it also means more SEO value for your brand.
Boost brand awareness: When people share images of your products, your hashtags, etc, it gives your brand more exposure. Since people trust the reviews of their peers more than anything, they'll definitely take notice when your brand is being mentioned. Their opinions will reach their followers, helping you have a wider reach. Think of your customers as brand ambassadors whose voice and opinion will leave a lasting impression on their own followers.

Types of User Generated Content
Encouraging consumers to contribute to your use generated content isn't hard. Many companies focus their efforts on fun or catchy campaigns they think their followers will participate in. If this is the route you're experimenting with, be sure to include guidelines to help customers while they're creating content since this is something most customers want. By setting guidelines you can also help shape the conversation or content so that it aligns with your brand and meets your goals. An easy way to encourage UGC is by allowing customers to leave reviews or images of their purchases. The way Amazon does it is great because prospective customers aren't just limited to reading customer reviews, they can also ask questions which then get answered by other customers. If you're not sure what your options are for UGC, below are some examples of how you can get users sending in their images, videos, designs, reviews, etc.


Create a hashtag around your product that will make monitoring UGC easy.
Ask for feedback in the form of a general question or post a poll. You can also ask your customers to share a story of their experiences with your brand.
Ask for customer submissions that include images or videos of them using your product and then share these on the brand's social media pages.
Host a contest or promotion that requires customers to send in some type of original material to participate.
How to Encourage User Generated Content
If you're just starting out your brand, getting UGC may pose a bit of a challenge. Bigger brands who have been around for a while have an easier time with this because they already have an established following and have a relationship with this following. While you won't be able to get to this level overnight, don't get frustrated. You can use mockups featuring your products in real life settings to encourage users to start sending in their own. If you're a t-shirt designer looking to get user generated content from your customers, check out Placeit's selfie t-shirt mockups. Using these mockups customized with your designs, you can get the ball rolling and encourage your customer base to contribute. Keep in mind that people are more likely to contribute if they see previous participation, so starting off your UGC with these selfie mockups is a great tactic for your brand.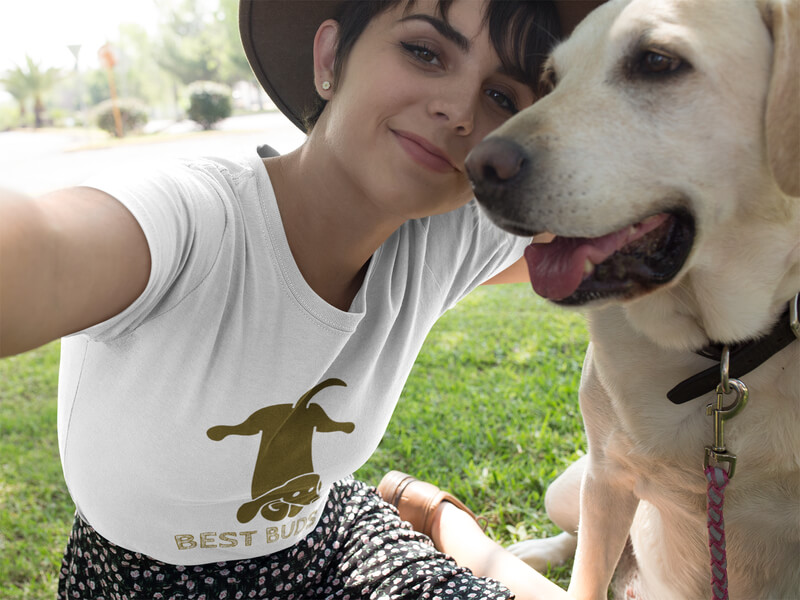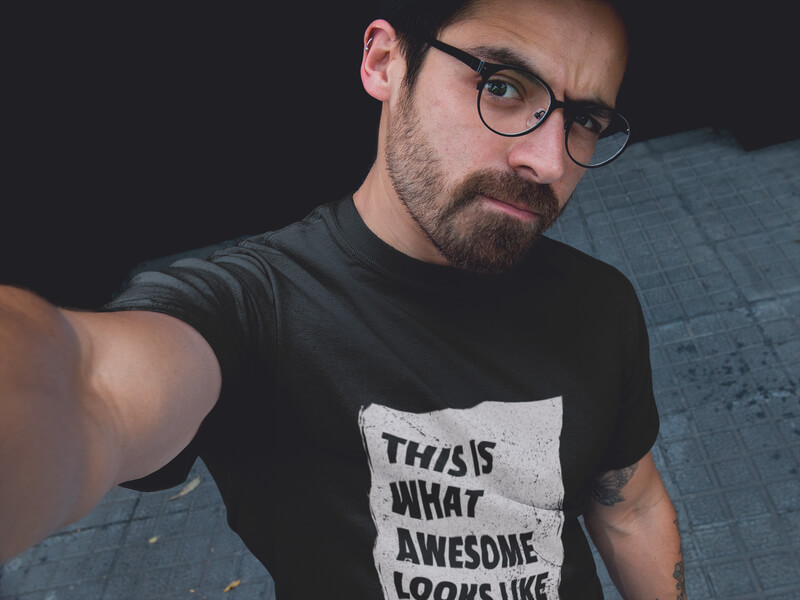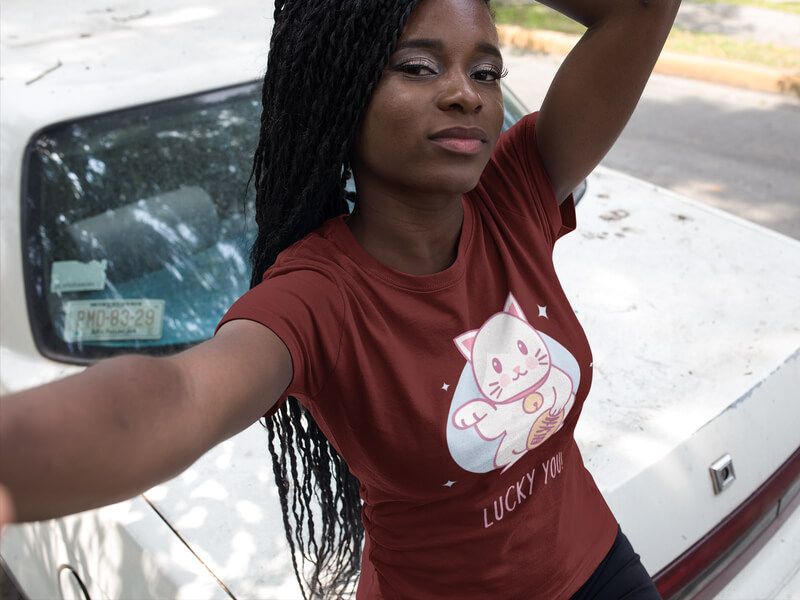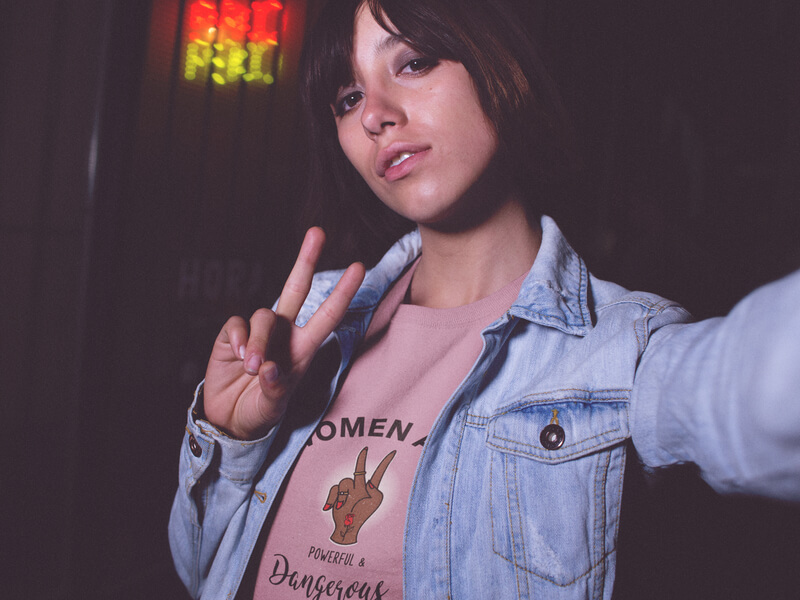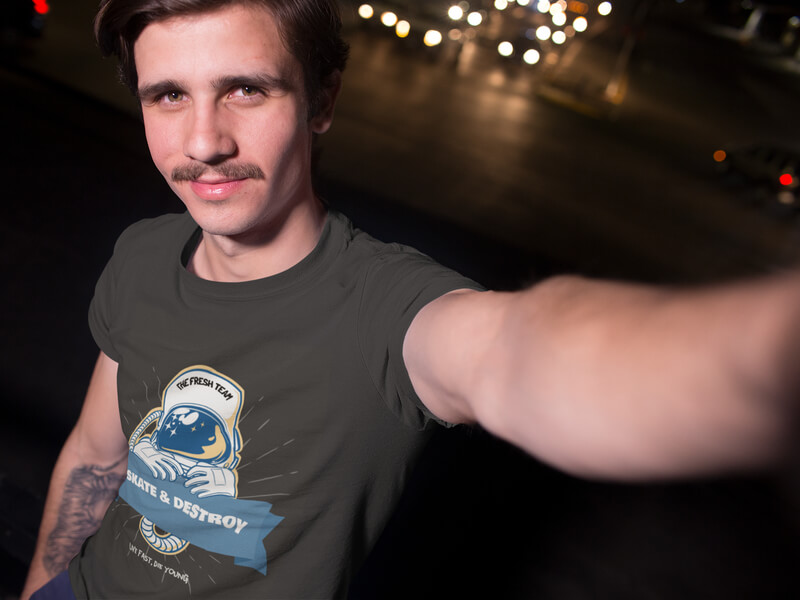 Selfie Of A Pretty Girl Wearing A T Shirt Mockup With Her Dog
Hipster Guy With Glasses Taking A Selfie Round Neck T Shirt Mockup
Selfie Of A Pretty Black Girl With Dreadlocks Wearing A Round Neck Tee Mockup Next To An Old Car
Selfie Mockup Of A Hispanic Girl Wearing A Round Neck Tshirt While Outside A Closed Japanse Food Restaurant
Selfie Of A Hipster Young Man Wearing A Round Neck Tee While In The City At Night
Edit these selfie t-shirt mockups here
How to Track Social Media Mentions
Encouraging social interaction is only part of the job when it comes to user generated content. The next step you will need to take is to keep up with your mentions, reviews, etc. This will help you get the most out of all the mentions you are getting. After all, you don't want your customers to think you're ignoring them. Social media platforms like Twitter and Instagram will alert you whenever you're tagged in a post or mentioned, making it harder for you to miss when customers are trying to interact with you. You can follow hashtags to keep up with your branded hashtags as well as those that are related to your line of business or products. But what if you're mentioned in another space that doesn't make it this easy to track your mentions? This could be very valuable content that may lead to important interaction opportunities, so you don't want to miss it. Luckily, there are tons of apps that will help you keep track of your mentions across various platforms. Check out tracking apps like Twilert, Google Alerts, Talkwalker, and Mention so that you don't miss any valuable interaction opportunities.
Monetize Your Hashtags and Social Shares
While following hashtags is a great way to monitor the reach and engagement for your brand, you can also use them to sell your products directly to users.
With a tool like  Jumper, those hashtags can kick off an automated checkout which allows the user to buy your product directly from the content being shared. It comes with a simple set up and can have your hashtags, comments, and shares translating directly into dollars in no time!
Use Placeit's Selfie Mockups to Encourage User Generated Feedback
If you're looking to increase your t-shirt sales, UGC can be a huge help. However, if you haven't been in the market for long and are looking for images featuring your designs being used by real people, Placeit's selfie t-shirt mockups are your best bet. Our t-shirt mockups are super easy to personalize with your designs and can be used across all of your social media channels for an even wider reach.
"My t-shirt sales really improved thanks to Placeit's selfie mockups!"
Rachel Johnson 5/5
---
Find the Perfect Selfie T-Shirt Mockups to Encourage User Generated Content
We understand that a new business with a small customer base that's still growing may have a harder time motivating customers to contribute to their content. If you've had no luck getting customers to send in reviews and images of your products, get the ball rolling with Placeit's selfie t-shirt mockups! Not only can these types of images attract new customers, they can also inspire more engagement with your audience.
Create Your Own Selfie T-Shirt Mockup!
---