Design a Logo for the Team with The Basketball Logo Maker
Looking to give your basketball team that much needed a boost? Give your players something to identify with by making a custom basketball logo for the team! By having a team logo and colors, players will feel part of a larger entity, not just a group of people who occasionally get together at the local court. Make sure they stay motivated by creating a custom basketball logo for the team!
What if I told you that you can design your own basketball logo in seconds, straight from your browser and without any design knowledge whatsoever with Placeit's logo creator? Sounds pretty awesome, right? Well, you can! Create a logo for your team without having to hire a designer, learning Illustrator, or asking that so-called graphic artist friend of yours for a discount.
Over this post, I will show you how you can create your own custom basketball logo for the team. Whether you play on weekends, coach a little league team, or just want to improve your kid's basketball uniform by adding a one-of-a-kind logo, this is the place for you. Tag along!
---
How to Make a Basketball Logo:
---
Step 1: Finding the Right Basketball Logo Maker
Placeit has tons of design resources to help you out when designing and showcasing your work, among those you will find the basketball logo maker, a tool that will help you create a professional basketball logo for your team, or you can also check out our free logos! This is the tool we will be using today, you can find it by visiting Placeit's Sports Logo Maker. 
For this post, I decided to go for the Aggressive Animals logo template because I wanted to design a "menacing" looking logo for my team. However, there are several logo maker templates you can for, there's even a basketball-specific one with basketball-related graphics, icons, and characters, here are some examples, check 'em out!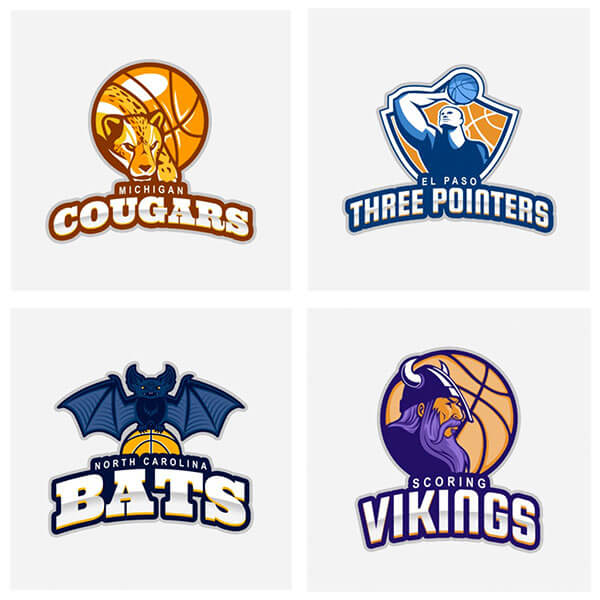 Step 2: Customize Your Own Basketball Logo!
There are tons of icons you could use as logos, right? But what makes this basketball logo maker different is that it lets you fully customize the logo template with your team's name and colors and…
*drumroll*
You can add a team mascot to it! Yes! There are lots of animal options for you to incorporate to your basketball logo to create a unique identity that will really represent who your team is and what it stands for. Again, there's no need to be or hire a designer to create a fantastic basketball logo, the sports logo maker takes care of all the hassle for you!
• Add Your Team's Name to the Logo
On the left side of the logo builder, you will see 2 different text fields, you can add your team's Name and State here. Or if your team has a 2-word name, this will come in really handy to give special emphasis to it. All you need to do is type your text and it will be automatically added to the template.
• Select a Font Type and Color for the Text
After adding your text you can play with the different preset fonts we selected for you, all of these have a sports logo aesthetic which means they will make your team's name look professional when added to the logo. Choose the one you like by simply clicking on it.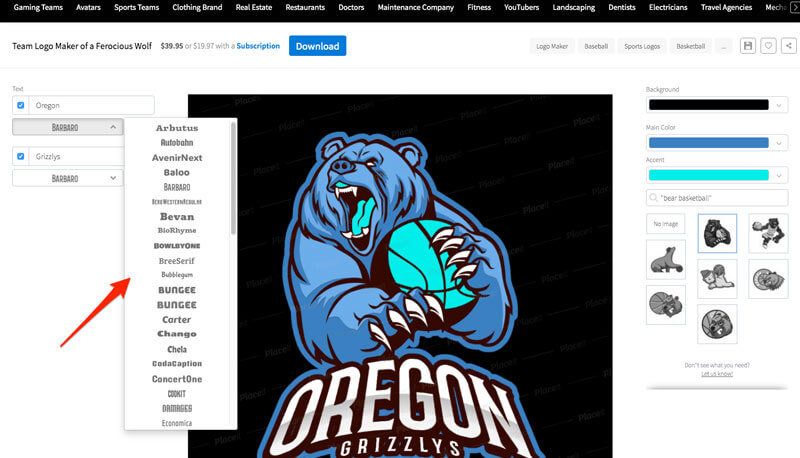 You can change the color of the font by clicking the color box next to it and selecting one from the grid, using a color picker or pasting a HEX code. Another great feature is the text effect, which lets you modify the way your text will be curved on the design. Make sure to test all the options to choose the best one!
• Add an Animal Graphic to the Logo Maker!
Here's when it gets fun as you get to choose an animal graphic to add to your logo design by just clicking on it. There are dozens of different animals you can choose from. Once you add one to the image, you will see how the basketball logo maker perfectly merges the animal icon with the text to deliver a beautiful and professional logo!
Since I'm making a logo for a basketball team called "Oregon Grizzlys", I tested out some bear graphics to see how these would look with my font selections. The outcome did not disappoint as there were several different bear graphics to choose from.
TIP: Don't just choose an animal, customize it by editing its Main and Accent color to fully represent your team. Just click on these fields and see how the colors in your logo will change to reflect the colors you choose.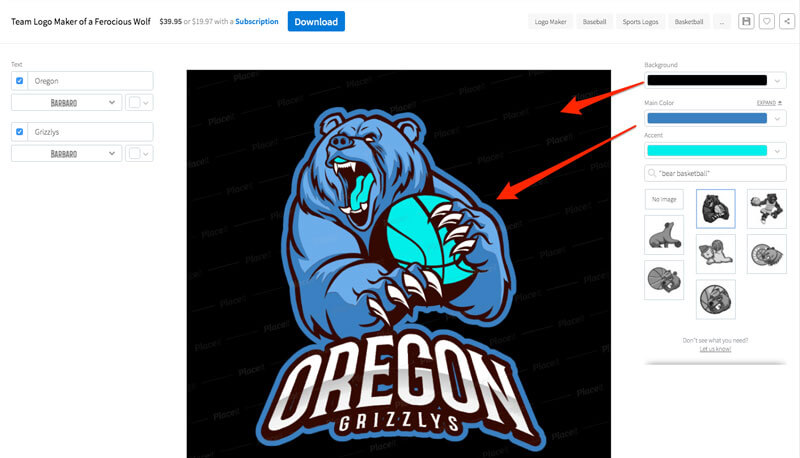 Step 3: Choose a Background Color and Download!
Now that your basketball logo is ready, you can choose to download it with a background color to print on items such as flyers, posters, invites, mugs, phone cases, and other merchandising items or to download it with a transparent background to send it over to your local print shop.
Either way, choosing a background color is just as easy as any of the previous steps, just click the "Background" field on the right-hand side and choose a color or the transparency pattern to go for a transparent png version of your new logo.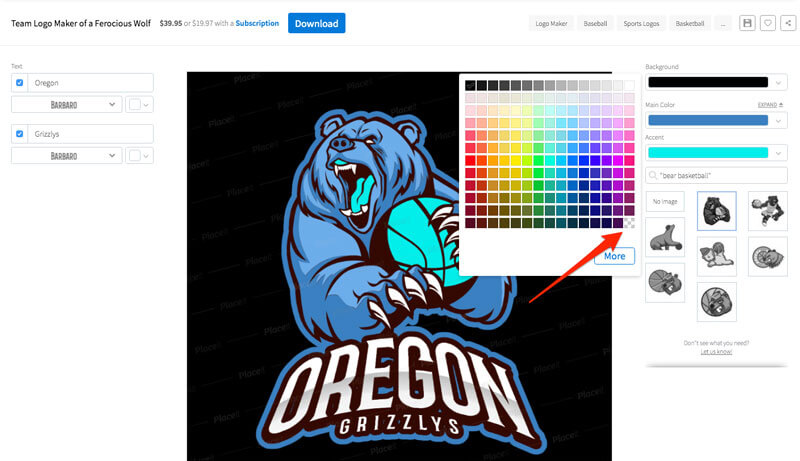 And that's it! The awesome basketball logo generator lets you download your team's very own logo for just $39.95! Or get it half price with a subscription. Yes, you get to decide how to pay and you'll receive a high-resolution professional basketball logo. Use to print brand new jerseys for the team and allow them to look and play like the pros! And the best part is you get to fully customize and control the way this logo will look like to make sure it really represents your team!
Here's how the final basketball logo looks like after downloading: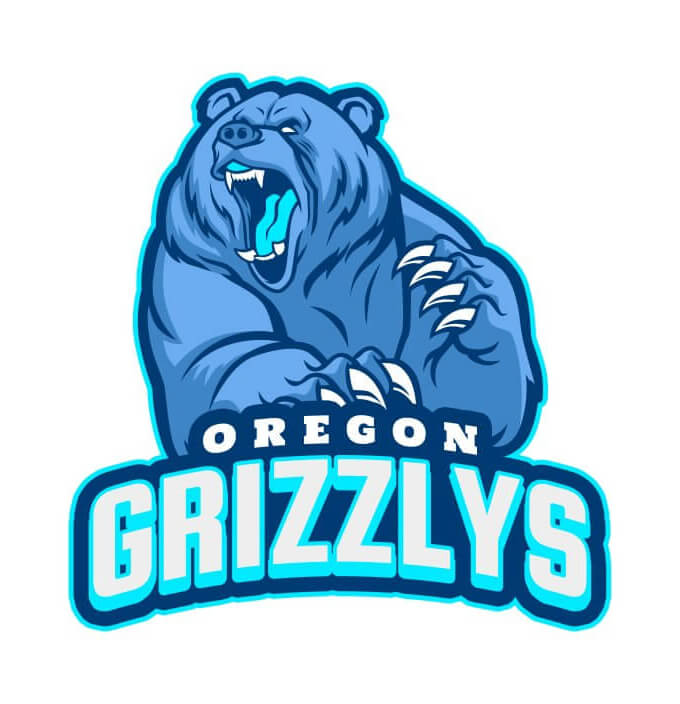 This is a transparent PNG file
File size is 4000 x 4000 px (72 DPI)
No watermark
Download an extra PDF file with vectors
Pretty neat, huh? Now have a look at how amazing this basketball logo looks like when displayed on real-life uniform being worn by a pro player: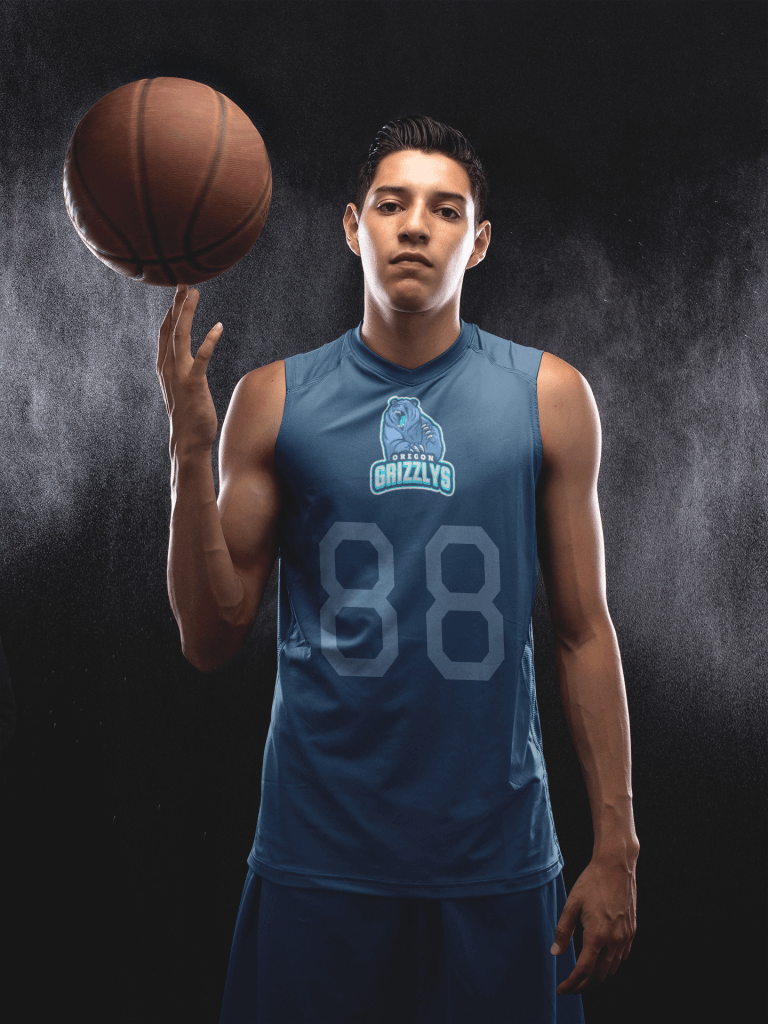 Now that's what I call a professional basketball logo design being displayed in a way that will catch the eye of your competitors, investors or sponsors. Creating a jersey mockup to showcase your team's logo is super easy, read our tutorial on how to make custom basketball jerseys and learn how to create a stunning photo like this one to display your brand new basketball team logo in context.
And guess what? We have more exciting news for you! With our logo animation template, you can create a video animation of your team's logo to show off on gaming channel or you social media, it will look amazing!
You can also make an intro of your logo to append to YouTube videos, presentations, social media content and more! Check it out below and learn all about how can you create your own animated logo without after-effects.
Ready to create an eye-catching basketball logo for your team? Visit Placeit to make your own and to display it with our basketball jersey maker!
Your sports logo design options don't stop there! You can also design logos for all kinds of sports activities, like biking logos, running club logos, or even wrestling team logos!
Learn how to market your brand like a professional on social media with our post on 8 Steps to Launch Successfully Your First Social Media Campaign.
"I found the perfect logo for my team thanks to Placeit"
Hayden Thomas 5/5
---
Make a Custom Basketball Team Logo in Just a Few Clicks.
In this post we show you how to quickly and easily design a custom basketball logo your team can be proud of. You don't need to be a designer and you don't have to hire one either. Placeit's basketball logo maker makes the proccess incredily easy. In just a few clicks you'll have a completely custom and professional basketball team logo ready to be put on jerseys, banners, hats and all kinds of merchandise.
Create Your Logo Now
---