Runners Who Wear Running Logos are Not Kidding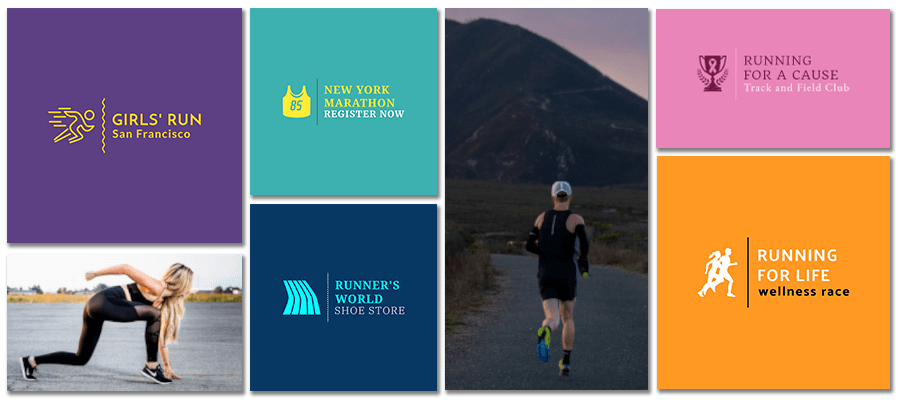 Whether you are a sprinter, a long-distance runner, a cross-country athlete, a solo runner, or if you're in a running club, having a logo that represents you is always a great idea! It gives you the confidence to be serious about what you are doing.
Don't run loose! Get your runner logo, your running club logo design, or create a running logo for your running event! Get your running logos on fleek and start hustling!
5 Tips to Prepare For a Running Race
As your race gets closer and closer, you need a plan to get prepared and be ready. Being ready drastically decreases your nerves and the chances of something going wrong. What you do a week before your race will impact your success!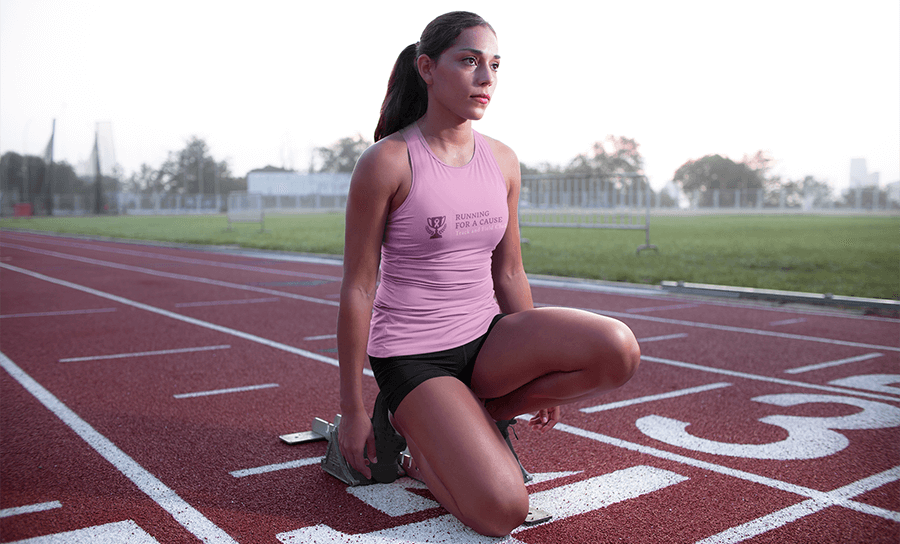 A Woman on Track in Field Uniforms with Running Logo Design
1. Shorten the Distance
As your race comes closer, keep running a few shake out runs even a day before your race! The key is to just run shorter distances. Only short runs! How short? 60% less than what you've run the previous week.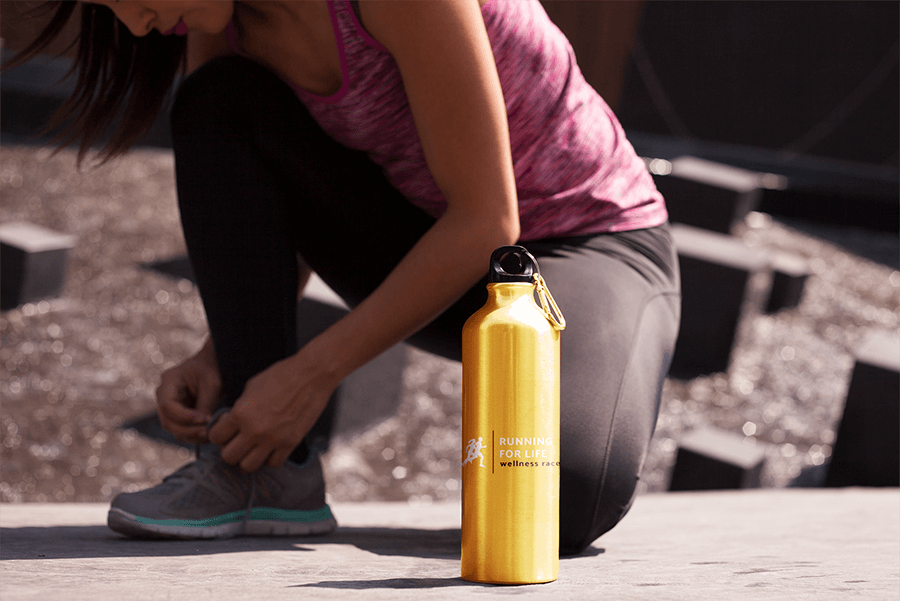 Runner Logo Water Bottle Template
2. Prep Your Pre-Race Meal
What you eat the night before and the morning of your race is essential for your development. First of all, this is a golden rule, never try something new before a race. You probably want to stay away from greasy food too. Most runners go for pasta, rice, potatoes and other high- carb foods since carbs are your greatest source of energy.
How much? Eat as you would normally eat, as in the same quantities. However, be careful not to overeat because you don't want to start a race with a stuffed stomach.
Stick to safe foods and don't risk it by eating something that might have been undercooked or too spicy.
You need to load up on carbs and you do need some amount of sugar. Even during a race, it is always a good idea to have a small piece of dark chocolate if you feel like you're losing your strength.
Pro Tip: About three days before your race try to cut down on fiber intake in order to avoid bathroom emergencies, which are one of all runner biggest fears.
3. Get a Good Night's Sleep
There is nothing like being well-rested for a hardcore exercising day. It's recommended that you get to bed early and use all of your "good sleep" tricks! Maybe some lavender essential oils, your sleeping mask, or anything else you think might help.
4. Trust in Your Endurance
You might be running a 5k or a 10k, you might even be running a marathon! So by this point, you should have trained hard enough so that you're confident that you can finish the race! Keep your running postures, remember your breathing training, and stay confident, you got this!
"Running is nothing more than a series of arguments between the part of your brain that wants to stop and the part that wants to keep going."
5. Have a Deep Stretch Session
Stretch every muscle deeply and you will definitely feel recovered for your race. You can choose a recovery yoga video on the internet or your favorite fitness blog, you can take a class, anything that will release your muscles. Make sure your muscles get the recovery they need before putting your body into great fatigue. 
Get Your Running Outfit Ready!
Comfy shoes (that you've worn before, don't even try to break in new shoes for the race), get comfy leggings or shorts (depending on the weather), and you might consider a light running windbreaker if needed. You can create running t-shirt designs or use your running logo design on your t-shirt.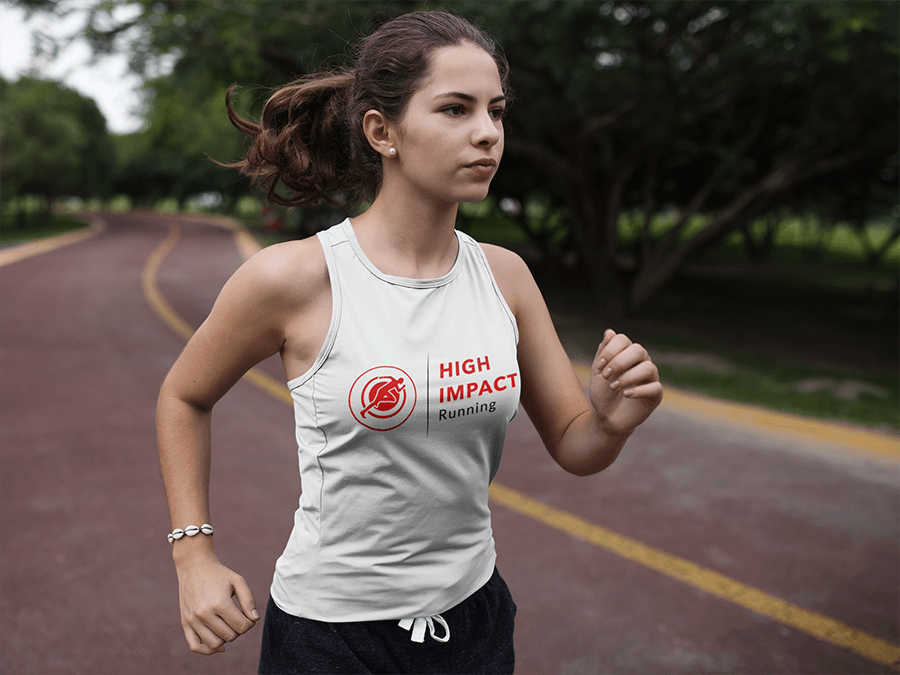 A woman at a Running Track while Wearing a Runner Logo T-Shirt Mockup
Done with Your Running Logo? Promote a Race with Running Flyers!
There are plenty of reasons why you would need to promote a race: because you are hosting it, because it is a fundraiser which you are part of, because you want people to support a cause, or because you are looking for sponsorships. In any case, amplify your efforts by using an online design tool that allows you to create something beautiful with just a few clicks. Placeit's running flyers are perfect for any occasion since they have the right quality for web or printed products.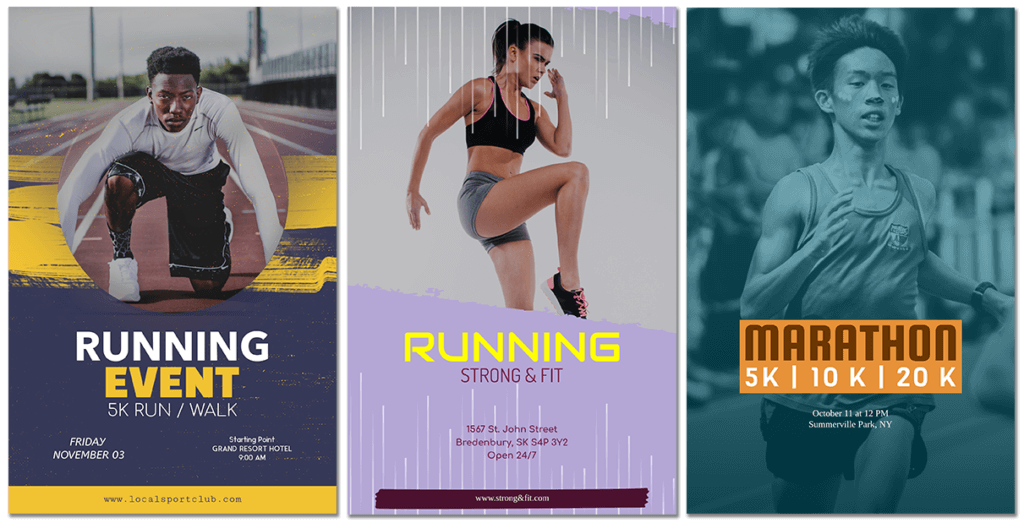 If you're looking to make a sports logo for a sport other than running, you're in luck! Placeit has tons of sports logos you can sort through by category, including boxing logos, swimming logos, cycling logos, and hockey logos!
"I made a cool runner logo for my club with Placeit's logo maker."
Donna Burk
5/5
---
Run the Race with a Winning Runner Logo!
Run like a professional with you very own runner logo! You can design your logo in just a few clicks with the easiest tool available! Choose a template, customize it and hit download! Yes, it's that easy!
Get Your Runner Logo Today
---