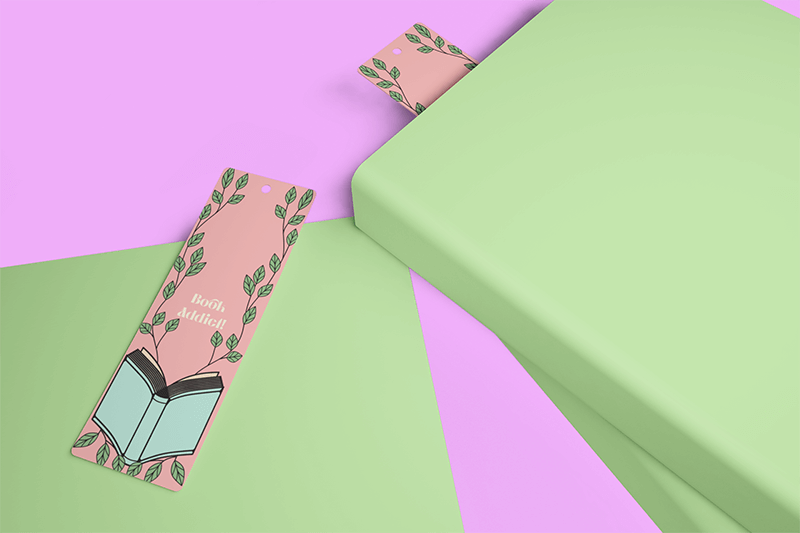 A good book has the power to transport us to far-off places, evoke emotions, and spark our imagination. As avid readers, we often find ourselves immersed in the world of literature, and what better way to complement this experience than with a beautifully custom bookmark design? 
Placeit by Envato, offers an impressive array of bookmark templates that cater to various styles and preferences. In this blog post, we'll delve into the wonderful world of Placeit's DIY bookmark designs and learn how to create personalized bookmarks that enrich our reading journeys.
What You'll Find: 
The Charm of Placeit's Bookmark Templates
Bookmarks serve a dual purpose: they help us keep track of where we left off in our reading adventure and add a touch of aesthetic appeal to our books. These personalized bookmark designs embody both functionality and beauty, providing an extensive range of templates that suit diverse reading genres, age groups, and personal preferences.
✨  Why stop here? You can also take a look at some awesome book cover ideas to create your own design!
From cool bookmark designs that are sleek and minimalistic designs to whimsical and artistic illustrations. Whether you prefer classic motifs like vintage illustrations or contemporary designs with vibrant colors, their library of bookmark templates will leave you spoiled for choice.
Exploring the Variety to Get Some Bookmark Ideas
a. Minimalistic Elegance
For those who appreciate simplicity and elegance, Placeit's collection of minimalistic bookmark designs is a perfect fit. These templates feature clean lines, muted colors, and stylish typography, creating an understated yet sophisticated bookmark that complements any literary masterpiece.
b. Whimsical Artistry
If you're looking to infuse a bit of magic and whimsy into your reading experience, Placeit's whimsical bookmark designs are just what you need. From fairytale creatures to dreamy landscapes, these bookmarks add a dash of enchantment to your books and make each reading session all the more special.
c. Vintage Charm
Embrace nostalgia with Placeit's vintage-inspired bookmark designs. With our illustrations and retro aesthetics, these bookmarks take you on a journey through time, evoking memories of bygone eras while marking your place in the present.
d. Modern Chic
For contemporary readers with an eye for modern aesthetics, Placeit's chic bookmark designs offer a sleek and stylish bookmark solution. These templates often feature geometric patterns, bold typography, and trendy color palettes, reflecting a contemporary design sensibility.
e. Cute Bookmark Designs
Use cute animals, cartoons, and characters to give your bookmark a "cute" design sensation.
How to Make a Bookmark with Placeit
Creating a personalized bookmark with Placeit is a breeze, even for those with limited design experience. Follow these simple steps to craft your very own bookmark:
Step 1: Visit Placeit's Website
Head over to Placeit's website and navigate to the "Bookmarks." You'll find a wide selection of bookmark templates to choose from.
Step 2: Select Your Preferred Template
Browse through the various bookmark designs and pick the one that resonates with your reading style or the genre of the book you're currently enjoying. You can use side tags to help you filter your search. 
Step 3: Customize the Design
Once you've chosen a template, it's time to make it your own. Placeit's user-friendly editor allows you to add your own text, images, or logos to the bookmark. You can change the colors, adjust the layout, and even upload your favorite illustrations to create a truly unique design.
Step 4: Preview & Download
After customizing your bookmark to perfection, preview the final design to ensure it aligns with your vision. Once you're satisfied, simply click the download button to save your masterpiece.
Bookmark Sizes 
The ideal bookmark size dimensions can vary, but a standard bookmark size is typically around 2 inches (5.08 cm) in width and 7 inches (17.78 cm) in length. However, bookmark sizes can be adjusted based on personal preferences or design requirements.
If you plan to create a printable bookmark, it's essential to consider the bleed area and trim size. Bleed refers to the area beyond the actual bookmark size that ensures there are no white edges when the bookmarks are cut after printing. A common bleed size is 0.125 inches (0.3175 cm) on all sides.
So, for a printed bookmark with a standard size of 2 inches (5.08 cm) x 7 inches (17.78 cm) and a bleed size of 0.125 inches (0.3175 cm) on all sides, the final dimensions with bleed would be 2.25 inches (5.715 cm) x 7.25 inches (18.415 cm).
For digital use, you might consider a different size to ensure compatibility with various devices and platforms.
Don't Lose Your Mark with Bookmark Mockups!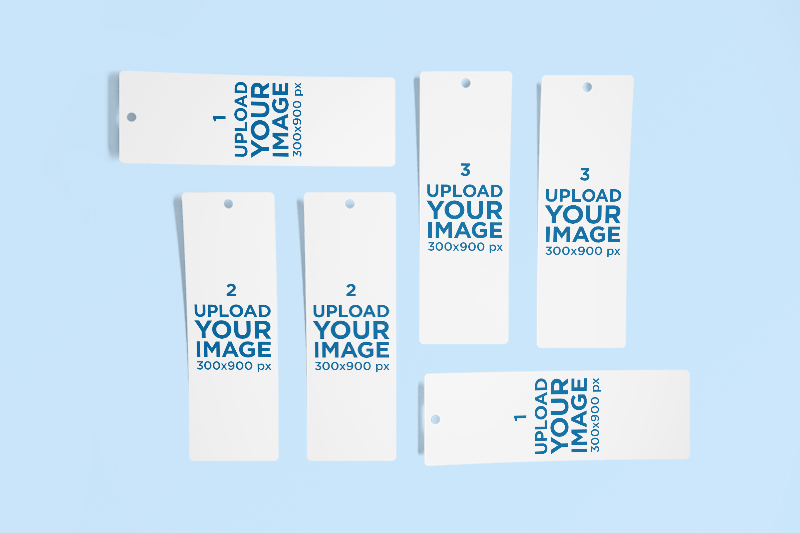 Placeit's Bookmark Mockups offer a delightful and visually captivating way to showcase your custom bookmark designs. Whether you're a book lover, a designer, or a business looking to create promotional materials, these mockups provide the perfect platform to bring your bookmark creations to life and capture the attention of your audience.
✨ Check out these book cover images to show and promote your designs to your audience!
Why Use Bookmark Mockups?
You can have realistic visuals to promote

Diverse mockup styles

Super easy customization

These are ideal for promotions

Ready for print and digital use

You save time and resources
🔥 Check out some other tips to promote your book!
Free Bookmark Templates
That's right! You can find free templates for different designs, mockups, videos, and logos from time to time. What does this mean? It means we are constantly changing our free templates, so whenever you see something you like, go for it! It might not be there for long. You can make a design completely free and share it with every license right on your shop, social media, or even print! 
♥️  Loving these? Yes, we know. Check out what other free resources are available for writers or publishers like you!
Last Words
Placeit's bookmark designs are a delightful addition to any reader's collection, elevating the reading experience to new heights. Whether you prefer minimalistic elegance, whimsical artistry, vintage charm, or modern chic, our huge library of templates ensures that there's something for everyone. So why settle for a plain, generic bookmark when you can create a personalized and visually appealing one that reflects your taste and enhances your reading adventures? With Placeit's easy-to-use platform, crafting the perfect bookmark is just a few clicks away, making your reading moments truly memorable. So go ahead, explore the world of Placeit's bookmark designs, and embark on a reading journey that's both stylish and captivating!
Want to publish a book, but you are not sure where to start? No worries, head to these 9 tips to start publishing your book. You should also check out the best places to publish and print your book in this guide.
FAQ
---
---