Promoting Your Book Like the Pros
Congratulations on demonstrating true grit going through the long time-consuming process of writing a thrilling book or ebook. Maintain that powerful motivation that brought you all the way to this blog post to finally achieve that long-term goal of every book publisher: monetization. Continue reading to find 10 tips to promote your ebook.
1. Audit your Digital Properties
You've been so busy typing and drinking coffee that you have probably forgotten to market yourself online as a proven self-publisher. Make sure that your Facebook, Twitter, LinkedIn, Pinterest, and your website portrays your writing passion and provides the information that your soon-to-come customers and fans are going to need from you.
Also, don't forget how powerful Social Media is as a publishing and promoting tool. If you are going for those likes, shares, and retweets you will want to give a good impression from the beginning.
Kevan Lee from Buffer shared a 15-Minute Social Media Audit Everyone Can Do. Done? Please keep on reading.
2. Pre Launch Buzz Campaign
You know how awesome your ebook is but let's not brag about that yet, let's rather start generating curiosity and building buzz to grab your future readers' attention. Show your followers a compelling picture of how your creation is going to make their life better.
One way to generate curiosity is by sharing a paragraph or a page from your ebook that you find specially interesting.
Then, you are also going to want to be extra social about every small step you take in your way of delivering your ebook for the masses. For example, you will want to Instagram or post on Facebook when your ebook's last chapter is finally done and also when your ebook cover art design is ready. People will love to witness how excited you are about this major accomplishment of yours and how much you want it to be finally available for everyone's eyes and not just yours and your cat's.
Also, have you considered crowdfunding your ebook? If what you are writing about is really groundbreaking and interesting, you should go and crowdfund it! This way you will have some money for the usual expenses and instantly have a crowd who wants to be first in line when your ebook is ready.
If you are serious about it, I highly recommend checking this thorough blog post about creating pre-launch buzz by John Lincoln published in Jeffbullas.com.
3. Get a Modern Landing Page
So what's all the fuzz about the so called "landing pages"? Although the name is self-explanatory there's some confusion around it. A landing page is the page where a user lands after clicking a link, usually a link found on ads. The landing page MUST show what the link promised in order to keep the visitor interested. An effective landing page leads to conversion, so either you are capturing emails or leading visitors to the shopping cart, make sure you display the information your fellow readers are looking for in a concise and creative way and link to all the places selling your ebook.
Envato Market is a great site where you can find responsive landing page templates, I specially liked this one. Most templates come with instructions of how to easily set them up all by yourself. Go deeper and read more about landing pages in this article by Asheesh-Bhardwaj from Ixwebhosting.
With Placeit you are capable of improving your landing page, take a look at the 3D book mockups on the right side of the screenshots. Which one looks more attractive and professional?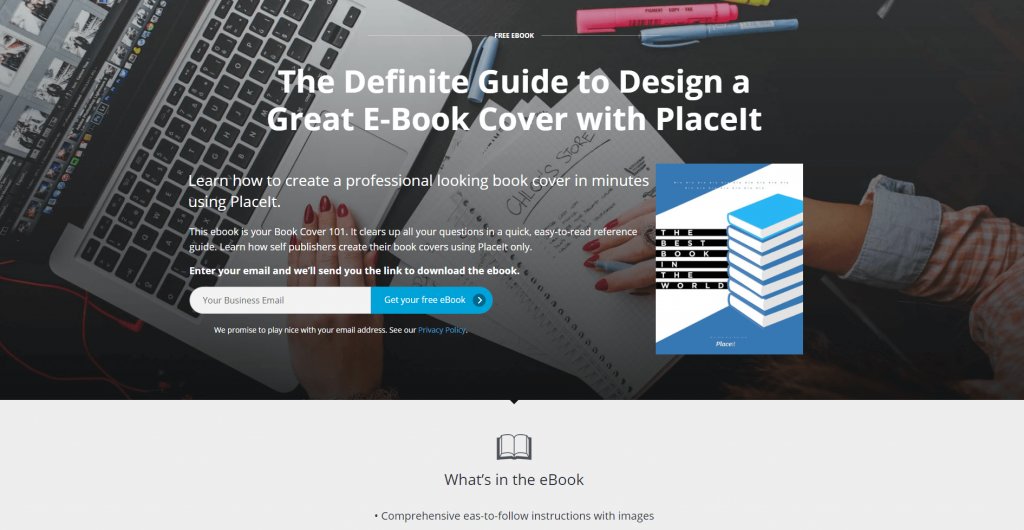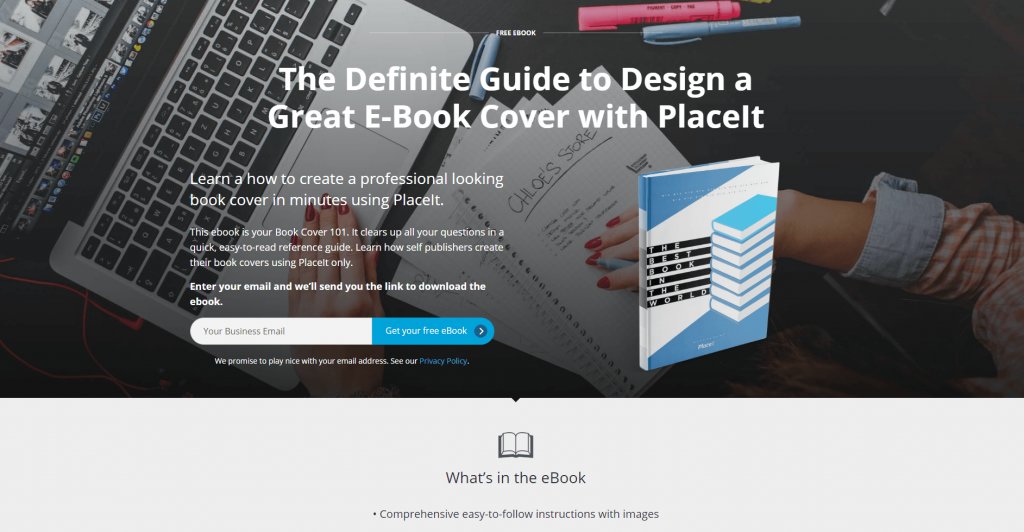 4. Benefit from Giving Away
Chances are you are an upcoming fresh author and not everyone is familiar with your storytelling skills so giving away just makes sense. In the end, if someone reads your free stuff who wouldn't have bought your book anyway, then you lose nothing, right? A best practice is to ask for an email address to unlock a digital download of your ebook sample.
SlideShare is a great way to accomplish this. Go on and create a beautiful presentation of no more than 8 slides that give an introduction to your ebook. You will also want to add a (trackable) link that leads to your landing page or sends them straight to where your fans can get your ebook.
Consider buying bulk USB Flash drives and including a copy of your ebook in it and give them away in book conferences, in a nearby park or to your close friends and co-workers. Mark Coker from Smashwords shares in this article why giving away e-books can boost sales for indie authors.
We will see more about this in Tip #7 where your advertising efforts will really be tested.
5. Aesthetics Matter
Yes, we really do judge books by their covers. Nothing makes a release more official than an appealing cover design. Invest energy and money (not too much) in creating a good looking cover design. The goal here will be to make your ebook look like a top seller.
Once you create your ebook cover with a tool like this ebook cover maker, create a 3D ebook mockup to present your ebook in different on context and on different platforms and situations. Pretty cool isn't it?
Placeit has hundreds of book cover templates and book mockups for you to choose from. A correlation exists between great sales and a professional book design. So go ahead, if you want to create high quality visuals, to enhance book sales! Here are a couple of great premade book cover examples to inspire you and get you started.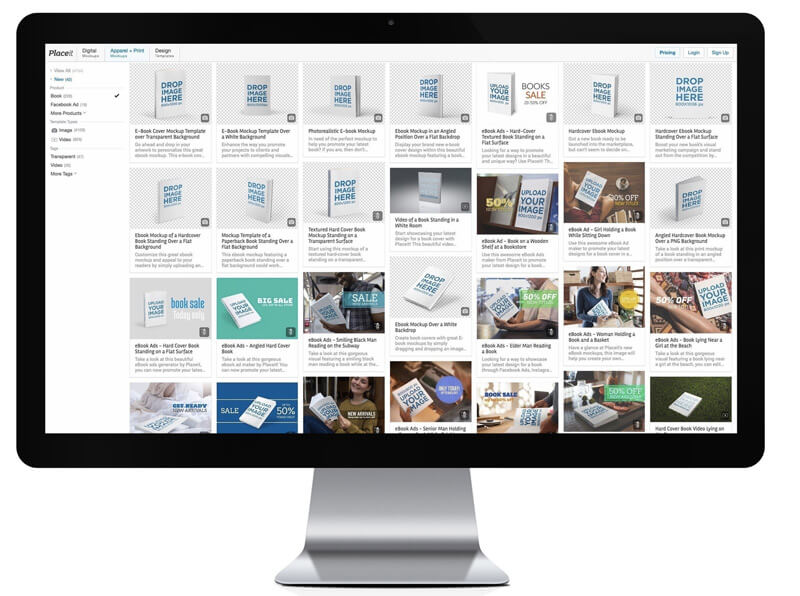 6. Set the magic price for your ebook
Are you now ready for selling? According to Millcitypress, $3.99 is the most popular price to sell your ebook for. This magic price doesn't apply to every self-publisher's ebook out there and setting this price is just a recommendation. If you think you can get more bang for your bucks then go for it! Consider you make a royalty out of the ebook's retail price so make sure that you are happy with the final amount that you will be receiving. Read more about the psychology of pricing and ebook royalty percentages here.
Selling eBooks online? Have a look at this Guide for Making More Sales with Ebook Mockups and Videos
7. Promote and target with Twitter, Facebook, Adwords, Pinterest, E-mail mkt etc.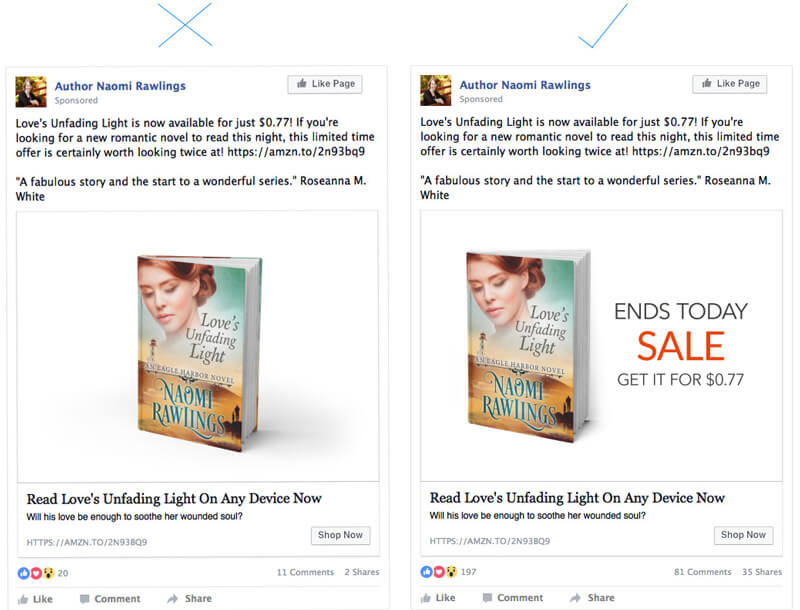 Expert's advise is to combine multiple forms of advertising. Paid search with Google AdWords focuses on the targeting of keywords and the use of text-based advertisements. Facebook Advertising helps users find content based on the things they're interested in and the ways in which they behave online. The potential granularity with which you can target Facebook's users is its biggest strength and it is why I recommend it the most.
Use compelling images and text to make your ads clickable, Placeit's Social Media Book Ads are 3D book mockups + text, which will help you promote your book like the pros. If the ads are not appealing then users will just scroll through your ads and your money will be wasted. Keep track of how your ads perform in different platforms and eventually ditch the non performing ones.
8. Embrace Ebook Promotion Sites
So we want to get our ebooks before as many eyes as possible, right? Quoting Carla King, "Indie authors can upload ebooks to each online ebook retailer directly, but we might instead choose to distribute them using an ebook aggregator like Smashwords, IngramSpark, Vook or BookBaby. Likewise, we can upload our print book to Amazon via CreateSpace directly but distribute to other online print book retailers and brick-and-mortar bookstores via a distribution service like IngramSpark."
I would also recommend trying innovative platforms like Wattpad or Bookbub and of course, consider the top publishers: Kindle Direct Publishing, Nookpress, iBooks Author, Google Books.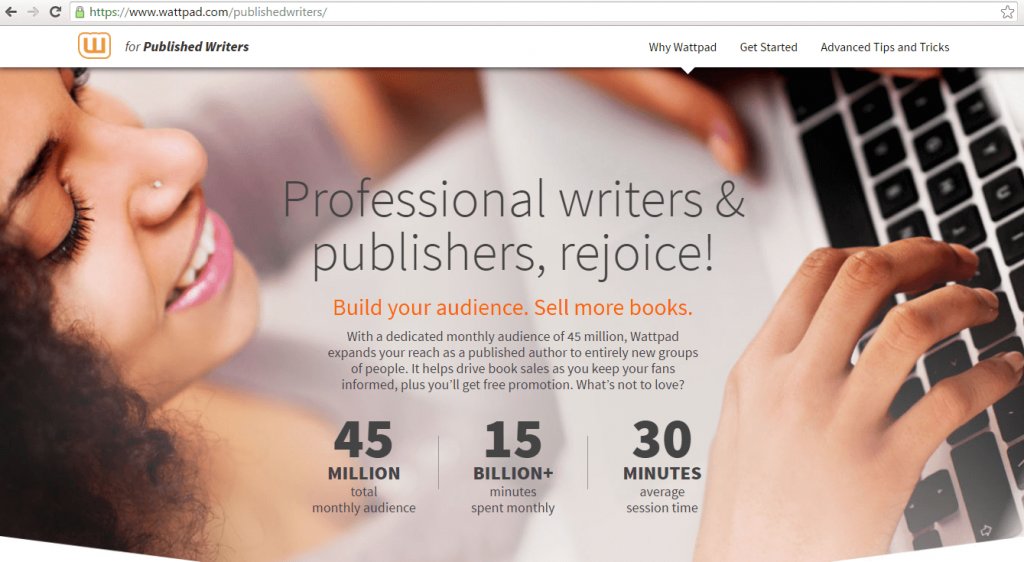 9. Track every link you share
Unlike a physical bookstore where you can't trace back every visitor you get, most digital properties provide a tool to track how a user finally found you. Tracking tools like Google Analytics, Facebook Page Insights, and Twitter Analytics can provide valuable information about your visiting customers. It is of great value to learn about your visitors' demographics, about the technology they are using to access your owned media (mobile or desktop), and about the path they followed to finally reach you. Also, if the links you will be sharing are too long, you should use a shortening URL tool like TinyURL.
10. Outreach, outreach, outreach!
Compose a killer email and get in contact with potential influencers, podcasters, editors, bibliophiles, bookworms, and bloggers. After a week or two of no response give a follow up, keep insisting. You will receive valuable feedback from their response and hopefully they will recommend your ebook and it will reach audience impossible to reach on your own.
To Wrap-up
I hope you've found the listed tips useful and that you keep writing and promoting more and more ebooks. There are heaps of readers thirsty for original content. If you are still writing be sure to check this list with self-publishing resources that you can't miss.Promoting an ebook is not an easy task but it isn't an impossible one either. Declare milestones in your social media accounts, keep writing, keep blogging and outsource time-consuming activities to professionals in Fiverr or Freelancer.
Please follow Placeit on Twitter, Facebook, or Dribble for updates.
---