Design a Book Cover Online
With Placeit's brand new book cover maker you can now take control and create your own book cover design. No skills needed, no need to download any extra software, all done from your browser. It was about time!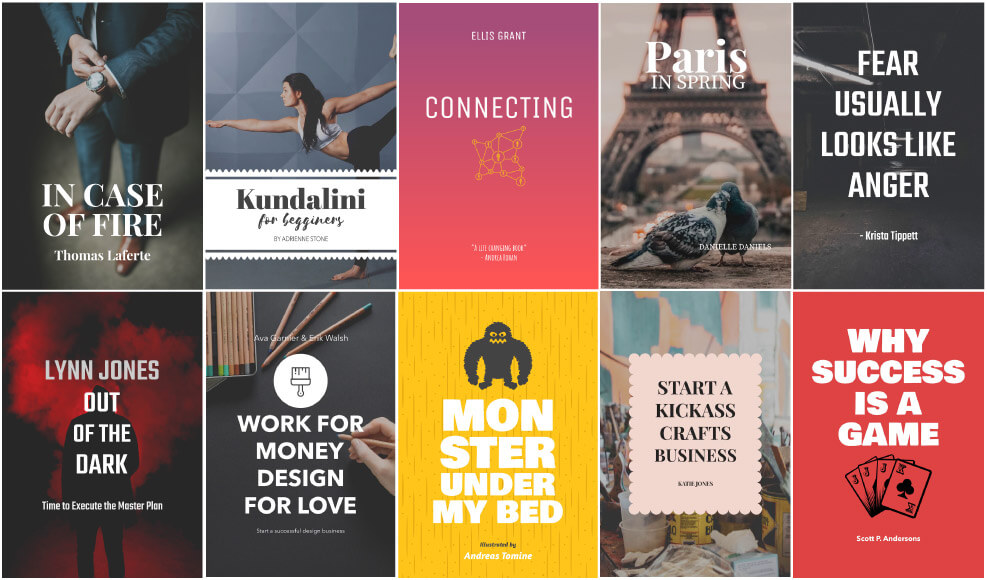 ---
How to Make the Most out of Your Book Cover?
1. Learn the Anatomy of a Book Cover
2. Why Book Covers Matter?
3. Explore Different Book Cover Templates
4. How to Design Your Own Book Cover
5. Promote With 3D Book Mockups
6. Design a Book Cover
---
Anatomy of a Book Cover
A book cover is an artistic form of communication that uses visual means to attract attention and convey the minimum vital information to entice the customer to learn more about it. It works like a peephole through which we can get a glimpse of the text inside.
Let's learn what makes a great book cover design. Let's remember that the book's content and its cover are always entwined. It's is all about the idea/feeling that you want to transmit.
Go on and tap on the blue buttons on the following book cover image created with Placeit to learn more about the important parts of a book cover.
Why Book Covers Matter?
People have been judging books by their covers for ages now. Even now that we have other criteria to evaluate before purchasing a book like, for example, customer reviews and ratings, book covers are still a compelling reason to purchase a book. A book cover offers potential purchasers the possibility of either diving inside or turning back. One must be able to imagine what a book will be about my just looking at the book cover. Here are a couple of great premade-book cover examples to inspire you.
Have a Look At a Few Book Covers Examples Made With Placeit
Let's go through how you can design a book cover with ease thanks to Placeit.
---
Here's How YOU Can Design a Book Cover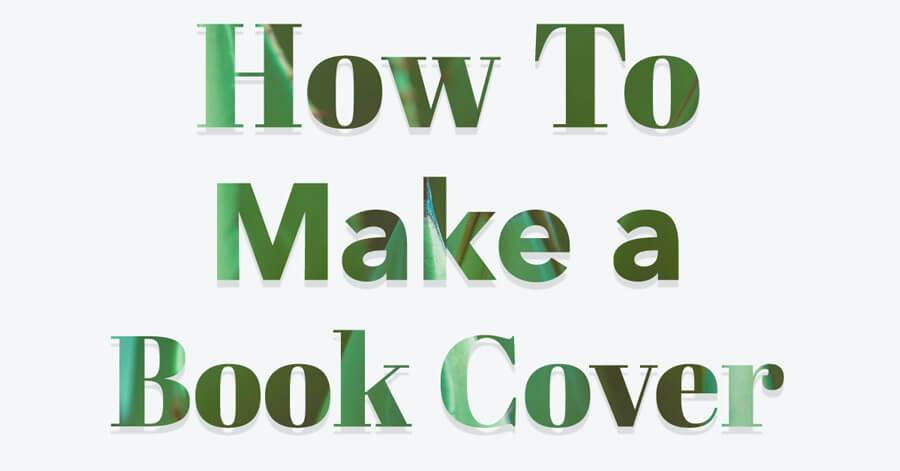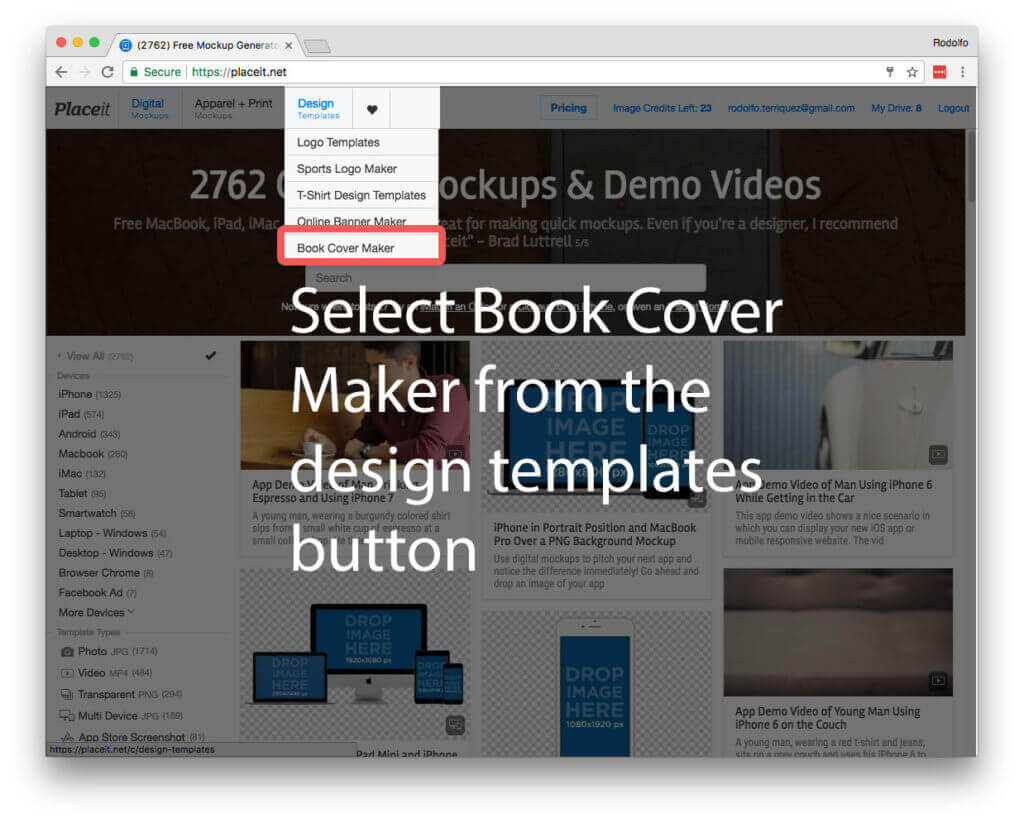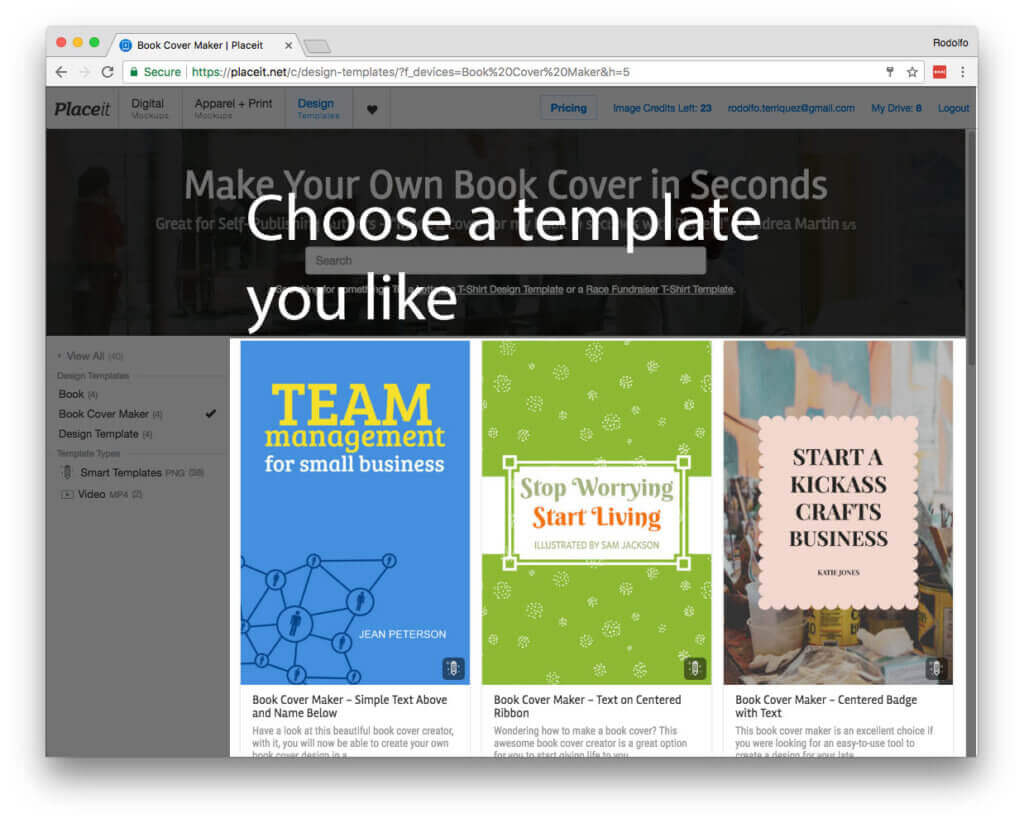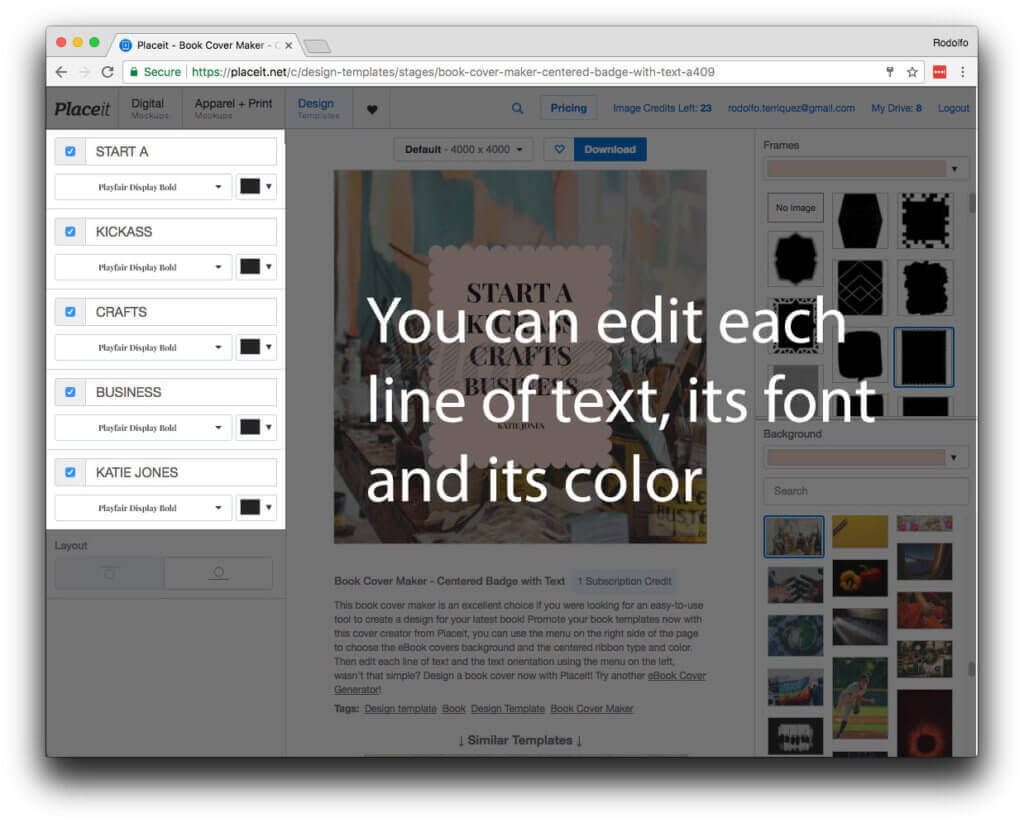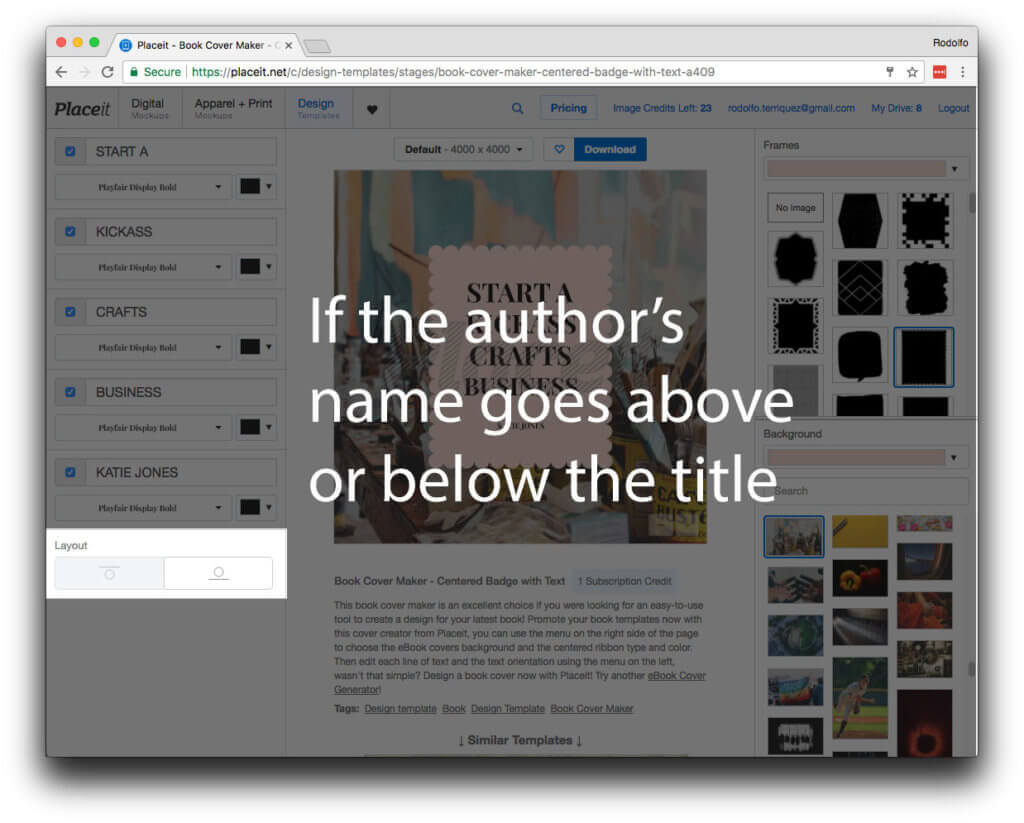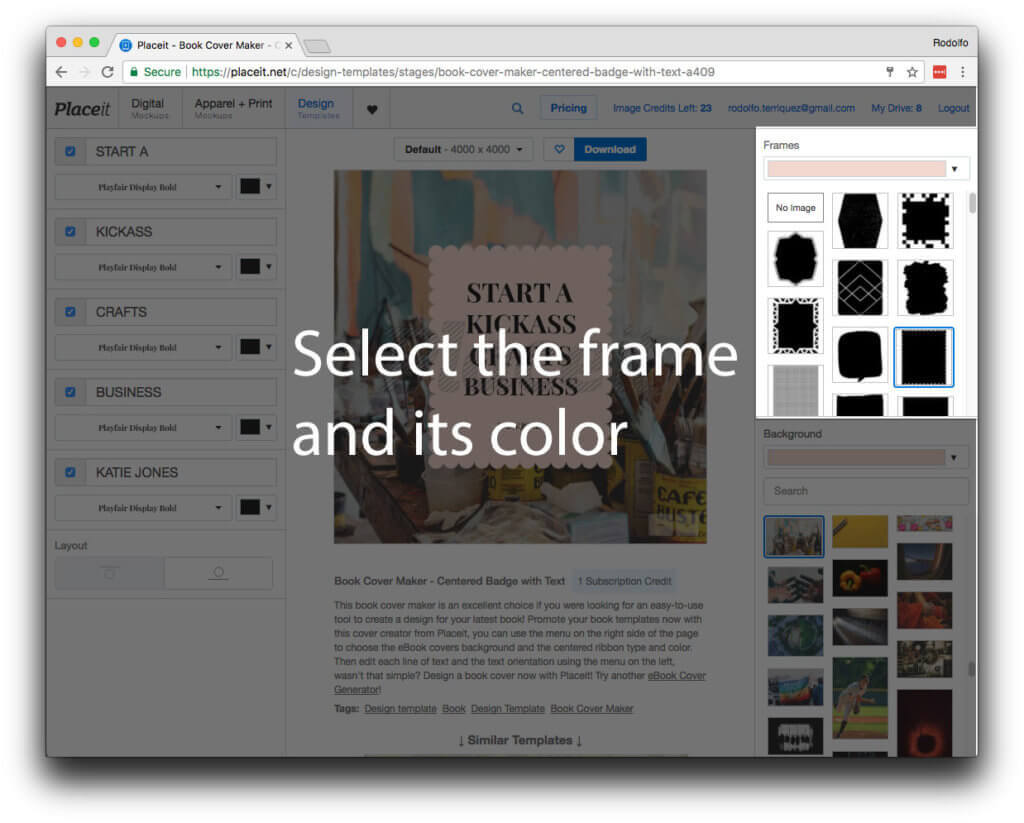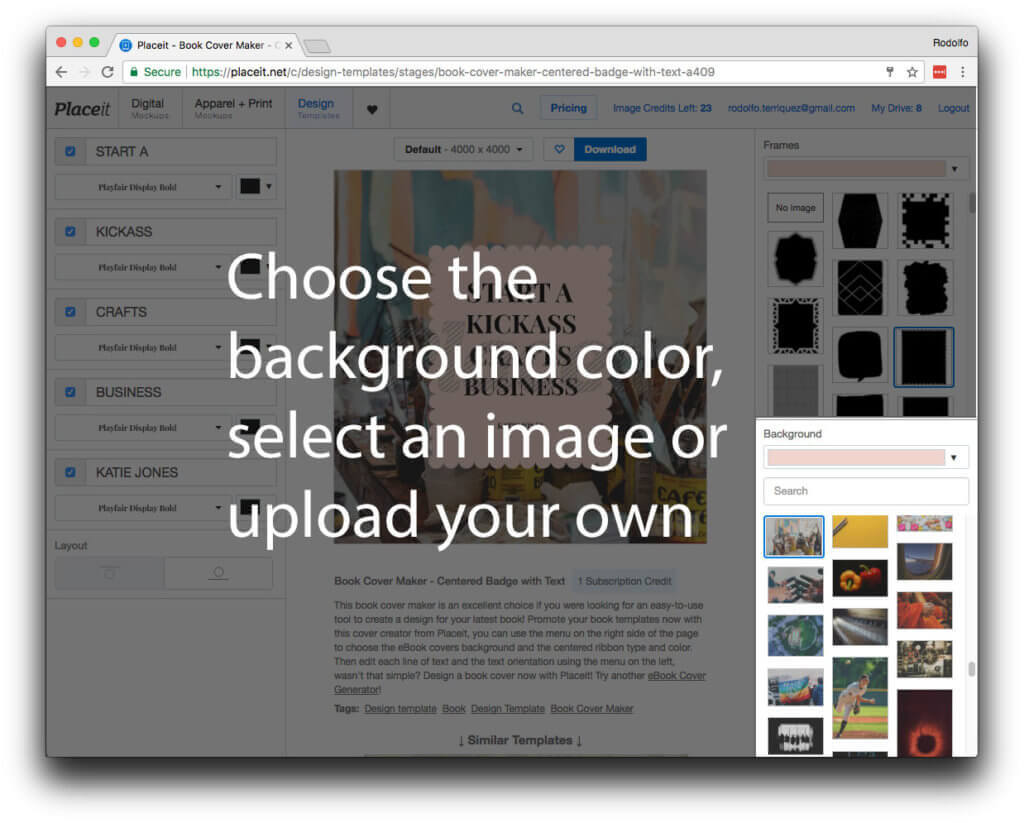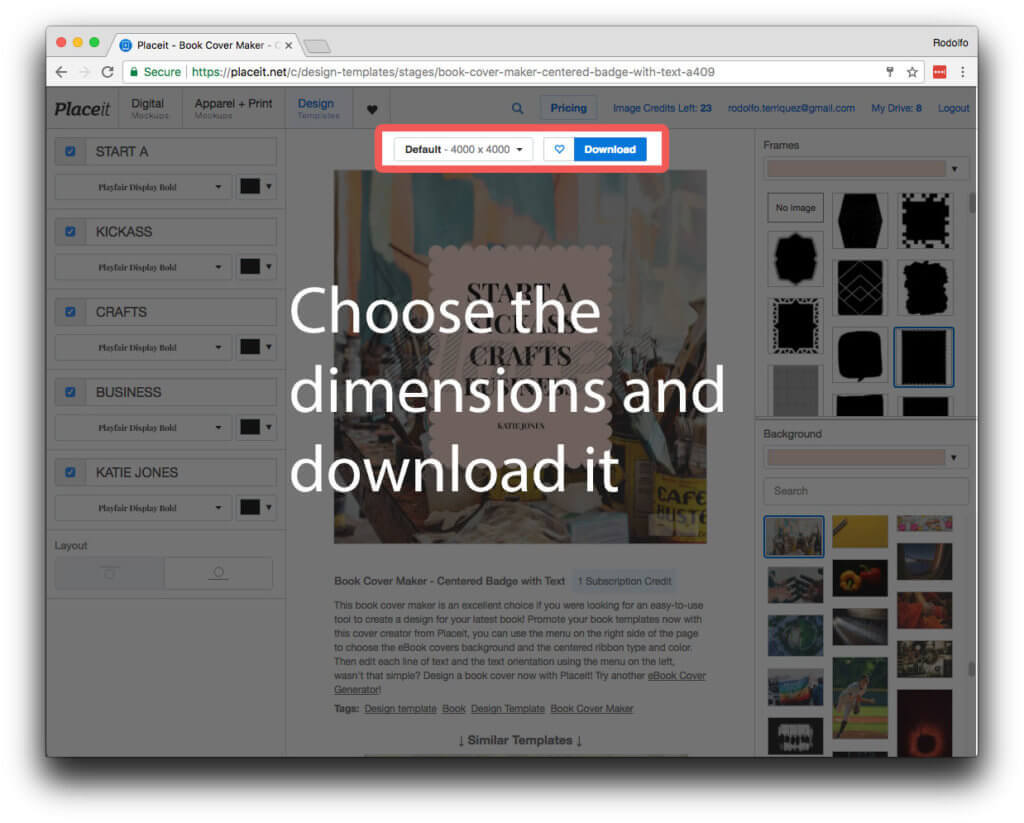 ---
Promote Your Book With Mockups
Now that you have a book cover art file and that you probably are in the last steps of the self-publishing journey, it's time now to super easily create amazing marketing material that will allow you to promote your book or ebook like the pros. Have a look at some of the book mockups I quickly created with Placeit!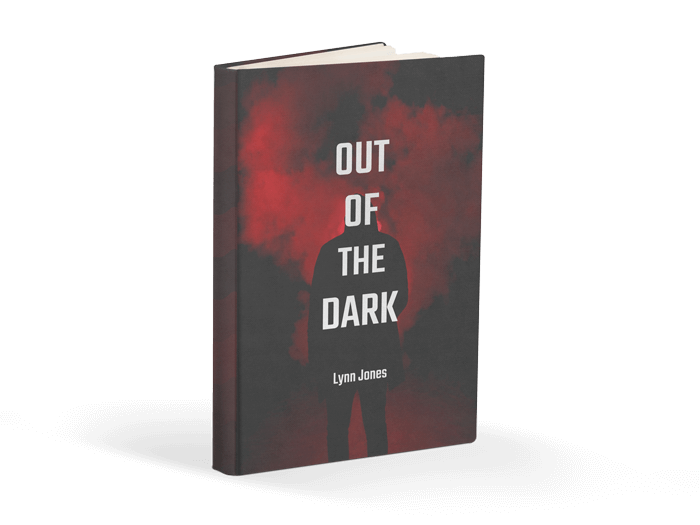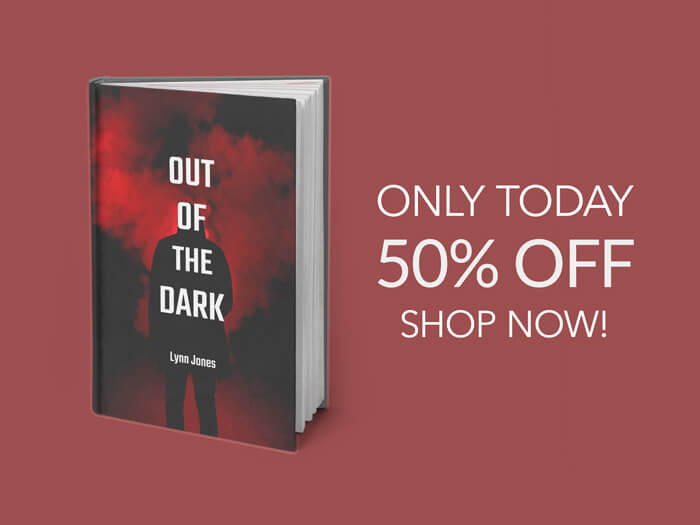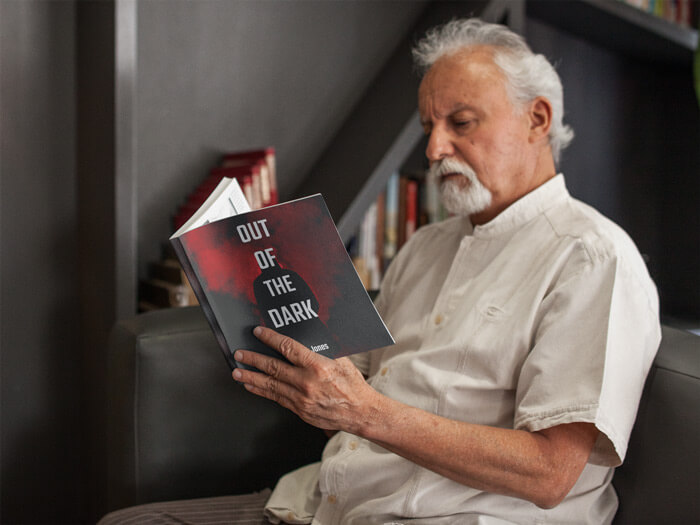 Placeit has plenty of different book cover templates, covering subjects as fantasy book covers or recipe book cover. Go ahead and check!
I Want It! How Much Do Placeit's Mockups Costs?
At the moment, you can download your book cover design for only $8 USD! For this same low price you can also get 3D book mockups like the ones above to promote your book online. Book mockup videos are only $29 USD. Keep in mind that when you get a subscription, costs go down a staggering 60%!
Forget about having communication problems with a remote book cover designer or having to wait for weeks or even months for a book cover that might not even fill your expectations. Get your hands on the wheel and make your own book cover art! Next step? Learn which marketplaces offer the best profit margins with the help of our ebook profit margin calculator!
---
Create Your Book Cover Now
A book's success can be attributed to a good looking cover. The book cover mixes the author's intention, the reader's expectations, and the market's trends. Book covers not only influence the potential purchaser but also the retailer who stocks the books on shelves, think about how important this is. Do you see how a book cover is indeed a marketing necessity?! So there you have it, wait no more, and start designing your book cover today with Placeit's book cover maker.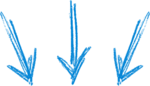 Go Design Your Book Cover
"I never thought I'd get the perfect cover for my book with so much ease. Thanks,

Placeit
"
Noah H. Gore
5

/5
---