25 Flawless Logo Ideas for your Beauty Logo
A logo is the best way to introduce yourself in your business area, and let people remember you. Designers are constantly facing a challenge when creating a logo since they should be perfectly aware of the changing trends and design something beautiful according to them. Luckily you can design your very own logo by yourself using premade logo designs or logo templates that you can customize in order to get the brand image your are hoping for. If you aren't super satisfied with your current logo, don't throw away your brand completely. Consider redesigning your logo and rebranding your business using elements from your current brand.
A beauty logo should in fact be beautiful, aesthetic, stylized, to represent it's own business. With premade designs and beauty logo templates you don't have to worry about using the right fonts, colors, graphics, we've done that work for you, however, it is important that you are aware of the beauty logo trends out there so you make an informed customization:

The Beauty industry is growing steadily with thousands of established and competing brands with their own market share.
Breezy Makeup Artist Logos
Brag about your awesome skills as a makeup artist with a logo the stands out, that is bold and creative just like you. You can fashion any of the beauty logo templates to create a logo thats says: perfection! 
Hair Logos for the Upcoming Stylist
Make your statement not only when you create something amazing with someones hair, but also with a glamorous hair stylist logo that highlights your passion and makes it easier for happy costumers to remember you.  
Build a colorful nail salon logo to catch the attention of those costumers that are looking for someone like you!  So start designing your ultimate logo with those hard working hands of yours.
Grooming Barber Shop Logos
Remember it's not just a haircut, it's an experience! Build a logo on your own using these easy-to-use templates with barber graphics and very manly designs! 
Level-up Your Beauty Salon with These Trending Business Cards
Got your logo? Great! Now that you have a logo, a name, a brand image, you can start making your beauty business cards! 
Promote Your New Beauty Salon Logo with a Glamorous Flyer
You can also create awesome custom flyers to promote you newly branded beauty logo! Complete all of your professional marketing visuals with this tool. You can easily promote now you special discount, seasonal promotion, new services, anything!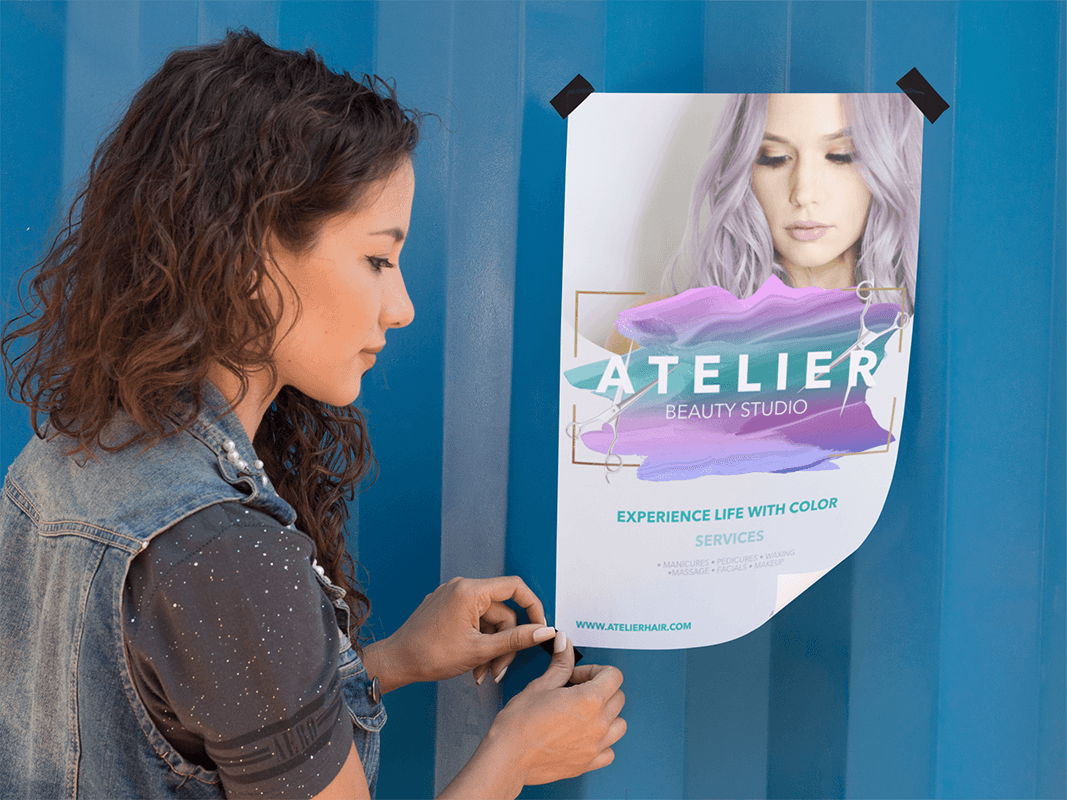 How to Make a Beauty Logo for Your Business in Minutes!
Take a look at this quick tutorial that shows you just how easy it is to create your own logo in minutes! Placeit's logo maker interface is ridiculously easy to use and the results are spectacular, you don't need to be a design expert to create a professional logo.
So here it is, 25 logo inspirations to get you pumped to star designing you beauty logo on your own! No editing skills needed, no expensive software, no need to hire a third person! As easy as clicking on your choice and downloading that baby. Get started! 

"I just LOVE my new nail bar logo that I made with Placeit's logo maker"
Luisse Simmons
5/5
---
---