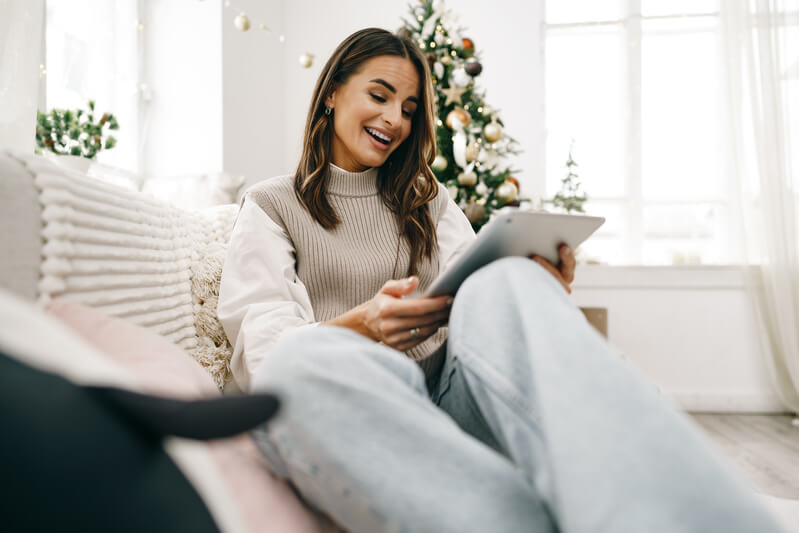 We have officially entered the last quarter of the year, which is also the most profitable due to all the holidays and commercial events that consumers look forward to all year round. While that's good news, at the same time, it can be overwhelming for you who own your own business. That's why we've put together a holiday marketing checklist, so you don't leave out any important details and are able to get the most out of this season. So, if you're ready to watch your brand shine for the last months of the year, then let's get started! 
Ready for This Ho-Ho-Holiday Season?
Why Is Holiday Marketing Important for Your Business?
7 Reasons to prepare a holiday marketing campaign, to…
Increase your brand awareness,

Reach new audiences and engage new customers,

Retain and make your customers feel special,

Get rid of the stock of the last months,

Launch new products or seasonal products,

Offer outstanding and themed content,

Humanize your brand through holiday spirit.
When Does Q4 Start and End?
The fourth quarter marks the beginning of the incredible holiday and fall season. It begins on October 1 and ends on December 31. This means you have 92 days to implement powerful strategies to help you achieve your business goals. 
Key Dates You Won't Want to Miss
October is well-known for being the spookiest month of the year. However, you'll find that there are more events that you can take advantage of, as long as they align with your type of business and your brand values. For example, did you know that October is also Mental Health Awareness Month, Breast Cancer Awareness Month, and Black History Month? And that's not all! There are more special days, such as teacher's day and international coffee day. 
📅 If you want more holidays like these to celebrate, visit our October calendar focused on T-shirt designs. 
There's no doubt that November is the juiciest month for major commercial events. Consumers expect great discounts and sales on these dates to buy their favorite products. 
While November brings fabulous events, we can't leave December out. For millions of people worldwide, this is one of their favorite months, and they're willing to spend on all kinds of decorations and gifts. This makes December the most profitable month of the year for many countries.
9 Strategies for Your Holiday Marketing Campaign
If you're wondering how to plan the perfect holiday campaign, we've created a holiday marketing checklist that not only covers all you need to think about but also simplifies your life for this bright season. 😉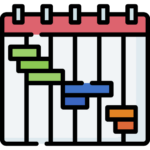 1. Start Planning Your Marketing Campaign Early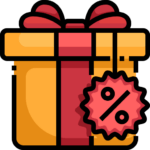 2. Determine and Create Your Holiday Offers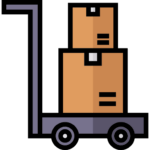 3. Work Closely With Your Suppliers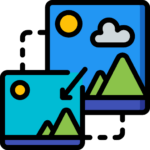 4. Optimize Your Website for a Great Experience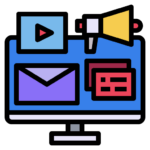 5. Find the Best Way to Promote What You Sell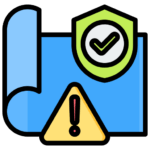 6. Create a Contingency Plan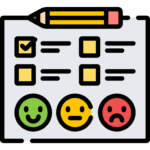 7. Provide Top-Notch Customer Service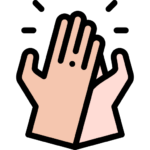 8. Don't Forget About Post-Sale
9. Track, Measure, and Analyze
1. Start Planning Your Marketing Campaign Early
The foundation for a successful holiday marketing campaign is to plan. So, if you're unsure how to begin, here are some concepts you need to consider. 
Goals
Think of what your intention is in running this seasonal campaign. Perhaps you want to connect more with your audience, reach new customers, raise brand awareness or even increase your sales. Whatever goal you have in mind, make sure it is realistic and achievable.  
💡 Note: While getting new customers is important, don't forget about your existing ones. Find a way to pamper them as well. Sometimes many marketing campaigns are 100% acquisition-oriented without paying attention to their existing customers. 
Campaign Theme
Once you have chosen what type of festivities you'll cover, think about each of them and establish a central theme. Once you have chosen what type of festivities you will cover, think about each and establish a central theme. For example, for this campaign brainstorming, it'd be helpful to ask yourself: "What do I want to communicate?", "Do I want to offer a particular product?", "How does this campaign help me reach my business goals?"
On the other hand, to make this creative process easier, we recommend you create a moodboard. By doing this, you'll be free to write down your ideas, add reference images regarding the look and feel, color palettes, fonts to which you can resort, or anything else you want to add to your campaign. 
🌈 Keep reading: How to Make a Moodboard: The Best Beginner's Guide
💡 #ProTip: If you're still in time, we suggest you check what your competitors are doing. This is usually purely for inspiration. You can take some ideas and think about how you'd improve them. Also, you'll notice how they're carrying out their marketing actions, how far in advance they do it, in which digital channels they implement it, the promotions they offer, etc. 
Holidays You're Targeting
As we mentioned previously, this last quarter is full of different commercial events and beloved dates. So make sure you list the ones you want to focus on. For example, depending on what you sell, Halloween may not be the best option because it's around the corner. Therefore, you could put all your efforts into the upcoming celebrations. 
Budget
As with everything, it's key to determine your estimated budget. You probably have the most creative and unique ideas, but if you don't have the money, it simply won't happen. Although this doesn't mean you can't find a way to get what you want with the resources you already have. 
For example, let's say you want professional models to showcase your latest t-shirt collection but don't have enough resources to pay a model and a photographer. For that case, Placeit by Envato is here with tons of mockups that will get pro results for a minimum amount. 
Dates
In the marketing world, it's essential to coordinate all these dates well and therefore: 
Know how many products you need to have in your stock,

Set your investment (in the monetary aspect),

Have everything in time for when shoppers start shopping. 
For example, some events like Black Friday happen in one day, but others like Christmas require more time for buyers to get all the gifts and decorations they need, as they usually don't buy them on the 24th. In both cases, you must plan ahead to prepare everything on time for those dates. 
Channels
It's crucial to define if you intend to sell online, offline, or even both to make the necessary preparations for each channel. 
For example, in terms of digital, you must consider what resources you'll use to promote your products, whether it's your website, social media, blog, email, YouTube, or even if you're going to pay for online advertising. 
We'll delve into how to promote your best offers later on. 
Products/Services
For this point, decide if you want to promote seasonal, new, or existing products to get rid of your stock. 
2. Determine and Create Your Holiday Offers
Once you have the main guidelines outlined, it's time to start planning your offers. Here are some popular ideas that always work: 
2×1

Combos

Coupons

Discount codes

Early Access

Flash Sale

Free Shipping

Giveaways

Limited Editions

Next Day Shipping

Samples

VIP Access
💡 Note: You don't necessarily have to offer any promotions or discounts, but keep in mind that during the holiday season, you won't be the only one offering products or services. So, to encourage purchases, these promotional methods always come in handy. 
3. Work Closely With Your Suppliers
Now that October is starting, it's a perfect time to plan, mainly if we depend on and work with suppliers. Remember that many suppliers, of almost any kind, saturate their schedules due to the holiday season. Therefore, we recommend planning the products (including ingredients or materials they contain) that you'll need to supply your stock and even preparing the packaging, which can have a very festive design or one related to your chosen holiday.
Moreover, Placeit by Envato has beautiful designs and patterns that you can incorporate into your packaging. Also, if you want to send a special thank you card to your customers (you can do it with Placeit). 😉
👉🏻 Click here to check out some gorgeous patterns. 
🚚 On the other hand, if your suppliers only focus on the shipping area, we recommend you check the available options and possible delivery times to provide transparent information to your customers. 
4. Optimize Your Website for a Great Experience
Undoubtedly, your website is generally the place where online purchases are made. Therefore, you must ensure it's in optimal condition and prepared for the arrival of hundreds or thousands of online visitors. These visitors can later become new customers, if you're careful and do things right. 
Here are some criteria you should review in your holiday marketing checklist focused on your website: 
Will your website support a significant increase in visitor traffic?

Is it fast enough?

Are descriptions, prices, ingredients, and size guides updated? 

Are your texts easy to understand, attractive, and without typos? 

Are the pictures of your products high quality?

Is it mobile-friendly?

Do you have banners indicating promotions?

Is it dressed according to the chosen season?

Does it include customer testimonials or reviews? 

Does it offer multiple payment methods?

Is the payment process transparent?

Does it give your potential customers the security to make purchases?

Does it include tools that facilitate conversion? For example, a countdown or show the products available in stock? 

Are relevant keywords included on your web? 
5. Find the Best Way to Promote What You Sell
The advantage of doing it online is that you have two alternatives: creating organic content or trying online advertising. Additionally, another advantage is that some channels are designed to educate, inform and entertain. It's not all about sales, right? Although it's not bad if you communicate your existing promos or encourage customers to go to your website to snag a deal. 
Organic Content Ideas And Tips 
Email
It's crucial to segment your list to deliver different messages to them. For example, you could send an email to your customers informing them about upcoming offers and a discount code to use. For non-customers, help them with information to facilitate their buying process. You can tell them a little about your company or the behind-the-scenes of your products. Or even if you have noticed that they have left their cart abandoned, try sending them an email to make their purchase and encourage them to get a promotion. 
Finally, for both segments, we suggest: 
Adding an attractive subject line that invites them to open your email.

Incorporating a short call to action that leads them to take the action they want. 

Also, try adding messages or tools that give a sense of urgency. For example, a countdown timer that says the offers end in x amount of time. 

Another helpful action is incorporating tips, blog resources, or even a small FAQ section. 

Finally, don't forget to email them automatically confirming their purchase details and the estimated shipping time. 
✅ #ProTip: here are some CTA examples that you could apply to your holiday marketing campaign: "Get a discount," "Shop the deals," "Get 50% off," and "Claim your coupon." 
Social Media
For social media, what's usually a hit are Instagram and Facebook. Of course, depending on your target and goals, you can resort to other platforms such as TikTok, Twitter, YouTube, and even Linkedin. 
So whichever channel you choose, make sure to: 
Share useful tips, benefits, behind-the-scenes, and how-tos,

Replicate your efforts to get the word out about your existing promos,

Create amazing graphics to attract attention,

Optimize your bio and update your links,

Conduct contests or giveaways,

Add hashtags related to your brand, your business, the season, and the ones your target audience looks for,

Modify your profile picture, cover, or banners,

Schedule your posts to avoid forgetting them or mishaps. 
✨ You might like: 9 Tips to Create a Social Media Calendar
Blog
If you have a blog, you can write valuable posts about buying, the benefits of using the products or services you sell, and even create guides to make the information more visual. 
Paid Advertising 
For advertising purposes, there are some platforms you can leverage to get your messages to the right people. 
Google Ads
The favorite search engine for millions of users around the world is Google. With Google, it's possible to try different ads to reach your potential customers. 
We suggest using UTMs (Urchin Traffic Monitor), which are characters/text that appear at the end of URLs and allow you to monitor the origin of the traffic that arrives at your website. You'll know where it comes from every time a user clicks on that link. 
💡 Don't miss out: Tracking Referrals Across Sites You Own (UTMs Automatically)
Social Media
You can run traditional ads on Facebook, Instagram, or YouTube. There the dynamic is very simple, and the process is very intuitive.
#ProTip: A good strategy is to increase the investment of your Facebook and Instagram ads at least 15 days before the event if your goal is to drive traffic to your website.
Also, we suggest you run retargeting campaigns to attract back your website visitors who left without making a purchase.
Here's a guide you might like: Create Ads That Are Guaranteed to Generate More Leads
Finally, don't forget about the recent feature that has revolutionized the world of online shopping: buying directly from social media. For example, Instagram -and recently TikTok for business– has implemented an online store that allows users to make purchases without leaving the application. They even make it easy for users to ask for more product details via message. So, don't be afraid to incorporate this powerful technique into your strategy.
Learn all you need about Instagram Shopping with The Ultimate Guide to Creating Instagram Shoppable Posts
General Recommendations
Add keywords your users use or search for in any ad format, regardless of the channel as well as striking words related to the season such as "holiday" and "gifts." You can also incorporate your brand's name or add keywords related to the season, such as "Halloween." 

It's also worth mentioning that messages should be short, clear, and consistent to avoid confusion. 
6. Create a Contingency Plan
Any holiday marketing checklist must have a backup plan. We know we wouldn't want to think anything could go wrong, but remember, these seasonal events are super popular for sellers, suppliers, and customers alike. So, we recommend you create a plan B if something doesn't go as expected. 
For example, your stock of products. We know that thousands of dollars are purchased on these dates, so if you did your job well, your marketing efforts turn out better than expected, and all your available stock sells out, how quickly can you get more? 
Another point you should consider is shipping. We suggest you investigate and, if possible, test the service of other suppliers in advance to incorporate it into your contingency list in case your trusted suppliers cannot deliver your orders. 
😎 The advantage of including a contingency plan in your holiday marketing checklist is that you'll be able to foresee, plan ahead and think with a cool head in case some adverse scenario comes up, instead of stressing yourself out on the day of chaos. 
7. Provide Top-Notch Customer Service
Whether you have someone to help you or a larger team when it comes to a holiday marketing campaign, you must ensure the following:
Inform your team about the promotions or content that will be advertised. This way, if someone asks them, your customer service team will be informed and know how to act. It also demonstrates professionalism and consistency.

Likewise, your team must treat customers with great respect, kindness, and even a friendly touch while answering all queries on call via a quality phone system or in any written form.
What to Do if You're the All-Rounder?
No worries! Here are some recommendations you can apply to get everything under control. *Some of them can also be applied to larger teams
Create an FAQ section on your website, a pinned album on Facebook, or a guide on Instagram.

Have your return and shipping policy in plain sight.

Install chatbots; it doesn't necessarily have to be something you pay for. For instance, some websites already include this feature.
So, now you know that if you contemplate these guidelines in your strategy, you'll accommodate your customers and potential customers. Indeed, with extraordinary attention, they'll return to buy in your store.
8. Don't Forget About Post-Sale
For this stage, it's always a good idea to send your clients an email asking how satisfied they are with the product, if it arrived in good condition, and even offer them a discount for their subsequent purchases. This will work amazingly, especially if your company isn't big yet. The reason? Sending a customized email will make people feel like they're being taken into account, which is excellent to help you humanize your brand and create a deeper bond with each client.
9. Track, Measure, and Analyze
🔥 #ProTip: Make sure you have a way to measure everything. For example, UTMs or the popular Bit.ly links that count clicks, dates, and traffic sources are awesome.
On the other hand, once the hustle and bustle of these days have passed, we recommend you take a moment to analyze your results. By doing so, you'll notice which actions worked well and which actions can be improved. 
For example, in Google Analytics and the statistics of each social media platform, you can check the peaks that occurred during your marketing campaign. These may come on the days before the special days, the campaigns you paid for, the days of promotions, or even if you announced a new product or functionality. 
Additionally, to enrich this exercise of your results, we leave you some questions that you can also ask yourself to complement this penultimate step of our marketing holiday checklist: 
Sold Products
What were your top 5 best-selling products?

Were the most visited products also the best sellers?

Were there any products that sold more than expected?

How was your inventory? Did you have a shortage or surplus, or did it go as calculated?
Customer Service
Were there any returns? 

How was the wave of messages and calls?

Do some clients require special follow-ups?

What were the most asked questions? 

Did they comment on things you could improve regarding your products, shipping, or customer service?

How could you streamline the buying process for your customers based on what you observed? 
Marketing Efforts 
Did planning on time and following this marketing holiday checklist help you to achieve everything as expected?

What kind of actions and what channels were the ones that worked best?

Was there anything you planned that didn't go as you thought it would? 

Are there actions you would like to continue replicating outside the holiday season?
We hope this marketing holiday checklist was extra helpful when planning and executing your campaigns. Ultimately, the goal is mainly to boost your sales by taking advantage of the upcoming significant commercial events. However, before we wrap this blog up, here are some general guidelines: 
Planning is key to avoiding surprises and getting the most out of each event which is an ample opportunity to get the most traffic to your website. 

By doing this in a more detailed way, you'll be able to mold your marketing strategy for these festivities. Also, don't forget to review what worked the previous year. If you didn't, then take this year as a starting point to begin to make all your observations about the efforts that are worth implementing, as well as to understand and improve those that did not work as you had hoped. 

Additionally, we highly recommend focusing your efforts on your clients and future clients. As we mentioned, many companies forget about their current ones and focus on acquiring new clients. The good part is that you don't have to choose one, and the reward is that you can keep your clients happy and encourage them to keep buying from you while also gaining new ones. 

Finally, a golden piece of advice is before the launch day of each holiday marketing campaign, we suggest double-checking all your holiday preparations. Don't be afraid to test your website and ensure your calendar is all fixed. It's better to be cautious in checking the last details than to deal with surprises on launch day.
We wish you a successful ho-ho-holiday marketing campaign for this last quarter!  🎅🏻✨
---
---