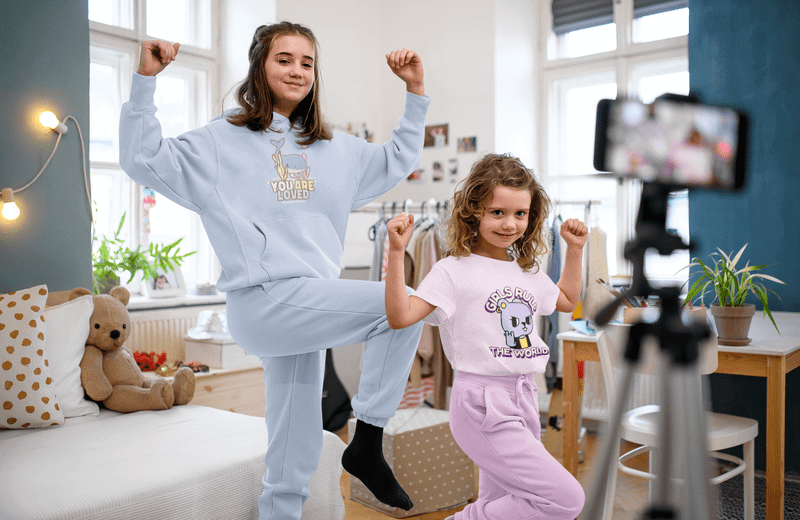 The term content creator is thrown around a lot, but what is a content creator?
The term itself isn't complicated, but it can mean a whole lotta things. This is why we're here to answer this question for you and to give you a clearer understanding of what a content creator actually does.
If you've decided that you want to be a content creator but don't know how to find clients, we can help with that too!
Without further ado, let's get to your content creator questions!
Find What You Need in This Post:
What Is a Content Creator?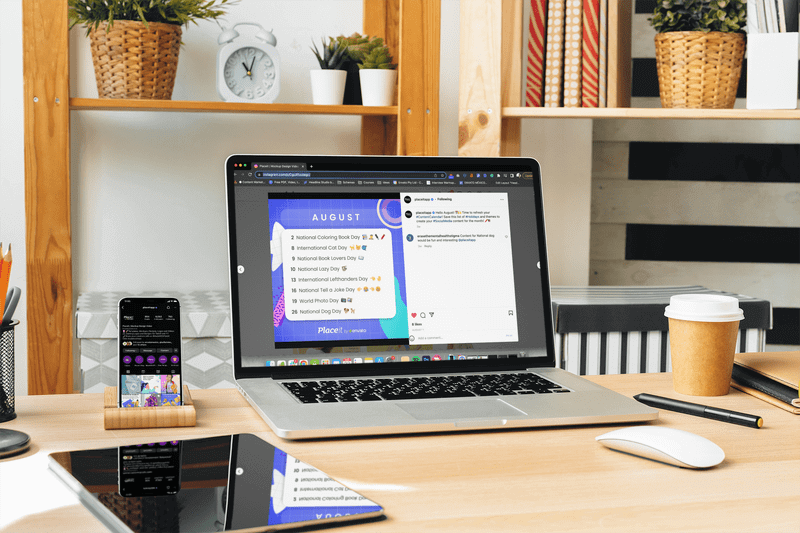 A content creator is someone who creates content that is educational or entertaining. This is a broad definition, but this title really does encompass many people who do a lot of different things.
In today's landscape, content creators focus on sharing digital content through different channels and mediums. The digital world is where most consumers interact with content and is, therefore, where the money is. The channel and medium creators choose to share their content through will depend on who their target audience is and where they are located.
When thinking of creators, we can separate these into two different categories: those who create content as individuals and those who create content for a company.
Most people automatically think of YouTubers, Instagramers, or TikTokers, but you can be a content creator and not be an individual on social media.
In fact, businesses are noticing how important content creators can be for their brands and are investing in these roles. They understand that creating content that their users want is important for their growth. The right content shared through the right channels can help brands build community, inspire loyalty, and make them more relatable or approachable.
If you're a creator working for a business, your role might include social media content, but it can also involve writing blog posts, creating instructional videos, recording podcasts, or even designing visual content for the company website.
As an individual, you have more control over the types of content you produce and can really capitalize on your engagement. For many, this has led to full-time work and a booming personal brand that was unheard of before.
The creator economy is huge right now, and there are no signs of this slowing down, so it makes sense that everyone wants a piece of this pie.
What Does a Content Creator Do?
The simple answer is that they create content that is valuable to consumers, whether it's for entertainment or educational purposes.
Since there are a couple types of content creators and many roles they can fill, the specifics of what a content creator does can vary greatly from one person to the next.
There are many, many types of content that creators can specialize in, so it's a huge pool for anyone looking for content creator jobs or opportunities.
You don't have to be a YouTuber talking to a camera or a TikToker doing trendy dances. There are tons of other roles you can fill with skills you already have, and they don't always involve a camera.
Writing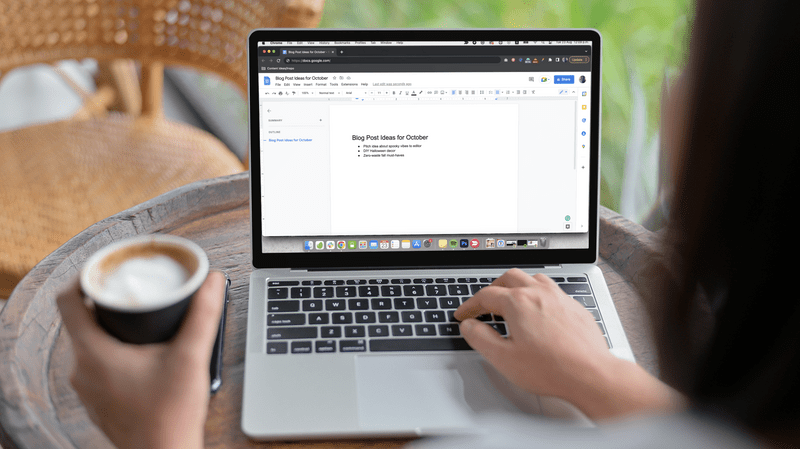 Think about all the things you read in the span of a day. Most, if not all of it, was written by a content creator whose job it is to create engaging copy.
In this sort of role, you can specialize in writing:
Blog posts
News articles
Social media posts
Ads
Website copy
Email newsletters
White papers
E-books
Scripts
Product copy
Packaging copy
This is just a sample of the types of content you can make as a paid writer, and your opportunities are certainly not limited to this list.
Video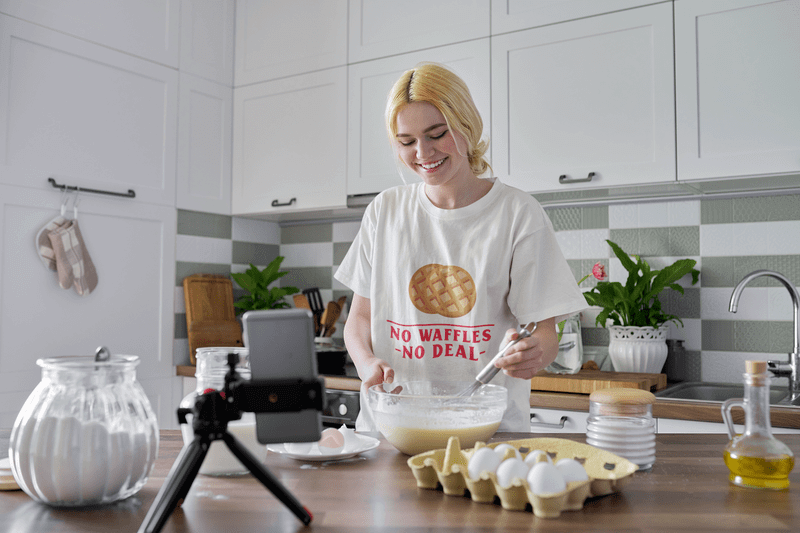 Again, you can be a YouTuber reviewing products or a TikToker doing trendy dances, but you can also be a content creator who makes other types of video content, including:
Instructional videos (for a business or for your personal brand, think DIY, chefs, etc.)
Livestreams (think news streams, video game streams, live sale videos, etc.)
Ads
Online courses
Films and television
Social media videos (personal or branded)
There are so many types of video content you can create for a number of different audiences. Whether you're someone who likes to teach people how to cook or simply want to create entertaining videos that make people laugh, you'll find an audience for your content.
Image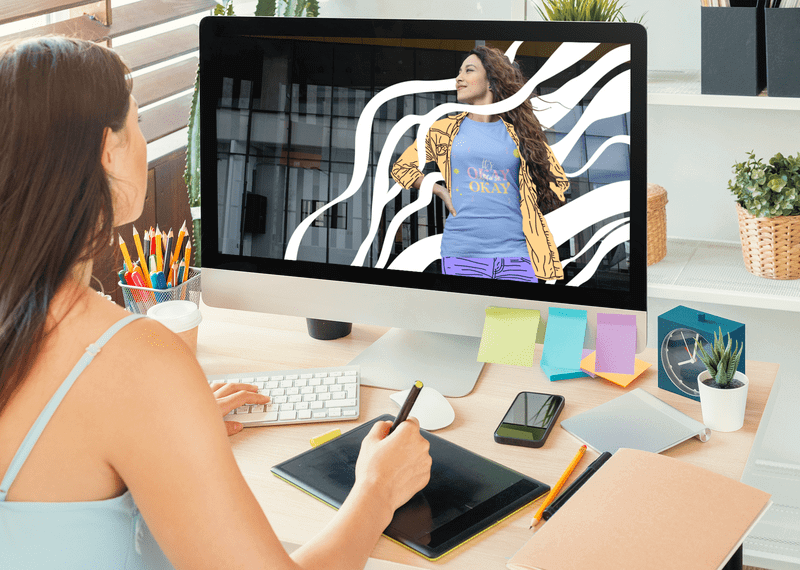 Image creation can include anything from photography to graphic design and even a mix of the two. Some common image-based content creation roles can include tasks like creating:
Social media graphics
Ads
Artwork
NFT's
Graphs
Photos
Digital downloads
Memes
Branding and design
There's a lot of space in this area because of the many styles and types of images you can produce and the varied ways in which these can be used. Don't be afraid to get creative and explore multiple niches.
Audio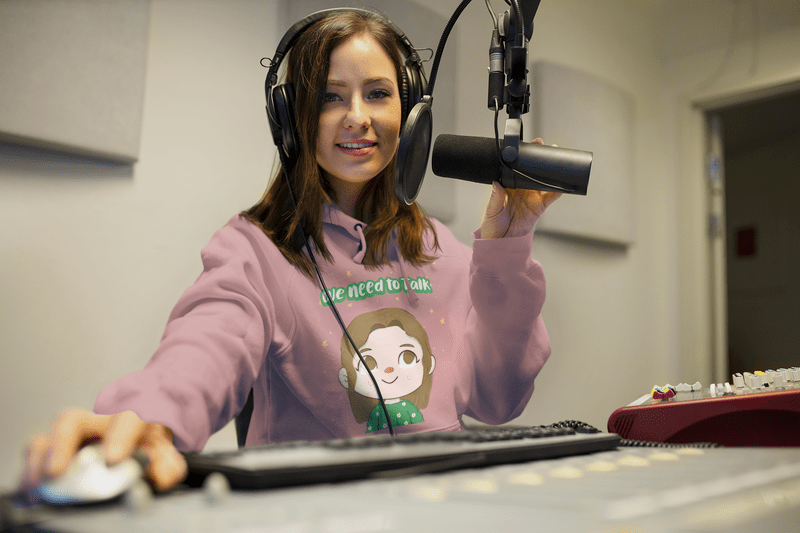 Creating audio is also popular among content creators, especially as certain aspects continue to grow. If this is something you want to experiment with, some popular roles include creating:
Music (as a band/artist, for videos, etc.)
Podcasts
Voice overs
There are endless possibilities for those who want a coveted content creator role. With that said, this field can be a bit saturated, so it helps to sharpen your skills and put together a portfolio, but more on that later.
How to Become a Content Creator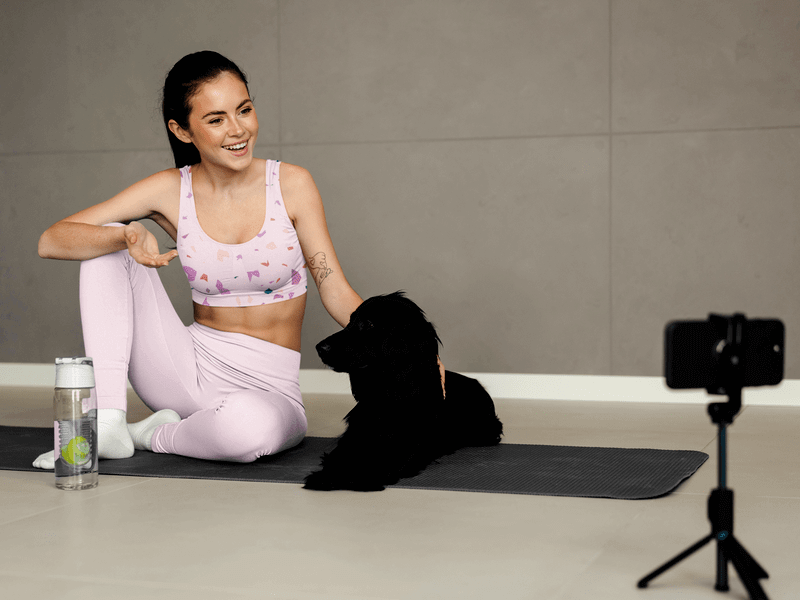 The creator economy is booming, and big businesses are investing more in content creator roles, but how do you become a content creator that gets paid to make content?
There are a number of ways you can do this, whether it's working for a company, freelancing for many companies, or focusing on your own personal brand.
Working for a business can offer you the most consistent pay, but freelancing or creating content for your personal brand can offer you more flexibility and opportunities to really grow your brand in many aspects.
Whatever route (or combination) you choose, use these tips to guide you.
Develop Your Abilities
Chances are you're already creating content of some sort and are good at it. This is a great start, but being good at one thing may not cut it in this competitive landscape.
Whether you're working for yourself or a big company, being able to create multiple types of content well will help you get noticed and will strengthen your brand.
If you're already good at taking photos, work on developing your writing skills, your SEO knowledge, and your video-making abilities for a more well-rounded profile.
Think about it like this, you're great at taking photos, but you don't get much traffic to your social media posts. Writing great captions for your posts and using the right SEO keywords will drive more traffic to your content. Branching out into video can diversify the content you offer, spurring more interest from your audience.
If you want to work as a content creator for a business, having many abilities will also be more appealing to them since you can tackle multiple forms of content for them.
Find Your Target Audience
To create successful content, you will need to figure out who your target audience is. Knowing who your content is aimed at or created for will guide your future work and help you reach the right people.
It helps to think about specific personas who engage with your content. Ask yourself how old these people are, where they live, what their interests are, what gender they identify with, and focus on any other attributes that they share.
It's also important to know what online spaces they frequent. Focus your attention on the platforms where they are most active so that you're sure your content will show up in their feed.
All of this will help you plan future content that is valuable to your target audience, and that will resonate with them.
Be sure to listen to feedback (good and bad) you get from your audience so that you can continue to create things that meet their needs.
Keep in mind that you can create multiple types of content and still cater to one audience.
Become an Expert
Trends change constantly, so it's super important that you stay on top of everything in your field.
You can take courses and webinars, engage with new content yourself, and read the latest news to ensure you have the most current and relevant information.
This can include anything from current events that affect your audience, new trends, and slang, upcoming creator platforms, and product updates that can affect how your content is viewed. An example of this is staying on top of how Instagram's algorithm changes affect your engagement.
Build Your Portfolio
Simply saying you're a content creator isn't enough to get you noticed. Whether you're a writer, an influencer, a podcaster, or anything in between, you need to be able to show your work and explain how it performed.
An easy way to do this is by creating an online portfolio that showcases your past work. Anyone looking to partner with a content creator, whether as a full-time employee, freelancer, or personal brand, will want to see evidence of your past work and know how it performed.
Keep engagement stats, click rates, and anything else that you feel is relevant in your portfolio to paint a full picture of your abilities.
Grow Your Community
Having the backing of a community will really impress those looking to work with a content creator. This shows that you are a content creator who knows how to engage with their audience and build a solid following.
For brands, this is gold.
Even if you're just starting out, be sure to interact with your audience, create a hashtag they can follow, and create special content for your loyal followers.
Network With Other Creators
As a newbie, it can really help to collaborate with other creators who have more experience. We see YouTubers do it all the time, so why not do something similar in your area of work?
Look for other creators who have the same target audience as you but who do something different or complimentary to what you do. Reach out to them and explore ways of collaborating.
This will expose you to their audience and vice versa, which can lead to growth for both of you.
It's also important to attend industry events where you can meet creators you admire and clients looking to develop a relationship with creators.
Stay Organized and Consistent
One of the most important things you have to do as a content creator is consistently putting out content. This means creating a plan ahead of time and staying on top of it.
Whether you're writing, making videos, creating graphics, or anything in between, putting out consistent content will ensure you stay top of mind for your audience.
Try to keep a consistent schedule so that your audience knows when to expect new content from you. This is especially true for newer creators trying to build a community. Posting randomly can lead to your content being missed or ignored by your audience, leading to dwindling interest.
Be sure to stay active and consistent in all of the communities where your audience is present to really grow your following.
Learn How to Make Money as a Content Creator
Being a content creator is a job like any other that requires hard work, an eagerness to learn, and the ability to grow. So just like with any other job, you should be paid for your work.
Many creators, especially those who are freelancers or working for themselves, have a hard time knowing how much they should be charging for their work. Some brands will try to get your services for free, but don't fall into that trap.
To make money as a content creator, use these tips:
Know How Much Your Work Is Worth
This may be easier said than done, but there are ways to establish a price for your work.
If you're just starting out, knowing how much to charge a client can lead to a giant question mark. To get a better idea of what prices are for the type of work you do, join social media groups and communities with people who do similar work. They will usually be very open about how much they charge for certain projects and can give you a better idea of what you can charge.
Also, take into account how much time a project will take, your experience, the client's needs, and what use they'll get out of your work.
As you get more clients and work, you may feel better about your pricing and may also be able to increase your prices as you gain more experience and recognition.
Don't Devalue Your Work
For those just starting out, it can be hard to turn down opportunities even when they don't cover your base price.
Rather than taking work for exposure or that pays you in product, stick to what you know your work is worth.
Devaluing your work will only make it harder for you and others in your field to be taken seriously and get paid a fair wage.
Offer Paid Memberships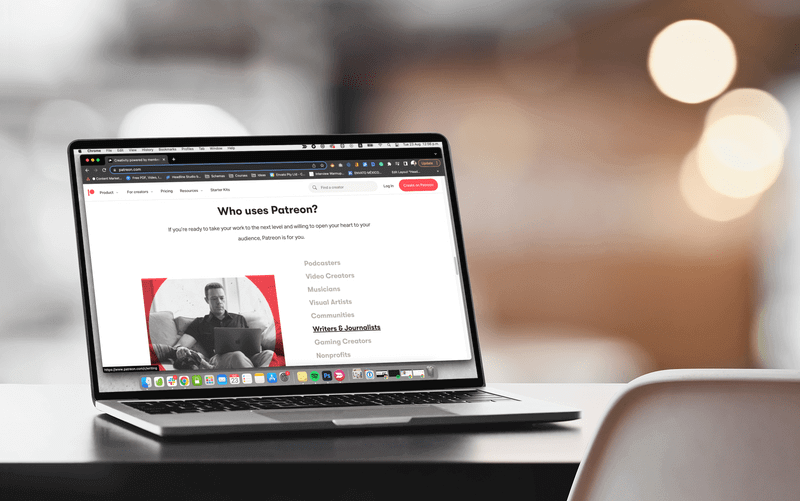 As your community grows, you may be surprised by how much support they offer. In fact, many content creators make a portion of their income thanks to the support from their community.
For example, content creators often open Patreon accounts where their followers can donate to them or pay small fees for additional content.
Many members of your community will be happy to contribute because they enjoy your content and want you to continue making it. They understand that it's a full-time job, and just like they would pay to see a movie or visit a museum, they want to show their support through a donation or by paying for additional content.
Sell Courses
If you're an expert in what you do, then why not create a course to teach others what you know?
Maybe you're a gamer who has built a large following over time. You can use your personal learnings to create a course on how to get more followers, how to grow your personal brand and everything else that goes into becoming a successful gamer.
Or maybe you're a digital artist who can teach creativity courses or Photoshop skills through an online course.
We see this all the time with the likes of Masterclass, Skillshare, and all the other platforms that allow creators to share their experiences through courses and webinars that users can pay for.
Sell Digital and Physical Products
As a content creator, you can make money selling digital or physical products to your audience. With that said, you don't want to sell just anything, so be sure to stick to what makes sense for your audience.
As a general rule, sell things that have value and that you can be proud of.
Whether you're selling merch featuring your newest collection of drawings, ebooks featuring your expert analysis, or printable templates to help your audience get their life in order, be sure you're honest and transparent about your products. You don't want to lie to your followers and then get burned because of it.
Knowing how much to charge for your work is a must, but don't discount the many ways of making a passive income. Especially if you're a freelancer or developing your personal brand, these passive income streams can be a huge help as you grow your client list and following.
🤑 Seeing lots of engagement on social media? Learn how to make money on Instagram!
How to Create Content Successfully
There's a difference between creating content just as a pastime and creating it on a professional level. When you start creating content as a way to make an income, it can become more stressful and demanding because you're relying on it to maintain you.
To avoid some of the stress that can come with this, it can help to create a schedule that keeps you consistent, look for inspiration that makes your work exciting, and use tools to save you time and money.
Stay Consistent
We mentioned this earlier, but really, we can't stress this enough.
To stay top of mind and relevant, you need to create and release content on a consistent basis. With so many new content creators popping up daily and trends changing faster than ever, missing a regular post can really affect your engagement.
Plan your content ahead of time, create a work schedule for yourself, and stick to it.
📆 Having trouble staying on top of your social media tasks? Use these tips to create a social media calendar.
Stay Inspired
This may sound easier than it is, but staying inspired can really help you keep going.
It can be easy to burn out because of the tremendous pressure to put out exciting and viral content consistently. Instead, try to focus on the parts of the work that you enjoy and that keep you motivated.
You don't always have to be actively working on something to be productive. Take time to read, watch videos, explore museums, talk to friends, and participate in any other activities that will help you get inspired and get excited about what you're working on.
Keep in mind that not every piece of content you release will be as successful as your best work. That's just part of the process. Don't sit with any negative feelings for long and use these as learning experiences for the future.
Use Content Creation Tools
You don't have to start everything from scratch. There are tons of tools you can find online to make your content creation work easier and less time-consuming.
Use social media templates to create stunning posts for your social media feeds, or why not use video templates to create eye-catching videos for your YouTube channel or your website?

Try out stock images or mockups to create photo-realistic images of your merch or digital downloads.
You can even use AI tools to help you get inspired and get ideas for future products.
There's no shortage of digital tools to help you with all your content creation needs. You just have to look for them.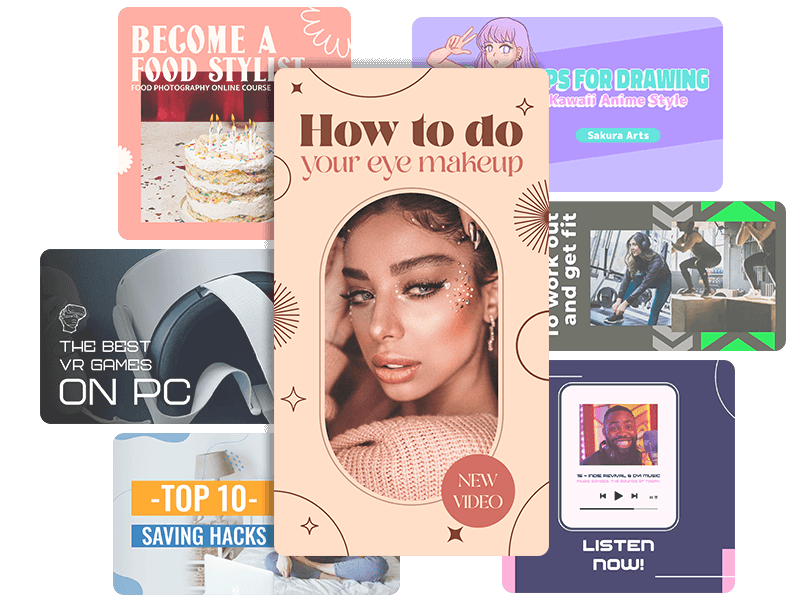 ⚡️ Check out Placeit by Envato's social media templates to create everything from Instagram Stories to Pinterest posts your audience will love!
You're Ready to Join the Creator Economy
Being a content creator is a highly coveted career, and with good reason. With a booming creator market and big businesses investing in creator roles, it only makes sense for more and more individuals to try their hand at it.
And while it may take a bit more than simply turning on a camera and recording a video to make it as a successful content creator, that's not a bad way to start.
But don't just leave it at that. Become an expert in your field, stay on top of the trends, know who your audience is, and grow your own abilities to keep your audience engaged and growing.
Give yourself time to grow, stay committed to your vision, and take your work seriously to see the results you want.
Let us know what has worked for you as a content creator in the comments below ⤵️
FAQ – What Is a Content Creator?
---
---