As a small business owner, one of your goals is likely to scale your business when the time is right. While this can be an exciting part of your brand's growth, it can also be a serious challenge. Risk is an inherent part of business, so how do you ensure you're making the right moves to scale your business successfully?
In this post, we'll help you decide if your business is ready for this step and, if you're ready, we can show you how to scale your business with Printify.
Skip Ahead to What You Need
What Does Scaling a Business Really Mean?
The terms scaling your business and growing your business are often used interchangeably, but that's not technically correct. Before we get into how to scale your business, let's ensure we're on the same page.
First Up, What Does It Mean to Grow Your Business?
In basic terms, someone who is trying to grow their business likely wants to increase their revenue. To do this, they would need to invest in their company to grow their resources, team, and clients.
Let's say you have an advertising agency. Growing your business would look like hiring additional staff, renting a larger office, and taking on more clients. This can help you reach your goals, but to increase your revenue, you will have to put more money into your company.
What Makes Scaling Your Business Different?
On the other hand, scaling your business aims to increase your revenue without so much of an investment. Instead, the focus is on improving processes and leveraging tools to get more out of them without necessarily having to spend a large chunk of money.
For example, let's say a popular lifestyle blogger wants to scale their business to include more than just blogging. They might venture into selling merch to their loyal audience and rather than employing designers, printers, a shipping team, and everything needed for a clothing brand, they opt to go the print-on-demand route. They can use a service like Placeit by Envato to create cute designs that their audience will love and then let the POD platform take care of the rest.
In this example, the blogger is now able to have another stream of income, helping to increase their overall revenue without having to grow their business, hire more staff, pay for an office, etc.
Growing a business sounds like a dream, but it isn't always ideal. Before spending all your revenue on growing your business, it's a good idea to explore the idea of scaling your business first.
Many modern businesses, especially startups, focus on scaling rather than growing since this is a more efficient way of increasing revenue without making serious changes or investments.
Are You Ready to Scale Your Business?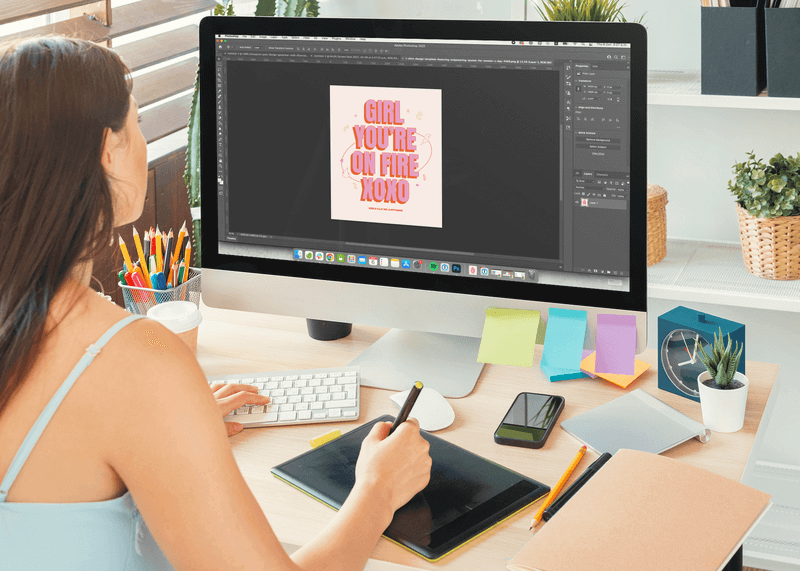 Everyone wants to increase their business' revenue, but that doesn't necessarily mean you're ready to scale your business. There are some key points to consider before jumping headfirst into this.
You're Ready to Scale Your Business If…
1. You have an established brand or product with a built-in, loyal, and engaged audience.
2. You have a solid team and/or business processes that will keep your business functioning successfully.
3. You're surpassing your goals on the regular.
4. You're being forced to turn down exciting opportunities because they aren't in your current repertoire.
5. There is minimal risk involved in scaling your business.
Of course, this isn't a definitive list that means you have to scale your business if you check all of these boxes. You know your business better than anyone else and will have a better understanding of when the time is right.
How to Scale Your Business With a Printify Store
Ok, so you've decided you're ready to scale your business; what's the next step? If you're delving into the eCommerce world, then a print-on-demand model is the way to go.
It's no secret that online shopping has grown exponentially in recent years, so it makes sense to jump into this booming industry. Having an online store is a great way to offer more to your loyal audience, but it can take a lot of work to grow in this direction. This is where a POD platform like Printify will step in and help you scale your business easily.
Let's go back to the example of the blogger wanting to sell branded merch. Rather than printing out tons of tee and sweatshirts, and storing these at home until an order is placed, shipping orders, etc, let Printify handle all of this for you.
Printify even allows you to connect your account with some of the biggest and most popular eCommerce platforms and marketplaces around the world, making it easier to expand your customer base and sales, but more on this later.
For now, let's look at how Printify works.
Printify is a print-on-demand and dropshipping platform, but they are not a sales platform. This means that like other print-on-demand platforms, they'll take care of printing items only when a customer has placed an order. They will also handle other aspects of the transaction, like taking care of the payment, shipping the item, and handling customer service. Rather than giving you a storefront, they allow you to connect your account to other sales platforms, like Etsy or Shopify.
Printify has a huge catalog of products and print providers that you can use to narrow down what items you want to include in your shop.
Before selecting items randomly, take the time to do some merch research and pinpoint the items that resonate with your audience and offer them value. For example, if your brand values place importance on being eco-friendly, then opting for eco-friendly items makes sense.
It's also recommended that you look into the print providers who offer the products you want. Choose a partner based on their rating, shipping times, and production times so that you know you're offering your customers the best service. Keep in mind that a provider's location matters. Those with multiple fulfillment centers will be able to ship your products to your customers from a location closer to them, helping reduce shipping costs and delivery times.
After this, you simply have to upload your designs to the items you've chosen, choose colors for your products, set a product name and description, and set your price and profit margin. Once your products are ready, you're all set to integrate your shop with Printify.
There are tons of integrations available, so whether you sell products in a marketplace like Etsy or through an eCommerce platform like Shopify you'll have no trouble at all. Connecting Printify to your shop is super easy, but we'll walk you through it later.
Now that your Printify products are published in your custom shop, you can start making sales. When a customer purchases an item from your shop, an order request will be sent to Printify automatically and they'll take care of everything. You just sit back and watch the sales roll in.
It's easy to see how scaling your business is much easier with a Printify account. With minimal work and almost no investment, you'll see your revenue grow.
Check out Placeit's t-shirt design templates to create custom designs for your shop straight from your browser and learn how to add your designs to Printify!
Still not sure Printify is the way to go for your business? Check out these Printify pros to weigh your options:
Affordability – You can sign up and use Printify for free. There are no initial fees or hidden fees as you start your business.
Easy to Use – Printify makes it super easy to create your product catalog and choose suppliers to fulfill your orders. They offer tons of resources should you have questions along the way in the form of guides, videos, and customer support.
Massive Catalog – The amount of products included in Printify's catalog is impressive. They boast 700+ products, which means you will find something for every niche, including eco-friendly products and seasonal items.
No Inventory – Since this is a print-on-demand platform, that means you don't have to worry about printing items and sorting them in your home. And, since items aren't printed until they've been ordered, it's a much more sustainable way to run your business.
Experiment Freely – Printify allows you to include as many products as you want in your catalog free of charge. This means you can experiment with products, and see what works and what doesn't without the risk of losing money.
Variety of Providers – Most print-on-demand platforms print and ship items themselves, but Printify offers a more varied approach. They have a catalog of print providers you can choose from that are located all over the world. This means you can pick print providers located closer to your customers to help maintain shipping costs and fulfillment times reasonable.
Quality Control – Before publishing your items, you can get samples from the print providers you're considering. This will help you ensure the quality of the products in your shop is something you can stand behind.
Scalability – If you're just starting, a free plan makes sense. But, as your business grows, Printify offers Premium and Enterprise plans that may be better options for your future goals.
Tons of Integrations – You can publish your catalog of items in recognized and reputable marketplaces like Etsy or eBay where you will get more traffic. You can also import your catalog of products to a shop on a platform like Shopify, WooCommerce, or BigCommerce.
 I'm sure you're wondering, "Is print-on-demand profitable?" We'll let you know in this post.
Expand Your Store With Products from the Printify Catalog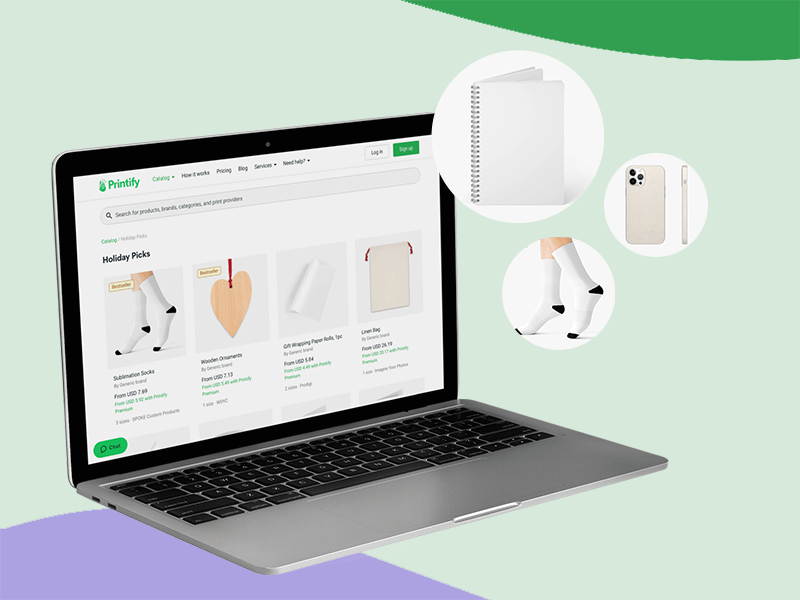 As we mentioned earlier, Printify has an impressive catalog of products, boasting over 700 custom products. This means you'll definitely find what you're looking for and will have a huge range of items to choose from.
Their catalog is broken down into categories which include: men's clothing, women's clothing, kids' clothes, accessories, and home & living.
These are then broken down into subcategories, where similar items are grouped. For example, under men's clothing, you'll see subcategories like t-shirts, tank tops, and shoes.
When looking through the items in a subcategory, you can use filters to narrow down your search. Some filters include brands, print types, fulfillment locations, and print providers, making it easier to find exactly what you need.
You can also browse items in other collections, such as the eco-friendly collection, all-over print clothing items, and holiday items.
Ok, now that you know how Printify works, you're probably wondering if you can connect Printify to your current shop and how.
First off, Printify has tons of integrations. Some of the most popular ones are Etsy, eBay, Shopify, WooCommerce, and BigCommerce. They also have an API solution to help you connect your Printify account to your online shop, no matter where it's hosted.
With that out of the way, we can now focus on how to connect Printify to your shop. The process is really easy, no matter what eCommerce platform you're working with. Each platform will have slightly different steps to follow, but don't worry, Printify has clear instructions on how to do this.
Get Inspired With These Printify Shop Examples
In the eCommerce world, what your shop looks like matters. A lot. Many shoppers will decide whether your shop looks trustworthy in just seconds, so it's important to make it look legit.
Of course, you want it to look nice and show off your merchandise in an appealing way, but you also want your brand to be instantly recognizable.
To give you some inspo, check out these examples of Printify success stories:
Get Ready for Major Sales With Printify
If you've made it to the end of this post, then you're ready to start scaling your business with Printify.
This is a great option for those who aren't quite ready to grow their business but do want to see an increase in revenue. The print-on-demand model makes this easier than ever without adding any stress to your business.
Even if you're not quite ready to scale your business, feel free to bookmark this post so that you can come back to it when you're ready.
If you have any questions about scaling your business with Printify, let us know in the comments below and we'll do our best to help!
FAQ - How to Scale Your Business Successfully with a Printify Store
---
---