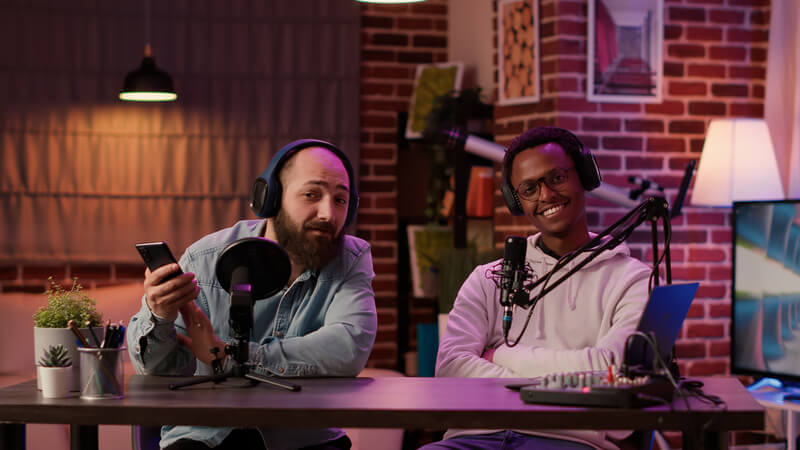 While creating cool content and having a big audience might be a dream for any content creator, the truth is that it's not always profitable. But with Patreon, you can still create the content you love and gather your biggest fans who are willing to support and pay for what you have to offer. So, if this sounds interesting enough, here is a guide on how to use Patreon.
This Creator's Guide Includes:
---
What Is Patreon?
Patreon is an online membership platform that allows creators to have a monthly income by offering exclusive content to their subscribers -also known as Patrons- who pay an established amount of money per month in exchange for premium content and various benefits.
Patreon Profile
Industry: Technology, information, and internet
Platform type: Membership company 
For: Artists and creatives. *
Country: United States
Founded in: 2013
Number of creators: +250,000
Available globally? Yes! 
*From musicians, writers, asmrtists, gamers, podcasters, YouTubers, musicians, and photographers to communities and ONGs!
🔥#FunFact: Video creators, writers, and podcasters are the most popular creators on the platform. However, anyone can join. ✨😉
Patreon Pros and Cons
Pros 🙂
It's a regular source of income. 

Feel free to upload the content you want without algorithms.

Connect only with your biggest fans. 

You decide what plans to create and what they include. 
Cons 🙃
You'll have to create content constantly, and it may even be customized according to your membership tiers. 

Patreon keeps a percentage of your monthly earnings. 

To have success, you must have already built your own community. Patreon doesn't bring new people to your profile. 

The integrations it has aren't very varied.
🤑 #FunFact: While Patreon is a good source of income, many creators don't put all their eggs in the same basket. According to their official blog, creators on Patreon make nearly 40% of their total income from this platform.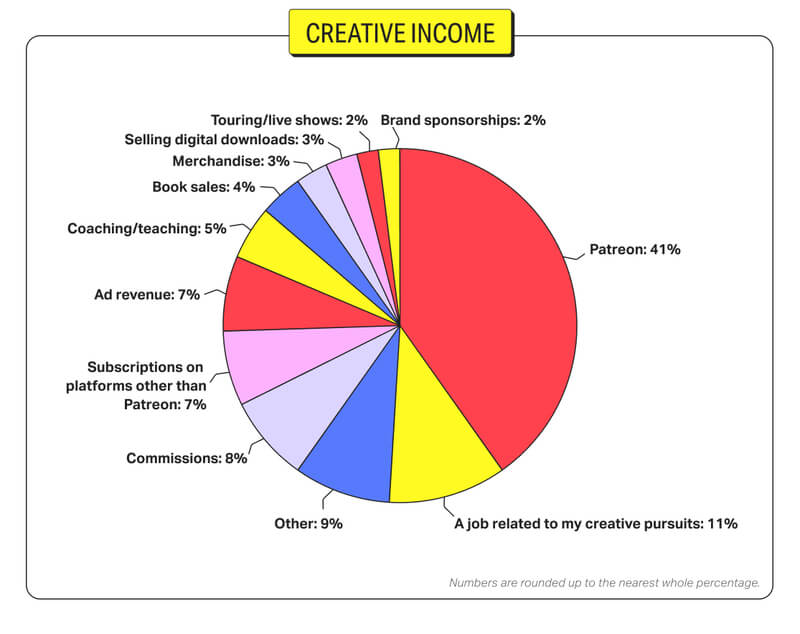 How to Use Patreon?
If you're wondering how to use Patreon, this guide will tell you all you need to know to master this platform from A to Z. So, let's get started!
1. How Do You Start a Creator Page on Patreon?
To start creating content, all you need to do is follow these steps:
Go to the Patreon Site
Once inside, you'll notice a red button called "Create on Patreon." Click on it and sign up with a Gmail or Facebook account. You'll then need to create your username and establish whether or not your account is suitable for those under 18. Once you have completed this simple step, you'll be welcomed to Patreon. 
Complete Your Profile
Here, you'll find three sections: Home, About, and Memberships. Or, if you wish, under your profile picture, you can click on "Customize my profile" to fill in information related to:
🔴 Basics. Here you can set your name, profile picture, cover photo, page color, and links to social media channels. 
🟠 Merch. You can create super cool and personalized merchandise for your patrons. Consider that Patreon takes a 3% additional fee for helping you create merch. 
🟡 Getting paid. Here you can set how often you will charge your backers, as well as your currency.
🟢 Page settings. You must put your legal name and country of residence in this section. Additionally, you'll have to configure if your earnings and patronages are public or private. You will also have a Google Analytics code. 
🔵 Welcome notes. Every time one of your fans joins and becomes your "Patron," they'll receive a welcome message. So, prepare your best words, upload a video, or simply say it with images. 
🟣 Posts. As with any social platform on Patreon, you can post to stay in touch with your fans. You can also add tags related to your channel or the type of content you make. 
🟤 Preview. With all the previous steps, you're ready to preview your page.
⚫ Offers. To start off on the right foot on Patreon, this section seeks to offer certain benefits to your patrons. These are some of them: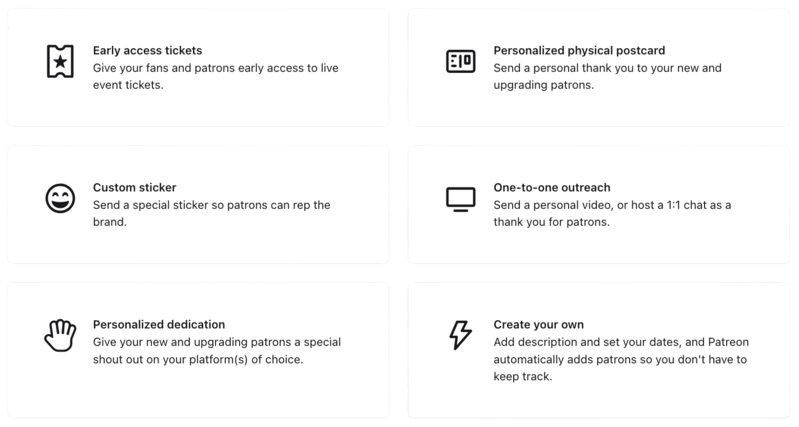 2. Dress Your Profile
Here, you can start uploading your profile photo, adding your cover, and customizing everything for your profile. With Placeit by Envato, you can create a cool avatar and even design the necessary graphics to make your Patreon creator page look amazing. 
🤑🔥 Want to get a great discount? Then check out this list of 2022 Cyber Monday Deals!
Additionally, you'll be able to write something short to let people know about you and what you do but don't go into too much detail because for this, we have… 
The "About your page" section. While it isn't the first thing people will see when coming to your page, it's essential to tell them who you are and what to expect if they decide to pay for a membership. According to Patreon resources, this is the winning formula on how to use Patreon to write your "About" page: 
Introduce yourself + value exchange + keep things evergreen
Describe who you are and what kind of content you create.

Tell your fans why you are passionate about creating this content and what cool stuff they will get in return. 

To avoid updating this section each month, create something that works for any time of the year. If you need to include seasonal information, make a post instead. 
Lastly, if you already have your account and are very good at something, you can use your skills to captivate visitors on your page. For example, TealTeacup, who specializes in creating stickers and loves to draw, made her About page with a creative and highly visual format. Check it out here. 
💡 #ProTip: Avoid needy language ("Support," "Help," "Donate") and instead use powerful words such as "get access" or "join my exclusive community." 
3. Set Your Membership Tiers
How do you use Patreon when it comes to establishing the tiers you're going to offer to your fans? What we recommend for this section is that you sit down and write down the benefits you would like to provide to them. Then, adjust them depending on the effort required or additional costs, such as merchandise or if it's unique content. The point is to go from the most basic to the most premium. Remember that the more benefits and quality you offer, the more money your patrons will have to pay. 
"Pricing = Impact + Effort. The price of your benefit should represent the effort you put in AND the impact for the patron." – Patreon Blog.
⚡#FunFact: Most creators on Patreon have 3 to 5 different levels, but the choice is yours.
Patreon Tier Ideas For…
As we mentioned at the beginning, there are all kinds of creators on Patreon, so we have compiled some ideas you can incorporate into the memberships you offer to your fans, depending on your occupation.
Video Creators
Uncut footage

Bloopers

Early access to videos

Monthly polls to choose the next video topic

Exclusive videos 

A mention in the credits of your upcoming videos 

A virtual hangout (monthly) 

Discounts on merch 
---
Writers
Monthly support for writing

Q&A sessions

Access to the VIP list

Signed copies and merch 

Meet and greet access

Exclusive chapters

Newsletter 

A customized thank you and handwritten card 
---
Podcasters
Early release

Behind-the-scenes pictures

A shoutout in the podcast once per month, for instance. 

Podcast episode scripts

Bonus episodes

Seasonal Sticker Club membership

Exclusive merch 

Access to your Recording Studio

Ad-free experience
---
Photographers
Coupons for online shop

Access to live events

Exclusive merch 

Free photos 

Personalized seasonal cards
---
Artists
Downloadables resources*

Tutorials

Workshops

Live sessions

Exclusive video lessons and demos

Q&A

Invitation to an exclusive chat 

Live personalized feedback 

A physical customized gift 
*Such as wallpapers, calendars, coloring pages, etc. 
Last but not least, don't forget that with Placeit, you can also create a cover for each of your tiers. Get some inspo and start designing yours! 
✨ #FunFact: some designs are part of a bundle, which means you can get a cover and a cover tier with the same style.
4. Create Amazing Merch
As you know, Patreon allows creators to create merch to surprise their biggest fans (only applies to the premium plan). So if you want to start creating, go to your Patreon account, click the "Customize page" button and select the "Merch" page and hit "Get Started."
These are the steps:
🟡 Customize Your Merch
Here, you can select the products you want to sell and upload your design. Remember, you can create thousands of incredible designs with Placeit. 
🟢 Assign It to a Tier
Once you've selected a product, Patreon will help you to pick a tier that best matches the product. For example, a mug is recommended for levels from +15 USD, but each available product will have a different recommendation price by Patreon. This was designed to easily afford any selected item's production and shipping. 
🤑 Note: you don't have to worry about the process; just choose the item and create the design for that product, and Patreon will take care of the rest. 😉
Now, if you're curious about what products are available for your merchandise line, here we list them for you: 
Mini Print
Size and material: 4″ x 6″ print

Product cost: $5

Recommended tier: $5+
---
Sticker
Size and material: 4″ x 4″ die-cut vinyl sticker.

Product cost: $5.60

Recommended tier: $5+
🤩 🌟 Want to know more? Learn how to make and sell stickers in a breeze with this easy-peasy guide! 
---
Mug
Size and material: 11 oz. white ceramic mug.

Product cost: $14.50

Recommended tier: $15+
---
Organic Tote Bag
Size and material: 100% certified organic cotton

Product cost: $18

Recommended tier: $25+
---
Poster
Size and material: 12″ x 18″ matte-finish paper

Product cost: $17

Recommended tier: $20
---
T-Shirt
Size and material: Bella + Canvas 3001 Unisex T-Shirt

Product cost: $17

Recommended tier: $20+
---
Neck Gaiter
Size and material: All-over print covers the entire gaiter

Product cost: $18

Recommended tier: $20+
---
Long Sleeve Shirt
Size and material: Bella + Canvas 3501 unisex long-sleeve shirt

Product cost: $22

Recommended tier: $25+
---
Hoodie 
Size and material: Unisex Premium Hoodie

Product cost: $31

Recommended tier: $35+
📭 Note: You won't receive the product but instead just a digital preview. However, if you want to check out the product, you can order a physical proof of your merch before it's shipped.
🔵 Promote to Your Community
Here, you're in charge of spreading the word that you have a special line of merchandise. We suggest you take a walk through our vast collection of mockups so your beloved fans can visualize how your designs will look on a specific product.
5. Promotion Is Key to Success
While all the above tips are great for knowing how to use Patreon perfectly, remember that these efforts must include the spread the word part. This means in order to attract more traffic -and therefore earnings- to your Patreon link, you'll need to promote and let your loyal followers know that they can support you through this platform. 
Ideally, add your link to your social networks.

Mention it verbally if you make videos on YouTube.

Or even create fantastic images on social media, so people can be informed about your goals and have a preview of what they'll get when they become your patrons. 
There aren't written rules regarding how many times you should promote your Patreon page. However, you might like to take a look at these stats taken from a census they made in 2022: 
"79% of you promote your Patreon at least once a month, while 43% promote it at least once a week, mainly on Twitter, Instagram, and YouTube (in both videos and the video description text)."

"Creators who promote daily earn 75% more, and creators who promote once a week earn 31% more."
So, now you know it works better to do it daily, and no worries, it won't be annoying for your followers because if they're watching your content or following you online, they consider what you have to offer is valuable. Also, saying that you have a Patreon channel can be as normal as saying, "See you in an upcoming video" or "Subscribe to my channel." 
Remember that users or viewers often need us to tell them what we want them to do. So don't be afraid; take the plunge or experiment to see what frequency works best for you. 
Prices and Commissions on Patreon
Does Patreon Cost Money?
Yes, although it's free to start and make an account, once you start getting paid, you'll have to give Patreon a small percentage of your earnings. 
You can select three different Patreon plans that align best with your goals. But before jumping into each of them, you should know that all plans include:
Direct relationships

Business tools

Flexible payouts

Patreon support

Creators first education 

Mobile app
Plans for Creators
Lite
This is the best plan for creators who have recently started on Patreon or those with an established fan community that genuinely wants to support creators' work through flexible monthly amounts. Moreover, a significant differentiator is that this Patreon Lite plan is focused on offering few benefits. 
"Our patrons support us because they want us to keep releasing our video game. They're not super motivated by a huge list of benefits, so we don't need multiple tiers. We just offer a single level of support, and patrons can choose the amount. This works great for us." Tarn and Zach, Video game creators from Bay 12 Games. 
% Patreon Takes
5% of your monthly income. 
What's Included? 
A creator page on patreon.com

lets your subscribers know all information about yourself and your content, the memberships you offer, recent posts, and social media buttons. 

Tools to communicate with your fans. This can be through emails, posts on your Patreon page, or direct messages. If you're a gamer making business, don't miss out: 9 Top Email Marketing Tips for Gamers to Try Right Away
Patreon workshops

are free resources created by the Creator Success Team. Their goal is to provide you with all the tools and tips you need to make the most of your Patreon account. 
---
Pro
This plan is perfect for those who want to take this content creation path more seriously. Not only to provide unique experiences to fans but also to generate monthly income on a more recurring basis. 
💣Note: as this plan has the possibility to create more membership tiers, you'll also have to create content and offer different benefits. 
% Patreon Takes
8% of your monthly income. 
What's Included? 
The Pro plan includes the first three benefits seen in the Lite plan. But also gives creators:
Unlimited membership tiers.

As you know, Patreon allows you to offer different memberships classified by levels, including various prices and benefits. So with the Pro plan, Patreon helps you to optimize these levels to make your life easier and not lose track of the different plans you offer.

Tools for special offers.

To boost and get more Patrons, you can use this promo tool to offer an exclusive and limited offer for your fans. 

Analytics and insights

to better understand your numbers and the actions related to your content. 

Creator led-workshops.

Instead of checking the free resources, this feature allows you to access live-stream workshops to build your career in the best possible way. 

Integration with some useful apps.

While Discord and Vimeo might be the most popular, the truth is that with Patreon, you can connect many different apps, tools, and resources to your channel. You'll find resources focused on Business Services, Community building, Content Delivery, Creative Services, and Patreon Interaction to help you efficiently run your business and to connect and deliver the best content to your fans. 
---
Premium 
This plan is for those established content creators or companies looking to save time and give amazing rewards to their patrons. 
% Patreon Takes
12% of your monthly income. 
What's Included? 
The Premium plan includes all the benefits listed in the above plan and…
A partnership with Patreon
Here you can get early insights regarding new products or features and more, like the possibility of influence in the product roadmap. Also, you'll be able to share your success story through speaking opportunities and live events. The last benefit of this partnership is that you can join the vibrant community of established creators on Patreon to generate more networking connections. 
Work 1:1 with a Patreon expert 
This means you'll have the chance to work with a dedicated Partner Manager to grow your business and earnings! This benefit includes an expert coach who will review your progress, give you guidelines based on your goals to grow your business, and build a plan with you for the future. Also, this person from the Patreon team will help you walk through your analytics to understand and improve all your business stages, from acquisition to retention. 
Reward your patrons with cool merch
You create a masterpiece design, and Patreon takes care of the shipping, tracking, and support. In addition, Patreon will suggest sale prices to cover your production and shipping costs. 
Gather your team with Team Accounts
Each one of your team members will have an account to access your business with total security (2-factor authentication factor or a magic link). Also, only team lead members will have access to the financial data and be able to set permissions for new members. 
Last but not least, note that Patreon charges a small flexible processing fee per membership.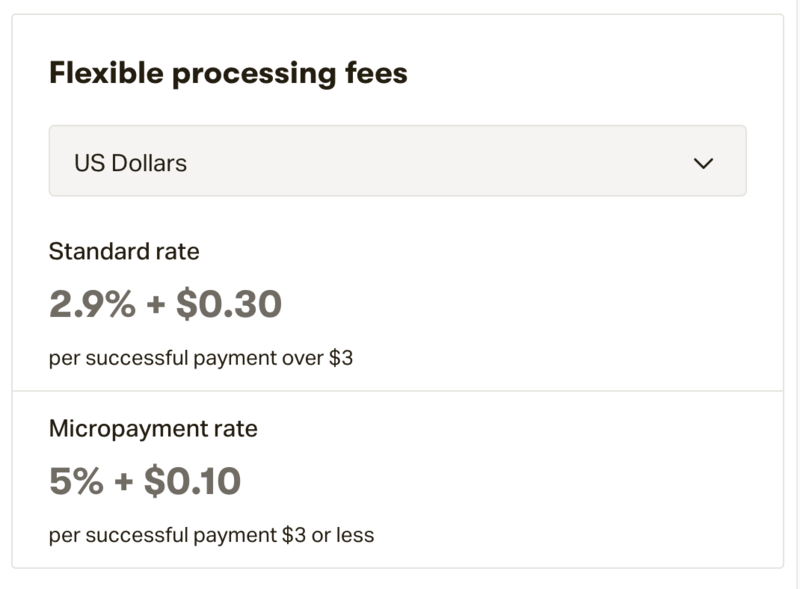 Moreover, for your Patrons who live outside of the US and pay with PayPal, there's an extra 1% surcharge. 
Patreon vs. YouTube Memberships
Patreon was one of the first membership platforms to unveil this business model. A year later (2014), the giant video platform, YouTube, decided to launch a similar scheme. So let's analyze quickly which platform is better: Patreon or YouTube Memberships.
Similarities
Both platforms have monthly payments.

Also, fans must pay to access exclusive or premium content.
Differences 
YouTube Memberships have restrictions. Not everyone can access this benefit. Only channels with +1000 followers who are part of the YouTube Partnership Program and live in one of the

eligible countries

can access this a

mong other

requirements

. 

YouTube channels have more visibility with a blue "Join" button. In comparison, Patreon could be just a link inside the video description box, on the contact page, or even mentioning it verbally in a video.

YouTube Memberships keeps about 30% of your earnings, while Patreon only keeps anywhere from 5 to 12% depending on your plan.

With Patreon, you can send direct messages to your fans, but not with YouTube Memberships. 

Memberships allow you to create videos but not other types of content. 

To get started with Patreon, you need to open an account there, but not with YouTube memberships. It works just by having your own YouTube channel. 

With Memberships, exclusive videos are found within the "Playlist" category. There, creators make an exclusive playlist for members only. 
Now that you have more details, you can choose which platform works best for you. Although from an objective point of view, Patreon has more benefits than YouTube Memberships. 
Wrapping It Up
While Patreon might seem like a fantastic tool for all those content creators who want to earn money for doing what they love, it's worth mentioning that it doesn't work by itself or through magic. As with any other business model, it involves additional efforts because you'll create constant, new, different, or exclusive content for your fans. Also, remember that to be successful on this membership platform, you must promote your channel to reach more people, who would later become your patrons. Not to mention that before joining, it is 100% advisable to have a fan base already established because they'll be the ones who support your work so that you continue doing what you love and even be willing to pay an additional monthly amount to unlock everything you have to offer. 
Finally, remember that you can't leave all the responsibility of income generation to Patreon since this source, according to data from the same platform, contributes, on average, 40% to the creators' total income. So, complement it with an online store or with your social media channels.
And remember that while money is important, being on Patreon implies a commitment and gratitude to reward your most loyal fans. 
🤑 Do you want to get to know more ways of making money online? Then don't miss out on How to Make Money Off Instagram: the Complete Guide and 12 Proven Ways to Make Money On TikTok
FAQ How to Use Patreon
---
---
---