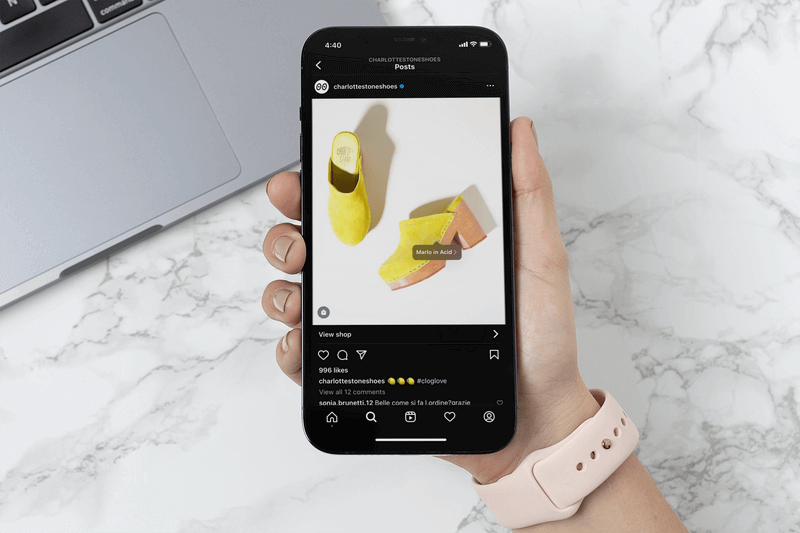 Being able to buy items you come across while scrolling through Instagram and other social media platforms is no longer just a dream. In fact, it's practically the norm. Social shopping is changing the landscape of the eCommerce world, making it easier than ever for consumers to buy products they see during their daily screen time.
While social commerce is relatively new, it shows no signs of slowing down. According to SproutSocial, "98% of consumers plan to make at least one purchase through social shopping or influencer commerce in 2022."
Because of this, social media platforms are constantly improving the tools they offer to sellers, making the checkout process more and more convenient.
It's not too late to jump on this opportunity for more sales. Get started with this guide to social shopping.
Jump Ahead to What You Need: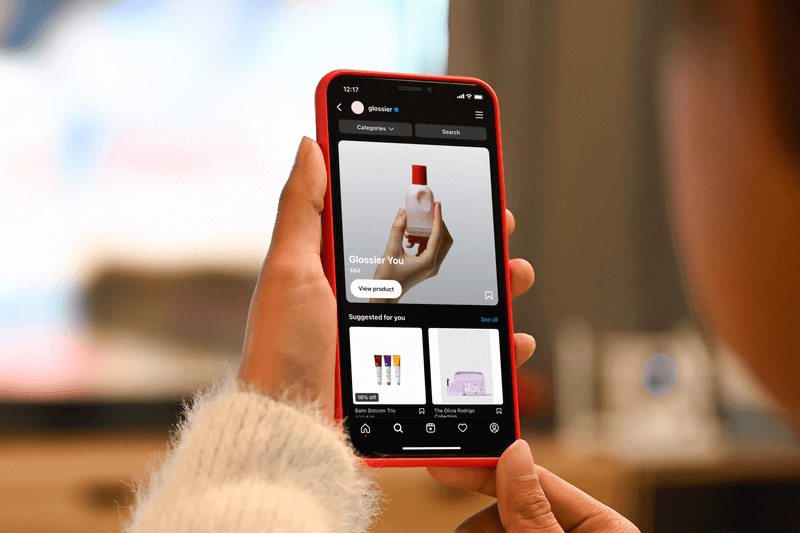 Social shopping is exactly what it sounds like: buying or selling products directly on social media platforms.
In the past, you may have posted images or videos of a new product on social media and directed users to click a link in your profile to get to your online shop. Once there, they would be able to add the item to their cart and go through the checkout process.
With social shopping, you can now skip that whole middle step and instead allow users to purchase your products without them ever having to leave the social media platform they were scrolling through.
This is a huge benefit to consumers who don't necessarily want to interrupt their social media experience by being directed to another site. Waiting for a site to load, not finding the exact product, and other distractions can simply lead to lost interest.
At the same time, sellers also benefit from social commerce by skipping that middle step that often leads to lost sales or abandoned carts. Since consumers can save their payment info and delivery address on any of these platforms, the checkout process is super efficient and provides a seamless experience no matter what brand they're buying from.
Plenty of popular social media platforms have already hopped on this trend, offering easy checkouts, shoppable posts, and even shoppable ads.
Since users spend so much time on social media already, it makes sense to present them with everything they want in one place.
💡 Not sure what platforms your brand should use? Check out these 6 social media platforms you should be using this year!
Why Is Social Media Shopping a Good Strategy for Brands?
As a brand owner, you may think that social shopping is a passing trend that isn't worth your time and effort. Fair enough, but the potential for sales that it carries can't be ignored. If you're not sure it's worth it for your business, these reasons might change your mind:
1. Catch Customers More Easily Where They Hang Out
 Most people in the world have at least one social media account they love to browse daily. This means they're likely already coming into contact with brands that interest them and that offer them value. Since they're already there, why not make it easier for them to complete a purchase in a space they frequent?
2. Loyal Supporters of Your Brand Already Follow You
 Similar to the previous point, your social media profiles already have tons of followers who love your brand or are curious about it. You don't have to do anything major to get their attention since you're already on their radar. This means targeting your audience is easier than ever because they're already watching you. Why not offer them an easier checkout process when they come across something they want while scrolling through their feed?
3. Instant Checkout Means Fewer Abandoned Carts
Once one of your products has caught someone's attention on social media, you want them to checkout as soon as possible. Sending them to your site, adding the item to their cart, entering their shipping information, and typing in their payment information before finally purchasing the item is quite a long journey.
Between each step, the user may change their mind or simply give up on the purchase. Something as small as not having their credit card in front of them is enough for them to click out of your shop.
Avoid losing these sales by selling directly through your social media profiles. Users can store their card and shipping information on the platform for easier and speedier checkout every time.
4. You Already Feature Your Products on Social Media
 If you're already posting product images, videos, reviews, and other content related to your products on social media, why not make these posts shoppable? By doing this, you'll be promoting your products while giving shoppers the opportunity to make a purchase right away, which is great for transactions. Trust us.
5. Social Shopping Is Popular
For those of us who aren't Gen Z, social shopping can sound newfangled and too modern, but it's actually gaining popularity with people of all ages. The secret is knowing what social media platforms your target audience uses and trusts most. Stick to the platforms that make sense for your audience as you start to experiment with social commerce.
Social shopping is only growing. It has been steadily growing for a few years now and is being adopted by shoppers and sellers of all ages, all around the world.
6. Major Revenue Potential for Sellers
According to Accenture's research, social shopping is "set to become a $1.2 trillion channel" by 2025. You may be making a great income with your eCommerce shop alone, but incorporating social shopping into your eCommerce strategy can help you get even more sales.
If you ignore this new way of selling, then you'll completely miss your chance to have a slice of this growing pie.
Popular Social Commerce Platforms
There are endless social media platforms for users to choose from, but not all of them have a social shopping option yet. From the many that do have social commerce options, we've selected some of the most popular ones for you to consider.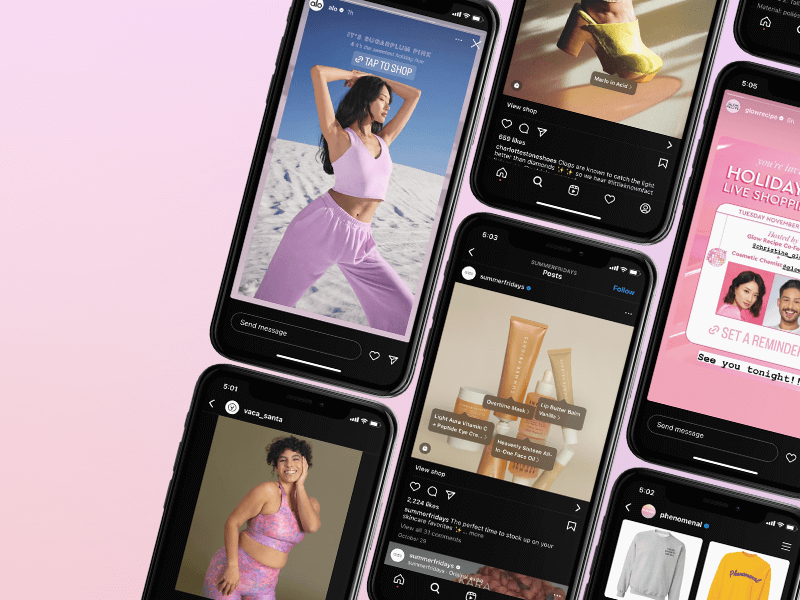 Instagram is known for its aesthetic posts and quick videos crafted to catch the attention of anyone even just mindlessly scrolling. This makes it the perfect space for brands to market their products to their followers and beyond.
Brands can easily create an in-app shop with their product catalog and product tags to use in their posts and Stories. This means your products are just one tap away from your target audience.
Instagram boasts over 1 billion active users worldwide, with a good chunk of these users frequenting the platform in search of new products or services. Users don't even have to follow you to see your products as these are easily discoverable through targeted ads and can even be featured in a user's customized search page.
In order to start selling through Instagram you have to:
– Have an Instagram Business account or a Creator account
– Have a product catalog on Facebook
– Be located in one of the eligible countries
– Comply with their Commerce Eligibility Requirements
How to Set Up Instagram Shopping
The first step is to make sure you're eligible for this feature, have an Instagram Business or Creator account, set up a Business Manager account, and have a website domain that has your product listings. These should be available to direct purchase straight from your website.
Set up your shop in the Commerce Manager using your Business Manager account or go through one of Instagram's partner platforms. Some of these include BigCommerce, WooCommerce, and Shopify.
Finish filling out your shop details, including a checkout method and your sales channels. Don't forget to create your product catalog. Once this is ready, you can submit your shop to be reviewed by Instagram.
Instagram has a lot more information to guide you through this process.
Shop – This is your storefront where you can display your product catalog. There will be a link to your shop on your profile.
Product Catalog – Your collection of products. Shoppers can click on any product featured to see more images, read the product description, share or send the product to someone else, or add the product to their cart. You can create categories to sort all of your items into like groups.
Shoppable Posts – You can create Instagram posts that feature your products by adding the corresponding product tags. Users can click on a tag to open up the product page with more information.
Shoppable Stories – Similarly, brands can add product tags to their Stories to make it easier for users to find the product page of an item they like.
Shoppable Ads – Turn your shoppable posts and Stories into ads.
In-App Checkout – Only shops located in the United States and that meet Instagram's requirements have this option currently.
Allow Others to Tag Your Products – If you have Instagram partners, like influencers who promote your products, you can give them permission to tag your products in their posts. This will direct people back to your shop, helping you get even more traffic!
Live Shopping – Host a live stream during which users can buy the products you're promoting.
Product Launch Announcements – Build hype around your upcoming product release by announcing when it launches. Use the countdown clock to get your followers hyped!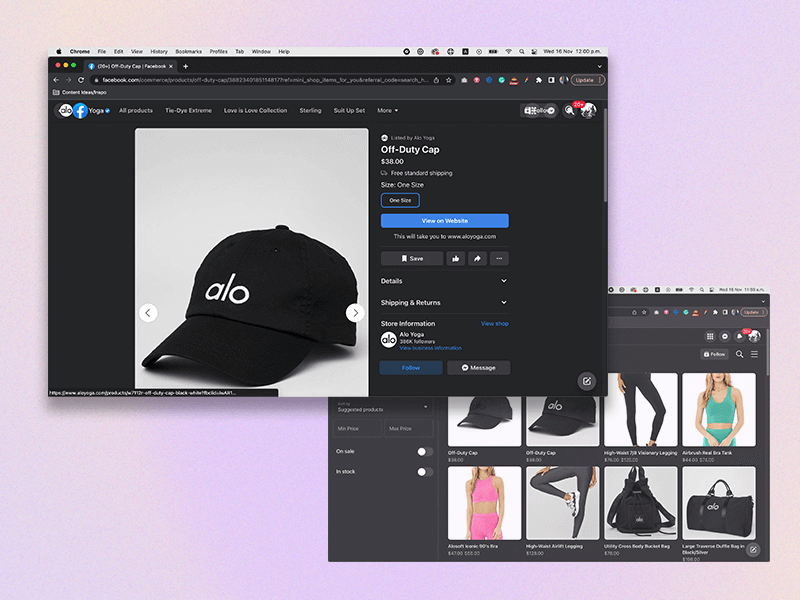 Facebook Shops was launched in 2020 to help small business owners get their shops online. These have stuck around and gained momentum thanks to the surge in online shopping.
Similar to Instagram, Facebook allows you to upload a product catalog that users can browse and shop from. Sellers can create a custom storefront by choosing themes, colors, and fonts. Users also get a more customized experience when shopping since their search history will determine what products they get recommended.
Most Facebook users are familiar with Facebook Messenger, so it's great that they can use this same chat feature they are already comfortable with to message customer support or even to complete their purchase.
How to Set Up Your Facebook Shop
Head over to Facebook's Create Your Shop page to get started. Here you can create a test shop or even import your products from a partner platform.
Next, choose your checkout method. You can send shoppers to your website, allow them to check out on Facebook, or even through Facebook Messenger or WhatsApp. You can find the requirements for each option here.
Now, choose the page you want to sell from or create a new one. You can also link this to your Instagram account to sell from there as well.
Next, choose the Business Manager account associated with your shop or create a new one.
Select your product catalog. If you don't already have one, you can create one.
Once this is all done, you can focus on the details, like creating a custom storefront, updating your catalog, and creating collections.
Finally, Facebook has to approve your shop before it goes live so be sure you meet all of their requirements.
Customized Shop – Create a personalized shop experience by picking a theme and customizing it.
Create Collections in Your Catalog – Group like items to make the shopping experience easier for customers.
In-App Checkout – Eligible businesses have the option of letting customers checkout directly through Facebook or even through Facebook Messenger or WhatsApp.
Insights and Analytics – Use Facebook's Commerce Manager to get insight into what's working and what could use improvement in your shop.
Reach a Larger Audience – You can reach new customers by being suggested in Facebook Marketplace.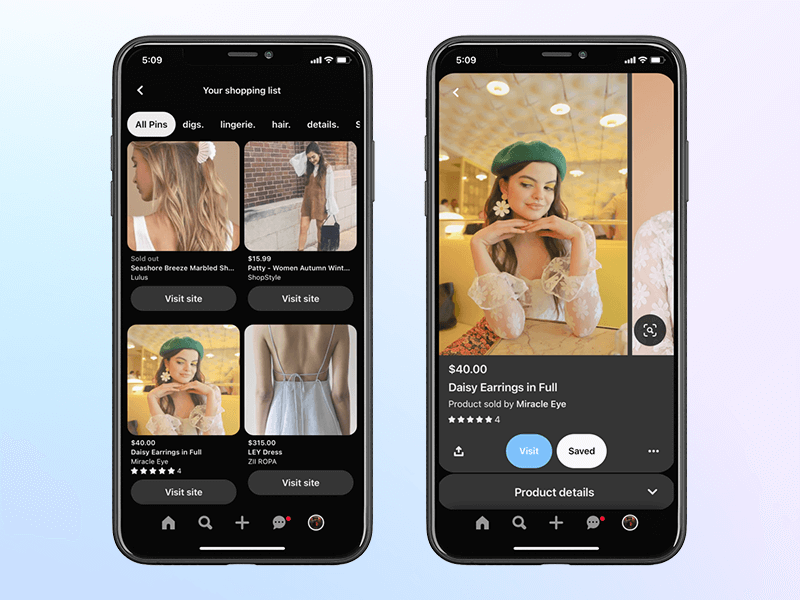 Like Instagram, Pinterest is all about aesthetics. What makes it different is that users on this platform care much more about what a Pin looks like rather than who it's coming from.
This means that as long as you're putting out great content that resonates with your target audience, you'll get some attention. When it comes to shopping on Pinterest, the same idea can be applied.
Users may not go looking for your brand, but if your products catch their eye, then you have a great chance of turning them into a customer. Since Pinterest is all about inspiration, many shoppers tend to make a stop here to get ideas about what they want, how to style items, and general inspiration. This means they are more open to new products from brands they don't know, as long as the look is right.
Product Pins will feature your product, a description, the price of the item, and a blue button that will either allow shoppers to checkout directly on Pinterest or will direct shoppers to your website.
Users can also pin these to a board and access them later. Pinterest automatically creates a shopping list board that holds all of the Product Pins you have saved for easier access.
In order to start selling through Pinterest you have to:
– Have a Pinterest for Business account and live in one of the eligible markets
– Have a claimed website that meets merchant guidelines
– Join the Verified Merchant Program. This will add a blue badge (verified) to your account, add a shop tab to your profile, and give you access to advanced analytics along with a few other perks.
– Have your privacy policy, shipping information, and returns policy along with your contact information on your site
– Have a data source with the required fields
How to Create Product Pins
Be sure you meet the initial requirements listed above.
Once you've been verified by Pinterest, you can create your catalog. If you have a Shopify or WooCommerce shop, you can connect it to your Pinterest account and automatically import your product catalog. You can also build it manually using links from your shop or through the Pinterest API.
Organize your catalog into categories to make shopping on your profile easier, especially if you have an extensive catalog.
After this, you'll have shoppable Product Pins, but you can go a bit further with them. For example, if you post lifestyle images that feature your products, be sure to tag your products. Like on Instagram, these tags are clickable and will take shoppers to your product page.
Now that you have Product Pins, you can also turn them into ads to reach a larger audience looking for new products.
Product Catalog – After importing your catalog and getting verified, you will have a Shop tab added to your profile where users can browse your entire catalog. You can create categories within this to make the shopping experience more pleasant.
Product Pins – These are like a product page within Pinterest. They will display images of your product, a description, price details, and a link to purchase the item. They will also have related and recommended Pins that might interest the shopper.
Shopping List – When a Pinterest user pins one of your Products Pins, these will be saved in the board they choose but they will also be added to a board called Shopping List. Here, users can see all the Product Pins that have caught their eye.
Shopping Tab in Search Results – Pinterest's search results page includes a Shop tab at the top that users can click to display only Product Pins.
Tagged Products – If you post lifestyle images or promotional images that feature multiple products, you can tag each item to make them easier to find and purchase.
Shoppable Ads – Using your Product Pins, create ads to increase your brand's reach.
TikTok is on everyone's mind, whether you're a marketer, a consumer, or just looking for entertainment. Thanks to its huge, and we mean huge, influence, this is the place to be if you want to get your products flying off the shelves.
In fact, TikTok is becoming the most popular search engine, and this makes sense. People are looking for social proof and for real people to give them the information they need in a quick and engaging manner. When it comes to shopping, this sort of content is what will make people add an item to their cart in seconds, especially when the review is coming from someone they recognize and trust.
The short-form video content TikTok is known for is the ideal way to promote your products and build hype around them. Whether you opt for an influencer marketing strategy or create branded content from your own account, using the right hashtags can get your product trending. Once it's gone viral, there's no stopping it. Not to mention the hashtag #TikTokMadeMeBuyIt has 25.8 billion views and counting, so people are looking for their next must-purchase item.
When it comes to social shopping, TikTok relies on a model of shoppertainment. They explain that they are present at every stage of a shopper's journey in this infinite loop model. Basically, shoppers turn to TikTok to discover new products, watch product reviews to make a decision, make a purchase through TikTok, and then create entertaining content themselves with the item they've acquired.
In order to become a merchant on TikTok you have to meet the seller requirements, which include:
– Be located in the UK, Chinese mainland, Hong Kong, or Indonesia, and be able to prove it with a phone number from the region where you are located
– Have a certificate of incorporation for your business
– Be able to present a valid identification
– Have a TikTok Business account
There are also money-making options for creators, partners, and affiliates, but these are more like affiliate sales rather than opening a shop, so we'll focus more on the seller option.
How to Set Up Your TikTok Shop
If you meet the requirements listed above, you can then apply to be a merchant. TikTok will look at your application and get back to you within a few days.
Once you've been approved, you can head over to the TikTok Shop Seller center to set up shipping information, and then you can start adding products. You can do this manually by uploading product images, writing descriptions, etc.
Once your products are approved, they'll show up in your profile's Product Showcase tab (the shopping bag icon) and on live streams.
If you want to work with affiliates or influencers, you can use TikTok's Open Plan option to reach out to creators and have them sell your products.
If you have a shop on one of TikTok's eCommerce partner platforms, you can link your shop to your TikTok for Business account to easily create ads linking to your products.
Shoppable Storefront – Once you've added products to your catalog, these will appear in your profile's product showcase tab, making it easier for customers to find what they want.
Shoppable Posts – Once your product showcase tab is live, you can add product links to your posts. You can select the products being featured in a post and a small tab will appear over your video. Users can click on this to see the items being featured and head over to the product page of the item they're interested in.
Livestream Shopping – Host a live stream where you can show off your products and viewers can interact with you in real-time. They can also view product pages for the items being featured and purchase these items from your shop by clicking on the list of items you've added to your live stream.
"Shop Now" Button on Ads – Create TikTok ads that feature your products and a Shop Now button users can click on to be redirected to your site.
Shopping Ads – Create video shopping ads, catalog listing ads, and live shopping ads to reach tons of potential customers.
Third-Party Integrated Advertising – Run TikTok ads featuring your products from your eCommerce shop's dashboard. You have to be using a TikTok partner platform for this, like Shopify or PrestaShop.
Social Commerce Benefits Your Brand Will Love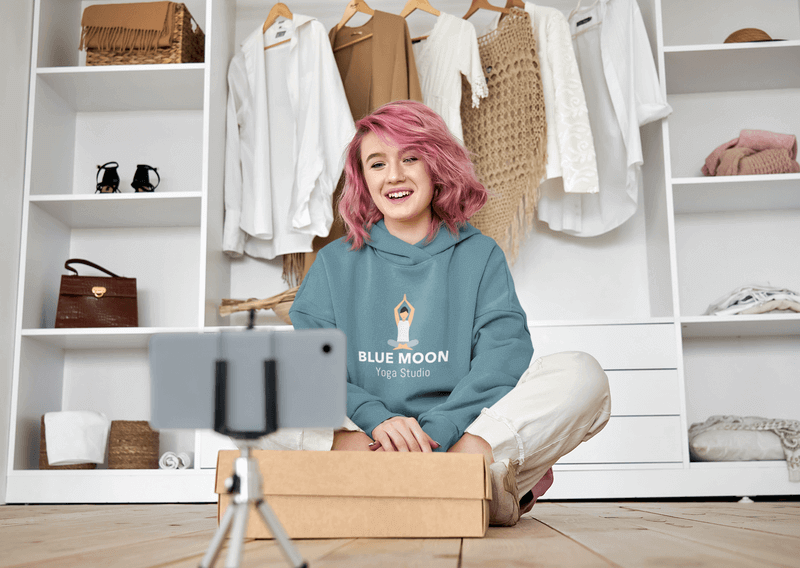 Still not convinced? Check out some of the benefits you can reap by making your posts shoppable:
Capitalize on a Huge and Growing Audience
Because there are so many social media platforms, and new ones cropping up all the time, you can count on being able to find new customers on social all the time. There are already huge numbers of people on social media, and even when one platform begins to run its course, you can bet there will be a new one your followers will flock to.
When you implement your social shopping strategy on multiple platforms, you can be sure you will catch every sector of your audience, no matter where they hang out.
Turn Your Followers into Shoppers
The number of followers you have across multiple platforms is probably significant, but how many of these people have bought something from you?
Through social shopping, you put your products a few steps closer to them, making it a lot easier for users to take the plunge and finally give your products a shot.
Shoppers are weary of super-curated promotional images and language and are looking for real reviews from real people, especially from people they trust. Social media gives you the opportunity to share reviews and images from real customers who have bought your products. User-generated content and influencer marketing are much more effective with younger audiences and can increase trust in your brand.
Mobile Shopping Is on the Rise
We've been hearing for years that online shopping has taken over, but mobile shopping isn't far behind. Most people access the internet from their mobile devices, especially when it comes to browsing social media. Offering the possibility of easily making purchases from a mobile device and without leaving the platform they were browsing makes social shopping a no-brainer.
Catch Customers When They're Excited to Purchase
It's been said that social shopping is fueled by emotions, so catching the person as soon as they are convinced they want to buy something is key. Don't let the excitement fade by taking them on a long checkout journey, and instead give them the option of checking out while they're still feeling that first surge of excitement.
Connect With Customers Authentically
Finally, social media lets you connect with your audience in a more authentic and immediate way. Most people don't want to go to your website just to ask customer support a question and they even less often want to pick up the phone to connect with support.
Having these interactions on social media feels more casual, but just as effective. Answering questions about products in the comments of a shoppable post keeps customers closer to the action of making a purchase.
Quick Tips to Master Your Social Shopping Strategy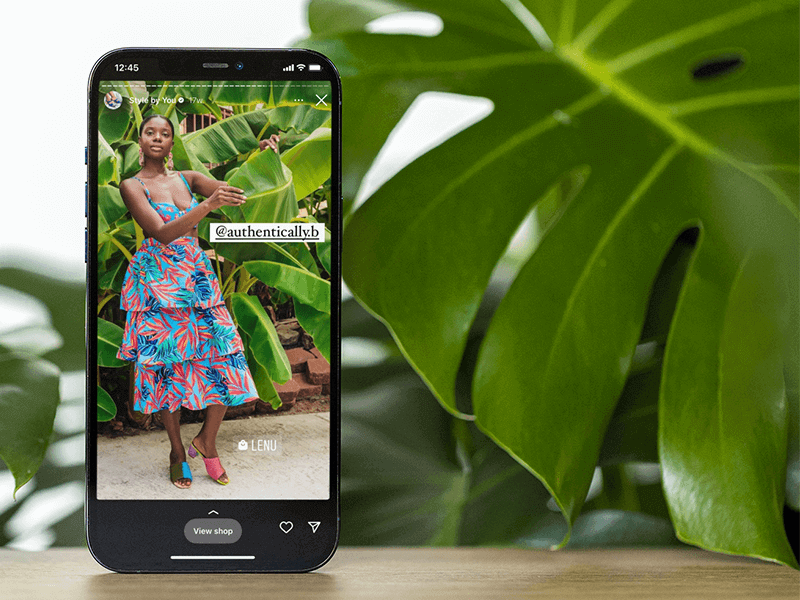 If you're ready to jump in and start planning your brand's social shopping strategy, use these quick tips to create a solid plan:
Most social media platforms are very visually oriented. This is great because this gives you a chance to make a great first impression on potential customers. Focus on posting stunning images and videos that are clear, visually appealing, and that keep your attention. Avoid overly edited images and videos that scream a lack of authenticity.
Since you want users to take the plunge and give social shopping a try, why not advertise your deals and promos in this space? You can even try having promos that are reserved for social media shoppers only.
To make the social shopping experience better for all of your users, offer multiple ways of checking out. Having a couple of options will ensure most, if not all, of your customers will find something they're comfortable with and actually go for it. Remember to test all of your checkout flows to ensure they all work seamlessly. Keep an eye out for abandoned carts and other signs of friction you can work on.
Stay Active and Consistent
With social media, it pays to stay active. Posting regularly, responding to messages, and engaging with followers will ensure you stay top of mind. Post consistently, avoid pushing too many promotions that will make you seem inauthentic, and always interact with your followers to ensure your brand doesn't get forgotten by your audience.
Implement User-Generated Content
If users are posting images of themselves with your products, it's a great idea to ask permission to post these images on your own profile. User-generated content is a super effective way to promote your products since people want to see what they look like in real life and on real people. You can even make these images shoppable to grab people when they are most interested.
You're Ready to Build Your Social Shopping Strategy
With all this information, it's clear that social commerce is a must for brands. It gives you an easy way to catch consumers in spaces they already frequent, sometimes for long periods of time every day, and increase your revenue through new channels.
Explore these new opportunities and look around at what other brands are doing. This will help you stay competitive in this ever-changing landscape and give you great ideas to build from. Don't be afraid to experiment with different platforms, tools, and strategies until you get it just right. Keep your audience in mind at every step and focus on giving them what they want, where they want it.
If you have any questions about social shopping, let us know in the comments and we'll do our best to answer them for you!
Before you go, don't forget to check out Placeit by Envato's social media templates to create a beautiful feed and Stories that match your brand perfectly!
FAQ - Social Shopping: Is It the Right Move for Your Brand?
---
---