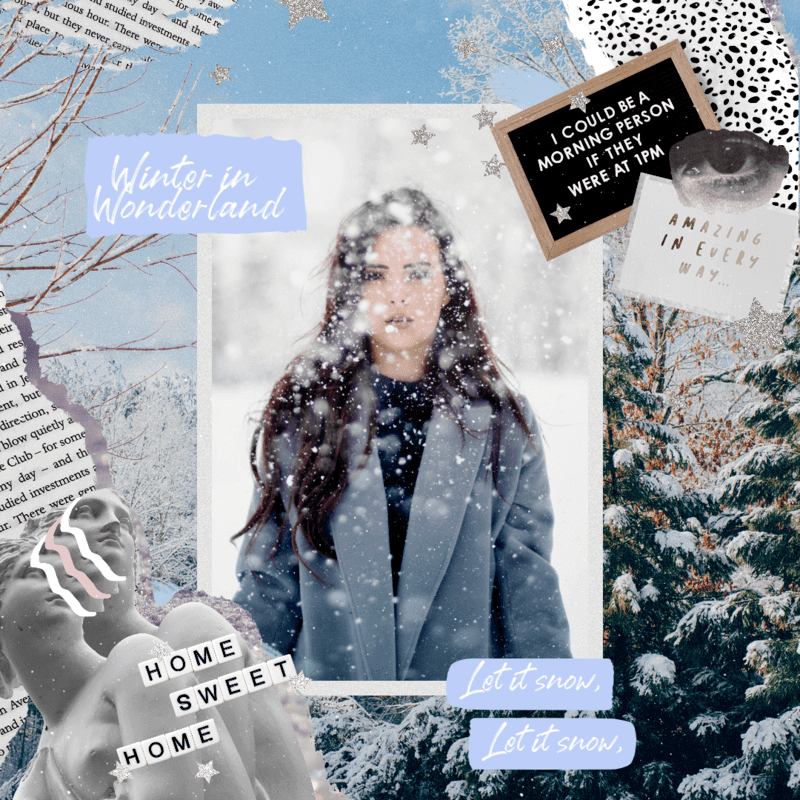 It's official! We're just a few weeks away from leaving the brown, copper, and crisp leaves of fall behind to welcome one of the most magical seasons of the year: winter. So to start your winter preparations earlier, we've put together a wonderfully refreshing collection of +45 winter color palettes for you to include in any design you can think of. 
Ready to try out the most beautiful combinations of winter color palettes? Let's snow! ✨
Spark Your Designs This Chill Season
According to the calendar, and at least in the northern hemisphere, the hot beverages and fuzzy socks season officially begins on December 21st and ends in 2023 on March 20th. So, we're at a good time to start planning, decorating, and getting inspired by the festive spirit. 
⭐ #ProTip: If you want to be updated with the most relevant and significant events or commercial dates for the winter season, then don't miss out on our eCommerce calendar for hustlers and our t-shirt calendar, in which you'll find tons of ideas for your POD business.
+45 Winter Color Palettes Every Snowman Will Love
For this winter season, we've brought you a beautiful collection of shades inspired by the most significant winter events and the classification of winter undertones. Best of all, you'll find the HEX codes below each image, so you can copy and paste them into your favorite design editor, whether it's Placeit by Envato, Photoshop, or any other tool you like. 
So, without further ado, let's check what winter color palettes are perfect for this upcoming season. 
But First, What Colors Are in a Winter Palette?
When we think of winter, dark and cold colors usually come to mind, but each season brings many more colors within itself. In this season's palettes, we'll look at the four sub-seasons: bright winter, cool winter, dark winter, and true winter, that make up this icy season, and of course, we'll include some examples so you can see and understand them better.

❄ Note: It's worth mentioning that these sub-season colors focus more on people's clothes or physical appearance. But either way, it's a great thing to include in your POD product lines.
Bright Winter Color Palettes
By their name, we can get a clue as to what colors we will see next. The bright shades of winter are characterized by being luminous and are sometimes associated with a mix of winter and spring. So you can even opt to add some light colors but not too bright, but rather opaque or a bit muted. 
Colors that are an absolute yes for this palette: acid yellow, azure, Chinese blue, cobalt blue, emerald, hot pink, iced aqua, icy grays, light gray marl, lobelia, pink ice, royal blue, sapphire, shocking pink, silver, true red, violet, and white.
☃ P.S. bright winter is also often referred to as clear or sprinter winter. 
#455473  |  #7C8EA6  |  #F29F05  |  #D97904  |  #733702
#F2F0F2 |  #518EA6 |  #9BB9BF |  #BF5B04 |  #732F17
#2E688C |  #3887A6 |  #586B73 |  #D9CCCC |  #A69C9C
#BFA8B1 |  #A68698 |  #223459 |  #172940 |  #F2DCDC
#C7CFD9 |  #56778C |  #8AABBF |  #F6A643 |  #731702
#F0F0F2 |  #77B3D9 |  #BDDEF2 |  #011C26 |  #014034
#D9BFD4 |  #5E728C |  #849EBF |  #3E4A59 |  #B8C6D9
#A68DA2 |  #BF9B6F |  #BFB6AE |  #8C7268 |  #733729
Cool Winter Color Palettes
These colors are 100% cool. They tend to be duller and darker, lacking luminosity. Therefore, warm or pastel colors are out of the game. On the other hand, colors like black, burgundy, cassis, charcoal gray, charcoal, dark red, deep claret, deepest indigo, light gray marl, mulberry, navy, pale gray, pine, raspberry, silver, soft gray are a hit when it comes to cool winter color palettes. 
#F2F2F2 |  #734D2D |  #BFA893 |  #8C0303 |  #590202
#5D6273 |  #A4ABBF |  #C1C7D9 |  #F2913D |  #A65526
#BF895A |  #BFB0A3 |  #D9D2CC |  #A64826 |  #401D10
#F28705 |  #BF8654 |  #D9C9BA |  #BF4904 |  #40200E
#1A2622 |  #20402E |  #73574D |  #592D23 |  #A69C9C
#797C8C |  #111826 |  #2F3D59 |  #14548C |  #014029
#592227 |  #F26671 |  #D2D7D9 |  #A63737 |  #262626
#8C031C |  #590212 |  #929EA6 |  #0D0D0B |  #8C673A
Dark Winter Color Palettes
This winter color palette is just a mix of this cold season but also slightly combines fall colors. Here prevail the burnt and deep colors like aubergine, cassis, deep claret, forest green marl, gray light gray marl, mallard, mid-gray, mole, navy, passion flower, pebble gray, pine green, purple, stone, true red, among others. 
#A6121F |  #012E40 |  #00090D |  #0A4B59 |  #D92525
#A60311  |  #730217 |  #40030E |  #A6A29C |  #8C4303
#F20519 |  #A60311 |  #590209 |  #014017 |  #035921
#012340 |  #024959 |  #027368 |  #03A688 |  #04BF7B
#590209 |  #A60321 |  #012611 |  #D99873 |  #A67C63
#8704BF |  #6829A6 |  #4C2E8C |  #021859 |  #011640
#7D5EBF |  #635FD9 |  #593202 |  #F2522E |  #0D0D0D
#A60311 |  #73020C |  #000D0C |  #F2E8DF |  #400101
True Winter Color Palettes
This color palette is the one that comes to mind when we think of winter colors. This palette includes dark and bright shades—for example, black, bright navy, charcoal, cherry, cobalt blue, emerald green, fuchsia, holly berry red, hot pink, lobelia, purple, raspberry, sapphire, silver and white.
#A64E5E |  #F2F2F2 |  #070A0D |  #4F6D3B |  #8C0303
#E4EAF2 |  #979FA6 |  #242625 |  #727372 |  #BF6849
#F2F2F2 |  #D9D9D9 |  #8C6E5D |  #0D0A09 |  #261E1C
#6F04D9 |  #5207F2 |  #1E1D40 |  #111226 |  #0D0D0D
#D9D9D9 |  #494834 |  #BF834E |  #8C4F2B |  #A6A4A4
#2C3A40 |  #F2F2F2 |  #000D09 |  #01401C |  #A64E2E
#A69498 |  #A48ABF |  #6A4EA6 |  #011826 |  #FFF4CE
#BF0449 |  #D90467 |  #F24998 |  #252625 |  #F2F2F2
Winter Christmas Color Palettes
Of course, we needed to include one of the most representative events of the winter season. We've included some super festive and Christmasy images for welcoming Decemburrr. Here, our complication is a bit more extensive, as Christmas colors can be pretty varied. 
Get your dose of winter inspiration: 
#F2F2F2 |  #BF7E04 |  #A65D03 |  #A68263 |  #8C8888
#F2DF80 |  #F2EBDF |  #F27405 |  #8C3503 |  #735340
#9ACDD9 |  #000D0A |  #736B5C |  #F2A341 |  #F2780C
#F2C791 |  #F2994B |  #D96725 |  #733E1F |  #401910
#C7CFD9 |  #7AA5BF |  #01261F |  #D99B66 |  #8C6A56
#123E59 |  #F2B56B |  #D99B66 |  #BF7950 |  #8C513B
#F2EADF |  #BFB6AE |  #8C6F5E |  #A6261B |  #591C16
#F29F05 |  #593202 |  #D9CEC5 |  #A65E44 |  #A61717
New Year's Color Palettes
To end the year on a high note, here are some color palettes inspired by New Year's Eve events to incorporate into your designs and even your printed materials for a super sophisticated, beautiful, and aesthetically pleasing look. 
#D9C1C5 |  #012340 |  #F2A25C |  #F2AD94 |  #F28177
#F25781 |  #F285B8 |  #D9A404 |  #F26363 |  #F2F2F2
#A66369 |  #F2C2CF |  #F2F1DF |  #D9C355 |  #A67A46
#F2DA63 |  #735A2D |  #F2CC85 |  #A6A198 |  #D9D6D0
#F2D64B |  #F29B30 |  #BF6A1F |  #592202 |  #260B01
#BF0413 |  #BF5B04 |  #D99255 |  #BFB1A4 |  #D9D1CC
#F279B2 |  #D8BAD9 |  #04D9D9 |  #04D9B2 |  #F2CB05
#BF0426 |  #8C031C |  #590219 |  #A66B38 |  #D9AB82
How to Incorporate These Winter Color Palettes Into Your Designs?
It's super simple! As you can see, below each image, there is a color in HEX format, which is a code that starts with the # sign and consists of 6 numbers and letters. This code means that in any graphic design editor, you can find an exact color without guessing or taking ages to find the perfect color. 
To show you how to do this, we're going to give you a mini tour of Placeit so you'll know how to incorporate one of these HEX codes into any Placeit graphic: 
Go to

placeit.net

Select the category you want to edit. 

Find a template you like and click on it.

Choose if you want to customize the text, the background, or any element with a HEX code.

Whatever the case, click on the colored box and choose "Custom."

There, select the current HEX code and change it to one of your choices; you just need to paste it. 
And that's it! Just like that, you can incorporate any of these HEX codes from our winter color palette selection into your designs. It doesn't matter if it's a mockup, a logo, a video, a gaming template, or a t-shirt. They all have the same function! 
🎄P.S. We upload new designs every day. We recommend you filter by "Newest" to see all our latest additions.
No doubt, you now have a great list of winter color palette ideas that you can incorporate into any design. Whether you decide to do something special for this season or want to give a festive color twist to any item, these HEX-coded colors are sure to get you out of a jam. Let us know in the comments which of the winter shades was your favorite.
May the frost be with you for having happy ho-ho holidays! 
FAQ Winter Color Palettes
---
---