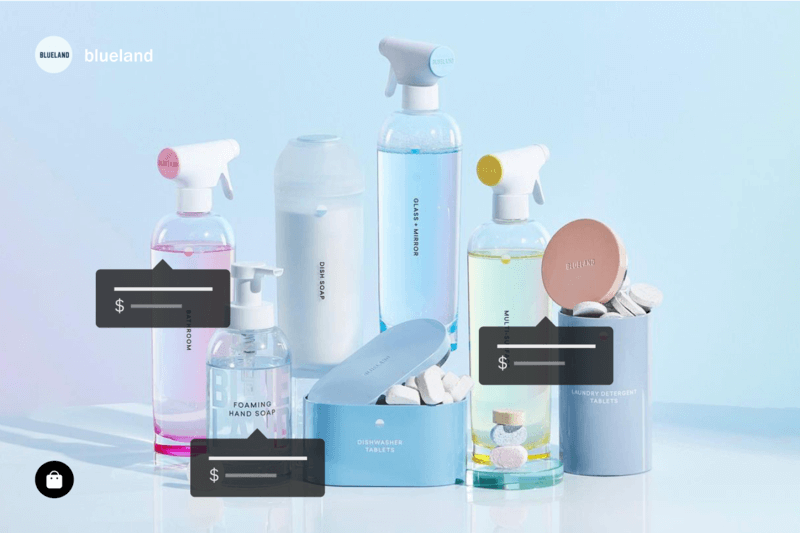 Have you heard of Instagram Shoppable Posts? If not, don't worry! This blog post will help you understand why you need to try them and implement them as soon as possible to boost your online business sales. 
Instagram isn't just a social network. It's now considered one of the preferred ways for consumers – especially young people – to shop online. And big companies know that! That's why Instagram designed a new feature for marketing teams and business owners to sell their products directly from the app or send them to the website. But before hopping into the Instagram Shoppable Posts, you need to understand the basics. 
What Will You Find Here?
What Is Instagram Shopping?
It's a functionality to sell from Instagram – it works like an online store! That is, you can sell your products directly from your Business Profile and get your target audience to complete a purchase in just a few clicks.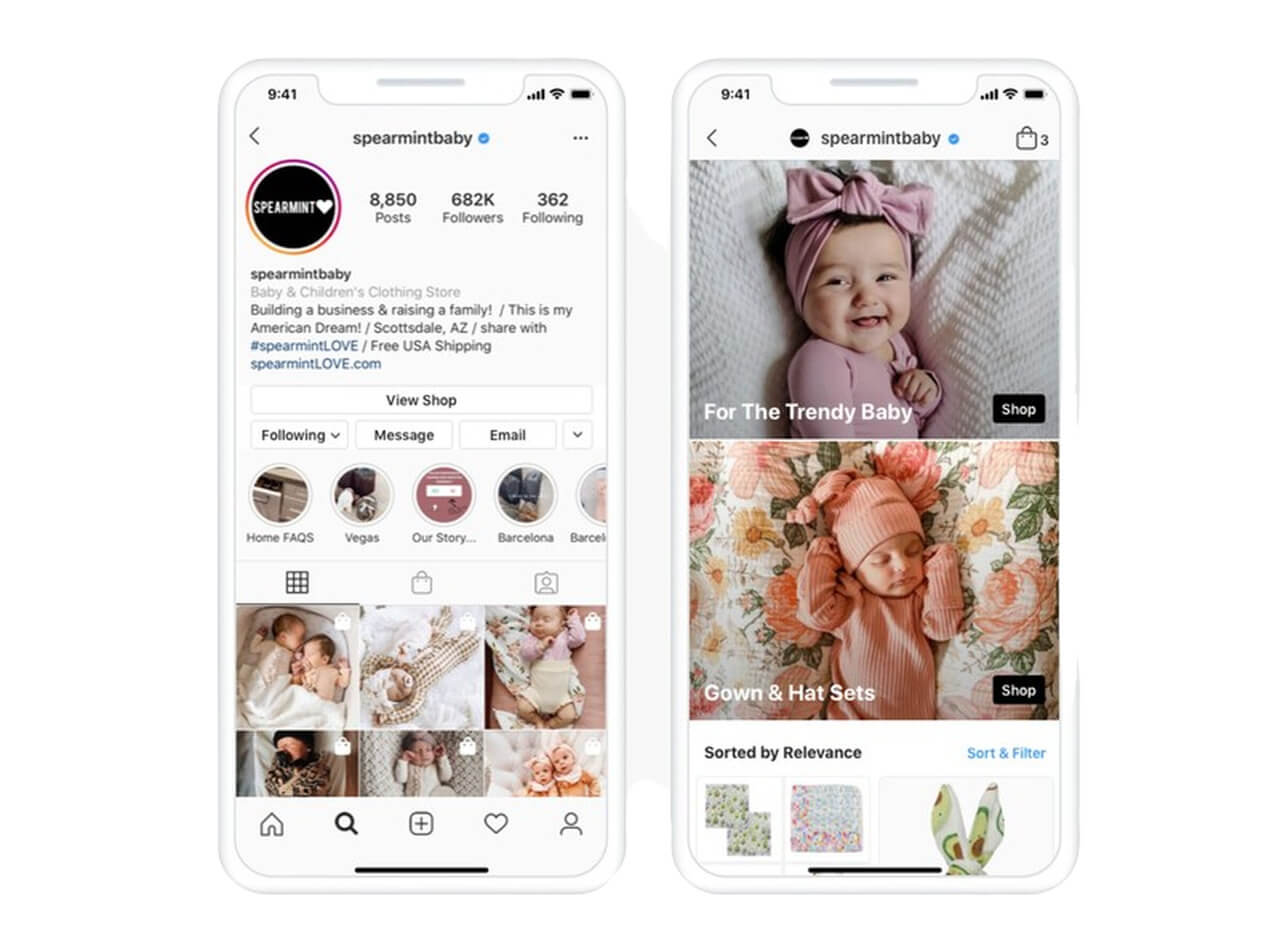 For buyers to finalize their purchase via Instagram Shopping, you can choose between 3 checkout methods:
On Facebook and Instagram

On your website

With messaging
In addition, this Shopping version includes some features. For example:
Shop

. A virtual place where you can sell your products and offer collections. You can easily recognize the accounts that have their shop cause in their profile; you'll see "Visit Shop." 

Collections

. Curate and cluster your content in categories to help your customers easily find what they're looking for, such as new arrivals and seasonal trends like Valentine's Day. Or even in product categories. For example, If you sell personalized items, you may want to group together Collections for t-shirts, hoodies, mugs, tote bags, etc.

Shopping Tags.

These tags appear when you click on the photo -that presents products from your Catalog. To be redirected to the Product Detail page to purchase from within the app or through your website. 

Shop in Explore.

This tab and search bar allow users to discover and explore new brands and products. 

Product Detail Page.

Give your potential customers the information they need, including the price and descriptions (this information is set up directly from the Catalog). This page also includes a button to drive them to your website to complete the purchase. 

Ads With Product Tags

. These tiny black tags are helpful because they contain the product's name, and if someone taps on it, it'll lead to a product detail page. 
Learn More About Instagram Checkout Methods
We've previously mentioned that there are 3. 
On Facebook and Instagram
Allows buyers to finalize a purchase directly from and without leaving the Instagram app. Also, those who use this checkout method have to pay an automatic 5% shipping fee every time they make a sale.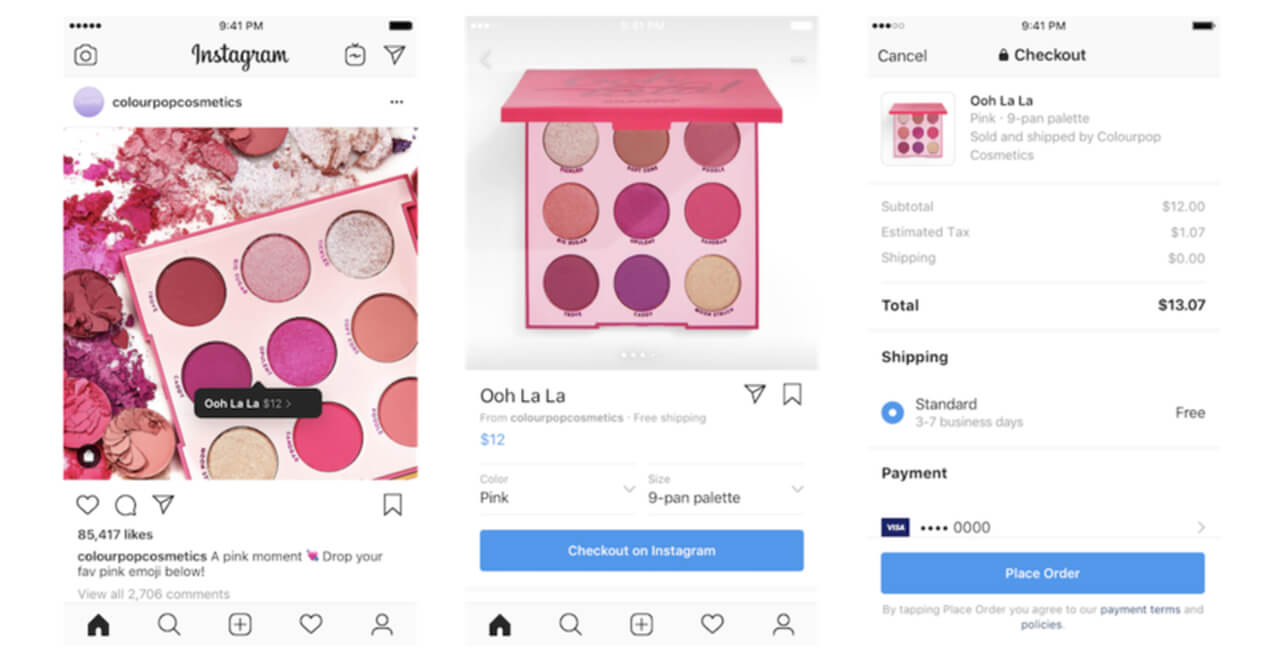 The good and comforting thing is that three extra features are included to reach your account's potential. Such as: 
Product Launches.

If you want to announce your next big launch: use this functionality. Make a countdown and remind your potential audience when your products will be available for shopping.

Shopping Partner Permissions.

When it comes to collaborating with influencers or other brands, this will be helpful. Permit to

tag your products

or even link your shop to another account. 

And

Live Shopping

. If you go on a Live, this function will allow you to share your products and increase purchase consideration among your community. 
Check the requirements and learn more about fees for sales. 
On Your Website
With Instagram Shopping, you can redirect your potential customers to your website to complete the sale. There are no additional fees or commissions here. All you have to do is post to Instagram from your PC for more quality, share engaging descriptions, etc.
With Messaging
Just have potential buyers select the product of their choice and start a conversation with your business via message. It'll show you what Instagram Shoppable Post and product they're talking about. So it'll be easier to identify it, answer questions and, of course, close an account. There is no additional charge.
Time to Set Up Instagram Shopping
Friendly reminder: If you already have this setup, please skip this process and go directly to How to Create Instagram Shoppable Posts. If you're brand new, please keep reading. 😊
As we mentioned at the beginning, Shopping is the core functionality, and from there, Instagram Shoppable Posts are derived. So, before creating them, make sure you comply with these initial steps.
1. Who's Eligible to Use Instagram Shopping?
Have a Business Manager Account on Facebook.

Have a Business or Creator profile on Instagram. You'll need this to connect it to the Facebook Page. 

Your business has a website domain that allows people to make direct purchases from it. 

Have your account in a

supported market

country.

Sell physical products. Not services nor digital assets*.
We also suggest downloading the latest version of the Instagram app on your mobile device. *To check out the products that aren't allowed to sell on the platform, visit this link
2. Create Your Instagram Shop in a Few Steps
STEP 1. Go to Create Your Shop in the Commerce Manager. There, you can synchronize your Shopify or any other partner platform. If you don't have one, click on Next.
NOTE: The next steps will be different, depending on whether you've created -or not- a Facebook Page.
👉🏻 If you haven't created one yet, follow these instructions:
In this case, your STEP 2 is to select your checkout method. It could be: on Facebook and Instagram, on your website, or with messaging
STEP 3. Since your account is new and you don't have a Facebook page, the platform will make you create one. After doing so, follow the subsequent steps (2, 3, and 4) from below. 👇🏻
---
👉🏻 On the other hand, if you already have your Facebook Page created and connected. Continue with these steps:
Your STEP 2 is to verify the data displayed: 
Check that the account you want to create a store for is correct. 

We advise you to change/add your products to the Catalog. Remember that before making Shoppable Posts on Instagram, you have to update your Catalog. This way, when you launch your post, you'll choose the corresponding item in the Catalog. We'll cover this later in this blog. 

Also, remember that you have to have a Business Manager account and a business email account. 

If you need to make corrections, click on the blue "Change" text on the right side.
STEP 3.

Fill in the following fields and click "Finish setup", and you have your store!

STEP 4.

Submit your account for review -directly from the Instagram app-. Go to Settings, click on Business, and then "Instagram Shopping". There you will find all the steps to complete this process.
How to Create a Catalog for Instagram Shoppable Posts?
This is one of the most important steps because you won't have anything to show in your Instagram Shoppable Posts if you don't have one. So, before you create your posts or stories, you need to create or update your Catalog. 
STEP 1.

Use

Facebook Business Manager

to create your Catalog. In this

link

, you can see the Catalogs you have made. Just click on "Add Catalog" if you don't have any yet. The recommendation is that you only have one per account/business. 

STEP 2.

Select "Ecommerce" and click "Next." 

Step 3.

Choose who will be the owner of the Catalog. In this case, your company, if you have none, choose "Personal". Also, give a name to your Catalog to easily recognize it. 

STEP 4.

That's it! You've created your Catalog. Click on View Catalog. Now you can add items to it.
What Are Shoppable Posts on Instagram?
Have you ever seen a post or story that includes an icon on a shopping bag? Well, you were looking at one Instagram Shoppable Post.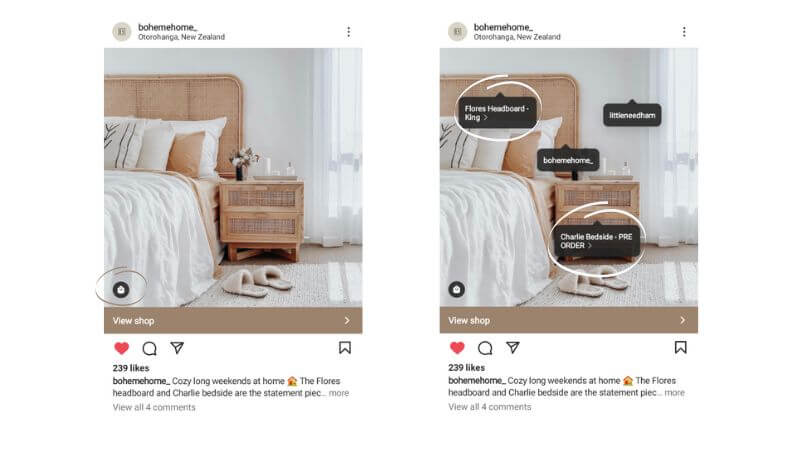 Thanks to Instagram's Shopping functionality, Shoppable Posts are usually photos or videos designed exclusively to sell. At first glance, it may seem like a standard post. However, it can make a difference, thanks to the shopping bag icon and tags that allow you to label your products. It's like saying to Instagram users, hey, you can buy this product now!
A great advantage is that Instagram allows you to create Shoppable Posts for its different formats. For example, in: 
The feed,

Your stories,

The guides,

IGTV,

Ads

Reels,

And even Live Streams.
🔥 Want to get the best of Instagram? Then read how to create beautiful Instagram graphics to promote your business!
How to Create Instagram Shoppable Posts?

Before the fun and creative part:
Remember that you have a Business/Creator profile and have connected it to your Instagram account by now.

Have set up the Shopping process.

Have a product updated in your

catalog

.
So in that way, you can connect it to your Instagram account to show and sell your products. Now follow these steps: 
For Posts in the Feed
STEP 1.

Design the post you want to upload that showcases the product you want to sell on Instagram. Choose a Place It template to create masterpieces in minutes.

Here are some ideas:
✨  Check out how to improve your chances with good Instagram SEO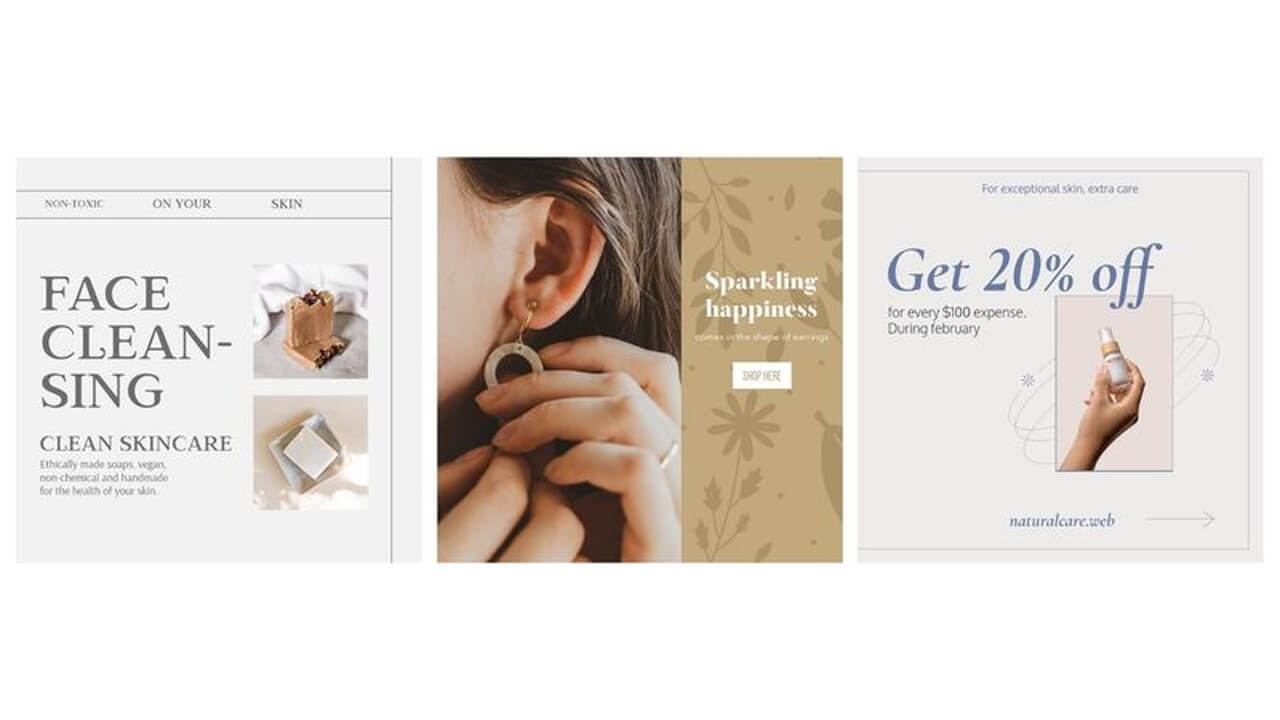 Once you finish, these are the next steps to publish your first Instagram Shoppable Post 😉:
STEP 2.

Upload your post – a photo or video – as usual. But before you publish, you'll see three captions below your photo/video description: "Tag people," "Tag products," and "Add location." Click on "Tag products."

STEP 3.

Then, in the photo/video you want to post, select the specific area where the product you want to sell is. Important: This is where the linking of the Catalog to your Instagram account is. It won't have anything to link if you don't have it. 

STEP 4.

Once you have clicked on the desired area, a Product Catalog bar will appear to search for the ID of the product you want to link. Search for the ID or the product name. 

STEP 5.

Now select (from the list of catalog options) the product you want to tag in your post Feed.

STEP 6.

Once selected, you will see a little white ball appear over the product. You can click on it, and you will see the product details and the shopping bag icon at the bottom left of the photo/video. 

STEP 7.

When everything looks in order, click Publish!
Note: Take into consideration that Instagram might review your posts, and it takes approximately some hours. 
💣 You may be interested in learning the 7 Crucial Elements for Writing Great Social Media Posts
To Create Instagram Shoppable Instagram Stories Posts:
STEP 1. Before posting, let your creativity flow and captivate your target using Place It, and create amazing Instagram Stories Templates! Check out these examples:
If you prefer static stories, here are some ideas for your Instagram Shoppable Stories: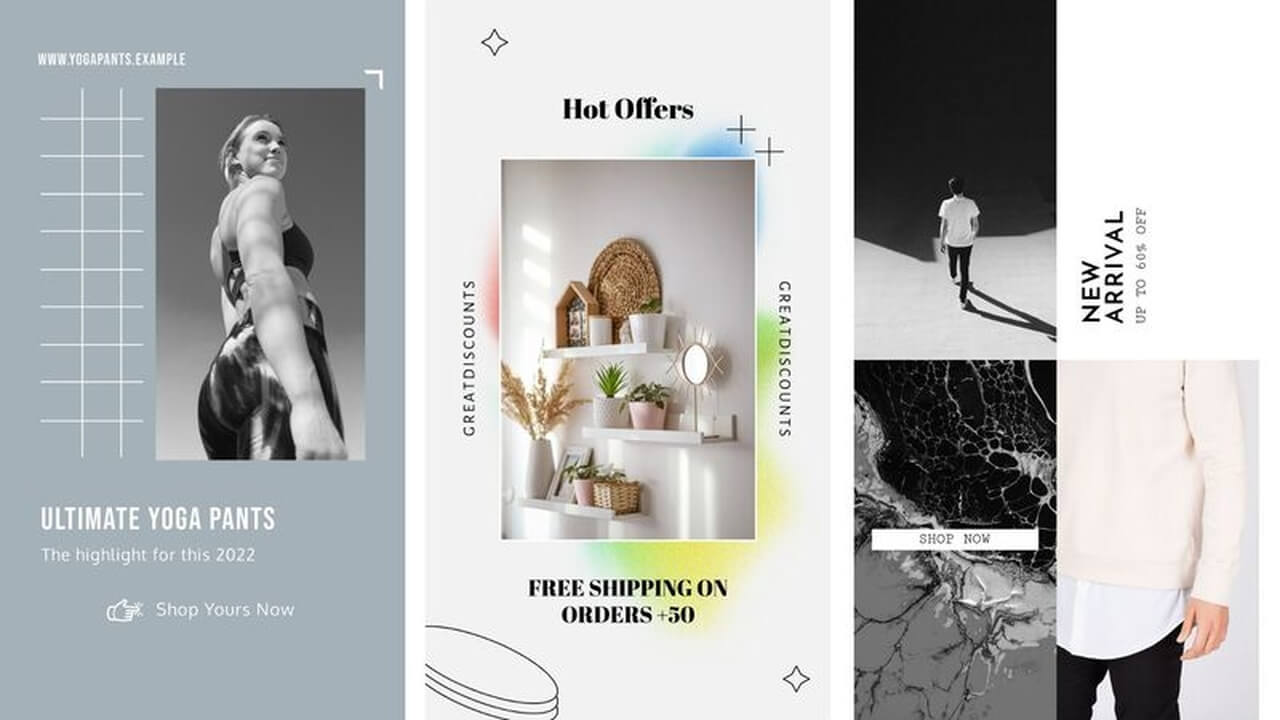 😎 You might want to learn how to Create Viral Instagram Story Videos:
STEP 2.

Go to "Add story" after, and from your gallery, and select the photo or video (where your product appears).

STEP 3.

Next, select the third icon on the top bar, a smiley face shape known as Stickers. 

STEP 4.

There, a new function called "Product" will appear. Click on it, and you'll see the same catalog search bar. Add the product ID or product name. Select it.

STEP 5.

You will now return to the home screen of your Instagram story but with a tagged product. Here you can change the name (in case it's too long). 

STEP 6.

Then if everything looks great, press the Done button.
FAQ Edition Instagram Shoppable
Finally, we present one of our favorite parts because, let's be honest, sometimes, when we're trying to implement something, there are so many questions around us. Here are the answers to some of them: 
How Do You Make a Shoppable Post on Insta?

First, add the products you want to sell to your Business Catalog. Then, upload a standard post (in your favorite Instagram format). But use the "Tag Products" feature.

Do Instagram Shoppable Posts Cost Money?

No, it's a free feature if your checkout method redirects traffic to your website or via messaging. However, if you decide to use the checkout on Facebook and Instagram functionality, there are some fees because Facebook will do the job. Also, keep in mind that if you try to create Instagram Shoppable ADS, you need to invest money in advertising.

Why Is My Instagram Not Eligible for Shopping?

It could be that you don't meet the eligibility criteria. Go through each point and compare it to your business to find what might be breaching the guidelines.

How Many Followers Do You Need?

There's no specific number. You can even start if you have zero followers.

Can I Sell On Instagram Without a Website?

For sure, you can activate the checkout on Facebook and Instagram functionality. But remember, it's only available in the US.

How Many Products Can You Tag on an Instagram Shoppable Post?

A maximum of 5 products. 
And that's all! Please feel free to ask any other questions in the comments. We'd love to hear from you! 💜 Also, keep yourself updated and dive into these 12 Social Media Strategies to Drive This 2022
✨ Before you go, check out this post on social shopping platforms to learn how you can make money on other social media platforms!
---
---