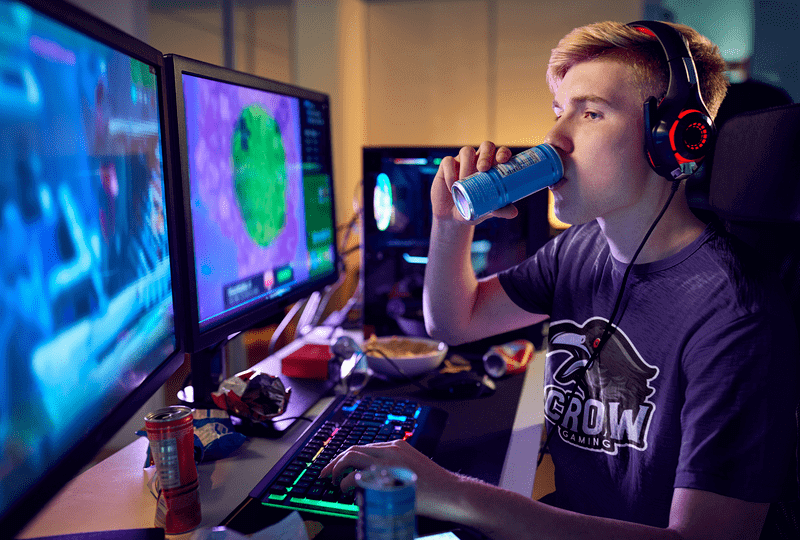 Streaming on Twitch can be a lot of fun, but it's no secret that it can also lead to a passive income and online fame. No matter your reason for starting your channel, chances are you want to achieve some level of success with it. Whether you're starting a gaming stream or any other type of stream, learn how to grow your Twitch channel this year with these tips.
1. Fill out Your Profile
This may sound basic, but if you're just starting out, it can make a huge difference along with other more advanced Twitch streaming tips.
Your profile allows you to build connections with potential followers, so don't leave this blank. Keep it simple and short, but do make sure to include information viewers can use to distinguish you from other streamers. Include what games or activities you like to stream, where you're from, and anything else that sets you apart from the competition. Don't forget to include a photo of yourself so that people know who you are.
Your channel banner gives you another opportunity to stand out from other streamers. Create a banner that represents your brand, and that will make people remember you. To create a banner in no time, check out Placeit's Twitch Banner Maker.
If you already have a streaming schedule, fill out the schedule tab in your profile so that your followers know when you will be live.
Next up: your panels. Start by creating an About Me panel where you can get more into detail about yourself, the games you play, the types of streams you broadcast, etc. Be sure to include relevant keywords in this section to help with your SEO optimization.
The About Me panel isn't the only type of panel you can include. You can make Twitch panels for numerous things, from your social media profiles to your Patreon or even regarding stream rules and FAQs. Use these to your advantage by using keywords in your descriptions and linking to your other profiles to keep your viewers following you across different channels.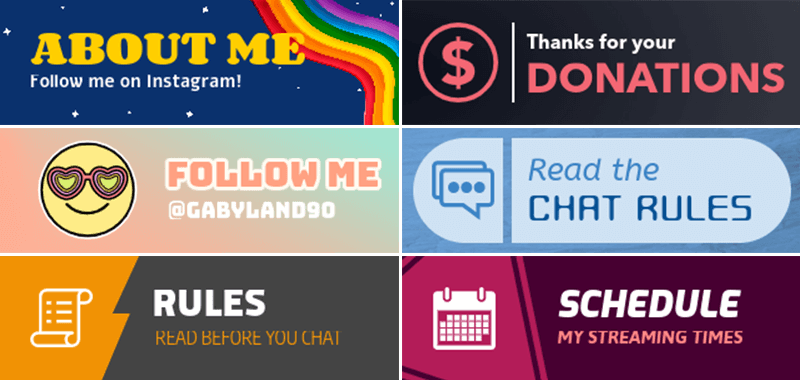 2. Create a Catchy Stream Title
Naming your stream is essential if you want people to discover it. Not having a name for your stream or having a very generic name won't entice anyone to join you. To create a name that catches viewers' attention, stick to something descriptive of what you will be doing, but make it exciting. Include keywords in the title that make your stream focus clear, like speed run or just chatting, but add something extra to it so that you stand out. Stick to exciting words to hype up your stream and use emojis to stand out.
3. Set Goals for Your Stream
Like with anything in life, having clear goals for your stream can help you continue on the right path. Knowing what you want to achieve with your stream – whether it's growing your audience, transactions, or even sponsorships – can give purpose to all the things you're doing to get to your end goal.
Another benefit of setting clear goals is using them to create a plan. When the end result is defined, you can come up with steps that will help you reach the end goal efficiently. Make sure your goals are easy to measure and that you give yourself a deadline to keep you on track.
👉 Pro Tip: Study other streamers and their careers to get tips on how to reach their level of success.
4. Choose What to Stream
Picking the game to stream may feel like a no-brainer. You may already have one in mind that you love to play or are good at, but those aren't the top reasons to pick a certain game.
Since you want to attract a good amount of viewers, you'll need to look up what's trending on Twitch. Doing this research will give you a better idea of what viewers want to watch and what games are getting the most attention at that time. Keep in mind that different games attract different audiences, so you'll also have to think about who will be watching your stream based on the games you pick.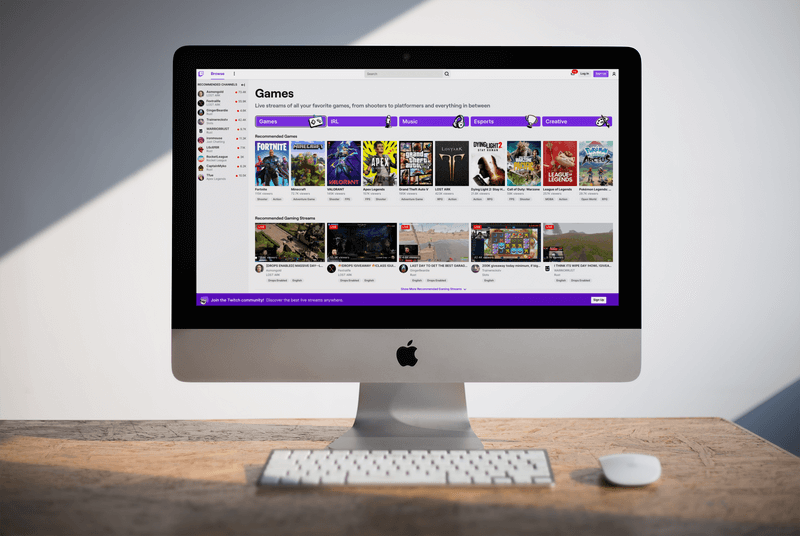 With that said, it's also a good idea to create diverse content. You can try streaming different games, including some that you just like to play but aren't that popular, and see what brings you more views, interactions, etc. You also don't have to stick to just games, so try experimenting with different types of streams to find what works best for you.
5. Set a Schedule You Can Commit To
Having a set streaming schedule can make your life easier while keeping your viewers informed. If you have a day job, this will help you stay on top of your stream while also ensuring you have a steady output of content, which algorithms love. At the same time, viewers will know when to tune in, so be punctual!
As you create your schedule, don't just focus on when you will be online. It's also helpful to include what sort of content you will feature. Viewers will then know what to expect and may be even more hyped for your stream. For those times when you're offline, let viewers know you'll be back soon using Placeit's Starting Soon Screen templates.
6. Create Entertaining Content to Keep Viewers Coming Back
Before you roll your eyes at this tip, this is something that will require some work on your part. It may be easy to say that you need to keep your content entertaining; how do you actually do that?
You'll be sharing a platform with literally millions of other streamers, so you want your content to stand out for good reasons. In most cases, how good you are at a game or how much you like the game won't matter much. What will matter is the entertainment you provide during your streams.
It's super important to interact with your viewers, give them the content they enjoy, and provide a fun escape from their everyday lives. As you stream, keep talking, so they don't get bored and leave. Answer questions asked in the chat, welcome viewers, ask questions they can answer in the chat – basically, just keep the interaction going.
While things like good lighting and good sound quality will make a positive impact, working on keeping your viewers entertained should be a priority. Plan your streams in advance, keep up with trends, and interact with your supporters. Don't be afraid to ask them for feedback. This can be a huge help when preparing for future streams.
It's also crucial to develop your personality and use this to your advantage. Find ways to reward your loyal viewers and have fun with them. For example, you can dress up for your streams and announce this beforehand to build up some anticipation.
7. Get Your Equipment Ready
To retain viewers, having good equipment will be necessary. This doesn't mean you should go out and spend all your money on the latest and most expensive equipment but aim for quality from the start.
One essential is having a great internet connection. You don't want to lose viewers because your internet connection is laggy and leaving them frustrated.
On the same note, having a good camera and mic are musts. You don't want to appear blurry or pixelated while streaming, and you want to be sure your viewers can hear you clearly. This can increase interaction and impact the experience viewers associate with your stream.
Set up your streaming space in an area with good lighting and where you will have some privacy. If you don't have money to invest in lighting, natural lighting will be fine as long as it looks good. In terms of privacy, you want to avoid having people pass through your background as this can be distracting and can contribute to noisiness.
Another aspect to think about is your appearance. Some streamers like to have a theme and dress up accordingly, but this isn't for everyone. If you prefer to just look like yourself, think about how your attire will look on screen or how your appearance can influence viewers.
8. Design Your Channel's Look
Like when creating a brand, you want to give your channel a cohesive look. It is, after all, your brand. Twitch gives you plenty of spaces where you can use custom assets to create a look that is uniquely yours. You can create custom Twitch banners, panels, overlays, and even emotes that viewers will identify with your stream.
Stick to a color palette that will help these assets stay cohesive. If you already have a gaming logo, create your assets with your logo in mind. To create cool Twitch banners and more for your channel, check out Placeit's collection of customizable Twitch templates. Also take a look at our Twitch Offline Banners.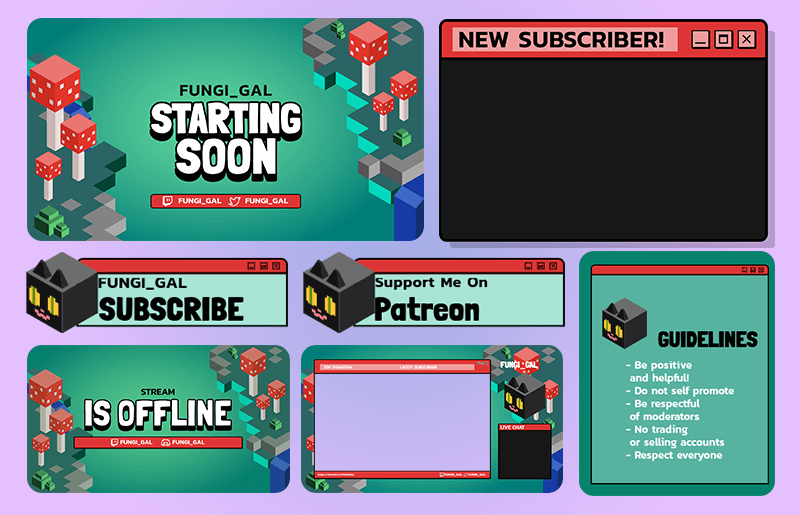 As your channel grows, create your own merch that matches your channel's look and feel. Create things that your viewers will enjoy and that will be a great addition to their life. Keep the designs simple but uniquely yours so that your viewers are more interested.
⚡️ Easily create a cohesive channel design with Placeit's Twitch sets!
9. Look for Collaboration Opportunities
To grow your Twitch channel, you'll need to do more than simply show up and stream. Interacting with your viewers can play a big part in your growth, but so can interacting with other streamers. Look for streamers who are similar to you and who have an audience with similar qualities to your viewers. Interact with these streamers and ask them to collaborate with you.
Collaborating with them can be anything from streaming together or working on projects outside of Twitch together. The important thing is to get along with them and to vibe with their viewers so that you can expand your audience and grow your resources.
10. Do Some Giveaways
Having giveaways is a great way to reward loyal viewers who have helped you grow and to pull in new viewers who want to try their luck. This is a great way to celebrate milestones, such as reaching a specific subscriber count.
Be sure to include the giveaway in your stream title to ensure it pulls in new viewers. Some of these viewers may only stick around for the giveaway, but others will stay if they enjoy your content.
Pick a prize that is relevant to your content and your audience. Remember that it doesn't have to be anything major, especially if you're a new streamer. When you pick a winner, be sure to promptly follow through with the prize. You don't want to ruin your reputation by not actually awarding anyone a prize.
11. Learn from Your Stats
Twitch will offer you stats that you can use to improve your streams. Avoid looking at stats, like viewers, during a stream since this can be distracting and even frustrating. You want to stay clear-headed and focused on giving your viewers the best experience.
After a stream, head to your creator dashboard and view your stream summary. Take some time to look at these and look for patterns you can learn from. Take note of the times when you hit peaks during your streams so you can look back at what you were doing then. Figure out what stream lengths viewers prefer, what sorts of streams are your most viewed, where your traffic is coming from, etc. Use this information to optimize your strategies. For example, if you notice a certain type of stream gets way more views than others, focus your efforts on that type of stream to keep your audience happy and growing.
12. Create Social Media Accounts for Your Channel
If you're struggling with how to promote your Twitch stream outside of Twitch, social media is your friend. Creating social media accounts for your stream will help diversify your traffic sources and make your stream easier to discover for different audiences.
Focus on creating cohesive accounts that match your stream's design so that users don't get confused. Use the same logo, color palette, and language across all your accounts. Do your best to use the same handle or user name on all of them, but if your user name is already taken, get as close as you can to it.
👾 Keep reading: 8 Incredible Social Media Tips for Twitch Streamers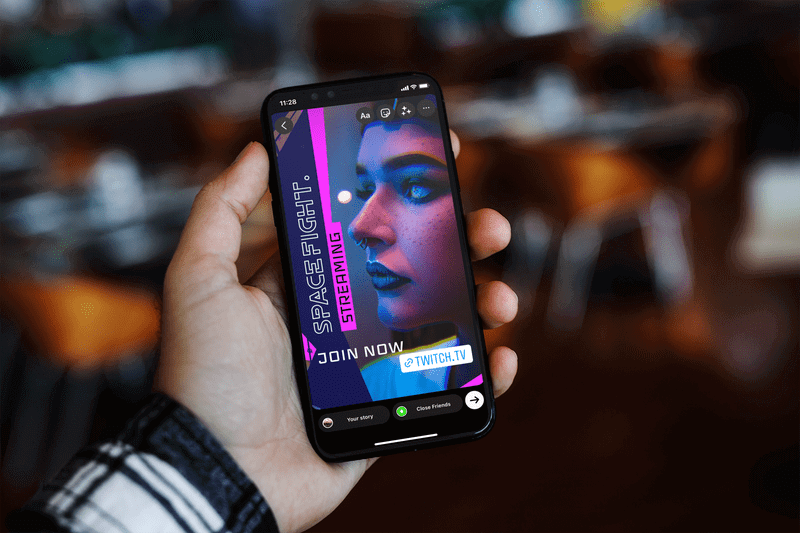 Each social media platform will have its benefits, so be sure you know how to get the most out of each one:
YouTube: Posting on YouTube is a must if you're a streamer. You can post clips from your streams, compile themed clips from streams, or even original content. Viewers may be interested in vlogs, collaborations with other streamers, or any other sort of content relevant to your streams.
Twitter: Use Twitter to participate in discussions, create polls, and build community. You can share clips, images, and announce upcoming streams. Use hashtags to find content related to games you stream and jump into a discussion.
Instagram and Facebook: Since these platforms are more image and short video-oriented, use them to share behind-the-scenes content, collaborations, and lives where you can interact with your viewers.
Discord: Join Discord servers related to your content and participate in discussions. Meet other streamers, ask for their feedback on your streams, and give them feedback as well. The key is to build community and relationships with people in your niche. As your channel grows, you can even create your own Discord server and grow your community.
✨ Seeking some extra inspiration to customize your platforms? Check out our avatar maker.
Your social media profiles should always link back to your Twitch stream and visually match your stream. Do your best to maintain your personality across all of them and use these spaces to promote your channel. Mention giveaways, interact with viewers, and check out their profiles as well.
💡 Wondering if YouTube should be part of your strategy? Check out this post on Twitch vs YouTube to decide!
13. How to Get More Followers on Twitch
Streaming consistently is key if you want to grow your Twitch audience. Beyond simply showing up, you'll also have to offer your audience something they're excited to participate in. Stream the games they like, interact with them and make them feel seen, and ensure your stream quality is always great.
Gaining followers initially can be the hardest part, so don't let this deter you from working toward your goals. You'll need to put yourself out there to attract new viewers, so don't be shy about this. We're not saying you should be spammy, but definitely use all the channels you have (social media, blog, website, etc.) to promote your stream and reach new potential viewers. Advertise your next streaming event and show up with a good, welcoming attitude.
Once you have viewers joining you, do the work to retain them. Ask them to follow your social media accounts and give them a follow back. Interact with them on social and build a community that they enjoy. This may sound weird, but to grow your audience and keep them engaged, you'll need to create more than just a stream. Ask them for feedback and use this to ensure your streams are meeting their wants and needs.
Quality, consistency, promotion, interaction, and community will all go a long way toward helping you get more followers on your channel.
Final Thoughts
Learning how to grow your Twitch channel is a must if you want to succeed on this platform. Simply streaming won't be enough in most cases. Take note of your progress as you go so that you don't lose motivation and be persistent.
If you've managed to grow your channel, let us know how you did it in the comments below! Or check out this interview we had with a real pro and learn how to become a Twitch streamer.
---
---