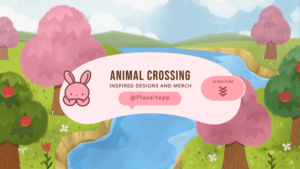 Animal Crossing is a Nintendo video game, which launched a new version called New Horizons in 2020. One of the most outstanding and beloved features by players is its attractive design. Therefore, Placeit has created fantastic Animal Crossing designs inspired by this popular game. So now, you can share and promote your Animal Crossing-related content on online platforms while having an exceptional design. In addition, our platform has thousands of mockups to promote your merchandise on your gaming channel. Let's see how to do it! 
Here You Can Find: 
The Inspiration Behind Animal Crossing Designs
We have to admit; we loved the graphics of Animal Crossing too! So, for you to freely promote your content on platforms like YouTube or Twitch, we've put at your fingertips some templates inspired by this video game. Let's start designing! Remember that a great design can make the difference between someone clicking -or not- on your content. 
Step 1. Visit Placeit and filter by "Designs" or "Videos". 
Step 2. Go to the search bar and type: "Animal Crossing". There you'll find Animal Crossing designs templates for your favorite online platform. 
📌 P.S. If needed, watch this quick video to learn how to make your own Youtube Banner.
Step 3. Choose your favorite design style. 
Step 4. Customize your information and select your favorite font, color, and elements. 
Step 5. Download your file and all set! 
What About Creating a Cute Animal Crossing-Inspired Avatar?
When it comes to Animal Crossing designs, you can never have enough! Now, you can also create an adorable avatar to customize and update your profile picture on social networks. Check how to do it! 
Step 1. Visit Placeit and filter by "Logos". 
Step 2. Go to the search bar and type: "Animal Crossing". 
Step 3. Choose the character that represents you more. 
Step 4. Get creative and have fun customizing your avatar.
Step 5. Download it and update your profile pic! 
Level Up Your Channel by Promoting Your Animal Crossing Merch
We know that, as a gamer, an extra income always comes in handy. That's why, if you currently sell your merchandise, you may choose to create a line inspired by Animal Crossing designs. The good news is that at Placeit, we have amazing mockups to showcase your merchandise and make it stand out among your online community.
So if you're wondering how to do that, follow these steps:
Step 1. Choose what kind of Animal Crossing-inspired mockup you want to create: t-shirts, hoodies, hats, tote bags, phone cases, etc.
Step 2. Upload your image design.
Step 3. Choose a color to customize your mockup. 
Step 4. Time to download your Animal Crossing masterpiece! 
👉🏻 Dive Into: How to Launch Your Own Gaming Merch Line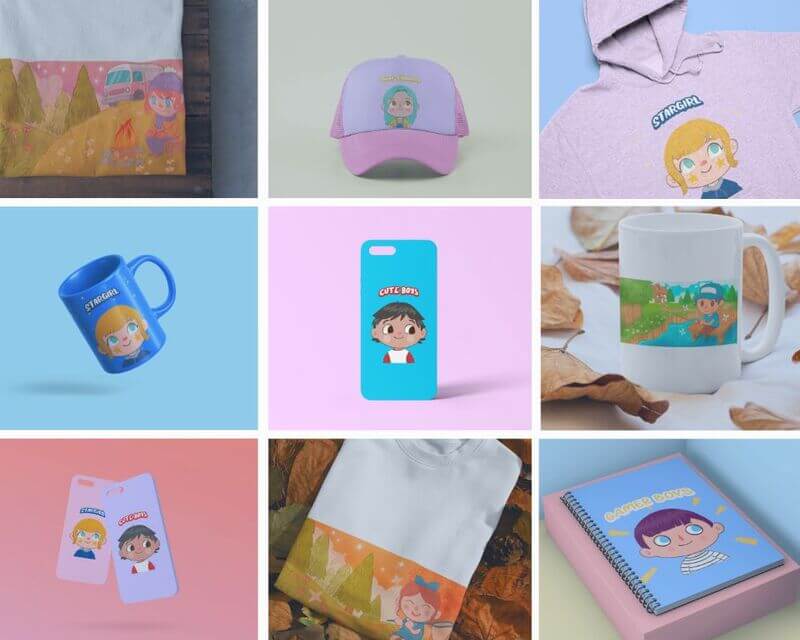 Do You Need More Ideas Based on This Video Game?
We've got you covered! Let's say you want to promote a product for which you don't have pictures yet or at least not the best ones, no worries! Our platform has many mockup options to customize. In that way, you can promote them on Twitch and YouTube. 
There, you might want to incorporate some other products to be the new sensation among your followers. Think of an idea, and we'll have it! 
Here are some:
Mugs,

Posters,

Face Masks,

Stickers,

Bags,

Backpacks,

Sweatshirts,

Leggins,

Sportswear,

Tank Tops,

Phone Cases,

Pillows,

Wall Art,

Stationery,

Business Cards,

Flyers,

Magazines,

and even Books.
🔥 P.S. Check out what are the best tips for choosing the most effective mockup models
We're sure that any of these examples are great to add to your Merch shelf. Although if you prefer to go the more digital side, you can:
Craft amazing wallpapers inspired by Animal Crossing designs. And to make them stand out, use attractive mockups to show how they would look on different electronic devices. Such as tablets or pc mockups.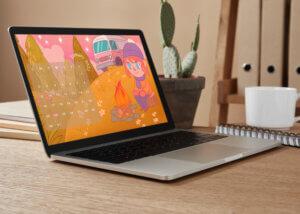 On the other hand, if you want to push your ideas and share your opinions about the Animal Crossing video game, a good design is critical to attracting clicks. For example, you can design:
Podcast Covers,

Different types of Posts for any social network, 

And also, to reach the right audience, there are templates to make Ads. 
As you can see, the possibilities are endless when it comes to creativity. Whether you decide to do something out of the box or go back to the classics, you can create all the designs and mockups you want within minutes and without needing a graphic designer or downloading heavy or challenging apps.
With Placeit on your side, it's easier to start your journey to create unique assets and see how an idea can lead to amazing things for your gaming channel. 😊
---
---